Final 20 Teams Announced for PUBG Mobile Star Challenge Global Finals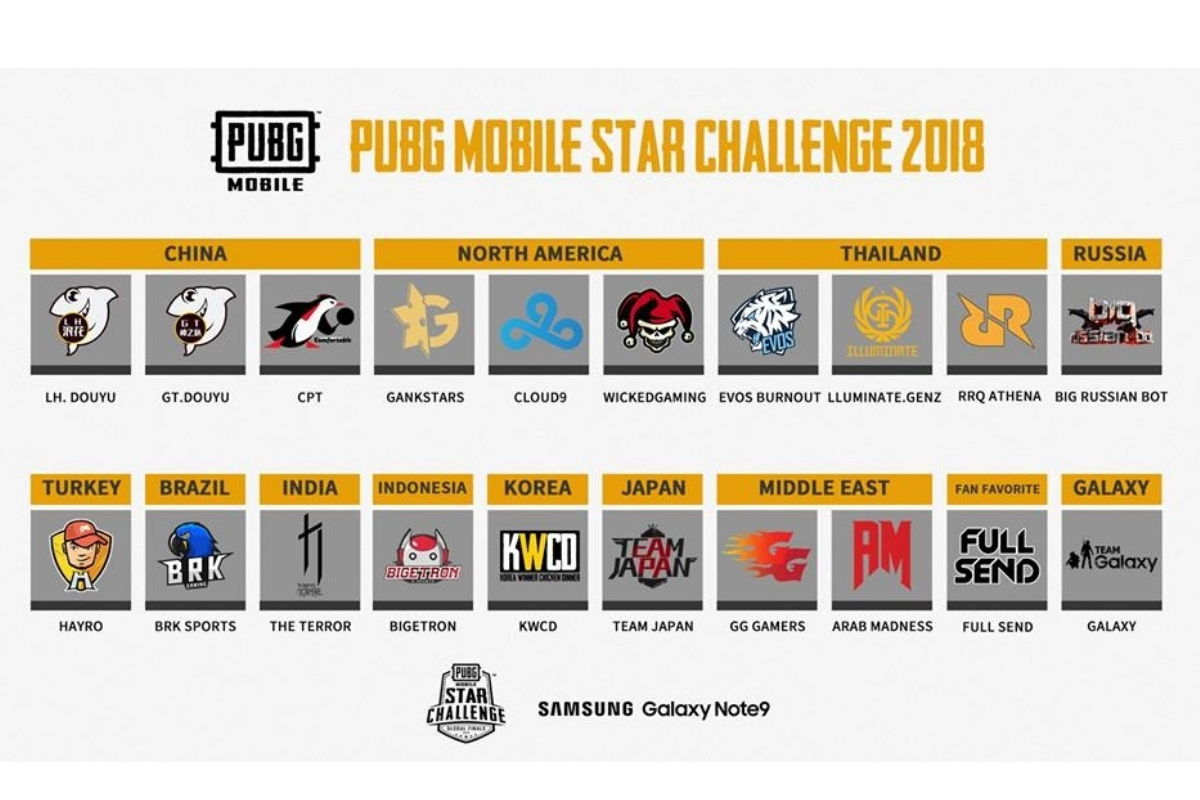 Reading Time:
2
minutes
Finals Teams Announced and Include some of the Biggest Names in Esports – Last Call for In-Person Tickets with Access to Festival Arena, Dubai
The PUBG MOBILE STAR CHALLENGE 2018 Global Finals (PMSC 2018 Global Finals) hosted by Tencent Games and PUBG Corporation (PUBG Corp.) and sponsored by Samsung Galaxy Note9 announced today the lists of finalists ahead of the start of the event on November 29th. PUBG MOBILE is the Best Mobile Game Of The Year awarded by Golden Joystick Awards 2018, that involves up to 100 players parachuting onto a remote island to battle in a winner-takes-all showdown. The PUBG MOBILE STAR CHALLENGE 2018 Global Finals is the first official competitive festival of the world's most popular game.
The participating final team list is now available, and features some of the biggest names in Esports. Fans that cannot make it to Dubai for the amazing finals can view the PMSC 2018 Global Finals via live stream at: https://www.youtube.com/pubgmobile.
PUBG MOBILE STAR CHALLENGE 2018 Global Finals is also offering two interactive areas during the event. A "Game Area" enables walk-in PUBG MOBILE matches with the winners of matches receiving a special gift and a drawing entry. The "Interactive Experience Area" enables participants to earn rewards by engaging in single events or completing all interactive contests in order to earn a stamp. Those that collect all the stamps will receive a unique customized PMSC 2018 Global Finals t-shirt and additional drawing entries. More fun is available in Samsung's booth as well with walk-in tournament and laser tags.
"We're only one day out from the start of the hottest PUBG MOBILE tournament of 2018, and are thrilled to present the 20 global finalist teams," said Vincent Wang, General Manager of Global Publishing Center, Tencent. "There's some great team names on the final players list, and we're guaranteed to see some heated matches over the next few days. I encourage fans to purchase tickets while they're still available so they can be close to the action and participate in our fun interactive events."
The PUBG MOBILE STAR CHALLENGE 2018 Global Finals are happening November 29 through December 1, 2018 at the Festival Arena in central Dubai.
About PUBG Mobile:
PUBG MOBILE is based on PlayerUnknown's Battlegrounds, the original PC and Xbox One phenomenon that took the world of interactive entertainment by storm in 2017. Up to 100 players parachute onto a remote island to battle in a winner-takes-all showdown. Players must locate and scavenge their own weapons, vehicles and supplies, and defeat every player in a visually and tactically rich battleground that forces players into a shrinking play zone. 
Source: PUBG MOBILE
Ferrari to Set Up Their Own Esports F1 Team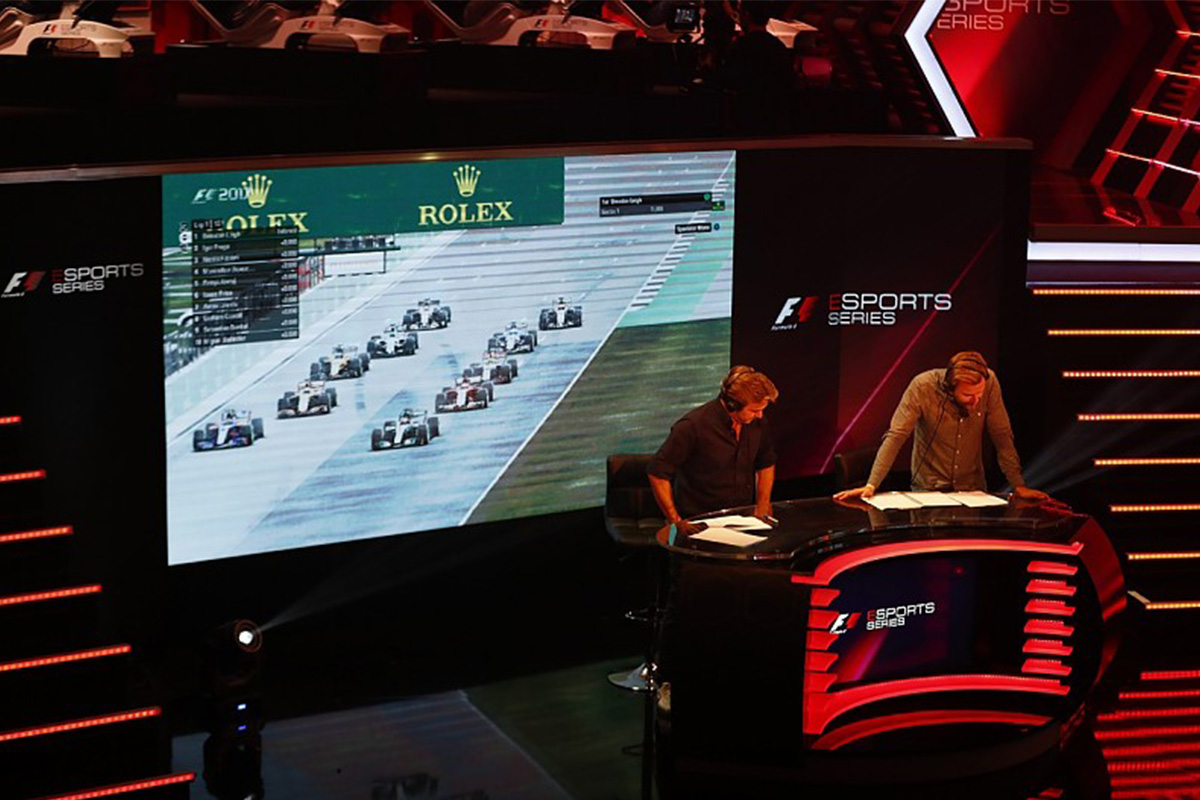 Reading Time:
1
minute
Ferrari is going to set up their own Esports Formula 1 team.
"Esports is increasing in terms of interest and certainly as Ferrari we are looking seriously into it. We are not yet fully committed to the programme but it's something where the discussions are ongoing. We will, very soon, make our own decision," team principal Mattia Binotto said.
F1 Esports series was launched in 2017, which include all nine teams except Ferrari. The 2019 edition of F1 Esports series is having a total prize fund of $500,000.
F1's Esports series includes a qualifying stage which allows the F1 teams to select their drivers for the Pro Series. Once the drivers have been picked, the Pro Series will take place between September and December across four live events.
Esports Innovator EGENCY Announces Name Change to Abacus3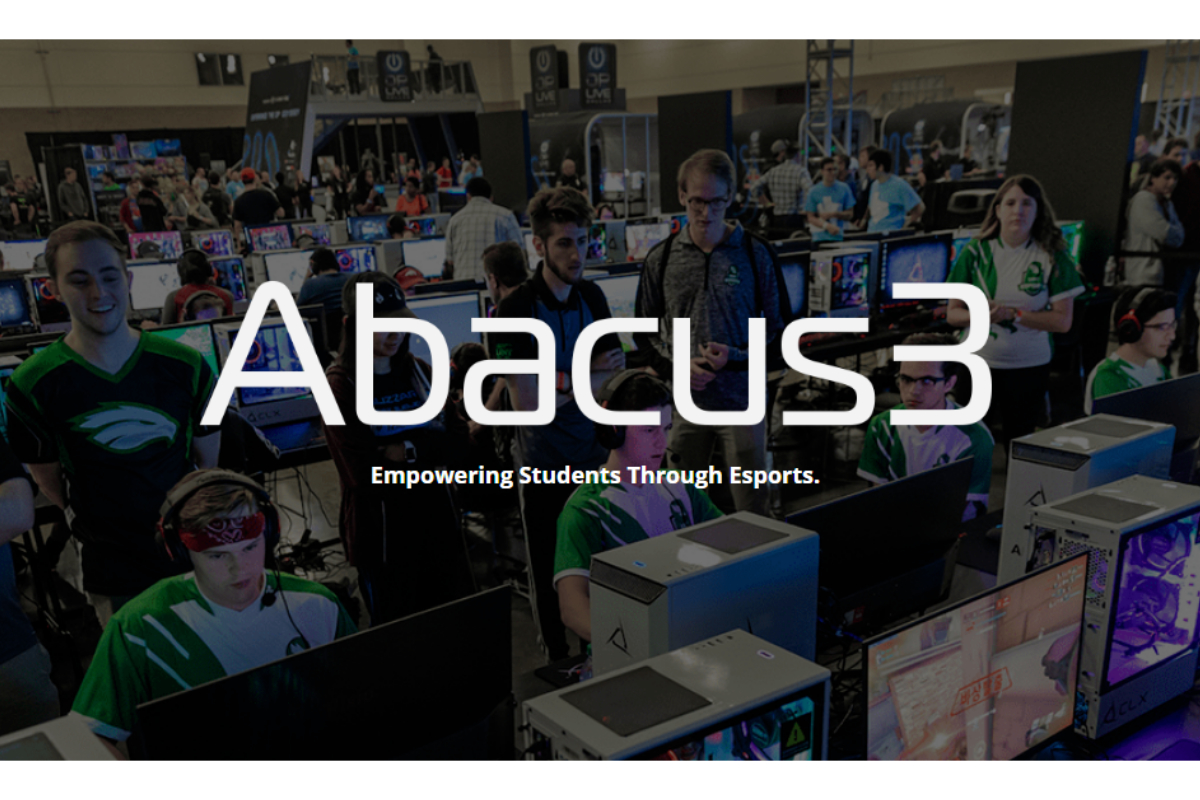 Reading Time:
3
minutes
The builder of world-class esports and gaming centers decided to change its name from EGENCY to Abacus3 after the company's mission and direction evolved. Abacus3's new focus is to empower students through esports by growing communities on university campuses with its permanent, turnkey solutions and ongoing support.
EGENCY, founded in 2018 as a premier esports production, marketing and talent management firm, has announced the company will change its name to Abacus3 effective immediately. EGENCY's leadership was compelled to choose a new name which embodies their core mission of creating unparalleled esports and gaming centers that empower future leaders to collaborate and create.
According to company President Mark Nausha, "The esports and video gaming space is rapidly changing. The community is always building, growing, and evolving, and we felt we needed to go to market with a name that signifies that we are much more than merely an agency specializing in esports."
As the company's leadership team pondered names, Abacus3 rose to the top of the list. CEO Greg Skasko explains why, "We felt it was a very fresh take on a familiar name. The abacus is a basic building block for math, while we provide the building blocks for esports on college campuses—a facility where students can collaborate, innovate and grow. The number 3 also resonated with us because our messaging kept intersecting at three words, in particular, the value we facilitate through competition, career and community."
Today, esports isn't just about the competition and how people traditionally think about the industry. As Nausha explains, "It's a new way people are connecting in communities and socializing. It's also about giving students and others who utilize esports venues potential career opportunities, whether in esports or not. Our solution helps broaden those communities, connect universities with one another and provides a base framework for the university, in collaboration with Abacus3, to respond to the continual evolution of esports."
In order to achieve its mission, Abacus3 takes a novel approach to esports community building. The company provides a permanent, turnkey solution that includes the design, building and programming of world-class esports and gaming centers on university campuses.
Unlike traditional venue builders, the Abacus3 solution is funded through strategic brand relationships, which means there is little to no cost to students, the university or its donors. After the infrastructure is built, Abacus3 also provides a general manager to support the facility, along with ongoing marketing, content and programming support. The company is committed to supporting its university partners for the long-term, while providing value to local communities.
"Our goal is to support and empower the college students, but ultimately, everyone will benefit from this. Along with future industry leaders and pro esports players, benefits will also trickle down to the high schools, middle schools and even younger people who can utilize these facilities. By taking this philosophy to universities around the country and around the world, students, pros, universities and the local communities can all benefit," Skasko says.
To learn how you or your university or brand can tap into opportunities in the rapidly evolving esports ecosystem, please visit http://www.abacus3.gg .
ABOUT ABACUS3: 
Abacus3 builds world-class esports and gaming centers. By empowering universities and brands to leverage the emerging world of esports, we create a space for students to connect, compete, learn, innovate, and gain critical real-world experience.
Our innovative approach to developing community benefits all parties. Universities witness substantial boosts in recruiting, ranking, and revenue, while brands gain privileged, exclusive access to an elusive demographic. Most important, our inherently sustainable solution benefits students. Through our exciting, top-of-the-line facilities, students build community, competition, and career as they become the leaders of tomorrow.
Abacus3. Empowering Students through Esports.
Unikrn Virtual Betting Merges Classic Thrills & Esports Themes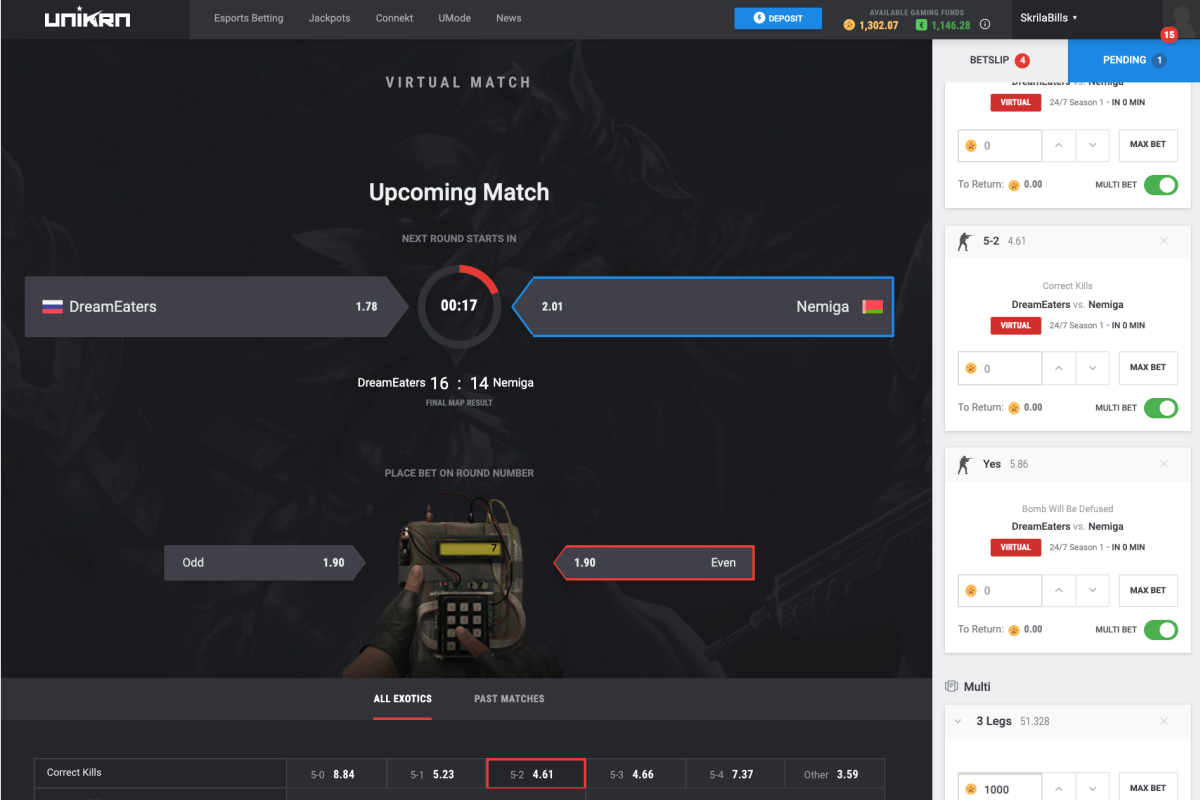 Reading Time:
2
minutes
Newly-developed technology brings hundreds of matches per day, granting unprecedented interactivity for gaming-savvy audiences.
Unikrn, a global leader in esports entertainment and wagering, has innovated Unikrn Virtual, a reinvention of RNG experiences, allowing fans to bet on the world's most popular esport every minute, 24/7.
Virtual betting enables esports fans to bet on top teams from iconic past rounds competitions. A unique algorithm utilising both archival and display techniques developed by Unikrn gives users access to key information about an upcoming round of CS:GO, then they may bet on the outcome. Unikrn Virtual is a regulator-approved RNG game which uses an approved third-party to randomly generate a round of CS:GO from an existing pool of past professional matches, giving fans the thrill of betting on live esports match without the delays or waits associated with live matches.
Rounds of Counter-Strike: Global Offensive (CS:GO) last under 2 minutes, meaning fans can bet on around 500 match-ups per day. In 2019, CS:GO has been the most popular esport in Europe and North America and has remained one of the world's most-watched competitive video games for nearly a decade.
"Unikrn Virtual brings fans the excitement of live competitions, but in an always on format with faster resolution and fewer interruptions," said Andrew Vouris, Unikrn's COO. "Unikrn Virtual will not only change quality and interactivity expectations for a bet-on-demand experience, but will fundamentally shift the future of the Casino industry as we bring wildly popular esports without the baggage of downtime."
Unikrn will be launching with multiple exotic options to appeal to any user, including both true-random and expertise-based estimation categories (such as upcoming round number or final round score, respectively).
Additional esports titles and major esports competitions will be added in ongoing rollout throughout 2019 and beyond.
"Our goal with Unikrn Virtual was to bring unlimited content to esports fans," said Rahul Sood, Unikrn CEO. "We succeeded. There's never been a delay-free, 24/7 way to bet in on esports… until now. This is just the beginning!"