PlayChip Listing Goes Live Around the World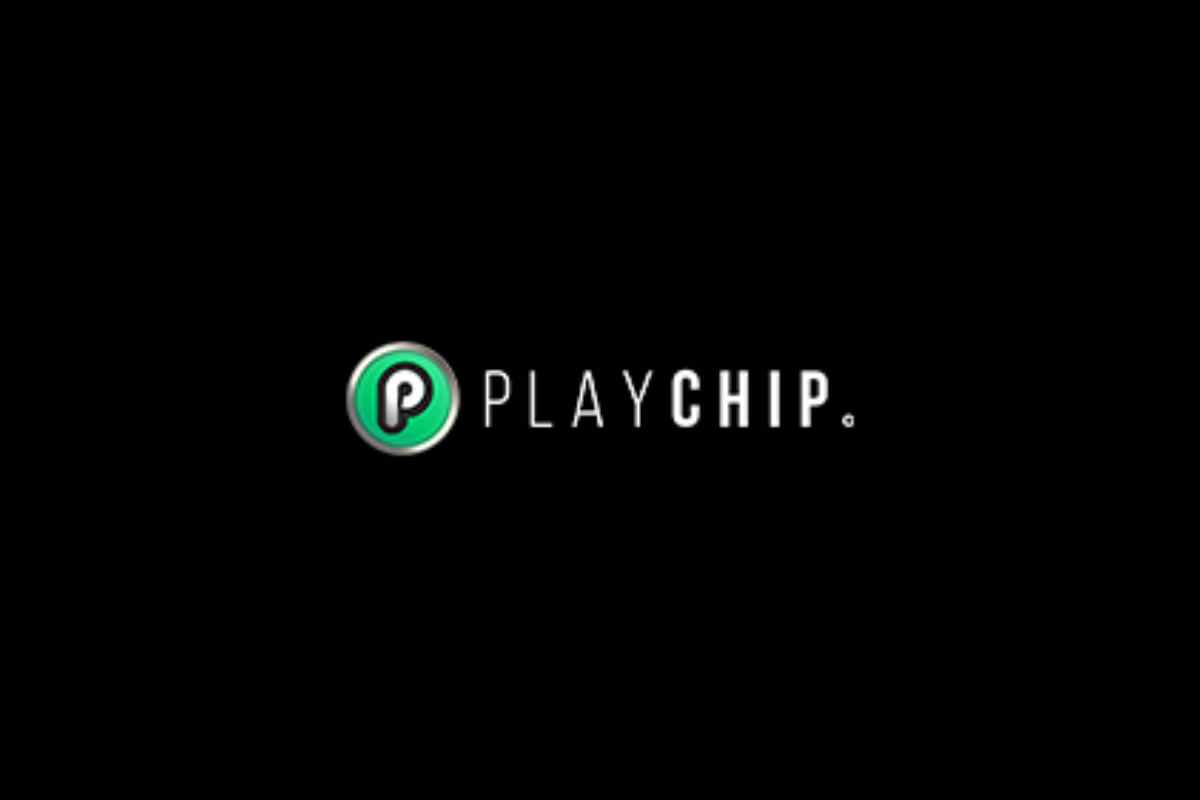 Reading Time:
2
minutes
The Universal Gaming Token will list on cryptocurrency exchanges Independent Reserve, HitBTC and LATOKEN.
The PlayChip Foundation has announced the official listing of its PlayChip token.
The ERC20 token, PlayChip, will go live and commence trading on Australia's first regulated cryptocurrency exchange Independent Reserve, as well as top ten exchanges HitBTC, and LATOKEN on Wednesday January 30th.
The PlayChip was one of the rare success stories in 2018 token sales, attracting participants in more than fifty countries and recognition at major international blockchain events.
The listing follows the first integration of the PlayChip into the gaming platform of operational partner PlayUp.
PlayUp operates several gaming products including one of the world's premier fantasy sports platforms. In Q1 of 2019, PlayUp plans to activate and award over US$1 million in prizes across major sporting events such as the Super Bowl, Big Bash and Six Nations Rugby Tournament.
"This has been a fantastic week for the PlayChip," said PlayChip Foundation Director Daniel Simic.
"The sports betting and gaming market is primed for blockchain integration. This industry was integral in driving mass adoption of the internet in the late 90's, and with the crypto revolution upon us, punters and gamers will once again be the first to experience this next-generation technology, with the PlayChip at the forefront of this revolution."
"We have achieved what a fraction of blockchain-based projects ever accomplish. The PlayChip has been well adopted and demonstrated mainstream appeal with a level of utility most tokens won't see for years, if at all."
"While we are very proud of what we've achieved so far, this is only the beginning. Big things are in store for the PlayChip".
PlayChips can be purchased within Australia from Independent Reserve, and internationally on HitBTC and LATOKEN from Wednesday January 30th.
About PlayChip
PlayChip is the Universal Gaming Token for sports betting, gaming, fantasy sports, and eSports, at the centre of an incentivised, blockchain-enabled sports community and gaming ecosystem. The PlayChip Ecosystem consists of seven partner platforms with more than a million users across over 70 countries. The PlayChip ecosystem is designed to be secure, scalable, simple to use, and fun, as well as include features to incorporate provable fairness into PlayChip transactions and the partnered gaming platforms, making it the gaming token of choice around the globe.
For more information, please visit: https://www.playchip.global/ or read the PlayChip Whitepaper: https://www.playchip.global/wp-content/uploads/2018/08/PlayChip-Technical-Whitepaper.pdf
About PlayUp:
PlayUp Limited is a Universal Gaming Platform offering Daily Fantasy Sports, sports and race betting, fantasy stables, eSports, and casino table games. PlayUp makes up the team behind the PlayChip and operates PlayUp.com, ClassicBet, Draftstars, Betting.Club, TopBetta, & MadBookie. PlayUp Limited will deliver the world's first fully-integrated, blockchain enabled global fantasy sports, online sports betting and gaming ecosystem.
SOURCE PlayUp
Betsoft Gaming Signs Content Deal with CryptoBet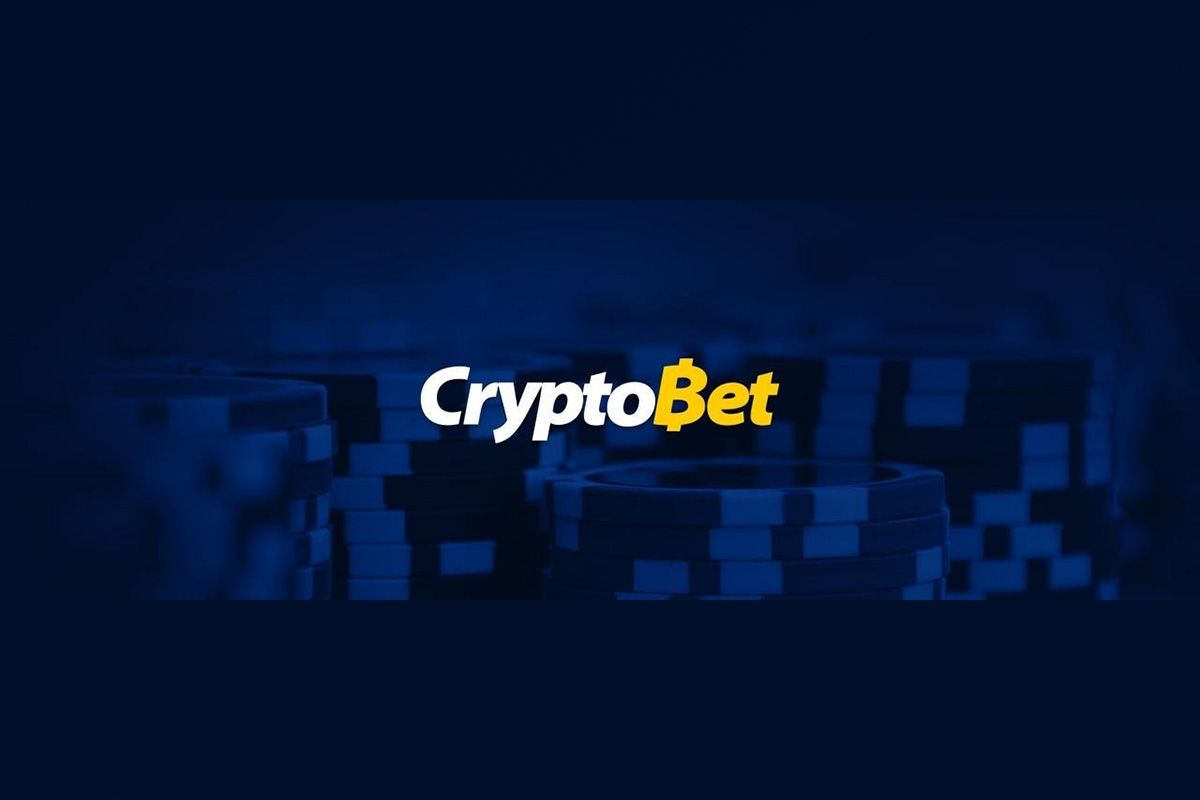 Reading Time:
< 1
minute
Betsoft Gaming has entered into a content agreement with RGT Global's new platform CryptoBet. The partnership reinforces Betsoft's reputation for innovation and business acumen in addition to its acclaimed game design and content.
Betsoft Gaming is a highly regulated and established content provider with a portfolio of slot games second to none.
CryptoBet was set up by RGT Global last year to service players wishing to bet in cryptocurrencies as well as in the more traditional formats. The company is also unique in that they are currently offering 16 of the most recognised cryptocurrencies for deposits and withdrawals.
"Betsoft Gaming is one of the most inventive gaming content providers in the world. We are always looking for challenging new businesses and markets to work with, so partnering with RGT's CryptoBet is very much aligned to our global development strategy," Kai Botha, Marketing Manager at Betsoft Gaming, said.
"We are delighted to be in business with Betsoft Gaming. The quality of their games is acknowledged worldwide. We are confident that the integration of their slots to our site will be successful for both companies," Pablo Quirós, GM at RGT Global, said.
Unlocking the power of cryptocurrencies to step inside the decentralised casino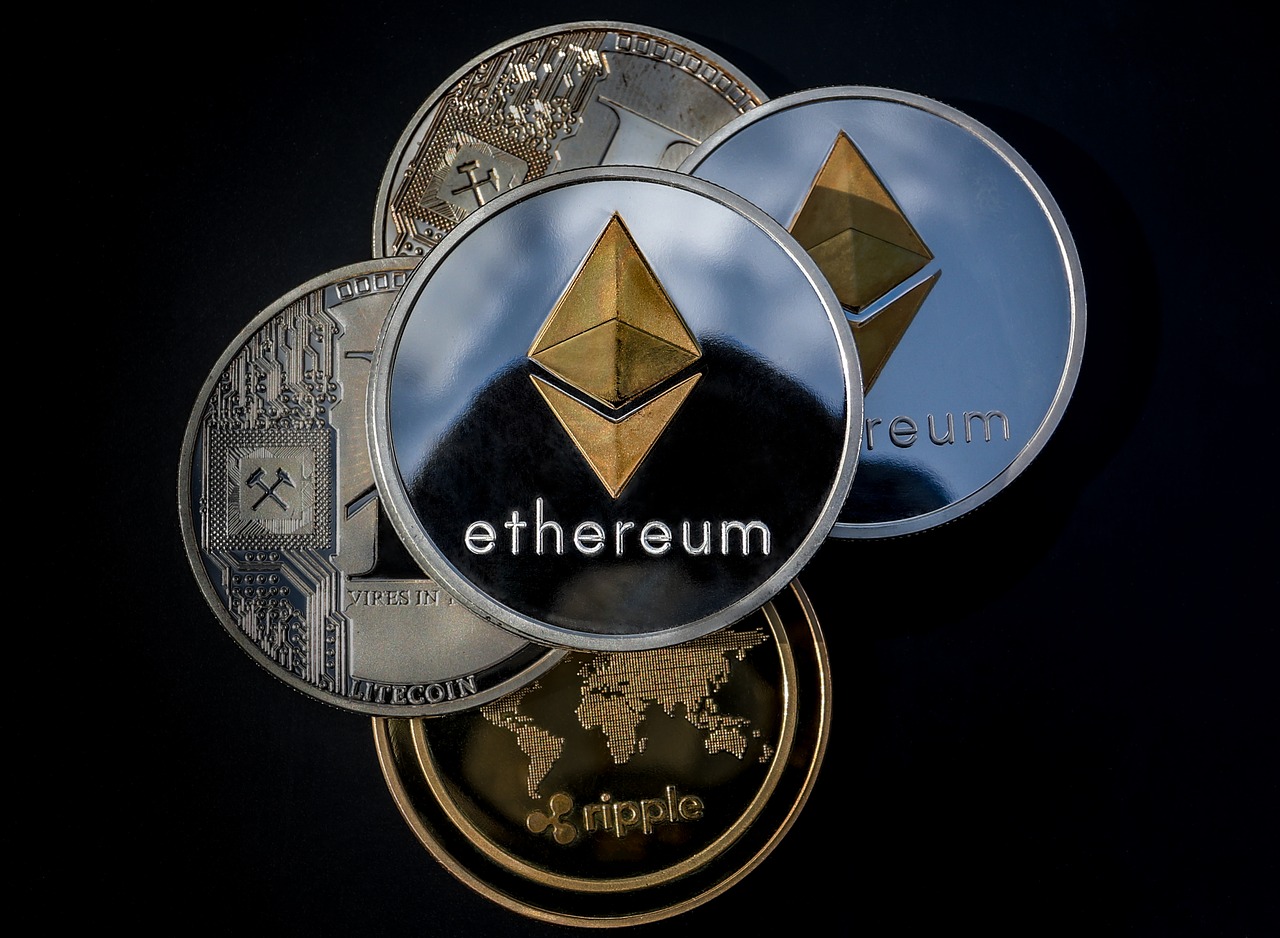 Reading Time:
2
minutes
Researchers from the Department of Computer Science at the University of York have presented the first ever analysis of gambling transactions taking place in cryptocurrency casinos on the Ethereum blockchain.
In uncovering extreme behaviours, the study could assist in identifying the potential for financial harm via unsustainable spending among players, ultimately leading to better consumer protection tools.
The study unlocks blockchain transaction data to provide a detailed summary of spending behaviours, revealing how people are affected by this new form of online gambling.
Decentralised gambling applications differ from traditional online casinos in that players use cryptocurrency as a stake. The codes running the casino games are also stored on public ledgers, known as blockchains and cryptocurrency platforms such as Bitcoin and Ethereum use the technology to process payments and calculate game outcomes.
When players place wagers, their transactions are recorded on a blockchain in an anonymised form. Whilst this data has always been publically available, the technologically advanced nature of the applications has presented barriers to research and regulation.
As part of the study, researchers developed an algorithm to extract and decode transaction data from the Ethereum blockchain. The work examined more than 2.2m transactions from 24,000 unique addresses on three applications operating on the Ethereum cryptocurrency network (dice2.win, etheroll.com and fck.com).
Focussing on simple casino type games of chance, like dice rolls and coin flips, researchers found that the average decentralised gambling application player spends less than in other online casinos overall, but that the most heavily involved players spend substantially more.
As with regular online casino players, researchers found that those who generally place larger bets are more likely to wager larger total amounts over the duration of their betting careers, however this appears to be amplified in decentralised gambling application use.
The data revealed that the most heavily involved bettors wagered an average of 1,000 ETH (equivalent to approximately $100,000), which dwarfs the average 1.1 ETH (~$110 at time of study) presented by the majority of bettors.
In their assessments of typical 'player' behaviour, researchers were also able to identify the presence of non-human players, known as bots, in the data set. Bots may exist for a number of reasons, for example to artificially inflate the perceived popularity of the applications they are transacting with, or to attempt to win the jackpot from an application once it becomes statistically worthwhile to pursue.
The researchers cite that whilst they cannot infer the reason behind the bots' existence, the identification technique they have developed presents an interesting area for future investigation.
Oliver J. Scholten, a PhD Researcher with the EPSRC Doctoral Centre for Intelligent Games and Game Intelligence, and member of the research team commented: "The study illustrates the power and scale of transaction data that decentralised gambling applications can provide to researchers".
Scholten added: "These applications could really change the way people gamble online – we in the research community need to know how they operate, how to analyse them, and ultimately how to identify those in harm's way."
Dr James Walker from Digital Creativity Labs commented: "The work draws attention to cryptocurrency transactions as a tool for large scale in-vivo gambling research, and presents a robust foundation upon which multiple avenues of further analyses can be performed."
The article is published by The Public Library of Science ONE at https://journals.plos.org/plosone/article?id=10.1371/journal.pone.0240693
How a Crypto User Beat Crazy 1/3447 Odds to Win a Lambo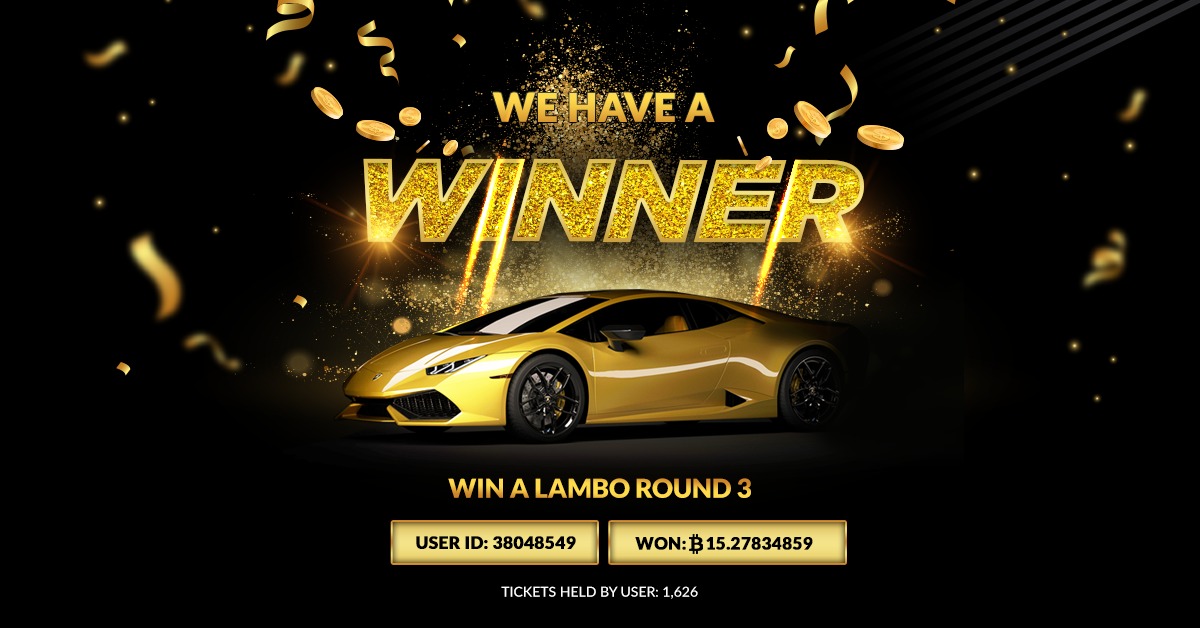 Reading Time:
2
minutes
The biggest giveaway in crypto just concluded its third edition today. After two successful rounds, the third round showed why the popularity of FreeBitco.in's provably fair algorithm is justified.
In Round 2, User 13562178 was the lucky winner, holding 200,000+ tickets in the draw.
However, in Round 3, User 38048549 clinched the top prize holding only 1,626 tickets out of a total 5.5 million tickets distributed. That's some luck!
This is down to FreeBitco.in's truly random, proprietary lucky draw algorithm, where anyone can win even if they hold just one ticket.
The Lambo Goes To…
The Win a Lambo Golden Ticket Contest Round 3 at FreeBitco.in concluded on 25th October. The draw was held on 26th October, and User 38048549 emerged the lucky winner.
With 1,626 tickets, the user had a winning chance that of as low as 0.00029%!
The winner has two options to choose from: a Lamborghini Huracan LP 580-2 or 15.27 BTC ($200,000 in BTC deposited directly into their FreeBitco.in account).
What would you choose? Well, you can find out for yourself…
Win a Lambo Round 4 Has Begun!
If you're new to the Golden Ticket Lamborghini Giveaway, here's a small guide to help you get started:
In May 2019, FreeBitco.in, the world's oldest-existing bitcoin faucet, organized the biggest giveaway in crypto – the Win a Lambo Golden Ticket Contest.
Here are the steps to participate in the contest:
1. Create an account on FreeBitco.in.
2. Collect Free BTC or deposit BTC into FreeBitco.in wallet.
3. Play the HI-LO dice game, or bet on events.
4. For every 0.005 BTC wagered in total on both the dice game or the event betting page, the user gets 1 Golden Ticket.
5. Golden Tickets can also be bought for 25,000 satoshi each.
6. Collect as many Golden Tickets as possible to increase the chances of winning a Lamborghini.
7. After the contest ends, a provably fair lottery drawing will be conducted to pick the lucky winner.
No sooner did Round 3 end that Round 4 began, and it's already off to a cracking start!
Within hours, almost 100,000 tickets have already been distributed. The contest ends in the last week of April, so you have time to start stocking up on Golden Tickets.
Want to get your hands on Crypto's Biggest Prize? Play now!