PlayChip Listing Goes Live Around the World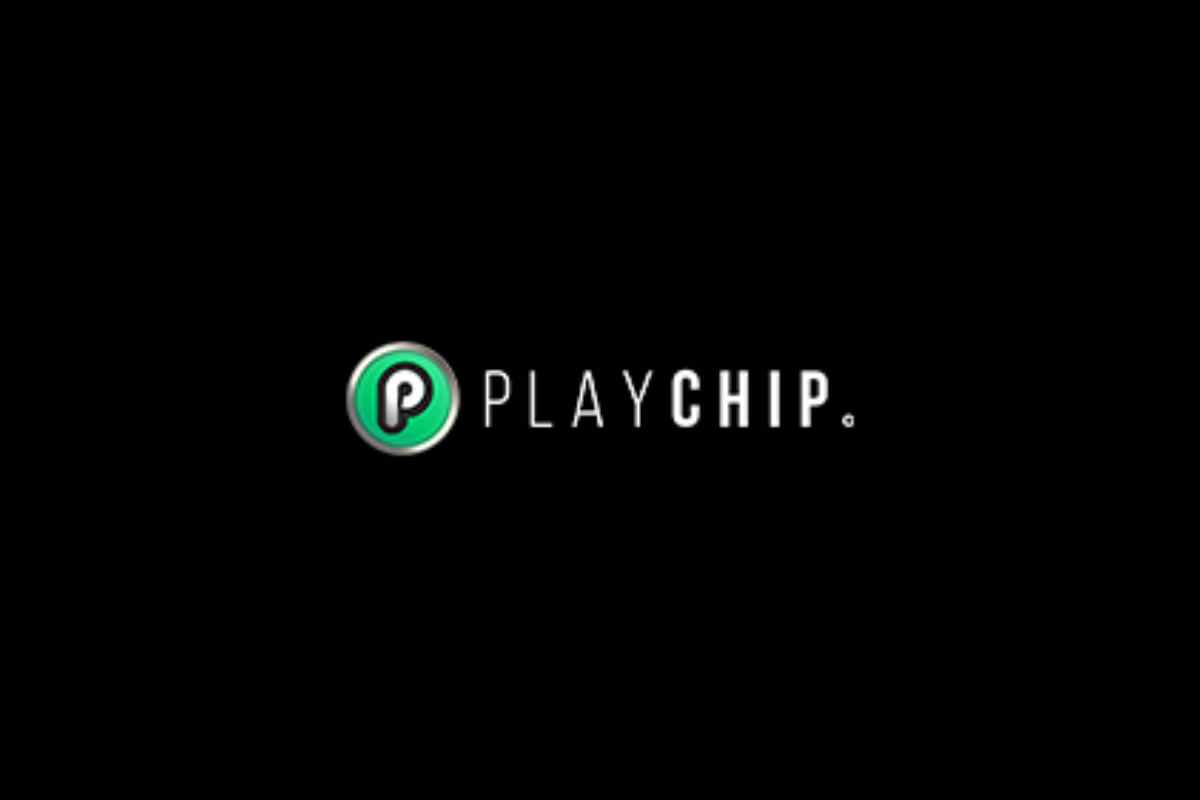 Reading Time:
2
minutes
The Universal Gaming Token will list on cryptocurrency exchanges Independent Reserve, HitBTC and LATOKEN.
The PlayChip Foundation has announced the official listing of its PlayChip token.
The ERC20 token, PlayChip, will go live and commence trading on Australia's first regulated cryptocurrency exchange Independent Reserve, as well as top ten exchanges HitBTC, and LATOKEN on Wednesday January 30th.
The PlayChip was one of the rare success stories in 2018 token sales, attracting participants in more than fifty countries and recognition at major international blockchain events.
The listing follows the first integration of the PlayChip into the gaming platform of operational partner PlayUp.
PlayUp operates several gaming products including one of the world's premier fantasy sports platforms. In Q1 of 2019, PlayUp plans to activate and award over US$1 million in prizes across major sporting events such as the Super Bowl, Big Bash and Six Nations Rugby Tournament.
"This has been a fantastic week for the PlayChip," said PlayChip Foundation Director Daniel Simic.
"The sports betting and gaming market is primed for blockchain integration. This industry was integral in driving mass adoption of the internet in the late 90's, and with the crypto revolution upon us, punters and gamers will once again be the first to experience this next-generation technology, with the PlayChip at the forefront of this revolution."
"We have achieved what a fraction of blockchain-based projects ever accomplish. The PlayChip has been well adopted and demonstrated mainstream appeal with a level of utility most tokens won't see for years, if at all."
"While we are very proud of what we've achieved so far, this is only the beginning. Big things are in store for the PlayChip".
PlayChips can be purchased within Australia from Independent Reserve, and internationally on HitBTC and LATOKEN from Wednesday January 30th.
About PlayChip
PlayChip is the Universal Gaming Token for sports betting, gaming, fantasy sports, and eSports, at the centre of an incentivised, blockchain-enabled sports community and gaming ecosystem. The PlayChip Ecosystem consists of seven partner platforms with more than a million users across over 70 countries. The PlayChip ecosystem is designed to be secure, scalable, simple to use, and fun, as well as include features to incorporate provable fairness into PlayChip transactions and the partnered gaming platforms, making it the gaming token of choice around the globe.
For more information, please visit: https://www.playchip.global/ or read the PlayChip Whitepaper: https://www.playchip.global/wp-content/uploads/2018/08/PlayChip-Technical-Whitepaper.pdf
About PlayUp:
PlayUp Limited is a Universal Gaming Platform offering Daily Fantasy Sports, sports and race betting, fantasy stables, eSports, and casino table games. PlayUp makes up the team behind the PlayChip and operates PlayUp.com, ClassicBet, Draftstars, Betting.Club, TopBetta, & MadBookie. PlayUp Limited will deliver the world's first fully-integrated, blockchain enabled global fantasy sports, online sports betting and gaming ecosystem.
SOURCE PlayUp
1000X BUSTA – Get ahead of the curve in this unique and innovative gaming experience!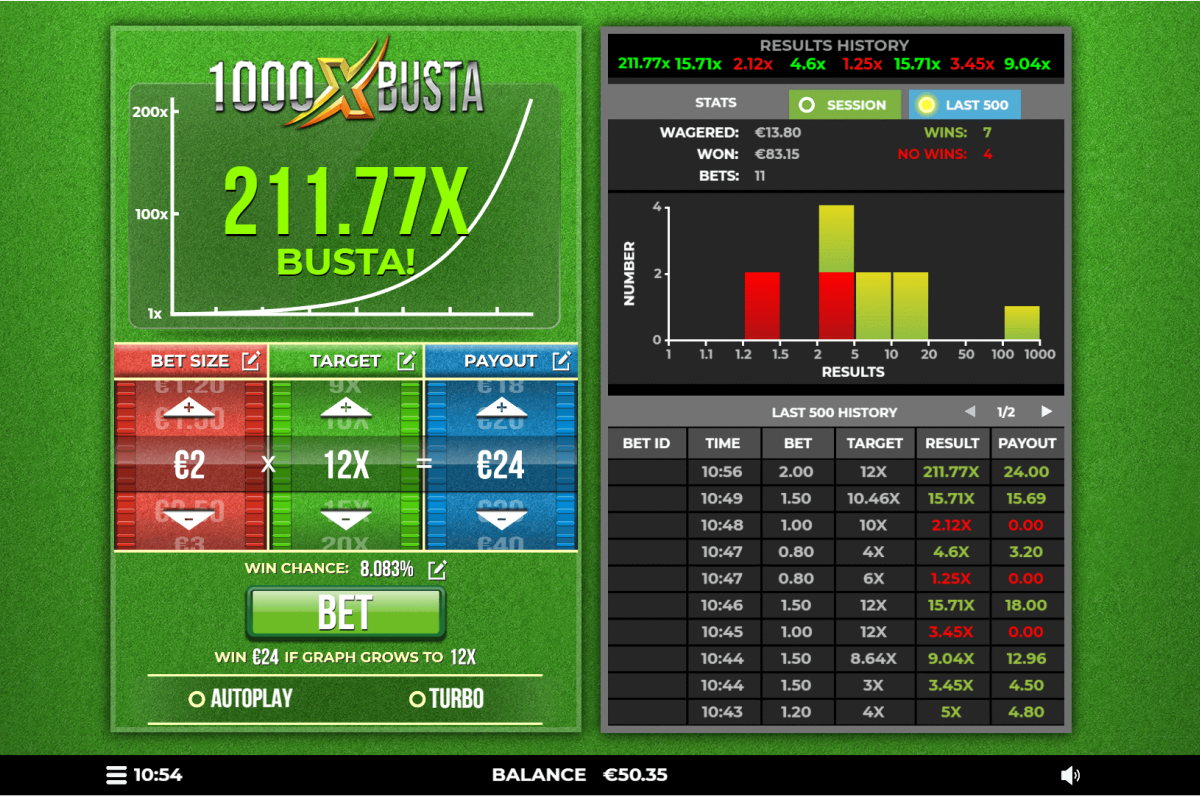 Reading Time:
< 1
minute
The ultimate fun & exciting multiplier game has today been released by 4ThePlayer.com.
Inspired by the legendary Crypto Busta/Crash games and reinvented for Real Money RNG casinos. 1000X BUSTA is a simple yet satisfying game where you can bet on an increasing multiplier – hoping the multiplier hits your target before it BUSTA!
The game also features Cash Out, can you hold on and Cash Out just before it BUSTA!?
Like data? This game has it all including advanced infographics and configurable expert auto play.

"After the success of 100 Bit Dice, we are proud to release our second crypto inspired game, 1000X BUSTA! This game has wide appeal, it is not just for Crypto aware players but any player who enjoys action packed, innovative table games"  Said Andrew Porter CEO of 4ThePlayer.com
Simon Hammon, CPO at Relax Gaming, said: "1000X Busta brings something new and fresh to the online casino community with its unique twist on a crypto classic. We are proud to offer this great game format through our Silver Bullet program with 4ThePlayer.com who continue to challenge the market and deliver innovation and new concepts"
The game is available today, via the Relax Silver Bullet platform.
Join FreeBitcoin's Bitcoin Halving Party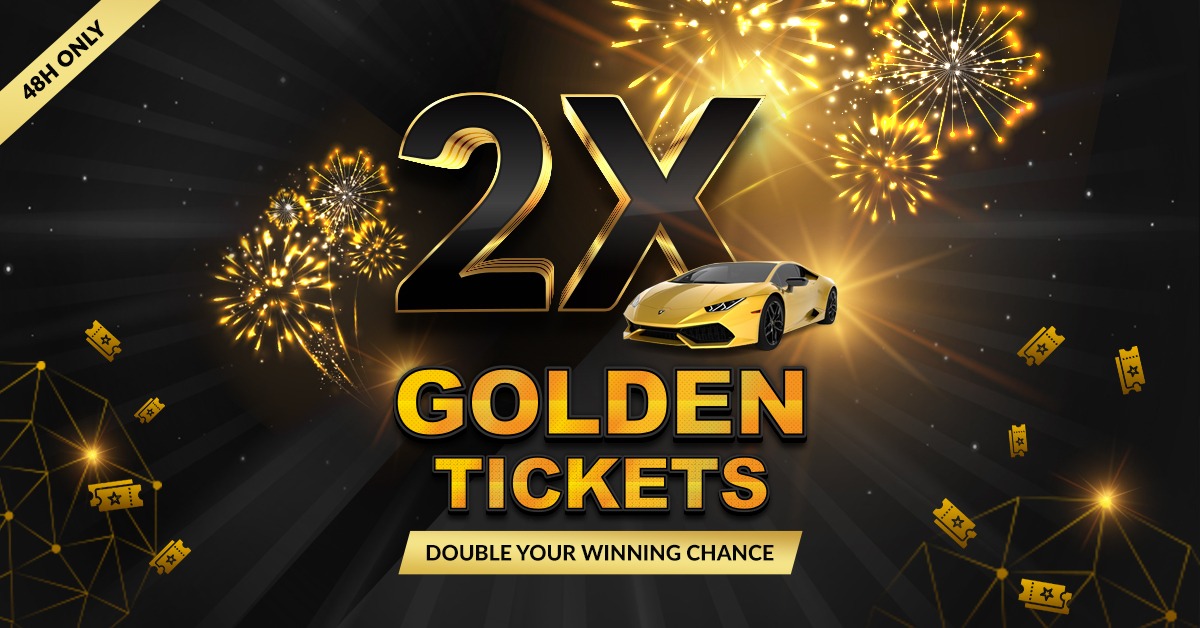 Reading Time:
< 1
minute
At 7:23 p.m. UTC, on Monday, 11th May 2020, the crypto-community got what it was waiting for.
The highly-anticipated Bitcoin Halving event finally took place. Even though varying degrees of the lockdown affect your plans to properly celebrate the occasion, here's how you can join the party online:
FreeBitco.in, the oldest-existing bitcoin faucet, is throwing a lockdown-friendly DOUBLING Party where you could stand a chance to win a Lamborghini!
FreeBitco.in's Bitcoin "Doubling" Party Goes Live on Sunday
The Bitcoin block reward has dropped from 12.5 to 6.25 BTC, and FreeBitco.in is celebrating the event with a Doubling. Let's go into detail:
The website is currently running a Golden Ticket contest, which entails the following steps:
Create an account/login at FreeBitco.in
Play the game to collect Golden Tickets/Buy Golden Tickets for 0.000125 BTC each
A provably fair draw picks out a winner
The winner gets a Lamborghini!
So, on 17th May, at 10:00 a.m. UTC, FreeBitco.in is offering 2X Golden Tickets for 48 HOURS ONLY!
Every Golden Ticket you earn through play is doubled
Every Golden Ticket you buy for 0.000125 BTC is doubled
The more tickets you collect, the higher your chances of winning a Lamborghini. All you have to do is create an account in seconds at FreeBitco.in, and you can join the festivities from 10:00 a.m. UTC on 17th May to 10:00 a.m. UTC on 19th May.
Kronoverse Leaves Enjin To Use Bitcoin SV Solution For Storing In-Game Items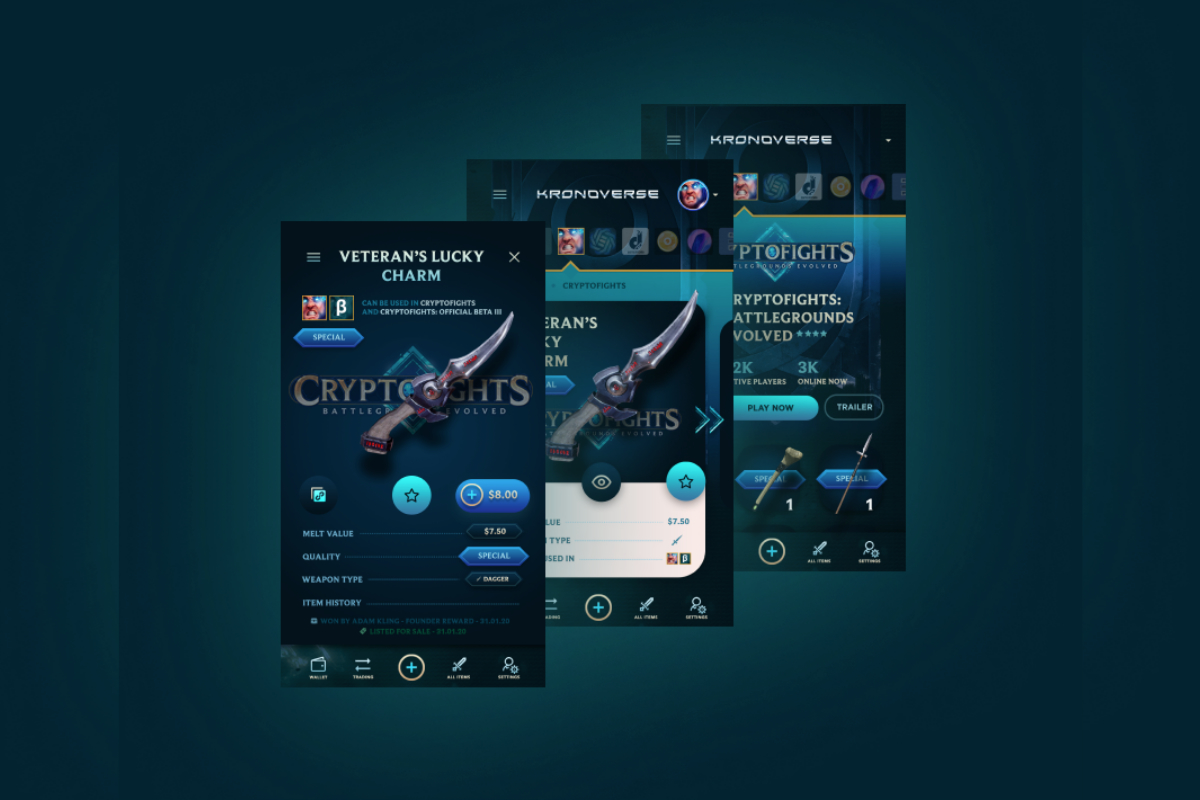 Reading Time:
3
minutes
After relying on Enjin to define items within CryptoFights, Kronoverse has decided to leave Enjin to use its custom Bitcoin SV (BSV) solution for building in-game items. This decision will greatly benefit Kronoverse users who want a reliable system to buy, sell, and trade gear.
Why did Kronoverse choose to leave Enjin?
"We decided to leave because of problems with Ethereum," said Adam Kling, the CEO, and founder of Kronoverse. "Bitcoin SV is the best choice for us and the value we are working to bring to the esports community."
Making the decision to transition to BSV was the result of research and development efforts that continued to show that Ethereum was not the best fit for what Kronoverse envisioned. Here are the key issues Kronoverse dealt with when building on Ethereum:
Ethereum is at capacity, slow, can't scale, and expensive. This is discouraging to gamers who want to buy, sell, and trade in-game items on a frequent basis.
Proof of Work is the only proven consensus mechanism and we lack confidence that PoS/DPoS will work.
Ethereum 2 scaling approaches are still experimental whereas BSV has demonstrated its scaling ability.
What are some of the benefits of transitioning to Bitcoin SV?
As part of its efforts to make in-game item ownership more scalable and accessible to gamers around the world, Kronoverse is turning to BSV as its solution of choice. Kronoverse is creating a better item protocol with BSV.
BSV is also faster and cheaper to conduct trades. This means that players won't have to worry about racking up ridiculous fees just to do things like trading duplicate items and selling unwanted items. Due to its efficiency, BSV is capable of handling millions of transactions without slowing down. Kronoverse users can have confidence that nothing will go wrong when they're trading and selling.
Kronoverse users will also be able to use more available features that Enjin isn't capable of like storing the 3D model of an item. Files can be stored on blockchain similar to Dropbox which is convenient and easy to use. This feature is just one of the many details that will add to the total user experience that gamers will enjoy in the Kronoverse platform.
What does this mean for existing holders of Enjin items?
If you've already purchased CryptoFights in-game items, you don't need to worry. All of your Enjin-based pre-release items will be honored but these tokens will serve as a claim check for BSV tokens. To make this possible, we're releasing a conversion smart contract in a few months which gives users the ability to melt Enjin items, keep the stored ENJ, and receive an equivalent item usable in CryptoFights.
Introducing the Kronoverse Marketplace
As part of its vision to empower gamers with true item ownership, the Kronoverse Marketplace is slated to be available for later this year. All users will be able to sell unwanted items for profit. Kronoverse users will also be able to trade with other players to find the in-game gear they want and need.
Whether you buy or win an item, it's automatically added to your Kronoverse wallet as soon as you acquire it. Your mobile wallet app makes it easy to read any item's description, stats (i.e. rarity, value, type, and which games it's compatible with). Each item also has its own history that provides the original ownership, when it has been listed for sale and all previous owners of the item.
Another way users can benefit from the marketplace is the list of wanted items and items for sale. Logging into the Kronoverse system allows you to see your own items, balance, and make trades using items or cash. You can also start a trade listing with multiple items or seek rare items for a cash reward.
What's next?
Within the next couple of weeks, the launch date for the CryptoFights open beta will be announced. The open beta will be available on Android and will be free to play. It'll give you the chance to experience the latest updates, improved gameplay, and test out your skills against other players around the world.
When the full game and the Marketplace is released later this year, everyone will experience the power and benefits that come from transitioning Kronoverse to BSV.