IGT to Unveil Expanded Scope of New Product Offerings at NIGA 2019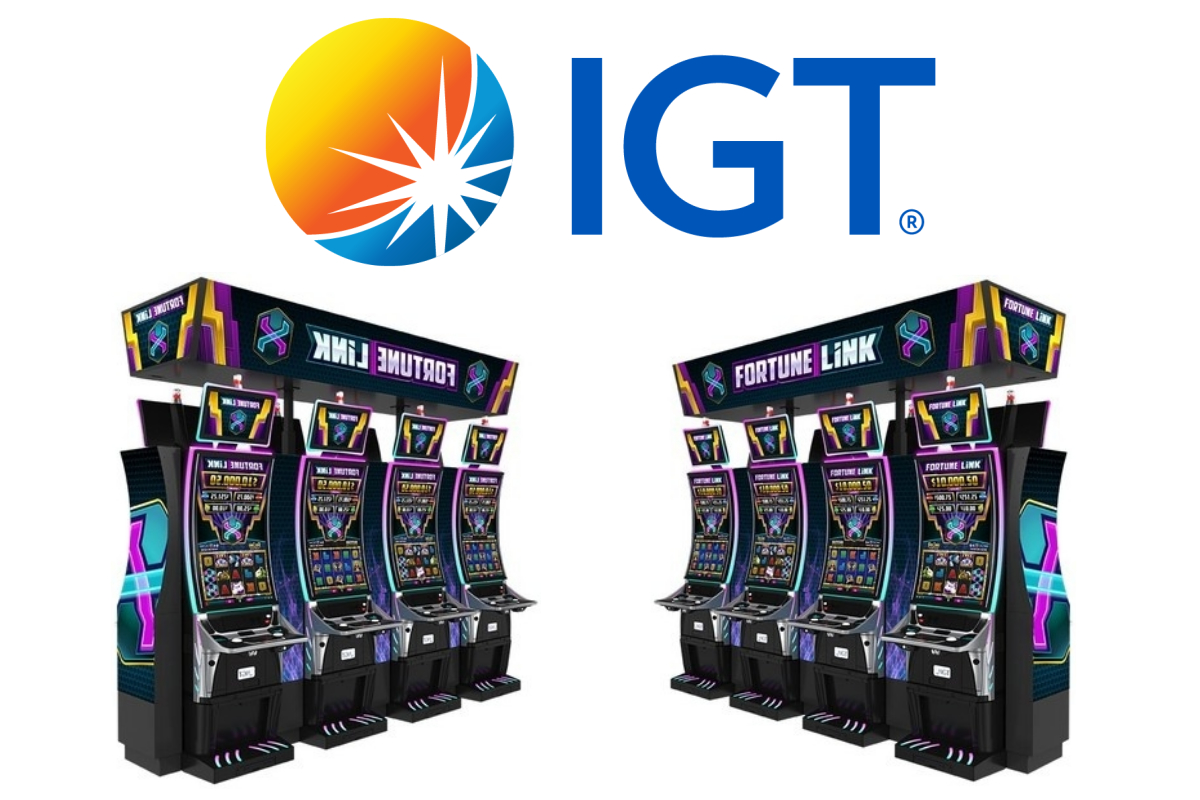 Reading Time:
4
minutes
International Game Technology PLC announced that the Company will showcase exciting new games and solutions from its vast product portfolio at the 2019 Indian Gaming Tradeshow and Convention ("NIGA"), booth 1864, from April 3-4 in San Diego, Calif.
IGT will demonstrate its deep commitment to tribal gaming customers with compelling innovations that enhance casino play and drive results for operators. For the first time at NIGA, IGT will present the full capabilities of its omni-channel PlayShot™ sports betting platform. It will also feature the new IncrediBell!™ tournament solution in NIGA's Charity Slot Tournament benefitting the Spirit of Sovereignty.
"At NIGA we will reinforce our commitment to tribal gaming customers by demonstrating how our expanded portfolio of games, systems, and solutions is designed to propel growth," said Renato Ascoli, IGT CEO North America. "Our tribal gaming partners continually set a strong example for casino innovation, and we identify NIGA as an opportunity to deliver a technology showcase with new games, hardware, and exciting evolutions in our sports betting and tournament offerings."  
Under the theme "Your Best Bet," IGT will showcase the following product highlights within its NIGA booth:
IGT PlayShot sports betting solution: Now powering sports betting at tribal, commercial, and lottery-run casinos across six states, the turnkey PlayShot sports betting solution underscores how tribal casino operators can partner with IGT to capture opportunities within the rapidly evolving U.S. sports betting market with market-ready technology. IGT will also demonstrate compelling new sports betting technologies such as the PlayShot™ QuickBet™ sports betting kiosk and the CrystalBetting™ Terminal.
Proven core content: NIGA attendees can experience titles such as the Griffin's Throne™ and Fortune Coin™ games, which have earned "Proven Performer" status in the Company's performance testing process. The Company will also showcase new games such as Coin O Mania™ and Golden Jungle™ Grand on the CrystalCurve™ cabinet, and the Wild Pirates® game on CrystalSlant™ cabinet.
Legendary brands on proven hardware: IGT will showcase the depth and breadth of its premium portfolio with games inspired by top-tier licensed brands, such as the Wheel of Fortune® Cash Link™ and Wheel of Fortune® 4D More Money games. NIGA attendees will be invited to "Come on Down" and experience IGT's trio of The Price is Right® games including The Price is Right Showcase Showdown on the new Megatower™ Universal cabinet, The Price is Right on CrystalCurve™ ULTRA hardware, and The Price is Right Plinko on the CrystalDual+™ Stepper cabinet. These games will share the floor with other pop culture-inspired games such as Adam Levine Video Slots and American Gods™ 4D at NIGA.
IGT will also display a range of multi-level progressives for the CrystalCurve cabinet including the Star Stax™ game and the recently launched Fortune Link™ game.
New Class II and CDS content and hardware: NIGA will mark the world debut for IGT's large-format S3000® XL cabinet for Class II content, premiering with the Red Rich Girl™ game. Building on the success of Class III Proven Performer titles, the Company will present Class II versions of games such as Fortune Coin™ and Wild Fury Jackpots® on the CrystalCurve cabinet. Additionally, IGT will present CDS-compatible offerings on the large-format Video XL gaming machine with titles such as the Triple Fortune Dragon® and Dangerous Beauty® games. Other CDS-compatible games on display will include Scarab™ and Wu Wang Zhe™ on the CrystalDual 27 cabinet, and the Golden Jungle Grand game on the CrystalCurve cabinet.
CrystalSlant™ Poker cabinet and content: NIGA will serve as the trade show debut for the CrystalSlant Poker gaming machine, offering a modern hardware solution for industry-leading video poker themes such as Game King®, and new Keno games such as Ultimate X Keno™ and Super Times Pay Keno™.
Chill Gaming's Bloomtopia™ and Fortunes of the Brave™: IGT's NIGA booth will also include games with social gaming and skill-based elements. Chill Gaming's Bloomtopia and Fortunes of the Brave games reward players with monetary and non-monetary awards. Bloomtopia enables players to enjoy a traditional slot game while building and nurturing their own in-display garden. The Fortunes of the Brave theme is a game of chance with elements of skill where players enjoy a traditional video slots base game, and then engage in skill-based fantasy battle features using a console gaming controller. Players can leverage the games' unique player cards to store their in-game progress for future visits.
Additional product highlights within IGT's booth will include:
IGT's Dynasty Electronic Table Games (ETG) including live baccarat, blackjack, sic bo, and roulette. The Company will also highlight its RNG offerings with Triple Zero Auto Roulette, baccarat, and the new triple hand blackjack with expanded options for side bets.
Low-denomination progressive spinning reel games on the S3000 cabinet with titles such as the Dragon of Fortune™ and Red Hot Tamales!® Jackpots games, plus content on the high-denomination S3000 cabinet, which includes player-favorite features such as the progressive jackpot meter display, iconic stepper sounds, expanded pay tables and black reel glass.
Mobile systems innovations Cardless Connect®, Resort Wallet and Mobile Intelligent Offer, and the M5 content delivery solution, which seamlessly integrates into the ADVANTAGE casino management system. IGT's M5 enables operators to leverage a game screen to deliver bonus content and offer a variety of patron conveniences such as ordering a drink and making hotel reservations.
About IGT:
IGT (NYSE:IGT) is the global leader in gaming. We enable players to experience their favorite games across all channels and regulated segments, from Gaming Machines and Lotteries to Digital and Social Gaming. Leveraging a wealth of premium content, substantial investment in innovation, in-depth customer intelligence, operational expertise and leading-edge technology, our gaming solutions anticipate the demands of consumers wherever they decide to play. We have a well-established local presence and relationships with governments and regulators in more than 100 countries around the world, and create value by adhering to the highest standards of service, integrity, and responsibility. IGT has over 12,000 employees. For more information, please visit www.igt.com.
IGT Contact:

Angela Geryak Wiczek, Corporate Communications, toll free in U.S./Canada (844) IGT-7452; outside U.S./Canada (401) 392-7452

Kelley Waynert, Global Communications, Gaming (702) 669-3236

James Hurley, Investor Relations, (401) 392-7190

Giuliano Frosini, +39 06 51899584; for Italian media inquiries
© 2019 IGT
© 2019 Califon Productions, Inc. "Wheel of Fortune" is a registered trademark of Califon Productions, Inc. All Rights Reserved.
All usage of Adam Levine's name, image and likeness is under permission from Adam Levine Productions, Inc. All rights reserved.
BLOOMTOPIA™ and FORTUNES OF THE BRAVE® are trademarks of Chill Gaming Pty Ltd.
Official AMERICAN GODS™ licensed product.  ©/™ Fremantle 2019.  All Rights Reserved.
The Price is Right: ®/© Fremantle 2019. All Rights Reserved.
The trademarks and/or service marks used herein are either trademarks or registered trademarks of IGT, its affiliates or its licensors.
SOURCE IGT
Plaza Hotel & Casino to host second annual Las Vegas Pickleball Open, Sept. 24-28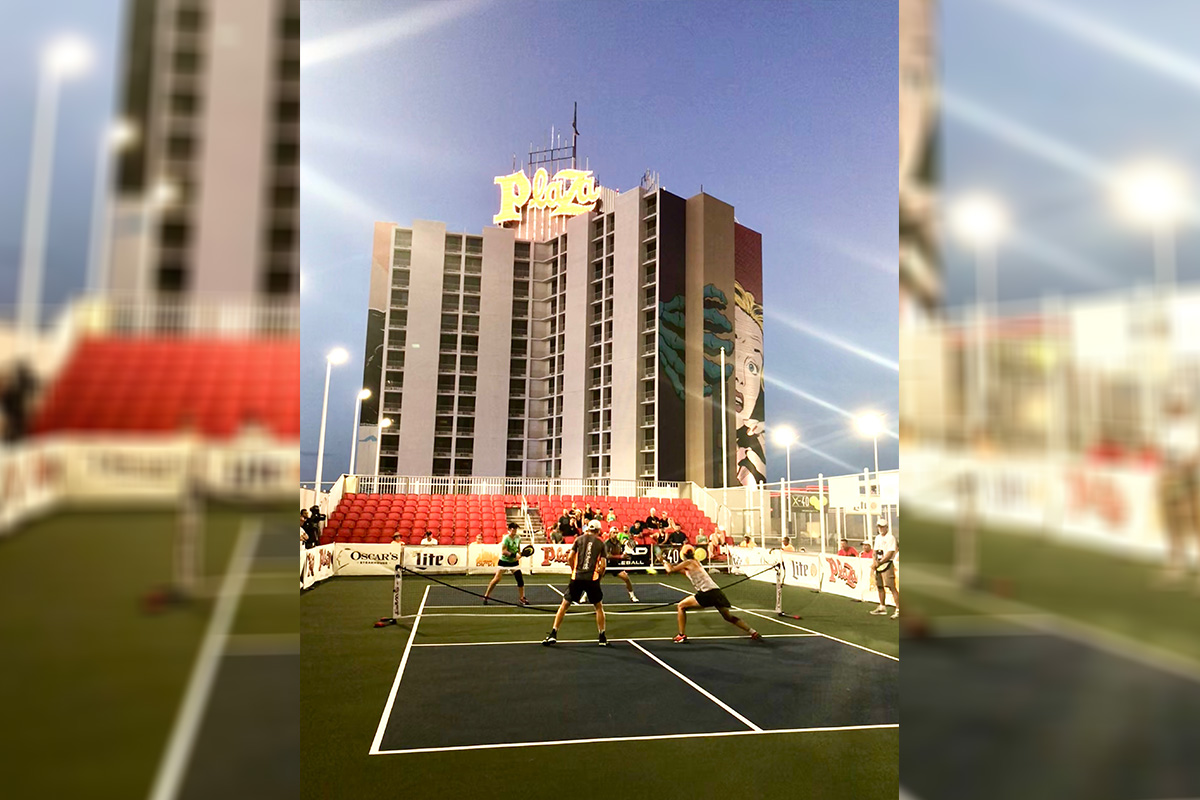 Reading Time:
2
minutes
LAS VEGAS – With more pickleball courts than any Las Vegas hotel/casino, the Plaza Hotel & Casino is again the official hotel and title sponsor of the Las Vegas Pickleball Open, Sept. 24-28. The annual competition saw registration more than double in its second year and expects to welcome nearly 650 players in 2019.
Due in large part to the success of last year's tournament, hundreds of amateur and professional pickleball players from across the United States and around the world, including Japan, Mexico and Canada, will participate in next month's event. Players also span multiple generations, from 12 to 81 years of age. Many players from last year are also returning, including top pros Simone Jardim and Kyle Yates to defend their mixed doubles title.
The Las Vegas Pickleball Open offers professional players a competitive prize package of $25,000 split between grand prize, silver and bronze medalists. The Plaza will again construct special grandstand seating for championship matches that will be streamed live on the event website.
"Pickleball continues to grow in popularity for players young and old," said Jonathan Jossel, CEO of the Plaza Hotel & Casino. "Since we debuted the permanent pickleball courts on the rooftop pool and recreation deck in 2016, the Plaza has built a unique reputation as a premier pickleball destination. Now, we are welcoming hundreds of players from around the globe for this unparalleled tournament that offers players everything: top-notch competition as well as delicious dining options, exciting entertainment and relaxing accommodations, all in the heart of downtown Las Vegas."
The tournament will offer men's, women's, and mixed amateur doubles matches as well as men's, women's, mixed and senior (50-plus) professional doubles matches. Matches will be played from 8 a.m. to 10 p.m. daily, with the scheduling of the championship matches to be announced. Spectators can attend any of the matches, including the semi-finals and championships, for free.
Players can register for the tournament online at www.lasvegaspickleballopen.com. Participants can also book hotel rooms at the Plaza at a special tournament rate, starting at $40 per night on the event site or at https://www.plazahotelcasino.com/entertainment/pickleball-open/.
A cross between tennis, badminton and ping pong, pickleball is the fastest growing racquet sport in the U.S., boasting more than three million players – a number that has been growing by more than 10 percent each year over the past decade.
Expectations on Online Gambling in the US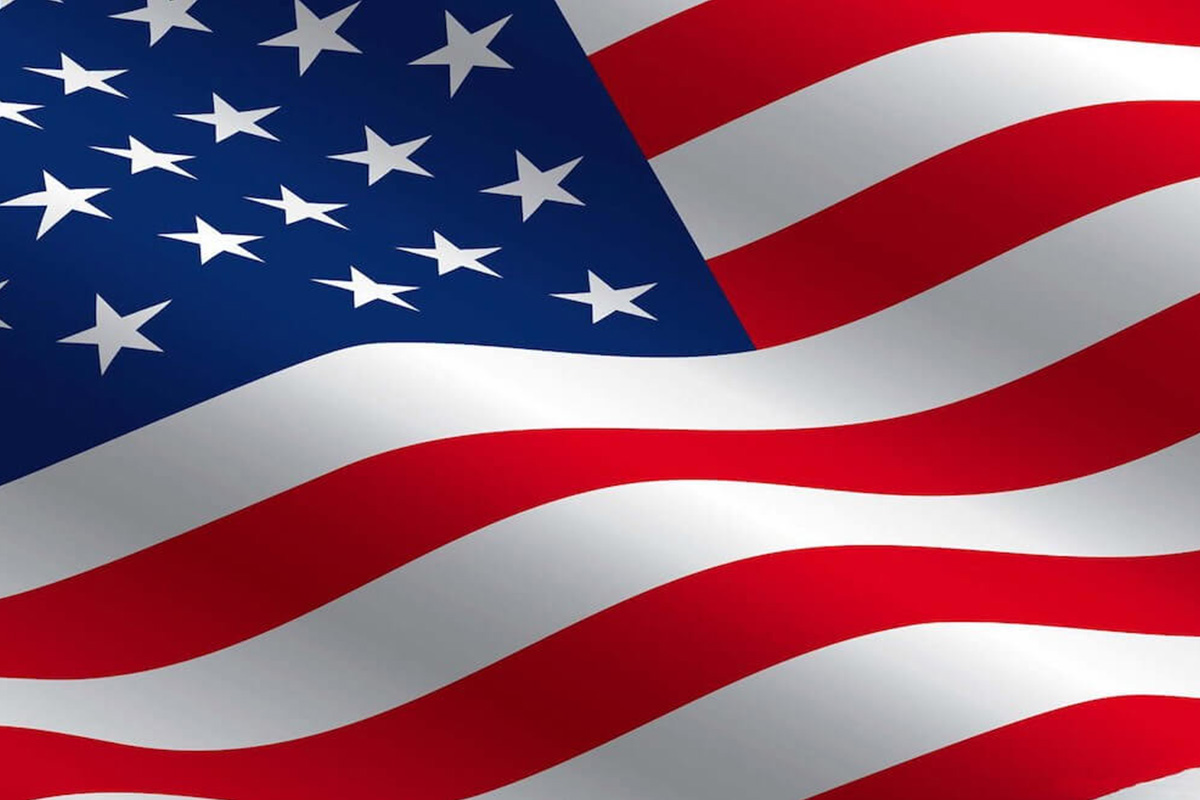 Reading Time:
2
minutes
The U.S. casinos have already entered into the list of the burning issues of the United States. Nevada is a national gambling symbol in the US, while some of the states impose strict restrictions even on the online casinos. The recent tendencies in the American online gambling market look quite promising.
Around 90% of the American gamblers easily switched from a traditional casino to the online platforms introducing the same services. At the same time, 85% of the US gambling niche income is generated by its online segment. On average, the industry of sports betting reaches the exorbitant figures – $400 billion a year.
It is obvious that the US cannot impose a strict federal ban on online gambling. The only obstacles may exist on the state level, where the situation is quite paradoxical. Depending on the state, the national operators have to satisfy a long list of the legal requirements to get a proper license.
It seems that the endless war between the operators and the state laws is getting tense: many of the gambling icons keep pushing the respective bills about partly legalisation of online casinos.
The milestone to block the decision-making process on a state level is taxation rates for the online casino operators. Some of the fees make it clear that the government would like to benefit from the business as much as the actual providers.
Despite a few legal opportunities, the online gambling niche in the US is blossoming. This business will soon reach its peak and will demand some more room for expanding its influence and audience.
In the nearest future, we can expect some further improvements. There is nothing to hold the industry from further development. Recognising the providers' needs will resolve lots of issues related to illegal gambling. This should be a minimum benefit the federals cannot resist.
DOJ Appeals the District Court Decision on Wire Act Case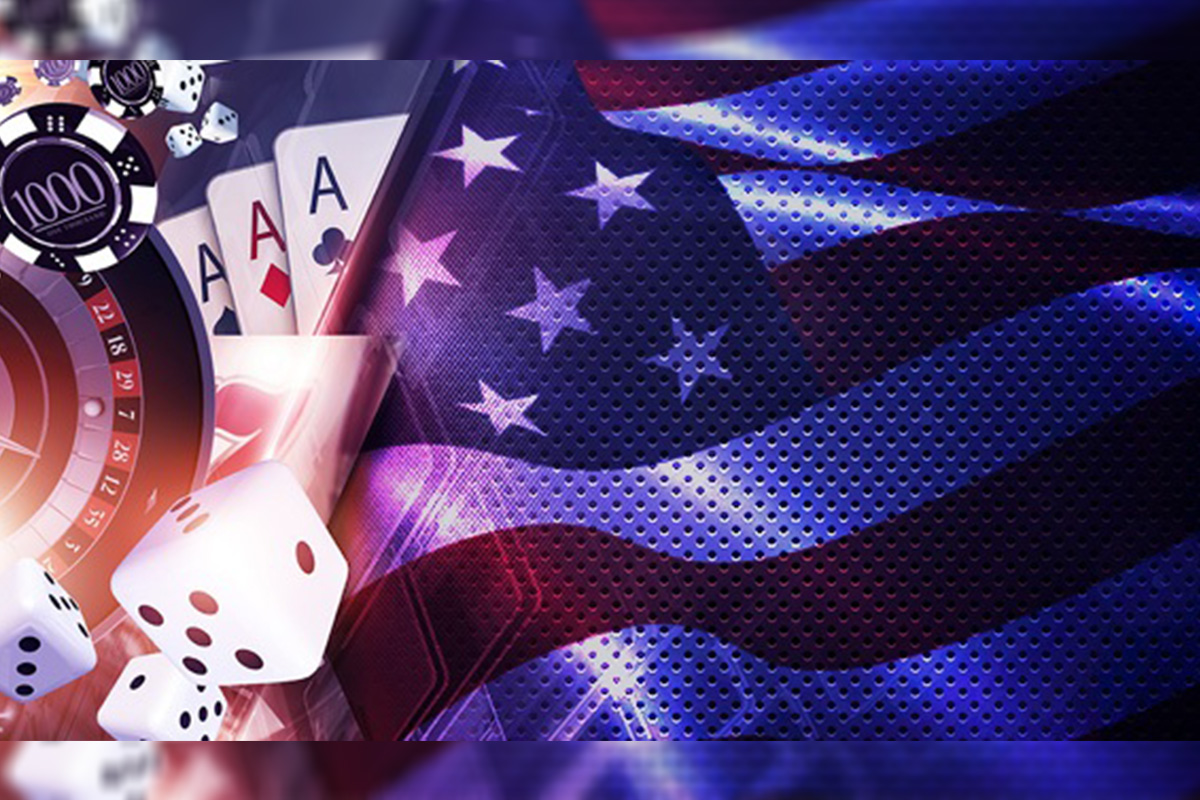 Reading Time:
1
minute
The Department of Justice has filed its intent to appeal a district court decision on the Wire Act to the First Circuit Court of Appeals.
In June, a federal judge in the New Hampshire District ruled that the Wire Act applies only to sports betting and not to other forms of interstate gaming.
The New Hampshire Lottery and its vendor had filed the federal case because of the DOJ's change in stance on the interpretation of the Wire Act.
The DOJ in 2011 had stated that the Wire Act applied only to sports wagering. But it reversed the course with a memo from 2018, expanding the possible reach for federal prosecution which triggered worries about its applicability to online gambling, lotteries and other forms of gaming that potentially cross state lines.
The New Hampshire District judge had forecast that the case would likely reach the US Supreme Court. While the case is going on, the DOJ has said it would not enforce the new interpretation of the Wire Act until 2020.
"The Department's action, while hardly unexpected, is certainly unwarranted. DOJ generally files appeals of adverse district court decisions as a matter of course. We hope that, rather than engaging in a protracted, expensive and ultimately unsuccessful legal fight, the Department will take this opportunity to negotiate a settlement which will focus the Wire Act and DOJ's enforcement resources on the right targets – the unlicensed illegal offshore Internet gambling operators who do not create jobs or tax revenue in the U.S. and do not appropriately protect consumers," Jeff Ifrah, founder of iDEA Growth (an online gambling lobbying group) said.