Relax Gaming Announces Let's Get Ready to Rumble® and It's Time® In First Branded Content Deal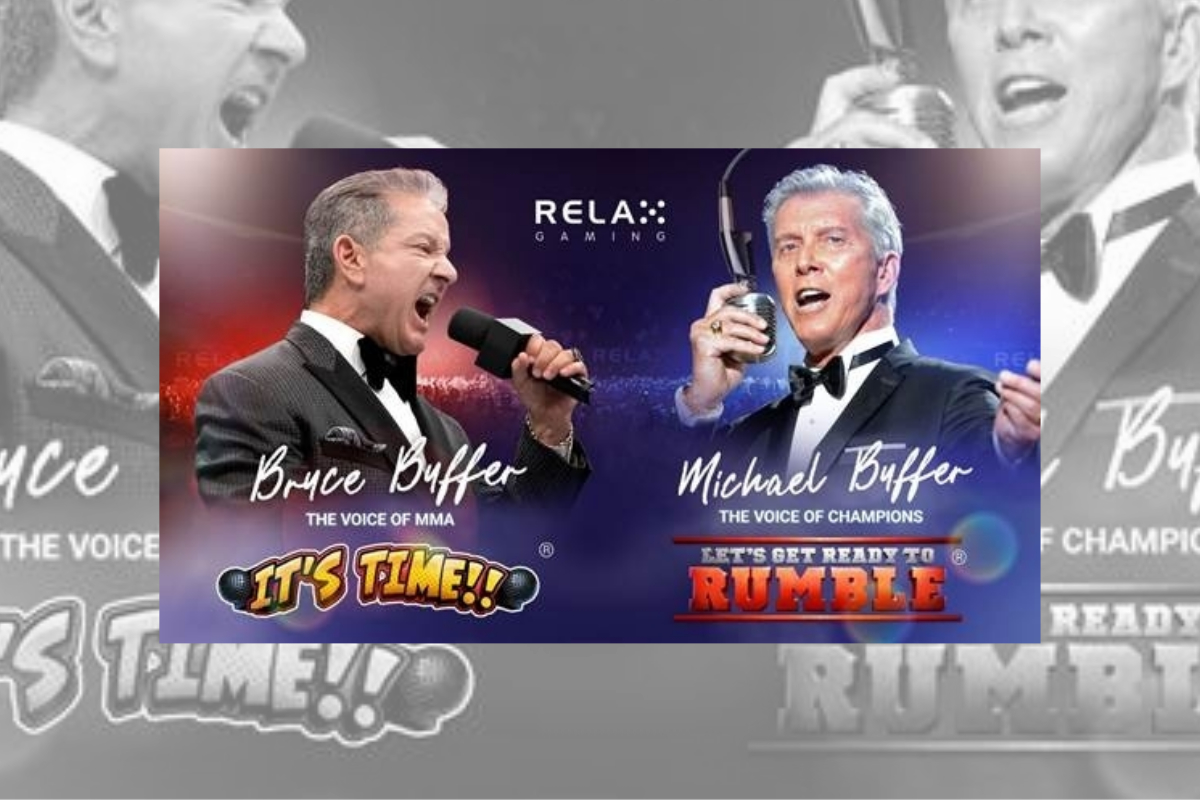 Reading Time:
2
minutes
Dual IP deal will feature world-famous sports announcers Michael and Bruce Buffer as Relax Gaming Gets Ready to Rumble
Relax Gaming, the new-breed content provider and distribution platform, has laid down a disruptive marker with the unveiling of two new branded Boxing and Mixed Martial Arts (MMA) slot titles, Let's Get Ready To Rumble® and It's Time®.
The games will feature the likenesses and catchphrases from world-famous ring announcers Michael "The Voice Of Champions" Buffer and Bruce "The Voice Of MMA" Buffer.
Michael will lend his iconic delivery to Let's Get Ready to Rumble®, while Bruce's unmistakeable delivery of MMA's most recognisable phrase will feature in It's Time®.
Simon Hammon, Chief Product Officer at Relax Gaming, said: "We are delighted to unveil Relax Gaming's first network branded productions, which feature partnerships with the iconic and world renowned Michael and Bruce Buffer.
"As we continue to capitalise on our rapid growth and market presence it seems a natural step to get disruptive in the best possible way, with games that feature the most iconic announcers in sports. Both games will include diverse mechanics and design styles highlighting the versatility of the Relax Gaming offering."
Bruce Buffer said: "My brother and I are thrilled to be entering the world of video slots with a team as professional as Relax Gaming. Its ability to capture the essence and exhilaration of fight night has resulted in a hugely entertaining project.
"Sports fans, especially those keen on Boxing and MMA, will have the opportunity to strive for greatness with two games that promise to deliver. To sports and gaming fans everywhere, we look forward to seeing you in the ring!"
Relax Gaming is a new breed of supplier, offering fresh content and more than 570 games. This is the company's first foray into branded content but far from the first for CPO, Simon Hammon. The provider has significantly grown its commercial footprint in recent months, signing numerous agreements with some of the industry's most recognisable names.
Takkaro launches new affiliate site through LadyLucks acquisition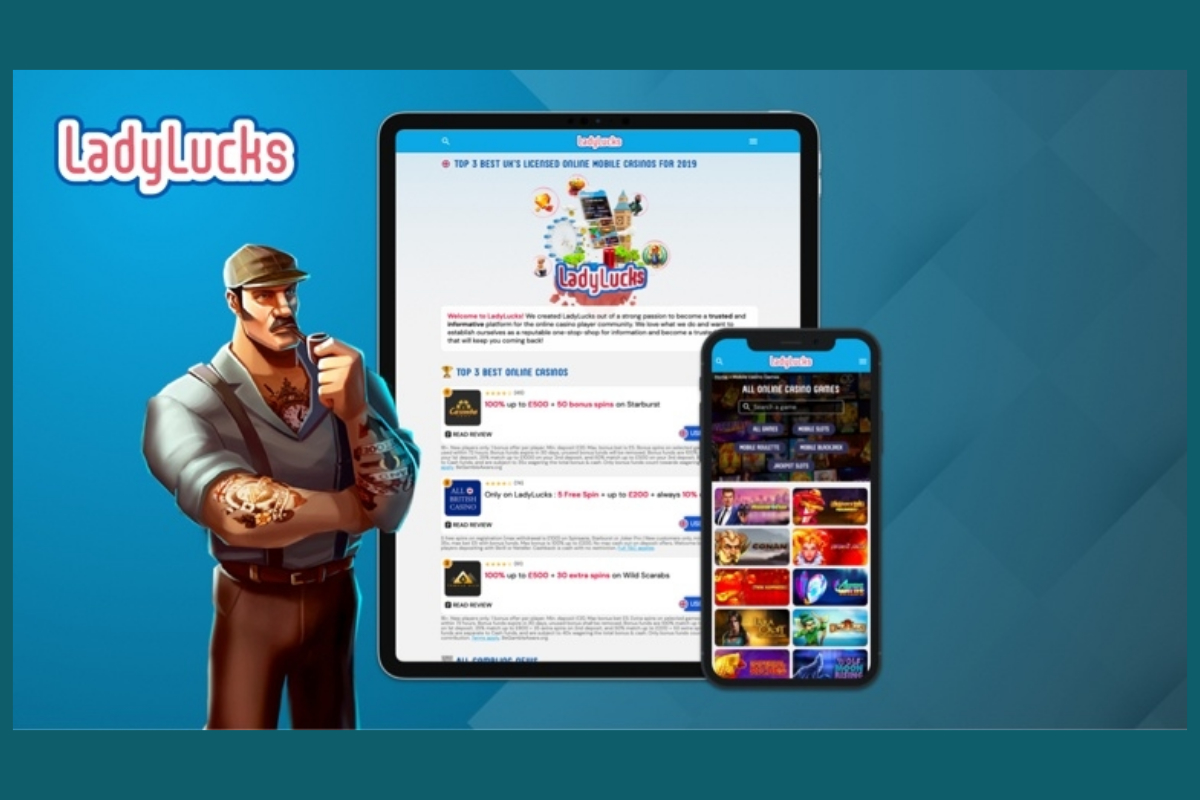 Reading Time:
2
minutes
Takkaro, the established affiliate marketing specialist, has acquired gaming site LadyLucks.co.uk and transformed it into an online casino guide.
LadyLucks was launched in 2011 as the first dedicated mobile casino in the UK. Founded by IGT, it was later bought by Alea in 2017.
Under Takkaro's ownership the LadyLucks brand has now become a UK-focused online casino guide and affiliate site. It will be used to promote select casino brands and offer tutorials, game reviews, FAQs, support and advice on responsible gambling.
LadyLucks' development will be aided by Takkaro's long history of success, with the operator's founders, Charles Gross and Alexandre Tomic, having launched the pioneering Casino Lemonade affiliate marketing website a decade ago.
Maxime Gross, Takkaro's Managing Director, said: "LadyLucks is already an established and trusted brand and we have been impressed by its reach. We identified its promise as a casino guide and this acquisition makes sense both for LadyLucks and Takkaro.
"We believe that the combination of LadyLucks' prominence and Takkaro's expertise and knowledge of the online casino and affiliate sector will create a fantastic experience for players.
"We care about our players and so LadyLucks will also include a section on responsible gaming where we offer tips that will help players maximise their overall gaming experience while helping them to avoid the dangers of developing a gambling addiction."
Earlier this year, Takkaro unveiled a unique online casino comparison website, FeedBACKcasino.com.
Founded on a "find and compare" principle, FeedBACKcasino.com allows visitors to identify preferred online casinos by applying different filters, such as payment methods, software and types of games – and comparing them side-by-side at the same time.
"This has been an exciting year for Takkaro," Gross said. "Following the successful launch of FeedBACKcasino we will now look to make progress with LadyLucks as we reach out to a new audience."
Digitain set to showcase latest U.S. strategy and products at G2E 2019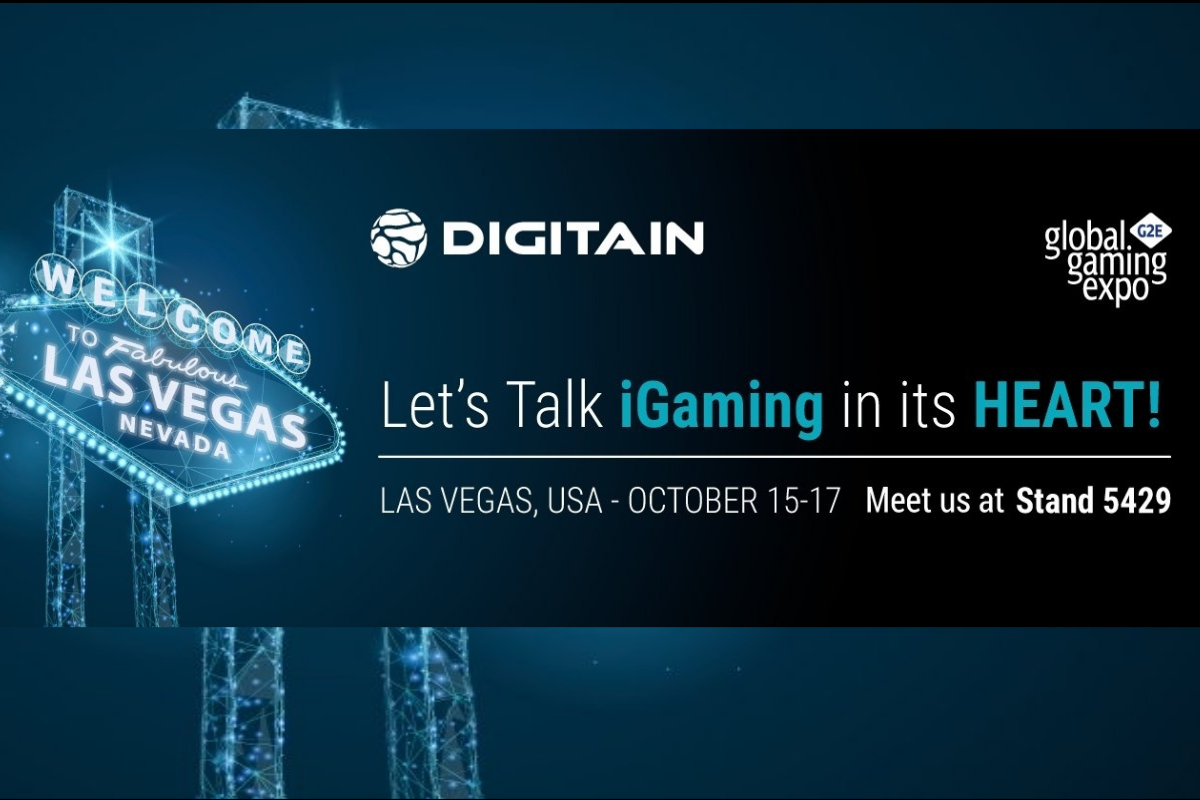 Reading Time:
2
minutes
Leading provider heads to Las Vegas with pioneering sportsbook and a G2E gameplan for expansion
Leading platform provider Digitain is on site and all set for next week's Global Gaming Expo 2019, which runs from 14-17 October at the Sands Expo Convention Center, Las Vegas.
Spearheaded by a dedicated sales force with proven experience delivering industry-leading B2B solutions across online and retail sports betting technology, the Digitain team will be on hand to advise delegates as to its North American strategy, featuring a wide-ranging product portfolio and trading tools which lead the field.
After PASPA's landmark repeal last year, regulated state-by-state sports betting is gathering progressive pace and traction. Accordingly, G2E 2019 – the largest igaming gathering of the year stateside – provides a must-attend conference at which to both distil and illuminate the North American opportunity, as the U.S. market continues to coalesce and crystallise its potential.
Digitain's definitive sportsbook solution and trading tools are tailor-made for the demands of live betting in a fragmented legislative landscape, facilitating rapid integrations across the world, all supported by centralised control systems.
In total, this sportsbook product covers 65 sports, covers 7,500 leagues, and offers more than 3,000 betting markets. It also offers odds on 35,000 live events each month, while its casino solution has 3,000-plus games from major casino suppliers (such as Novomatic, Microgaming, NetEnt and Playson).
Simon Westbury, Digitain's Director for International Business Development, said: "G2E 2019 provides us with a perfect venue at which to underline the quality and innovation we bring to the sports betting industry. Our platform was specifically designed for fast deployment across multiple territories.
"Unlike the cookie-cutter solutions that increasingly dominate the U.S. landscape, Digitain can work flexibly with operators state-by-state to offer tailored front-ends which speak to representing their individual brands accurately, thanks to a customisable user interface. It's a brave, new world."
Suren Khachatryan, CCO at Digitain, added: "I'm hugely optimistic about the U.S. market for sports betting, and requests for proposal in the U.S. have been very encouraging. We're noticing a surge in interest from southern states such as Mississippi, while even the likes of New Jersey and Nevada retain potential. It's a fascinating time, particularly with more mature states about to release figures on the current NFL season (certain to be a core revenue-driver). But it's still an embryonic period where operators must not make rushed decisions in the collective stampede to market."
Post-Event CEEGC2019 Budapest: Another one for the history books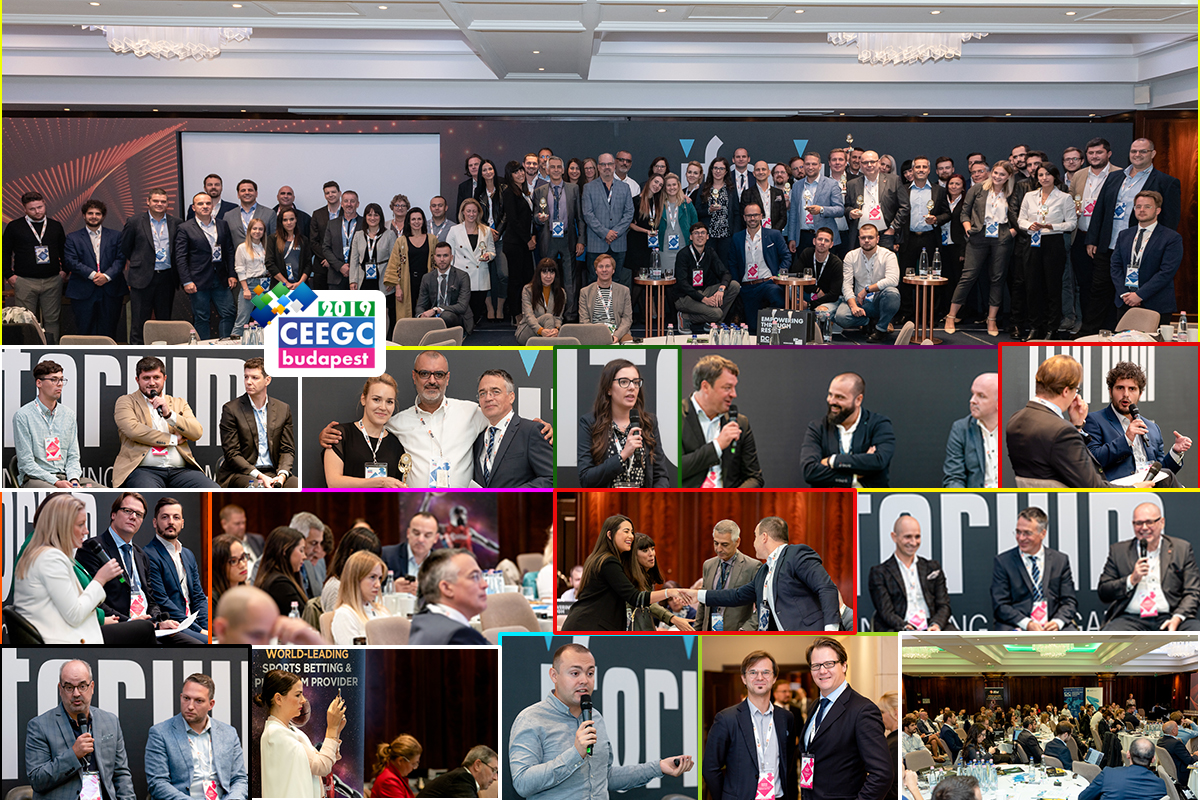 Reading Time:
6
minutes
CEEGC gets better every year and possibilities for learning and networking are endless!
The 4th edition of CEEGC Budapest took place over two weeks ago at luxurious Ritz-Carlton Budapest and we would like to thank all speakers, delegates, guests and last but not least the supporters of the event!
The 2019 edition of the conference recorded 14 sponsors and most of them have already shown interest in the 2020 edition. The big thank you goes to the following supporters of CEEGC Budapest:
"We are happy to say that CEEGC Budapest has now truly become the traditional yearly autumn conference and we love seeing the happy faces at the conference. We are also happy about the support we received by the sponsors and I have to tell you that 14 is a pretty high number for a boutique-style conference. This support enables us to further increase the quality of the conference and we will continue to bring this opportunity year by year in Budapest" stated Zoltán Tűndik, Head of Business at European Gaming Media and Events.
You can view the full official image gallery on the following link:
https://www.flickr.com/photos/165468093@N04/albums/72157711142443497
The conference brought together compliance experts, leading gambling industry operators, marketing experts and several service providers from the Central and Eastern European region, the Baltics, the D-A-CH region, but also from several other European regions.
The agenda of the conference included several panel discussions, an exclusive IMGL MasterClass about North America, a unique and informative keynote presentation, a fireside chat and several networking opportunities.
The attending delegates had the unique opportunity to hear the recent updates and enjoy networking sessions with some of the leading names of the industry. You can find the full list of speakers below at the end of this press release!
The audio recordings of the panel discussions are available for European Gaming PREMIUM Members.
During the 4th edition of CEEGC Budapest, attending delegates also had the opportunity to decide the winners in the 20 categories of CEEG Awards 2019 (Central and Eastern European Gaming Awards).
As in earlier years, the winners were announced in the final session of the conference, after the secret vote casted by the attending delegates. You can view the full list of the winners per each category on the following link.
Special thank you goes to the presenters of the awards for their professionalism, Kamila Spalińska (WH Partners – Polish Desk) and Dan Iliovici (ROMBET)
Congratulations to all the winners and the organizers look forward to welcoming you back in 2020!
Make sure to also subscribe to the social media channels of the conference for continuous updates regarding the 2020 event: Facebook, Twitter, LinkedIn, Instagram
The next edition of CEEGC Budapest will be held in September 2020, you can Pre-Register here to get the latest notification about the official date, location, and speaking possibilities.
The team is already working hard on the next events and the look forward to seeing you soon in Milan for the second edition European Gaming Congress!
Here are a few of the testimonials that have left by the attending delegates of the 2019 edition of CEEGC Budapest:
 "We had an excellent time at the CEEGC networking and participating in the payment discussion panel. Not only was it a great chance to catch up with some of the CEE region's major players, but also to stay on top of such a dynamic region's evolving trends and developments." – Simon Dorsen, Director of Gaming, OKTO
"CEEGC in Budapest 2019 was my first of hopefully many European Gaming Media events. Combining a balanced and interesting range of topics presented by quality speakers and an excellent networking environment, the organizers did a great job of demonstrating that they know what they are doing to make a great conference." – Jessica Maier, LLM, Partner at MELCHERS law firm
"CEEGC 2019 was a very well organized event that included multiple great panels with some of the industry experts discussing the trends across different markets and gaming verticals. Moreover, this event offered excellent networking opportunities with a wide range of representatives from the industry, including operators, providers, suppliers, and regulatory experts. I will definitely attend next year because events like this one add a lot of value to the work I do at Trustly and allow me to stay up to date with the industry changes but also create new collaborations and partnerships." – Vasilije Lekovic, Director of Gaming Accounts at Trustly
"Thank you very much for inviting me to speak at CEEGC 2019 in Budapest. I speak at a lot of conferences over the years and this was very well done and one of the best. It was well organized, substantive, great venue and excellent networking." – Bill Pascrell, III, Partner at Princeton Public Affairs Group, Inc.
"CEEGC is an event every serious gaming and betting industry expert from the region has to add to her/his calendar. With an agenda full of valuable content and many key professionals from the market gathered in one place, it is a conference you cannot miss." – Jakub Myszkorowski (Chief Commercial Officer at STATSCORE)
"For us at Inplaynet, it is important to get the latest information and take the pulse of the whole betting market from other companies. At the conference which European Gaming organizes, we always have the possibility to get a meeting at the meeting. The family atmosphere you create give us the possibility to find and create relationships, while also having the opportunity directly contact, give information and get information for and from the whole market." – Deniz Yildirim, Co-Founder, and Shareholder at Inplaynet
"The event is a great opportunity to get deep insights about the regulations and the markets in the area." – Domenico Mazzola, Commercial Director at Altenar
"I am very glad that I had the opportunity to be a delegate at CEEGC 2019, already looking forward to 2020 :)" – Natalia Černáková, Compliance Officer at SYNOT Games
The lectures and industry insight during the conference were given by:
Dan Iliovici (Vice President at Rombet), Georgi Dimitrov (Legal Counsel / Compliance at EGT Interactive), Jan Řehola (Director at IFGR and Partner at PS Legal), Jaka Repanšek (Media and Gaming Expert), Petrica Soptelea (EEME Senior Sales & Account Manager at Magellan Robotech),  Zlatan Omerspahić (Data Protection Officer at NSoft), Luka Popović (Partner at BDK Advokati), Alex Kornilov (CEO at BETEGY), Gábor Helembai (Senior Associate at Bird & Bird Budapest), Ewa Lejman (Head of Polish Desk at WH Partners), Andrei Andronic (General Counsel at Playson), Domenico Mazzola (Commercial Director at Altenar),  Dr. Alan Littler (Gaming Lawyer at Kalff Katz & Franssen), Robert Dowling (Chief Commercial Officer at Singular), Michele Magro (Chief Counsel – Policy & International Affairs for the Malta Gaming Authority), Hannah Kennish (Legal and Regulatory Affairs Manager at Playtech), Jessica Maier, LLM (Partner at MELCHERS LAW FIRM), Robert Toth (Key Account Manager at Global Bet), Cédric Schlosser (Board Member of the Swiss eSports Federation), Lyubomira Petrova (Chief Marketing Officer at UltraPlay), Oleg Profatylo (Chief Strategy Officer at Digital Choo), Bill Pascrell, III (Partner at Princeton Public Affairs Group, Inc.), Andrew Cochrane (Chief Development Officer at SBTech), Ilkim Hincer (Partner at McCarthy Tetrault), Jeremy Kleiman (Partner at the New Jersey law firm of Saiber LLC), Vasilije Lekovic (Director of Gaming Accounts at Trustly), Simon Dorsen (Director of Gaming at OKTO), and last but not least Max Krupyshev (CEO at CoinsPaid).
Special gratitude is also extended to the panel moderators for keeping the discussions flowing and educative:
Andrius Gabnys (Attorney At Law – Gabnys Law Firm), Joe Ewens (Managing Editor of GamblingCompliance), Dr. Simon Planzer (Partner at PLANZER LAW), Jaka Repanšek (Media and Gaming Expert), and last but not least Tiago Aprigio (CEO at All-in Global)
For further inquiries about the 2020 edition of CEEGC and CEEG Awards, speaking/attending/sponsoring options, make sure to send an e-mail to alex.marginean@europeangaming.eu or subscribe to the weekly newsletter on the following link.