The iGaming industry meets blockchain business on February 6th 2020 during its annual VIP Networking party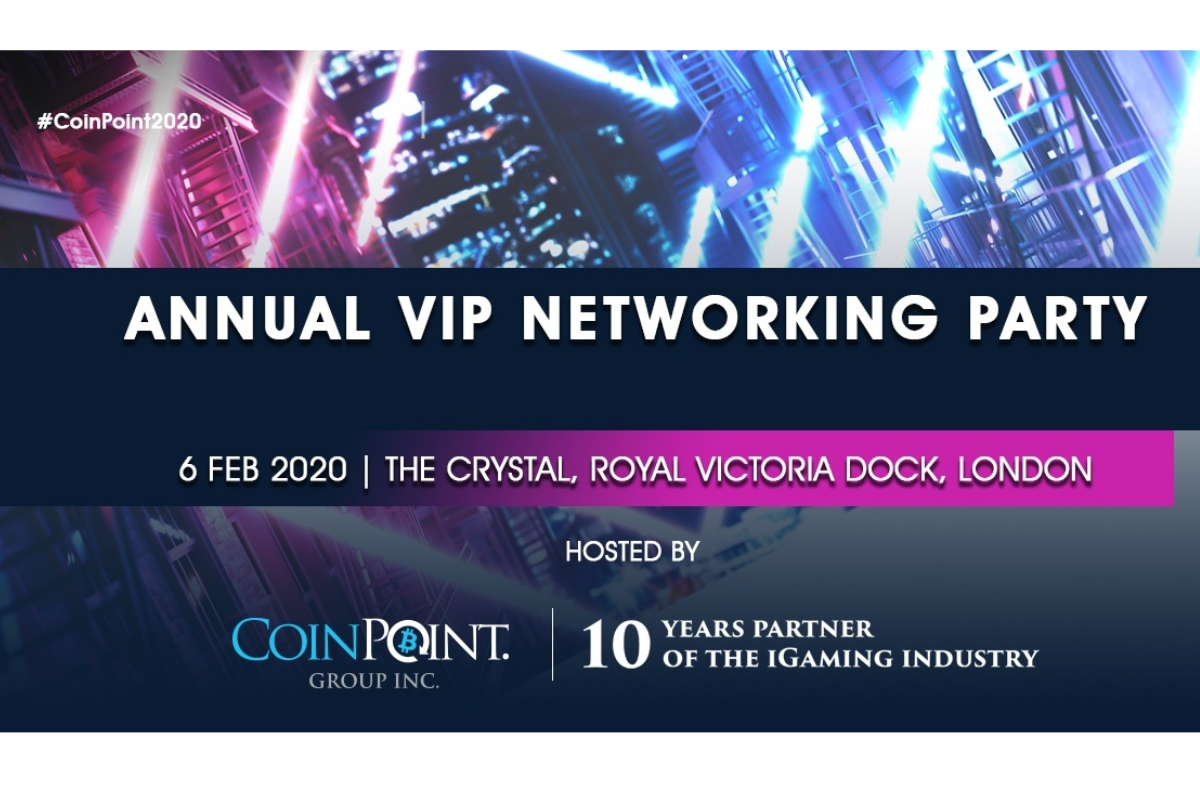 Reading Time:
2
minutes
+300 C-Level executives gather every year during ICE London, on a invitation only party organized by CoinPoint Group Inc and supported by innovative companies and top media
In celebration of the 10 year anniversary of CoinPoint Group Inc. as a trusted partner of the iGaming industry, the annual signature networking party during ICE London 2020, will take place on the 6th February 2020.
The invitation-only event is bringing together more than 300 C-level iGaming executives, some of the best Crypto and Blockchain experts for a good business talk about the future of the industry in a cozy atmosphere.
CoinPoint's Group Inc. team is working together with top companies and media behind the scenes of the event to ensure that this year, it's going to be another thrilling happening. The owners of the Group and hosts of the event Eilon Arad and Oron Barber are well known in the iGaming and blockchain business and have hundreds of successful campaigns in their portfolio.
Business Development Manager Anton Vladimirov comments:
"Last two events that CoinPoint Group Inc. hosted were absolutely epic and this year we strive for an even better, iGaming-themed party. The guest list is kept high-end and we are already working on the invitation lists where only few selected companies will be able to join as trusted sponsors with a special branded place during the event. Our philosophy is to always bring value first, and this is why we are focusing on every detail of the event. The party is not only for meeting colleagues from the industry, but to close real business within a very targeted audience."
While more than 30 000 people will talk about the future of iGaming in ICE London, CoinPoint Group Inc. will gather only 1 % of them on their selective party to showcase how blockchain could redefine the industry.
For more information please visit CoinPoint2020 website and follow #CoinPoint2020 on social media.
For media inquiries you can contact CoinPoint Group Inc. Head of Marketing Denitza Alexieva on [email protected]
Coin Point Group Inc. has a diversified portfolio of clients across the globe. The strategic office locations in Europe and Asia — Pacific provide access to the biggest online gaming markets.
The agency is one of the 1st to promote blockchain technology in the iGaming business with focus on: payment solutions, transactions, marketing strategies, business consulting, customer acquisition and retention, media relations and online reputation management.
Fantasy football platform Sorare officially launches out of Beta in the UK as Paris-Saint Germain joins the platform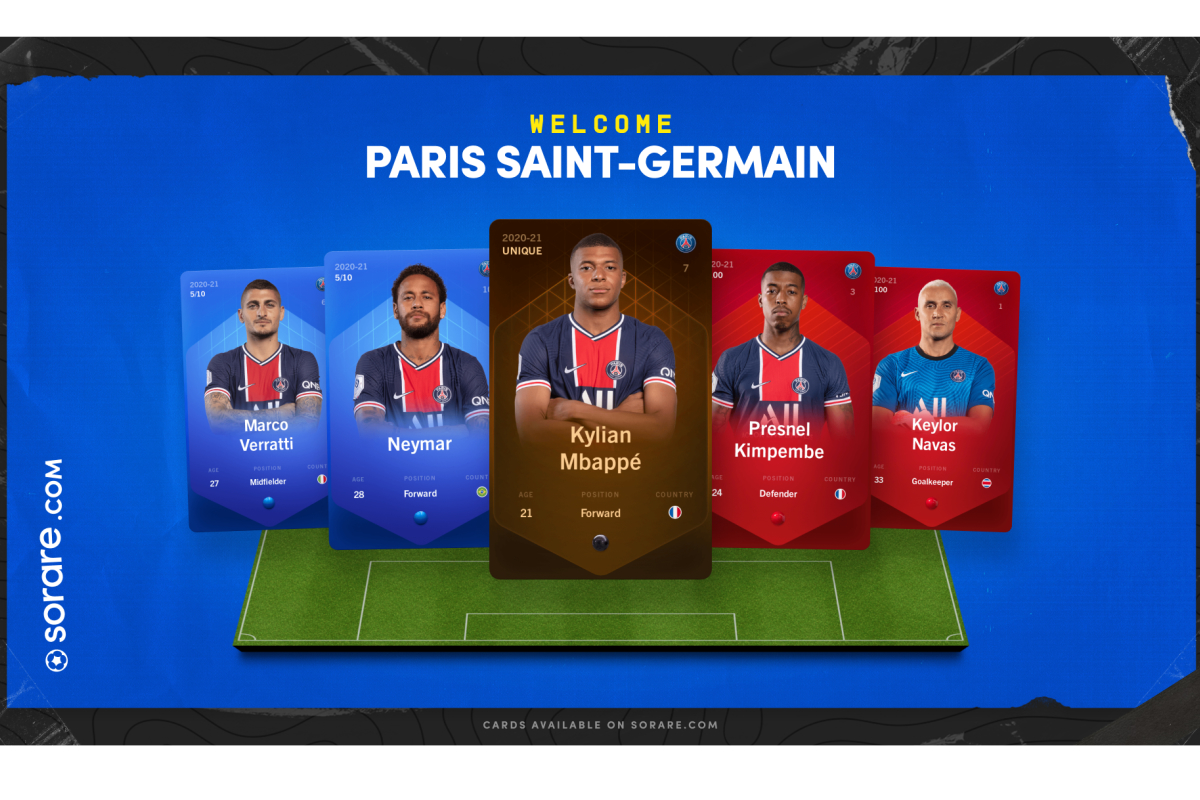 Reading Time:
4
minutes
Paris Saint-Germain, the 2020 Champions League Finalist, and Sorare, the global fantasy football game, has signed a partnership to create digital collectibles of PSG players making it the 100th club to join Sorare
The UK ranks 5th in terms of total number of Sorare users, and number one in terms of total time spent on the platform per user, a reflection of the country's appetite for Fantasy Football
The announcement comes as a first step in Sorare's ambitious plans to partner with leading football teams and clubs in the UK, as its revenue increased twentyfold in the last 12 months
As part of this partnership with PSG, Sorare will gain the rights for 'legendary players' from 2013, including David Beckham
Paris, September 29th, 2020​- Global Fantasy Football platform Sorare announces today that it officially launches in the UK, paving the way for significant partnerships with UK-based football teams
and clubs. Additionally, starting​ today and following PSG's partnership with Sorare, collectors and gamers in the United Kingdom and elsewhere will now be able to freely buy, sell, and play with limited edition digital player cards of PSG players such as Neymar and Kylian Mbappé. This also includes historic players from 2013 such as David Beckham. Since its launch in early 2019, the platform has grown an average of 52% month on month, and today counts over 40​.000 users worldwide.
Through organic growth alone, the UK has quietly grown into Sorare's 5th largest market in terms of user base, sustained by a 70% month on month user growth in the country. The UK is also ranked the number one market as far as time spent on the platform, with an average of 1h25 mins per day per user. Sorare's organic growth in the UK is a reflection of the country's appetite for Fantasy Football, with Fantasy Premier League reaching close to 8million users, and more than doubling in the last 4 years. Today's launch comes in response to the significant user demand from the market, and serves as an additional step in consolidating Sorare's plans to secure partnerships with leading teams and clubs in the UK.
Nicolas Julia, CEO at Sorare, said:​ "We​ are delighted to officially launch in the UK today, getting Sorare one step closer to closing game changing partnerships with major teams and clubs in the country. The​ European Fantasy Football market was estimated at close to USD 900M per annum1 in 2018, and expected to double in the next five years. Expanding into more European markets early on in our growth is a strategic step for Sorare both in terms of market acquisition and brand recognition with users, football teams, and investors alike. With the inclusion of PSG to the platform, football fans in the UK and elsewhere will be able to leverage their football knowledge to play as a strategic manager and compete for rewards with skin in the game. PSG fans will be able to join the economy of their passions in a way that wasn't possible before Sorare's global fantasy football."
The company is using blockchain technology to​ create digital scarcity and establish who owns the digital card of a player at any given time. It creates a new level of trust and freedom for collectors. The cards are more than just collectibles: they are useful in Sorare's global fantasy football game to compete every weekend and fight for the best rewards.
Paris Saint-Germain is embracing Sorare's vision to become the go-to fantasy game to increase the enjoyment of live football. PSG fans will be able to play with their favorite footballers by using their cards in their team. The score of the player card will depend on the performance of the player in real-life, would it be a Ligue 1 game or a Champions League game.
Andre Schurrle, early investor in Sorare, said​: "Today's​ UK launch is a major milestone for Sorare. Anyone remotely interested in football knows that the UK is home to some of the best teams and players in the world. I can't wait to see Sorare announce UK Premier League teams and players in the coming months. Additionally, the inclusion of Paris Saint-Germain on the platform, a top division team in French and international football, is huge news for Sorare's user base. As Sorare players know, the game is based on the real life performance of players, and from today, anyone on Sorare can purchase or trade cards from an outstanding team including world famous players such as Mbappe, Neymar and more. I stand behind Sorare's mission to become the go-to platform for Fantasy Football and today's announcement is yet another proof that the company is well positioned to execute on its objective."​
PSG is joining 99 other football clubs from Europe, the United States, and Asia have partnered with Sorare to issue officially digital player cards, amongst them Juventus and Atletico de Madrid. Through these partnerships, Sorare is able to create the first truly global fantasy football experience. Fantasy players can create a lineup with a Ligue 1 midfielder such as Neymar, a Serie A striker such as Cristiano Ronaldo, a La Liga goalkeeper such as Jan Oblak and a Bundesliga defender such as Sven Bender.
The game was launched in March 2019 by two experienced entrepreneurs, Nicolas Julia and Adrien Montfort, that saw the potential of blockchain technology to create a new category in the sports gaming industry. Sorare has generated USD 1.5 million of revenues from the sale of cards across 60 countries in just over 12 months. It is ranked as the blockchain game with the most volume according to nonfungible​​.
Fabien Allegre, Merchandising and Paris Saint-Germain Brand Diversification, explains​: "Paris Saint-Germain is the new generation club. We are driven by our values of competitiveness. At the forefront of innovation, we are always looking ahead, looking to the future, to offer our fans new experiences. To constantly improve them, and to offer better coverage for our brand, Sorare will enable us to reach out to new, young communities, especially in Asia and America. We are proud of this new collaboration".
See all licensed clubs on Sorare here.
PC RPG LiteBringer is now live on Litecoin blockchain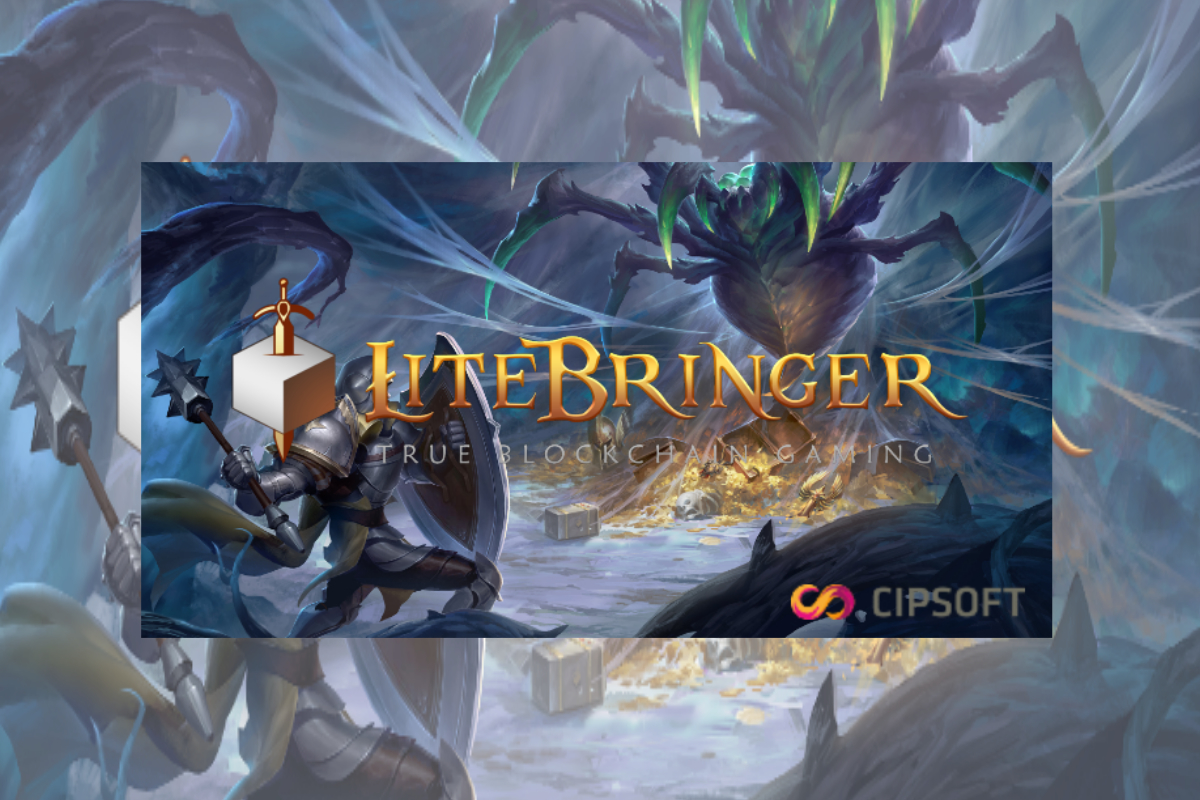 Reading Time:
2
minutes
The makers of popular PC game Tibia enter the world of blockchain games.
Hundreds of blockchain games have been released over the past few years, but LiteBringer is the first running on the Litecoin blockchain.
Developed by experienced German studio CipSoft, the PC game has been designed to make the most of this emerging technology by focusing on what it does best – that is allowing players to truly own and control all their in-game items.
And as a role-playing game, LiteBringer certainly has plenty of those.
Each character created in the game needs to be equipped with the best gear you can find, and both character and gear need to be leveled up by collecting the material resources each requires.
The result is a game that sees you sending your characters on specific time-based missions to collect loot, and then using that loot to make them more powerful so they can complete more difficult missions for better loot.
Digital ownership
Of course, as a blockchain game, this activity is stored on the Litecoin blockchain, including characters, gear, and resources.
More importantly, all of these items can be traded within the game's marketplace. So if you really want a high-quality sword or helmet and are prepared to pay the asking price, it's yours.
Similarly, if you have gear or characters that you no longer require, you can try to sell them to other players as well.
Leading Spanish Esports Organisation Team Heretics to Launch $TH Fan Token on Socios.com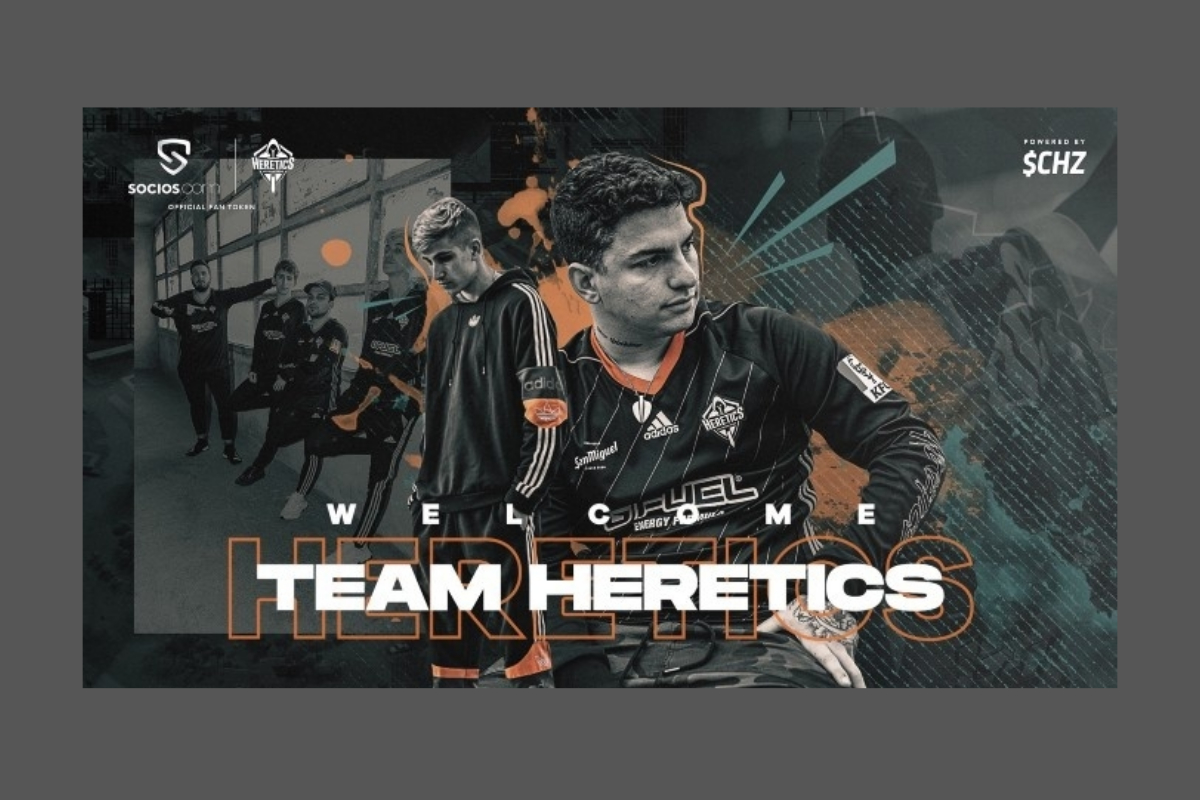 Reading Time:
3
minutes
Team Heretics are an influential esports organisation with an estimated 60 million fans worldwide
Fans can use $TH to influence the team, voting in polls and earning exclusive rewards on Socios.com
Heretics and Socios.com have teamed up with Logitech for first poll, which will see fans partake in Fortnite battles with Heretics players and compete for prizes
Heretics join a host of major sporting organisations — including FC Barcelona & Atlético de Madrid — on the blockchain-based app
$TH Fan Tokens go on sale August 25th on Socios.com & Chiliz.net
MADRID, 18th August 2020: Team Heretics, in partnership with Chiliz — the leading tokenisation platform for sports and entertainment, have announced they will launch the $TH Fan Token globally on Tuesday August 25th. $TH will be sold exclusively on fan voting & rewards app Socios.com and Chiliz.net — the world's first tokenised sports exchange.
125,000 $TH Fan Tokens will be sold in the Fan Token Offering (FTO) which will start on Tuesday August 25th and last until Thursday August 27th. 90,000 $TH Fan Tokens will be available on Socios.com, with another 35, 000 to be sold on Chiliz.net. Each $TH will cost €2 and they will be sold on a first come, first served basis. Fans will be able to purchase up to a maximum of 50 $TH Fan Tokens on either Socios.com or Chiliz.net.
As of Friday August 28th fans will be able to continue buying $TH, but from this point onwards price will be determined by supply and demand.
The total supply of $TH Fan Tokens is 5 million.
$TH holders will be able to vote in many different polls on Socios.com, having their say in key decisions and earning exclusive digital and real-life rewards and experiences. For the first poll, which will launch as soon as the FTO opens, Heretics are asking fans to choose which players they want to captain two teams filled with fans for a Fortnite death-match series.
Heretics and Socios.com will select six $TH holders to join the chosen duo, with the opportunity to progress to a final 2vs2 round and win prize packages — to be supplied by software colossus Logitech — on offer.
Team Heretics was founded in 2016 by Jorge 'Goorgo', Antonio Catena and Arnau Vidal. The organization competes in Counter Strike: Global Offensive, Rainbow 6 and Fortnite. Since their creation, Heretics have focused on recruiting the best Spanish-speaking players and content creators. Heretics have also built a huge social media presence, consisting of 60 million followers from across Spain, LATAM and Europe.
$TH Fan Token holders will be able to enjoy additional opportunities to engage with the team and other fans through Socios.com, with Chat and Games features to be launched on the app in the coming months. A Leaderboard, where fans will receive rewards points based on how they interact with Heretics through Socios.com will be launched in the near future, allowing fans to compete to become the number 1 fan in their region/country.
Socios.com Fan Token partners include FC Barcelona, Atlético de Madrid, Paris Saint-Germain, Juventus, AS Roma, Galatasaray, CA Independiente and esports organisation OG. CA Independiente of Argentina and Cypriot side Apollon Limassol will also launch their Fan Tokens on August 25th. As many as 50 IPs from the world of sports and entertainment are primed to join the Socios.com platform in 2020.
Pablo Canosa — Commercial Director of Team Heretics, said: "It's essential to us that our fans are involved as much as possible with the organisation. Now — thanks to Socios.com — our fans can have a real voice and the opportunity to vote in important team matters. Not only this, but fans can also look forward to exclusive rewards and experiences too.
"Stay tuned to Heretics & Socios.com via social media in the coming weeks. It's time to decide the future of Team Heretics — together!"
Alexandre Dreyfus, CEO & Founder of Chiliz and Socios.com, said: "Team Heretics want to give their fans as big a say in the life of the team as possible, which makes them the perfect partner for us — we're delighted to welcome them aboard.
"Heretics fans can now enjoy a much stronger relationship with the team. The first poll — which will give 6 Fan Token holders the chance to play Fortnite alongside Heretics players and win some amazing prizes from Logitech — is a great way to start!"