Bitcasino.io champions crypto-community in #teamtrees movement donating over $100k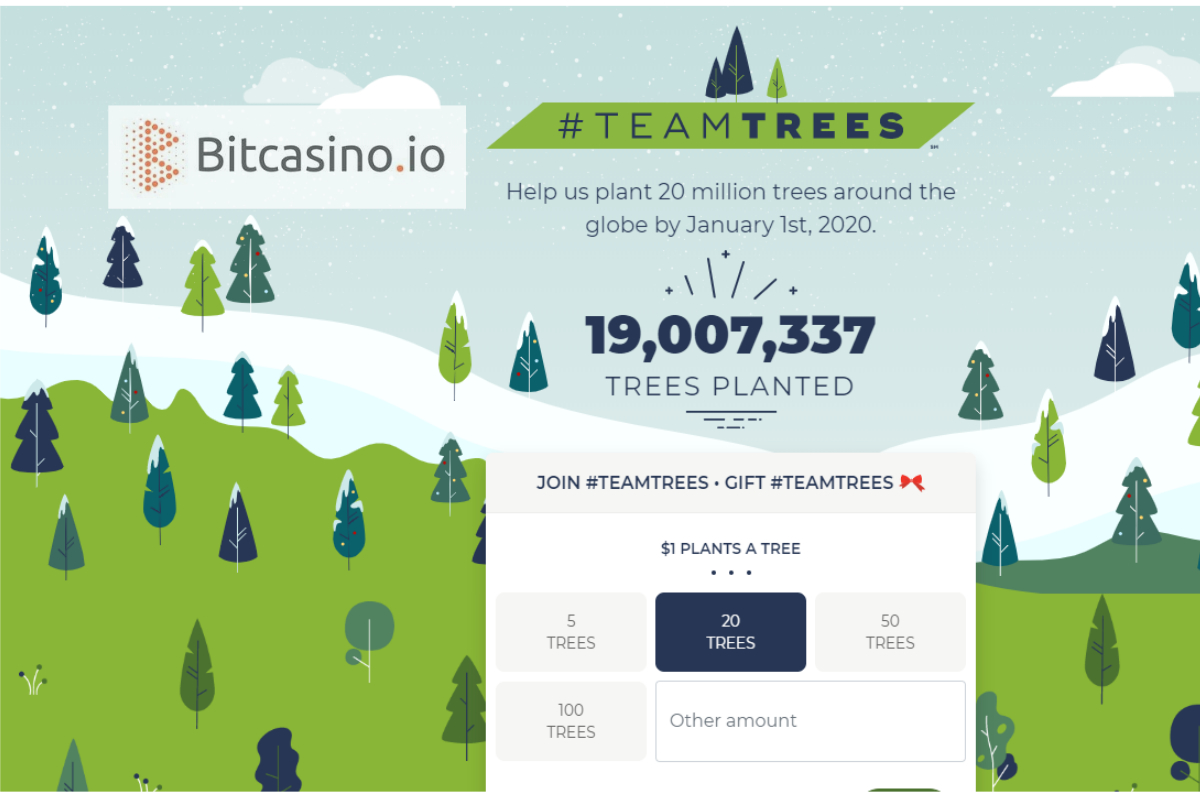 Reading Time:
2
minutes
Bitcasino.io, the pioneering online Bitcoin casino, has pledged 101,010 trees (at $1 per tree) to the viral #teamtrees movement which gained traction after pledging to plant 20 million trees by the beginning of 2020.
Through the month of November, Bitcasino's players were able to seize the opportunity and donate their unused Loyalty Club points to the worthy cause, all contributions were then matched, Bitcoin-for-Bitcoin by the Bitcasino team.
Donations came in at just over 100k, generously placing the Bitcasino community beside the likes of Twitter CEO Jack Dorsey on the #teamtrees donation list.
Despite the campaign's virality, only a few medium-sized tech companies have stepped up to the challenge, meanwhile, Bitcasino.io remains the first and only organisation of its kind to endorse the cause.
Not to miss a further opportunity to recognise their tech roots and plant more trees, Bitcasino's team boosted the donation to $101,010, an easily recognisable binary number to tech and crypto enthusiasts alike.
Tauri Tiitsaar, Director of Casino, said: "It's astonishing to see just how generous our players are, and we are happy to have been able to represent the crypto community in the #TeamTrees movement.
"By making just a small addition to our loyalty club, we were able to have such a big impact on a global cause, and want to take this as an opportunity to challenge others in our industry and community to stand together with us in raising awareness on the important topic of climate change."
Started by American YouTuber MrBeast and quickly becoming one of the biggest fundraising challenges social media has ever seen, the #TeamTrees campaign has received donations from people all over the world, including a multitude of social media influencers and big-name entrepreneurs, including Jeffree Star, Pewdiepie and Elon Musk.
With 2019 drawing to a close, the campaign has passed the 17 million mark, with its goal already well in reach.
To learn more about the #teamtrees movement and join forces with us in planting 20 million trees by the new year, visit teamtrees.org.

Cloudbet Launches New Site for German Fans to Bet on the Euros With Bitcoin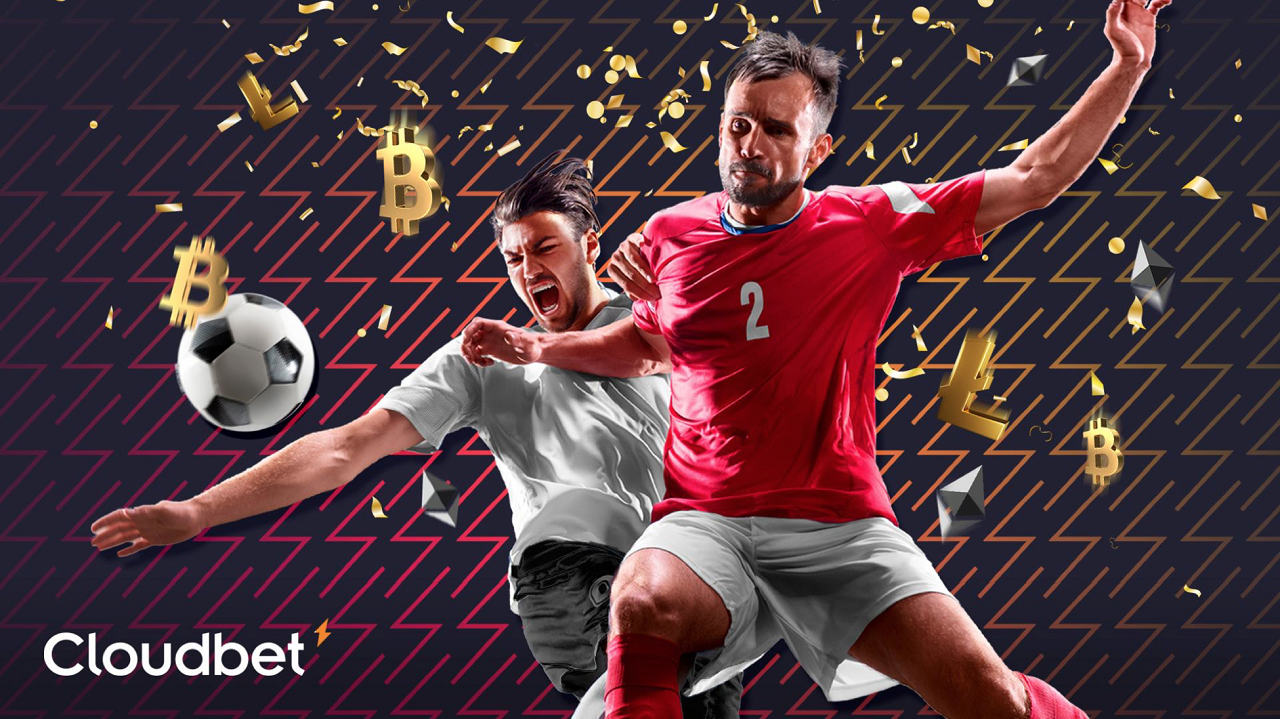 Reading Time:
2
minutes
Cloudbet, the pioneering bitcoin casino and sportsbook, has unveiled a series of exclusive betting offers and a fully localised website for German customers to coincide with Euro 2021.
Cloudbet is offering German players a chance to win up to 100 euros in free bets simply by placing pre-match wagers on games during the Euros, which starts on June 11. The operator is also adding games from renowned German provider Gamomat Slots into its growing Casino portfolio this month, exclusively for German customers.
All of this comes on top of Cloudbet's well-known welcome bonus that's worth up to 5 bitcoin and its highly responsive 24/7 customer service. Cloudbet hosts a German community on Telegram, where German-speaking customers can engage with other like-minded betting fans.
"We're trying to provide German speakers with the best site to bet on the Euros with bitcoin," a Cloudbet spokesperson said. "With Germany, Austria and Switzerland participating, there is tremendous interest in German-speaking markets."
Founded in 2013, Cloudbet established itself as one of the world's leading bitcoin betting operators, with a reputation built on unparalleled security and speedy withdrawals. On the German site, players can place bets with 12 cryptocurrencies, including Bitcoin, Ethereum, Bitcoin Cash, Litecoin, USDT, Dogecoin and Dash.
Cloudbet's German sportsbook offers the lowest margins on a multitude of markets around the world, including the Euros. Germany is fourth favorite out of the 24 teams to win the tournament, with odds of 8.05, according to Cloudbet prices.
Meanwhile, the Cloudbet casino has hundreds of slots and a live-dealer experience with all classic table games. Coinciding with the German launch, Cloudbet will add slots this month from local provider Gamomat, which is well-known for its popular collaborations with German slot pioneer Bally Wulff. Gamomat slots offer high payout percentages and attractive jackpot features that significantly increase maximum wins.
What's more, casino customers playing certain games over the course of the Euros competition can also earn tickets into a 100,000 euro prize draw, courtesy of Evolution.
Cloudbet announced a wave of improvements in April, including granting customers and affiliates open access to its sportsbook API, and more bonus flexibility in the operator's casino. These upgrades came after a milestone year in 2020, during which Cloudbet added features including esports, politics betting, virtual sports, social-media bet sharing and easy credit-card or SEPA transfer coin purchases.
Bitcoin Vault inks major deal with ESE to co-produce Gaming & Esports Talent Show in five countries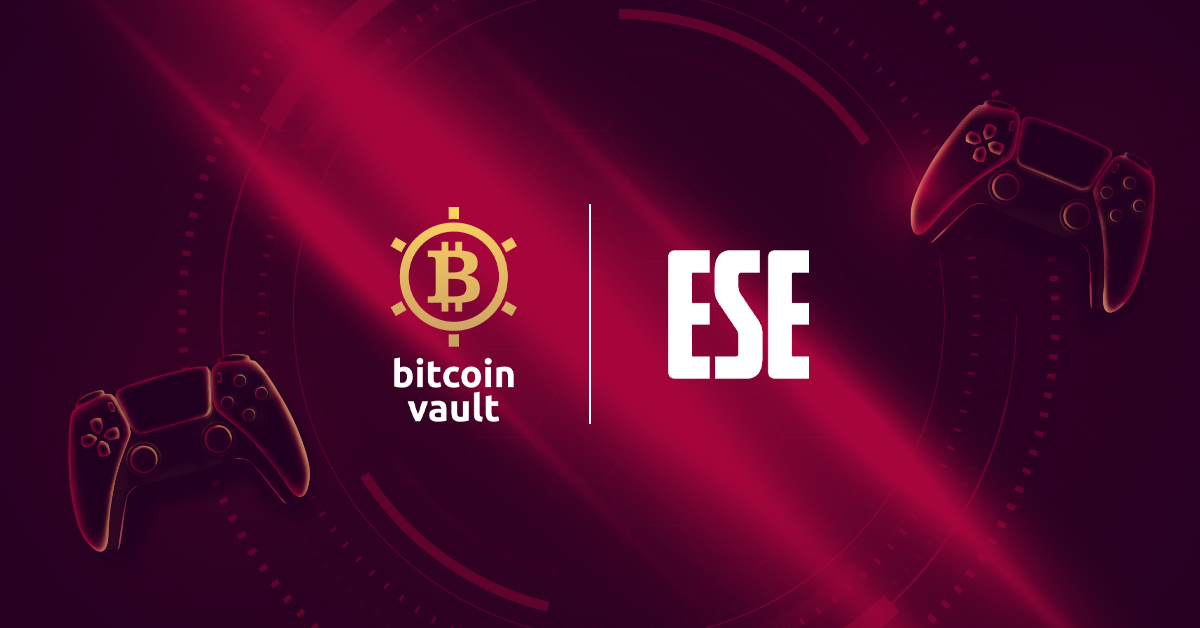 Reading Time:
2
minutes
Bitcoin Vault (BCTV), a crypto currency project that is being operated and managed by the blockchain development company, Electric Vault, has sealed a landmark partnership with ESE Entertainment (ESE), a Europe-based entertainment and technology company focused on gaming and esports, to co-produce and co-distribute a gaming talent show in five countries namely China, Japan, South Korea, Vietnam and Brazil.
The production deal propels BTCV and ESE's unified goal to link crypto currency and gaming in one ecosystem. This partnership also powers BTCV coin to expand its presence and services in the global esports and gaming markets. BTCV is known for being the only Proof of Work (PoW) cryptocurrency that offers a reversible transactions feature on an immutable blockchain, adding a new layer to users' security.
"Esport is a rapidly growing industry and driver for fintech based on cryptocurrencies. Those industries are already working together, and we want to contribute our part to the global cryptocurrencies adoption. We are glad that we can work with such an experienced partner as ESE on a shared project dedicated to the global gaming community, where young non-professional players can show their skills. We are happy to support the crypto and gaming communities," says Radek Popiel, Chief Communications Officer at BTCV.
The talent show will feature promising amateur esports athletes striving to become professionals. Young gamers will show their skills in fast growing mobile games such as PlayerUnknown's Battlegrounds (PUBG) and Peacekeeper Elite.
Meanwhile, ESE will be managing the production and infrastructure of the show, including the development of the project concept, media plan, technology implementation, marketing, and overall campaign roll-out. Other partners involved in the project include VYRAL Producer of Gaming Projects, VidWe, Converters and Next Level Agency.
"ESE is actively exploring new and innovative ways to incorporate cryptocurrencies and other blockchain based payment solutions within the gaming and esports world. We are thrilled to run this major gaming talent show with Bitcoin Vault in markets that are global leaders in esports and gaming," states Jedrzej Steszewski, ESE Director of EU Operations .
Series of gaming tournaments will be held in China, Japan, South Korea, Vietnam and Brazil from June 2021 until the end of the year. Bitcoin Vault (BTCV) will gain exposure to the new markets and new audiences creating a potential for new partnerships within the esport growing industry.
Drop in For a Chat with Sportsbet.io's New Club Talk Feature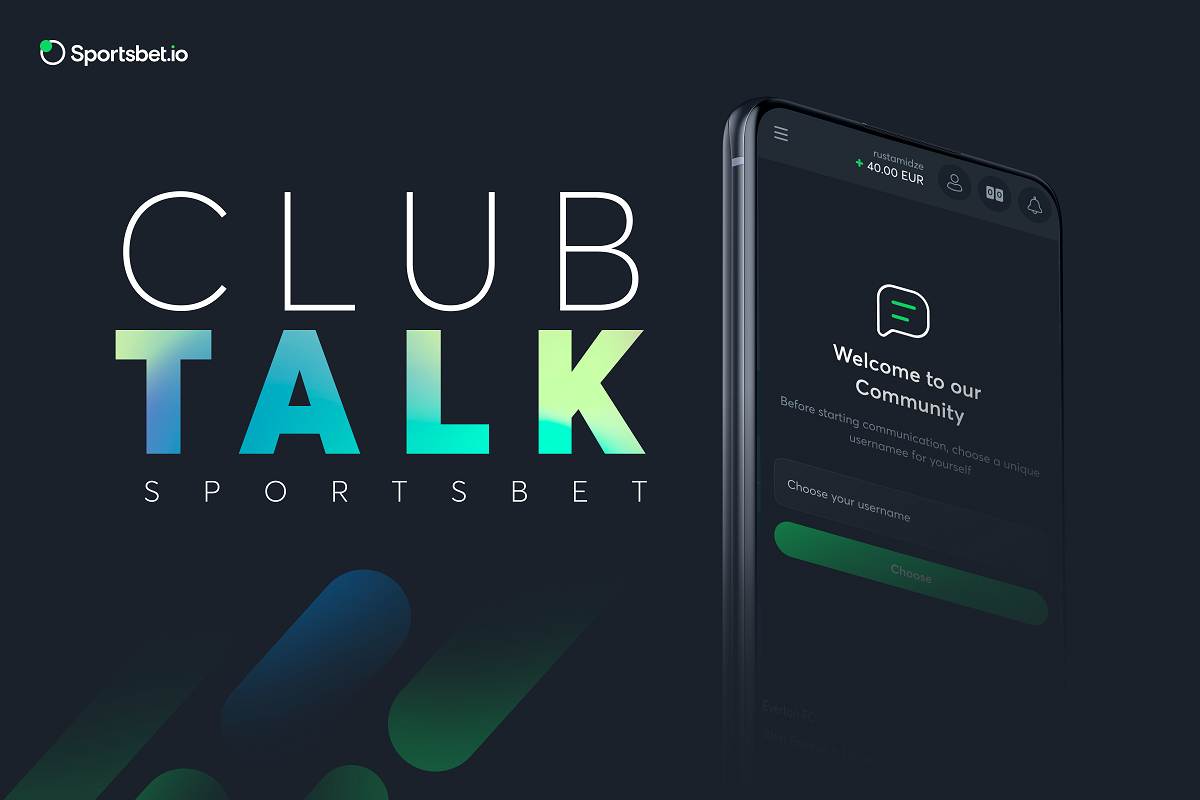 Reading Time:
< 1
minute
Sportsbet.io is inviting users to its new Club Talk room, a game-changing chat function where its community can talk about sports while discussing and sharing bets.
Club Talk is now live at Sportsbet.io, and can be accessed on desktop and mobile from the bottom right corner of the screen.
It is already home to a thriving community of Sportsbet.io users, and has also welcomed several guests from the Sportsbet.io team, who've dropped in to join the conversation.
Club Talk will also be the home of interaction between Sportsbet.io's community and featured guests and celebrities in the sportsbook's new streaming series Behind the Bet. Customers will have the opportunity to contribute to live interviews and talk directly with stars through the Club Talk forum.
Ahead of the European Championships, which kicks off in June, Club Talk users will enjoy exclusive promotions and bonuses not available anywhere else on Sportsbet.io.
Joe McCallum, Director of Sportsbet.io said: "Club Talk has quickly become a lively hub of discussion about everything from the latest sporting action to the hottest betting tips. Sportsbet.io users have jumped at the chance to get involved, and we've built one of the most welcoming communities around.
"With a big summer of sport ahead, including the European Championships, Club Talk is the place to follow the action and share your views. And even better, we'll be giving out some fantastic bonuses to those who are taking part."