Prague Gaming Summit 2020 to bring forward-thinking topics and ideas for the gaming industry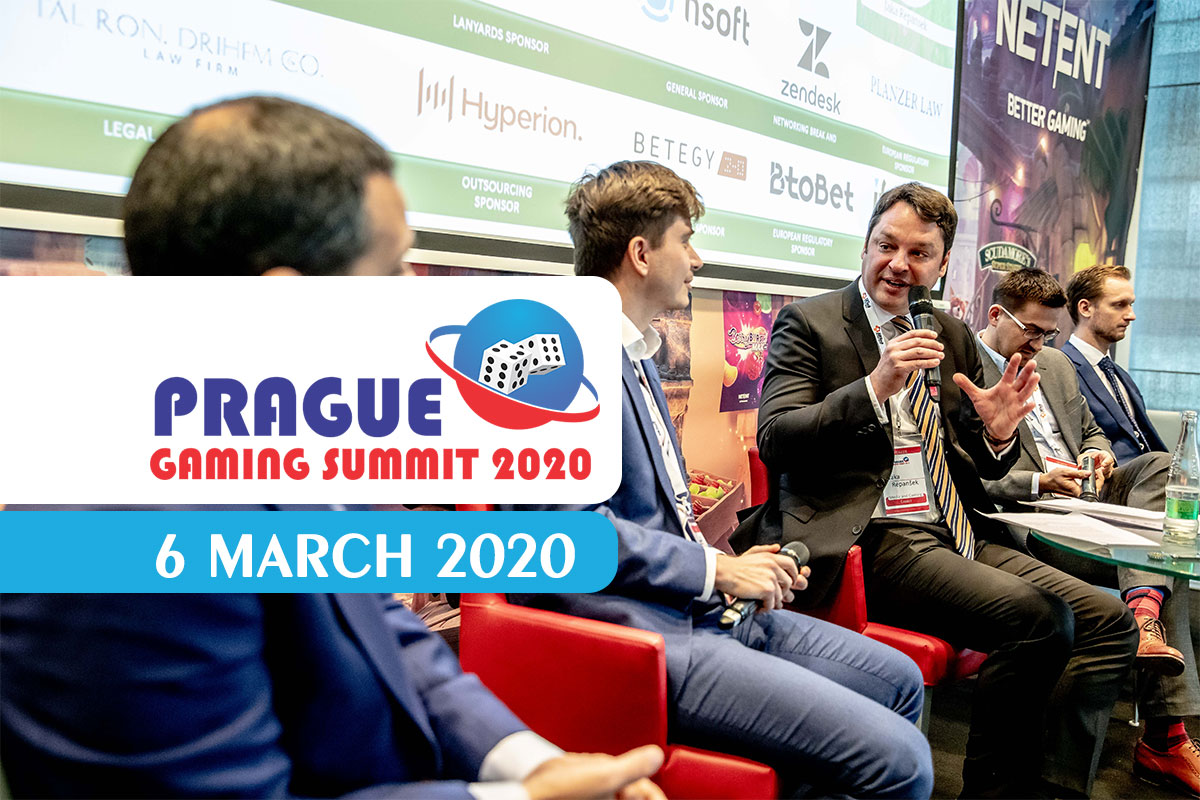 Reading Time:
3
minutes
Prague Gaming Summit 2020 will take place on 6 March 2020 and will feature several forward-thinking topics for the online gambling industry.
Prague Gaming Summit is just around the corner and 2020 is bringing a new face of the already established yearly conference. As in earlier years, the conference is limited to 125 elite delegates, so make sure you Order your Delegate Pass or VIP Package (Delegate Pass +Accommodation) now!
As mentioned in earlier press releases, the conference will once again bring together a large community of gambling industry experts which vary in the form of operators, software providers, platform, compliance experts, government officials and more.
The conference is already enjoying huge support from the industry with 9 sponsors already confirmed and the tickets are also selling out fast. So, make sure to act fast in order to secure your seat.
Among the leading operators of the region, you will get the opportunity to meet the representatives of the sponsors which come from the following companies: SBTech, NSoft, Altenar, Golden Race, Tal Ron, Drihem & Co Law Firm, Nordic Gambling, BtoBet, IT Labs and Planzer Law.
Here are the main topics on the agenda:
Spotlight on the Czech Republic (Gambling Exclusion Register, Higher Taxes and more)
Global Payment Platforms And Why You Need To Choose Innovative Methods
Advising The Big Companies: HR, Management, Strategy and Productivity, and Logistics – what can we learn from the Leaders?
Diversity In The Gambling Industry, HR Topic Or Reality
Market Rundown: Slovakia, Ukraine, Austria, and Poland
Personalization in the age of privacy
Convergence Of Markets In Online Sports Betting
Gambling And Casino Games Via Social Media And Online Technologies
You Thought Millennials Are Hard To Please? Are You Ready For Generation Z
Starting 2020, under the RƎ: LOADED motto, the conference will feature two workshops which can be attended by 30 delegates. The topics and the titles of the workshops are the following:
Strategies that help you concentrate and focus on your business's core functions
Key Elements To Consider When Choosing The Right Slots Games For Your Audience
Among the leading speakers, you will find:
Jan Řehola (Director at IFGR and Partner at PS Legal)
Jaka Repanšek (Media and Gaming Expert)
Genia Gurevitz (Head of Banking and Payments Services at Tal Ron, Drihem & Co.)
Isaac T. Armoni (Chief Executive Officer at Wallter)
Boaz Gam (CEO at PaynetEasy Technologies)
Tal Itzhak Ron (Advocate, Certified Computer Scientist and Notary)
Adi Kadussi (Marketing & Business Development Expert)
Maayan M. Dana (Head of Contract Law at Tal Ron Drihem and Co.)
Ana-Maria Baciu (Managing Partner Simion & Baciu Law Firm)
Tamara Babits (Deputy Chief Marketing Officer at Parimatch)
Simon Planzer (Partner at PLANZER LAW)
Christian Rapani (Attorney at Law at Dr. Christian Rapani)
Robert Skalina (Senior Advisor at WH Partners)
Evgenia Derbal (Head of Legal at Parimatch)
Maksym Liashko (Partner at Parimatch)
Andrius Gabnys (Attorney At Law at Gabnys Law Firm)
Kostandina Zafirovska (General Manager of IT Labs)
Magith Noohukhan (Customer Engagement Evangelist at Braze)
Assaf Stieglitz (President at Odds1x2 Holdings)
Jakub Myszkorowski (Chief Commercial Officer at STATSCORE)
Max Meltzer (Chief Commercial Officer at Kambi Group)
Bogdan Coman (Executive Director of ROMBET)
Daniele Alfonso (Head of Gaming at iovation)
Jan Urbanec (CEO at Endorphina)
Zlatan Omerspahić (Head of Legal and Compliance, Data Protection Officer at NSoft Company)
Joerg Hofmann (Partner at MELCHERS LAW)
Morten Ronde (Managing Partner at Nordic Gambling)
…and many more
For constant updates, you can view the Program / Agenda here: https://praguegamingsummit.com/program-agenda-2020/
Besides the learning part, we will, of course, include several networking opportunities during the specially designed networking sessions.
REGISTER NOW TO RESERVE YOUR SEAT!
To get a feel about the educational panel discussion at Prague Gaming Summit, you can a video of one of the panel discussion from the 2019 edition:
Full video and audio recordings from all European Gaming Media and Events organized conferences can be found in the Premium Content Section.
Crane Payment Innovations Signs Deal with Športna Loterija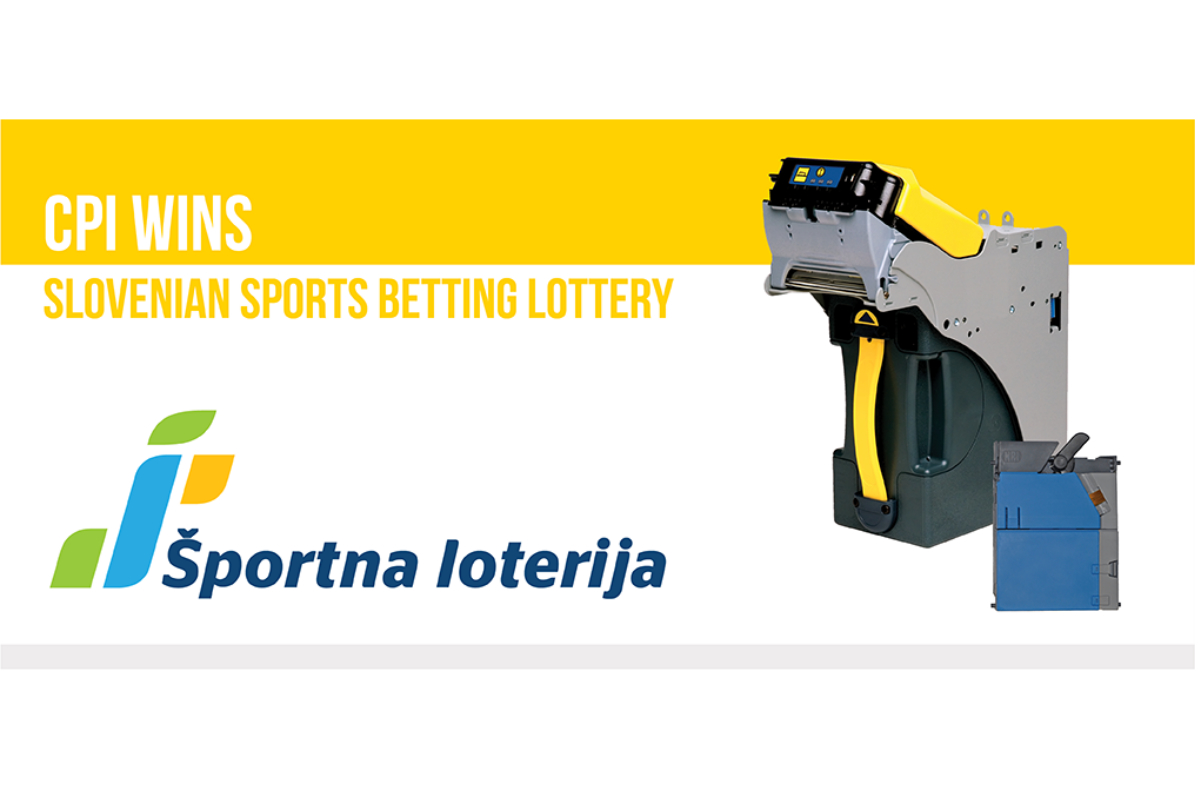 Reading Time:
< 1
minute
Slovenian sports betting lottery Športna Loterija has signed a deal with Crane Payment Innovations (CPI) to install all its new betting terminals with the SC Advance bill validator and G13 coin validator from CPI.
"We're switching to CPI because we needed a technology partner who could give us the kind of products and support we could count on. CPI's team is very responsive to our needs, and their products are known to have the best acceptance rates and reliability in the field, so we are very confident that we've made the right decision to use CPI exclusively as we begin to upgrade our field base," Janez Ravas, Systems and Development Director of Športna Loterija, said.
"CPI is proud the Slovenian sports betting lottery recognizes CPI as a trusted partner. Signing the preferred supplier agreement for both our note and coin validators ensures they will get the best products and after-sales support along with the added benefit of a simplified sourcing strategy," Anette Jauch, CPI Sales Director for Gaming EMEA, said.
NetEnt enters the regulated market in Switzerland following new global ISO 27001 certification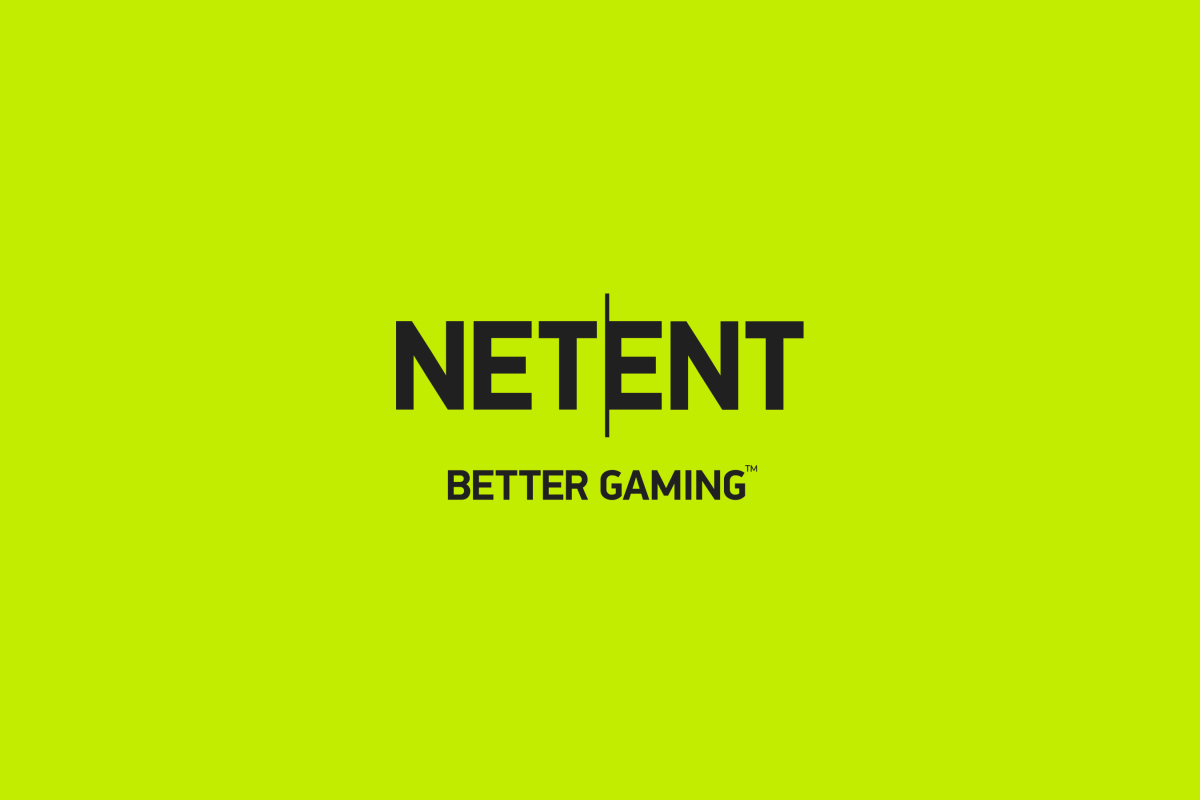 Reading Time:
< 1
minute
NetEnt has been awarded the global standard ISO 27001 certification. Following the ISO 27001 certification last week NetEnt's online casino games are now available with gaming operators Grand Casino Luzern and Grand Casino Baden in Switzerland.
The ISO 27001 certification is granted to companies that are committed to information security management. The testing and certifying covers everything from protecting sensitive information, to development, infrastructure and network configuration. By meeting the extensive requirements of the standard, NetEnt has proven its commitment to information security management.
"The ISO 27001 certification is an important acknowledgment for us and is the result of dedicated and hard work from our team. We pride ourselves on being a reliable, trustworthy and secure partner to customers and players," says Henrik Fagerlund, Managing Director of NetEnt Malta.
The certification also means that NetEnt can now unlock entry to new regulated markets and WLA procurements that previously were not possible. For one, NetEnt now proudly announces that it has entered the regulated market in Switzerland. Following the ISO 27001 certification last week, NetEnt has now launched its games with both Grand Casino Luzern (on the Paf platform) and Grand Casino Baden (on Gamanza's platform). NetEnt is also on track to go live with several other licensed Swiss operators in the coming months.
"We continue to deliver on our strategy to grow by strengthening our position in regulated markets. We are very pleased to take this step into the Swiss market and look forward to launching our award-winning games with even more operators soon," says Henrik Fagerlund.
As Red Tiger also offers their solution to markets that require ISO 27001 certification, the NetEnt group can now present its full portfolio of games to markets that require such certification.
Ever more people 60 years and older are gaming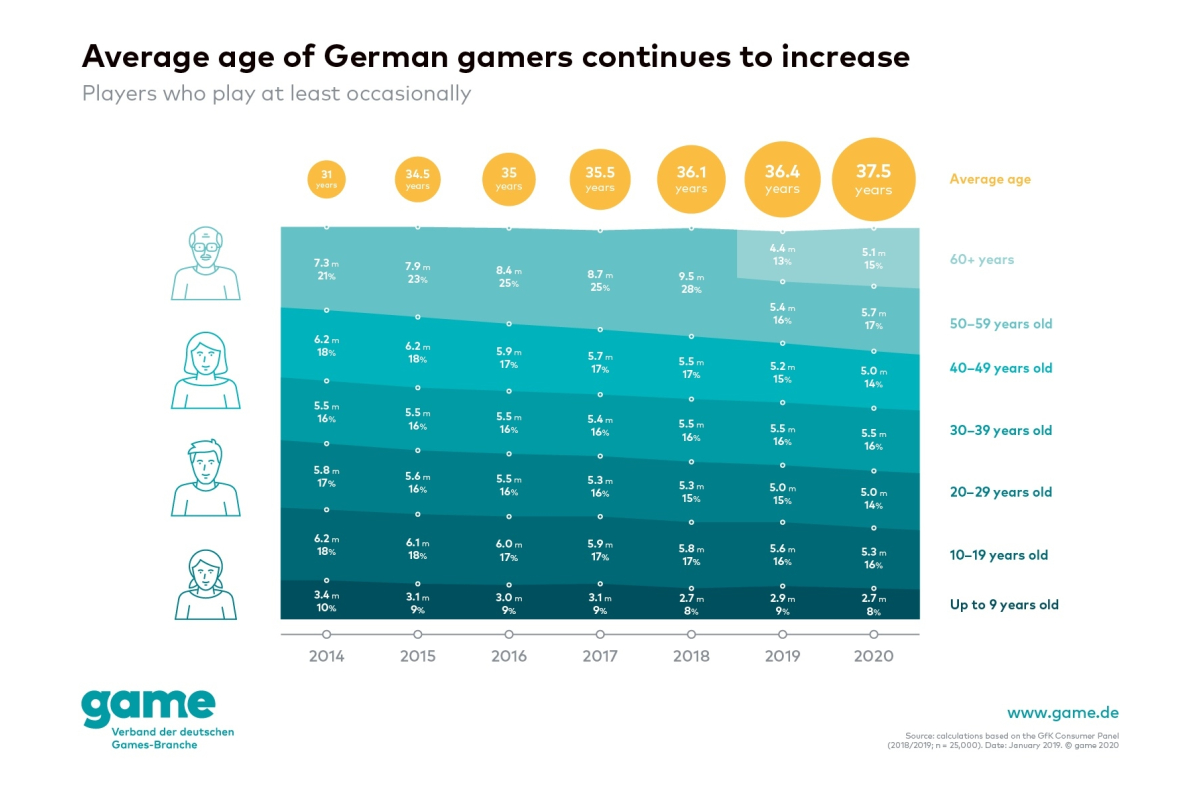 Reading Time:
2
minutes
More than 34 million Germans play computer and video games
Over 5 million seniors are gamers
Average age of gamers increases to 37.5 years
Ever more seniors are discovering an affinity for games. Over 5 million people 60 years or older in Germany currently play computer and video games – an increase of around 700,000 players compared to the figure of about 4.4 million in 2019. A total of more than 34 million people play computer and video games in Germany. These are the numbers released today by game – the German Games Industry Association, based on data collected by the market research company GfK. As in all other age groups, players over 60 are equally divided between women and men. Seniors most often reach for their smartphone or tablet to play; around 50 per cent of players in this age group make use of these devices for gaming.
'For many people 60 years and older, a virtual round of skat, a construction simulation or a crossword puzzle is just as much a part of everyday life as reading the newspaper or watching the news,' says game Managing Director Felix Falk. 'Games often open the door to the digital world for older people. They don't merely entertain; they make possible digital participation. The ongoing corona crisis brings into even sharper focus just how important access to the digital world is for older people too.'
The average age of gamers in Germany continues to increase
Currently, around 34 million people play computer and video games in Germany. Half of these players are women (about 48 per cent). The average age of gamers in Germany has increased compared to last year, from 36.4 years in 2019 to 37.5 years currently. This is in part a result of the continual increase in the numbers of gamers in the 50–59 and 60-plus age groups in Germany. In part, it is due to the fact that many long-time players have remained true to the medium and are now in these age categories.
About the market data
Please note: for the first time, the current market data includes analyses for the 60-plus age group. This data is visualised in the corresponding market data graphic.
The market data is based on statistics compiled by the GfK Consumer Panel and App Annie. The methods used by GfK to collect data on Germany's digital games market are unique in terms of both their quality and their global use. They include an ongoing survey of 25,000 consumers who are representative of the German population as a whole regarding their digital game purchasing and usage habits, as well as a retail panel. The data collection methods provide a unique insight into the German market for computer and video games.
game – the German Games Industry Association:
We are the association of the German games industry. Our members include developers, publishers and many other games industry actors such as esports event organisers, educational establishments and service providers. As a joint organiser of gamescom, we are responsible for the world's biggest event for computer and video games. We are an expert partner for media and for political and social institutions, and answer questions relating to market development, games culture and media literacy. Our mission is to make Germany the best games location.