BetConstruct Receives GLI Certification of Live Dealer Casino Games of CreedRoomz Brand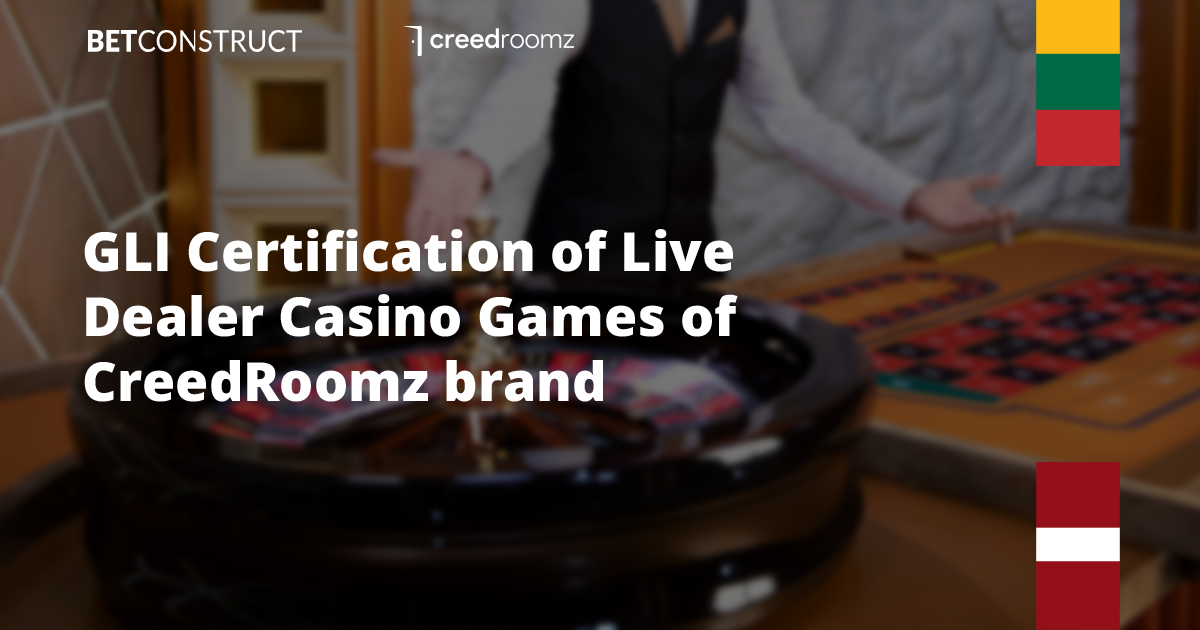 Reading Time:
< 1
minute
Soft Construct (Malta) Limited has successfully passed the GLI certification process for the Live Casino games of CreedRoomz by BetConstruct in Latvia and Lithuania.
As a result of continuous work, BetConstruct, a gaming and sports betting provider, has got the green light to promote CreedRoomz live casino offering in the two Baltic countries, Latvia and Lithuania. The approval was received for 10 games – Dragon Tiger, Super Six Baccarat, Casino Hold'em, Russian Poker, Switch BlackJack, Hi-Lo, Swift Roulette, Baccarat, Bet-on Poker, Roulette.
Certainly this new offer is really unique and interesting for the Baltic partners of the company, as CreedRoomz is adapted to various aspects of the business, such as the scale of activities, the region and the preferences of the players. It allows the clients to use BetConstruct's live casino key products and services, stay ahead of the competition, and access different player profiles.
By adding these new games to their operations, BetConstruct partners from Latvia and Lithuania intend to increase player satisfaction and engagement.

Twain Sport celebrates launch with Lithuanian basketball champions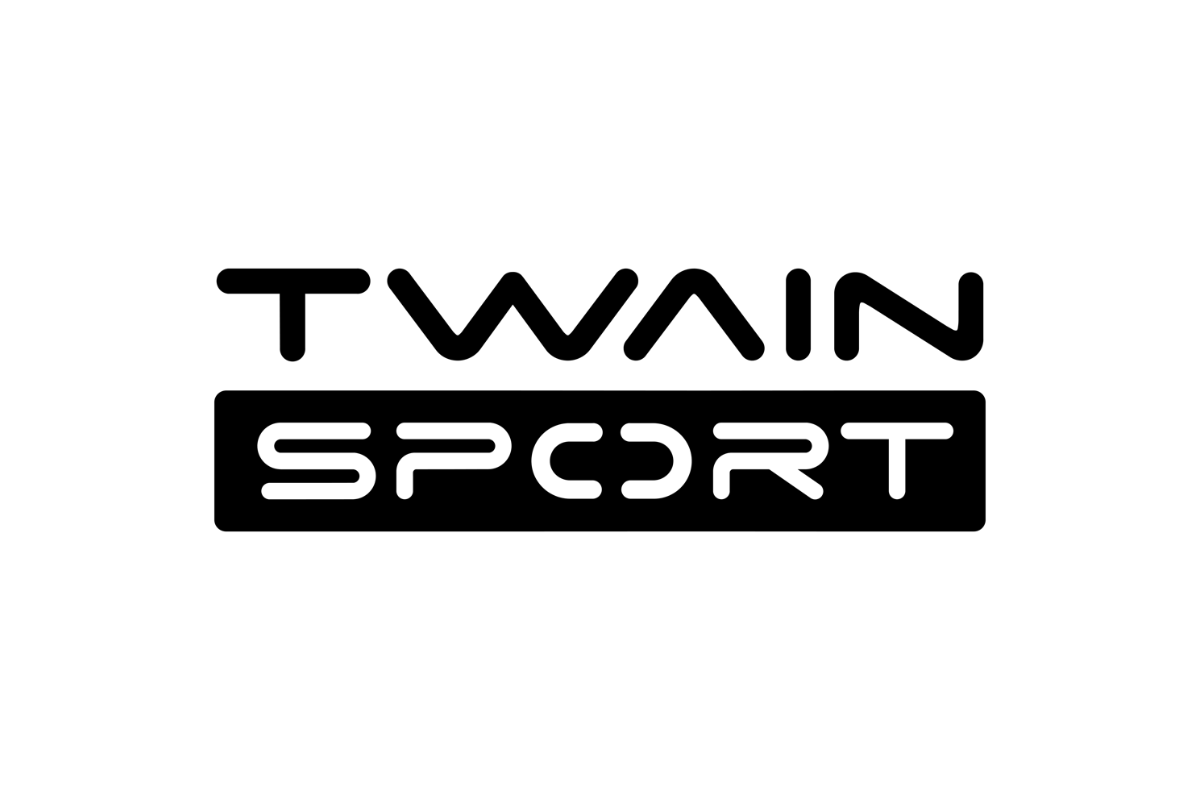 Reading Time:
2
minutes
Rytas Vilnius 2022 LKL winners try out new revolutionary sport
 Twain Sport, powered by the Hybrid Sports League and technology partner BetGames, hosted Lithuanian basketball champions Rytas Vilnius, to commemorate the launch of its new specialised hybrid sports vertical (T-Basket).
The recent 2022 Lithuanian Basketball League champions were the first professional team to participate in Twain Sport's new hybrid basketball tournament (T-Basket), which is set to be launched by the Hybrid Sport League in collaboration with its partner company, BetGames.
The day's celebratory competition with Rytas Vilnius saw the league's top players compete head-to-head in 60 seconds of action to score the most points while shooting from different distances, randomly selected by computer.
Rytas Vilnius sports director, a former basketball player and 2009 EuroCup champion, Donatas Zavackas, ended the day by winning both tournaments played.
The Hybrid Sport League is the sport's governing body and will coordinate and supervise the exciting new events schedule, which is set to commence in August 2022 in custom-built arenas across selected European locations.
Twain Sports' series of hybrid tournaments will offer premium high-frequency action-packed sports, starting with T-Basket, with will deliver a full, head-to-head tournament every single hour – totalling a new match every three minutes.
The highly anticipated league is set to satisfy the demand for increased live sport with a high-frequency entertainment format, while maintaining the highest integrity protocols with safeguarding systems.
Commenting on the event, BetGames' CEO Andreas Koeberl said: "It was a fantastic occasion to welcome the Vilnius Rytas basketball team to experience the thrill of T-Basket. Top professional athletes competing against each other in such an environment was great to see and made the absolute most of the new concept.
"Twain Sport is all about fast-paced entertainment, and with the tournaments going live in a matter of months, we are really excited to be partnering up as we begin announcing our first operator deals. Alongside this, we're also going to be rolling out our football-themed tournaments (T-Kick) and more in 2023 and beyond."
Giedrius Žibėnas, Head Coach for Vilnius Rytas added: "It's an exciting opportunity to try this new concept, combining a fresh idea of entertainment and sport. The players never know if they are the winner or loser until the score appears at the end, creating a very competitive environment, even for professional athletes."
"Nobody was entertained with 3×3 basketball at first – and while they said it's impossible to become part of Olympics, we've already seen it expand into what it is today. I believe the same is true here. Even pro players are now choosing between 3×3 or 5×5 basketball. If you expand globally, you will find your audience."
Chairman of the Hybrid Sports League, Sarunas Mazalas commented: "Our partnership with BetGames is a massive step forward for the Twain Sport project. Our league will now be streamed all around the world and we're ready to transform the world of sports. It's been a pleasure to host the Vilnius Rytas team and get the approval of a winning team to our winning concept."
Engage yourself in the most complete Game Wave Festival, where business, learning, and enjoyment merge!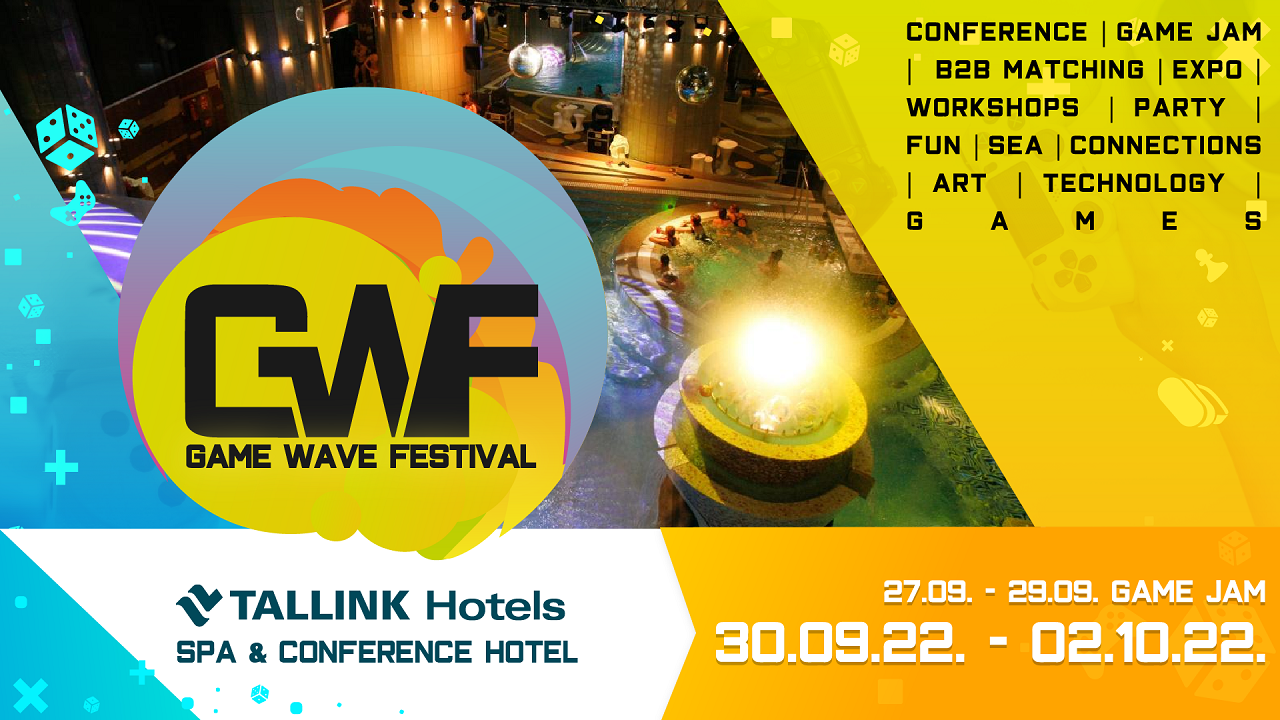 Reading Time:
3
minutes
The Game Wave Festival is an international event taking place for the second year in a row from September 27th to October 2nd in Tallinn, Estonia at Tallink Spa & Conference Hotel. The first three days of six-day-event are dedicated to the game jam.
The Game Wave Festival is a business, education and entertainment event for the gaming industry professionals. It first took place with great success in September 2021 in Jūrmala, Latvia attracting participants from 25 countries.
"Game Wave Festival is an expressive way to celebrate glorious game development heritage, culture and traditions, meet new and old faces, and have fun. It is professional, oriented to have serious business talks, and cozy, to make friends with almost all attendees. I am happy to welcome all of you to the 2nd Game Wave Festival!" — Ints Viksna, Chairman of Board at Latvian Technological center.
The festival is mainly B2B, however, it is designed to avoid the "stiffness" these types of events sometimes have. Game Wave Festival attempts to capture the fun and relaxed ambiance we've experienced in other global and regional game events. GWF is large enough to get an overview of the main tendencies in the Nordic and Baltic region, and small enough to make friends with all participants – The friendships you will make in GWF, will follow you all your life.
Main event and B2Match
30.09. – 02.10. The Main Event: Conference, workshops, expo, pitching competitions, business meetings and game jam final presentation.
The conference and interactive events are divided into 5 tracks: General, Art (visual, audial, haptics), Unreal Engine, XR and Board Games.
The online matchmaking platform is available for all participants all 6 days, and the meetings can also be booked on-site. Registered members of the matchmaking will be able to participate both on-site and online.
GWF uses the B2Match meeting and event management platform that works both on web browsers and mobile devices. This platform also handles video calls and conference streaming, so all functionality needed by the participants is neatly in one place.
There will be a private Business area for business ticket holders in Tallink's Fidel Bar with a nice view of the old town.
The first three days of the six-day-event are dedicated to the game jam
Awesome game jam runs from September 27th to 29th. The game jam's theme and diversifiers of the jam will be decided by the jam sponsors. However, the game jam does not end on the 3rd day, instead, the final ceremony is on the 6th day of GWF. This is by design so that the teams can improve their games by attending workshops and even pitch them in and get feedback in our "Early stage games mentor pitch".
Three unique game pitching opportunities:
1 to 1 board games author and publisher pitch in a private, closed space, where publishers can take their time to test the game and converse with the authors.
Early stage mentor pitch for anyone not ready for any other pitches, but still willing to train, test their prototype and get feedback. Jammers are welcome.
Nordic Game Discovery Contest Baltic semi-finals where developers from Finland, Estonia, Latvia and Lithuania can showcase their games to publishers and industry experts and compete for a place in the finals.
Three special event parties, including Business Afterparty and Pool party
The Business Party (29.09.2022) will be available for organizers, speakers, partners and business ticket holders only.
The Pool party (30.09.2022) will be available for organizers, speakers, partners, business ticket holders only and pool party ticket holders. There will be access to the pool area, sauna, hot tubs and a quieter area by the bar.
The Afterparty (01.10.2022) will be available for almost everyone (except for student ticket holders). It will feature Marioke, a feast table and a quieter area for business conversations.
The 3 day expo for game companies,  art, technology & education
The expo will be of interest to anyone who has a professional or a hobby curiosity about topics related to game companies, art, technology and education. Learning from last year's success and good feedback, GWF will place staff members to guard the hall, so that the expo participants are not tied down at their booths for 3 days.
Lithuania Sets New Lottery Age Purchase to +18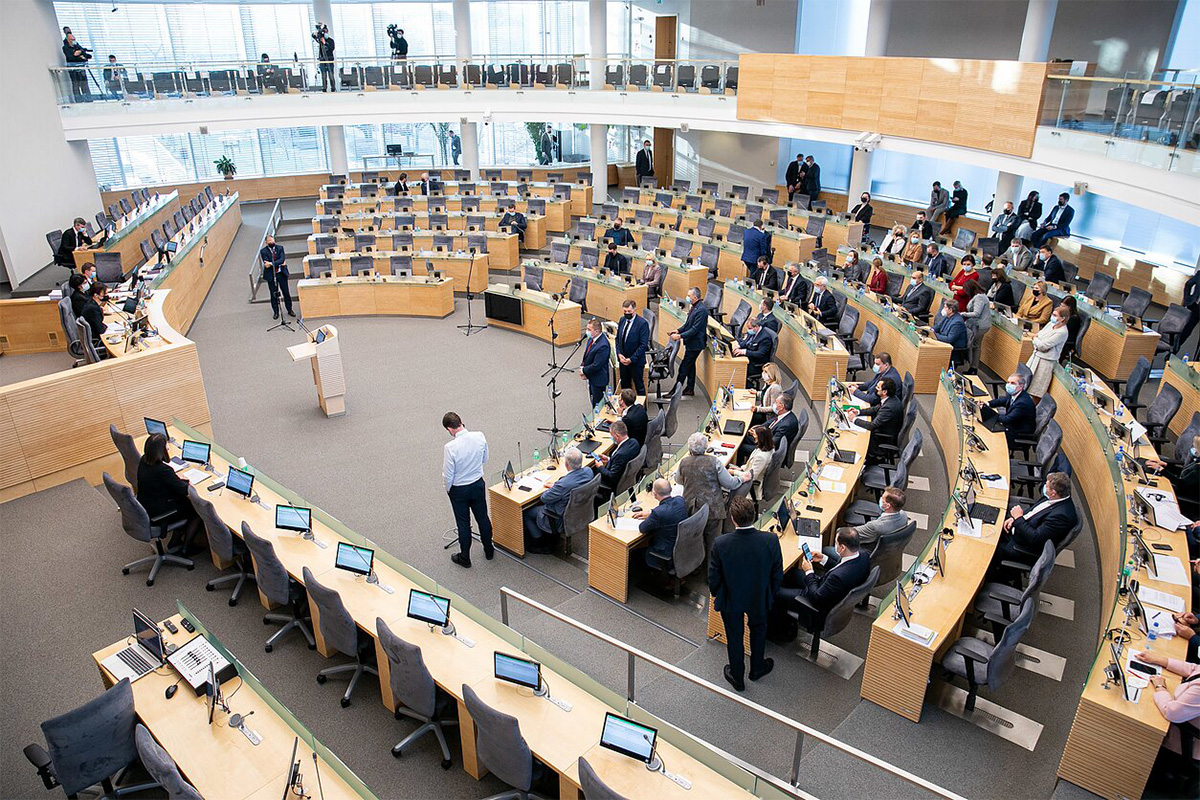 Reading Time:
< 1
minute
The Budget and Finance Committee of Lithuania's Seimas (Parliamentary Assembly) has completed a draft decree proposing new standards on lottery play and advertising for the Baltic state.
The Committee's headline measure has called on parliament to undertake a vote to raise the minimum age of purchase of lottery tickets from 16-to-18 years of age. If approved, Lithuania's government will enforce a new lottery age restriction from 1 January 2023.
The decree has further ordered Olifėja, Lithuania's state-sanctioned operator, to display age-range notifications and safer gambling warnings across its weekly lottery draws of Teleloto, Vikinglotto, Eurojackpot and further Instant-win games.
Olifėja serves as Lithuania's national lottery steward, charged with raising funds for the National Olympic Committee, its business activities monitored by Lithuania's Gaming Control Authority.
Since 2020, the successive Lithuanian governments of PMs Saulius Skvernelis and Ingrida Šimonytė have chosen to amend the laws of the 2016 Gambling Act.
Last year, the government ordered the Gaming Control Authority to ban all licensed operators from promoting any form of gambling incentive (bonuses, discounts, reward programmes).
Furthermore, the government granted the Gaming Control Authority direct powers to IP-block unlicensed operators and to issue bigger fines on non-compliant operators, changes that were sanctioned as a COVID-19 civic protection measure.
Lithuania carries amongst the strictest age laws for gambling in Europe, in which players must be +21 years of age to enter a gambling venue.