Exclusive Interview with Matt Howard (Director of Sportsbook Solutions), speaker at Vienna International Gaming Expo 2018
Reading Time:
5
minutes
I am delighted to share with you my latest interview which focuses on sports betting solutions in the online gambling industry with emphasis on Risk Management and Fraud detection.
Matt Howard is the Director of Sportsbook Solutions, a premium sports betting advisory and management firm located in the UK and serving businesses worldwide. Matt has worked for and with some of the largest operators and suppliers in the sports betting and gaming industry, amongst them William Hill, Betfred, Totesport, BetConstruct, Aspire Global, BetRadar, BetGenius and Digital Sports Tech.
Matt will be a speaker at iGaming Knowledge Seminar and at the Millennial Gaming Forum, which are part of Vienna International Gaming Expo 2018. (more details here…)
I would like to thank you for spending time to answer our questions. First I would kindly ask you to shortly introduce yourself and also speak about the company you represent, Sportsbook Solutions.
Matt: Thanks very much! I am Matt Howard and I am a consultant and director of the company Sportsbook Solutions. Sportsbook Solutions comes from noticing the lack of skilled people currently working in sports betting, in terms of operational Trade and Risk Management mainly. As the industry expands into new regions there are obviously also issues in terms of local skill if there is no background in sports betting in that region. Sportsbook Solutions provide outsourced Sportsbook Management Services to clients worldwide to solve both these issues for them. We work depending on each client's requirements and budgets; so we may compile extensive reports for some clients, whereas with others we provide entirely outsourced, dedicated sportsbook management teams. We only staff with Tier 1 trained employees and believe this makes us completely unique and premium.
You have rich experience in gaming and gambling industries since you have been giving advice to clients for a long a time on different aspect of this industry. Why did you choose this industry and which are the areas you are most interested in and give you the most success?
Matt: In the UK we grow up around betting and it has extremely close ties to sports. I was a huge football fan and also very good at Mathematics so being able to combine these two interests and skills with sports betting was a great fit! I was fortunate enough to start my career with one of the world's largest firms, William Hill, and have always been keen to take on new and interesting challenges in the 14 years since I started my career back in Leeds!
What can you tell us about the projects you have worked on so far, and the difficulties and successes you have experienced?   
Matt: I have been lucky enough to work in both B2B and B2C and with companies of all sizes and stages of their lifecycle. I have also worked in every department within sportsbooks and in the most senior roles operationally, too. I think this gives me a unique perspective on how to manage sportsbooks effectively and with an in-depth understanding of how the suppliers also work to be able to both identify weaknesses and also to work to eliminate these areas.
There are always some difficulties and these can come down to a lack of processes, budget constraints and sometimes a lack of skill and expertise also. I am a huge fan or process and organization and I always start from here. Some of the major successes I have had have been project managing the first integration between the Margin Maker console and BetRadar, rebranding the UK's oldest sports betting company and, most recently, in leading the BetConstruct sportsbook to be the largest B2B sportsbook currently available. This included increasing their clients by over 100%, increasing turnover by over 300% and increasing profit margins on sports betting by over 50%.
Risk management and fraud detection are major goals of Sportsbook Solutions. How can you help other companies who operate in this domain to be more efficient considering these two major aspects of the industry?
Matt: One of the areas Sportsbook Solutions consider to be suffering in the industry is Risk Management. The rise of pooled resources and automation have been good in many ways, but we don't feel this is true of Risk Management. A goal of our company is to provide personal management to our clients businesses and Risk Management is a hugely personal process for every company. As a very simple example a start-up sportsbook would benefit from much tighter control of Risk Management than an established brand who has found their place in the market. Our clients typically increase their profitability by over 25% by working alongside us because of this personal level of management. This is not only Fraud of Player Management either. What is rarely discussed is Risk Management of the Limits and Margins of a sportsbook. One of the most regular issues we see is that the pooled nature of these areas on Turnkey Solutions means that areas are both losing too much and others are restricting profitability. The combination is very damaging to profit margin. The good thing is this can be changed and the solutions allow you to do so.
What is your personal opinion about the European gambling industry and could you make a comparison with the market that you know better and the European situation in terms of gaming and gambling?
Matt: I have worked extensively in Europe (even at William Hill I focused on their Spanish operation) so I consider this to be one of my main markets. What is happening now is a huge growth period in terms of new businesses because of the much lower entry cost. The issue we see mostly is a lack of professional advice or management. We feel that no business should enter into a market without knowing what they are getting involved in, this is where Sportsbook Solutions comes in!
What upcoming events is the company focusing on nowadays and how prepared is the company for these events?
Matt: We are still quite a young company and we plan to attend as many events with a sports betting focus as we can. However, we are also very careful not to do this at the expense of our existing client's management. So, we pick carefully the most interesting events in terms of content, attendees and business opportunities. VIGE appealed to us because it ticks all the boxes, but the focus on millennials really caught our eye!
Please, tell us more about the future plans of Sportsbook Solutions.
Matt: Our plans are to keep trying to educate the sports betting industry that things can be improved with personal management. We hope this leads to us being able to work with more clients, but we also feel just by making people think more about how their business is being managed will see improvements, which will be good for everyone and drive the industry forwards.
 If you could change anything in the world of gambling what would that be?
Matt: I would hope to change the idea that Trade and Risk Management are 'old school' concepts. We are a forward thinking company and we understand that the days of doing all the odds in-house are over. But, the basic principles of these two areas are what define the profit margin in sports betting more than any other area.
What are your future plans regarding you career and where would you like to travel the most?
Matt: I hope my career sees Sportsbook Solutions become a successful and respected service provider within the industry. I have no intention at all of leaving sports betting as I truly find every day interesting and exciting, even after 14 years!
In terms of travel I have been very fortunate to travel extensively in my professional and personal life. I would love to see more of South America and consider it a huge business opportunity also, so hopefully I will be able to combine the two!
If you want to meet Matt in person or networking with the biggest names of the Sports betting, Casino, VR/AR, Marketing, eSports, DFS, Virtual Sports and Crypto industry, make sure you attend the Vienna International Gaming Expo.
With this occasion, I would also like to thank you for following my interview series and for sharing these information with your colleagues and partners. If you would like to be featured in an upcoming interview, please send me an e-mail to reka.szalo@europeangaming.eu and I will happily get back to you!
Dr. Raffaela Zillner, LL.M to join European Gaming Congress (EGC 2018) Ljubljana, Austrian market update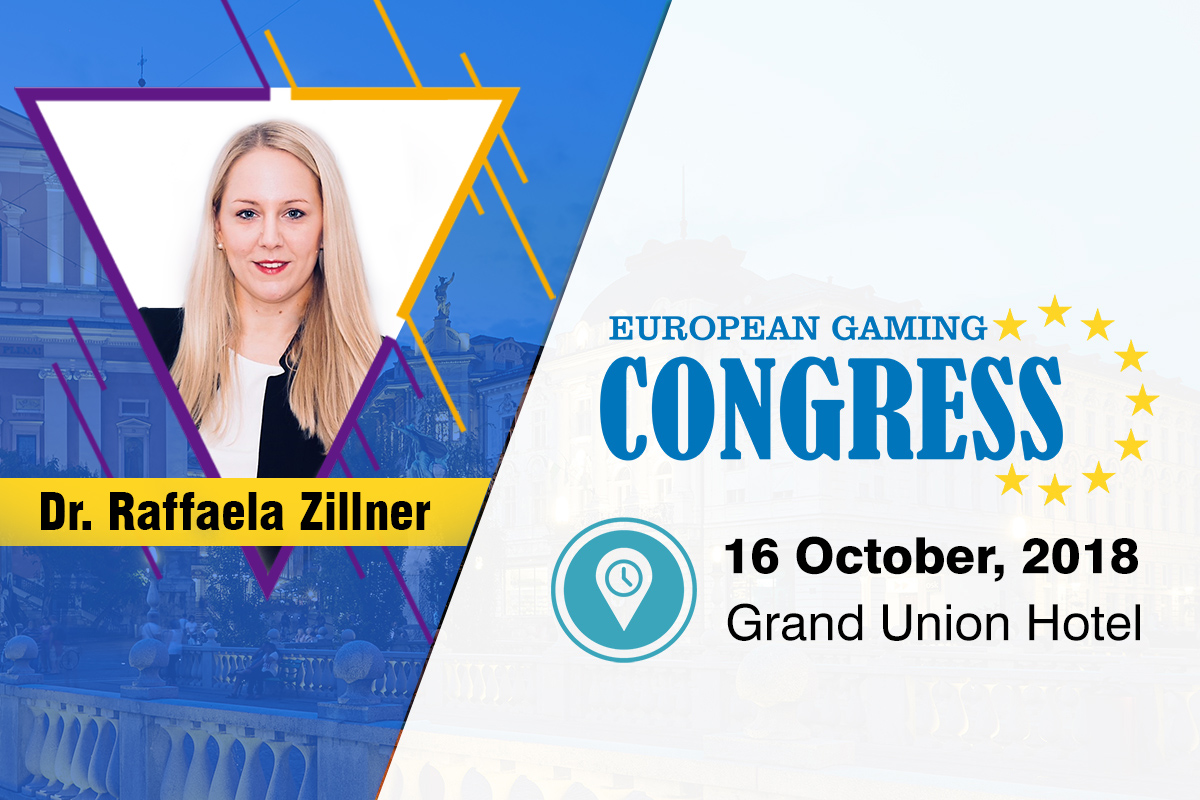 Reading Time:
2
minutes
Ljubljana – 13 June 2018 – The inaugural edition of European Gaming Congress will be held on the 16th of October at the Grand Union Hotel in Ljubljana and it's the latest conference we are putting together. (read more about the event here…)
The event is expected to bring together industry expert from all over Europe and create a platform which will enable both networking and learning at the highest quality.
As the event will touch base about many important updates coming from European jurisdictions, one of the subjects of the first panel discussion is the Austria gambling market.
The Austrian gaming market grew by 4 per cent and the revenues touched the €1.675 billion mark in 2017. These are impressive figures, but internationally licensed operators account for 65 per cent of the segment's revenue.
According to Andreas Kreutzer, of the Kreutzer Fischer & Partner consultancy, online gambling, fuelled by international websites, grew by 11 per cent anyway and had the largest share of the growth.
It is not a positive news for Win2Day brand, the only locally approved online operator. The Austrian government needs to update laws to implement a proper taxation regime on the segment.
The OVWG called forth that a new regulation with a licensing procedure is urgently needed in Austria, but that 50 million and more than 1,000 qualified jobs are at risk with the planned revision. Game and betting stakes have increased by around 10 percent in the last two years, while the online market increased 25 percent in 2016.
While the BMF argues in its draft that player protection is a top priority, the OVWG said that the argument to justify the market exclusion of unlicensed reputable providers does not apply because some already have valid EU licenses, therefore they meet high standards in terms of player protection.
You may have gotten used to bad news coming about the Austrian gambling market when it comes to licensing, but Dr. Raffaela Zillner, LL.M is hoping to bring some positive news to EGC this fall.
Dr. Raffaela Zillner, LL.M. runs the General Secretariat of the Austrian Association for Betting and Gambling (OVWG). In this position, she's the first point of contact for all association matters. Raffaela holds a law degree as well as a Master's degree in Information and Media Law and a doctoral degree in law. Furthermore, Raffaela successfully passed the Vienna (Lawyers) Bar exam. In her professional career, she has worked as an Associate at a Vienna-based law firm with a special focus on gambling and sports betting law.
You can view the full agenda on the following link.
Full detail about the event can be found on the official website of the event: https://europeangamingcongress.com/
Make sure you grab your seat as the seats are limited to 100 registrants!
CEEGC2018 Budapest announces Bartosz Andruszaniec (RM Legal Kancelaria Radców Prawnych)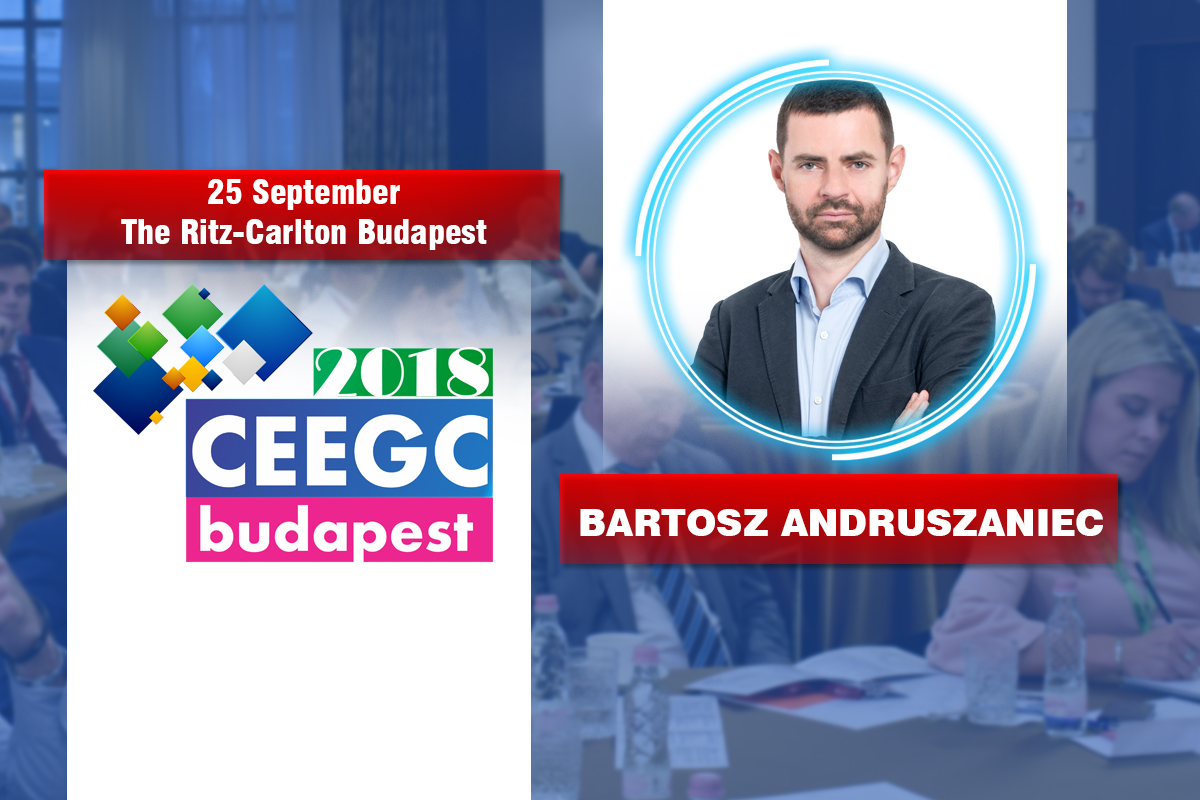 Reading Time:
3
minutes
Budapest – 11 June 2018 – The third edition of Central and Eastern European Gaming Conference is gearing up with an impressive lineup of speakers and the team promises a unique opportunity for delegates to harvest quality content.
The agenda of the event will also include a market update of the Polish market has been criticized lately for delay in simplified online betting sign-ups. A Polish trade association has criticized the government severely for making the registration process with Polish-licensed online sports betting operators too difficult.
Late last month, Pracodawcy RP (Employers of the Republic of Poland) sent a letter blaming the Ministry of Finance of "making it difficult to develop the bookmaking market" and "hindering" local operators' ability to compete with internationally licensed gambling sites.
Specifically, the group accused the Ministry of dragging its feet on allowing locally licensed online bookmakers to offer simplified account registration for new customers.
Under this process, customers could fill in minimal data, make a deposit and place a wager before the impulse escapes them. Full registration would have to be completed within 30 days, and withdrawals would be impossible until full registration was done.
As the story develops further, there is so much to learn about the entanglements of the Polish gambling industry.
Bartosz Andruszaniec (RM Legal Kancelaria Radców Prawnych) will join the "Focus on Central Europe" panel discussion and share the insights about the gambling industry in Poland.
About Bartosz Andruszaniec
Graduate of the Faculty of Law and Administration of the University of Warsaw and a member of the District Chamber of Legal Advisers. Specializes in gambling law and provides advisory services to leading international gambling operators. Works in a wide range of cases regarding the gambling sector, provides advisory services within the scope pf regulatory and consumer issues, advertising and promotion law, and conducts administrative and court proceedings. Participates in procedures for the license to organize mutual bets.
Has extensive expertise in transactions covering the participation in the biggest transactions on the Polish market. Gained qualifications working for leading international law firms. Provided advisory services to one of the biggest UK real estate funds in the process of assets sale (including real estate and shopping centers). Conducted transactions of banks merges, sale of shares of a mobile telephony operator, and sale of a cinema network. Acquired practice in current corporate service, law of contracts, and real estate law.
To hear more about the topic make sure you attend the third edition of CEEGC Budapest.
The 2018 edition of the "bombastic gaming seminar" will be held at The Ritz-Carlton on the 25th of September and the event promises to once again bring the quality content and networking opportunities for attending delegates.
The subtitle of the 2018 event is "The age of Machine Intelligence and how regulators must keep up with technology" and the agenda is full of high quality content. CEEGC 2018 will once again feature regulatory and compliance related panel discussions about Romania, Bulgaria, Ukraine, Belarus, Slovakia, Czech Republic, Hungary and Poland, but will also focus on Responsible Gambling, AML, Licensing Procedures in the European Union, Innovation and will feature a special IMGL MasterClass™.
Make sure you grab your seat in time and attend the most prestigious boutique style gaming event which gather C-level executives yearly in one of Europe's most visited city.
MultiPass Delegate Passes now available with discounted rate for CEEGC Budapest and EGC Ljubljana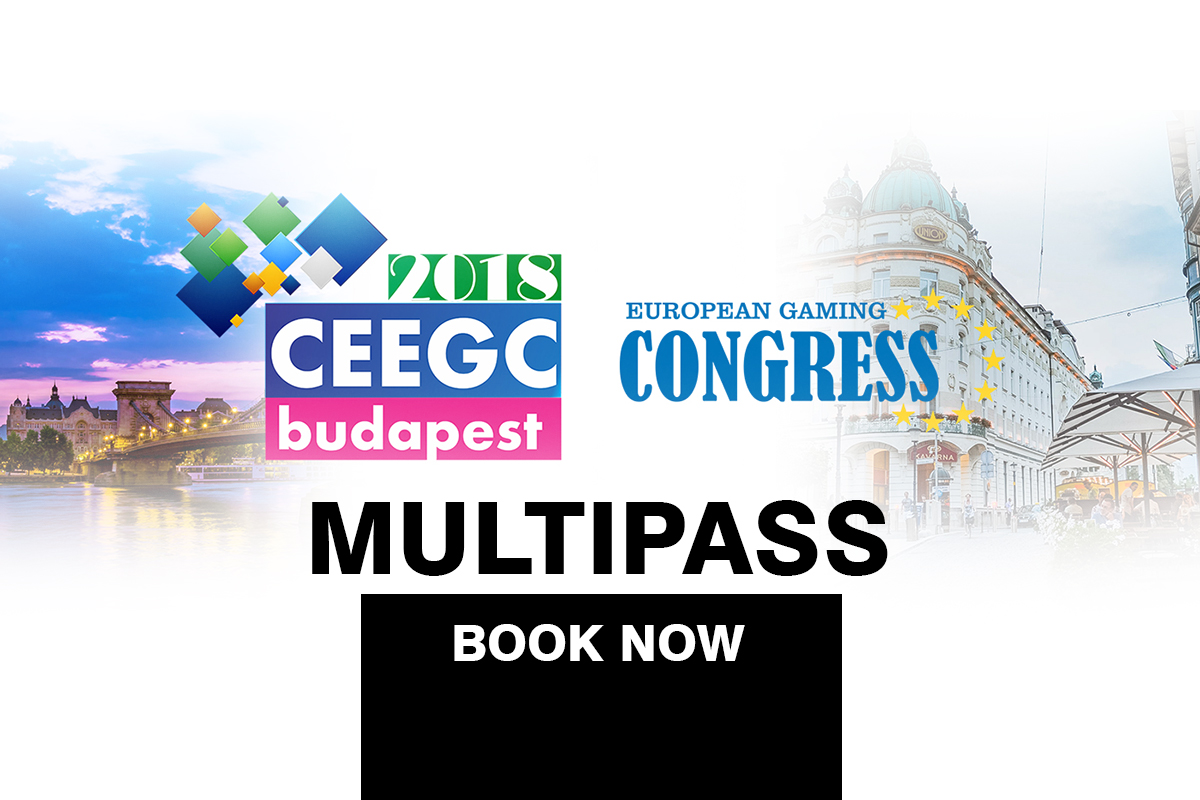 Reading Time:
2
minutes
7 June 2018 – We have launched a new booking option for our two upcoming events which enables delegates to further save on their delegate passes.
The MultiPass is delegate pass booking option that includes access to both Central and Eastern European Gaming Conference (CEEGC Budapest 2018) and European Gaming Congress (EGC Ljubljana 2018) is available between 7 June and 23 September, 2018.
The passes can be booked at the following rates, dependent on period:
Early Bird Rate: 399 EUR – Sales end on July 31, 2018
Advance Rate: 549 EUR – Sales end on September 23, 2018
The option is limited to 30 delegates, make sure you book in time to avoid disappointment!
You can register your MultiPass on the following link.
About CEEGC Budapest
The third second edition of the most talked seminar of the CEE and Balkanic region.
In just 2 years, CEEGC has become the most prestigious boutique gaming event which gathers C-level executives every year to network and gather information about the Central and Eastern European markets
The subtitle of the 2018 event is "The age of Machine Intelligence and how regulators must keep up with technology" and it would be our honor to have you in our speaker list for CEEGC 2018
After successfully organizing the second edition of CEEGC which was held between 19-20 September 2017 we have conducted a survey which received a 98% positive reply from the 125 delegates that were present at the event.
We have set the date of 25 September by carefully synchronizing with the top delegates that will be attending the event and we are looking forward to seeing you in Budapest.
Read more: www.ceegc.eu
About EGC Ljubljana
European Gaming Congress is specially designed to bring together industry experts, regulators, operator and service providers in order to discuss burning issues some of the markets are facing when working with compliance updates and licensing. The event also offers networking sessions which will help attending delegates to meet and greet some of well known faces of the gambling industry in Europe. The agenda will give the opportunity for attending delegates to dive into regulatory updates from Italy, Malta, Slovenia, Austria, Germany, Spain, France, Greece and many more jurisdictions. We look forward to seeing you in Ljubljana with a full day of quality content and networking.
Read more: www.europeangamingcongress.com