APEX Gaming Enters Suriname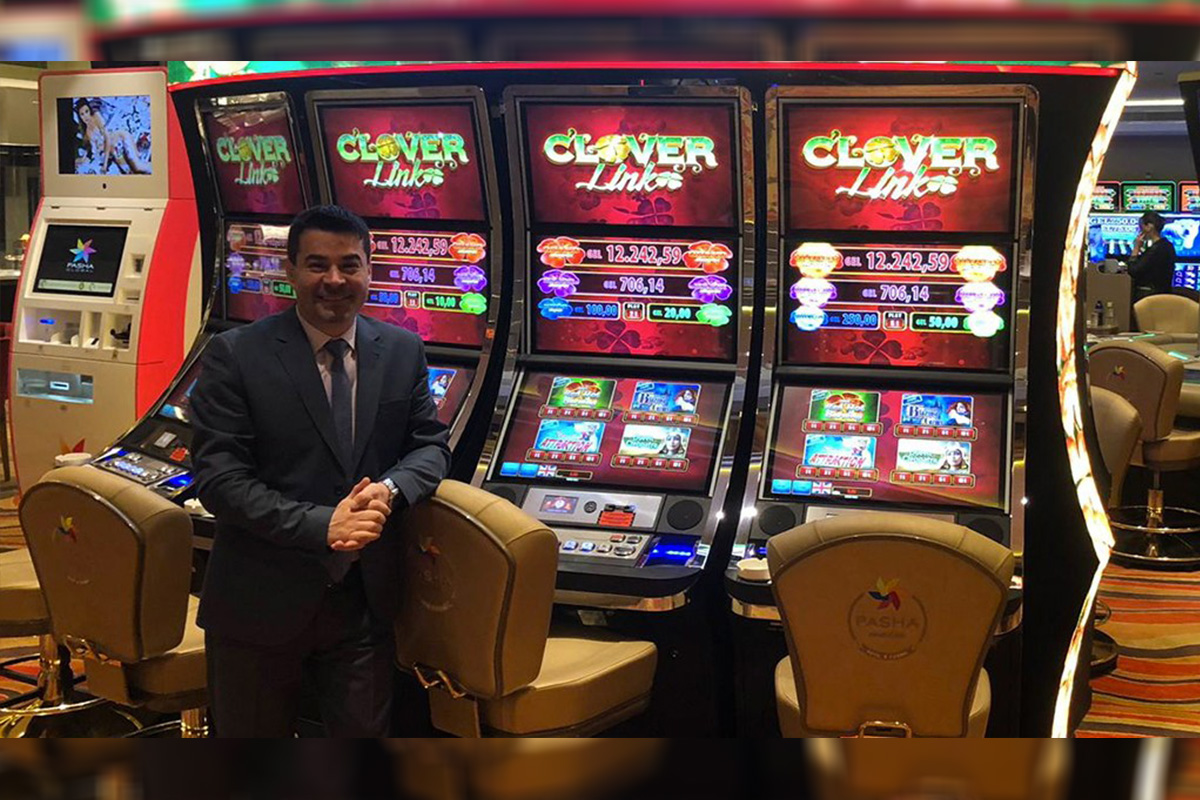 Reading Time:
1
minute
Casino operator Pasha Global has installed APEX gaming's CLOVER LINK at two casinos in Suriname.
"Our success stems from creating the best possible gaming experience for our customers who enjoy spending time in our casinos. We strive to be different, to be better, indeed to take gaming operations to the next level. We appreciate that the team at APEX gaming has the same philosophy – to take gaming to the next level. They have certainly done that with CLOVER LINK. Given the feedback in the market, we had high expectations. I can tell you that even these expectations have been exceeded. We plan further installations so that more of our customers can have access to this great jackpot game. Congratulations to the APEX team on creating something very special. It's really not so often that such a game can make a difference – APEX really makes the difference in our casinos," Hakan Karaca, Slots Director of Pasha Global said.
"We are extremely proud to receive such a glowing report from the Pasha Global team. We are completely committed in bringing gaming to the next level and for Mr. Karaca to state that himself shows that we have something extremely special with CLOVER LINK," Kubilay Özer, Global Sales Director at APEX gaming said.
GROUPE PARTOUCHE : A new key step Aiming at the end of the Safeguard Plan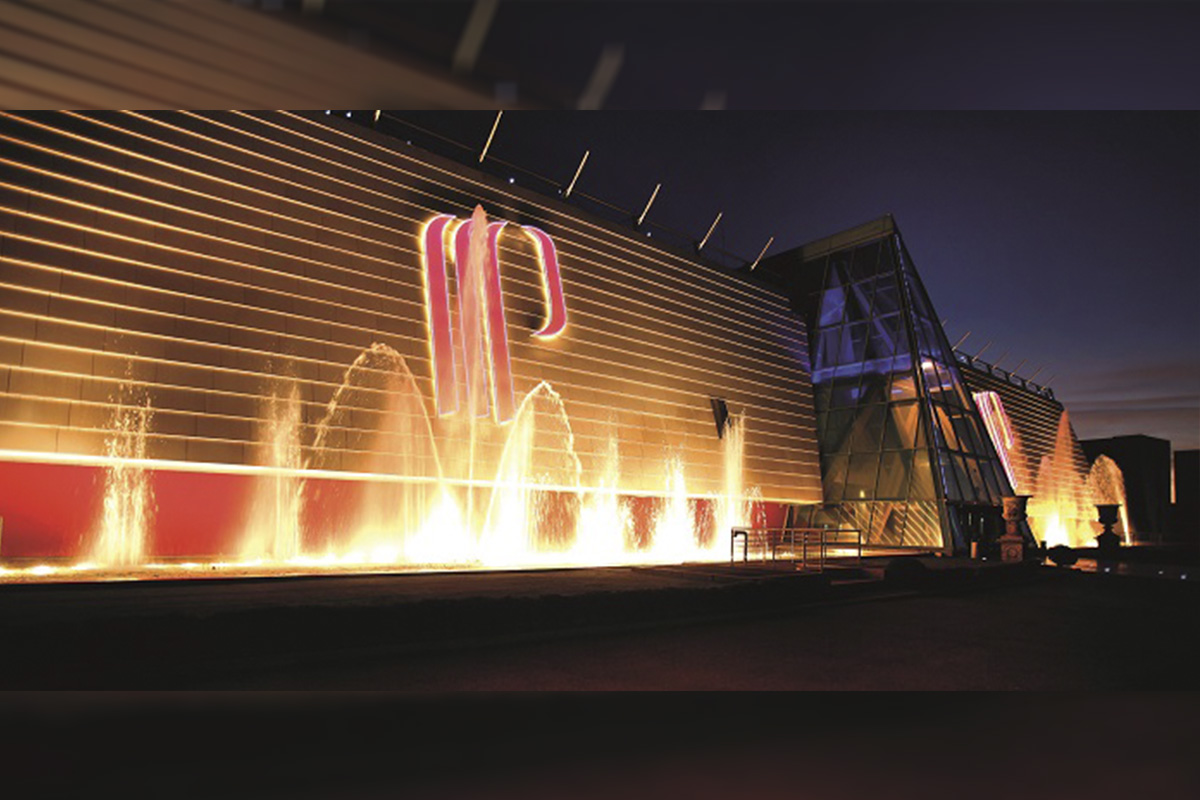 Reading Time:
2
minutes
A new key step
Aiming at the end of the Safeguard Plan
Bank and bond refinancing totalling € 115,000,000
Groupe Partouche announces that it has set up a syndicated refinancing loan with a 6-year maturity, as well as a revolving credit line with the same maturity for a total amount of € 80 M. The Group will refinance itself with a bank pool of six partners.
Groupe Partouche will also issue a € 35 M EuroPP bond with a maturity of 7 years to a well-known European institutional investor.
The proceed of these transactions will be used to refinance the existing syndicated loan (with a principal amount of € 78.4 M and a maturity date at 15th December 2022) presently treated in its safeguard plan together with the current debts of the Group.
These operations will enable the Group to extend the average maturity of its debt, to reduce its financial expenses and to execute an early application of its safeguard plan.
The funds will be made available before the hearing of the Paris Commercial Court scheduled for the 4th of November 2019, during which the Group will request the Court to note the execution and the withdrawal from its safeguard plan. Deliberation is expected to be carried on at the end of the hearing.
The purpose of the revolving line is to participate in the financing of the renovation program of the casinos.
In these transactions, Groupe Partouche is being assisted by CIC as book-runner, together with Société Générale.
Groupe Partouche was established in 1973 and has grown to become one of the market leaders in Europe in its business sector. Listed on the stock exchange, it operates casinos, hotels, restaurants, spas and golf courses. The Group operates 43 casinos and employs nearly 4,300 people. It is well known for innovating and testing the games of tomorrow, which allows it to be confident about its future, while aiming to strengthen its leading position and continue to enhance its profitability. Groupe Partouche was floated on the stock exchange in 1995, and is listed on Euronext Paris, Compartment B. ISIN : FR0000053548 – Reuters : PARP.PA – Bloomberg : PARP:FP
Final result of Next Games' rights offering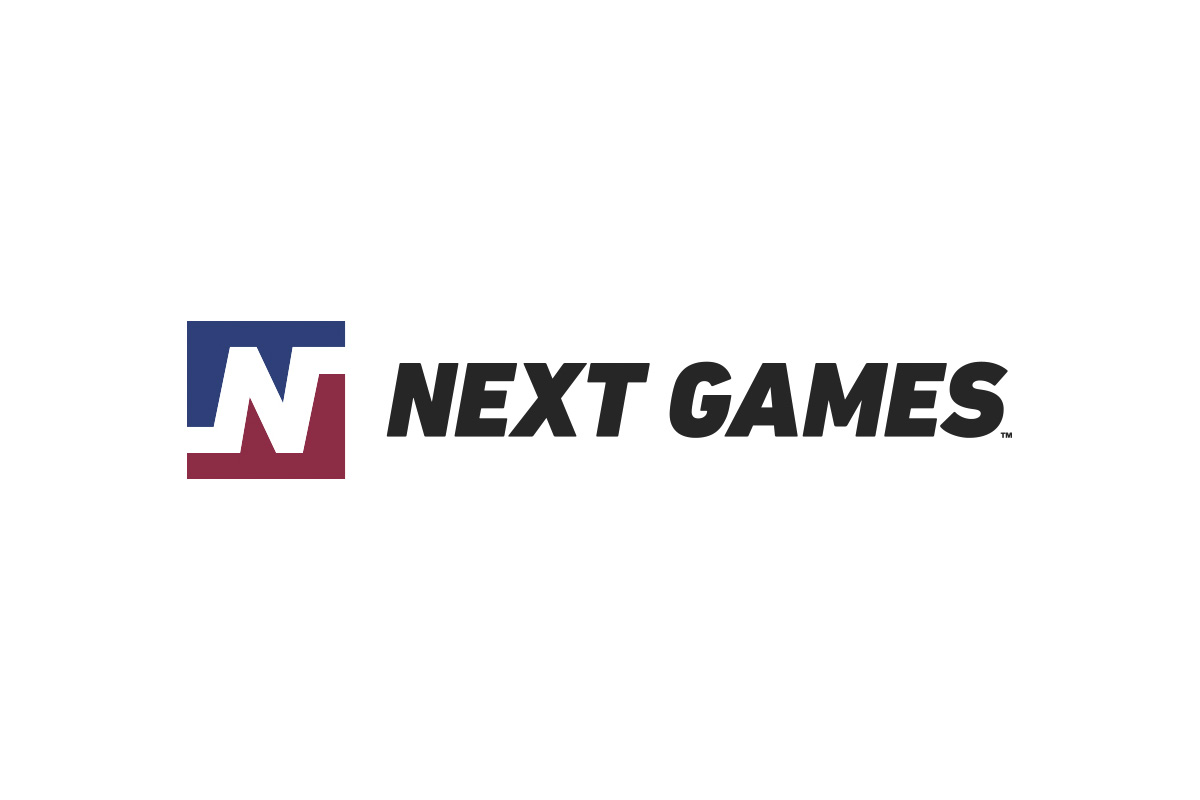 Reading Time:
4
minutes
NOT FOR RELEASE, PUBLICATION OR DISTRIBUTION, DIRECTLY OR INDIRECTLY, IN OR INTO THE UNITED STATES, AUSTRALIA, SOUTH AFRICA, HONG KONG, JAPAN, CANADA OR SINGAPORE OR ANY OTHER JURISDICTION IN WHICH THE DISTRIBUTION OR RELEASE WOULD BE UNLAWFUL.
The final result of Next Games Corporation's ("Next Games" or the "Company") rights offering ("Offering"), which ended on 16 October 2019, shows that all the offered 9,298,430 shares ("Offer Shares") were subscribed for in the Offering. A total of 3,928,234 shares were subscribed for pursuant to the exercise of subscription rights and 430,100 shares were subscribed for without subscription rights, i.e. a total of 4,358,334 shares, representing approximately 46.9 percent of the Offer Shares. Subscriptions pursuant to the subscription commitments from Jari Ovaskainen and AMC Network Ventures LLC amount to 4,940,096 shares in addition to their pro rata subscriptions, representing approximately 53.1 percent of the Offer Shares.
The Board of Directors of Next Games has today approved all subscriptions made pursuant to the exercise of subscription rights, subscriptions made without subscription rights as well as the subscriptions made pursuant to the subscription commitments, in accordance with the terms and conditions of the Offering. The subscription price was EUR 0.86 per Offer Share and Next Games raised gross proceeds of approximately EUR 8 million through the Offering. As a result of the Offering, the number of shares in the Company will increase by 9,298,430 shares from 18,610,270 shares to 27,908,700 shares.
The Offer Shares will be registered with the Finnish Trade Register on or about 22 October 2019. The last day of trading in interim shares on Nasdaq First North Growth Market Finland market place ("First North") will be on or about 22 October 2019. Interim shares will be combined with the existing shares of the Company on or about 23 October 2019. Trading in the Offer Shares is expected to commence on First North on or about 23 October 2019.
The Offer Shares will entitle their holders to full shareholder rights in the Company after they have been registered with the Finnish Trade Register and recorded in the Company's shareholder register maintained by Euroclear Finland Oy.
Danske Bank A/S, Finland Branch ("Danske Bank") acts as the lead manager in the Offering and Castrén & Snellman Attorneys Ltd as the legal advisor to the Company and Danske Bank.
Next Games
Next Games is the first publicly listed mobile game developer and publisher in Finland, specializing in games based on entertainment franchises, such as movies, TV series or books. The developers of the critically acclaimed The Walking Dead games redefines the way franchise entertainment transforms into highly engaging service-based mobile games. In summer 2018, Next Games launched The Walking Dead: Our World, which utilizes cutting edge AR technology and is powered by Google Maps. Currently Next Games is working on multiple new games based on popular entertainment franchises including, Blade Runner Nexus, for the popular Blade Runner franchise and a mobile game based on Netflix's Stranger Things.
Important notice
The information contained herein is not for publication or distribution, directly or indirectly, in or into Australia, Canada, Hong Kong, Japan, South Africa, Singapore or the United States. The issue, exercise or sales of securities in the Offering are subject to specific legal or regulatory restrictions in certain jurisdictions. The Company assumes no responsibility in the event there is a violation by any person of such restrictions.
The information contained herein shall not constitute an offer to sell or a solicitation of an offer to buy, nor shall there be any sale of the securities referred to herein in any jurisdiction in which such offer, solicitation or sale would be unlawful prior to registration, exemption from registration or qualification under the securities laws of any such jurisdiction. Investors must neither accept any offer for, nor acquire, any securities to which this document refers, unless they do so on the basis of the information contained in the applicable prospectus published by the Company.
These written materials do not constitute an offer for sale of securities in the United States, nor may the securities be offered or sold in the United States absent registration or an exemption from registration under the U.S. Securities Act of 1933, as amended, and the rules and regulations thereunder. There is no intention to register any portion of the offering in the United States or to conduct a public offering of securities in the United States.
The Company has not authorised any offer to the public of securities in any member state of the European Economic Area other than Finland. With respect to each member state of the European Economic Area, no action has been undertaken or will be undertaken to make an offer to the public of securities requiring publication of a prospectus in accordance with Regulation (EU) 2017/1129 of the European Parliament and of the Council.
The information contained herein shall not constitute a public offering of shares in the United Kingdom. This document is only being distributed to and is only directed at (i) persons who are outside the United Kingdom or (ii) to investment professionals falling within Article 19(5) of the Financial Services and Markets Act 2000 (Financial Promotion) Order 2005 (the "Order") or (iii) high net worth companies, and other persons to whom it may lawfully be communicated, falling within Article 49(2) of the Order (all such persons together being referred to as "relevant persons"). Any investment activity to which this document relates will be only available to, and will be engaged in only with, relevant persons. Any person who is not a relevant person should not act or rely on this document or any of its contents.
The information contained in this document is for background purposes only and does not purport to be full or complete. No reliance may or should be placed by any person for any purposes whatsoever on the information contained in this document or on its completeness, accuracy or fairness. The information in this document is subject to change. Any subscription for securities should be made solely on the basis of the information contained in the offering circular to be issued by the company in due course.
This document contains certain forward-looking statements. These forward-looking statements involve risks and uncertainties that could significantly affect expected results and are based on certain key assumptions. Many factors could cause actual results to differ materially from those projected or implied in any forward-looking statements. Due to these uncertainties and risks, readers are cautioned not to place undue reliance on such forward-looking statements, which speak only as at the date of this document. The company disclaims any obligation to update any forward-looking statements contained in this document, except as required pursuant to applicable law.
Spanish and Portuguese gambling industry in focus at EGC Milan 2019 experts from Grupo R. FRANCO and Rato, Ling, Lei & Cortés Law Firm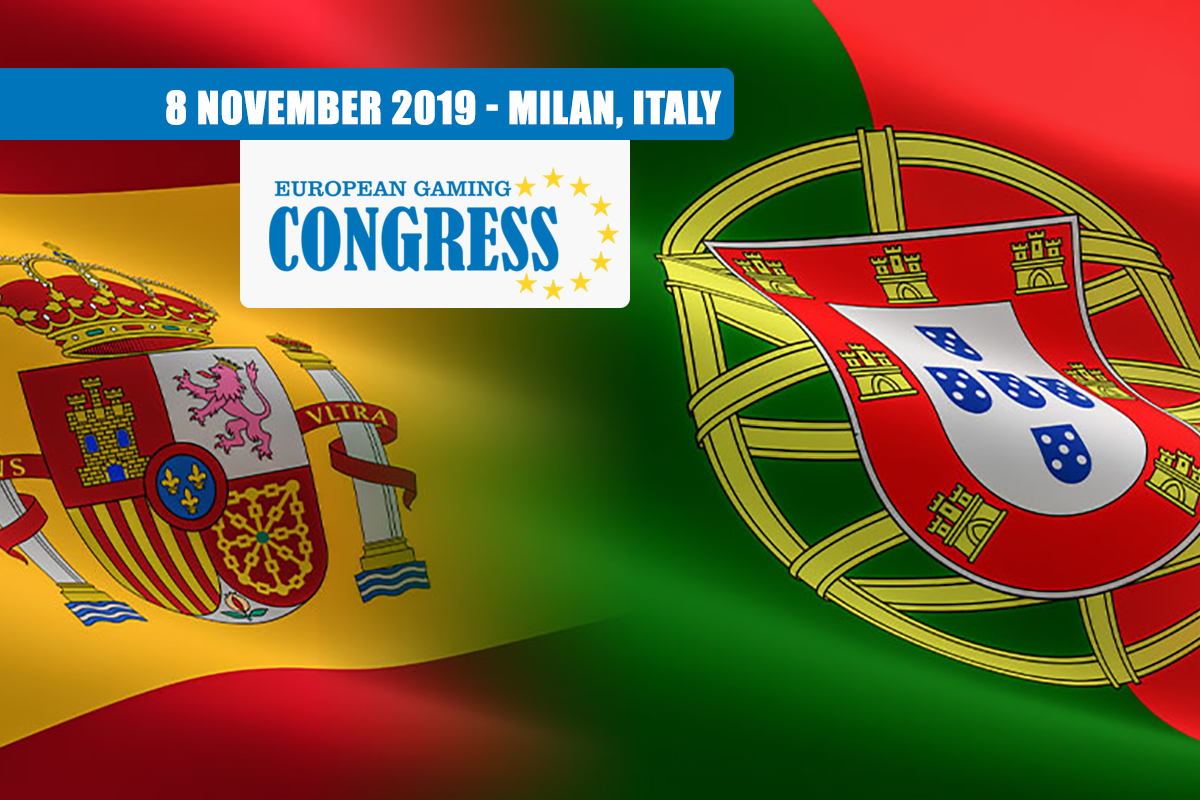 Reading Time:
5
minutes
Major gambling industry markets such as Spain and Portugal to be analyzed by leading experts at EGC Milan 2019!
News about the gambling industry in Spain and Portugal has been trending on all gaming media outlets and in the past 4 years, the industry has been booming in these two jurisdictions.
A study, conducted by The Portuguese Association of Gambling and Online Games (APAJO), has revealed that there are between 400 and 600 thousand individual bettors online in Portugal, which represents between 4.6% and 6.9 % of the adult population in the country.
The study titled "Online Gambling in Portugal – The Best Bet for the National Regulatory System" prepared at the request of APAJO by Winning Scientific Management has shown that the Portuguese market had grown in a balanced way and in line with the European markets analyzed. It cautions, however, that licensed operators need more protection at the level of unlicensed game combat mechanisms and the information provided on the sector would be more detailed and comprehensive.
Online gambling has only been available in the country for a few years, but it has quickly grown to become very popular.
The statistics from the Serviço Regulação e Inspeção de Jogos do Turismo de Portugal have revealed that the country's online gambling market enjoyed its best-ever quarterly performance at the start of this year, generating revenues of more than €47 million in the three-month period which ended on March 31st.
The online gambling market appears to be thriving in Europe at the moment and these new figures concerning Portugal only seem to reinforce that fact. Revenues in the country have seen a significant jump in the past 12 months and all eyes will be on whether it can ultimately keep up this pace in the months and years ahead. It is undoubtedly an intriguing time for the industry and it will be interesting to see just what comes next.
More than half of the revenue was specifically generated by betting, with football accounting for almost 75 percent of online wagering. This put the sport well ahead of its nearest rivals including basketball and tennis. In terms of gaming, revenues were up to €22.6 million with gaming machines – or slots – accounting for more than 63 percent of that. Trailing behind were other games such as online roulette and blackjack.
The gambling industry in Spain is also an increasingly attractive market for operators and suppliers alike; with bright forecasts for the market's future following its regulation in 2012.
Spain's current expansion is unprecedented and records show a 20.10% increase in terms of GGR, mostly due to the ever-growing popularity of sports betting online, which is currently above 25% in GGR.
Of course, there's an increase in new customers, but we're also seeing an exponential trend of players becoming ambassadors for the transition to online, which is, in turn, the catalyst for a very interesting multiplier effect within their own social circles, with more of their friends signing up to the digital world as a consequence. This is definitely indicative of the new generation of players getting involved in iGaming – and represents fantastic potential beyond the traditional bastion of sports betting.
Read: Spain: A new bull market? Exclusive interview with Ruben Loeches, CMO at R. Franco Group
At European Gaming Congress (EGC) we are bringing together key industry experts from Spain and Portugal in order to have a quality discussion about what operators need to know when entering the market or if they are already active in the region, what they should do in order to improve their presence.
The discussion will take place in Milan on the 8th of November at Radisson Blu Hotel Milan.
You can register here or view the agenda here!
The Spanish and Portuguese gambling industry will be discussed during the "Highlights from South West Europe" compliance panel discussion which is moderated by Andrius Gabnys (Attorney At Law – Gabnys Law Firm)
The Spanish gambling industry update will be presented from two angles by leading local experts Javier Sacristán (Digital & Operations Director at Grupo R. FRANCO) and the already announced Willem van Oort (Founder of Gaming in Holland / Gaming in Spain)
The Portuguese gambling industry update will be presented by Óscar Madureira (Senior Associate at Rato, Ling, Lei & Cortés).
Make sure you take advantage of this unique opportunity of learning and networking with the gambling industry in Europe via the EGC platform every year.
About Andrius Gabnys – Attorney At Law – Gabnys Law Firm (panel moderator)
Andrius Gabnys is an attorney-at-law and a managing partner at Gabnys Law Firm, a legal boutique based in Vilnius, Lithuania, and Tallinn, Estonia. The Firm specializes in entertainment (gambling, media, arts) and technology (IT, cybersecurity) legal aspects. Andrius Gabnys has been working in the online gambling sector for over 10 years and focuses on the multijurisdictional licensing, IP and related matters. He has extensive experience dealing with the gambling authorities in Europe, CIS countries, Africa and South America.
About Óscar Madureira – Senior Associate at Rato, Ling, Lei & Cortés
Óscar is a Senior Associate at Rato, Ling, Lei & Cortés in charge of the Portuguese office, and is a member of the Macau Lawyers Association, the Portuguese Bar Association and the Hong Kong Institute of Arbitrators (HKIA).
Before joining the firm, he was a Senior Legal Counsel for Melco Resorts and other law firms in Macau.  He was also a Legal Consultant for Porto City Hall, for the Portuguese National Traffic and Transportation Department and for the Honorary Consulate of the Republic of Guinea-Bissau in Portugal.
He is a member of the Scientific Council of the Rui Cunha Foundation, a lecturer and consultant at the Centre for Reflection, Study and Dissemination of Macau SAR Law (CRED-MD) and a guest lecturer at the University of Saint Joseph, Macau.
About Javier Sacristán – Digital & Operations Director at Grupo R. FRANCO
Javier Sacristán has a bachelor's degree in Business Administration and Management from the University of Southern California. Throughout his career he has held different key positions in the start-up arena and in consolidated gaming companies, contributing his digital expertise. At present, he is Digital & Operations Director at R. Franco Group.
For more details browse the official event website here:  www.europeangamingcongress.com