Serie A approve ISG as exclusive virtual media provider for crowd free stadiums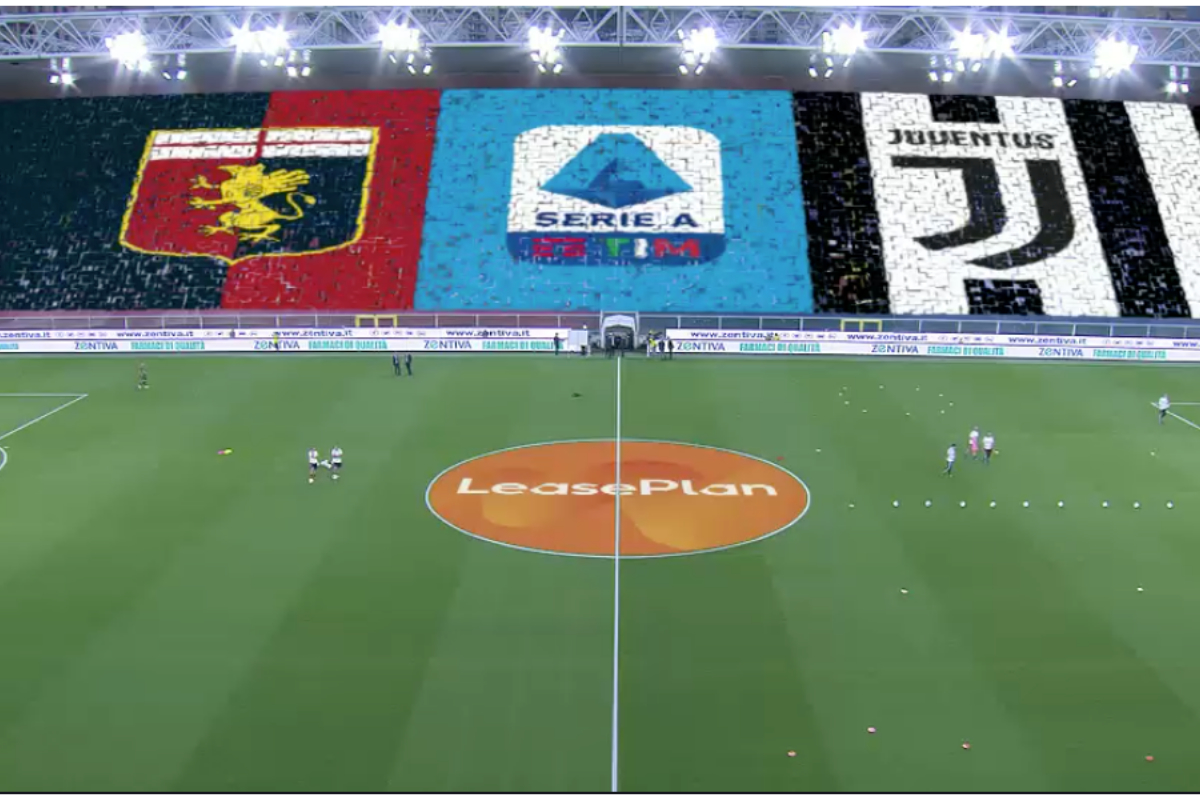 Reading Time:
2
minutes
The Lega Serie A assembly has approved Interregional Sports Group's (ISG) virtual graphics solution for stadiums that are crowd free as a result of COVID-19 restrictions.
The decision follows a testing programme, in a bid to identify the best solution for providing virtual graphics in the empty seating areas in stadiums across Italy.
Following the process, ISG, along with their local production partners, Netco Sports Italy, were appointed providers for all Championship games until the end of the 2019/20 season.
'Lega Serie A are a world leader and innovator in virtual media in live broadcast' explains Simon Burgess, Joint CEO and co-founder of ISG. 'We have been working with Lega for many years and are extremely proud to continue to invest in and support new virtual media solutions in these challenging times,' he added.
Burgess believes the key to the project's success lies in a combination of high-quality branding that is delivered sparingly so as not to compromise the viewing experience for the fans.
'Our prime objectives are maximising ROI for brands and delivering optimum revenue impact for rights holders, while never compromising the enjoyment of the live event for the viewing audience,' he explained.
ISG has deployed virtual centre pitch logos of club partners, pre kick-off, at half time and prior to the second half kick-off. Now empty stands at all Serie A matches will be filled with graphics and colours of the competing teams, but at selected times only.
'This approach provides interesting graphic enhancement but is not overexposed nor does it impact on the enjoyment of the live action of the match it appears in,' said Burgess.
'We have been working more and more directly with Serie A clubs, using our expertise to find other ways in which we can help them increase their revenues and make best use of their stadium infrastructure to create new virtual media spaces and platforms, whilst balancing those key criteria,' he added.
'Our senior team has been deploying and commercialising virtual media for almost a decade, working with all types of technologies and solutions and ISG has grown rapidly over the last six years. We are now entering a new paradigm in live sports broadcasting that presents huge opportunities to all stakeholders. However, it is a very complex process with many moving parts, liable to risks as well as rewards. ISG partners with rights holders, broadcasters and brands to realise those collective ambitions to a world class standard,' said Burgess.
ISG and Netco have a long-standing relationship, with Netco producing all Serie A broadcast graphics and supporting ISG on their International Presenting Sponsor package. This incorporates regional sponsorship packages, producing virtual goal mats and, working with Netco, customised match graphics to four intercontinental broadcast regions outside of Italy. ISG also produces virtual goal mats for Coca Cola, Lega's title sponsor of the Coppa Italia Final and TIM, the domestic title Sponsor of the Serie A Championship.

NSoft's Slingshot 6 casino game enhanced with Progress bar feature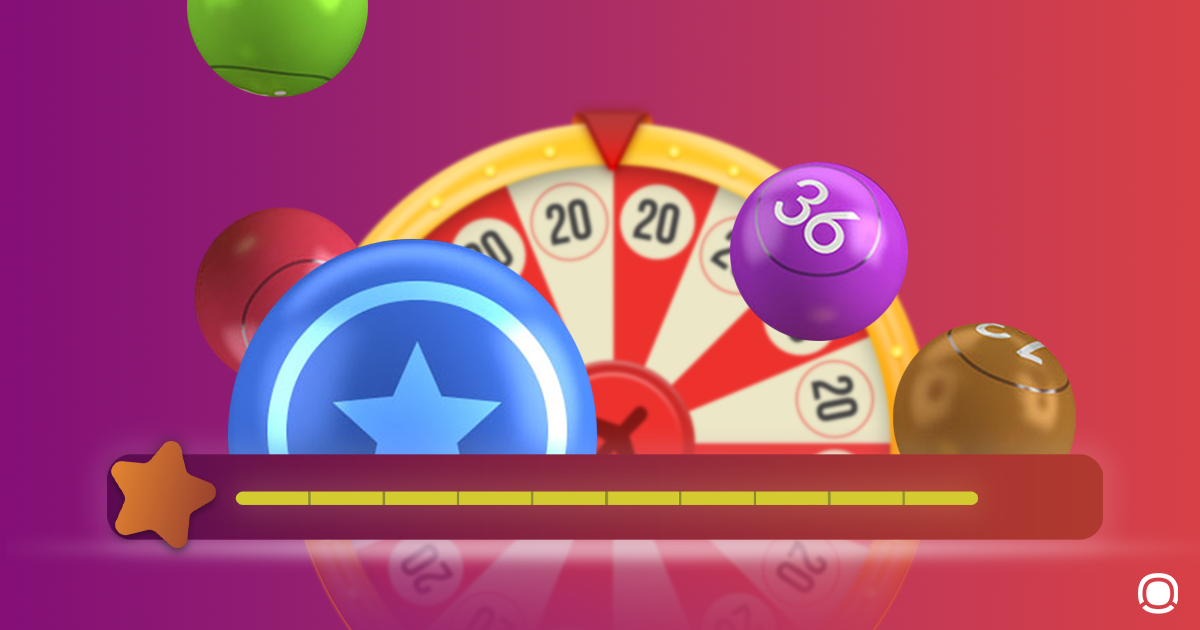 Reading Time:
< 1
minute
Last year NSoft had released Slingshot 6, a spin-based version of our blue-chip Lucky Six. Since then casino enthusiasts worldwide have been enjoying the thrills of this on-demand game. 
Developed for the online channel, Slingshot 6 is fast and engaging. The game offers two-click bet placement, and various bonus opportunities and features a highly interactive dashboard with easy-to-play options, audio incentives, and stats followed by a dynamic spin visualization with modern UI.
Now our Casino team has taken a step further in improving the overall user experience of Slingshot 6 and driving engagement by enhancing it with the Progress bar feature. 
For our clients, the player retention is increased as the Progress bar feature ensures the growth of an average number of rounds played per player. The starting numbers are more than optimistic as it shows a 230% increase in rounds per player.
The players can earn extra profit with the help of multipliers during the game, with the max odd: x 125.000. 
How to trigger Slingshot's Progress bar feature?
During the gameplay, as the players are collecting game stars, they have to collect one, two, or more stars to make a progress and kickstart the Progress bar feature. 
Then the pop-up window appears with two lucky wheels, one for a multiplier, and one for a number of free spins. The multiplier ensures extra earnings. The bar would reset to zero after a player quits his session and the player starts collecting stars all over again. Details about the Progress bar feature are shown in the Help menu. 
iGB Live! Masterclass: Insights for Experts in iGaming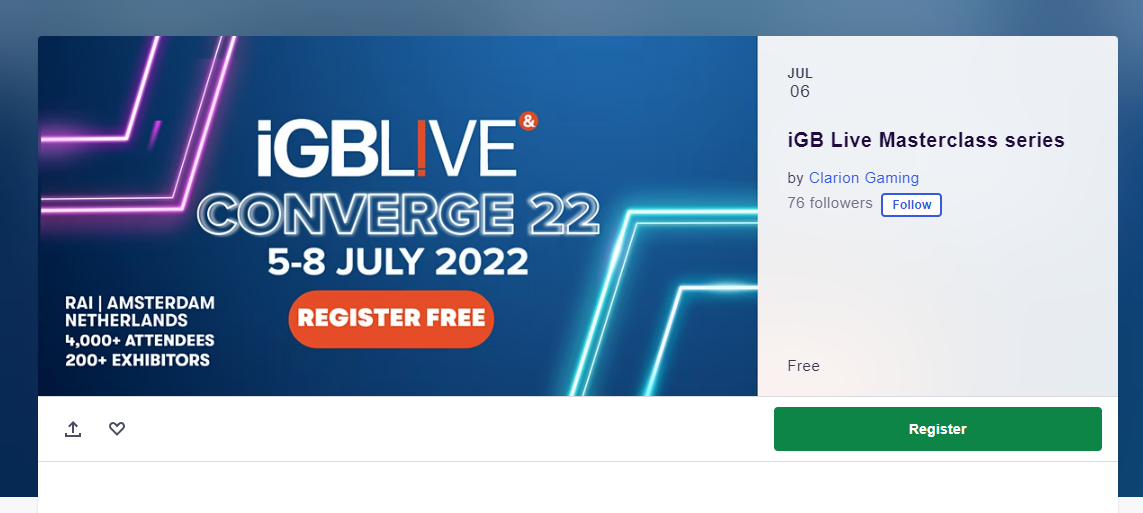 Reading Time:
2
minutes
Answering the thirst for in-depth expert industry insight, organisers of iGB Live (5-8 July, Amsterdam RAI) have confirmed the addition of two new free-to-attend Masterclasses, each limited to just 30 attendees. The Masterclasses delve into a single subject at a level never-before offered at a conference.
Justin Deaville, who has worked with many of the UK's leading brands, including Aviva, PaddyPower, Ladbrokes, SkyBet, the Financial Services Forum and the Foreign Office will lead the Advanced SEO Masterclass – an interactive workshop and discussion analysing changes and opportunities from Google's May core update, and focusing on taking advantage of Google Features to outrank the competition. His masterclass is for advanced SEOs, and requires delegates to already have a solid understanding of the SEO basics. Besides exploring ways to advance in the SERPs, the Masterclass will also look to maximise efficiency as an SEO.
The second Masterclass will be led by Eric Frank of Odds On Compliance. As the former Group Compliance Officer for The Stars Group, Eric managed global compliance teams and served as the principal legal advisor for regulatory, licensing and compliance matters in the United States, Latin America and Asia. His Masterclass, 'Demystifying the USA affiliate license' is a 3-hour, step-by-step workshop demonstrating to small and medium sized affiliates how to cost-effectively make and win an affiliate application in the United States. It will walk delegates through the process of obtaining the requisite licensure in the United States to operate as an affiliate, and will show through state-by-state examination, cost benefit analysis, and walking through a demonstration application, that businesses from Europe and beyond can become active in the booming US gaming and betting market.
Curated by Clarion Gaming Chairman and 25-year industry veteran Michael Caselli, the iGB Masterclass format answers a need for in-depth analysis and problem solving. He explained: "iGB Masterclasses are in-depth lectures, made to small groups of attendees who are interested in learning everything they can about a key topic or how to solve a specific problem. Masterclasses are very specialized and niche, and it is precisely that which makes them so valuable for our attendees that are already experts in their fields. There is nowhere else in our industry where experts can gather, learn, examine and discuss their topics at such a level. I believe that it is our duty to continue to deliver content that provides insight and value to our most loyal and expert guests.
"We have chosen Advanced SEO and USA Affiliate Licensure for two very different reasons. Advanced SEO was an obvious necessity as iGB Live! attracts some of the best SEOs in the world. We needed something that went way beyond the basics to service these incredible experts.
"USA Affiliate Licensure was chosen because it is a subject that even expert affiliates find cryptic and laden with misunderstanding. Most affiliates wouldn't believe that they could become an Authorised affiliate in New York for less than a $1,000 investment, in this Masterclass we will show you that you can. Attendees will see that becoming a legal affiliate in the United States is within their budget and in their interest.
"Being able to work with experts such as Justin Deaville and Eric Frank for months to create the highest level content we have ever organized has been an education in itself. Anyone attending either Masterclass will leave impressed, once again, with what they can learn at an iGB conference!"
The Advanced SEO Seminar, is being held on 6th July (13.30 – 17.30)
Demystifying the USA affiliate license, is being held on 7th July (13.30 – 17.30).
NFTs and Its Impact on Real Money Online Gambling Industry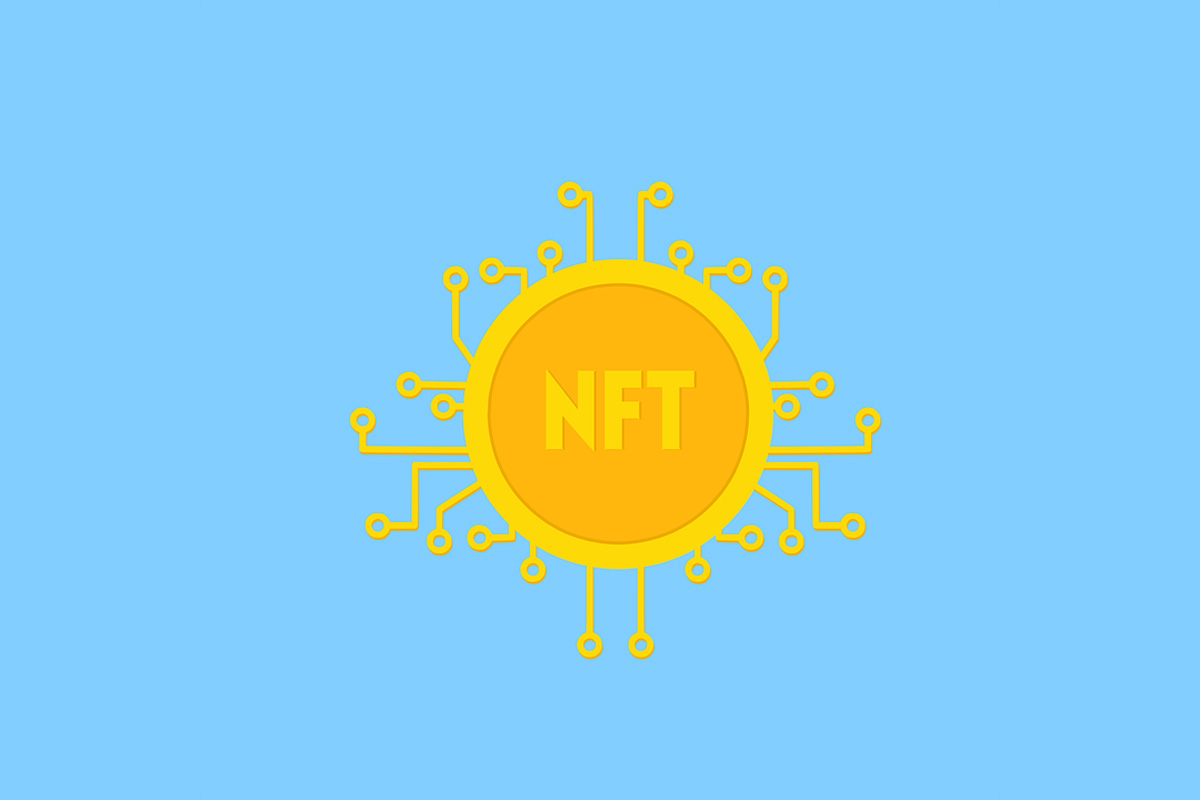 Reading Time:
4
minutes
The relevance of NFT is a hotly debated topic in the real money online casino gambling space. One side of the divide maintains that NFT is a fad riding on the back of the crypto craze. While the other believe NFTs are innovative technology and are leveraging it to increase their player base, boost revenue and improve players' experience
Are you a real money online casino South Africa operator curious about how NFT will affect how people gamble online for real money? Or are you a player looking to know the benefits NFT lends to the real money online casino gambling world? You've come to the right place.
We shall explore the impact of NFTs on online gambling. Let's dive in.
What Exactly Are NFTs?
Non-Fungible Tokens (NFT) are unique digital items designed to be rare. They run on the same technology as a cryptocurrency (blockchain) which means they are transferable. Some things represented as NFT include arts, music, books, tickets, and game assets. 
Different NFTs have become famous for various reasons. Each NFT has a specific identifier. Therefore you can track each NFT and confirm who owns the original version of every NFT in real-time. However, the value of NFTs is determined by their uniqueness, rarity, cultural significance, utility, etc. 
5 Impacts of NFTs on Online Gambling Real Money 
The following are some ways NFTs are utilized in real money online casinos.
1. Distribution of Reward Programs
Reward distribution is an aspect of online casino real money that benefits from the NFTs. Currently, casinos require players to gamble for several hours and spend vast amounts of money betting to join the VIP club and earn loyalty rewards. While this approach works, it exposes careless players to gambling problems. The emergence of NFTs changed reward distribution in the online casino real money forever. With NFT, the real money online casino South Africa and other parts of the world can reward loyal players without risk of addiction.
The casinos can connect with loyal customers by minting limited edition NFT, which they can buy in one trade. Alternatively, online gambling real money platforms can share VIP membership NFTs for free to reward early adopters.
A practical application of NFT in online casino reward distribution can be seen in NFT projects, which gives holders membership access to casino VIP clubs. Players buy the NFT on the casino's marketplace or a secondary market for a fixed price and start enjoying exciting cashback bonuses, free spins, and a share of the casino house edge.
2. NFT Give Players True Ownership
Many real money online casinos' gameplay is such that players strive to claim in-game assets such as rare guns, symbols, and gems. But until now, in-game assets have always been the property of game designers and never genuinely owned by the players.
Actual asset ownership makes online real money casino games more competitive and rewarding. When in-game assets are minted as NFTs, players can transfer them across different casino games, enjoy different experiences, or even sell them to other players for profit. Incidentally, this increases website traffic and boosts the online casino real money operators' revenue. 
3. NFTs Fosters Players' Privacy 
Privacy contributes to the reason players gamble online, as we can see in the rise of no signup casino online real money, which requires only banking details to set a player's profile. NFTs stretch players' anonymity in online casino real money even further.
In specialized NFT casinos, a player's profile is represented by a digital avatar. Therefore, the player doesn't need to submit any sensitive information to play casino online for real money or to claim their winnings. A popular game where NFT serves as the player profile is Axie Infinity. 
4. NFTs Creates a New Way For Operators to Raise Money 
Online casino operators can use NFT to fund new projects. They will sell the NFT collection to players for a share of the casino revenue and house edge. Here are two ways online casinos can use NFT to raise money. First, operators can create NFT and use the revenue to fund their upcoming projects. In return, holders get access to the casino when it launches, occasional raffle draws, and part of the casino revenue. On the other hand, if the casino project has already launched but wants to create another revenue source, it can create NFT, which gives players ownership of a percentage of its house edge and other exclusive perks.
5. Birth of NFT Casinos and Games
The emergence of NFT has ushered in specialized online casinos where players gamble to win NFT prizes. To implement this gaming model, online casinos create games that use limited-edition NFT as prizes. Punters can participate in slots and other traditional online casino games for a chance to win NFT, which they can quickly sell for real money. Look no further than Red Tiger to see the NFT-prized game in effect. Recently, Red tiger launched a new game called NFT Megaways, which offers Cryptopunk characters as slot prizes. This is a big deal because the original Cryptopunk NFTs are one of the most expensive NFTs, and some are worth millions of dollars.
Conclusion
Many people think NFTs are not worth the hype due to the high cost and negative environmental impact. But some partnerships are already being formed to combat the problems. Regardless, NFTs are genuine innovations. They have been around for quite many years, and their use case has ballooned from social media avatars to real use cases in online subscription, music, sports, arts, and gaming.
We have highlighted the unique impacts of NFTs on online casino real gambling as it relates to operators and punters that want to play casino online for real money. NFT in online casinos can bring about a new form of online casino economy where the interest of both players and operators are aligned.