PartnerMatrix highly commended Affiliate Software at EGR B2B Awards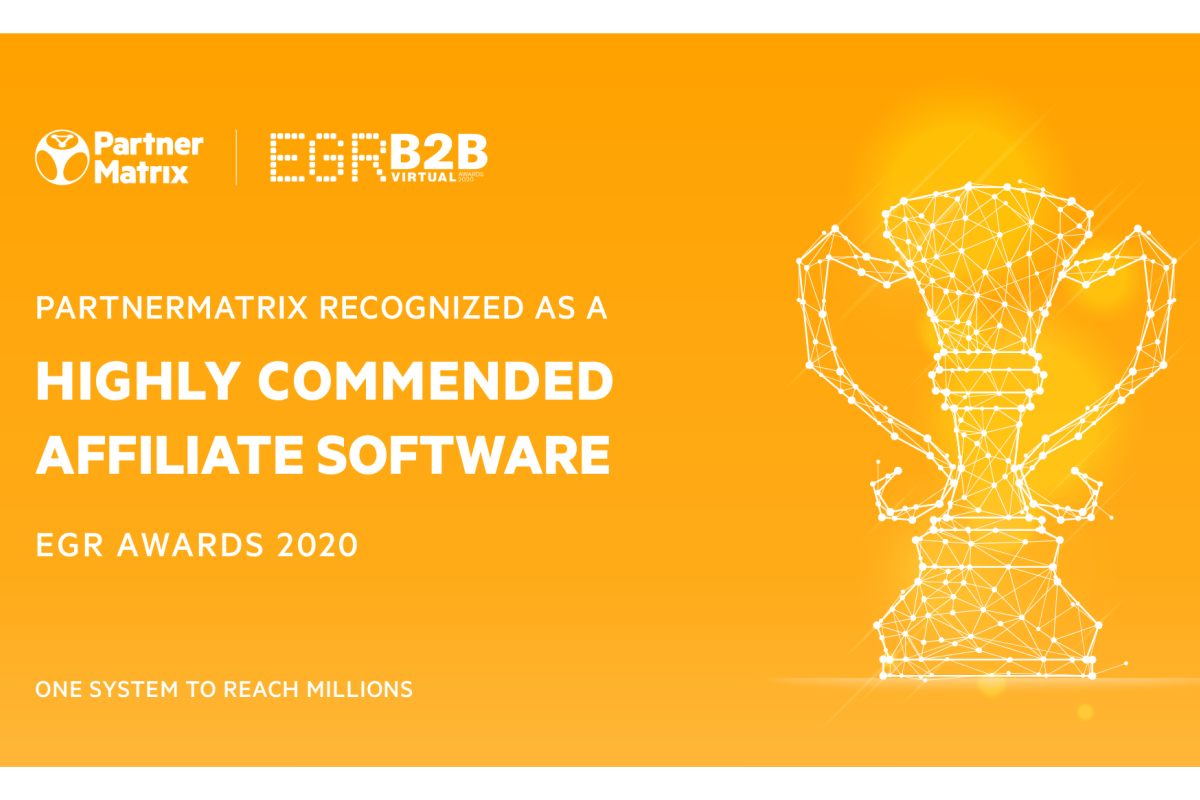 Reading Time:
< 1
minute
Affiliate management software platform PartnerMatrix received the judges' appreciation at EGR B2B Awards 2020 in the Affiliate Software Supplier category during the virtual ceremony held on 21st of July.
The complexity of the affiliate software and the recent commercial success earned PartnerMatrix the "Highly Commended" recognition from the judges.
As of today, over 100 operators are using PartnerMatrix as their main acquisition tool, including names like AsianLogic's Dafabet, Nextbet, Gigapotti, MaxBet, ShangriLa, TotoGaming, JoAffs, Stake7, RioBet, PlayFrank and FortuneJack.
In the last 12 months, 24 new clients have joined PartnerMatrix, some migrating from traditional systems while others starting their affiliate channels from scratch with our teams' support and guidance.
Levon Nikoghosyan, PartnerMatrix CEO, says: "We are very happy to be highlighted by the judges at EGR B2B Awards, the most prestigious awards in the iGaming industry. Our team has worked a lot to make our platform stand out in the past years and we are glad to be appreciated.
"Q1 2020 was record-breaking for us and we are keen to put in the effort of mainlining this growth trend in 2020. We managed to reach 60,000 affiliates, up to 50% compared with last year, and 7 million players, which was a big milestone. We are now serving between 6 to 7 million monthly clicks, and we expect to see this number grow exponentially in the next year."
PartnerMatrix's mission is to fulfil affiliate industry's demands at the fullest. By providing not only software solutions, but brilliant service, the company aims to cover all the needs of affiliate marketing in iGaming with One System to Reach Millions.

Want to increase your FTDs? Mr-Gamble analyzed over 600 casinos and 200,000 clicks. Here's how you can turn clicks into conversions.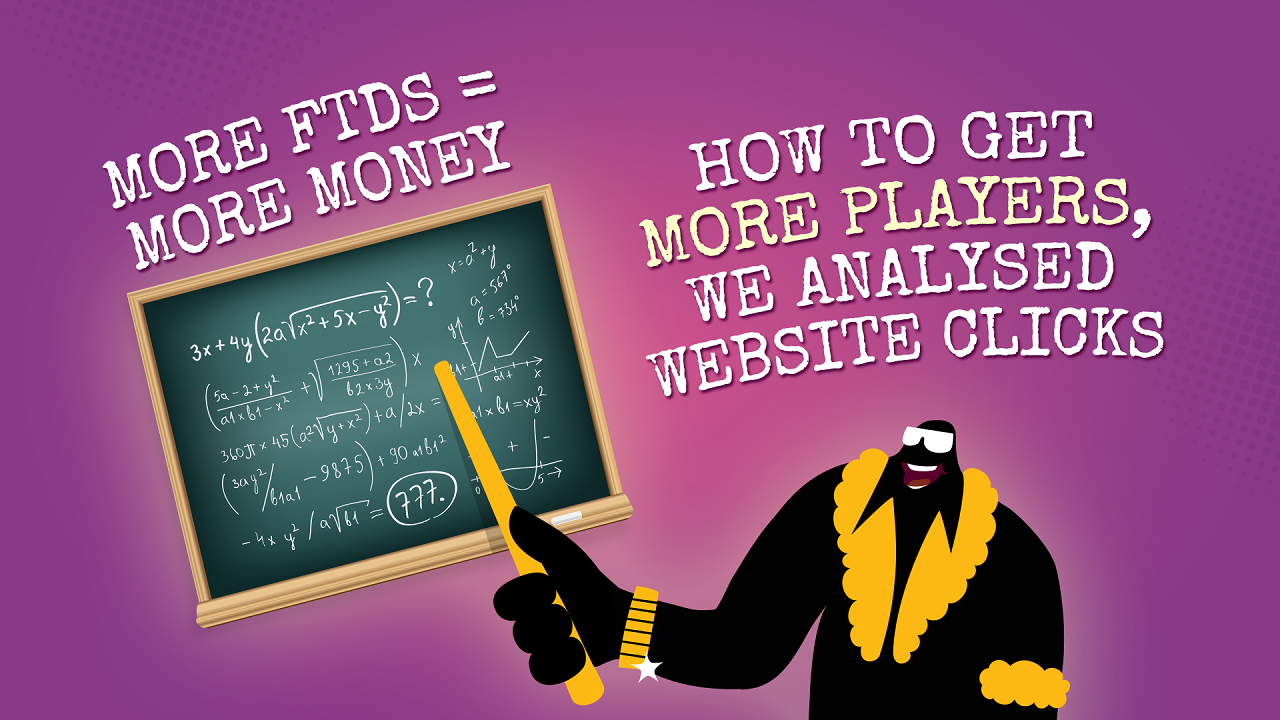 Reading Time:
2
minutes
First-time deposit (FTD) conversion is a commonly used customer acquisition metric in the iGaming industry. It is calculated by dividing the number of unique visitors to a site by the number of first-time deposits. The click-to-conversion rate gives a strong indication of the effectiveness of a casino's CRM processes. Hence, it is one of the most important metrics for operators to follow.
We analyzed over 600 casinos and 200,000 clicks to determine how operators can increase their FTDs. Here are six tips that you can implement immediately to increase your conversions.
Note: We only included casinos with 100+ clicks in our analysis to increase the power of our study.
Banking options
Reducing friction during the registration and deposit process is one way operators can substantially increase their FTDs. We noticed that the easier and faster the process is, the more willing players are to deposit money to the casino.
If you want to increase your FTDs by up to 14%, offering fast payment methods like Trustly and Skrill is a great way to start. In addition, operators should also support popular local banking options, which vary between countries.
Bonuses
It's no secret that players love casino bonuses. The bigger and better the bonus is (or the more free spins are included), the more eager players are to sign up to the casino to make their first deposit.
Of course, operators should also think about what makes business sense to them, but casino bonuses have by far the biggest impact on FTDs. We have noticed that the number of FTDs per click can increase by up to 45% when casinos offer attractive bonuses.
Bonus terms
Players are far savvier about bonuses and bonus terms in 2021 than they were in the past. Nowadays, players know to look for the Terms and Conditions of the bonus to distinguish great bonuses from bad ones. That's why we recommend offering low wagering or even no wagering bonuses to increase FTDs by up to 22%.
Besides lowering the wagering requirement, operators should offer a wider range of games to their customers. Many players aren't interested in depositing if they can't play their favourite games with a bonus. It's also worth noting that some players don't want to claim a bonus if they can't choose their bet size. When casinos remove betting limits, we see a substantial increase in conversions consistently.
Withdrawal time
Withdrawal time is another factor that impacts FTDs. The modern player wants to cash out their winnings as fast they can, and many players shun casinos with longer withdrawal times. We have seen that shorter withdrawal times can increase FTDs by up to 10% from analyzing hundreds of casinos.
Minimum deposits
Operators need to lower the barriers of entry for players. We repeatedly see a significantly better click to FTD rate when casinos allow players to deposit as little as £1 to £5 or the equivalent amount in dollars or euros. Offering low minimum deposit options alone can increase FTDs by up to 18%.
Game selection
Unfortunately, many operators underestimate the impact the game selection has on conversions. Many players have their favourite casino games and slots, and if they don't see them featured in a casino, they are reluctant to make a deposit. As casinos add popular game providers and casino games to their game portfolios, we consistently see an increase in the number of FTDs (up to 16%).
That concludes our study. We hope that this analysis gave some food for thought for operators and affiliates alike!
Affilka enters into partnership with ProperSix Casino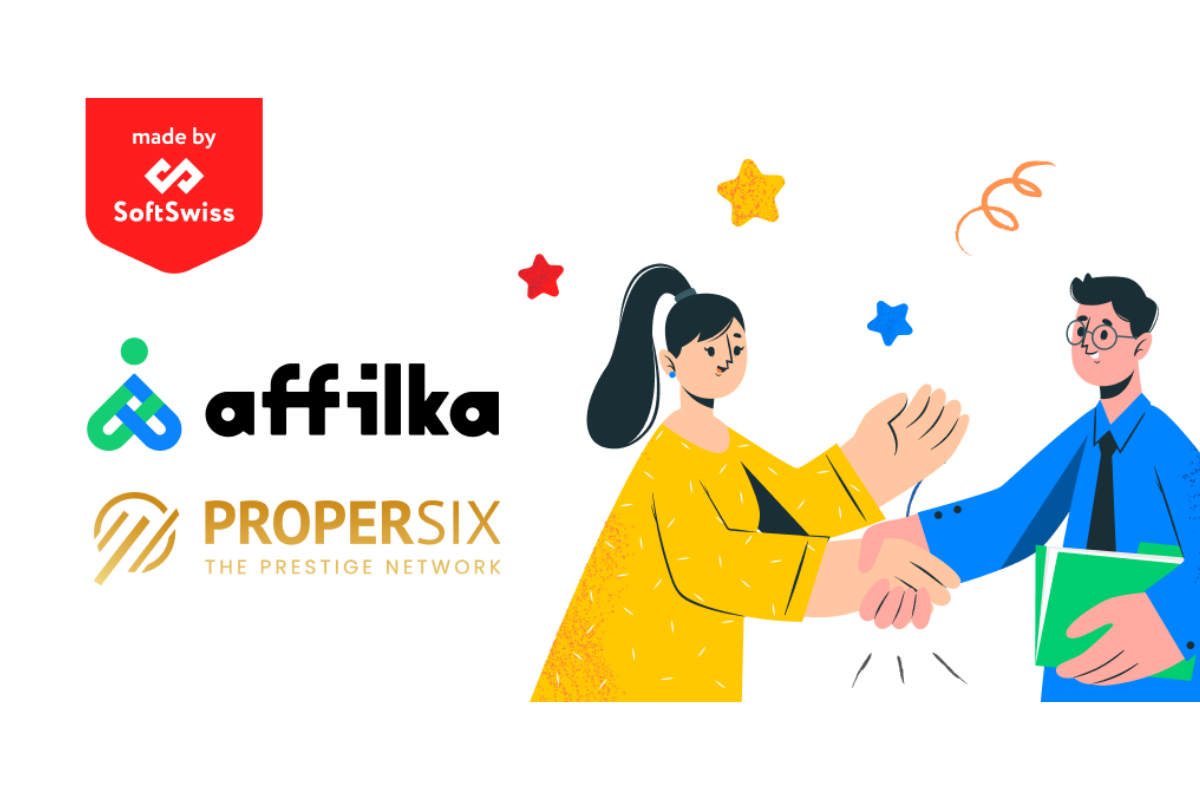 Reading Time:
2
minutes
Affilka, an Affiliate Marketing Platform developed by SoftSwiss inked a deal with a third-party brand ProperSix Casino. Now SoftSwiss will be providing its state-of-art services to the newly-launched online crypto casino brand.
An affiliate program of ProperSix Casino will be powered by Affilka, providing its users with a unique combination of transparency and functionality including an extremely flexible commissions constructor aimed at optimising marketing expenses.
A new crypto casino ProperSix is entering the market, giving players the chance to play various games online by using their cryptocurrencies. Customers will be able to play with ProperSix tokens or other most known cryptocurrencies, including BTC, ETH and USDT. With the casino having just been launched, 30 new and original games are ready for players from around the world. With many different bonus systems that help achieve the highest payouts, the luckiest players are sure to win big.
Furthermore, after an increasingly effective integration process with Affilka, the client decided to expand the area of cooperation between SoftSwiss and ProperSix by also signing a deal with SoftSwiss Game Aggregator. The project is bound to be fully integrated later in Q2 and will provide ProperSix Casino with a cost-effective, yet very efficient one-stop-shop solution with a wide portfolio of game providers that are constantly replenishing.
Anastasia Borovaya, Product Owner of Affilka commented on this event: "Affilka may be a newcomer among affiliate marketing software providers in the iGaming industry. Yet it keeps on proving itself as a reliable, secure and very strong and cost-effective tool for iGaming operators. We're super excited to launch this project alongside ProperSix and are looking forward to very productive cooperation!".
Richard Haverinen, CEO of PROPERSIX OU noted: "ProperSix is proud to announce that it will be collaborating with SoftSwiss Game Aggregator to ensure the best user experience and many more games to get jackpots in. Furthermore, Affilka by SoftSwiss will ensure reliable, safe and trustworthy operation along with high load resistance. The Online Casino is already live, so people are already purchasing ProperSix tokens and getting ready to see if they will be the ones to get the biggest payouts".
About SoftSwiss
SoftSwiss is an international tech company supplying widely acclaimed, certified software solutions for managing iGaming operations. SoftSwiss holds a number of gaming licenses, providing a "one-stop-shop" white label casino solution by taking care of all technical, legal, and financial processes on behalf of its customers. The company has a vast product portfolio, which includes an Online Casino Platform, Game Aggregator with thousands of casino games, an Affiliate Platform, and a recently launched sportsbook platform. In 2013 SoftSwiss was the first in the world to introduce a bitcoin-optimized online casino solution. The company has thus been regarded as the leading technical expert when it comes to the use of cryptocurrencies in online gaming.
About ProperSix Casino
New crypto casino ProperSix is entering the market, giving players the chance to play various games online by using their cryptocurrencies. Customers will be able to play with ProperSix tokens or other most known cryptocurrencies, including BTC, ETH and USDT.
AskGamblers Awards 2020: The Nomination Period has Started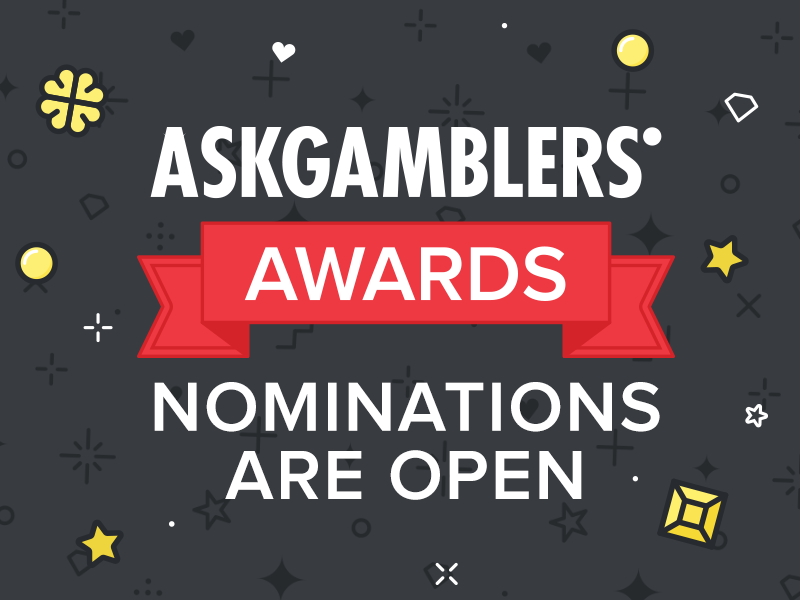 Reading Time:
2
minutes
Yesterday marked the beginning of the much-anticipated nomination phase in the brand-new season of the AskGamblers Awards!
Like every previous year, in 2021, you make for an essential part of the entire process. In this stage, you nominate your favourite online casinos and video slots, choosing them to enter the race and compete for the "best of the best" status.
Stay with us for more details –
The Nomination Phase and Things You Should Know
Although there is no doubt the majority of you (maybe even all of you) know the nomination process inside out, here's a little reminder just to be sure.
To nominate your favourite candidates, you can do so in the following categories:
Best Casino 2020
Best New Casino 2020
Best New Slot 2020
Each category lists potential future winners and you, as AskGamblers players, have the exclusive privilege to select and nominate.
Look for your favourite candidates in our directory and click on the "Nominate" button on the casino review or slot review page. That's all!
The nomination period starts today, on 6 April 2021 and ends on 16 May 2021, allowing the nomination of just one candidate per category.
In that sense, a bit over two months should be just enough time for you to carefully decide on who will be the lucky one to carry your nomination! We know you'll choose well, you always do.
Every single online casino on the AskGamblers website is up for the Awards nomination, but only the top 10 nominees will be up for voting. Remember: To nominate your candidates, you must be signed in to your AskGamblers account.
As soon as the nomination phase ends, the voting phase begins, details of which you will be promptly informed of.
AskGamblers Awards Celebration
Due to the current circumstances, AskGamblers Awards Night 2021 will be held virtually and live-streamed from Belgrade, Serbia. The Awards are scheduled for 17 June 2021. All other stages of the Awards remain the same.
More details will follow soon, and you'll be kept in the loop for all that's relevant.
Nominate Your Favourite Candidates
AskGamblers team is super excited about the AskGamblers Awards finally being set in motion and the new nomination pool you'll create with your clever choice! Players, for the next two months and so, we expect a lot of engagement on your part! The anticipation is in full speed, and our fingers are crossed for your beloved candidates to make it to the voting phase!