PartnerMatrix highly commended Affiliate Software at EGR B2B Awards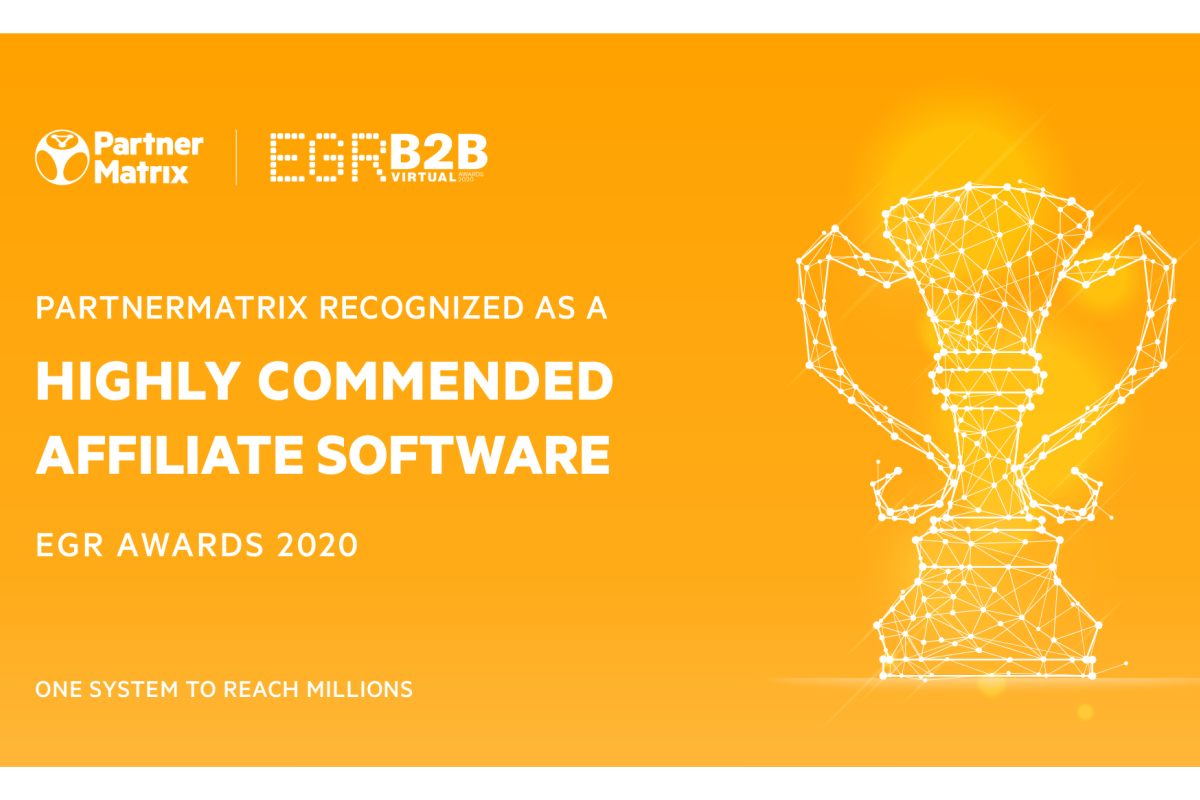 Reading Time:
< 1
minute
Affiliate management software platform PartnerMatrix received the judges' appreciation at EGR B2B Awards 2020 in the Affiliate Software Supplier category during the virtual ceremony held on 21st of July.
The complexity of the affiliate software and the recent commercial success earned PartnerMatrix the "Highly Commended" recognition from the judges.
As of today, over 100 operators are using PartnerMatrix as their main acquisition tool, including names like AsianLogic's Dafabet, Nextbet, Gigapotti, MaxBet, ShangriLa, TotoGaming, JoAffs, Stake7, RioBet, PlayFrank and FortuneJack.
In the last 12 months, 24 new clients have joined PartnerMatrix, some migrating from traditional systems while others starting their affiliate channels from scratch with our teams' support and guidance.
Levon Nikoghosyan, PartnerMatrix CEO, says: "We are very happy to be highlighted by the judges at EGR B2B Awards, the most prestigious awards in the iGaming industry. Our team has worked a lot to make our platform stand out in the past years and we are glad to be appreciated.
"Q1 2020 was record-breaking for us and we are keen to put in the effort of mainlining this growth trend in 2020. We managed to reach 60,000 affiliates, up to 50% compared with last year, and 7 million players, which was a big milestone. We are now serving between 6 to 7 million monthly clicks, and we expect to see this number grow exponentially in the next year."
PartnerMatrix's mission is to fulfil affiliate industry's demands at the fullest. By providing not only software solutions, but brilliant service, the company aims to cover all the needs of affiliate marketing in iGaming with One System to Reach Millions.
Best iGaming Affiliate for the second half of 2022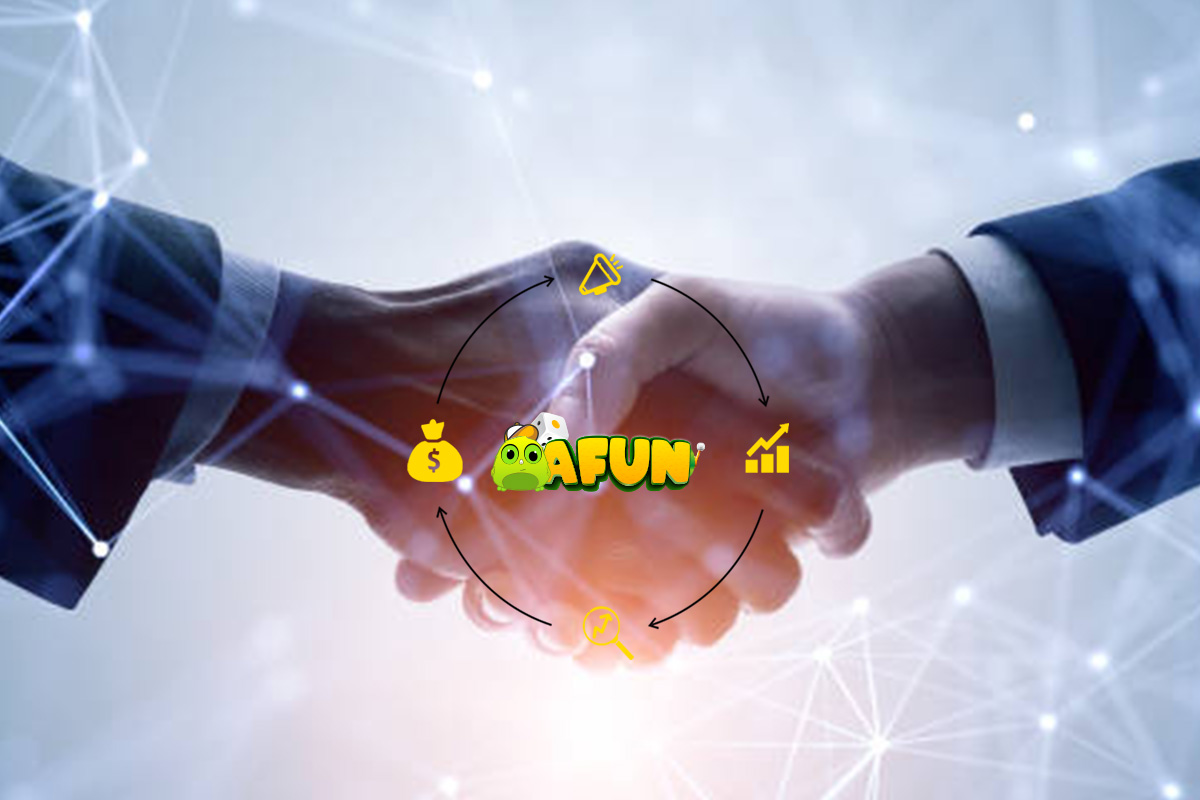 Reading Time:
2
minutes
The online gambling market is more prominent than ever and it is likely that this steep increase is only going to continue in the future. Worldwide, hundreds of companies appear daily, aiming to offer the best services to players and other businesses alike. After all, iGaming does not only refer to the online casino itself, but the huge ecosystem behind it as well, with software providers, operators, regulators, marketing partners and affiliates among others.
AFUN Entertainment Group is no exception. The company, listed among the best Sportsbook and iGaming platforms across Europe, America and Asia, offers over 1,500 games on its platform and betting for 30,000 sports events. Beyond its extensive online gambling service offerings, AFUN is currently working to develop its affiliate program benefits in the Brazilian market which look very promising.
The Affiliate Program
iGaming affiliates use their online platforms to generate traffic for operators, in other words, they direct players to the operator's website and gain a commission based on the amount of traffic. But why become an AFUN affiliate? Below are 5 reasons:
Simplified signup with high conversion rate
AFUN strives to provide the best online experience on a trustworthy platform. Therefore, it is exceptionally simple to apply to become an AFUN affiliate. AFUN also ensures high conversion rates by providing a comprehensive platform experience and high-end gaming enjoyment for each and every user. This personalized approach is sure to grab players' attention.
Competitive commissions
With so many operators on the market, it might be difficult to find the proper affiliate programs. AFUN does not only promise a high conversion rate as a result of great gaming experience, but also commission rates that are competitive in the market.
Players can deposit and withdraw in crypto
Crypto casinos are on the rise as is the demand for such operators. AFUN closely follows and listens to customer demand and offers crypto payment options on its platforms. This ensures that players' needs are met and thus, the gaming experience is enhanced.
Blockchain games
Blockchain games open up a whole new level of gaming, as they often use NFTs to create different parts of the game, bringing value to the game assets. Not only that, but blockchain games also provide a safer and more secure environment. AFUN hosts a number of blockchain games on its platform.
Marketing Sources
Finally, it is clear that a successful affiliate partner must communicate with its audience in an effective way. While written text is highly effective in conveying information, readers love visual stimulation, which makes any marketing material more inviting and memorable. AFUN provides their affiliate partners with such resources – banners, videos, etc. – to facilitate the work of its partners.
In conclusion
All in all, AFUN is a great platform that is present globally. With promising results and a focus on customers and business partners, the company offers great opportunities on the market. Check out their platform for further information, or contact them to find out more on their LinkedIn page.
XLMedia Unveils Brand Refresh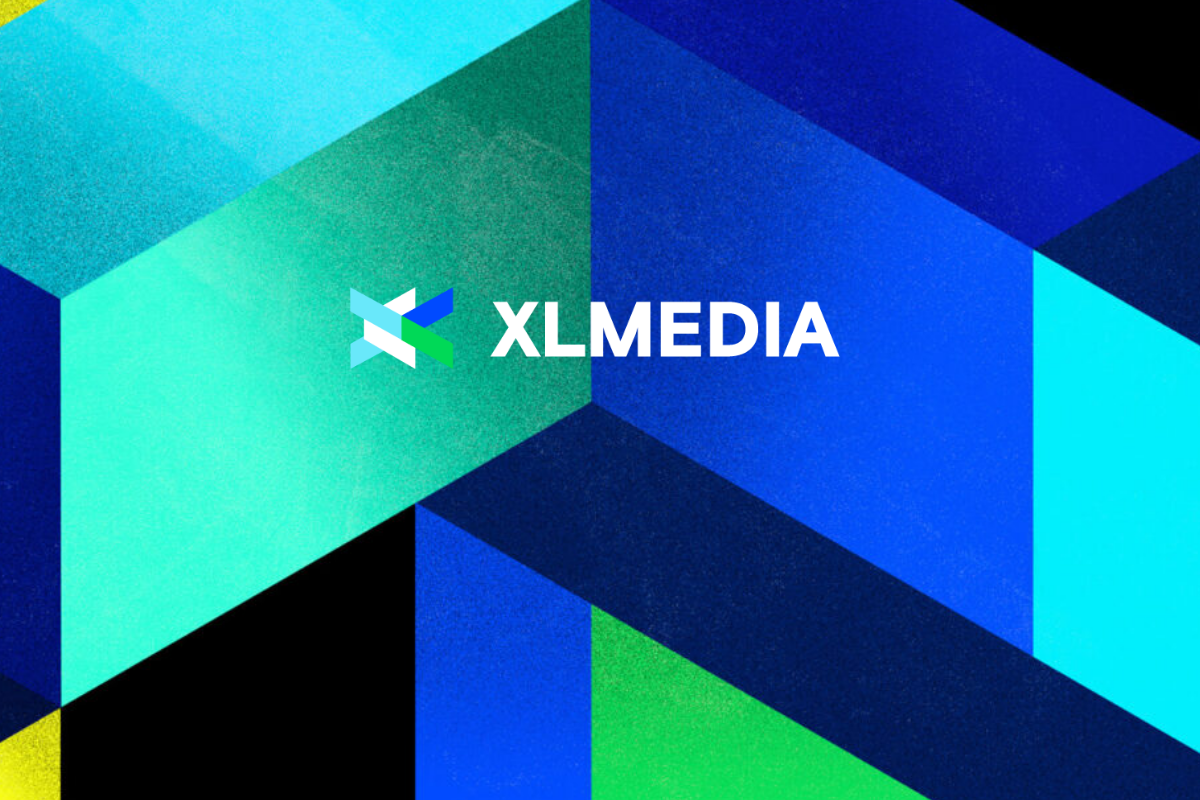 Reading Time:
2
minutes
XLMedia has unveiled a brand refresh to build a new look that matches XLMedia's culture and expanded presence in North America. Over the last three years, the company has seen tremendous growth from its US sports vertical, which now accounts for 68% of the Group's revenue.
XLMedia launches this rebrand as the company experiences a number of exciting changes. In the last year, the company brought in its new CEO David King, hired new executives to tackle new verticals, made technological innovations, and made significant inroads into the North American market. The company's new branding signals the new culture to match the new XLMedia and a corporate brand to match the premium media brands the company publishes.
"This exciting new refresh will emphasize a more modern brand. Across our portfolio, we prioritize building premium branded assets defined as audience-first brands that are meaningful, distinct and prized by the audiences they reach. It's a pillar of our strategy and we are extending this to the corporate brand. We identified key creative attributes across our expanding sports footprint and wanted an identity to match. XLMedia is solid, muscular, dynamic, and vibrant," Elizabeth Carter, VP of Marketing and Communications at XLMedia, said.
"The headline typeface, Big Shoulders, is bold, graphic and assertive, while Nunito Sans is clean, contemporary and ultimately functional. When combined, our new brand typefaces express a combination of style and substance," Taylor Quist, XLMedia's Head of Global Brand Strategy, said.
XLMedia has acquired several US-based brands including CBWG in December 2020, Sports Betting Dime in March 2021, and Saturday Football Inc. in September 2021. In addition to successful acquisitions in new regulated markets, the signing of new media partnership agreements with major US brands including Cleveland.com helped fuel the company's growth.
"Our reset from the past two years is largely complete and now is the time to focus on building a new culture to match the new XLMedia. That means seeing the change as well as living it – both internally and in the market. We want to introduce the market to the new XLMedia and that means investing in our corporate presence," David King, CEO of XLMedia, said.
N1 Partners Group launches an exclusive club for the members of the affiliate program only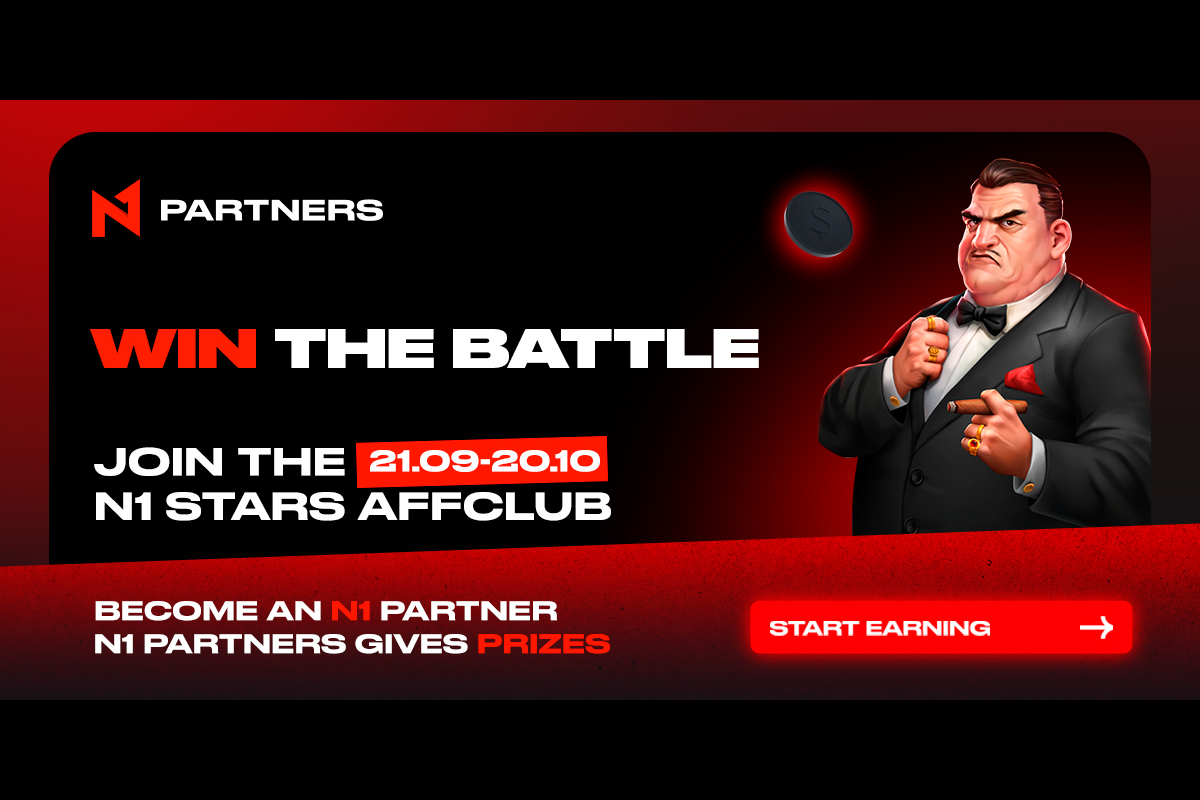 Reading Time:
2
minutes
The company is launching a new way for the members of the N1 affiliate program to take advantage of their FTD figures and earn well-deserved prizes by competing with others for the best results.
N1 Partners Group came up with a great way to encourage the affiliate program members to strive for ever better results and feel appreciation for their hard work.
From September 21 to October 20, the members of the N1 affiliate program are encouraged to join the N1 Stars AffClub and compete with each other for well-deserved prizes. All in all, there are four nominations for each segment: 35+, 85+, 150+, and 350+ FTDs. One would be qualified to join the club if they have provided 10+ FTDs. Only the following Geos produce eligible SEO & PPC traffic: Australia, Austria, Switzerland, Kuwait, Canada, Denmark, Germany, Finland, New Zealand, and Norway. Personal N1 managers will help the interested members to learn all the details and define their segment. Naturally, those who join the club earlier get an advantage in the competition.
As the saying goes, always aim for the moon. Even if you miss, you'll land among the stars!
Why join the N1 Partners affiliate program?
N1 Partners is a multi-brand affiliate program that includes online casinos and betting. The portfolio of N1 Partners Group boasts such brands as N1 Casino, Slot Hunter, Joo Casino, N1 Bet, and others. The company's projects offer an innovative experience to their audience. Each online casino is localized for a particular GEO, considering different audiences' preferences. ‍User retention is paramount, with a lot of work developing the loyalty system, numerous bonus programs, 24/7 support, VIP service, and a call center. There are exclusive promotions on the most popular projects constantly attracting new audiences: Mystery Drops and Lucky Spin.
The company builds relationships with its partners on trust, openness, and honesty, providing fast feedback on traffic and guaranteeing timely affiliate payouts without negative carryover. All of this is confirmed by the figures – after all, more than 7,000 partners from different countries choose to cooperate with N1 Partners.
N1 Partners Group is a company with expertise in online entertainment. The team's goal is to provide high-quality casino and betting products that meet the needs and expectations of players and partners alike. Today, N1 Partners Group unites N1 Casino, N1 Bet, Slot Hunter, Joo Casino, and the N1 Partners affiliate program.