GoodGamer Corp Launches India's First Daily Fantasy Sports and True Esports Gaming App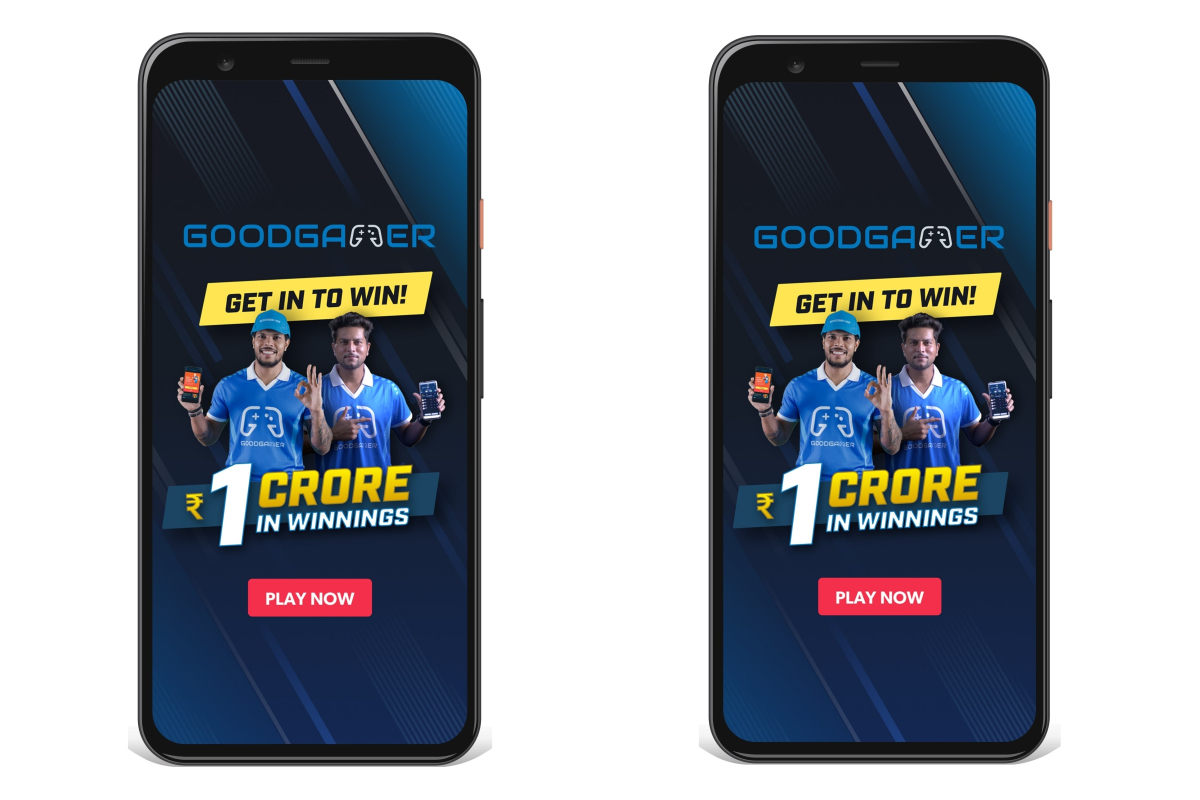 Reading Time:
3
minutes
Good Gamer Corp., a Daily Fantasy Sports and Esports platform, is pleased to announce the official launch of its GoodGamer Fantasy Gaming App.
GoodGamer is India's first Daily Fantasy Sports and true Esports gaming platform. It will launch with cricket and CS:GO and add Football (Soccer), Valorant, Dota 2, a Quiz game and Indian Rummy before 2021. GoodGamer is the first to offer several other features, including prop fantasy contests, player injury reports, player injury alerts, an AI-based lineup optimizer, and private contests where the contest creators can earn a commission for creating and managing the contests.
In addition to the official launch, GoodGamer has signed an advertising agreement with Disney+ Hotstar, the official live streaming platform for all premium sports in India, including Cricket. GoodGamer will be present as an advertiser on the biggest T20 League tournament that begins in September in UAE. Disney+ Hotstar is India's largest premium streaming platform that has changed the way Indians watch their entertainment – from their favourite TV shows and movies to sporting extravaganzas.
GoodGamer has signed international bowler's, Umesh Yadav and Kuldeep Yadav as the Company's brand influencers for the festive season to mark the return of cricket. Umesh Yadav is an Indian cricketer with 10 years of professional experience playing for multiple domestic, T20 league and national teams. He was the highest wicket-taker for India in the 2015 ICC Cricket World Cup. Yadav also plays for the national team as well as multiple domestic franchise teams.
"India and Cricket represent an incredible opportunity for GoodGamer. With a cricket fan base reaching 900 million users, the return of franchise cricket on Disney + Hotstar is the perfect place and time for launching our app. Our app is also primed to gain access to India's 350 million mobile gamers with CS:GO and our future launch of Valorant, Dota 2 and Freefire, The demographics in India couldn't be better aligned with the unique sports and Esports focus of our Daily Fantasy app," said GoodGamer CEO Charles Creighton. "We have planned to launch in the region for some time, but doing so just in time for this tournament is the icing on the cake for us. With all eyes on cricket through to the Final Match in November, our unique features will bring an attractive alternative to Indian DFS fans – fans we can keep engaged throughout the year with our year-round calendar of Esports & traditional sports contests, quiz games, and more."
GoodGamer's wholly-owned subsidiary, Good Gamer India Private Limited is located in Bangalore, India to manage operations, marketing and customer service led by former Vancouverite Ravi Nagarajachar, Vice President of Operations.
"Having lived in Vancouver, Canada, and now back in my native Bangalore, it's exciting for me to be working with the team at GoodGamer to bring this app to Indian sports and Esports fans," said Ravi Nagarajachar. "We've developed a fantastic relationship with leading Esports tournament organizers and marketing groups such as Skyesports of Chennai, one of the top Esports tournament organizers and casters in India. Skyesports will be leveraging their million+ followers, influencer contacts, and its 50 million users reach on Youtube to give us that rocket fuel for our launch here. So many cricket fans also love Esports, this is a perfect fit that makes sense."
GoodGamer is offering a deposit bonus for every deposit a player makes to enter a DFS contest. Users can earn additional money by signing up for GoodGamer's Refer-a-Friend program. The Refer-a-Friend program allows a user to earn up to ₹100 Cash Bonus for each referral and a 5% Cash Bonus on a friend's deposit up to a ₹1000 Cash Bonus. The more friends a player refers to play in a real money contest, the larger bonus. Users may register after they download the app on GoodGamer.in.
SOURCE Good Gamer Corp

Inside The Pocket launches WonderWins brand in India, as the exclusive Daily Fantasy partner of ESPNcricinfo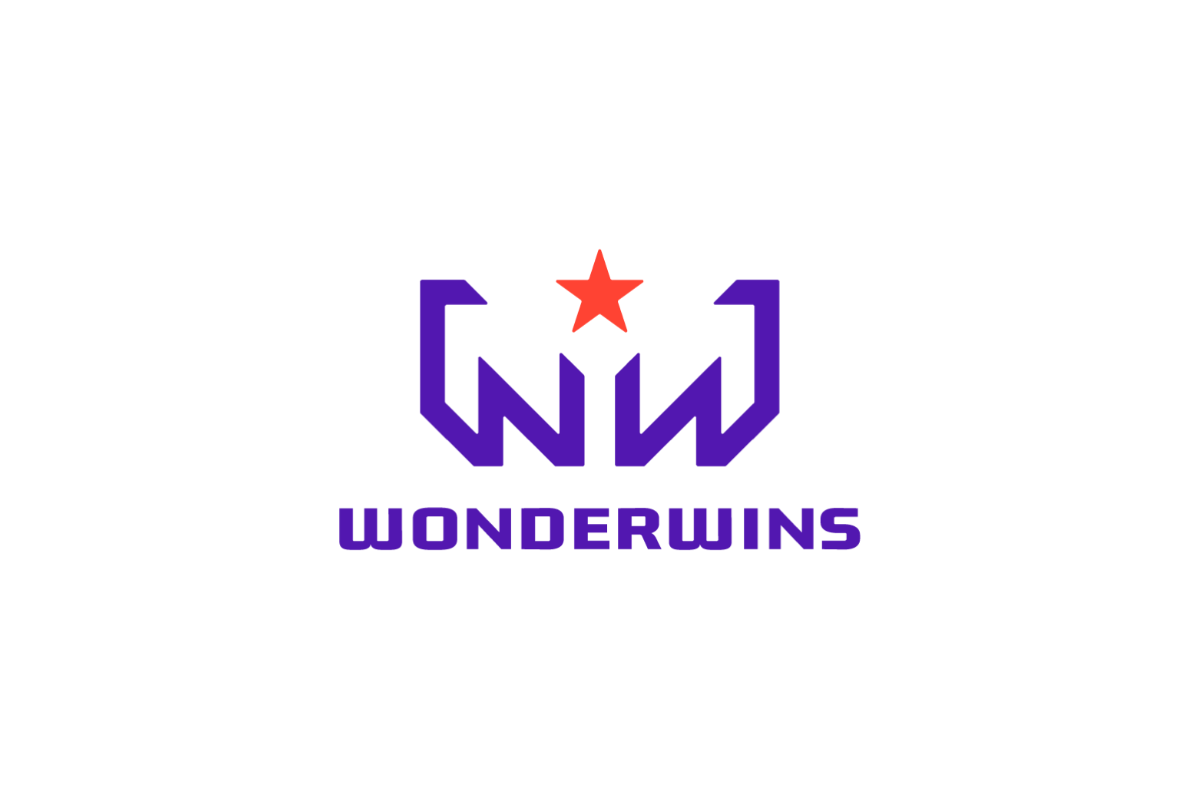 Reading Time:
3
minutes
Inside The Pocket (ITP), the leading free-to-play (F2P) aggregation platform, has teamed up with the premier digital cricket platform ESPNcricinfo for an exclusive Free Daily Fantasy offering for users via its new WonderWins brand.
WonderWins is primed to debut ahead of this season's IPL 2022, which begins on 26 March. This milestone collaboration between the two brands offers cricket fans a compelling and unique opportunity to engage with fantasy gaming as well as accessing match coverage, news, information, and analysis, and being part of the large community of cricket fans in India and the subcontinent to have this complete and well-rounded experience.
ESPNcricinfo is ESPN's dedicated cricket site and app and the world's largest source of cricketing information, match coverage, news and analysis. It is the go-to digital destination for international news, live scores, statistics and analysis for cricket fans worldwide and a pioneer in the digital sports media with a 29-year-old rich legacy.
By becoming the exclusive Daily Fantasy provider for ESPNcricinfo in India and the subcontinent, WonderWins brand will be able to connect with over 85 million discerning cricket fans on the ESPNcricinfo platform and further drive conversations with over 15 million highly engaged fans across its social media channels. WonderWins brand is live on android, iOS, and as a web-based platform.
Through this breakthrough agreement, WonderWins will be able to engage with fans through exciting fantasy gameplay, intelligent statistics, data analysis and customized content, offering fantasy gamers a robust experience and allowing them to understand the finer nuances of game-play to further drive significant marketing and enterprise value as WonderWins' DFS and hyper-casual games evolve in the months and years to come.
ESPNcricinfo has already begun cascading bespoke content and communication, allowing players to discover the WonderWins platform and understanding of the product via intuitive light-touch education, and gameplay. In that sense, WonderWins can claim to have an unparalleled product portfolio that offers unrivaled opportunities to drive content and create lasting fan engagement levels.
Hussain Naqi, Founder of both WonderWins and Inside The Pocket, said: "We're understandably delighted to have become ESPNcricinfo's exclusive Daily Fantasy partner in India and subcontinent. It's a genuine honor to have been chosen to roll out fantasy games for such a trusted and revered international partner, whose very name brings instant authenticity and credibility with the end user. The WonderWins app is ready to play!
"ESPN have been a brilliant and agile collaborator, organically wrapping WonderWins around their fantasy programming – from new article links to bespoke video programming and other product levers as we look forward to the much-anticipated IPL 2022 season ahead. It's an exciting time and I'm thrilled to be over in India myself to witness the roll-out first hand.
"Our underlying platform is uniquely well-positioned to leverage this opportunity because we can diversify content, leverage consumer data and partition it for partners as the market's shifting sands coalesce. Our multiple data partnerships deliver us unique consumer insights that will allow us to hyper-segment our audience communication over time, including for other sporting events like the World Cup 2022 football."
Ramesh Kumar, VP & Head of ESPN Digital Media India, stated: "This is an exciting announcement, as now with this collaboration with WonderWins, ESPNcricinfo fans in India and the subcontinent region will be able to play and enjoy free fantasy on our platform, building a deeper engagement on ESPNcricinfo not just with the game-play but also with the enormous content that we will power to help users play intelligently. The timing is perfect with the exciting new season coming up and we are delighted to offer our new age cricket fans the right mix of information and entertainment for them to follow their favorite sport and teams. Consequently, we are now able to wrap an array of complementary programming and editorial content in the fantasy space around WonderWins, significantly boosting fan engagement around the game, as the new IPL season comes into sharp focus.
"It's been fantastic to work with such like-minded, fan-first partners. The ESPNcricinfo and WonderWins Team have collaborated closely at every stage of the development and deployment process, making the integration as rapid and seamless as possible."
With the broader F2P framework, Inside The Pocket intends to target both mature and emerging markets over the long-term, as the company bids to expand its progressive footprint into untapped territories. There, its proven international scope and flair for localization, promises to drive diversified fan engagement around targeted free-to-play sports games. Inside The Pocket's open-aggregation approach offers the broadest and best-curated collection of games available from developers around the world, utilizing a single platform integration as a gateway to virtually unlimited content.
As the leading free-to-play aggregation platform for the gaming industry, Inside The Pocket is dedicated to being a top-of-the-funnel customer acquisition tool driving engagement through a range of content and games whose formats responsibly acquire and retain customers at low cost but also remain fully compliant as regulation continues to coalesce across regions from the U.S. to Asia, Africa and LATAM. Its agnostic platform offers a strategic solution which works territory-by-territory, educating uninitiated audiences with fully-integrated games.
World Championship of Online Fantasy Football Finals on the Scout Network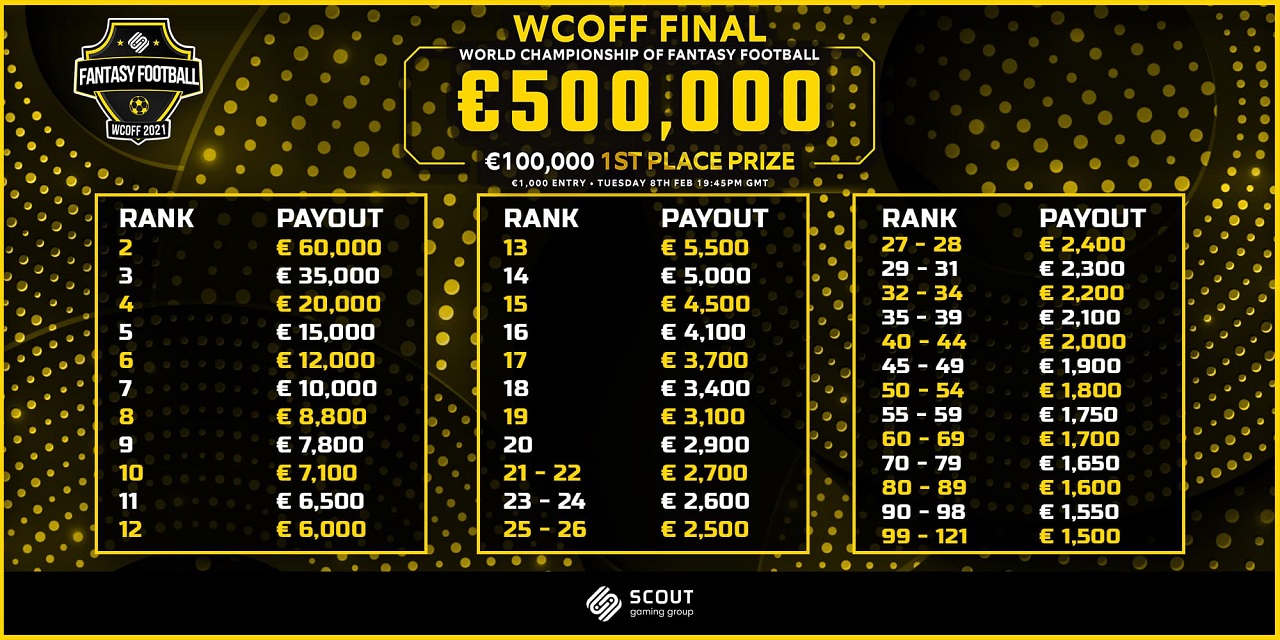 Reading Time:
< 1
minute
Participants are being promised a daily fantasy sports experience like no other with a €500,000 prize pot to play for
Scout Gaming, the world's leading provider of B2B daily fantasy sports, sportsbook and fantasy sports betting products, is thrilled to announce the start of the World Championship of Online Fantasy Football (WCOFF) Finals tournament.
The WCOFF Finals tournament is the biggest daily fantasy sports (DFS) event in Europe and promises participants a DFS experience like no other.
The tournament runs over two consecutive English Premier League game weeks starting from today (8 February) at 19:45 GMT. The first game week is separate from the second which means finalists will be able to create a brand-new team in week two without incurring any penalties.
The engaging and highly intense DFS experience is taken to the next level thanks to the €500,000 prize pot to play for with first place receiving a massive €100,000, second €60,000 and third €35,000.
More than 500 teams will compete for the title of World Champion. The vast majority of tournament participants played their way to the event through a series of satellites that ran throughout 4Q21. Scout has developed an optimal satellite structure with entry from as little as €2 giving everyone the chance to compete in the top-tier tournament.
Andreas Ternström, Chief Executive Officer at Scout Gaming, said: "We are incredibly thrilled about the World Championship of Online Fantasy Football on the Scout Network.
"Our network is the best place to host such a prestigious event with life-changing prize money for the winners. All B2B clients connected to the Scout Network have access to our big guarantee tournaments and we will continue to grow the Scout Network and prize pools in 2022."
Checkd Media nets Sam Allardyce to promote new FanTeam fantasy game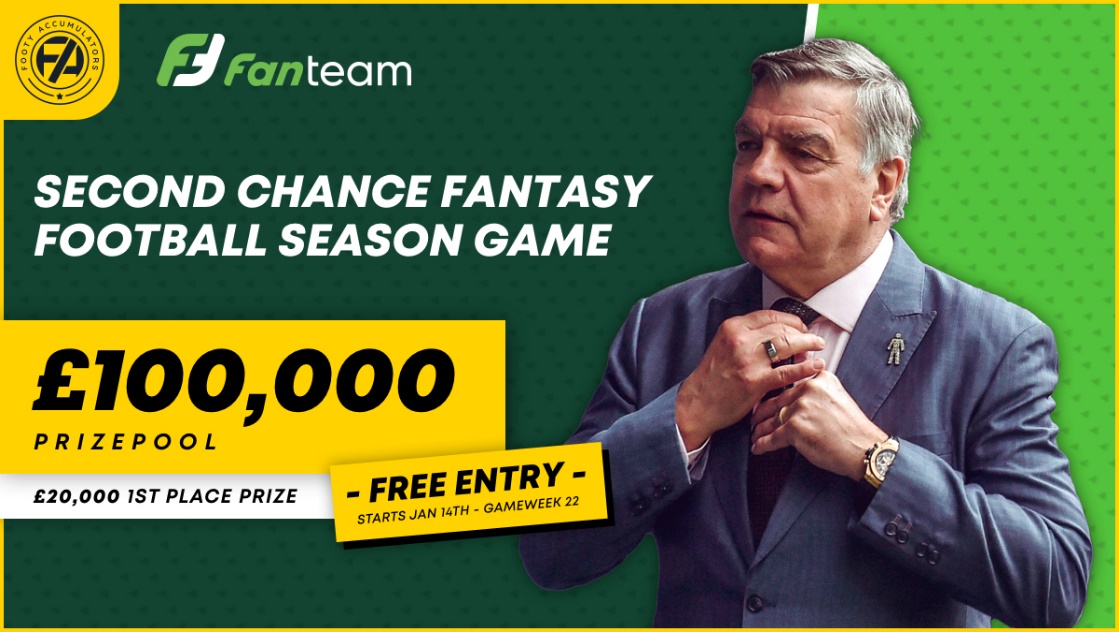 Reading Time:
2
minutes
Fast-growing iGaming business Checkd Media has recruited Sam Allardyce to help promote daily fantasy sports (DFS) platform FanTeam's £100,000 Second Chance Season Game.
Former England manager 'Big Sam', who has made a career out of restoring order at troubled clubs, is the face of the campaign's branded content. It highlights the fantasy Premier League tournament covering the remainder of the 2021-22 season, offering players a renewed shot at success.
The content created by Checkd Media includes a range of influencers from high-profile fantasy football social accounts, who are seen posing the biggest questions on the transfer window and the current state of play in the Premier League to Big Sam.
The first part of the campaign runs up to the start of the Second Chance Season Game on January 14th, utilising on-screen branding and mentions within the content to promote FanTeam's unique game and the chance it presents to save players' fantasy football seasons.
Will Tyrrell, Head of Marketing at Checkd Media, said: "The Second Chance Season Game from FanTeam is a fantastic chance for football fans to chalk off what has been for many a tricky first half of the fantasy football season and start again.
"There are few more recognisable managerial experts than Sam Allardyce, so it's great to have him involved in giving fantasy managers a few pointers on players and teams they should be targeting to have the best chance of landing the top prize. We have already seen strong results from the campaign so far, which further builds on our past successes in delivering excellent KPIs for our partners."
Fransisco Reinhard, Head of Marketing at FanTeam, said: "Our Second Chance Season Game provides an opportunity to shine for those fantasy managers who didn't manage to hit the ground running from the start of the season. With that in mind, there was nobody better placed than seasoned top-flight trouble-shooter Sam Allardyce to offer his insights to players at this stage.
"Checkd Media is renowned in the industry for its engaging, entertaining content and this eye-catching campaign is one that is yielding great results."