Big Fight: Tyson vs Jones Jnr – Cloudbet customers ring the changes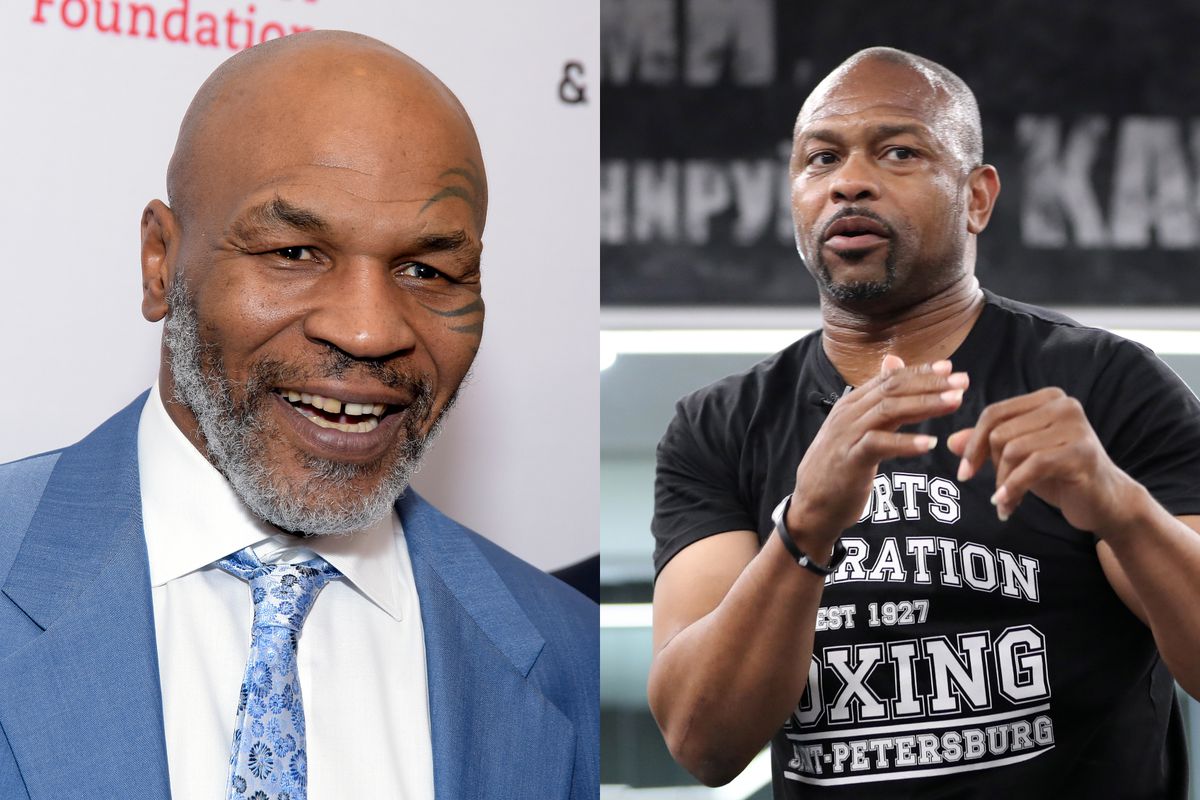 Reading Time:
3
minutes
Mike Tyson remains favourite, but Cloudbet customers turn their backs on Saturday's boxing circus
Savvy bettors shun Tyson vs Jones Jnr exhibition
Value of Cloudbet's market so far less than 1% of McGregor vs Mayweather fight
Celebrity undercard bout featuring Disney star Jake Paul and ex NBA point guard Nate Robinson attracts 12x number of bets
Almost 50x amount of money wagered on Paul v Robinson than on Tyson v Jones with the bitcoin betting pioneers
The Covid-hit sports calendar of 2020 might have thrown up a number of surprise hits with global betting enthusiasts but it seems the forthcoming Mike Tyson vs Roy Jones Jnr bout is not destined to be one of them.
Belarussian football, Taiwanese basketball, League of Legends… at different times, these all caught fire with sports bettors, but this high-profile boxing exhibition seems unable to land a knockout punch. Back in 2017 the match-up between Conor McGregor and Floyd Mayweather Jnr, hyped as "The biggest fight in combat sport history", or more simply, "The Money Fight", totally lived up to its billing, making it the biggest betting event in Cloudbet's history by number of players.
Fight promoters Triller, a social media app spending millions to try and compete with Tik Tok, hoped to replicate this excitement, and gave it a whopping $49.99 pay per view price tag. But bettors think you must be punchdrunk to get involved, likening it to that Tiger Woods vs Phil Mickelson PPV head-to-head back in 2018, which proved a waste of time for all except the two golfers, who netted a huge payday.
Roy Jones Jnr's team has been bigging up their man's fitness and "evolution" as a fighter, while Tyson, who last set foot in the ring in 2005, claims his recent persona of a weed-smoking peacenik will be a distant memory the second he gets his gloves on. But, with both Tyson and Jones Jnr the other side of 50, the fight is being held on special exhibition rules – such as "hard sparring" only, no knockouts and the threat of just a cut precipitating an immediate stop from the referee – the only thing to look out for is if these two legends of the ring remember they're not supposed to be fighting for real.
The bout between the two aging ex-heavyweight world champions takes place on Saturday at Staples Centre, Los Angeles, on a bizarre card which also features a former NBA star, Nate Robinson, facing YouTuber-turned- Disney Channel star (and Triller investor) Jake Paul.
Cloudbet's customer base just aren't buying into this seniors' day out and haven't spent much time searching for Tyson vs Jones odds. Twelve times the number of bets have been taken on the Jake Paul vs Nate Robinson fight, with almost 50 x as much turnover in this market, compared with wagers on Tyson vs Jones Jnr.
Founded in 2013, Cloudbet is one of the world's longest established bitcoin betting operators, and will be running winner's and total rounds markets on this fight and its undercards. Besides bitcoin, Cloudbet accepts ethereum, bitcoin cash and a number of stablecoins including USD Tether and USD Circle.
New customers gagging for bitcoin odds for boxing can get a bet on Tyson or Jones Jnr through an easy sign-up process and on-site cryptocurrency purchases with a credit card. Iron Mike is favored, by the way, at 1.53 (- 187).
So why have these two legendary boxers agreed to something that could leave their reputations on the ropes? Another ex-champion George Foreman has been in the media saying he thinks he knows. "It's temporary insanity. I liken it to a guy who wants to get on a boat and go out to sea. It seems like so much fun, so peaceful, so he wants to get out there and do it. Then he gets out there and the big waves start coming and the sea is rough and it's raining and the wind is blowing and he asks himself: "Lord, why did I ever do this?"
Anyone stumping up the $49.99 fee to watch this may well end up asking themselves the same question.

Elvis Frog Mega Jackpot: lucky player grabs $110K in BTC in BGaming´s hit slot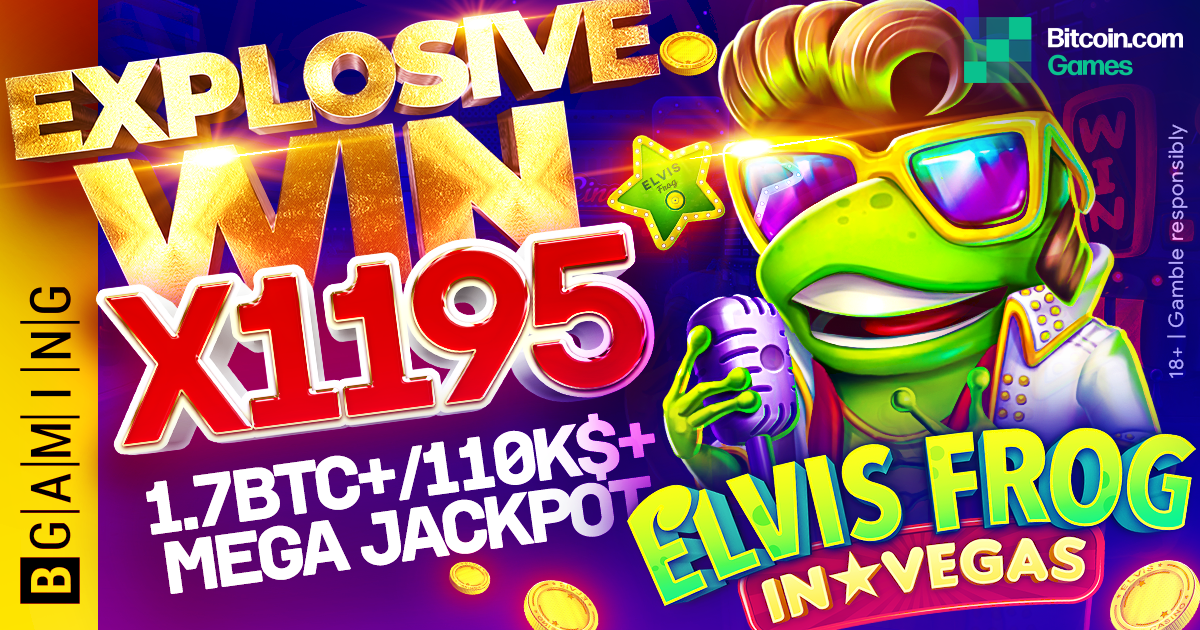 Reading Time:
< 1
minute
BGaming is sharing thrilling vibes with the lucky winner! Mega Jackpot descended upon a player in the hit Elvis Frog in Vegas slot. A bet of 0.0015 BTC transformed into a massive win over 1.7BTC or 110K$!
Being the world's first iGaming content provider to support cryptocurrencies, BGaming pays special attention to the development of games for crypto casinos. Today the brand's titles, including slots, table and casual games, are available to play in crypto. 
Elvis Frog in Vegas showed its explosive performance to the fortunate player at Bitcoin.com Games on  April 13l. Starting with catching a Giant Symbol in Free spins series and thus triggering a Coin Respin Bonus, the player was lucky enough to fill all the possible spaces with Giant Symbols that surrender the 1.5 BTC Mega Jackpot. Getting back to Free spins, the player caught a few winning combinations more. After that, the mix of the Giant Cadillac symbol and 3 Wilds on the reels became icing on the cake! As a result, the bet of 0.0015 BTC was multiplied by 1195!
With a 5х3 layout and 25 paylines, Elvis Frog in Vegas is the most popular slot in BGaming's lineup. The game is an ode to the magnetism and talent of Elvis Presley – the King of Rock-n-Roll! Full of energetic rhythm and the glitz of Las-Vegas, the slot gives the opportunity to trigger a Respin Bonus and grab amazing Jackpots. 
Inspired by the success of the slot, BGaming will give the hit slot a sequel. The follow-up of the game, called Aloha. King Elvis!, will be released this summer. This time around, the eccentric Frog is going to perform in Hawaii.
Video: https://vimeo.com/539199695 
Chinese Police Arrest EOS Gambling dApp Team, Seize $3.8 Million in Crypto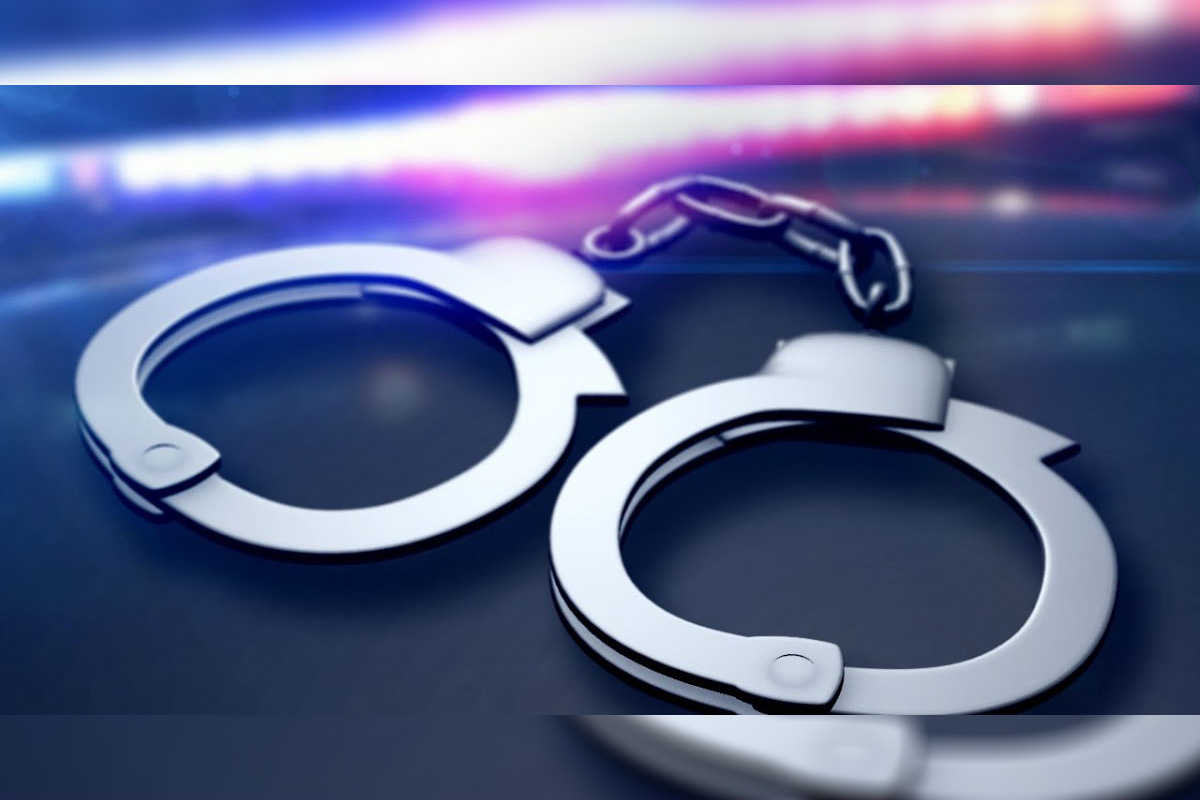 Reading Time:
< 1
minute
The Chinese police in the city of Yancheng in Jiangsu province have arrested a group of developers behind a decentralised gambling app on the EOS network.
The Jiangsu police announced that it arrested 15 people and subsequently confiscated 1.3 million units of EOS and BTC that are worth a combined 26 million yuan, or $3.8 million.
The police said this is the first criminal case that it cracked down on that used smart contracts to operate illegal online gambling businesses inside China.
The dApp, called Biggame, allowed players to use EOS smart contracts to place bets on various games such as Dice and Texas Hold'em. Between June 2018 and December 2020, the team behind Biggame allegedly profited from the operations with crypto assets worth 60 million yuan, or nearly $10 million, law enforcement officials said.
The arrest is the latest example of Chinese law enforcement's wider "Internet Cleansing Movement" that aims to crack down on any illegal online activities, from gambling and Ponzi schemes to telecommunication fraud and money laundering.
Affilka enters into partnership with ProperSix Casino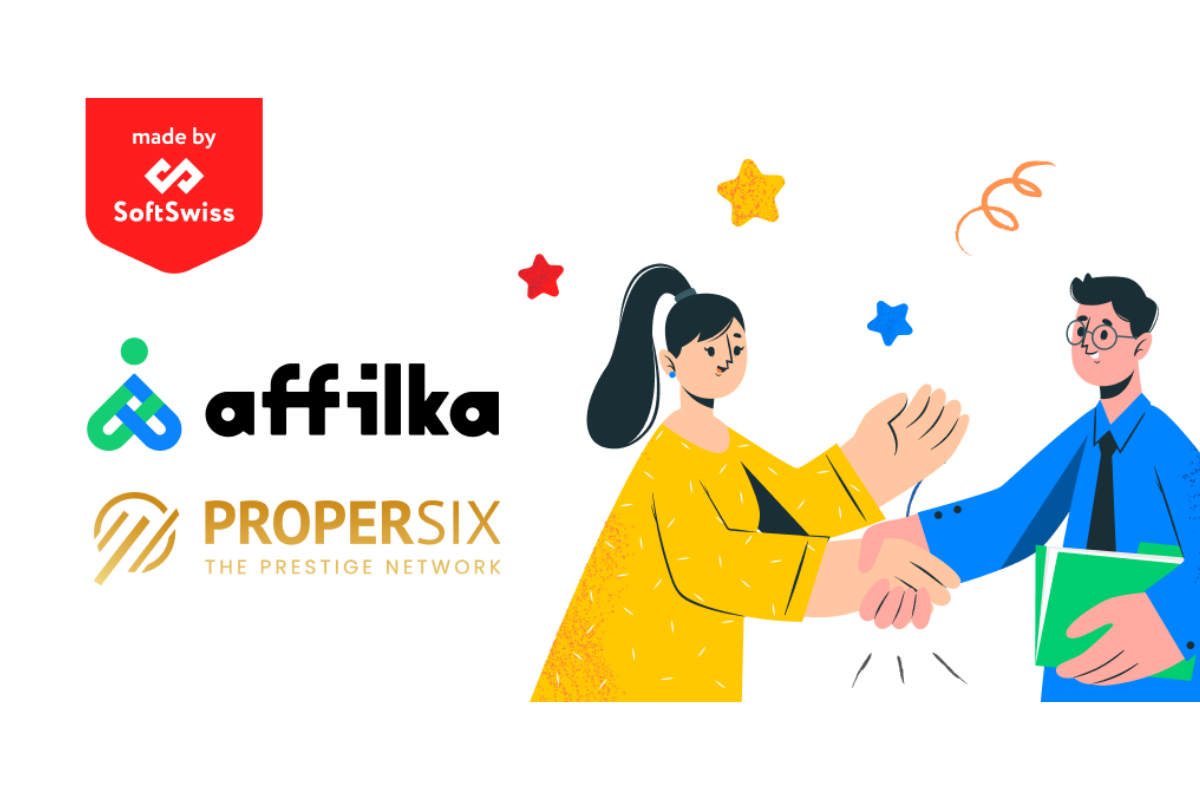 Reading Time:
2
minutes
Affilka, an Affiliate Marketing Platform developed by SoftSwiss inked a deal with a third-party brand ProperSix Casino. Now SoftSwiss will be providing its state-of-art services to the newly-launched online crypto casino brand.
An affiliate program of ProperSix Casino will be powered by Affilka, providing its users with a unique combination of transparency and functionality including an extremely flexible commissions constructor aimed at optimising marketing expenses.
A new crypto casino ProperSix is entering the market, giving players the chance to play various games online by using their cryptocurrencies. Customers will be able to play with ProperSix tokens or other most known cryptocurrencies, including BTC, ETH and USDT. With the casino having just been launched, 30 new and original games are ready for players from around the world. With many different bonus systems that help achieve the highest payouts, the luckiest players are sure to win big.
Furthermore, after an increasingly effective integration process with Affilka, the client decided to expand the area of cooperation between SoftSwiss and ProperSix by also signing a deal with SoftSwiss Game Aggregator. The project is bound to be fully integrated later in Q2 and will provide ProperSix Casino with a cost-effective, yet very efficient one-stop-shop solution with a wide portfolio of game providers that are constantly replenishing.
Anastasia Borovaya, Product Owner of Affilka commented on this event: "Affilka may be a newcomer among affiliate marketing software providers in the iGaming industry. Yet it keeps on proving itself as a reliable, secure and very strong and cost-effective tool for iGaming operators. We're super excited to launch this project alongside ProperSix and are looking forward to very productive cooperation!".
Richard Haverinen, CEO of PROPERSIX OU noted: "ProperSix is proud to announce that it will be collaborating with SoftSwiss Game Aggregator to ensure the best user experience and many more games to get jackpots in. Furthermore, Affilka by SoftSwiss will ensure reliable, safe and trustworthy operation along with high load resistance. The Online Casino is already live, so people are already purchasing ProperSix tokens and getting ready to see if they will be the ones to get the biggest payouts".
About SoftSwiss
SoftSwiss is an international tech company supplying widely acclaimed, certified software solutions for managing iGaming operations. SoftSwiss holds a number of gaming licenses, providing a "one-stop-shop" white label casino solution by taking care of all technical, legal, and financial processes on behalf of its customers. The company has a vast product portfolio, which includes an Online Casino Platform, Game Aggregator with thousands of casino games, an Affiliate Platform, and a recently launched sportsbook platform. In 2013 SoftSwiss was the first in the world to introduce a bitcoin-optimized online casino solution. The company has thus been regarded as the leading technical expert when it comes to the use of cryptocurrencies in online gaming.
About ProperSix Casino
New crypto casino ProperSix is entering the market, giving players the chance to play various games online by using their cryptocurrencies. Customers will be able to play with ProperSix tokens or other most known cryptocurrencies, including BTC, ETH and USDT.