ESIC Publicly Addresses False Narrative That the Commission Works for the Esports Betting Industry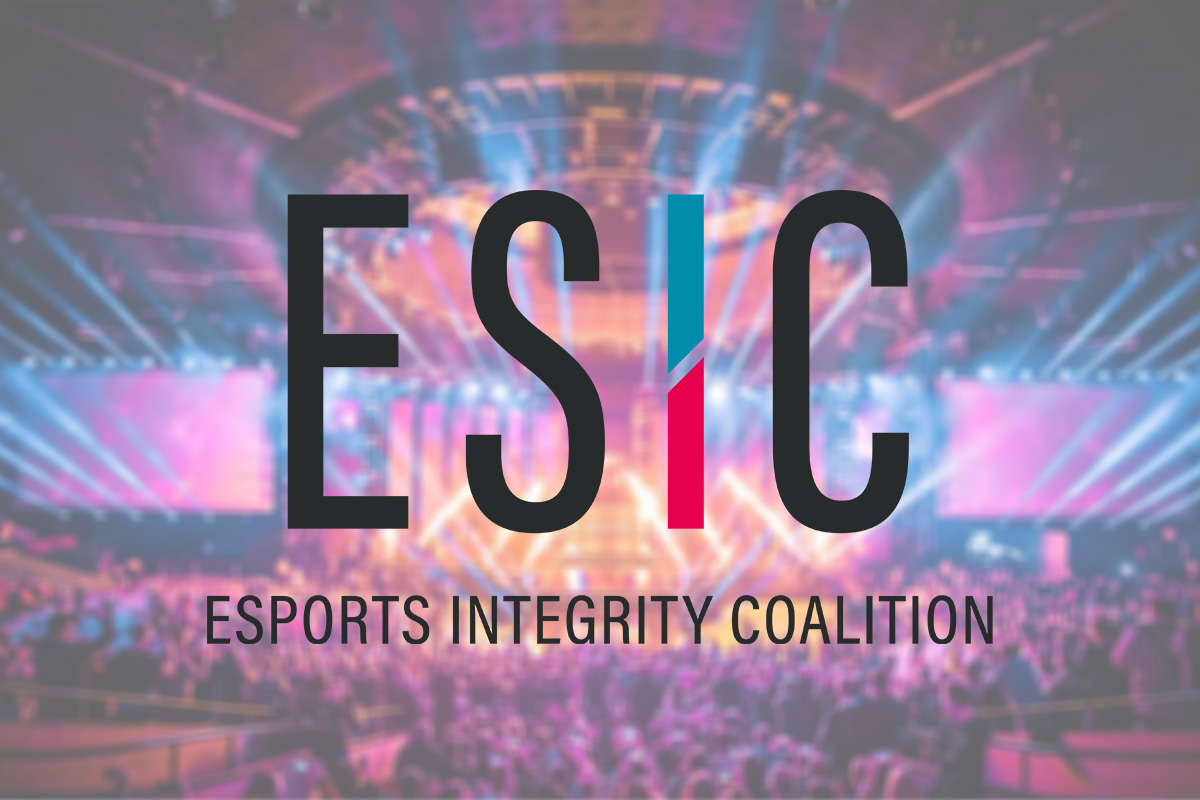 Reading Time:
5
minutes
The Esports Integrity Commission has, over the past few years, mistakenly been accused of working for the esports betting industry or being an organisation formed by the betting industry for the betting industry's purposes. Whilst we have historically tried to address this misconception privately, it has now surfaced again in a way that damages the integrity of esports and the Commission in a way that needs to be publicly addressed.
BACKGROUND CONTEXT OF STATEMENT
First: In Nevada a Bill being sponsored through the State Senate by Senator Ben Kieckhefer, SB 165, seeks to establish an Esports Commission for the regulation of esports related activities in the State. In the sponsoring process, the Judiciary Committee considering SB 165 were told that ESIC, (who has worked with the Nevada Gaming Control Board since 2016 and was a founding member of the Nevada Esports Alliance) was in favour of the Bill. This is false. ESIC opposes SB 165 and has now taken steps to provide explanations to the Committee relating to its position. However, quite apart from certain parties purporting to speak on our behalf without authority, an underlying narrative emerged that: 'ESIC's views should be dismissed because the Commission is a servant of the betting industry'.
Second: The same false narrative was put forward to the Entertainment Software Association ("ESA"), the body representing most video game publishers and developers and all of those who publish titles prominently used in esports, by some of its members urging the ESA not to engage with ESIC because ESIC was alleged to "work for the betting industry".
Third: Disaffected players banned by ESIC for betting related offences and some of their supporters have been reported to be coordinating a broad effort to spread this same false narrative that ESIC works for and serves the betting industry in an attempt to undermine the legitimacy of competitive integrity in esports. This coordinated effort has been reported to ESIC to include rhetoric such as 'ESIC falsely asserting certain matches are fixed so that the betting operators don't have to pay out the winning bets on those matches'. This is both an ignorant and damaging narrative not only to ESIC but to the integrity of esports broadly. Such assertions would be entirely antithetical to the purpose and demonstrated work ESIC has undertaken for the sake of competitive integrity in the esports industry for more than five years.
STATEMENT
Despite the differing points of origin and the various malicious motives of those propagating them, all of these narratives need to be addressed and resolved and so ESIC Commissioner, Ian Smith, has considered it prudent to make the following statements:
"ESIC is neither for or against betting on esports. We are not advocates for betting nor crusaders against it.
It is noted, however, that betting on esports is a form of entertainment for most bettors and drives sponsorship revenue and fan engagement for the esports ecosystem. Conversely, the existence of betting opportunities does also raise challenges including, of particular concern to ESIC and central to our mission, the incentive for punters to commit betting fraud by match-fixing. In this respect, our role is to protect the esports industry from that danger.
ESIC exists for the esports industry; primarily for the protection of the players who would be the first and main casualty of any match-fixing scandal (please refer to the detrimental effects that match-fixing has historically had on the competitive Starcraft2 esports scene following the 2015/16 match-fixing scandals in Korea).
When betting fraud is perpetrated, competitive integrity is tarnished (among other negative outcomes). Coincidentally, the legitimate esports betting industry also suffers loss when betting fraud is committed. Therefore, it is of common and synergistic interest to both the esports industry and the betting on esports industry to address the issue of match-fixing through ESIC.
In fact, it is impossible to combat match-fixing without working with the legitimate esports betting industry. Betting data is at the heart of determining whether or not a match might be fixed and betting data is the key evidence in any prosecution of a match fixer. Furthermore, every traditional sport works with the betting industry to combat match-fixing and relies upon such data in a similar manner. This approach is not unique to ESIC.
ESIC is a not for profit members association – we are owned by our members. We have two categories of membership: Our esports members (primarily Tournament Organisers) and our Anti-Corruption Supporters (primarily betting operators, but also government and state gambling regulators, law enforcement, monitoring companies, data providers and industry bodies). From a constitutional point of view, the two do not overlap. Only the Esports Members determine the strategic aims and priorities of ESIC. The Anti-Corruption Supporters participate in our Suspicious and Unusual Betting Alert Network in service of ESIC and our Esports Members. In other words, ESIC works with the betting industry on behalf of the esports industry; we do not work for the betting industry. Accordingly, this dynamic serves only to promote competitive integrity and legitimacy of esports competitions.
Contrary to some assertions, the betting industry does not use us to avoid making legitimate payouts. The primary benefit for betting stakeholders which engage with us is access to what our Suspicious and Unusual Betting Alert Network sees (a network which they also contribute data to).
Importantly, some players are asserting that their betting activity on the game that they play professionally was "innocent". With respect, that is either naive or disingenuous. No traditional sport allows its professional participants to bet on the sport they play for a living. In the cases ESIC has dealt with, the players against whom we have taken action have bet on the game, league, tournament or match in which they have participated. There is no scenario in which this is acceptable and we will continue to prosecute players who do so where we have jurisdiction. At the highest level of any esports game, the players all know each other, have played with and against each other and have both inside information and the potential to influence each other in a way that gives them an unfair advantage in betting markets and undermines the perception of competitive integrity. In many countries it is also illegal or criminal. Consequently, we are unapologetic about our rule prohibiting betting on the game they play professionally or semi-professionally. This is for the protection of the esports ecosystem and the players in particular. It is not a service to the betting industry but a service to the esports industry broadly in the interest of youth protection, competitive integrity and commercial longevity."
Conclusion
Individuals attempting to propagate the narrative that ESIC works for the betting industry either have their own adverse agenda or are naïve about the realities of betting and the relationship between esports and betting on esports.
ESIC accepts that the existence of betting in esports is a contentious matter for some people and that they would rather it didn't exist, but that is not an excuse to ignore the challenges posed by its existence. Any extension of opposition to betting in esports which operates to prohibit or hamper ESIC from effectively engaging with and mitigating the issue of match-fixing through sourcing data from Anti-Corruption Supporters, however, should be entirely discouraged and expelled from the industry. The stark reality is that match-fixing poses a real and demonstrable threat to the youth, competitive integrity, and commercial viability of the esports industry globally. Accordingly, ESIC implores all stakeholders Interested in the common good of esports to work together to combat such threats. Indeed, that includes, of necessity, close cooperation, via ESIC, between the esports ecosystem and the esports betting industry.
NOTE: THIS STATEMENT DOES NOT CONSTITUTE THE INTENDED RELEASE RELATING TO THE AU CS:GO INVESTIGATION. A SEPARATE RELEASE WILL BE MADE RELATING TO THAT INVESTIGATION IN DUE COURSE.

BATTLEGROUNDS MOBILE INDIA Pre-Registrations to start from 18th May on Google Play Store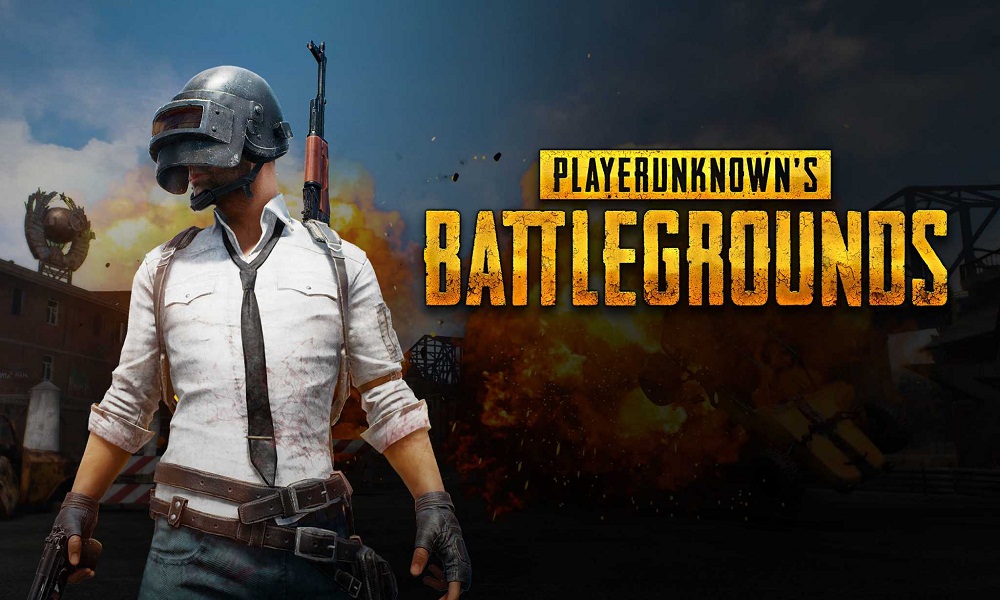 Reading Time:
2
minutes
Krafton, the premier South Korean video game developer, today announced the date for pre-registrations of BATTLEGROUNDS MOBILE INDIA. Developed by Krafton, the long-awaited pre-registrations for the game will go live on 18th May.
There will be specific rewards available for fans to claim, only if they pre-register the game. These rewards would be specific to Indian players only.
To pre-register for BATTLEGROUNDS MOBILE INDIA, please visit the Google Play Store and click on the "Pre-Register" button, and your rewards will automatically be available to claim on game launch.
Krafton's brand new game will launch as a free-to-play experience on mobile devices. We request players to stay tuned, stay masked and stay safe, for additional details on the pre-registration rewards. BATTLEGROUNDS MOBILE INDIA will be available exclusively to play in India only.
Mr Lokesh Suji, Director, Esports Federation of India & Vice President of the Asian Esports Federation (AESF): "It is heartening to see that Krafton Inc. has announced the date for pre-registrations of Battlegrounds Mobile India, which is a clear indication that government green light has been given and this surely is a piece of good news for all the PUBG players who have been missing the game all this while since the game was withdrawn from the Indian market post the government ban.
We also urge that it is an opportune time for Indian video game developers, as well as the existing esports titles as such recent announcements, will fuel the Indian esports ecosystem which is full of possibilities and opportunities."
Mr Tarun Gupta, Founder, Ultimate Battle, India's first-ever one-stop online esports platform: "We are excited to see that the pre-registrations for the Battlegrounds Mobile India are finally rolling out. Indian gamers will now be able to get hands-on experience with this much-waited game. This launch will be historic, if I may call it so. At Ultimate Battle, we will be including Battlegrounds Mobile India in our All India Esports League which will be rolling out shortly."
Mr Abhishek Aggarwal, Co-Founder & CEO, Trinity Gaming, India's top gaming talent management firm: "As Krafton promised earlier, they are going to start the long-awaited pre-registrations of BATTLEGROUNDS MOBILE INDIA from 18th May and it's both encouraging & exciting for the whole esports & gaming community. Existing and new gaming creators will be taking the first concrete step towards their future in gaming. Team Trinity and our network of content creators are super excited about the opening of pre-registration. A journey towards the bright future of Indian gaming and esports has just begun."
IESF Reveals Last Game Title for Upcoming Esports World Championship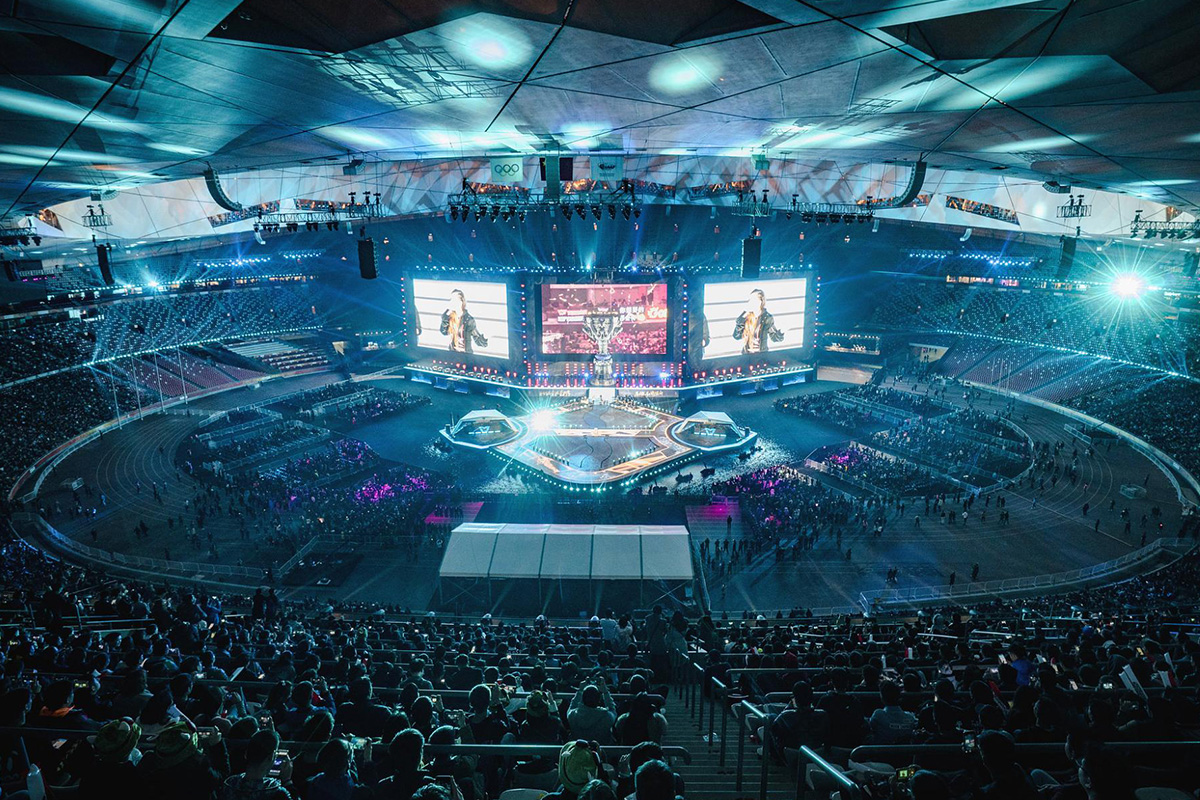 Reading Time:
< 1
minute
International Esports Federation (IESF) has announced Tekken 7 as the last official game title for its 13th Esports World Championship, Eilat, Israel. This is the eighth time that the game title has been included since 2012.
Tekken 7 (Tekken means "Iron Fist" in Japanese) is published by Bandai Namco Entertainment. The popular 1:1 fighting game's arcade version was first released in 1994 and the home version was released in 1995.
With the announcement, IESF confirms that all three games from the 12th Esports World Championship would be back with more games for IESF's flagship international competition, which has taken place annually since 2009.
All athletes who shall participate in the Tekken 7 game title at IESF's 13th Esports World Championship shall be selected by member national federations affiliated to IESF.
IESF's Esports World Championship is the IESF's flagship competition, where all the players from all over the world participate in a unique and vibrant tournament while representing their national flag. The event is the only major Esports tournament featuring national teams, and this year's competition is expected to be the largest one to date, with approximately 80 nations set to participate.
Real Luck Group Ltd's Luckbox shortlisted for two EGR Marketing & Innovation Awards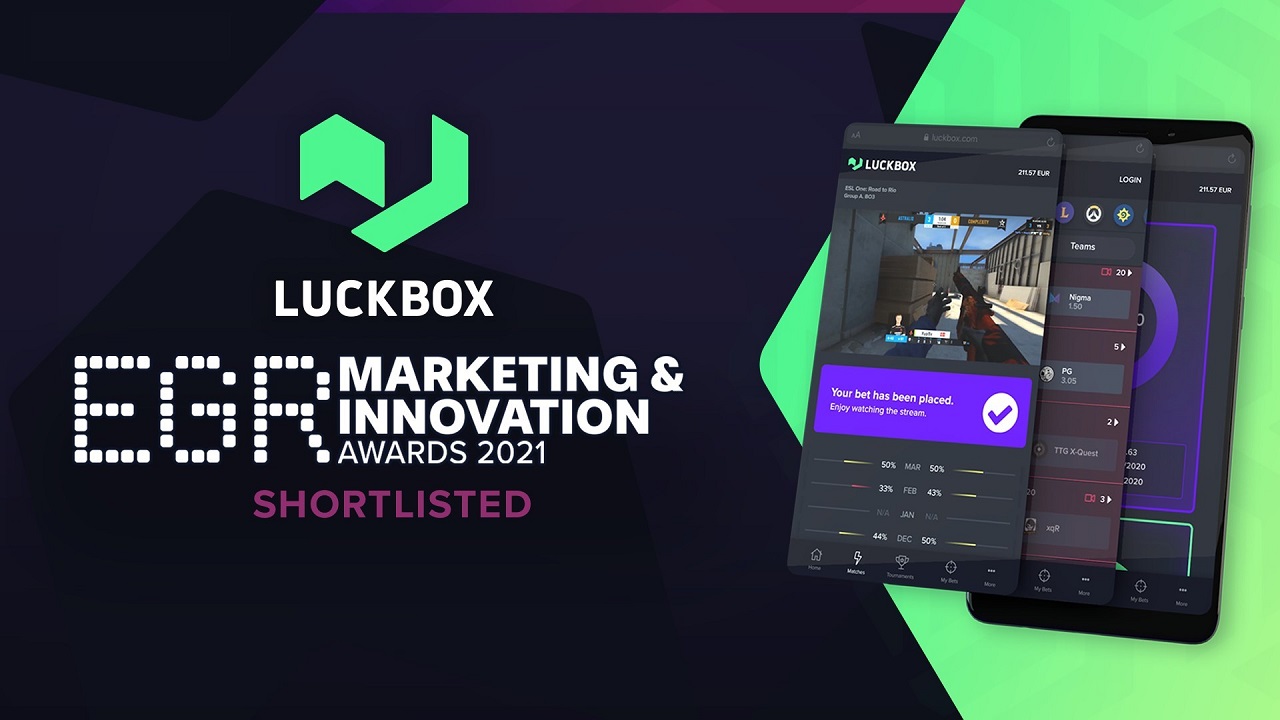 Reading Time:
< 1
minute
Real Luck Group Ltd. and its subsidiary companies doing business as "Luckbox" (the "Group"), a leading provider of licensed, real money esports betting, is pleased to announce it has been shortlisted in two categories at the EGR Marketing & Innovation Awards 2021.
The EGR Marketing & Innovation Awards reward the most innovative and creative operators and affiliates in the online gaming industry, recognizing those who have pushed themselves to bring something new to the industry in the last 12 months.
Luckbox has been shortlisted in the Innovative Start-up and Innovation In Esports categories, with winners due to be announced on June 30, 2021.
Luckbox was named Rising Star at the EGR Operator Awards in 2020.
Luckbox CEO Thomas Rosander said: "We are thrilled and honoured to be in the running for these awards, amongst the most prestigious marketing accolades in the igaming industry. Despite a limited marketing budget leading until Q2 2021, our team has shown tremendous creativity and innovation in both marketing and product development to be selected for this shortlist. This work has given us a solid foundation to build upon. Our recent financing, which was in high demand, means we are now capitalized to spend significantly on marketing for the first time, which enables us to scale up these initial successes."
Real Luck Group would like to wish all nominees the best of luck.