Demons of Asteborg Wins the Seventh Weekly Vote at the Game Development World Championship!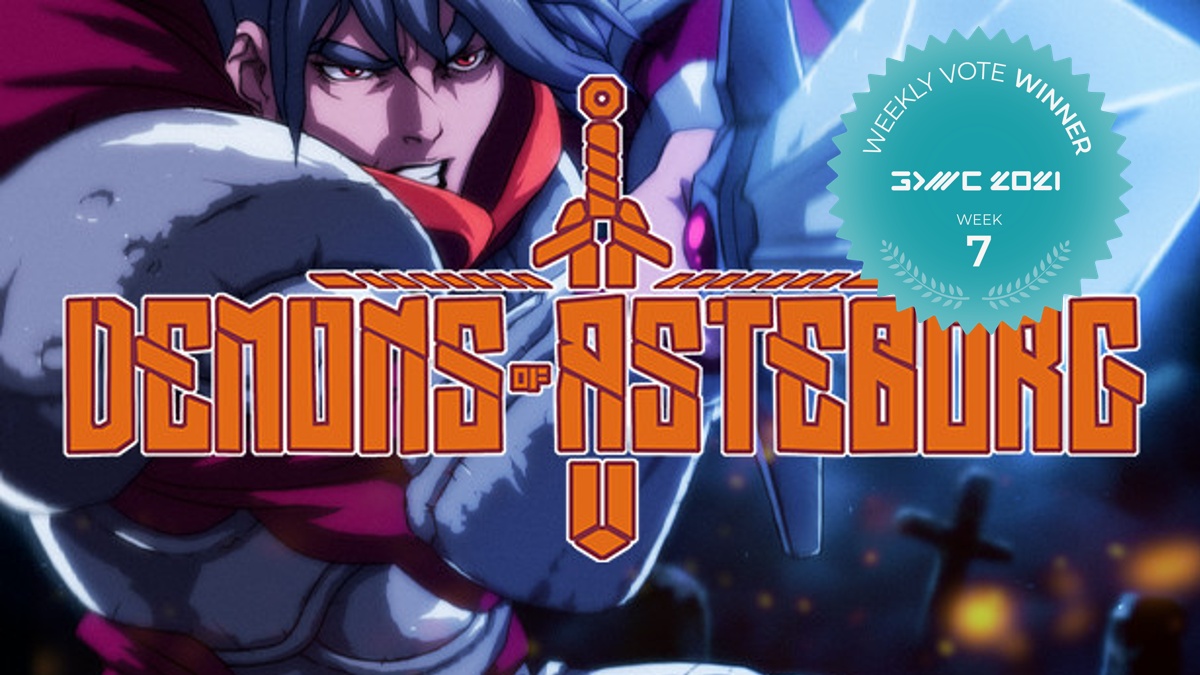 Reading Time:
2
minutes
Demons of Asteborg by Neofid Studios from France has won the seventh Fan Favorite Weekly Vote at the Game Development World Championship. The game is a new original title for the SEGA Mega Drive / Genesis which will also be released on Nintendo Switch and Steam. Play as Gareth and fight the evil forces of Zadimus!
With this voting victory, Neofid Studios moves on to the next round in Fan Favorite category. The team will meet other Weekly Vote winners in a final vote for the crown at the end of the GDWC 2021 season.
2nd place was taken by Himmapan Marshmello Saga by FairPlay Studios from Thailand: "Feed, train and take care of your virtual pet ("Nonster") to help it grow into the multiple evolution paths available in the game. Play multiple mini games to train your Nonsters and take your Nonster on the Himmapan Adventures. Minigames also earn you coin rewards, which can be redeemed to customize your Nonster and its home, or simply to feed it tasty meals!"
3rd Place went to KAPIA by KAPIA from Serbia and Montenegro: "Dive into unique universe of KAPIA to help Stefan and his granddaughter on their adventure to solve the mystery of dome survivors. Play for both characters, speak to the peculiar dome inhabitants, join the investigation, discover clues and testimonies to uncover the origin of tragedy, that divided the world."
The GDWC team sends congratulations to the winning team and big thanks to all Nominees and voters. The weekly votes take place each week, from Monday to Monday and there are always nine new exciting games to check out and vote for. This week's vote is already live on the event website at thegdwc.com.
This week's nominees are in alphabetical order:
– ChessLocke by ChessLocke (USA)
– Drabidiboo by Viverna (Italy)
– Dualism by Ensomari (Puerto Rico)
– Fatal Space: Free Action And Space Shooter Game by Prince Naneriya (India)
– LAST SOUL by Wulum Ltd (Canada)
– Smashroom by Jonathan Calsolaro (Italy)
– Time Storm by XnoraGames (Brazil)
– Workers & Resources: Soviet Republic by 3DIVISION (Slovak Republic)

Tenjin and GameAnalytics launch Growth FullStack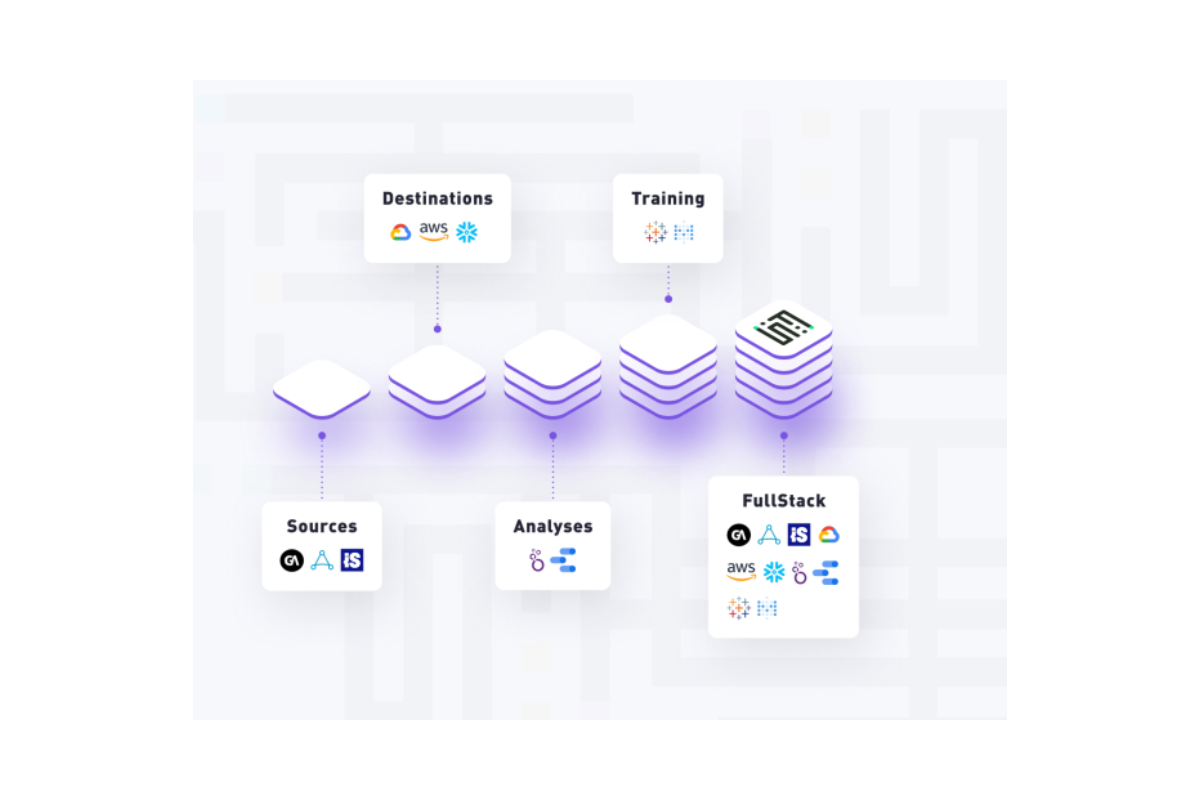 Reading Time:
3
minutes
Tenjin, the leading mobile marketing measurement platform for indie and mid-sized mobile game publishers, and GameAnalytics, the player analysis platform of choice for mobile game developers, have launched Growth FullStack, the first in a new series of developer tools and training resources offering affordable access to data and analyses.
Launched to coincide with the release of iOS15, Growth FullStack empowers mobile developers to navigate a privacy-centric marketing landscape which requires a unified approach to managing significant amounts of disparate datasets. Unable to use Apple's Identifier for Advertisers (IDFA) and with low numbers of mobile users opting to share their  user-level data with apps, marketers have been left with scattered datasets which haven't been utilized effectively for performance marketing. Similar changes are imminent on Android, impacting the entire app developer ecosystem.
Large app publishers have already figured out that consolidated , better-analyzed data is the solution. However, the huge data science and R&D teams large publishers operate are unattainable for 99% of mobile publishers. The vast majority are caught in a transition period where familiar, Mobile Measurement Partner-centric deterministic attribution is not working anymore and Apple-centric attribution such as iOS15's SKAdNetwork isn't widely understood.
Growth FullStack enables mobile publishers to collect the data that they need, store it in the way they want, and optimize their campaigns activity using off-the-shelf or custom analyses. Enabled by a no-code 'plug and play' model, mobile marketers no longer need to depend on in-house data engineering to unify and understand complex data sets.
Announcing Growth FullStack, Tenjin CEO and Co-Founder, Christopher Farm said:
"We're excited to partner with GameAnalytics to offer Growth FullStack. The inspiration was our joint understanding that mobile marketers have their own siloed data sources, databases and analyses – sometimes multiple of each – but no way to draw them together post-IDFA. Paired with iOS14 and 15 redacting some of the important dimensions (for example country data sets) finding ways to build a network of data within Growth FullStack provides the tools and training for mobile publishers to achieve the similar insights like big publishers are used to, enabling them to focus on building their apps and games. GameAnalytics and Tenjin both have very popular free platforms and share a commitment to educating our clients, so we're delighted to be working together to help great apps grow in the new privacy-first world."
Morten E. Wulff, Chairman and Founder at GameAnalytics, added:
"We're thrilled to be announcing our new partnership with Tenjin, which is perfectly aligned to help us deliver best-in-class developer tools. Conversations with our mutual mobile game clients showed that they want us to offer services across their full stack of data tools, and Growth FullStack is the first in a suite of collaborative products that will supercharge the switch to Apple & Android-centric attribution. Mobile performance marketing architecture has been thrown into disarray during 2021 for publishers worldwide, but with Growth FullStack any mobile publisher can run new analyses of previously diffuse datasets with no in-house expertise."
Growth FullStack has been operating in early access and trialled by publishers including Lucky Kat Studios.
Hernan Zhou, Co-Founder and CTO at Lucky Kat Studios, commented:
"Indie game developers need help to make sense of the post-IDFA world of mobile marketing. Old tools aren't able to support user acquisition as they did before iOS14 and the data sources we have access to require far more analysis to generate insights. For example, one of our main user acquisition channels now has two APIs for the same data: Apple's data and their own data. How do we figure out which is best to help us grow? Ultimately we want to focus our energy on making games, and Growth FullStack will be vital in enabling that."
WePlay Holding partners with Monster Energy for the Russian-language broadcast of BLAST Premier: Fall Season 2021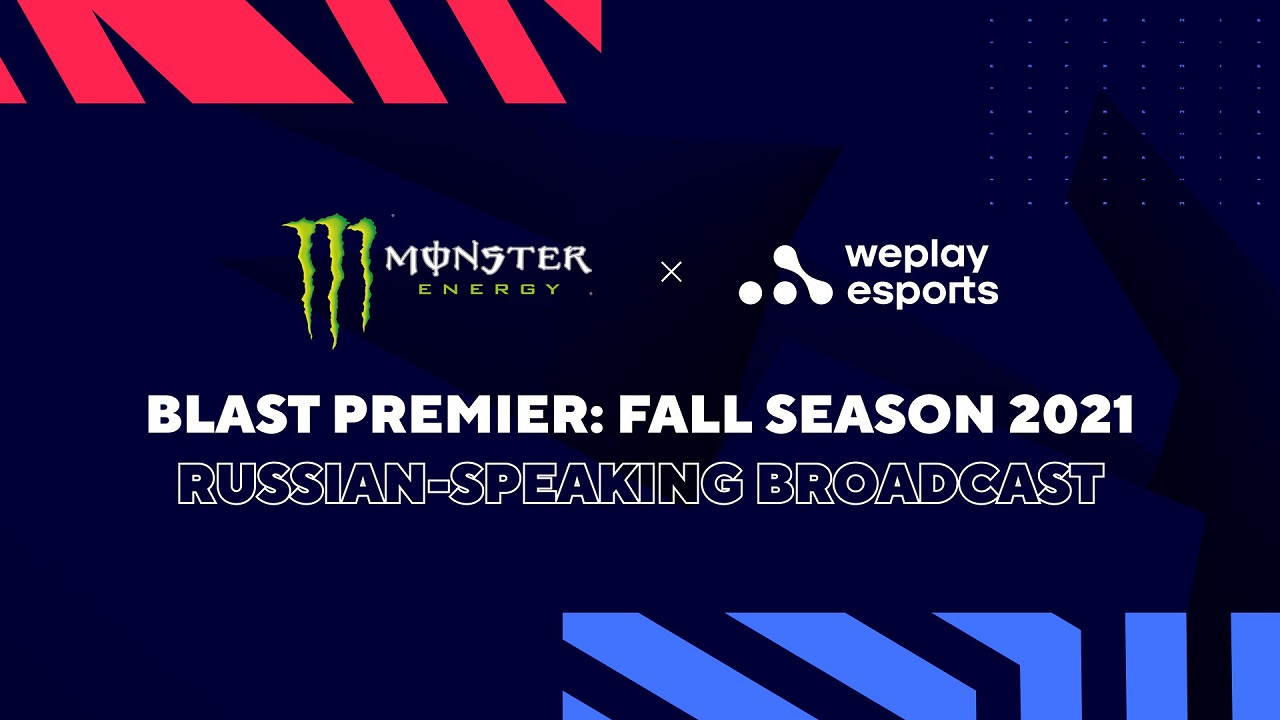 Reading Time:
< 1
minute
WePlay Holding and Monster Energy have announced their partnership for the Russian-language broadcast of BLAST Premier: Fall Season 2021.
Monster Energy is the official partner of the BLAST Premier: Fall Season 2021 Russian-language broadcast. The event is taking place between September 16 and 26, 2021.
"I am looking forward to the activations made possible together with such a youthful brand. I'm confident that together with Monster Energy, we can set new records and keep the Blast Premier Russian-speaking audience energized," says Anton Bogushev, partnership and sales lead at WePlay Holding.
"At Monster Energy we are set to Fuel Gamers Worldwide. Striking a deal with WePlay Holding is a great leap to serve our mission locally and at CIS region at large, keeping a solid excitement level of our fans over here. We are always looking to unlock the best in class user experiences for the Monster fam and gaming community and we have a strong belief there's no better partner than WePlay! to deliver it! Can't wait to see what's coming next for us already – let's Unleash this Gaming Beast in Ukraine and CIS! Go go go!" 
– says 
Yuliya Kovalenko
, Marketing Manager at Monster Energy Ukraine.
BLAST Premier is a global tournament series in Counter-Strike: Global Offensive (CS:GO). Its 2021 Fall Season kicked off last week. The total prize pool of the season is $1,737,000.
BLAST appoint Tom Greene as Chief Growth Officer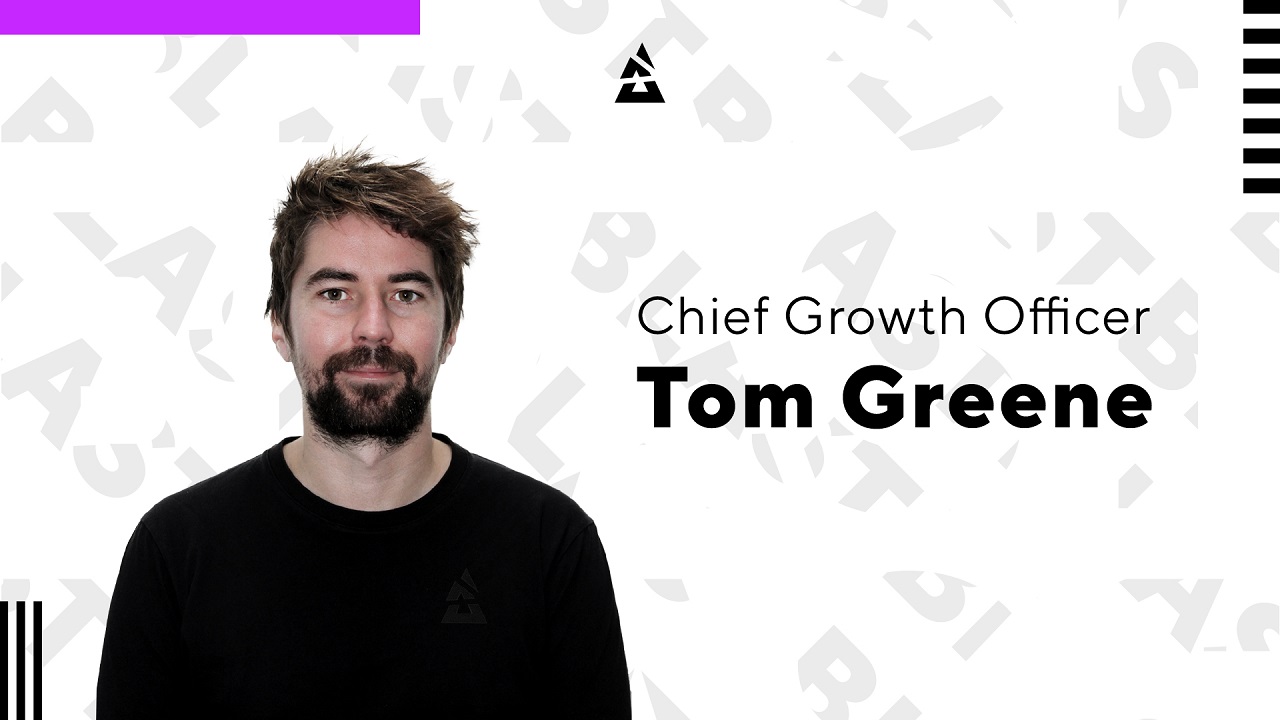 Reading Time:
2
minutes
Greene joins from the Harry Potter franchise and will focus on increasing BLAST's efforts to grow its audience and consumer base
Esports tournament organiser and media network BLAST has appointed Tom Greene as its Chief Growth Officer. He joins after six years working with the Harry Potter franchise across a number of commercial leadership roles.
During his time with Wizarding World, Greene ran Pottermore Publishing, the digital publisher of Harry Potter and Fantastic Beasts ebooks and audiobooks. He also led Wizarding World Digital, the fan-engagement arm of the Harry Potter franchise and a joint venture between Pottermore and WarnerMedia. Greene will remain a non-executive director of Pottermore.
Greene's appointment will help improve and increase BLAST's efforts to grow its consumer and audience base in the future by creating a more direct relationship with its esports fanbase.
BLAST will be looking to utilise the former-WarnerMedia executive's experience in building technology products that can capture the attention of key audiences – with the ultimate aim of diversifying BLAST's product offering and revenue streams.
The last 18 months have been an exciting period for BLAST that has seen the Copenhagen-based business move into a number of new games, including: VALORANT, DOTA 2, Apex Legends and Fortnite.
During this period BLAST Premier, the company's leading light and a global Counter-Strike tournament circuit, has grown from strength-to-strength and in January posted the most watched online CS:GO match of all time during the Global Final while also securing a range of new commercial partnerships with Coinbase, L33T Gaming and Unilever.
Robbie Douek, CEO for BLAST, said: "Tom joins us at a hugely exciting time for BLAST, the last year has seen us cement BLAST Premier as one of the leading Counter-Strike tournaments in the world, we've also managed to diversify our product offering by moving into a number of leading titles during this period.
"Tom brings a wealth of experience and knowledge from his time with the Harry Potter franchise, where he had huge success in evolving the Wizarding World digital publishing platforms and creating a powerful fan experience. His arrival signifies BLAST's ambition to grow and strengthen the relationship we have with our community."
Tom Greene, Chief Growth Officer at BLAST, said: "I'm thrilled to join the team at such an exciting time for BLAST and for esports more generally. Everyone at BLAST is incredibly passionate and talented and it is great to join such a dynamic team. I'm looking forward to helping us accelerate our efforts and deliver more amazing products and experiences to our fans both old and new."
BLAST Premier is a worldwide Counter-Strike tournament series that unites all major events, offers opportunities to all regions across the globe and crowns the world champions of CS:GO. Up to 32 teams will take part in the seven BLAST Premier events over the course of 2021 with a combined prize pool of $2,475,000 on the line. BLAST will be making its long awaited return to arena events with fans later this year at Copenhagen's iconic Royal Arena for the Fall Final.