Exclusive Q&A with Alexandre Salem, Global Director of Gaming Partnerships at Huawei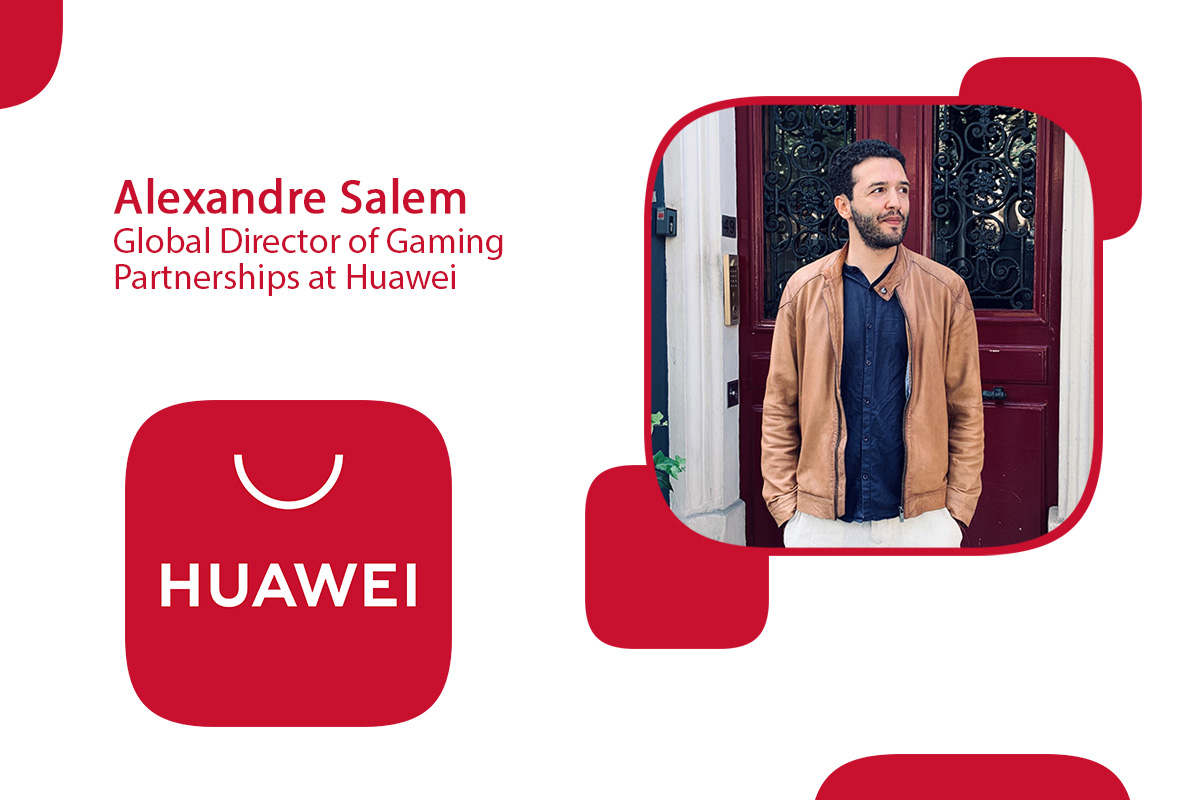 Reading Time:
7
minutes
We have had an enlightening interview with Alexandre Salem, Global Director of Gaming Partnerships at Huawei.
Here he talks about the Huawei Gaming Ecosystem, how it's gearing up to challenge the near duopoly Google Playstore and Apple Appstore, and why game developers shouldn't miss it.
Here is the full text of the interview.
Q. Let us begin with a brief introduction to the Huawei Gaming Ecosystem. How does it help to facilitate the ultimate mobile gaming experience for users?
A. AppGallery is the official app distribution platform at Huawei, and the third-largest app marketplace in the world. We've designed it as a gateway to some of the latest and most exciting mobile game experiences for consumers.
When we look at the increase in people gaming around the world, it's clear just how significant a role app marketplaces will have to play. We're looking at 3.2 billion global gamers by 2023, and from that we're predicting over two thirds will be on a mobile device.
To drive the global growth that we're seeing, we provide our developers with the innovative technology they need to create the ultimate gaming experiences for their customers. Developers can integrate with elements of Huawei's HMS Core for example to harness the unique software and hardware capabilities – all in the name of imagining new gameplay for mobile gamers.
There's also the choice of integrating with app development tools for different Huawei devices, enabling gamers to switch between a MatePad and a P40, for example, with little effort and an overall seamless and enjoyable experience.
We're already proud of our reputation for building quality hardware to facilitate a superior gaming experience for users, bringning some really unique gameplay to the table. Take Perfect World Games' ReEvolve, for example. It's the first mobile game that you can play on folding screen technology.
We're also continuously looking to grow the number of mobile games available on AppGallery, with the aim of establishing Huawei as a true powerhouse of mobile gaming. Last year for example we launched a one-stop gaming platform for our more committed gamers called GameCenter, promoting an even richer gaming experience to those interested in exclusive discounts, unique gameplay and an exciting reward scheme. While AppGallery is Huawei's comprehensive marketplace for all app categories, users who particularly love games can download GameCenter for an end-to-end game service.
Q. Could you provide some key stats regarding the number of users, games and developers in the Huawei Gaming Ecosystem currently?
A. AppGallery's progress is something we're really excited about. Considering the platform is only three years old in overseas markets, we already have a huge selection of convenient, fun and innovative gaming options to choose from. AppGallery caters to the different interests of its committed mobile gamers, from role-playing, action, MOBA, and MMORPG, to puzzle, turn-based and idle games.
In line with the growth of mobile gaming that we're seeing more generally, AppGallery is also expanding – there are now 500% more games available on the platform compared to a year ago. Our users are often amongst the first to experience innovative new gameplay from around the world, with launches from the past year including AFK Arena, Asphalt 9: Legends, Clash of Kings and many more.
AppGallery continues to see strong growth in gaming availability, with over 12,000 games available and over 80 million games installed overall. Furthermore, there has been a 100% growth in games revenue in 2020 compared to 2019, and a 120% growth in paying players.
Thanks to the ongoing development of the HMS ecosystem, AppGallery now has 540 million monthly active users. There are 2.7 million registered developers worldwide, 134,000 apps integrated with HMS Core and, in 2020, we saw 384.4 billion app distributions (174 billion more than the previous year) – many of which are attributable to the mobile gaming sector.
Q. Huawei AppGallery boldly attempts to challenge the near duopoly of Google Play store and the App Store. What do developers and publishers gain exclusively by choosing AppGallery?
A. Something that sets AppGallery apart from competitors is the close relationship that we have with developers. We work closely with our partners to identify their own aspirations and desires – and not just in the gaming space.
Something that receives a lot of great feedback from developers and mobile users alike is our dedication to technical and marketing support. We implement a "Global + Local" Strategy, designed to help developers utilise our platform. It works both ways, because not only are we supporting smaller developers at the local level, but we're also providing our diverse global customer base with the most relevant apps and games for them.
We also provide one-stop, full-spectrum operational support for developers worldwide, covering the entire development cycle. From ideation, development, distribution, operation to data analytics for global developers, we're there to help. And the partnership doesn't end at launch – we have dedicated teams to provide ongoing business and commercial support.
Building an ecosystem from scratch is something that takes a lot of time – we've been working on this for three years and the progress is so exciting. We'll continue to prioritise our partners, providing them with an opportunity to tap into the competitive mobile market.
Another differentiating benefit we bring to our gaming partners is an in-depth expertise in the Chinese market, the largest in the world in players number and revenue. For the developers interested in penetrating this market, we can bring a suite of tailor-made services to maximize the chances of success.
Q. Tell us about the advantages and support that game developers can enjoy as part of the Huawei Ecosystem.
Mobile gaming is a huge market and one that is growing significantly. Something that we advocate for at Huawei is helping developers to get their foot on the ladder and grow within an increasingly competitive space.
With this in mind, we empower local developers with our on-the-ground support. We now have five global developer centres in Romania, Egypt, Mexico, Malaysia and Russia. We also have three ecosystem labs in Germany, Poland and Russia, as well as over 20 online Huawei Developer Day (HDD) events throughout the year. Developers can also utilise the seven DigiX Lab Innovation laboratories – they're based in Dublin, Moscow, Düsseldorf, Mexico, Dubai, Johannesburg and Singapore. Here, developers can access real machine debugging, development capability experiences and other tools and guidance.
Our collaboration with developers doesn't stop when a game is on-boarded in AppGallery. Our goal is to support gaming developers in attracting, converting and retaining as many players as possible. We don't hesitate to roll up our sleeves alongside our gaming partners to run co-marketing campaigns to boost games discoverability.
Q. What are the options for monetization and the advertisement support that publishers can enjoy as part of the Huawei Ecosystem?
A. Something that we're passionate about at Huawei is aligning our partners' business development goals with the tools they need to achieve them. There are a variety of different HMS Core Kits that developers can choose to integrate with to harness the unique software and hardware capabilities we have on offer.
This includes the Huawei Ads Kit which empowers developers to create high-quality and personalized ads within their apps. Alongside the easy-to-use Publisher Service, developers can work seamlessly with third-party advertising and tracking platforms to monitor ad success. We also have a range of platforms to encourage our partners to boost their revenue, from the traffic monetization platform − a one-stop platform for developers to earn more − to advertising identifiers and conversion attributions.
In a nutshell, we provide a flexible set of services for gaming developers to fit their business models, whether they monetize through IAP, ads, premium paid games or a mix of those revenue streams.
Q. Could you enlighten us on the user data protection measures that Huawei has taken to ensure that the personal information of users is not compromised? This is probably an area where even the biggest companies on the internet have an inconsistent record.
A. AppGallery has a full-cycle security and protection system, including developer real-name verification, a four-step review process, download and installation protection as well as a prevention mechanism for secure app operation. Protecting user privacy and security is something that we take very seriously.
In addition to ensuring that all default apps fully comply with privacy compliance requirements, EMUI provides permit management, notification management, audio/video reminders, location service management and other privacy settings for apps, giving users visibility and control over their permissions.
Huawei has also established local data storage in six regional centres and 15 data centres worldwide. Complying with the localized service distribution and deployment policy, personal information is encrypted and stored in the area to which the user belongs. For example, Huawei stores all European user data in Germany, where rules and regulations call for the highest standards of user privacy.
To further ensure the safety of our users, we have implemented an age rating system globally, which intelligently blocks non-age-appropriate content according to user settings to provide a safe and healthy application environment for underage users.
Q. Huawei is betting big on the Internet of Things (IoT). How do you think the IoT is going to make its mark in the gaming sector? 
A. In two years', time, we expect to see 2.6 billion gamers streaming and competing together on mobile devices. The IoT is another area where we have a reputation for taking the lead and driving an industrial-scale digital transformation. Through our all-scenario, modular solutions, we'll ensure that our mobile gamers have access to the smoothest possible gameplay experience.
In the next few years, we expect to see gamers having access to an increasing number of smart devices and wanting to play their favourite games in a frictionless manner across those devices. Let's imagine the following user journey: a gamer might receive a notification on their smart watch reminding them to a play the next shooter game level. They might pass a few levels during the commute to work on a smartphone, and continue playing at home on a tablet, before competing with friends on a smart TV over the weekend. This type of cross-device and cross-platform gameplay will require developers to evolve their game development practices.  It will mean that we need to bring hardware and software making this "omni-channel gaming" possible.
Q. Finally, what are Huawei's major initiatives in the near future to deliver the ultimate mobile gaming experience?
A. Our top priority remains our users – we'll continue to provide them with access to the best, most relevant mobile games in the world. There are a number of unique ways in which we're able to do this. For example, we listen to our global customers' needs through Wishlist – a tool that AppGallery users can use to recommend an app that they'd like to see available on the platform.
We also have staff dedicated to reading users' feedback in Wishlist and analysing apps with the most votes. This allows us to prioritise the most wanted apps and ensure that consumer appeal is addressed, so that AppGallery is adapting to the fast-changing mobile app landscape.
We are also keeping in mind gamers needs and preferences when we design and launch new hardware on the market. I am extremely excited about our line-up of smartphones, smart TVs, connected watches and other devices and I am intimately convinced that this hardware ecosystem will bring the gaming experience to a new level.
Looking at the growth that the gaming industry has seen this year alone, it's our mission to ensure that Huawei remains at the forefront of mobile gaming.

Interactive Gaming Group signs sponsorship agreement with lead Twitch female creator Nora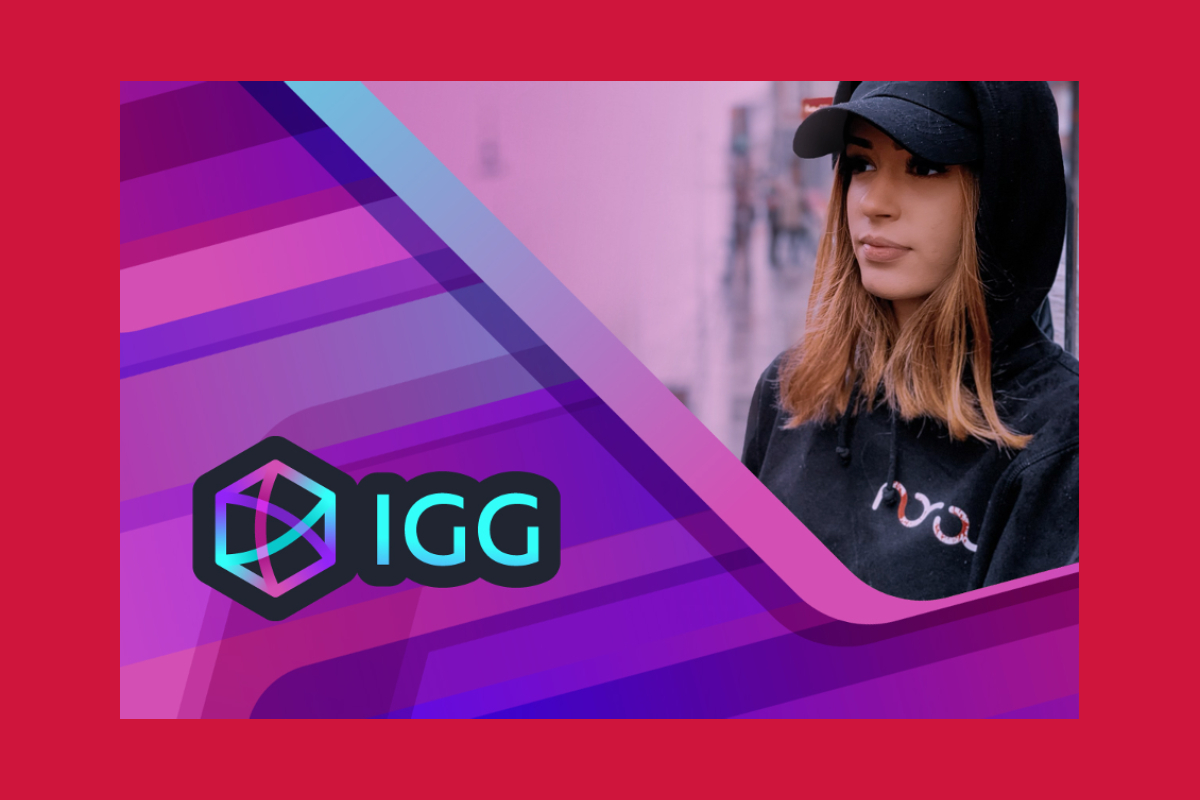 Reading Time:
2
minutes
Building on its intent to support female streamers and inspire gamers, Interactive Gaming Group announces today that it has added former professional soccer player and prolific female streamer Nora (Twitch name "NoraExplorer"), to its portfolio.
Nora, who turned to gaming after a knee injury ended her career, shares her journey travelling in Facepunch Studios' adventure game Rust – with an audience of over 91,000 followers. The 23 year old, who has seen her audience grow rapidly in the last year, sees streaming as a significant new area of opportunity for gamers looking to monetise their talent and get more people excited about gaming.
Commenting on her new partnership with IGG, Nora said: "I'm extremely excited to be supported by IGG as I work to improve the experience I share with my audience. In the past year I've seen my community grow and found more and more people connecting in an online space. Being a part of this with my audience and community, makes me feel like I have a responsibility to show that anybody can be who they want to be. IGG's support in my goals was an important factor in making the partnership."
With over 1,000 creators and 250 brands worldwide, IGG, whose vision is to inspire the world to play, has made it the company's focus to support up and coming creators to help them monetise their talent. IGG's experience in building some of the most successful gaming-focused Twitch channels in the world is now being turned to connecting growing gaming and eSports creators with brands via the company's platform.
Commenting on the partnership, CEO of Interactive Gaming Group Cristina Niculae commented:"Streaming is the new way of marketing. The new generation of adults is no longer inspired by mainstream TV but by creators sharing live, interactive experiences. However, only 2% of gaming creators on platforms such as Twitch are female. At IGG, we want to support female creators grow their channels and monetize their gaming content and through this, balance the gender gap. We are delighted to have Nora, a talented creator, joining our portfolio of streamers and are looking forward to supporting more female creators on our mission to open up streaming marketing to all upcoming creators."
Interactive Gaming Group is a leading digital entertainment and media technology company, connecting creators, viewers and brands on a global scale. Founded in 2017 and operating out of Malta and Spain, Interactive Gaming
Group vision is 'To inspire the world to play' and to bring great streaming entertainment to people around the world.
Ranked: The Highest Earning Female Gamers Per Country!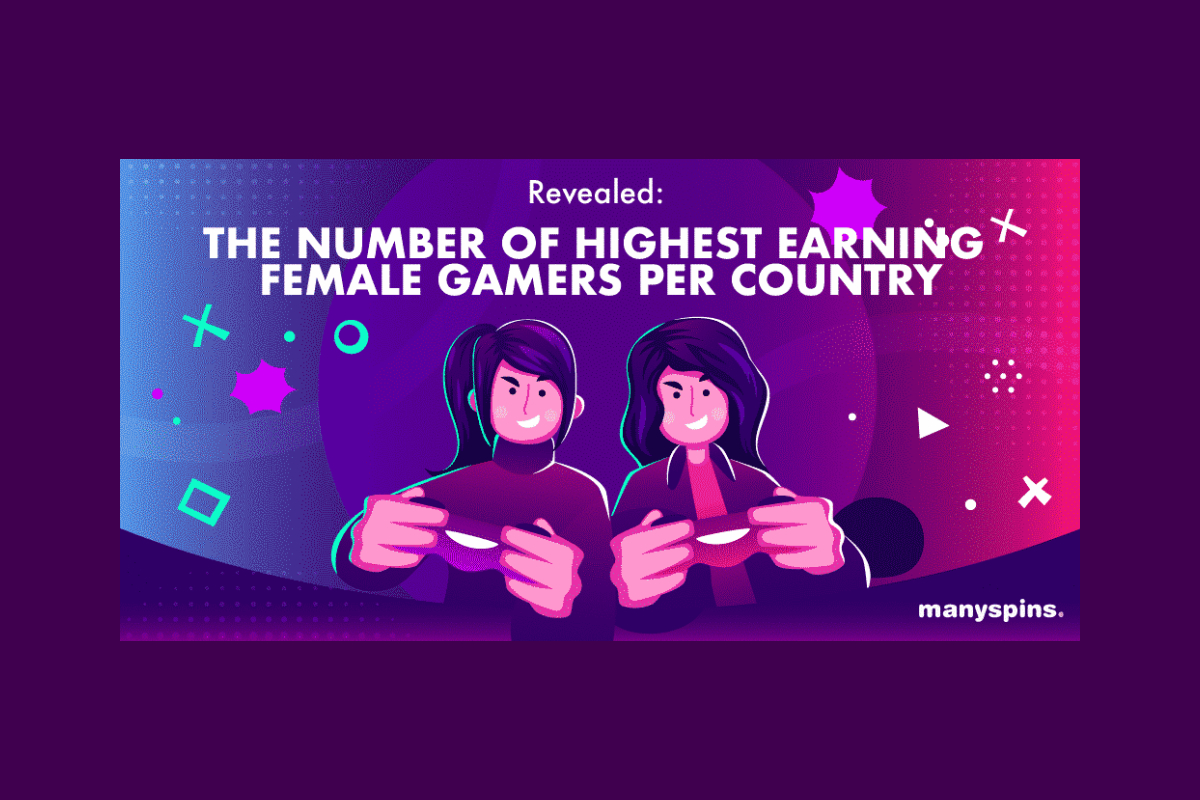 Reading Time:
2
minutes
In the wake of E3, many gamers have been left clamouring for more updates regarding their favourite games. Not every game was given the spotlight however, as many high profile fanbases (such as Animal Crossing) were left without mention.
One of the biggest turning points at this conference, however, was how diversity in gaming has been promoted to the main stage. Spurred on by talk of diversity in gaming, ManySpins decided to investigate the 500 highest earning female gamers in the world and determine which country has produced the highest number of top earning female players!
The full results, including the most popular games, can be found on the ManySpins blog post: https://manyspins.com/blog/discover-the-most-high-earning-female-gamers/
The Results:
ManySpins can reveal that, in first place, is the United States. Almost 2/5s of the highest earning female gamers originate from the US, at 161 gamers! Top earning players include Mystik, Emy, and Hafu, and all top U.S. players have earned a combined sum of over £1.3million.
In second place is Russia, with 38 top earning female gamers. Top gamers from Russia include CS:GO champs vilga and Ant1ka. Russian players have earned over a quarter million, with total earnings calculated at £240,061.63.
Ranking third is China, with 37 top earning female gamers. Top gamers from China include Liooon and Eloise, both Hearthstone players, and the combined wealth of all Chinese players is £349,483.77.
In fourth is Canada, home to 35 of the top earning players! The highest earning female player of all time, StarCraft II pioneer Scarlett, hails from Canada and has won more than $300,000 from the game alone! Despite ranking fourth, gamers from Canada have earned the second highest of all with a combined wealth of £610,206.
Brazil = 32 female gamers
France = 30 female gamers
Sweden = 19 female gamers
Republic of Korea = 17 female gamers
In ninth place is Germany, with 13 of the highest earning female gamers originating from the European country. Despite ranking above the UK, German female gamers have not earned as much with a combined sum of only £29,775.93.
Finally, ManySpins can reveal that in 10th place is the United Kingdom, with 12 of the 500 highest earning females living in the UK. Players from the UK have earned a combined sum of £73,849.84.
When conducting this study, Kevin Roos, spokesperson for ManySpins, had this to say;
It's vital now that we're in 2021 to breakdown the stereotype that gaming is a 'boys club'; as Laila Shabir stated in the Take-Two panel at this years E3, 'nine out of 10 kids play video games, not nine out of 10 boys, nine out of 10 kids'. This makes it incredibly important to highlight the power of female gamers and showcase that their skills and prowess is recognised around the globe.
Gaming Ban: Signs and Tips to Combat Teen Gaming Addictions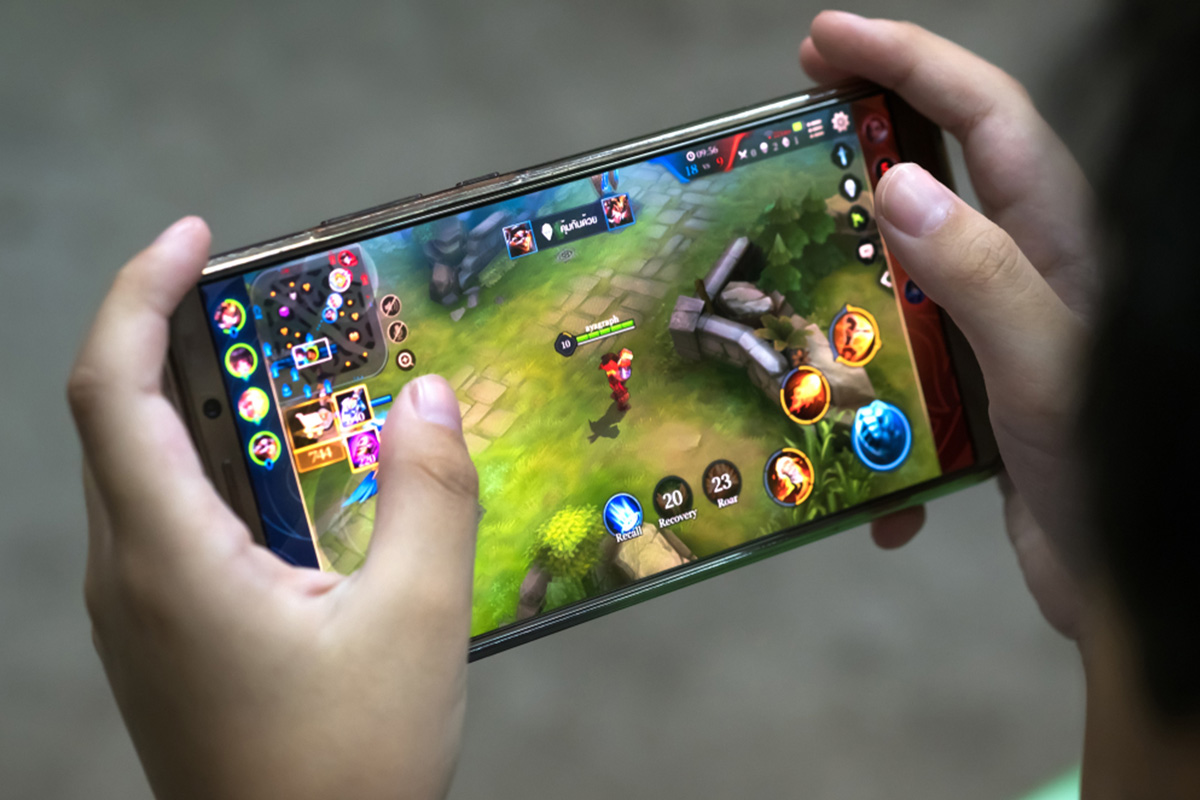 Reading Time:
2
minutes
With the Chinese government banning under-18s from playing online games for more than an hour a day, RantCasino.com were eager to establish the primary signs that your teen is addicted to gaming.
Alongside this, in-house expert Laura O'Brien outlines top tips for weaning your teen off gaming.
Signs your teen is addicted to gaming:
Increased agitation and aggression
One of the earliest signs of a gaming addiction in teenagers and young adults is increased agitation and aggression. As with most addictions, people are prone to intensified mood swings when experiencing withdrawals, making times such as the morning and coming in from school or work periods of heightened emotion. Such agitation can be amplified by the type of games your teen is playing; consistent exposure to violent games, can subconsciously promote such behaviour. Increased agitation can affect relationships both inside and outside the home environment.
Lack of concentration
Struggling to concentrate or seeming consistently detached and preoccupied is another sign that your teen is addicted to gaming. As a result of the intense visual and auditory stimuli of video games, the real world and everyday interactions become dull and un-fulfilling in comparison. Such a detachment and lack of interest can quickly begin to affect performance in school and extra-curricular activities.
Changes to schedule
Increased screen time is continuously linked to lack of sleep which in turns disrupts a teen's routine. Such disruption to a teen's schedule will amplify the other symptoms of mood swings and a lack of concentration. Alongside this with any addiction, you can become preoccupied with an activity to the point of neglecting essential daily tasks. Over time, a teenager will put less time into his or her appearance, cleanliness and overall health.
Tips to combat a gaming addiction:
Positive reinforcement
Positive reinforcement is the key when trying to alter someone's behaviour for the better. Offering consistent praise for doing exercise, working hard at school and on homework, as well as helping around the house will provide gratification and motivation to keep up productive and social activities. Negative reinforcement in this instance could cause resentment and increase urges to play video games.
Alternative activities
Prompting your teen to be social and try new activities will keep them busy and over time, make them more inclined to crave social interaction as opposed to digital stimulus, promoting a healthier relationship with gaming. Even small steps within the home like having dinner together or going on a walk will offer positive distraction and interaction.
No Gaming in bedroom
No gaming in the bedroom is vital when trying to combat a gaming addiction. Having 24-hour access will inevitably lead to late night gaming and disruption of schedule. Ensuring games are played in communal areas will reduce temptation and allow you to better monitor your teens gaming habits.