As the World's First Metaverse Employer, Decentral Games Is Defining the Future of Work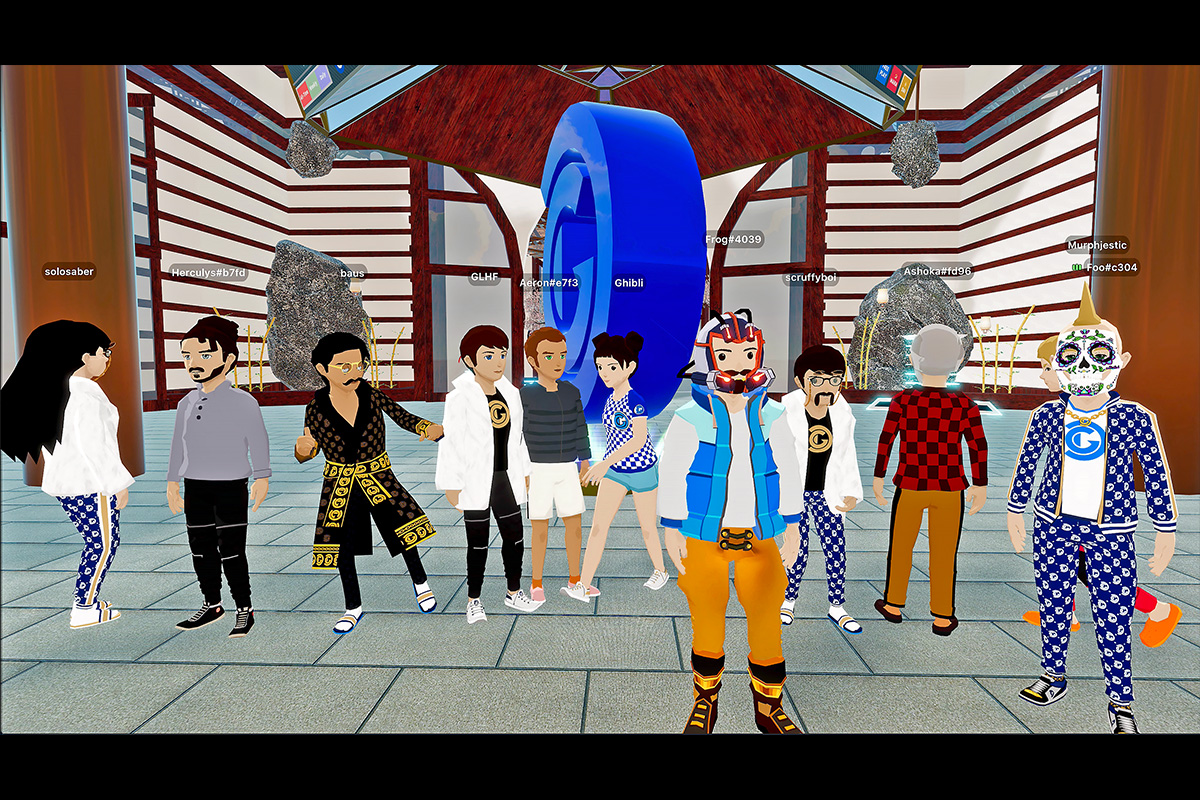 Reading Time:
5
minutes
Few periods in history have altered the general public's perception with regard to the future of work more profoundly than the last eighteen months.
After spending considerable time in isolation, perhaps it's no wonder workers across the world have emerged from the pandemic having re-evaluated their professional passions, workplace preferences, and outlook for the future of their careers. Coincidentally, this once in a lifetime macroeconomic event has coincided with a key inflection point in the worlds of cryptocurrency and blockchain. For the first time in history, workers have been afforded the unique opportunity to pursue gainful employment in the most futuristic workplace known to humankind – the metaverse.
Decentral Games proudly bears the honor of becoming the world's first metaverse employer. It's an important and necessary responsibility we believe will bring a new wave of adoption and sense of community not only to our platform, but to the industry at large. As we've continued to scale headcount over the last year, our thesis for investing in new talent and helping to define the future of work has only grown stronger.
Despite having established careers prior to joining Decentral Games, new employees who join our ranks express feeling a call to become part of something bigger. "The job I had at the time was ten years in the making, an amazing place to work, and I wanted to leave it with every part of me…" Murphjestic, Decentral Games' Community Manager recalls of leaving his Big 4 Accounting role. "I loved that job, so it wasn't a matter of being unhappy with my employer. I had fallen in love with crypto, the metaverse, the potential and the amazing communities that were being forged."
It's a story we never get tired of hearing. Despite varying backgrounds, we've found motivated, adventure-seeking individuals at every turn who have felt driven to bring their collective decades of experience to Decentral Games without looking back. DG's Events Manager, Adam for example, brings 20 years of entertainment industry experience to the table, and after traveling the world playing clubs as a DJ he found himself ready to apply these skills in a totally new capacity. "I started DJing in Florida, then playing clubs on the east coast of America and most recently playing venues all over South East Asia and landing in Italy." he says. "I joined the Decentral Games team to provide versatile mixes, on board a dozen DJs, and grow high profile entertainment events."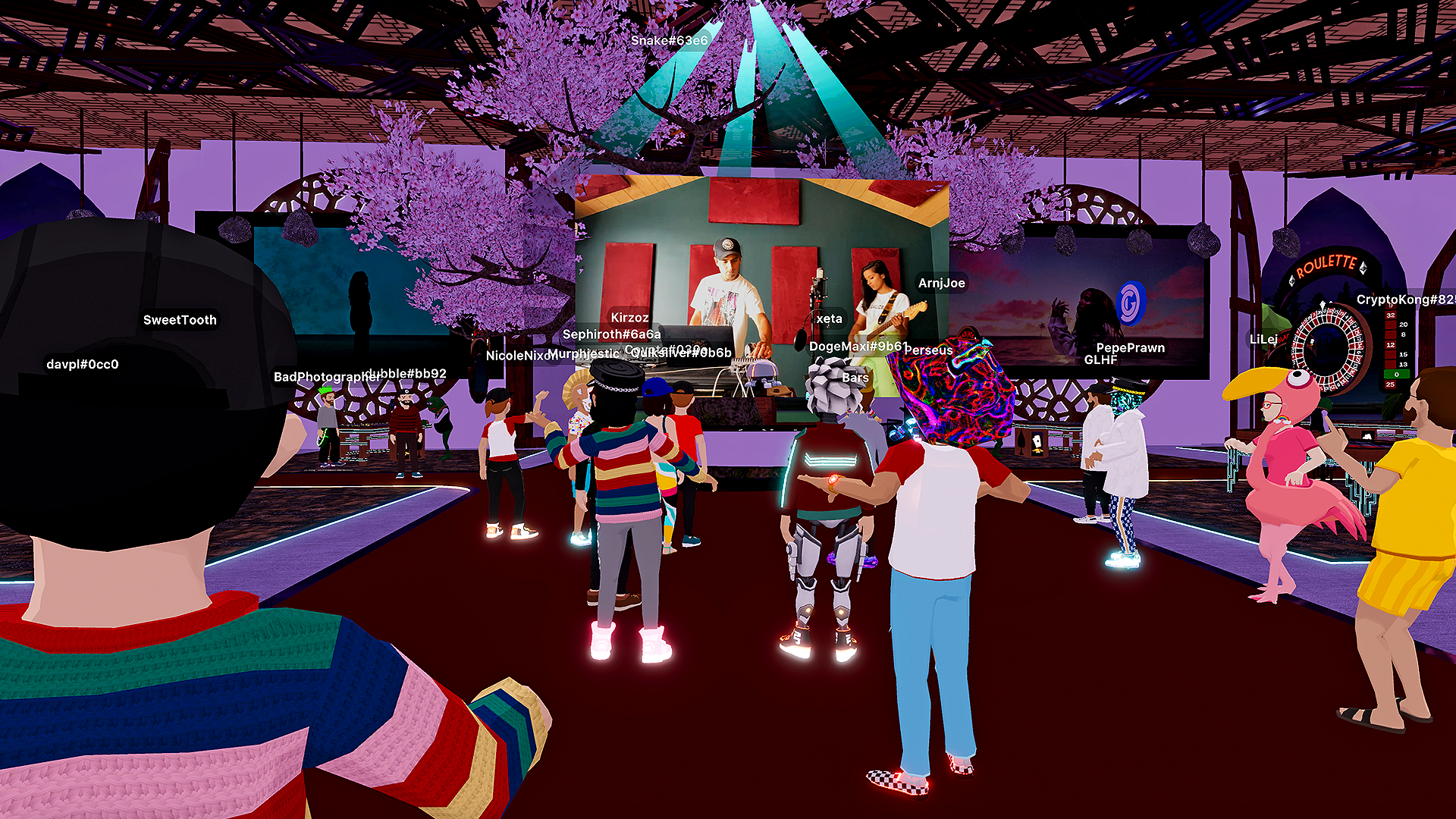 "I won't lie, it was scary enough to give up a stable IRL job for a job I didn't know if it would be for the future.." Casino Host Aeron says. "Now after more than five months I can say that this job is all I wanted and even more!"
It's often the case that technological innovations come with a counterintuitive tradeoff, that despite being more connected than ever, the human element of community and working towards a common purpose is lost. As a team, we quickly realized that gaming and socializing in the metaverse was going to be an unfamiliar feeling for most – at least at first – so connecting with new users from the start and making them feel welcome was proving to be an especially important task. "The original idea was to have someone charismatic greet new users and play games with them so they aren't alone." GLHF (Kris), DG's Casino Manager remembers. "That quickly blossomed into an elite, full-blown support system of 20+ Casino Host team members, most of which are working 8+ hour daily shifts, and can now answer almost any question and resolve issues for users, on the spot."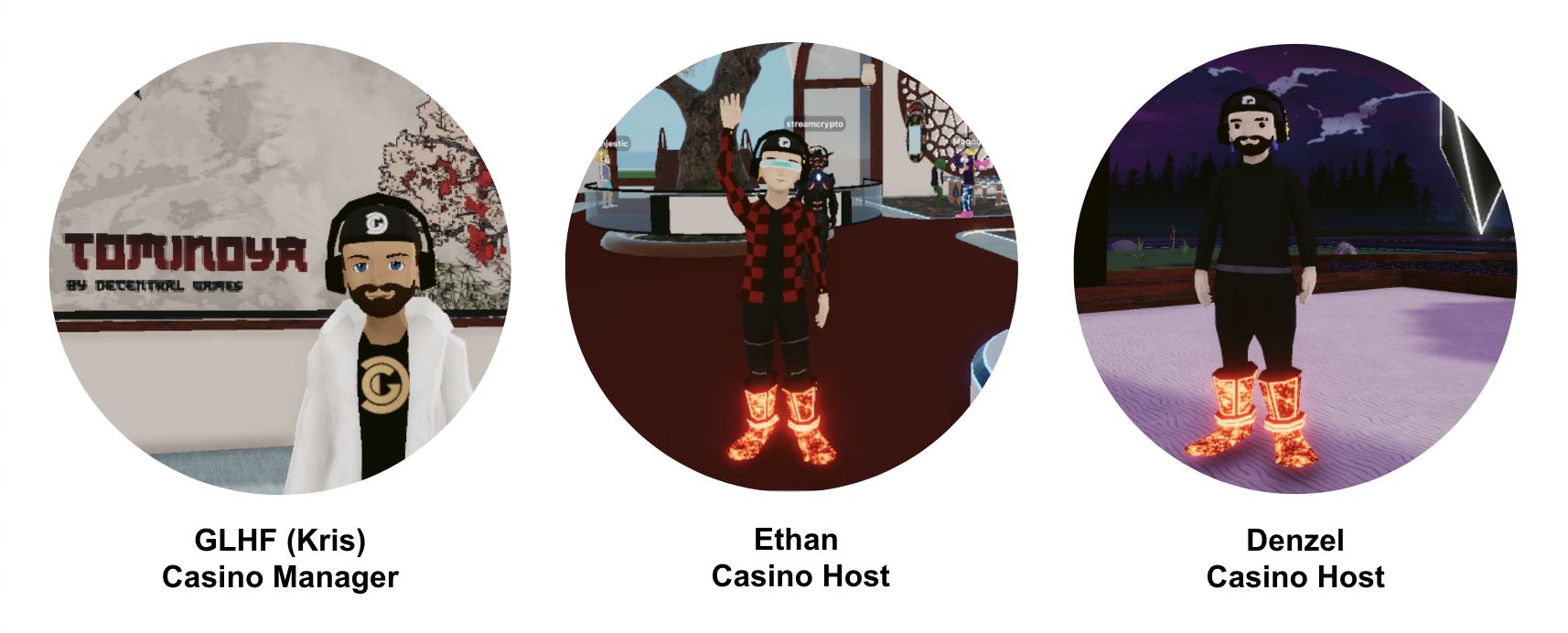 Most employees see immediate gratification and fulfillment in the work they're performing due to their rapport-building with our customers, many of whom are awestruck navigating the metaverse for the very first time. "It reminds me how important it is to onboard complete strangers…" Casino Host, 100Rainbows said. "While a waiter will meet/greet patrons and aid them with the menu, a Decentral Games Host can help newcomers to walk/talk and teleport within the metaverse."
These initial interactions additionally present an opportunity to introduce players to Decentral Games' play-to-earn model, a unique system that allows both players and employees to acquire shared ownership in the platform the more they interact with it. Players place wagers and earn rewards via our proprietary $DG token, an asset simultaneously represents both a unit of account and fractional ownership. Through the $DG DAO, $DG token holders own the casino, control the profits, vote on new games and decide on feature proposals. The system allows customers to "be the house" and financially aligns the interests of our employees with our players, fostering a stronger sense of community not seen in the traditional gaming sector.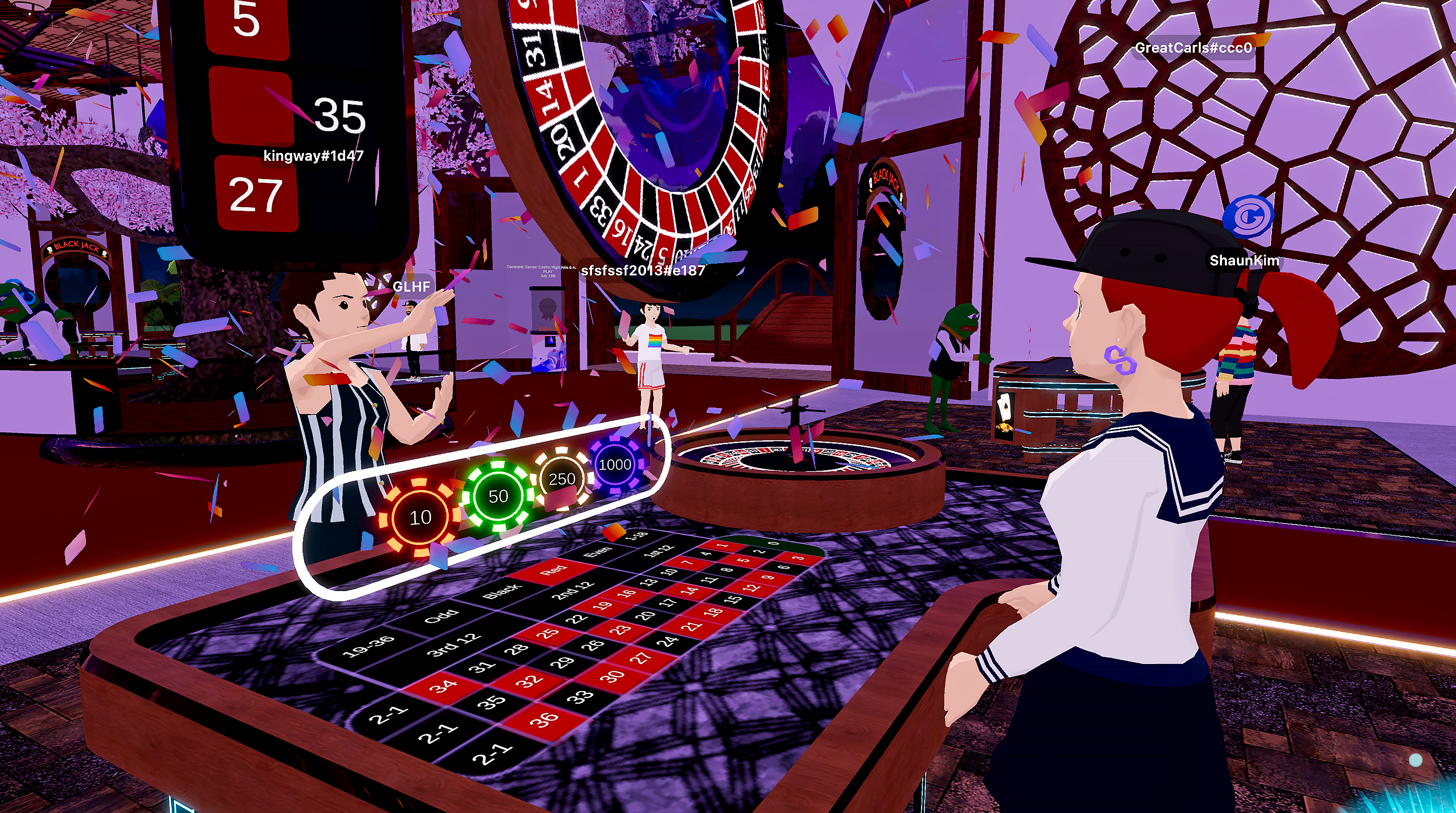 Aside from the nature of their work, DG metaverse employees see the upside of completely remote work, a team-oriented environment, flexible hours, and opportunities to develop cutting-edge skills. "I can pick the hours that won't affect my school work and also allow me to not miss any time with friends and family and that is something I'm extremely grateful for," Ethan, a Casino Host says of his schedule. "In fact, I can work more than double the hours at DG than I'd be able to work elsewhere all from the comfort of my home."
Above all, what keeps our talent executing day in and day out on Decentral Games' bold vision for the future is the belief in limitless opportunity and potential. The world of cryptocurrency today is filled with genuine excitement, a feeling that is deeply reminiscent of the internet boom that captivated the world's imagination in the early 2000's. Similarly, before they made the leap to get involved, many of our employees were just crypto-enthusiasts looking to get a foot in the door of this game-changing industry. As the industry has evolved to support the immersive infrastructure of the metaverse, the new ecosystem has rapidly matured to the point of being considered the future frontier of work. Even amid the uncertainty of price fluctuations in crypto markets and short-term market uncertainty, the team is filled with conviction that cryptocurrency has the potential to ring in a brighter future for all who wish to participate in it. "The strange part is describing my work to people, it's always a 'Shut up, no way!' moment if they are young or simply a confused look for people my parents age, Denzel, a Casino Host, says. "Nonetheless it turns heads and opens people's eyes to the possibilities being created by blockchain technology."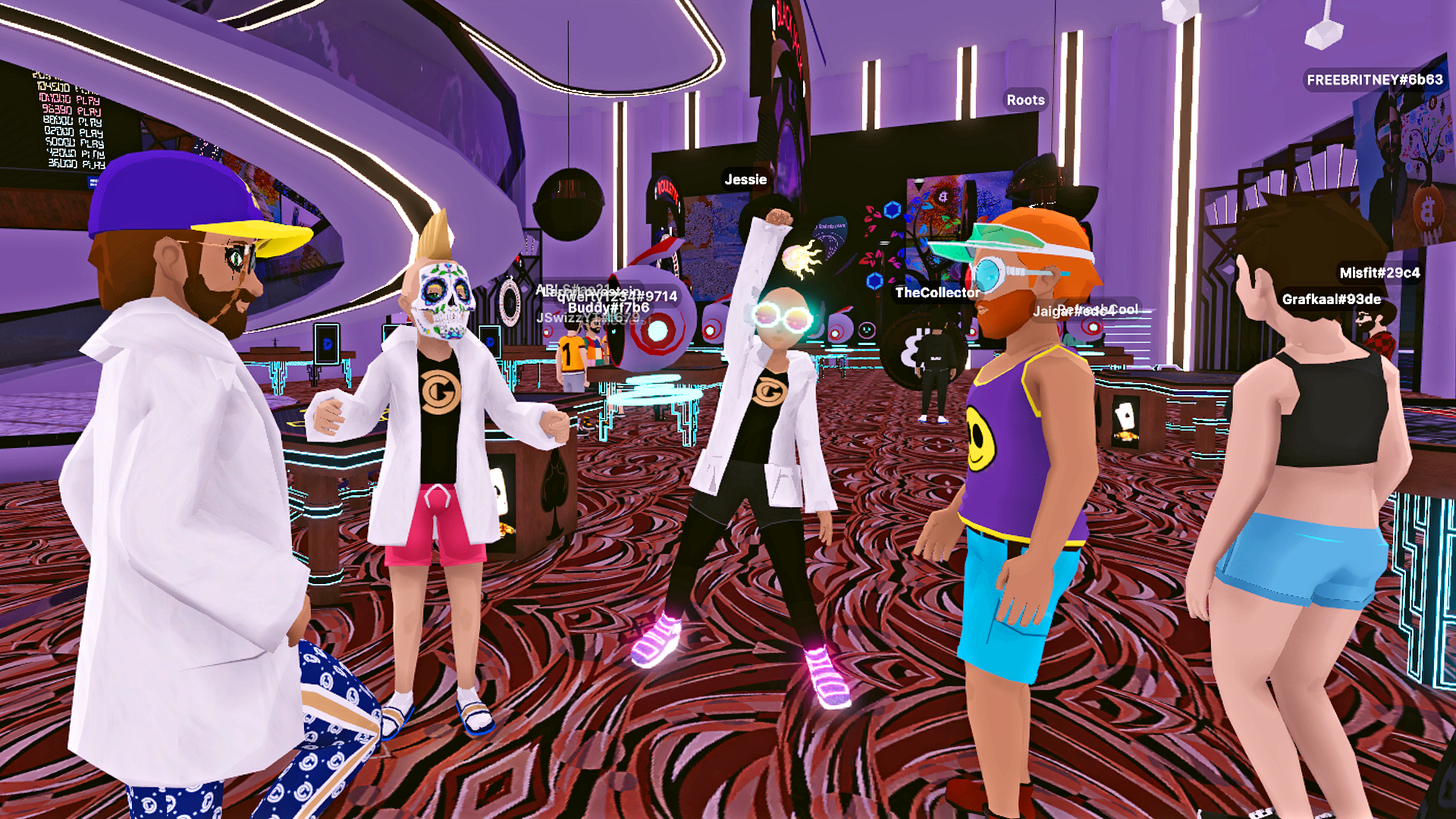 Chiquito 2: Condemor al rescate, the long-awaited sequel from MGA Games, is here!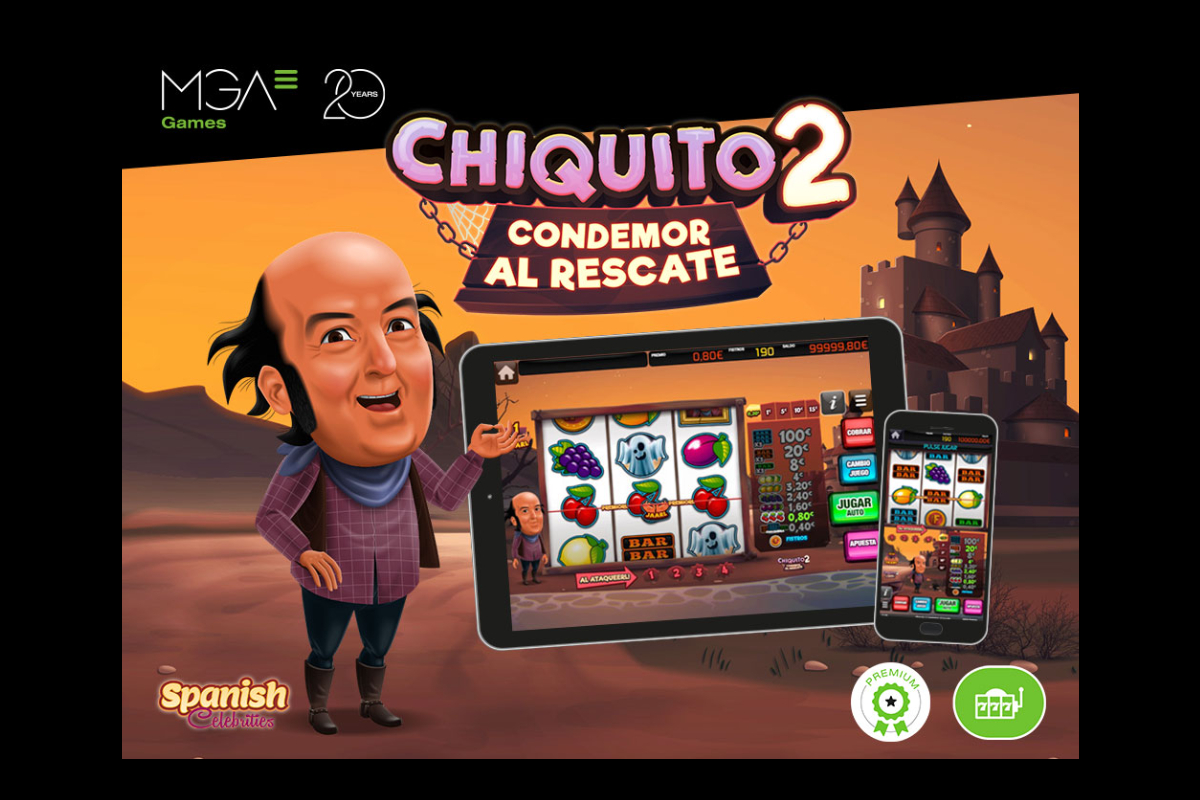 Reading Time:
2
minutes
With this new release, MGA Games hits a record 100 productions, all now available in its games catalogue.
Without a doubt, the Chiquito slot game, created by leading online gambling content developers, MGA Games, continues to be one of the most successful productions for casino operators. Since its launch in 2018, the Chiquito phenomenon continues to be the number one game played in Spanish online casinos. And now, the game has a sequel, with the premiere of the long-awaited Chiquito 2: Condemor al rescate in the Spanish Celebrities Slot game series.
With this new release, MGA Games offers a new winning product and hits a record 100 productions – available now in its games catalogue.
According to MGA Games, the second Chiquito game will be sure to excite players and is as great if not more brilliant than the first game, Chiquito de la Calzada. The slot game is imbued with the authentic and genuine humor of the famous Malaga comedian and includes some of his well known expressions: ¡Por la gloria de tu madre! ¡Cuánto dinerito! Fistro pecador… It also features magnificent audio and elaborate music including phrases sung by Chiquito, which are catchy and fun.
Chiquito returns to the atarqueeeeeer… this time as a new character based on a comical story he used to tell of an aristocrat who embarked on a journey to save the princess from the mysterious castle. As always, the game's design stands out for its excellent animation, quality of graphics, and download speed.
In Chiquito 2: Condemor al rescate, MGA Games continues to innovate and improve the user experience with better and more mini-games. The slot game includes a total of 6 hilarious mini-games that are randomly accessed when players hit certain pay lines. There's one in the main game and five in the upper game – all of which complete this fun adventure.
The slot game is fully themed. It includes Sieteerl symbols, Jaarl prizes (that increase the vertical line counter in the upper game), and the Chiquito wild symbol (used to combine with other symbols on the reels).  In addition, users can earn Fistros (bonuses) that allow them to switch to the higher game and win more prizes.
A great new example of MGA Games' specialty: creating a winning product that combines humor and fun with maximum profitability. Chiquito 2: Condemor al rescate is available from September 27th in all main online casinos in the Spanish market.
Fnatic Enters into Partnership with ASOS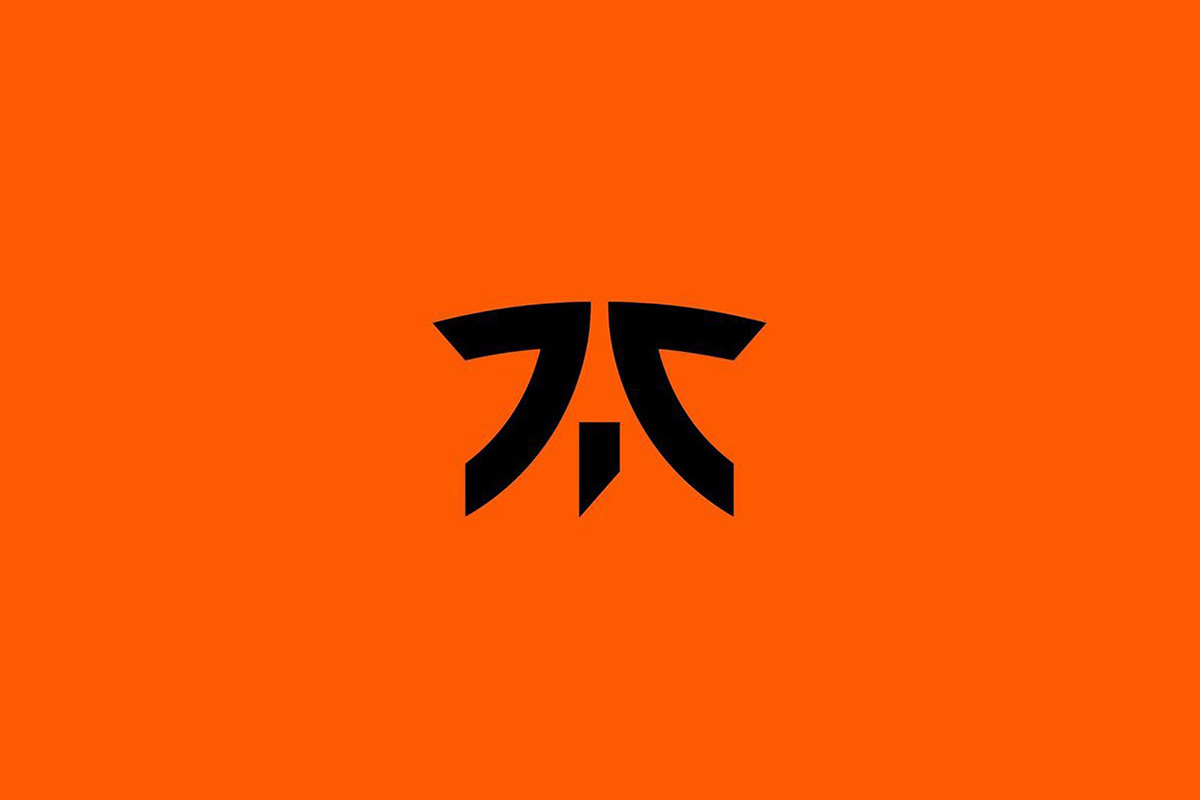 Reading Time:
< 1
minute
UK-based esports organisation Fnatic has announced a three-year partnership with online fashion retailer ASOS.
The agreement marks the first time ASOS has partnered with an esports brand. As part of the deal, ASOS's logo will appear on the front of all physical Fnatic team jerseys.
Fnatic and ASOS will collaborate on a variety of different activations, including multiple content series with Fnatic pro talent and creators, such as Tekkz, Mushway, Loeya and Moonryde, alongside VR experiences and AR filters. The partnership will also see the brands work together on a bespoke third alternative kit and see Fnatic pro players and creators feature in upcoming ASOS campaigns. In addition, the two brands have committed to working together on digital kits in the future and to producing branded in-game experiences and digital products.
"There are no other subcultures in the world that have influenced us more than gaming and fashion. Self-expression, both online and offline, has become a major point of convergence between both audiences. Through this partnership with ASOS, we will empower all gamers to find their unique voice and style, inside and outside of the game. We couldn't be more excited to be driving this change forward together with ASOS," Sam Mathews, CEO of Fnatic, said.
"Gaming and fashion are both passions for young adults and as esports continue to boom, we're incredibly excited about this partnership. GenZ-ers increasingly express their style in both the physical and digital worlds and this is something we're excited to fuel. We're also looking forward to seeing some of the world's greatest esports athletes wear our name on their Fnatic jerseys at the Worlds in Iceland," Robert Birge, Chief Growth Officer of ASOS, said.
Talent roster for WePlay Academy League Season 2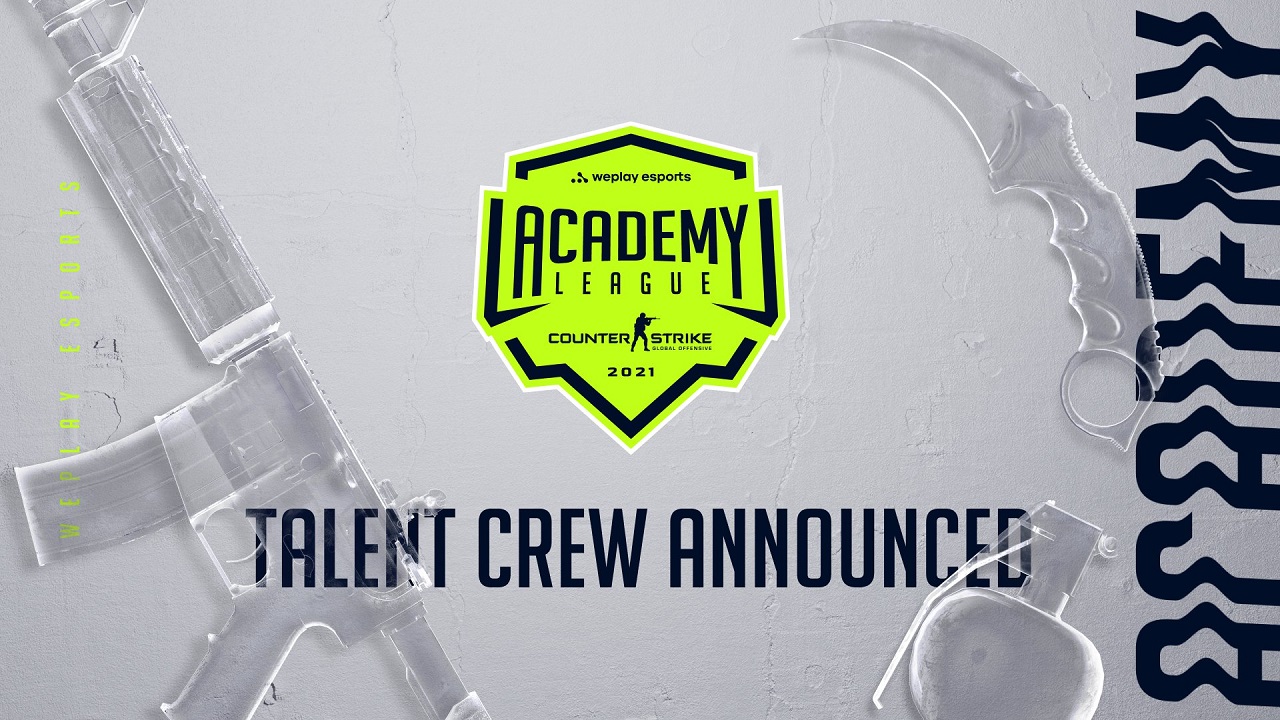 Reading Time:
< 1
minute
The hosts, analysts, and casters of the English-language and Russian-language broadcasts are revealed.
The second season of the WePlay Academy League, a CS:GO tournament for up-and-coming esports players, will kick off already on September 28, 2021. The matches will be commentated on by professional talent teams in both English and Russian.
English-speaking talent crew:
Hosts:
James Banks
Anastasija "Heccu" Tolmacheva
Casters and analysts:
Alex "Mauisnake" Ellenberg
Jacob "Pimp" Winneche
Conner "Scrawny" Girvan
Mohan "launders" Govindasamy
The English-language broadcast will be available on Twitch and our Smart TV app.
Russian-speaking talents:
Host:
Casters and analysts:
Dmitry "hooch" Bogdanov
Oleksandr "Shockwave" Netreba
Mykhailo "kane" Blagin
Oleksii "yXo" Maletskyi
Aleksandr "Enkanis" Polishchuk
Yuriy "strike" Tereshchenko
The official broadcast in Russian will be available on Twitch.
The WePlay Academy League is a tournament for young esports players aged between 16 and 20, launched in partnership with leading CS:GO organizations. This is the second season of the project, which is going to run till November 14, 2021.