SOFTSWISS wins Best Customer Service Company of the Year at IGA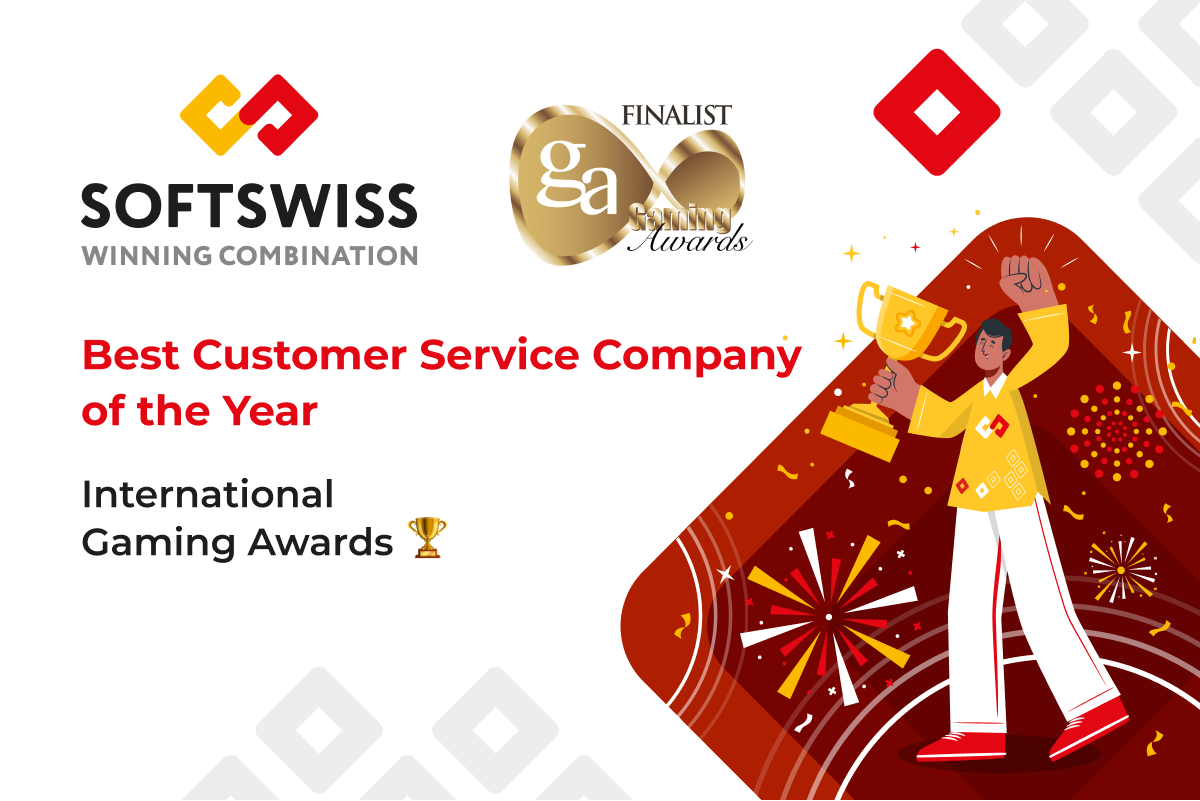 Reading Time:
2
minutes
One of the most important events in the gambling and betting world, the International Gaming Awards (IGA), was held in London last week where the best players of the iGaming industry received recognition. We are pleased to announce that SOFTSWISS was awarded Best Customer Service Company of the Year.
The list of nominees for the award, which has been presented since 2008, includes many of the leading companies in the iGaming industry. However, SOFTSWISS' impeccable service, innovative solutions and expertise based on years of experience have once again received international praise. The company was also shortlisted in three other categories: 
Gaming Software Supplier

Sports Betting Platform of the Year

Technology Provider/Supplier
This is not the first time SOFTSWISS' quality of service has been praised in the iGaming world. In May 2021 SOFTSWISS Managed Services were also shortlisted for the prestigious EGR award. 
Ivan Montik, founder of SOFTSWISS, comments: "We are very proud and grateful to the IGA for the opportunity to call ourselves the company with the best customer service. Behind each award like this are years of experience and the efforts of hundreds of people who ensure the growth and development of our large team day after day. Thanks to this, the number of loyal clients satisfied with the service and interaction with our products is also growing. SOFTSWISS priorities have been and remain the innovative solutions we use and our exceptional expertise in all things iGaming. Our customers and partners can always rely on SOFTSWISS' professional service, which is now recognized as the best in the world. We will continue to grow and strengthen our status as one of the best companies in the gambling and betting world."
About SOFTSWISS 
SOFTSWISS is an international tech brand supplying widely acclaimed, certified software solutions for managing iGaming operations. SOFTSWISS holds a number of gaming licenses, providing a "one-stop-shop" white label solution by taking care of all technical, legal, and financial processes on behalf of its customers. The company has a vast product portfolio, which includes an Online Casino Platform, Game Aggregator with thousands of casino games, the Affilka affiliate platform, and a sportsbook software platform. In 2013 SOFTSWISS was the first in the world to introduce a bitcoin-optimized online casino solution. The company has thus been regarded as the leading technical expert when it comes to the use of cryptocurrencies in online gaming.

NODWIN GAMING PARTNERS WITH SAMAY RAINA AND CHESSBASE INDIA TO LAUNCH AN EXCITING ONLINE CHESS LEAGUE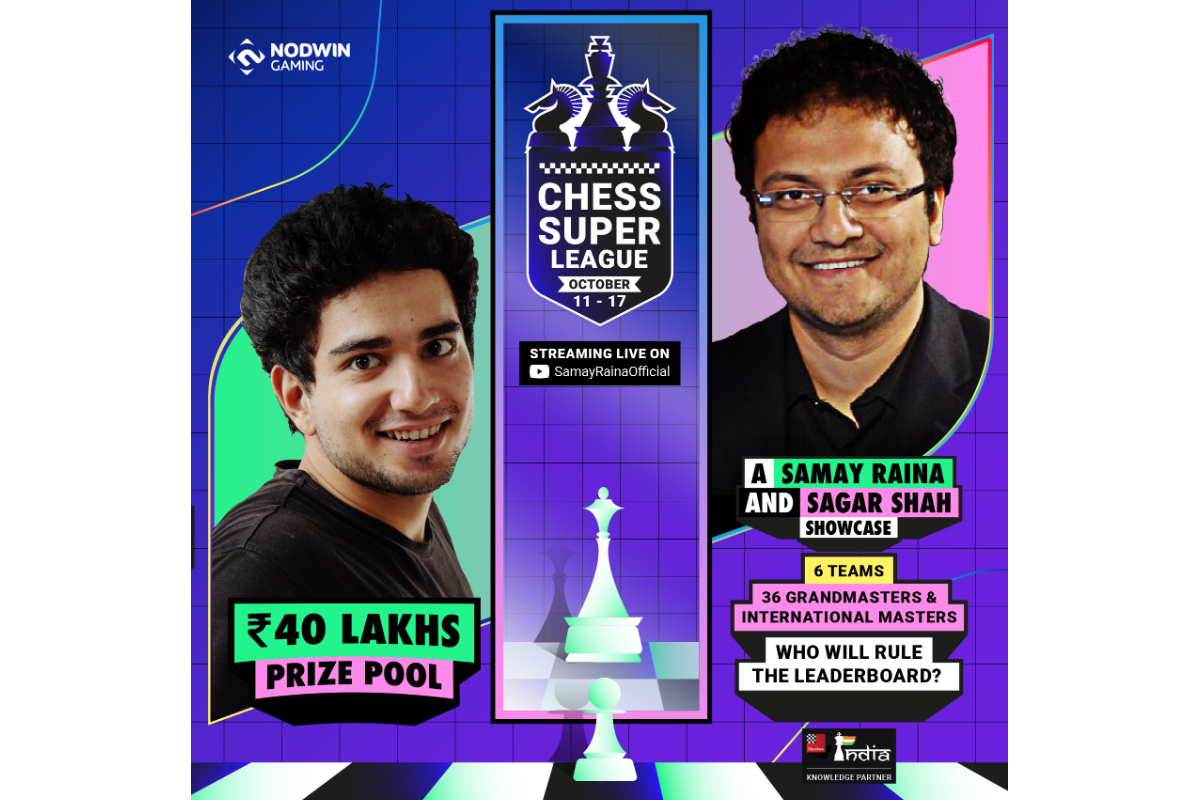 Reading Time:
2
minutes
NODWIN Gaming, South Asia's leading esports company,  Samay Raina, one of the world's top chess streamers and ChessBase India, India's largest chess media company are partnering to launch a new and exciting online chess league called the Chess Super League (CSL).
The first season of the Chess Super League will run between 8-11 pm from 11th to 17th October 2021 featuring 6 top Grandmasters across the globe among Men and Women – 6 top men and women players from India and 6 top Indian junior boys and girls. The 6 teams of 6 players each will give viewers the rare opportunity to see players come together to battle for a prize pool of a whopping INR 40 Lakhs.
The teams will be spearheaded by franchise owners who will support and represent their squad through the Chess Super League. The franchise owners of the debut edition include the likes of Tanmay Bhat, Raftaar (Kalamkaar), Zakir Khan, MortaL (S8ul), Biswa Kalyan Rath and Shreyas Srinivasan (CEO, PayTM Insider). These franchise owners will act as ambassadors and will be the torch bearers for their teams for the entirety of the league.
This league will see Grandmasters like Ding Liren, Hikaru Nakamura, Anish Giri, Teimour Radjabov, Hou Yifan (the strongest female player in the world), Muzychuk sisters, Nana Dzagnidze, Alexandra Kosteniuk, Vidit Gujrathi, Sasikiran Krishnan, Koneru Humpy, Dronavalli Harika, Tania Sachdev and young grandmasters like Gukesh, Raunak Sadhwani, Savitha Shri and others.
The league will be broadcast on Samay's YouTube channel, and will feature Sagar Shah (CEO, ChessBase India) and Samay as the hosts and commentators. Sagar and Samay began streaming chess together in early 2020. Their extremely entertaining yet highly informative streams have garnered over 650 million views till date as the unique chemistry they share creates chess content that can be understood and enjoyed by amateurs and professionals alike.
"I have enjoyed streaming chess with Sagar and have been incredibly lucky to have some of the best players in the world play chess on my channel and the best fans in the world watching us have fun week after week. The logical next step is to launch a league that will feature some of the best talent from India and around the world and I can't be happier than to be able to do it now. Fans will love the competitive intensity of what we have planned and as always will enjoy the thrill of watching high quality chess with us," said Samay Raina.
"Indian chess is on the rise and experts all across the world have dubbed India as the next powerhouse in the world of chess. We have many strong players, we have many young talents. This online league will give more exposure and opportunity to Indian players, especially the youngsters. Right since its inception, ChessBase India has tried its best to power chess in India and this online league is a step in the right direction." said Sagar Shah, Founder, Chessbase India.
"Chess Super League is the first property that we are announcing after the acquisition of the gaming business of OML and is a testimony to the fact that gaming, eSports and comedy have significant synergies and shall come together in a big way. It is a sampling of many such collaborations between the different forms of gaming entertainment that the world will see." said Akshat Rathee, Managing Director, NODWIN Gaming.
2D Top-Down Massively Multiplayer RPG Wyvern Wins Fan Favorite Vote 27 at GDWC 2021!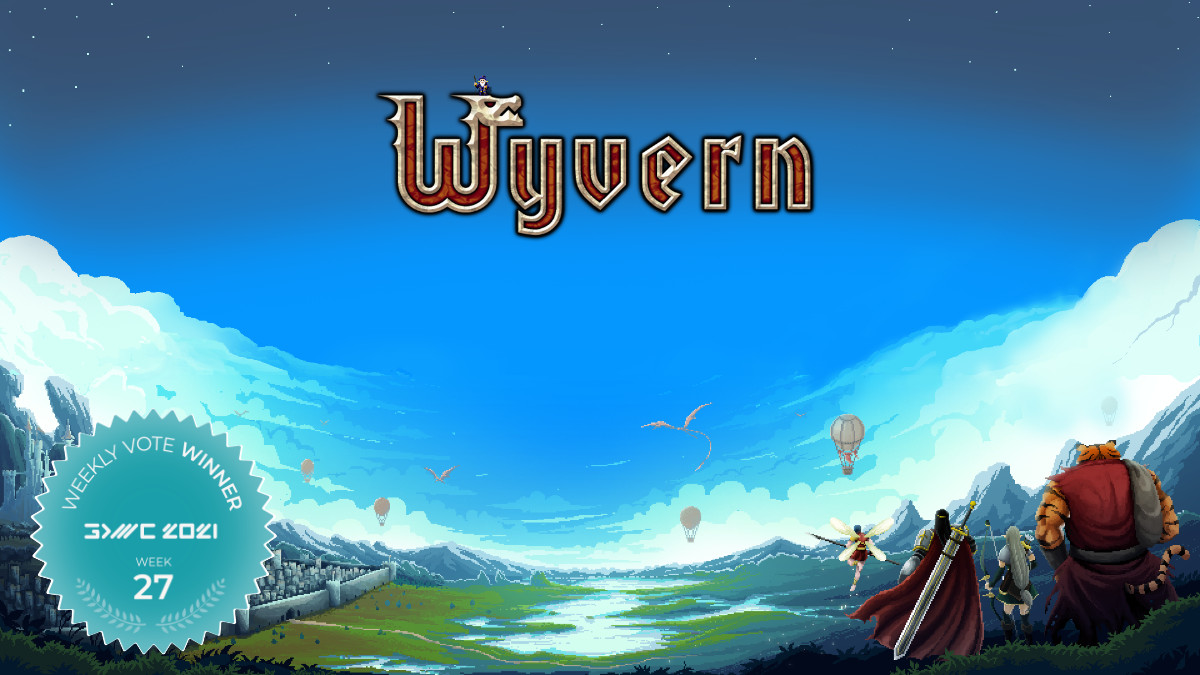 Reading Time:
< 1
minute
Wyvern by USA-based one-person indie game development team Ghost Track Inc has won the 27th Fan Favorite voting round at the Game Development World Championship 2021. Wyvern is available in Early Access in Steam or via the developer website.
"Wyvern is a real-time, top-down 2D, graphical, massively multiplayer RPG. The game has thousands of maps and playable areas, hundreds of skills, spells and monsters, and all the features you would expect from a big fun RPG: Guilds, crafting, level editing, community features and more!"
2nd Place: Hexia by Black Mastiff Studio from Italy. "Hexia is a management game, where your task, as the King of the Realm you have been assigned, is to create and expand the territory, build new infrastructures and command and lead your people."
3rd Place: ENDO by Dez Boyle from USA. "ENDO is a whimsical adventure with a focus on physical interaction. Embark on a surreal adventure set in an abstract psychedelic landscape, accompanied by original art, music and sound."
GDWC team sends congratulations to the winner and thanks to all Nominees.
Every week throughout the championship season GDWC will feature nine new games in an open vote with the winner moving on to finals in the Fan Favorite category. This week's vote is already open. Check out the nominees below.
GDWC 2021 Fan Favorite Vote 28 Nominees are:
– EDDA Cafe by Mushroomallow Studio (Indonesia)
– I See Red by Whiteboard Games (Argentina)
– IRON WORLD by Iron games (Russia)
– Lucy Dreaming by Tall Story Games (United Kingdom)
– Mirlo: Above the Sun by DigiPen Bilbao – Kaiju in the Bayou (Spain)
– Northern Journey by Slid Studio (Norway)
– Power Of Slide by ABG (Russia)
– The Mole Men by Molton Studio (Switzerland)
– Woodland Empire by Obvlong (USA)
Gamecity Hamburg boosts its team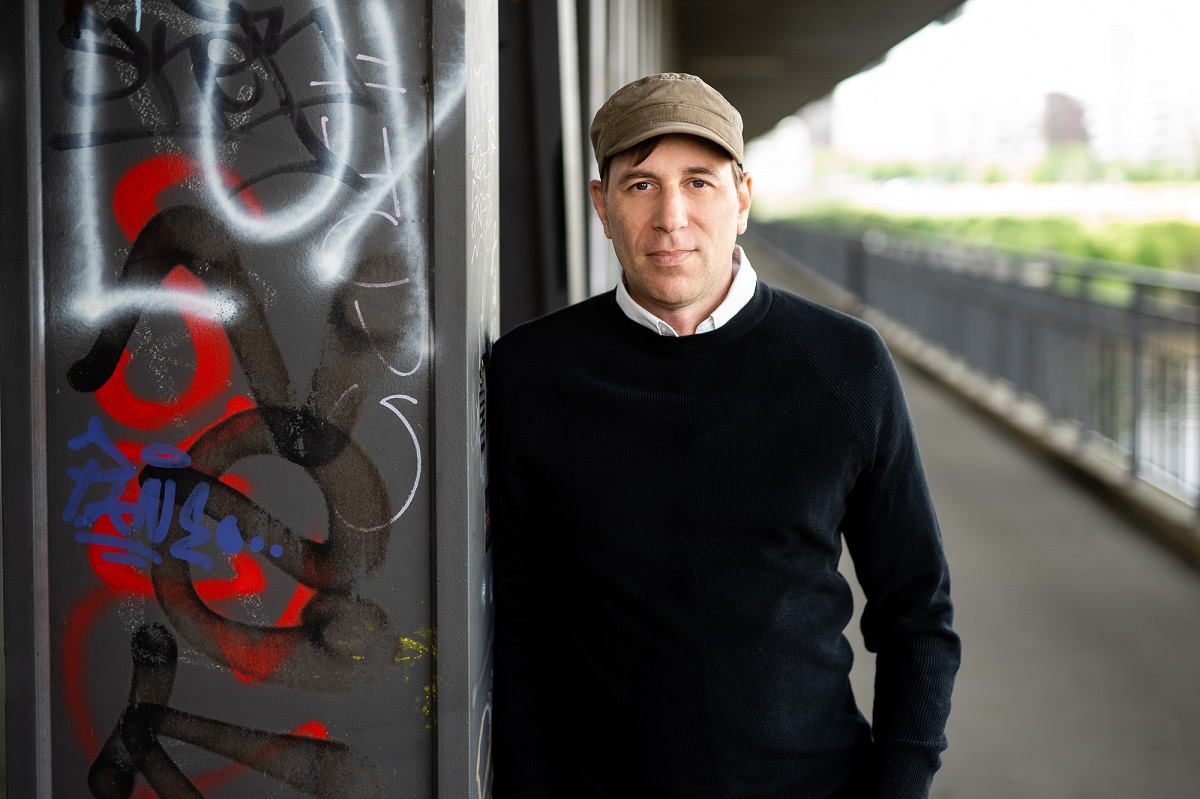 Reading Time:
2
minutes
The location initiative Gamecity Hamburg expands its team with project manager Daniel Hericks. In addition to the Prototype Funding and the Games Lift Incubator, Gamecity Hamburg organizes a variety of activities to promote the games industry as well as events and networking activities. Daniel Hericks will support the Games Lift Incubator and its further development with immediate effect. The incubator offers aspiring game developers, start-ups, and studios an extensive workshop and mentoring program, and financial support of 15,000 euros per team.
Daniel Hericks joins the Gamecity Hamburg team as a project manager with many years of experience in the games industry. As Publishing Manager at the Hamburg publisher and indie studio CRATR.games, he organized the scouting and evaluation of studios. Hericks also dealt with risk management and sustainability issues for indie teams. At the Hamburg-based studio Deep Silver FISHLABS, he supported the development of a publishing department and managed the collaboration with external teams. In other job positions, Daniel Hericks was responsible for building up teams of developers and project planning for various games projects and was actively involved in the Hamburg University of Applied Sciences (HAW) as a lecturer for the Games Master's program.
In his role at the Games Lift Incubator, he will primarily be managing and supporting up-and-coming teams and young indie studios, as well as using his experience in producing and publishing to implement and further develop the program in its current edition:
"I am very excited to guide and support the teams from the Games Lift Incubator on their way into the games industry. With our incubator program and other activities of Gamecity Hamburg, we will actively contribute to bringing more good games projects from Hamburg to the market in the coming years."
The Games Lift Incubator 2021 started for the five participating teams in September with a three-month intensive phase. In addition to start-up funding of 15,000 euros, the teams will receive coaching, mentoring, and workshop programs, as well as places in a co-working space.