Deadly shooter to really make you smile. Deathsmile I- II boxed pre-order!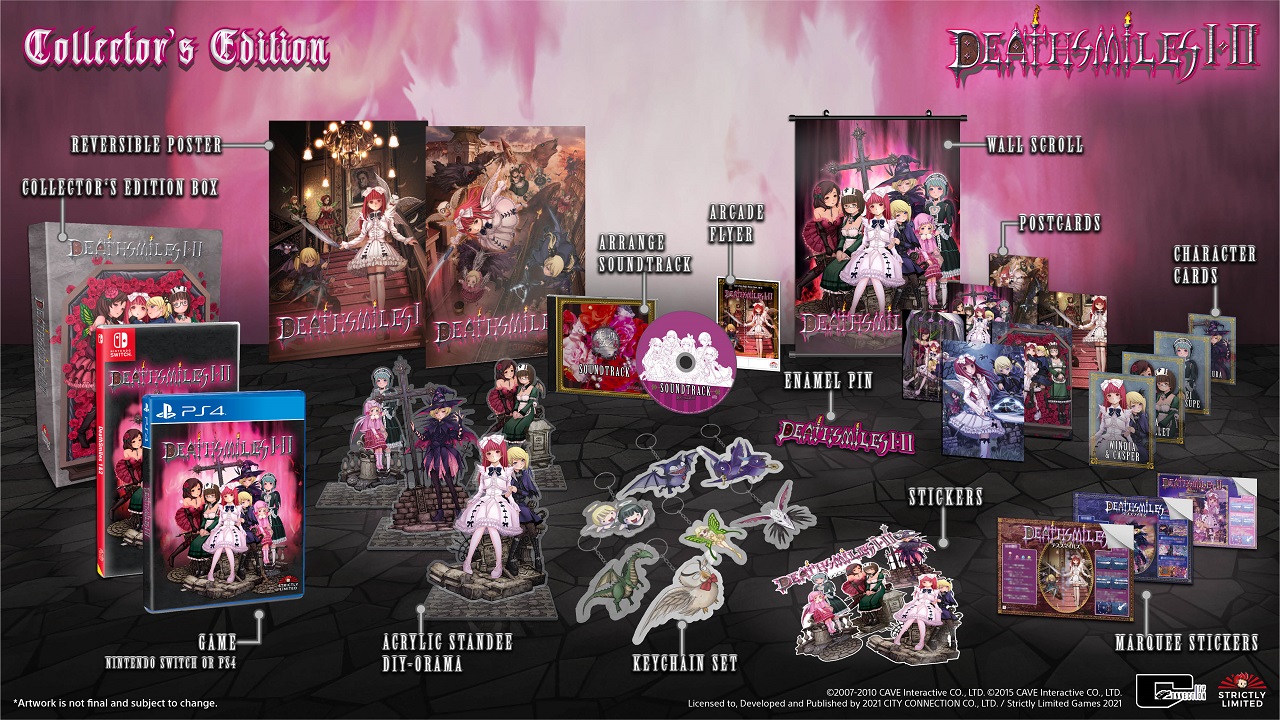 Reading Time:
2
minutes
Strictly Limited Games, together with City Connection, are happy to bring some side scrolling, shoot 'em up arcade action from legendary developer studio CAVE, to the Strictly Limited Games Shop! Deathsmiles I・II coming for Nintendo Switch and PS4 as Limited Edition and Collector's Edition. Both Editions of the acclaimed Shoot 'Em Up series will be available for pre-order from November 7th, 2021, only at Strictly Limited Games.
Through the Gates of HellFire!
With its heavily influenced occult and gothic horror presentation, Deathsmiles' ambient, anime styled and sinister presentation is already very much venerated. The Strictly Limited Games editions bring a rich package of Deathsmiles action to your home console, including:
Deathsmiles
Mega Black Label Edition
Deathsmiles II
Gothic wa Mahou Otome DLC (on cartridge/disc)
Enter the world of Gilverado, a kingdom plagued by hideous monsters and tortured souls. Players can select from several different angels with unique powers and battle against a storm of enemies pouring out of Hell's gates! As with the best of shooters, skill, hand to eye coordination, along with total concentration are essential as you fight your way out of tight spots when you are surrounded by enemy units and bullets from both sides of the screen. Deathsmiles I・II will keep you on your toes as you dodge and weave through complex enemy fire, beautifully crafted by the modern masters of shmup.
Horizontally scrolling bullet-hell madness across multiple game modes!
Spooky good fun! Battle ghosts, demons, man-eating plants, and giant cattle! You can even take on demon Santa!
Six (four in Deathsmiles) playable angels to choose from, each with their own faithful familiars.
Play a great variety of gothic-themed stages in the order of your choosing.
Supports two-player local cooperative play. Banish the forces of Hell together!
Get yourself an awesome limited Edition for pre-order at the Strictly Limited Games Shop.
The Limited Edition comes with a manual and is available for 49,99€ and limited to 2,800 copies for Nintendo Switch and 1,500 copies for PS4.

Bidstack onboard Highbrow Interactive with 4 exclusive new partnerships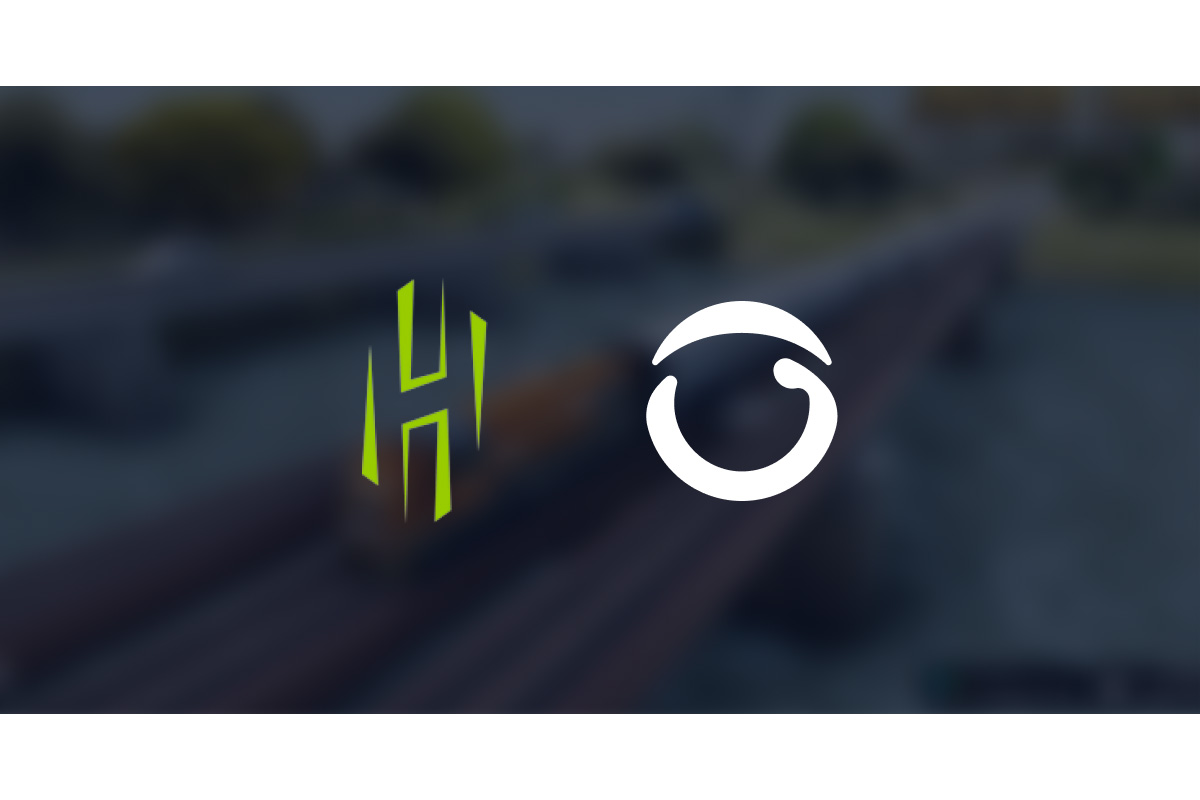 Reading Time:
2
minutes
Bidstack, the leading in-game advertising platform, is pleased to announce an exclusive new partnership with Highbrow Interactive which will see four exceptional simulation games added to their portfolio. Founded in 2013, Highbrow Interactive specialises in game production, virtual reality and augmented reality and has seen over 80 million installs across its library of games.
The first two new titles to be added to Bidstack's portfolio are Euro Train Simulator alongside its successor Euro Train Simulator 2. Boasting over ten million and five million downloads respectively, both games have provided train aficionados with first-class gameplay faithful to real-life experiences, with Euro Train Simulator 2 being the first mobile train simulator to feature officially-licensed trains from Germany's largest railway company Deutsche Bahn.
Indian Train Simulator also joins the Bidstack portfolio. A game with stunning attention to detail, it has seen over ten million lifetime installs and has enabled access to a more diverse player base through translations. Indonesian Train Simulator is the final game to be added. With high-quality graphics and sophisticated AI trains contributing to a comprehensively authentic railroad environment, it is no wonder the game has garnered over ten million installs.
Through Bidstack, Highbrow Interactive will be able to take advantage of their in-game, in-menu and rewarded video products creating a new revenue stream whilst also contributing to the accuracy of its games without compromising on the player's experience.
The addition of these four games to their portfolio will see Bidstack's simulation vertical continue to grow, allowing them to provide brands with a greater selection of high-quality inventory for them to reach and engage diverse audiences.
Of the partnership, CEO and Co Founder at Highbrow Interactive Jeno Manickam Durairaj said, "We're excited to be taking this step forward with Bidstack in enhancing our players' experience through the use of non-intrusive advertising. Bidstack's revolutionary technology that makes advertising seamless and organic in open-world games perfectly fits our catalogue of simulation titles. We believe that this partnership will help our games grow closer to the thrill and reality of trains and railways whilst also diversifying our revenue streams. The Bidstack team has been consistently attentive making onboarding and integration simple and hassle-free."
Bidstack's VP of Gaming Antoine Jullemier added, "We're delighted to be partnering exclusively with renowned game developer Highbrow Interactive. The addition of four of their high-quality games to our growing mobile vertical stands testament to the quality of our technology and gives our brand partners access to a rich global audience of gamers.
The highly detailed gaming environments provide optimal housing for seamless in-game ads, accurately simulating true train travel without detracting from the gaming experience. We look forward to a future of delivering first-class campaigns for our new partner."
Flexion Mobile Signs Agreement with FunPlus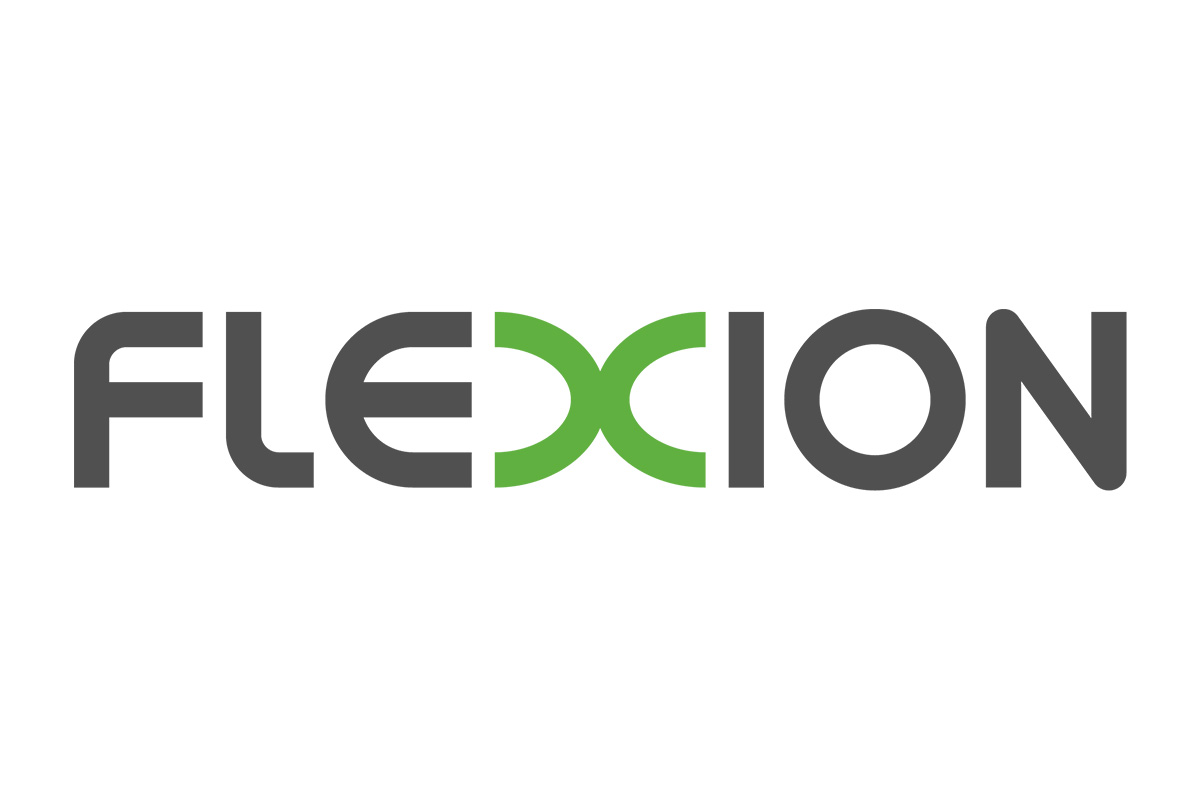 Reading Time:
< 1
minute
Free-to-play Android games distribution company Flexion Mobile has signed an agreement with FunPlus to publish King of Avalon on the alternative app stores. Flexion will distribute the hit game on the Huawei App Gallery and Samsung Galaxy App Store in Q2 2022.
King of Avalon already earns $6 million in monthly gross revenue on Google Play according to AppMagic data. Flexion's distribution services will add revenue and new players from the alternative app stores with little upfront cost or work being required of FunPlus. Flexion is currently averaging around 10% extra revenue for Android games it distributes.
"FunPlus is one of the world's top game developers so being chosen by them is a real feather in our cap. King of Avalon has been downloaded more than 100 million times by players from nearly 150 countries. We're delighted to add it to the Flexion portfolio," Jens Lauritzson, CEO of Flexion, said.
FunPlus and Flexion have been partners since 2019. Flexion has successfully launched FunPlus' games Guns of Glory and Z Day on alternative app stores such as the Samsung Galaxy Store, Huawei AppGallery, Amazon App Store and ONEStore.
Red Bull Wololo: Legacy celebrates 25 years of Age of Empires with a tournament for the ages in historic Castle Heidelberg!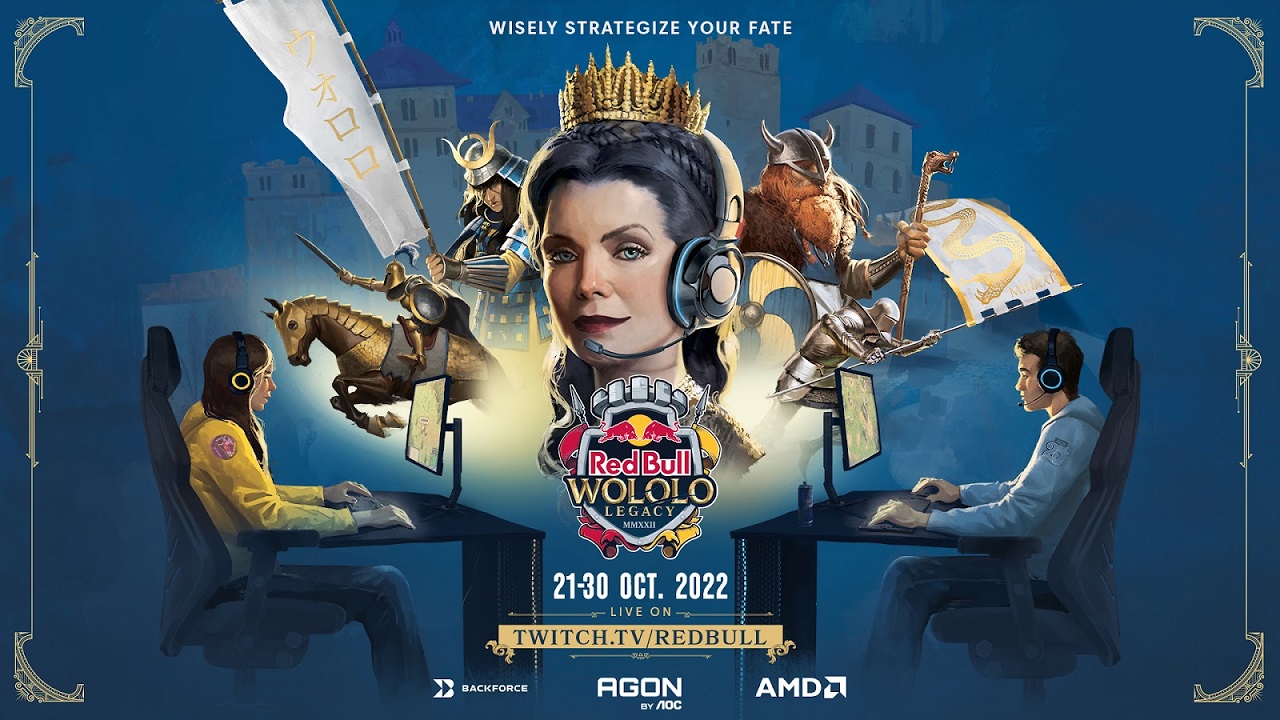 Reading Time:
2
minutes
Unpack your trebuchets – Red Bull Wololo, the iconic global Age of Empires tournament, is back for 2022. Red Bull Wololo: Legacy will see players compete in 1v1 battles for the ages, with competitions unfolding across Age of Empires I: Definitive Edition (AOE I DE), Age of Empires II: Definitive Edition (AOE II DE), and Age of Empires IV (AOE IV). The next chapter of the competition will form part of a global celebration to mark the 25th anniversary of the legendary real time strategy franchise. Players and fans can look forward to the most beloved faces of the community on-site and an unparalleled AOE esports experience at the immersive LAN in historic Castle Heidelberg from October 21st-30th.
There are many routes to qualify for the Castle Heidelberg tournaments, spanning open qualifiers, community events, progression through official Microsoft and partner circuits, and direct invitations. Open Qualifiers for AOE II DE and AOE IV are open for registration, to determine the most talented conquerors and queens who will take on invited AOE legends in Castle Heidelberg.
The first chapter of Red Bull Wololo began in 2020, and viewership and participation has continued to increase as epic rivalries and storylines emerged throughout the years. The electrifying Red Bull Wololo V: Enthrone Final saw AOE icon Ørjan "TheViper" Larsen take home his first victory against two-time Red Bull Wololo Champion Kai "Liereyy" Kallinger. Breaking down the epic battle on broadcast, TheViper said "It got really messy but in the end I was able to pull it off. It was so intense and I couldn't afford any mistakes. Wild Game!" Red Bull Wololo V: Enthrone came to a spectacular close in September 2021 with the first Castle Heidelberg LAN Final, which saw over 77,000 peak concurrent viewers. Each tournament is a fierce battle of wits as only the top players rise to the ultimate challenge and compete for the strongest civilisation.
Red Bull Wololo: Legacy has teamed up with industry leaders to produce an unforgettable sixth chapter in the unique event series. AGON by AOC, the global leader in gaming monitors, returns as the Official Monitor Partner for the event, bringing exceptional visual clarity and ultra-high refresh rates to competitors. AMD rejoins as Technology Provider, ensuring the high-performance computing that will take the sixth chapter of Red Bull Wololo to new heights. BACKFORCE partners up with the event to keep competitors in comfort and style with cutting-edge pro level gaming chairs.