Fortnite and tommyinnit Revealed As Most Popular Video Game & Twitch Streamer In The UK In 2021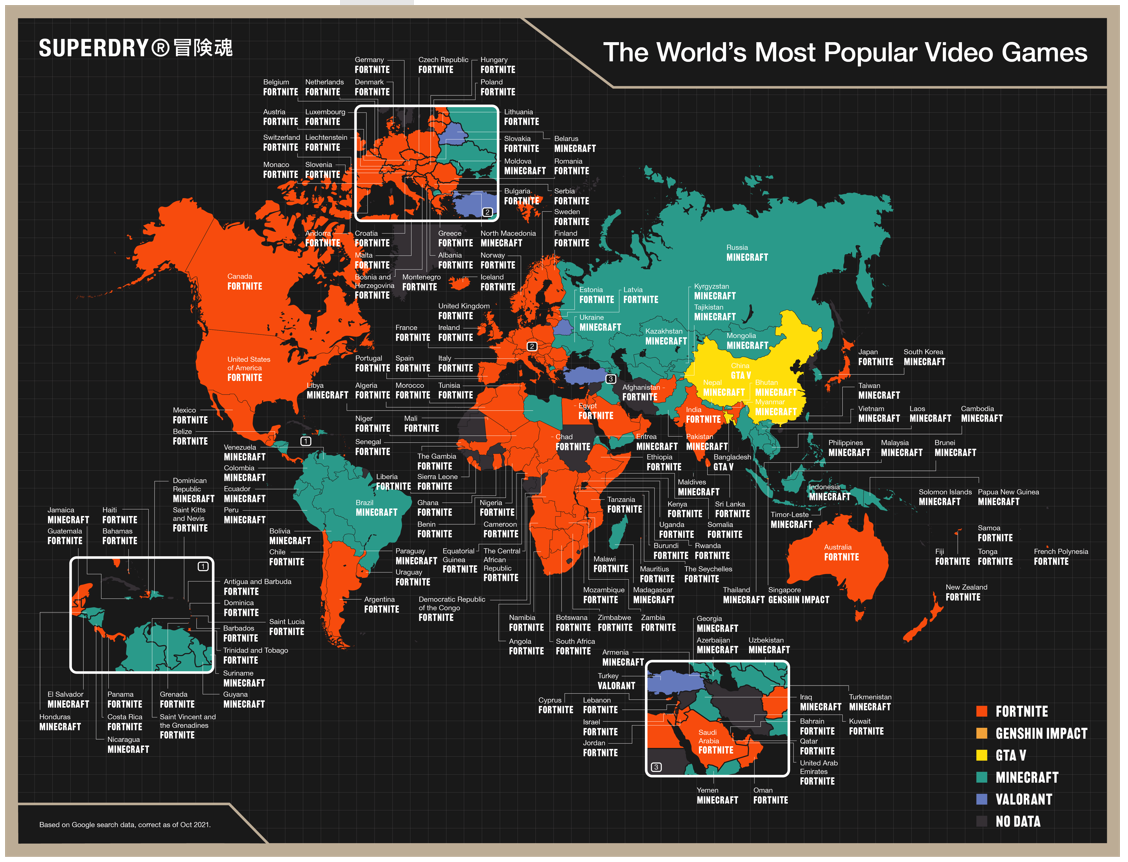 Reading Time:
2
minutes
New research by Superdry has revealed that Fortnite is the most popular video game globally and Twitch streamer Ninja is the most searched for in the world. UK-based gamer tommyinnit is the UK's most popular Twitch streamer, and Fortnite is the most popular game loved by Brits.
With an estimated 3.24 billion global gamersⁱ and Twitch streamers earning millionsⁱⁱ by inviting the world to watch them play, Superdry has analysed Google data from 169 countries over the last 12 months to discover which are the most popular games and gamers.  
Released in 2017, Fortnite is a free battle royale game that is available on a range of devices and has truly taken the world by storm. According to the data, it's this game that takes the top spot in 106 countries – making it the most popular game globally. Minecraft, which involves creating worlds with blocks in a three-dimensional space, comes second with 51 countries, including Russia, Brazil and South Korea, searching for the game the most.  
Although Fortnite and Minecraft clearly dominate the world in terms of popularity, Grand Theft Auto V, Genshin Impact and Valorant also feature in the top list – although for only a handful of countries.  
Most popular twitch streamers  
Twitch streamer Ninja takes the top spot as the most popular globally, though this may not be too surprising as the American gamer has a whopping 17 million followers on the streaming platform. With 46 countries searching for him the most, Ninja is well-known for streaming Fortnite Battle Royale and has even gamed with celebrities like Drake and Travis Scott.  
TommyInnit, a British streamer, is the second most search for Twitch streamer in the world with 36 countries searching for him and his livestreams. At only 17 years old, he holds Guinness World Records for having the most followed Minecraft channel on Twitch and the most viewers of Minecraft live stream on Twitch.  
The third most Googled Twitch streamer is AuronPlay who is based in Spain and has 10.6 million followers. Unsurprisingly his username is the most searched for in many Spanish-speaking countries, including Bolivia, Chile and Peru.  
Only two female streamers make the top list, Pokimane (most popular in 12 countries) and Pqueen (most popular in three countries). Pokimane, a 25-year-old Moroccan-Canadian streamer and internet personality, is most famous for streaming League of Legends and Fortnite. Meanwhile Turkish streamer Pqueen is a long-time streamer who has amassed 1.7 million followers.  
Justin Lodge, Chief Marketing Officer at Superdry comments: 
"We know that many of our best-selling items, like hoodies and loungewear, are the perfect attire for a night of gaming but we were curious to delve into the data to find out the games and streamers that video game fans can't get enough of at the moment. It came as no real surprise that Fortnite was the outright favourite, but the range of Twitch streamers was fascinating to see – with top channels being based across the globe. We hope the research might inspire those who haven't caught the gaming bug yet to check out some of the world's best streamers, or even set up a channel of their own."

Infinity Kingdom to Start Open Beta in Japan on January 25th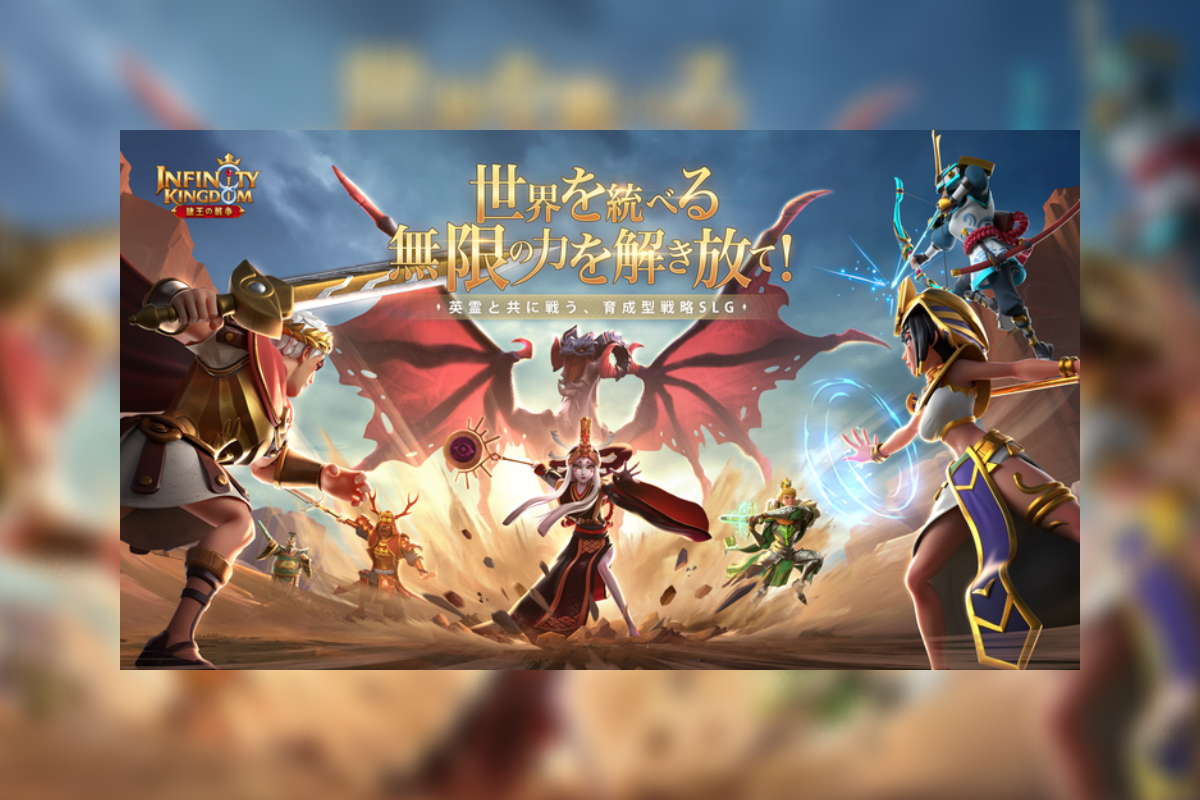 Reading Time:
2
minutes
Infinity Kingdom, YOOZOO Games' self-developed cartoon-style strategy mobile game, will start its open beta in Japan on January 25th, available for download on Android and iOS.
Set on the legendary continent of Norheim, players have to defend against invasion from the evil gnomes. While expanding their own cities, players must team up and protect their territories from other players.
Inspired by famous historical figures, the concept of Immortals is introduced in Infinity Kingdom. As commanders of the troops, Immortals have special skills and can be leveled up to increase their power.
After its initial launch in January, 2021, Infinity Kingdom was listed among the top 10 best-selling strategy game in more than 30 countries in Europe and the US. Now the game will be available in Japan soon, bringing OB event, new version update and new Immortal!
OB Event: Revival of Cities
The kingdom is suffering, it's time to protect the people. Together with Japanese lords, unite as one to rebuild the kingdom.
With Infinity Kingdom's launch in Japan, a new event, Revival of Cities will be online in the OB server, Norheim Server 136. During this 60-day event, players need to collaborate and conquer. From gems, philosopher stones, to superior resources pack, the top 100 players will earn in-game goodies to the value of hundreds of US dollars.
Legion of Frostborne 1.8 Update
As the next round of Legion of Frostborne was about to enter its war phase, another update arrived amidst the ice and snow on January 13th.
The update has brought the official start of the Season system, applying to all servers. As each server progresses through the seasons, the maximum level of buildings, Immortals, troops and dragons increase, and new Academy Technology and Lord Talent branches are unlocked.
New Alliance tactics are available in the regular season of Legion of Frostborne, and can be used by Alliance Leader (R6) or Officers (R5) to provide all Alliance members with protection on the battlefield.
An "Illusion Battlefield" special topic is added to the Daily Talks to gather and disseminate the latest competition news, allowing players to learn and discuss strategies with each other. Players are also able to pre-arrange different troop formations that can be switched between for different combat situations.
A brand-new star on the Cute 'em up horizon! New Trailer – Switch & PS4 coming Q1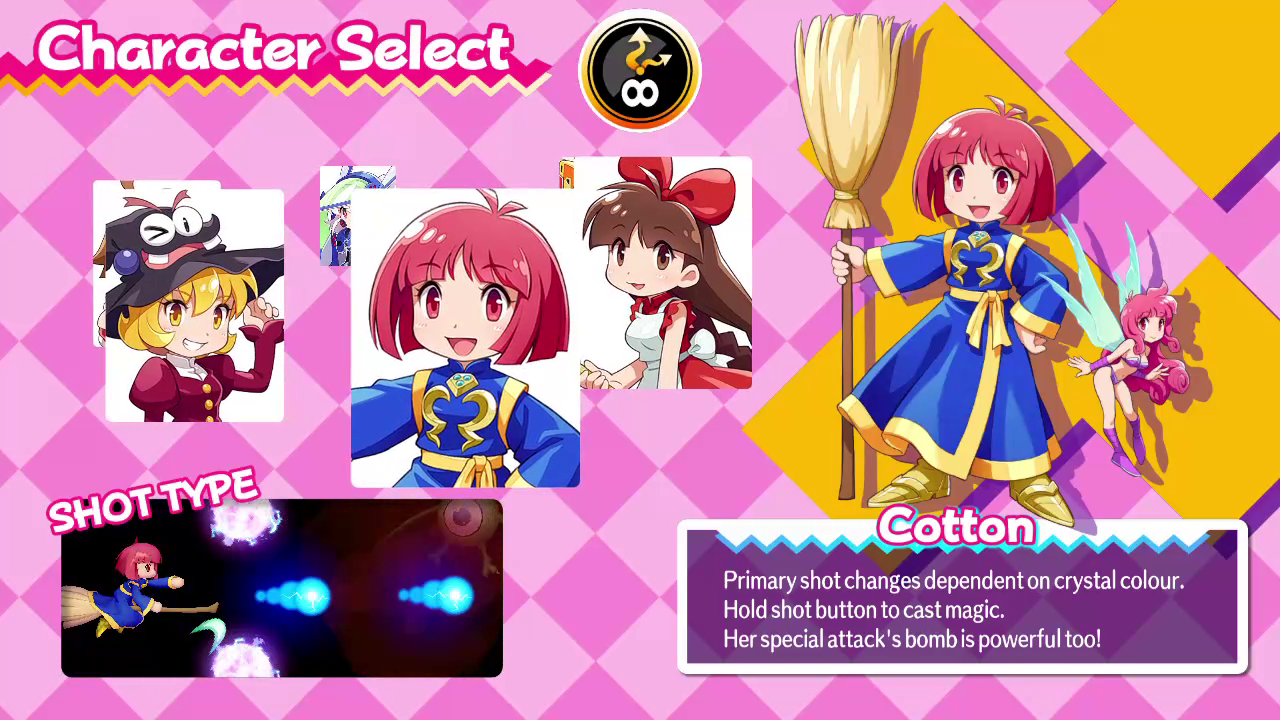 Reading Time:
2
minutes
ININ Games is proud to announce that Cotton Fantasy will be available for Nintendo Switch and PS4 this spring, both digitally and physically. After the Japanese release in December (as Cotton Rock 'n' Roll), this brand-new entry to the Cotton series is now making its way to the West and can be pre-ordered via a selection of retailers, varying per location. A growing list of links can be found on the ININ Games website. ININ Games is celebrating this occasion with a new trailer, showcasing many of the features, like the six iconic playable characters.
Eager collectors still have the chance to secure a Limited Edition Nintendo Switch or PS4 copy from Strictly Limited Games, at the same price as the retail edition but with alternative cover artwork and a colourful manual not included in the retail edition. Also available is a highly limited Collector's Edition with exclusive, magical collectibles, including the official Cotton Nendoroid figure.
About the game:
Something sinister is in the making – the willows are vanishing from Fairyland and the Fairy Queen entrusts Silk with solving the case. Who could be behind this devious ploy?
For a promised lifetime all-you-can-eat supply of tasty willows, the little witch Nata de Cotton is willing to help her old friend out and embark on another adventure together.
Cotton Fantasy sets the stage for another fantastic adventure, 30 years after the Cotton series initially premiered, with lots of features to offer:
HD graphics & brand-new shoot 'em up game mechanics

6 iconic, playable characters to choose from, each with different mechanics and attacks, even including guest characters like Umihara Kawase (from the equally named series) and Luffee from Doki Doki Poyacchio

Easily accessible Shoot 'em up gameplay, perfect for newcomers, but with enough depth for veterans

16 colourful and varied scrolling stages to unlock, with vertical, horizontal, and 3D movement

Light-hearted story with fun and charming cutscenes voiced entirely in Japanese (English, French, Italian, German, Spanish subtitles included)

Exhilarating soundtrack featuring iconic remastered tracks from past games

Unlockable content and different characters offer high replayability

Aim for the high score in your nation and globally with the featured ranking boards
Made-in-India Shooter MaskGun Crosses 60 Million Players, Three Year Anniversary Update Out Now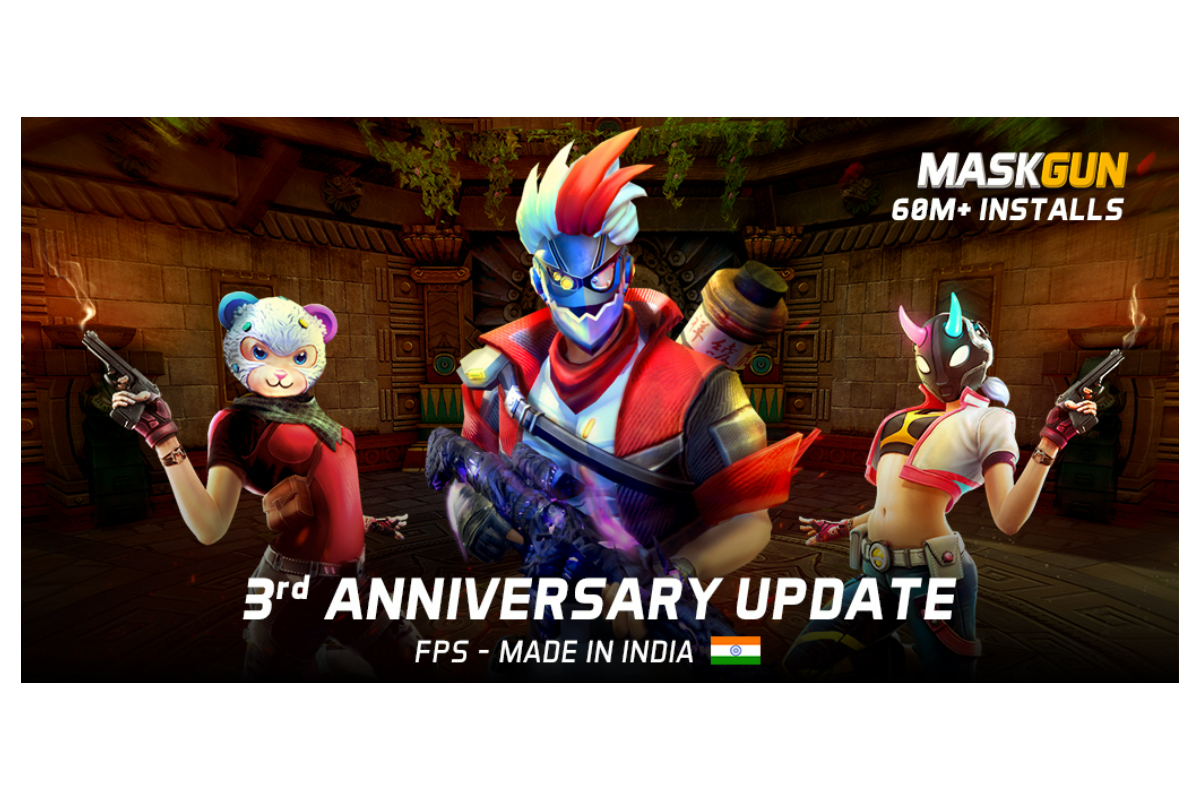 Reading Time:
< 1
minute
SuperGaming, one of India's leading game development companies announced its mobile multiplayer shooter MaskGun has crossed 60 million players. January also marks the game's third anniversary.
To celebrate this, MaskGun gets a new update known as the 3rd Anniversary Update. It brings a revamped user interface, fresh skins, and hotly-requested 1v1 mode. It's out now via the App and Play Store.
"The MaskGun anniversary update is our biggest one yet," says Roby John, CEO and co-founder. "1v1 in particular has been the most requested feature from the community. It aims to be a test of true skill to show off the best talent from MaskGun's 60 million plus players as there won't be a team to make up for your lapses or carry you in a match."
As the name suggests, 1v1 pits one player against another in a no-holds barred contest to see who is the best. Select from three weapon types — assault rifle, shotgun, and sniper rifle and square off against your friend (or enemy) and settle rivalries once and for all. You can check out what to expect from 1v1 in this handy trailer:
Beat your rivals consistently and you could find yourself a spot on MaskGun's leaderboard and win unique in-game rewards too. You can access the mode from the Rumble section of the game's menu. Other additions include new female agents and dragonborne weapon skins. You can download MaskGun for free right now on the App Store and Google Play.