Gamecity Hamburg funds six prototypes of digital games with 398,000 euros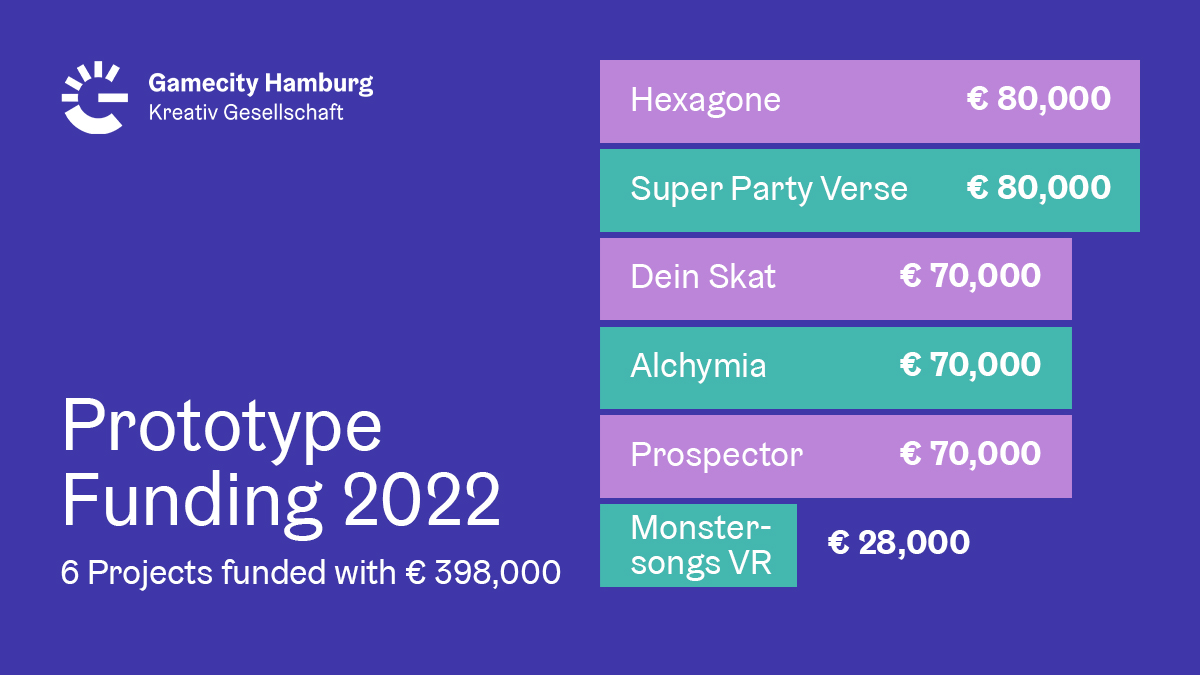 Reading Time:
3
minutes
In its funding round for 2022, the location initiative Gamecity Hamburg supports six promising games projects from Hamburg with a total sum of 398,000 euros through its Prototype Funding program. The Gamecity Hamburg Prototype Funding is awarded as a non-repayable grant. The program enables Hamburg-based developers, studios and start-ups to develop convincing prototypes of digital games for the competitive international games market.
Because of the high quality of the projects submitted, the awarding committee decided to fully use the available budget of 400,000 euros for this year's Prototype Funding program. The application phase for the next funding round will start in spring 2023. The diversity and quality of the applications demonstrate a positive development of Hamburg's games industry and a successful promotion of young talent at the location.
Dennis Schoubye, Head of Gamecity Hamburg, explains: "We see a positive dynamic in the quality of the applications for the Prototype Funding. We also see positive effects from other support programs like our Games Lift Incubator and our new event format 'Pitch Level Up'. Three of the funded projects are from teams and developers who have previously completed our Games Lift Incubator. In addition, there is a good mix among the funding recipients ranging from start-ups to game studios that are already firmly anchored in Hamburg."
The funded projects in 2022:
Hexagone by Tiny Roar – €80,000
Super Party Verse by Super Crowd Entertainment – €80,000
Dein Skat by Bestjack Entertainment – €70,000
Alchymia by Pseudoscience Interactive – €70,000
Prospector by Symmetry Break Studio – €70,000
Monstersongs VR by Denise Koch – €28,000
Hexagone by Tiny Roar is a relaxing strategy-adventure game in which players create and explore different worlds. As adventurers, players individually uncover their game world and its secrets by laying cards on a mysterious world map full of treasures, expeditions, and hidden ruins.
Players can experience a fun multiplayer party in the mobile app Super Party Verse from Super Crowd Entertainment. In a colorful hub world, players can create mini-game events in a growing community, join existing parties and actively fill the world with life by designing their own rooms and avatars. New content will also find its way into the Super Party Verse through brand partners.
Dein Skat by Bestjack Entertainment takes the traditional German card game Skat to a new level as a single-player experience through a sophisticated AI, an entertaining story mode, motivating quests, and numerous challenges for beginners and advanced players in a lovely designed look.
In the construction and management game Alchymia by Pseudoscience Interactive, players must save their city from a horde of undead creatures with the help of alchemical equipment and various potions. In the turn-based game, players make tactical decisions that influence the course of the game. Julia Reberg, the creative mind behind Pseudoscience Interactive and Alchymia, is an alumna of the first round of the Games Lift Incubator in 2020.
Prospector by Symmetry Break Studio is a narrative 2D-adventure game with an intriguing story and an innovative dialogue system. Players experience their adventure in a metropolis on the edge of a crater doused in toxic fog and can only survive using mysterious masks. Symmetry Break Studio are alumni of the Games Lift Incubator 2021.
In the virtual rock musical game Monstersongs VR by Denise Koch, players experience stories and songs of numerous monsters in an abandoned theater, solve tricky puzzles and face their own feelings. Monstersongs VR bridges the gap between musical shows and gaming. With the concept for the game Denise Koch participated in the Games Lift Incubator 2021.
From March 4 to April 11, a total of 18 solo developers, start-ups, and companies from Hamburg applied for this round of the Gamecity Hamburg Prototype Funding.
The selection was made by an awarding committee consisting of Hamburg-based games industry experts Nina Müller (Head of Publishing, Goodgame Studios), Jonas Hüsges (Publishing Director, Daedalic Entertainment), Valentina Birke (Head of Project, Indie Arena Booth), Jens Unrau (Head of Department Media and Digital Economy, Ministry of Culture and Media Hamburg) and Dennis Schoubye (Head of Gamecity Hamburg).
The successful applicants not only convinced the committee with their project presentations but also with the potential of their projects in other criteria, like the market potential, their team structure, and the promotion of young talent.
About the Gamecity Hamburg Prototype Funding
The Gamecity Hamburg Prototype Funding in its current form was launched in 2020. Including the most recent funding round, the program has so far supported the development of 22 prototypes with a total funding amount of 1,240,000 euros.
Virtus.pro is disbanding PUBG MOBILE roster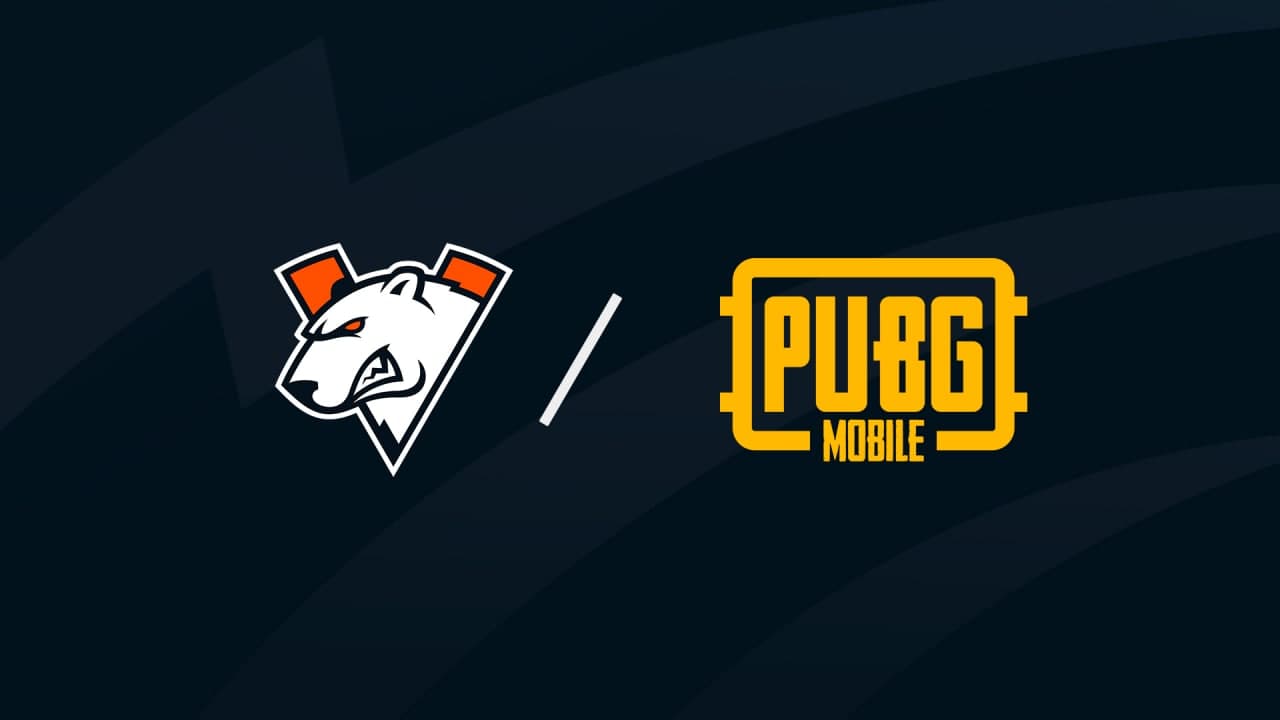 Reading Time:
< 1
minute
Virtus.pro says goodbye to the roster that represented the club in PUBG MOBILE. Players leave the club by mutual agreement and become free agents. We express our gratitude to Aleksey "Purp1e" Asanov, Monlam "OFHAZE" Tsydypov, Nelik "Folly" Prodan, Maxim "SINGLE" Starovetsky and coach Cristian-Roman "Kompot_trash" Corbu for their professionalism and dedication, and also wish them best of luck in their future careers.
In the two years since the signing of the first PUBG MOBILE roster, our club has gained significant experience in competitive mobile gaming, which should help us further develop this promising area. The club retains a slot in Europe, but we are also considering options with different squads in other regions. Stay tuned for more announcements!
REEVO and NetEnt Join Forces to Enhance Gaming Experience for Partners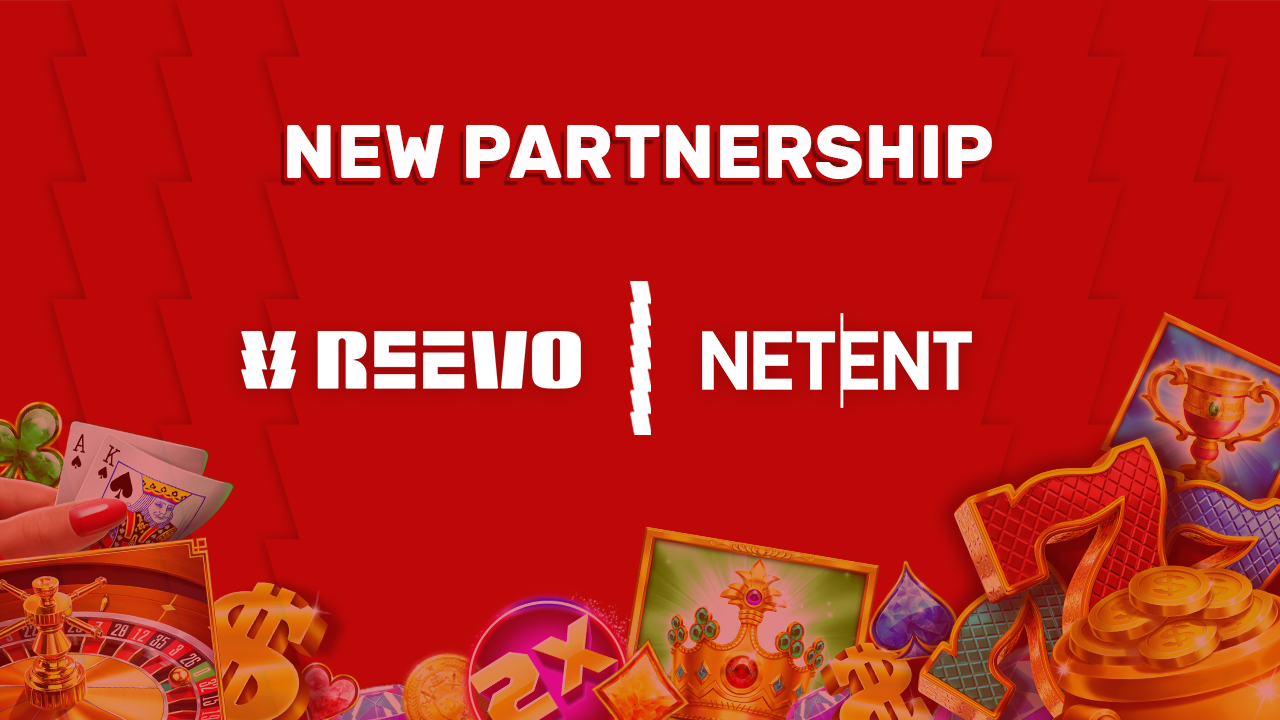 Reading Time:
< 1
minute
REEVO, a leading provider of cutting-edge gaming solutions, is excited to announce a strategic partnership with NetEnt, a renowned provider of the Evolution Group, of premium online casino games content. This collaboration leverages the expertise and innovation of both companies to deliver an unparalleled gaming experience for REEVO's operator partners.
Under this partnership, REEVO operator partners will gain access to NetEnt's extensive portfolio of world-class games content. NetEnt's exceptional range of titles, including popular slots, will be seamlessly integrated into REEVO's platform. This integration will empower REEVO's operator partners to captivate and engage players with a diverse and immersive gaming experience.
REEVO has on boarded 70+ top partners, offering 8000+ games, including slots, table games, and live gaming experiences. This extensive collection is sourced from esteemed third-party suppliers, with support for free rounds. Continuing their commitment to improvement, REEVO plans to add 60+ new game providers in 2023.
Petra Maria Poola, Head of Sales at REEVO, expressed her enthusiasm about the collaboration, stating, "We are thrilled to partner with NetEnt, an industry leader renowned for their exceptional gaming content. This partnership aligns perfectly with our vision to provide our operator partners with the highest quality and most diverse gaming solutions. By integrating NetEnt's outstanding portfolio into our platform, we are confident that we will enhance player engagement, boost operator revenues, and solidify our position as a leading gaming platform provider."
With a shared commitment to innovation and quality, REEVO and NetEnt are poised to unlock new opportunities in the ever-evolving iGaming landscape. By leveraging NetEnt's cutting-edge technology and REEVO's robust platform, the partnership aims to drive growth and success for operator partners worldwide.
Replica Studios introduces AI-Powered Smart NPCs for Unreal Engine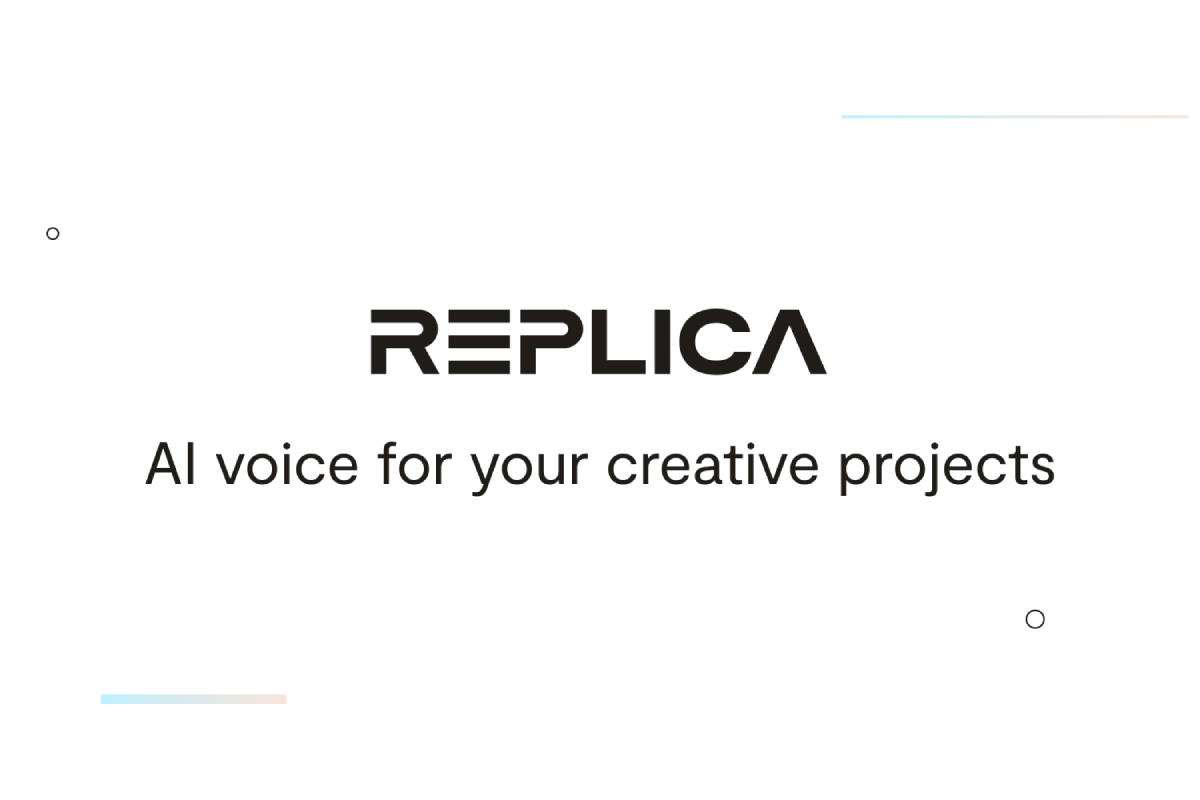 Reading Time:
3
minutes
Replica Studios, developer of a leading artificial intelligence (AI) voice platform for video games, has announced Replica Studios AI Powered Smart NPCs (non-playable characters), a plugin coming to Unreal Engine later this year. Smart NPCs are powered by OpenAI or the user's own AI language model, and Replica's library of over 120+ ethically licensed AI voices, allowing game developers to develop games at scale and create new dynamic gaming experiences.
To showcase the revolutionary technology, Replica has released a Smart NPC demo experience utilising a modified version of Unreal Engine's Matrix Awakens sample project to showcase some of the features that will be available with the plugin. Watch the trailer here.
"At Replica, we believe AI Voice technology has two-fold potential for furthering narrative-heavy games: eliminating critical bottlenecks in the development process, enabling studios to tell ever bigger and immersive stories, and allowing for the creation of never seen before living-world gaming experiences that shape around the player in real-time," said Shreyas Nivas, CEO of Replica Studios. "Smart NPCs will allow smaller studios who don't have the resources to script and vocalise on scale to dream big and scale their games 10x or 100x into the epic adventure they've always wanted to make."
In Replica's Smart NPC Experience, AI-powered NPCs will dynamically respond to the player's in-game voice in real time. Characters will change their dialogue, emotional tone and body gestures in reaction to how the player speaks to them. Replica Studios' NPCs now have a broader range of emotions thanks to Replica's recent Style Morphing update.
Game designers can also alter the information provided to the AI characters to instruct them to behave differently or have certain personalities, or incorporate their own AI language models to suit their project.
"Just as live service games and battle royale have emerged as popular gaming experiences in the last decade, we see AI creating a new category of virtual experiences known for depth of narrative and dynamic storytelling with hundreds of characters, ever expanding quests and stories," said Nivas. "When teams begin adopting AI to create these new experiences, we will see the role of writers and narrative designers evolve. Rather than writing complete narrative arcs, they'll create and fine-tune the conditions that power these AI Smart NPCs – game lore, backstories and motivations – to add a human element that will lead to an engaging live player experience."
When Replica's Smart NPC plugin launches for Unreal Engine later this year, game developers will be able to integrate Smart NPCs into their own projects to begin scaling up characters in their games. The plugin integrates AI language model smarts along with Replica's text-to-speech models and animates the characters in real-time by outputting sound phonemes and timelines to match an audio stream, while using a customised blend space for facial animations to power accurate lip sync, and custom animation blueprints to send body gesture messages for NPCs during their listening, thinking and speaking phases. The result is a natural looking and behaving NPC that can surprise and delight players with thoughtful, funny, and provocative responses, depending on their personal contexts as well as the voice input directly captured from players' microphones.
The demo will initially run as a cloud based solution but is working towards a locally based solution to give a low latency, multi-user concurrent live experience.
"Within the next technology hop we will see AI powered Smart NPC live games and virtual experiences with hundreds of live concurrent players and NPCs all together, with no more latency than a zoom video call that has hundreds of participants," concluded Nivas.
Access to Replica Studios' Smart NPC playable demo is available on the official website. To sign up for the Smart NPC beta, please visit the registration page. For more information about Smart NPCs, please read the official blog post.