Gamecity Hamburg funds six prototypes of digital games with 398,000 euros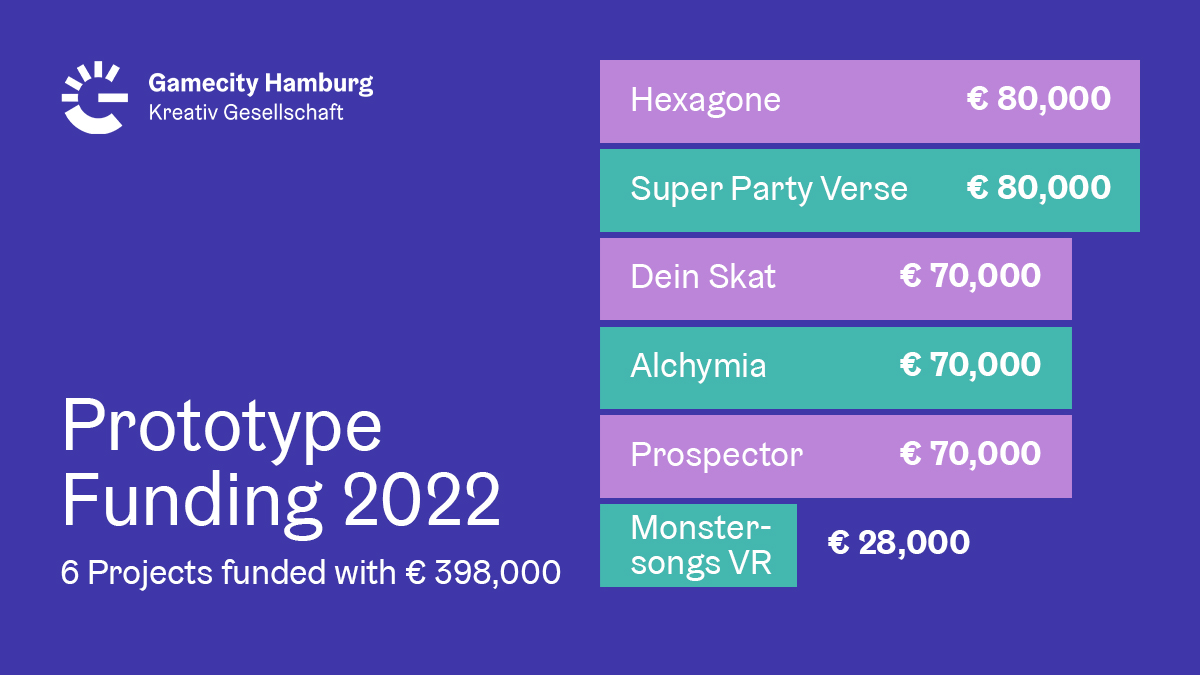 Reading Time:
3
minutes
In its funding round for 2022, the location initiative Gamecity Hamburg supports six promising games projects from Hamburg with a total sum of 398,000 euros through its Prototype Funding program. The Gamecity Hamburg Prototype Funding is awarded as a non-repayable grant. The program enables Hamburg-based developers, studios and start-ups to develop convincing prototypes of digital games for the competitive international games market.
Because of the high quality of the projects submitted, the awarding committee decided to fully use the available budget of 400,000 euros for this year's Prototype Funding program. The application phase for the next funding round will start in spring 2023. The diversity and quality of the applications demonstrate a positive development of Hamburg's games industry and a successful promotion of young talent at the location.
Dennis Schoubye, Head of Gamecity Hamburg, explains: "We see a positive dynamic in the quality of the applications for the Prototype Funding. We also see positive effects from other support programs like our Games Lift Incubator and our new event format 'Pitch Level Up'. Three of the funded projects are from teams and developers who have previously completed our Games Lift Incubator. In addition, there is a good mix among the funding recipients ranging from start-ups to game studios that are already firmly anchored in Hamburg."
The funded projects in 2022:
Hexagone by Tiny Roar – €80,000
Super Party Verse by Super Crowd Entertainment – €80,000
Dein Skat by Bestjack Entertainment – €70,000
Alchymia by Pseudoscience Interactive – €70,000
Prospector by Symmetry Break Studio – €70,000
Monstersongs VR by Denise Koch – €28,000
Hexagone by Tiny Roar is a relaxing strategy-adventure game in which players create and explore different worlds. As adventurers, players individually uncover their game world and its secrets by laying cards on a mysterious world map full of treasures, expeditions, and hidden ruins.
Players can experience a fun multiplayer party in the mobile app Super Party Verse from Super Crowd Entertainment. In a colorful hub world, players can create mini-game events in a growing community, join existing parties and actively fill the world with life by designing their own rooms and avatars. New content will also find its way into the Super Party Verse through brand partners.
Dein Skat by Bestjack Entertainment takes the traditional German card game Skat to a new level as a single-player experience through a sophisticated AI, an entertaining story mode, motivating quests, and numerous challenges for beginners and advanced players in a lovely designed look.
In the construction and management game Alchymia by Pseudoscience Interactive, players must save their city from a horde of undead creatures with the help of alchemical equipment and various potions. In the turn-based game, players make tactical decisions that influence the course of the game. Julia Reberg, the creative mind behind Pseudoscience Interactive and Alchymia, is an alumna of the first round of the Games Lift Incubator in 2020.
Prospector by Symmetry Break Studio is a narrative 2D-adventure game with an intriguing story and an innovative dialogue system. Players experience their adventure in a metropolis on the edge of a crater doused in toxic fog and can only survive using mysterious masks. Symmetry Break Studio are alumni of the Games Lift Incubator 2021.
In the virtual rock musical game Monstersongs VR by Denise Koch, players experience stories and songs of numerous monsters in an abandoned theater, solve tricky puzzles and face their own feelings. Monstersongs VR bridges the gap between musical shows and gaming. With the concept for the game Denise Koch participated in the Games Lift Incubator 2021.
From March 4 to April 11, a total of 18 solo developers, start-ups, and companies from Hamburg applied for this round of the Gamecity Hamburg Prototype Funding.
The selection was made by an awarding committee consisting of Hamburg-based games industry experts Nina Müller (Head of Publishing, Goodgame Studios), Jonas Hüsges (Publishing Director, Daedalic Entertainment), Valentina Birke (Head of Project, Indie Arena Booth), Jens Unrau (Head of Department Media and Digital Economy, Ministry of Culture and Media Hamburg) and Dennis Schoubye (Head of Gamecity Hamburg).
The successful applicants not only convinced the committee with their project presentations but also with the potential of their projects in other criteria, like the market potential, their team structure, and the promotion of young talent.
About the Gamecity Hamburg Prototype Funding
The Gamecity Hamburg Prototype Funding in its current form was launched in 2020. Including the most recent funding round, the program has so far supported the development of 22 prototypes with a total funding amount of 1,240,000 euros.

Best Games to Come In 2022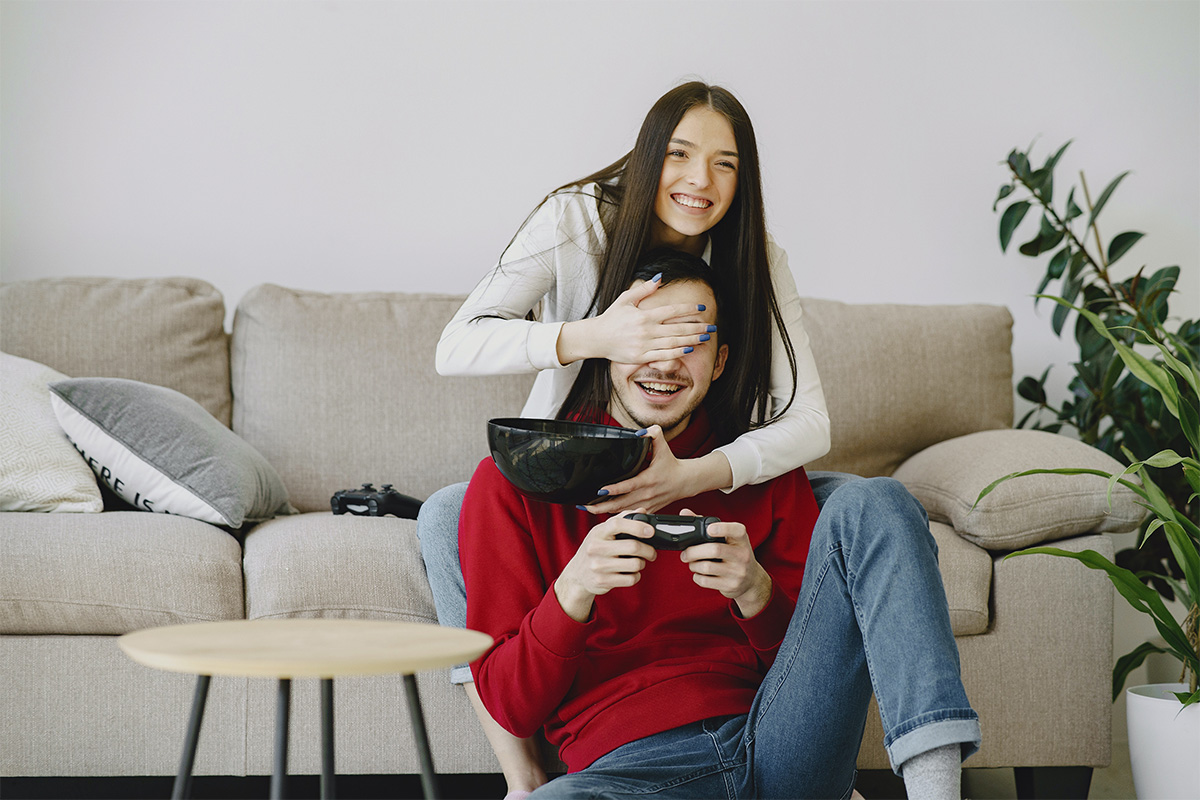 Reading Time:
2
minutes
There is a common quip in the gaming and game development world that new games' release dates are more of suggestions than a sure thing. This is because no game ever makes its initial release date. But gamers have come to terms with delays and understand that it's part of the game development process. However, this does not keep us from getting excited about the new titles slated to be released later this year.
This piece will look at the best games you should expect before the year ends. So if you're ready to possibly get your hopes up for no reason, keep reading to learn more.
1. God of War
God of war is a quirky game set in a world inspired by the Norse mythology and was initially released in 2005. The game has gone through a few iterations over the years, which has only improved its gameplay. The current title does an excellent job at developing its characters and establishing their backstories, pulling you into the game and engaging you even more.
In addition, the musical score does an even better job at accentuating important moments in the game. That's why we are so excited about the new revamp slated for later on this year. We are sure the stories and music will only get better, and we don't even need to mention the gameplay. Sony always kills it.
2. Call of Duty
When duty calls, you have to answer. This is one that never disappoints. Its action sequences are as engaging as ever, and the graphics are every graphics designer's envy. Betway also found that playing COD helps you burn as much calories as a long walk, with a 90 minute gaming session elevating your heart rate to 90+ beats per minute and helping you burn up to 180 calories.
So you can now enjoy your gaming sessions and don't have to worry about missing the gym. And with a new release this year, we have more than one thing to be excited about.
3. Last of Us
Another title that is excellent to play is Last of Us. It's set in a decaying post-apocalyptic world and stars two characters—a child accompanied by an adult. However, the story is not about the dilapidated world but about these two characters and their struggle to survive this world.
This is one we hope the development gods here us and release as expected. We cross our fingers and hope it makes its release date this year.
4. A Plague's Tale
Set in a corps-ridden world, plague-infested rats and inquisition soldiers who have it out for the two orphaned sibling protagonists. The game's setting does an excellent job of making the main characters empathetic as you witness their struggle from a third-person perspective.
However, the gameplay is not that engaging, and the obstacles are neither challenging nor compelling. We are glad the makers are revamping this one and getting a second chance at taking another crack later this year.
5. FIFA 23
FIFA is a classic game that never disappoints. It has been a favorite for many, and FIFA 23 is expected to be the most popular iteration of the francise yet.
Jump.trade the largest NFT marketplace in India touches 100,000 sign ups, in the last 60 days; to soon launch the P2E Game "Meta Cricket League"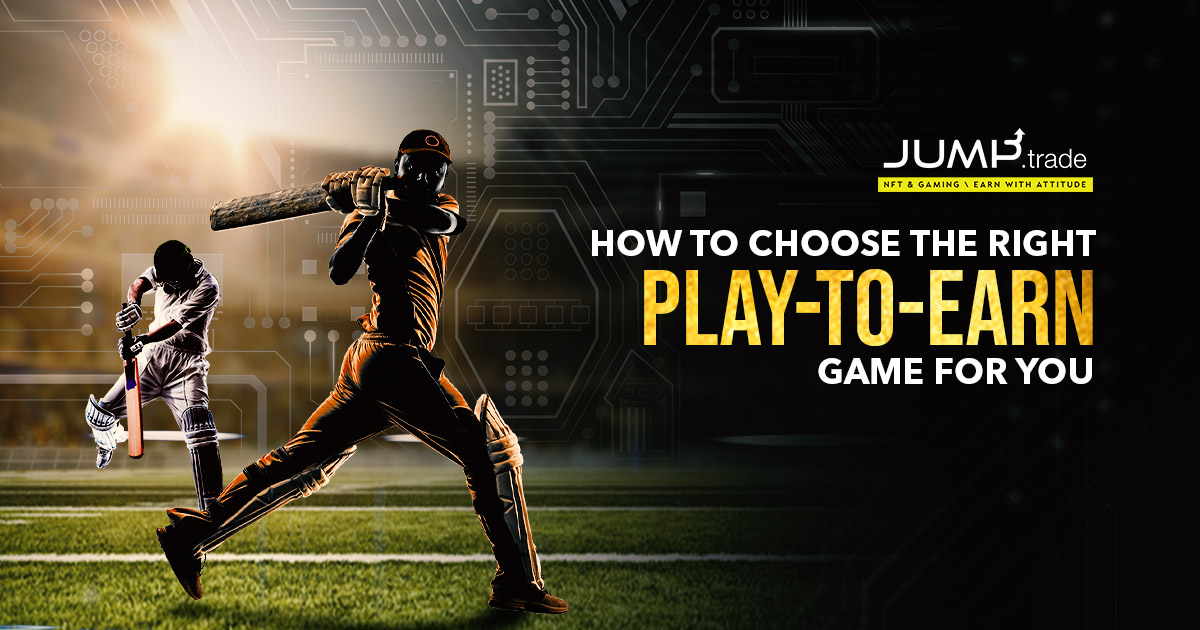 Reading Time:
2
minutes
Witnesses 10,000 daily new visitors joining
Jump.trade, a thriving NFT marketplace and D2C platform that focuses on gaming NFTs and International brands are all set to launch its maiden gaming venture – Meta Cricket League at the end of June. This is a new Play-To-Earn game that is driven by NFTs and allows players to earn cash prizes and other rewards by climbing leaderboards or challenging other players. The game is set to instill the excitement of real-world cricket into the experiential Web3 format.
The Meta Cricket League will be available on all Mobile and Web Platforms to provide easy access to gamers everywhere. This will enable seamless and easy onboarding as Gamers will have the chance to play-on-the-go and from anywhere. Interestingly, the Game's initial 55,000 NFTs were sold-out for $25 but with its value multiplying in a very short time, a substantial pool of those NFTs are now being traded in values exceeding 10x and 200x.
With cricket constituting an integral part of the national fabric, a whopping 93% of Indians were found to be devout fans of the sport. It is evident from the fact that cricket games in the Google Play Store account for the highest number of downloads grossing well over 250 million.
Speaking on the occasion, Kameshwaran Elangovan co-founder and COO, who lead the execution and launch of MCL on Jump.trade, said," We are extremely delighted to have emerged as the flag bearers of the NFT bandwagon in the country. With NFTs not being restricted to just mere digital indulgences and entering the mainstream with their numerous applications, the launch of The Meta Cricket League (MCL), a cricket-based NFT game that allows players to earn while they play is certainly a dream come true for gamers across the country. Cricket as a sport already rules the hearts of countless Indians and we are confident that the MCL will be a sensational success story with NFT enthusiasts and gaming lovers everywhere. "
Highlighting Jump.trade's user base in just the last 60 days, the number of sign-ups on the platform has touched 100,000 now. Also, being 100,000 wallets filled, with around 10,000 new visitors joining the ecosystem daily. The average trade volume of the marketplace in a day is around $10,000 to $25000 worth of trades, of which 85% of men and 15% of women are represented as NFT holders in the ecosystem.
With such exponential demand and hundreds of millions of potential players within the Play-to-earn revolution, Cricket will be one of the largest gaming segments in the space. Just as Cricket unites people of all ages, regions, and languages in India and across cricket-playing nations, the P2E Cricket game MCL aspires to prove to be instrumental in breaking through Web3 adoption in India. 
STAR STABLE LAUNCHES ON EPIC GAMES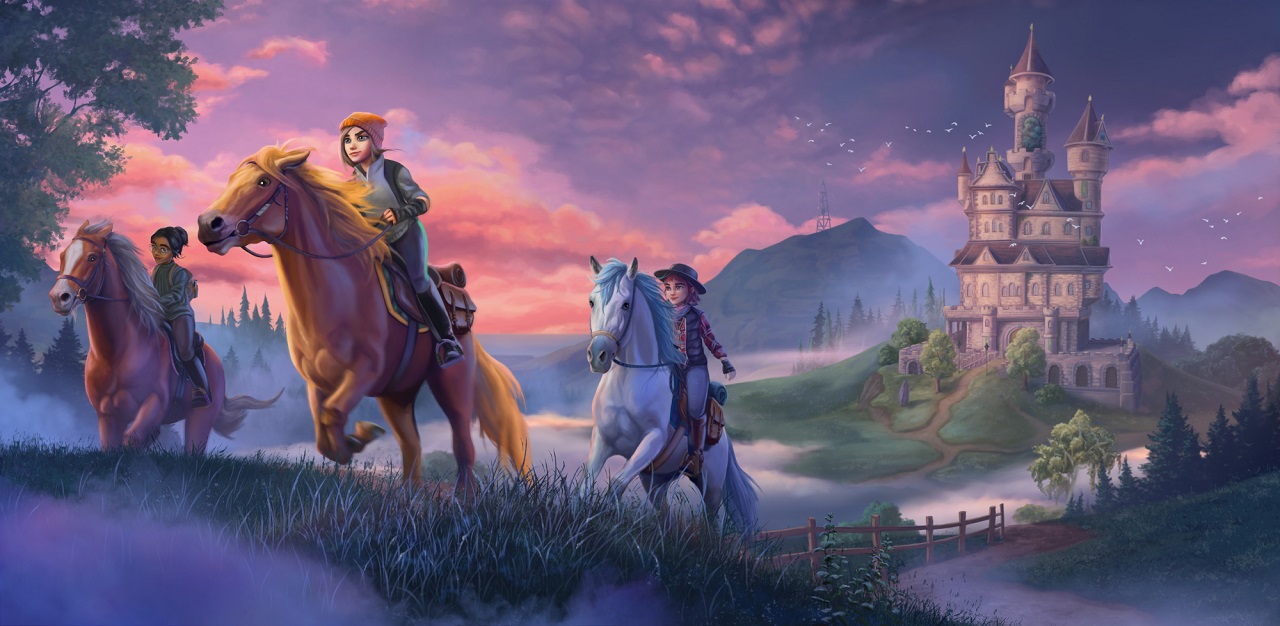 Reading Time:
< 1
minute
Swedish game Star Stable Online today launches in 15 languages on Epic Games Store, the digital storefront and platform for the distribution of PC and Mac games.
A competitor to Steam, through The Epic Games store users can create their own profile and purchase and play games from a range of different genres. The launch on the store is part of Star Stable's strategy of increasing its distribution channels and providing its target audience with additional options of how they can discover and engage with the product.
With over 1 million downloads of Star Stable Online on mobile already, the game experience and product will be the same on Epic Games as it is via the official website. Users will have access to the regular launcher and their accounts as normal, with SSO categorised as a free-to-play game on the Epic Store.
To enjoy the full game experience players are required to sign up for the monthly subscription – which will be highlighted in the product description.
Therése Forssell Lagerstam, Communications Director at SSE says: "Epic Games is an excellent platform for us to expand our reach to potential audiences. The Star Stable brand has a huge fanbase across the world, and this launch helps us to keep sharing the game's values. We always keep players at the heart of what we do, and we know being on Epic Games will help us to further grow our wonderful fanbase."