The Future of GameFi – Why are Firms Still Investing?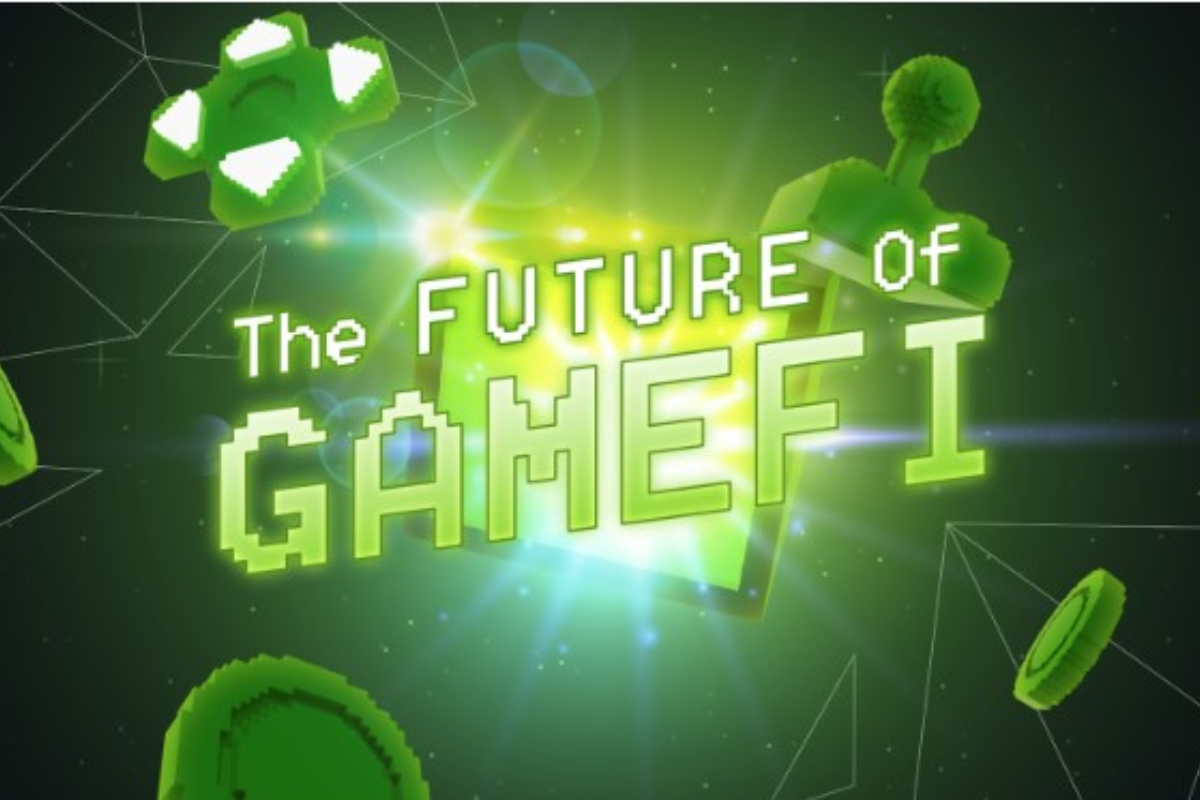 Reading Time:
5
minutes
During a bloody period in the crypto industry when liquidity is drying up, the developers keep on developing, and the investors keep on investing. With all of the turmoil happening around us, it can be difficult to see positive developments happening in the space, one of which is the increasing investments in and the gradual evolution of the blockchain gaming (GameFi) industry.
After the NFT craze of 2021, many metaverse projects saw a dramatic uptick in users and revenue during that time. However, as the bear market has ensued from the start of 2022, the GameFi space has also taken a hit, with many popular Play-to-Earn games reporting record low revenues, as indicated by GameFi NFT trade volumes for Axie Infinity and others.
NFT game trade volume has dropped significantly over the past year (The Block)
Although there are some real challenges to be solved, it's clear that VCs see beyond short-term hurdles, as is indicated by the accelerated investments in the space. In Q2 of 2022 alone, $2.5 billion was invested in GameFi, indicating a huge leap compared to 2021's aggregate investment of $4 billion – and this year is still not over!
So then the question needs to be asked – is GameFi dead, or is there true potential for blockchains to revolutionize the gaming industry and absorb at least some of the current $220 billion (and rapidly growing) gaming market?
What is GameFi?
GameFi is a portmanteau of the terms "game" and "decentralized finance," and it refers to a financial system in which users can earn money by participating in video games. While most play-to-earn projects place emphasis on the "gaming" aspect, the most critical aspect of GameFi at its foundation is "money". Its beauty lies in the financial opportunities provided by a highly viewed form of entertainment – gaming.
While GameFi has shown  a slight decline compared to its popularity earlier in the year, it was definitely the highlight of 2021, growing from 658 projects to over 1,100 projects in one year. The gamification of blockchain made the technology more approachable, appealing and acceptable for the public,
GameFi – Challenges Abound, But So Are Opportunities
Before we discuss the future prospects of GameFi, we have to acknowledge the challenges currently faced in the GameFi sector. For anyone involved in crypto, it won't come as a surprise to find out that the public perception of GameFi is not great – hostile even. And a good amount of that negativity is not without merit.
Public Image Issues
The biggest challenge by far will be to convince traditional gamers of the underlying true value of NFTs. Not for their perceived and oft-reported highly speculative value, but for their digital scarcity, provable ownership, security and programmability that enables in-game assets to be used far beyond their main purposes. The 2021 NFT Cambrian explosion led to an immense crypto adoption and made a lot of people wealthy. But it also left some pretty big scars after the market cooled down; countless stories of project rug pulls by anonymous operators and celebrities, and NFT newcomers getting scammed are still circulating the news. 
Mainstream gamers still need to be convinced that the web3 space can tackle the challenge of building a self-sustaining game economy. One that gives the players a chance to decide whether they want to play the game for free and for fun, or whether to take it to the next level and earn an income from it.
Free-to-Play – Adjusting Course for the Better
To draw inspiration for how to structure and monetize a game, the web3 gaming industry need not look further for its most ideal strategy than the one that's been right in front of their eyes for more than a decade – Free-to-Play. Countless titles, such as Candy Crush, Farmville, Roblox, Pokemon GO, League of Legends and many more, have proven to the world that free-to-play games can be highly lucrative without setting up paywalls for their users, sometimes even more so than paywalled games.
The F2P mechanism flips P2E on its head – instead of letting whales hoard all of the in-game assets and generate passive income, F2P games let them bring in 80% of the revenues through Pay-to-Win (P2W), which allows players to pay for in-game advantages. These P2W features are typically low-cost small advantage boosts such as resource packs, gacha characters, healing boosters and more. But in the aggregate, these small payments compound into enormous profits for the game. It works for everyone – most players get to play the game for free, big players get to accelerate their in-game success, and the game itself generates more revenue than it knows what to do with.
And this realization is one of the reasons why more and more investments are flowing into GameFi. Though it had a rocky start, the value proposition of NFT-based games is clear – every single aspect of traditional F2P games is made simpler and safer. In addition, every in-game NFT asset can be added to a highly liquid global market of all NFT assets, offering ways to trade NFTs from different games, as well as build in utility for them in order to grant unique capabilities, access rights, invites and more. And if that's not enough, on-chain data also shows a clear trend – gaming activity currently accounts for 52% of all Unique Active Wallets (UAW), a 232% increase from last year. The numbers speak for themselves — the opportunity offered by blockchain gaming is immense, and investors are paying attention.
The Path Forward for GameFi – Keeping It Simple
In the past years, the approach taken by many blockchain game projects has been to advertise their games to crypto-natives, typically with the express aim of offering earning opportunities for players. As a result, we've mostly gotten games of subpar quality that have served players mainly as profit extraction vehicles with limited long-term sustainability, especially during bear markets when hype and liquidity are low.
This may not be the end of the GameFi sector just yet, however. The newer form of web3 gaming has started to practice patience, build a great, addictive game, and quietly build all of the exciting and innovative web3 features into the backend of the game without making too much fuss about it. The industry is steering away from P2E, embracing Free-to-Play with Pay-to-Win as a sustainable means of monetization. Attracting talent from traditional gaming and finally forcing large game studios to build blockchain tech into their backends are all crucial pathways to making a blockchain-based gaming future a reality.
However, these great leaps will not happen out of thin air — a lot of capital will need to be deployed over many years. Luckily, companies such as Immutable X, the NFT-gaming optimized Ethereum L2 startup, have launched a $500 million development fund to invest in GameFi. Solana Ventures has also amassed a $100 million fund to invest in GameFi and DeFi targeting South Korea. And they're not alone. More than $10 billion is expected to flow into GameFi this year alone. 
The amount of capital invested perfectly demonstrates the potential these firms see in the upcoming, more improved version of GameFi. With this amount of capital, and GameFi's tendency to revamp, improve and further develop its new generation of play-to-earn games, it's a matter of when, not if, blockchain gaming will become the norm in the future.
Written by Boxmining
Kinetix launches world first user-generated AI-powered Emotes for gaming & metaverse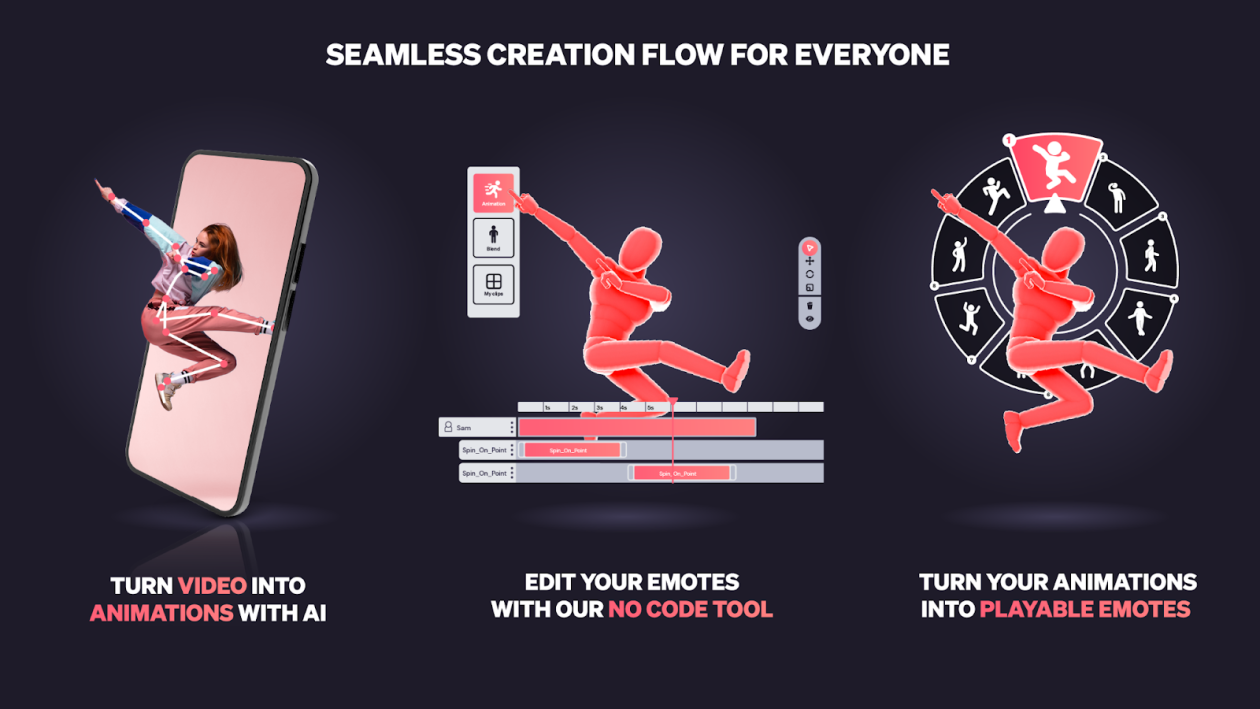 Reading Time:
2
minutes
Kinetix, a pioneering 3D animation and AI tech startup, today proudly launches its revolutionary user-generated emotes for video games and virtual worlds, signifying a vital first step towards true self-expression in gaming and the metaverse.
The Kinetix generative AI-powered platform and no-code editing tools enable users, creators, video game makers, metaverse platforms, and brands to create and edit animated 3D content in seconds. This democratizes the process of creating custom 3D animated content, extending to millions of people a skill set that was previously limited to a few thousand trained artists and animators.
Today, Kinetix launches the first ever user-generated emotes to tackle the challenge of limited self-expression in gaming and metaverse worlds. Emotes are animations that can express emotion in video games and virtual worlds, such as dances, celebrations and gestures. Uniquely, emotes made with Kinetix can work in any avatar-based video game or metaverse, and fit effortlessly into any virtual environment from hyper-realism to voxel blocky worlds.
Yassine Tahi, CEO and Co-founder of Kinetix, commented:
"We want to champion a new standard for self-expression in video games and metaverse worlds by opening up the creation of emotes. Our emotes are live now for anyone to create, marking a true watershed moment for digital self-expression and our mission to humanize the metaverse."
He added, "A once in a lifetime concert without dancing, or a drag queen show without 'Death Drop' are missed opportunities for self-expression, realism, individuality, and human connection. We invite everyone to embrace this new trend by playing with our easy-to-use, no-code platform and trying out their best moves on their favorite character or avatar."
Creators can own their emotes by taking up the option to 'mint' them on the Kinetix platform: transforming them into digital assets called 'Emote NFTs'. With the Kinetix marketplace, creators can then promote and monetize their work and receive 95% of the sale price, creating a fairer revenue model. Brands and IP owners can also use Kinetix tech to make custom emotes. In November 2022, Kinetix teamed up with TF1 and BBC Studios to launch an exclusive collection for international TV hit 'Dancing With The Stars'.
Founded in Paris in 2020 by CEO Yassine Tahi and CTO Henri Mirande, Kinetix has a team of 45 and was recently named by WIRED as one of the hottest startups in Paris. Earlier this year, Kinetix raised $11 million in seed funding in a round led by Adam Ghobarah, founder of Top Harvest Capital, with participation from Sparkle Ventures, and multiple virtual world platforms and successful entrepreneurs. Kinetix already has established partnerships with leading and emerging virtual worlds including Roblox, The Sandbox, ZEPETO, Decentraland, and PolyLand.
Hamburg Games Conference announces first speakers for 2023 edition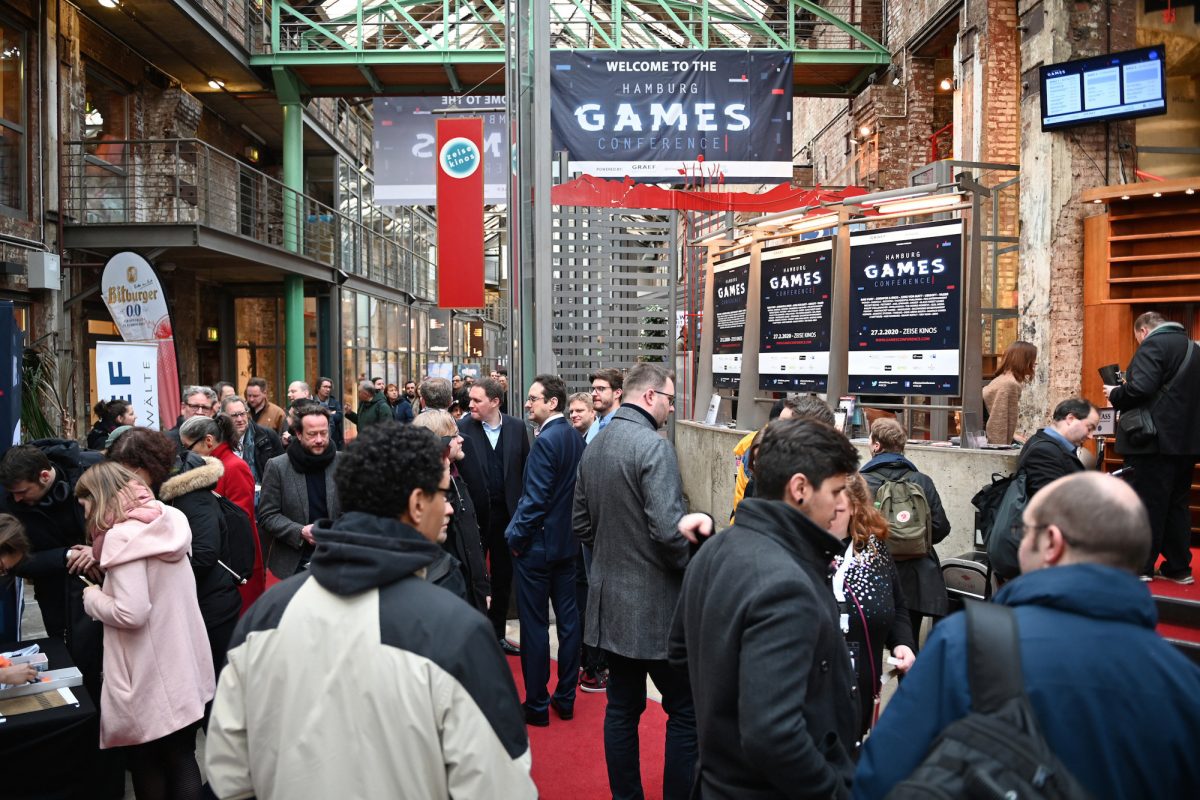 Reading Time:
2
minutes
Under the main topic "Invest in Games", the Hamburg Games Conference will bring together participants from the international games industry at the Altonaer Museum in Hamburg on March 1 and 2, 2023. Further talks, keynotes and panel discussions will focus on funding, dev and start-up topics. The first games industry experts contributing to the program with talks and presentations are already confirmed. Tickets for the Hamburg Games Conference are available at a reduced early bird rate until January 12, 2023.
For the main conference track "Invest in Games", multiple talks are already confirmed, providing insights and best practices on investments and M&A deals from the perspective of founders as well as investing companies and M&A advisors:
Janosch Kühn and Daniel Stammler (founders of Kolibri Games / BLN Capital) recap building up their studio and their successful exit in their talk "Kolibri Story – From student dorm to multi-million dollar exit in 4 years".
Maarten de Koning (Executive Vice President at DDM, an investment consulting firm specializing in games) will outline the most important principles for successful deals in his talk "10 Golden Rules to Avoid Investment and M&A Disasters".
Arnd Benninghof (Executive Vice President of Gaming at Modern Times Group) will provide insights into MTG's M&A strategy, with which the Swedish company continues to successfully build an international portfolio of investments in the games sector (including for example InnoGames, Kongregate, Hutch and PlaySimple).
Michael Schade (CEO and Co-Founder of Hamburg-based studio Rockfish Games) looks back on the successful self-financing of Everspace 2 through crowdfunding, early access and licensing deals in his talk "How to Self-fund a 20 Million Euro Space Looter-Shooter".
Frank Zahn (Delivery Director & Managing Director at the technology consultancy / software company Endava) shares his experiences selling his digital agency Exozet to Endava in his talk "Lessons Learned on Selling my Company".
Christof Wegmann (Founder & CTO at Exit Games / Photon Engine) will look back on success factors and lessons learned in the development of the mobile hit Stumble Guys in his post-mortem talk "Stumbling into a Global Hit Downloaded 2 Million Times per Day".
First confirmed speakers for the further conference tracks covering funding, dev and start-up topics are:
Linda Rendel (Production Director and founder of FemDevMeetup) will present her talk "Production Leadership – How to be an authentic lead and build trusting relationships with your team" and share insights as well as tools for authentic leadership in the context of game productions.
René Habermann (founder and developer at Bippinbits) will share his learnings from the development and successful marketing of the indie hit Dome Keeper, which generated over a million euros in revenue within just one day after its release.
In a post-mortem talk, Jan and Paul Taaks (founders of Hamburg-based indie studio Overhype Studios) will give insights into the development and marketing of their indie hit Battle Brothers.
Web3 Card Game The Lost Glitches Launches Exclusively on ImmutableX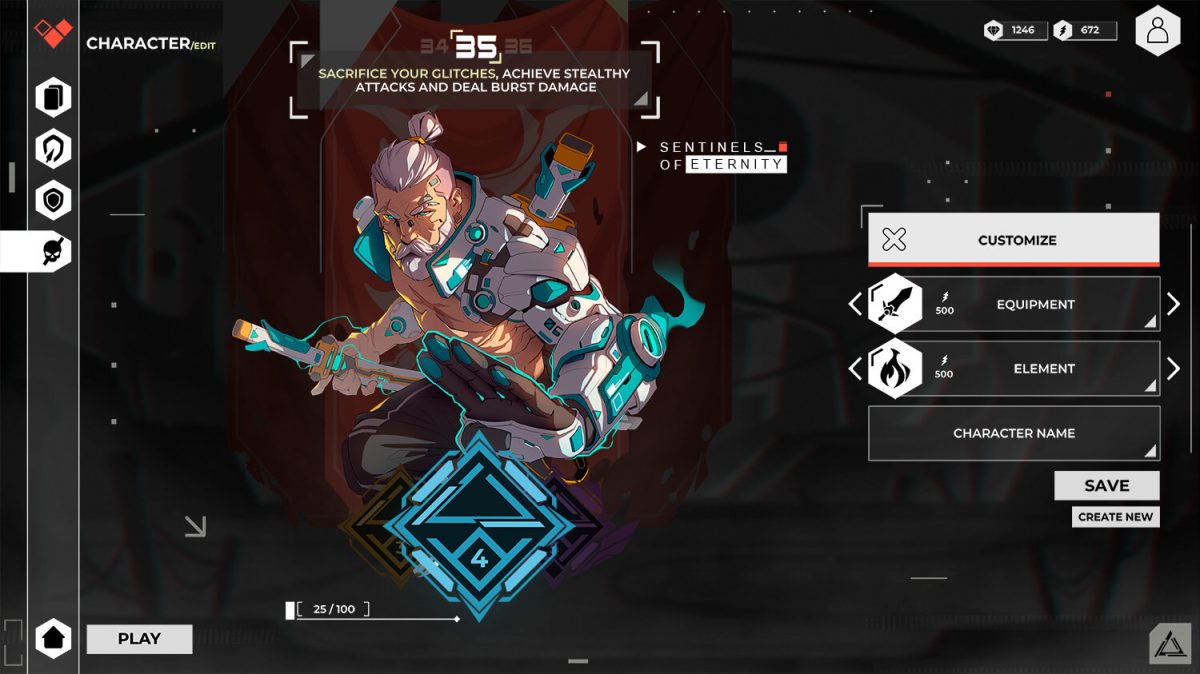 Reading Time:
2
minutes
Immutable, the leading web3 gaming company, and Honig Studios, a game developer known for highly acclaimed titles such as El Hijo – A Wild West Tale, have announced that upcoming Web3-native trading card game (TCG) The Lost Glitches is launching exclusively on ImmutableX.
The Lost Glitches card game combines extensive role-playing elements with physical trading cards, with an emphasis on fun, replayability, immersive storytelling, and full digital ownership of collectibles.
In selecting ImmutableX, a gas-free Ethereum Layer-2 scaling platform for their infrastructure and non-fungible tokens (NFTs), Honig Studios can offer players unparalleled usability and engaging experiences while retaining Ethereum-grade security.
The Immutable ecosystem now boasts some of the most popular NFT card trading games in the industry, including Gods Unchained, CryptoSpells, Goons of Balatroon, Cross the Ages, Deviants' Factions, which are proving to be one of the most resilient pockets of the NFT market at the moment.
"The demand for NFT trading card games on Immutable is exceptionally high at the moment. We're delighted to be adding another high-quality title to our line up. We are not only able to offer the widest range of TCGs, but we can provide a premium experience for players, delivering a versatile, engaging, and rewarding ecosystem full of fun and entertainment," Andrew Sorokovsky, VP of Global Business Development for ImmutableX, said.
Lost Glitches offers a player-versus-player multiplayer mode, together with beginner-friendly tutorials, single-player campaigns, quests and other competitive events.
As well as collecting cards to use in combat, players will also be able to level-up their characters with each battle and choose how to upgrade their skills tree to customise the gameplay.
"Beyond creating and immersing players in the unique and rich cyberpunk atmosphere of The Lost Glitches world, we also want to make education and onboarding of new players to web3 a fun and easy-to-understand experience. This is why we're excited to be partnering with IMX, a platform fully dedicated to gaming, as ImmutableX will help us to easily integrate these aspects," said The Lost Glitches founder  Alexey Ivanov.