Roundtable: The future of cryptocurrency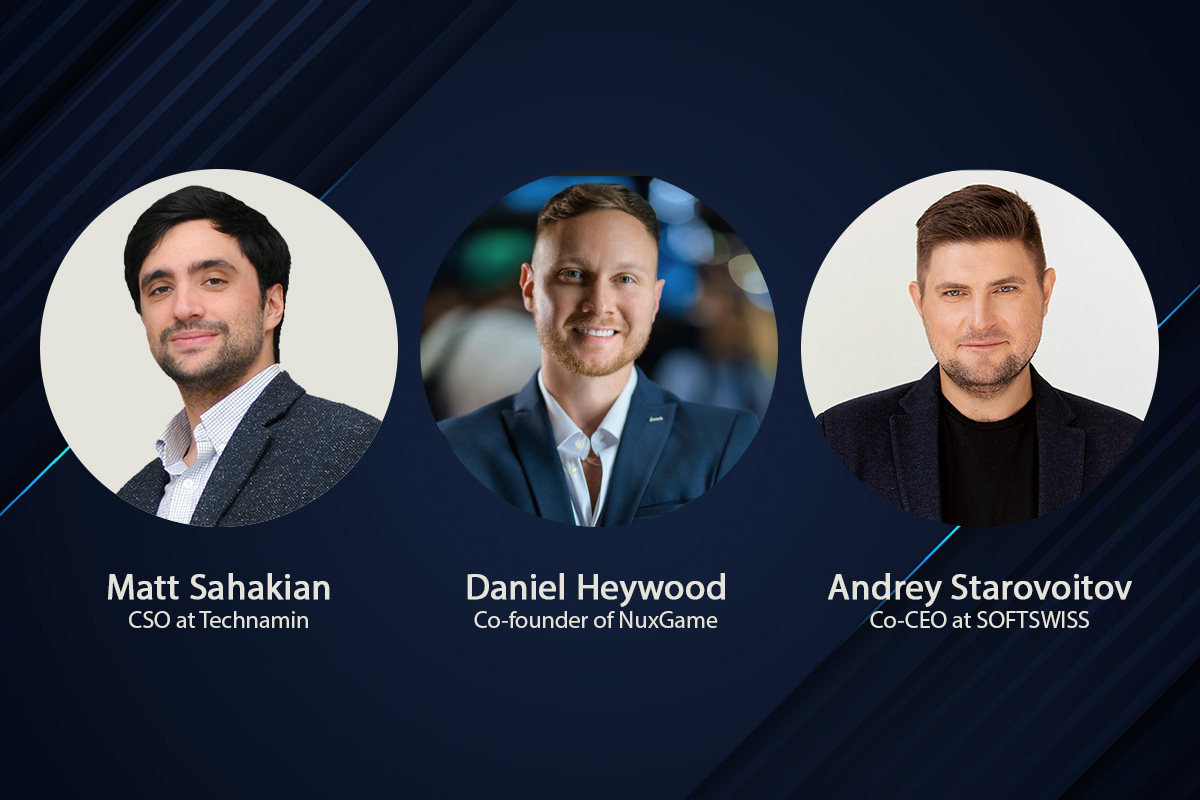 Reading Time:
5
minutes
Cryptocurrency has really taken off over the past few years within the iGaming industry and has established an important foothold in the world of online casinos.
We spoke to Andrey Starovoitov – Co-CEO at SOFTSWISS, Daniel Heywood – Co-founder of NuxGame, and Matt Sahakian – CSO at Technamin, to talk about what the future holds for cryptocurrency and why it is now a hugely vital part of the industry.
How widespread is the use of cryptocurrency in online casino and sportsbook and does it have mass appeal?
Andrey Starovoitov (AS): The use of cryptocurrencies in gambling is a sustained trend that is only getting stronger from year to year. Today, we can see a certain segment of crypto casinos getting a strong foothold and taking over a considerable market share. Crypto casinos are certainly a flagship of our client portfolio along with major fiat casinos. In terms of figures, cryptocurrencies have grown 10% year-on-year to make around 35% of the SOFTSWISS turnover. This is an evident growth indicator on the back of the major coin price volatility, which shows a gradual progressive increase of player interest in this type of deposits.
Daniel Heywood (DH): There has been significant uptake in cryptocurrency adoption in various industries in recent times, including finance, IT, e-commerce and more. Additionally, outside of its use in the corporate world, it has been championed by thousands of private citizens who regularly use cryptocurrencies. This is a far cry from the image crypto had only a few years ago and serves as a testament to its growth.
Matt Sahakian (MS): I think that at this point, crypto is inseparable from our industry. Most reputable online casinos are now offering crypto payment methods and the ones that are not doing so, surely have it in their short-term roadmaps. Online sportsbooks jumped in on the trend a bit later than online casinos, but are certainly catching up as we see the rise of crypto sports betting in the industry.
What are the biggest advantages of using crypto for operators and players when placing wagers online?
AS: First of all, operators gain access to a whole new younger audience which generally does not overlap with the traditional fiat casino segment. The use of cryptocurrencies often gives a certain level of anonymity, which, in turn, attracts VIP players and high rollers.
On the level of operations, all crypto casino metrics such as acceptance rate, conversion rate and others are much higher compared to those of fiat casinos. For instance, the SOFTSWISS acceptance rate (successful to attempted deposits ratio) is 99% for cryptocurrencies.
All of the above is just a smidgen of the benefits from using crypto in iGaming. The main advantage is that crypto is an ever-growing trend we've been observing over the last five years.
DH: There are lots of benefits for both players and operators, with the speed of transaction being the most obvious. Because there is no intermediary involved in the transaction process things can be completed far quicker and with fewer steps involved, in comparison to traditional payment methods. The added – and significant – spin-off from the removal of that intermediary is the subsequent lowering of fees, making the process more streamlined and cost-effective.
MS: The foremost advantage is the added layer of security that these currencies bring, thanks to the blockchain technology they are based on. Security is always of paramount concern to both operators and players, and crypto puts both minds at ease. The decentralised nature of these currencies also amounts to higher degrees of anonymity which players prefer when it comes to their information and transaction history.
In which markets are a cryptocurrency solution particularly relevant?
AS: In fact, when asked which is the most popular market for cryptocurrencies in gambling, at SOFTSWISS we highlight that crypto falls into a separate new market. And it makes sense, as the differences between the crypto and fiat audiences are quite significant – the demand for transaction processing speed, availability of provably fair technology games, high game limits and even top game lists are totally different in these two segments. In general, the geography of crypto gamblers is pretty vast – Canada, Germany, LatAm (Brazil, Mexico, Argentina), and Asia.
DH: Cryptocurrencies are relevant across the world. There is no market in which they're not playing an increasingly important role. However, they are aiding in the expansion of the iGaming industry in developing countries in particular. This is mostly due to the strict banking rules and restrictions within these jurisdictions that cryptocurrencies remedy.
MS: We're seeing the Asian market as well as certain areas of the LatAm market embracing crypto, along with Africa and the USA. Mexico is also big on blockchain, being included in the top 50 countries where crypto is most popular. Countries like Greece, Denmark, Sweden, Romania, and the UK are also joining in on the trend.
Is it all about Bitcoin, or are other cryptocurrencies commercially viable?
AS: Indeed, we are observing new coins ascending against a gradual Bitcoin decline in the crypto basket, but this does not mean that it is the Bitcoin that is losing its appeal but rather that other cryptocurrencies are gaining momentum as a gambling deposit method. According to our partners' research, customer interests are shifting towards "stable coins". Facing the crypto winter, most crypto traders have already sold the most volatile cryptocurrency as we are living in the "cash is king" times. USDT is the leader amongst stable coins, followed by BUSD. As a result, in 2022 we saw that Bitcoin was not the ultimate GO-TO choice for payments. But don't get me wrong, it is still huge as only Bitcoin offers indisputable decentralisation and freedom of payment. It fell from 65% to 49% in transaction count on average, but marks much lower levels for new casinos with a younger player base.
DH: Bitcoin is of course the obvious leader within cryptocurrency, but there are an increasing number of options for both players and operators. Clients are using an increasingly diverse range, featuring projects such as Ethereum, Solana and Tether and others in order to offer the widest range of payment choices available.
MS: There was a time when Bitcoin was stealing the thunder in the world of crypto. However, that's not the case today. There are nearly 10,000 active cryptocurrencies out there. Granted that not all of them are as popular or even used, many of them like Ethereum, Binance USD, Dogecoin, Tether and XRP are just as popular with bettors as Bitcoin. That's the thing with these currencies. You never know which one is going to take the lead.
What does the future hold for using сrypto in online gaming? Is it a passing trend or here to stay?
AS: Overall, despite the volatility we are observing, the crypto gambling segment and its audience will continue to grow, as it is the speed, simplicity, and a certain level of anonymity that players value most in cryptocurrencies. We can clearly see an increasing interest in this niche, and a growing number of operators, including top tier ones, are adding crypto to their payment methods.
DH: Cryptocurrencies are categorically here to stay; by now I'm certain most can agree on that. As the crypto industry evolves, new and more innovative solutions are emerging and are competing for their "15 minutes of fame." This in turn drives more innovation. A few of these are no doubt just a passing trend, yet some will stay with us long-term and become part of the furniture in the industry.
MS: When Bitcoin was released as the first open-source software and blockchain currency back in 2009, many people thought it would be a passing trend. It has been more than a decade now, and look where we are with these currencies today. Much like any other phenomenon, it is impossible to tell where crypto is going, but a decade-long popularity and expansion are clear indicators that this is a journey which we must follow closely.
VAIOT, KuCoin Labs jointly launch crypto-regulation think tank supported by industry experts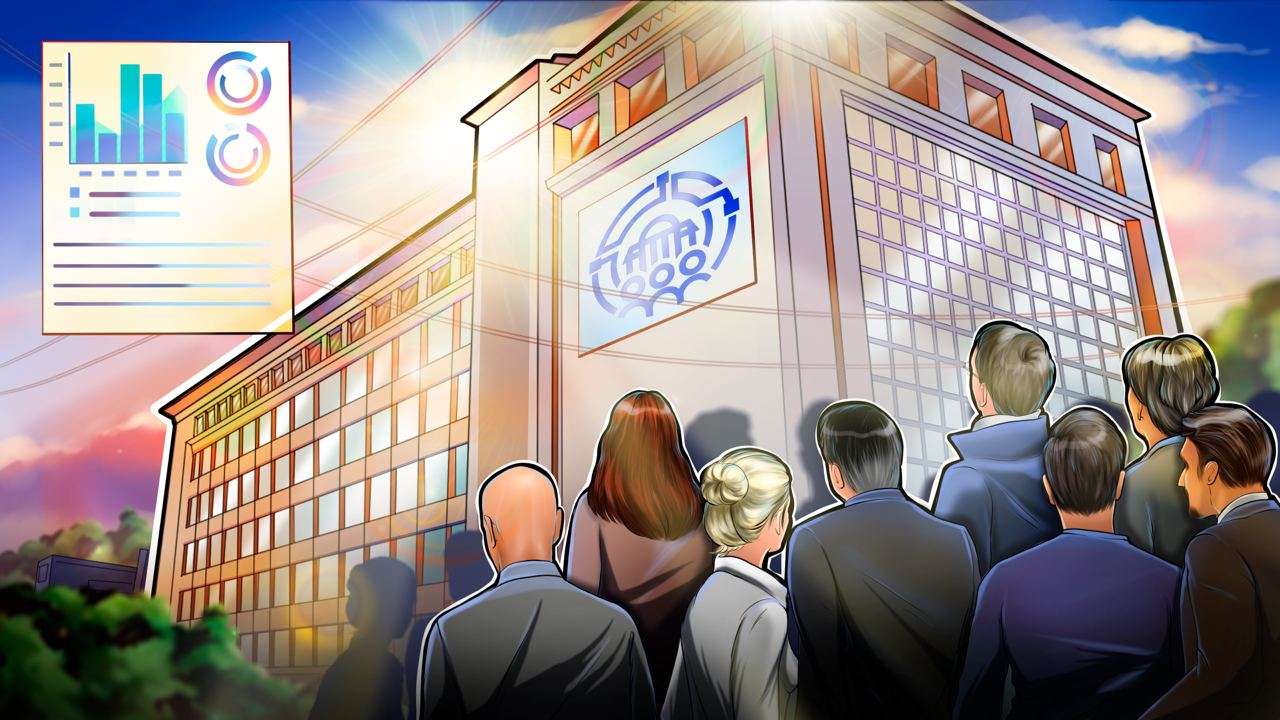 Reading Time:
3
minutes
VAIOT, the developer of AI-powered digital services for businesses and consumers, launches the Digital Assets Regulation Institute (DARI), fostering forward-thinking regulation informed by the know-how and perspective of companies operating in the crypto space. VAIOT's $VAI token remains one of the earliest digital assets to be issued within a regulated framework. The company is also among the few to have returned every penny to its investors after it was hacked for $2 million in January.
With the collapse of FTX—the former symbol of legitimacy in digital assets—many blockchain enthusiasts fear investors will step away from the industry. But 58% of institutional crypto investors plan to raise their allocations over the next three years, according to a recent Coinbase report, pointing to a long-term view of the asset class even though prices remain low. There will, however, undoubtedly be a shift toward regulated digital assets with long-term potential. As governments bolster their nascent regulatory infrastructures—ranging from MiCA, the EU's new crypto-assets regulatory framework, to various U.S. initiatives—it's crucial they consult with industry practitioners on how to make them effective and ensure the protection of retail investors.
Regulated since September 2020 under strict Maltese legal scrutiny and with oversight exercised by Grant Thornton, a leading accounting and advisory firm, VAIOT positions DARI at the forefront of shaping regulation. The think tank will gather relevant stakeholders, ranging from regulated companies and projects seeking regulation to consulting firms, financial and security auditors, accounting companies, law firms, and VCs, to conduct extensive research and produce reports that will inform government policy across the globe.
VAIOT's DARI is co-founded by KuCoin Labs, which brings significant experience in research and incubation of Web3 projects based on a strict selection criteria and vetting process. KuCoin Labs is known for gathering both internal and external leading market experts from different project development segments. DARI is also supported by a group of experts, including members of Grant Thornton Malta's tax, regulatory, and compliance practice.
At DARI, an interdisciplinary body of experts representing the point of view, know-how, and experience of industry participants will create ready-to-implement gold standards and best practices for crypto regulation. Specific working groups will develop reports and conduct focus groups from the perspective of retail investors to ensure policymakers take into account the perspective of every token holder when crafting regulation. DARI will offer up a unified body of knowledge easily accessible and implementable for any company in the industry to utilize. Projects seeking to be regulated will be able to participate in consultation and incubation with DARI's institutional partners, and the institutional partners will act as consultants for the think tank.
DARI invites companies, experts, and institutions in the crypto industry to join the initiative. Requests and inquiries should be sent to [email protected] .ai.
"No one cares about regulation during a bull run when money is being tossed around and investors are making massive gains," says Pawel Andruszkiewicz, COO of VAIOT and President of DARI. "It's when everything crashed and burned a few months ago that people came to understand the value of companies, like VAIOT, that comply with stringent regulations. It's our goal at DARI to ensure effective regulation is at the forefront of the way we think about this industry going forward."
"We've been hearing about governments working on regulation for digital assets for years now," says Wayne Pisani, Partner and Head of Tax, Regulatory and Compliance at Grant Thornton. "But part of the problem is it's being developed behind the scenes. Effective regulation requires bottom-up initiative, where companies and entities working within regulatory frameworks can share their opinions and expertise with regulators in a public manner. That's what DARI is aiming to bring to the industry."
"It is particularly crucial to join as strong an industry force as possible to ensure an optimal development condition for future crypto builders and users," states Lou YU, Head of KuCoin Labs, and vice-president to DARI. "We hope to create regulatory synergies among countries and markets, shouldering the fundamental ideologies of crypto but also making them relevant and tangible to all participants. DARI will put efforts into the submission of an official proposal to the European Commission, and is enthusiastic about engaging in regulatory hearings with the relevant European institutions."
Bitcoin betting: Use your crypto tokens for gambling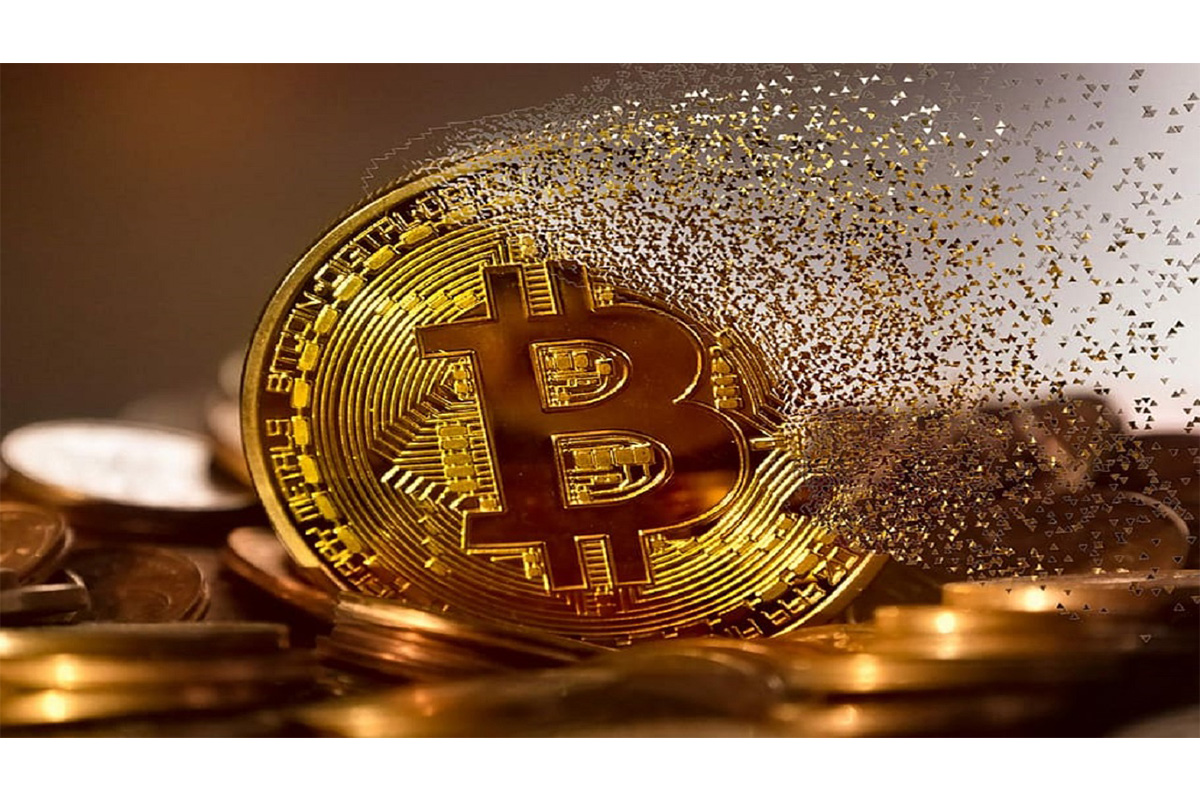 Reading Time:
3
minutes
Not every online bookmaker accepts Bitcoin as a payment method for placing sportsbook bets, but the industry heads in that direction. The most famous online sportsbooks allow customers to deposit funds, place bets and withdraw winnings in Bitcoin at the click of a button.
There are several positives to betting in crypto, some of which are more obvious than others. Professional sportsbook gamblers use Bitcoin to manage their money, qualify for bonuses, and get the best deals. From the Las Vegas sportsbooks to the biggest names in European gambling, Bitcoin is the new kid on the block and has caused quite a stir.
We clear up the confusion
Despite being a secure, fast, and reliable way to manage your funds for betting, a degree of confusion still needs to be clarified concerning crypto betting. There are more questions than answers, which may deter some inexperienced gamblers from using Bitcoin for their bets. That would be a great loss to bettors, and we wish to help you avoid it.
This article on Bitcoin betting helps keep things simple. We bring our readers up to speed with the processes involved with adding a Bitcoin account to your betting wallet, gambling, and withdrawing winnings. We also clear up any terms and conditions you should know before gambling.
Keep reading for your user-friendly, simple, and easy-to-follow guide on Bitcoin betting using your smartphone in 2023. By the end of this article, you'll have the information needed to bet using crypto. We even provide details on creating an account and landing a welcome bonus free bet.
Which crypto tokens can I use?
As you'll already know, hundreds of crypto tokens are available, but the top betting apps only accept Bitcoin now. Bitcoin is the biggest and most popular form of crypto, and you can add it to your sportsbook payment options.
The top betting apps might start accepting other tokens, but we are in the early days. Bitcoin is the safest way to test crypto betting, and so far, it has been well-received by both bookies and bettors.
Adding your Bitcoin account
Adding a Bitcoin account to your payment options takes a few seconds. Use your smartphone when on the move or at home using your laptop. The process is equally simple on both platforms, and you must add a Bitcoin account only once.
Visit the member's area at the top right of your bookie's homepage and click payments. Select the option to pair a Bitcoin account with your betting account and input your card details. Check the details are correct and then confirm.
Your two accounts are now linked, and you can start depositing crypto to your betting balance. Deposits are instant, meaning you can add funds and gamble without delay. Withdrawals are quick too.
If you have landed a winner and wish to withdraw the profits before spending them on future bets, it's easy. Withdraw, and your Bitcoin balance will be updated quickly.
Betting with Bitcoin
Placing a sports bet using Bitcoin is as easy as gambling with your debit card or an e-wallet account such as Skrill. Visit the member's area and click deposit before selecting your crypto account. Enter the amount you want to deposit and click to confirm. The funds are added and ready to use.
Click the sport you wish to bet on, such as soccer, and then the competition, fixture, and odds of your market. Add the intended stake to your bet slip and click to confirm. The funds come from your betting balance, or you'll top-up with your Bitcoin account.
Security
Bitcoin deposits, bets, and withdrawals are all protected by Secure Socket Layer technology. It's the industry standard for security, keeping your sensitive information protected and your online gambling private.
When researching a bookie, you should check with the security program they have in place. If it's not Secure Socket Layer technology, it's not a great bookie to join.
Free bet welcome bonus
All new customers who open an account, deposit funds using Bitcoin, and place a bet will qualify for the bookie's welcome bonus. The free or risk-free bet will allow you to familiarize yourself with the betting app without overspending.
Fiat & Crypto: King Billy players get the best of both worlds.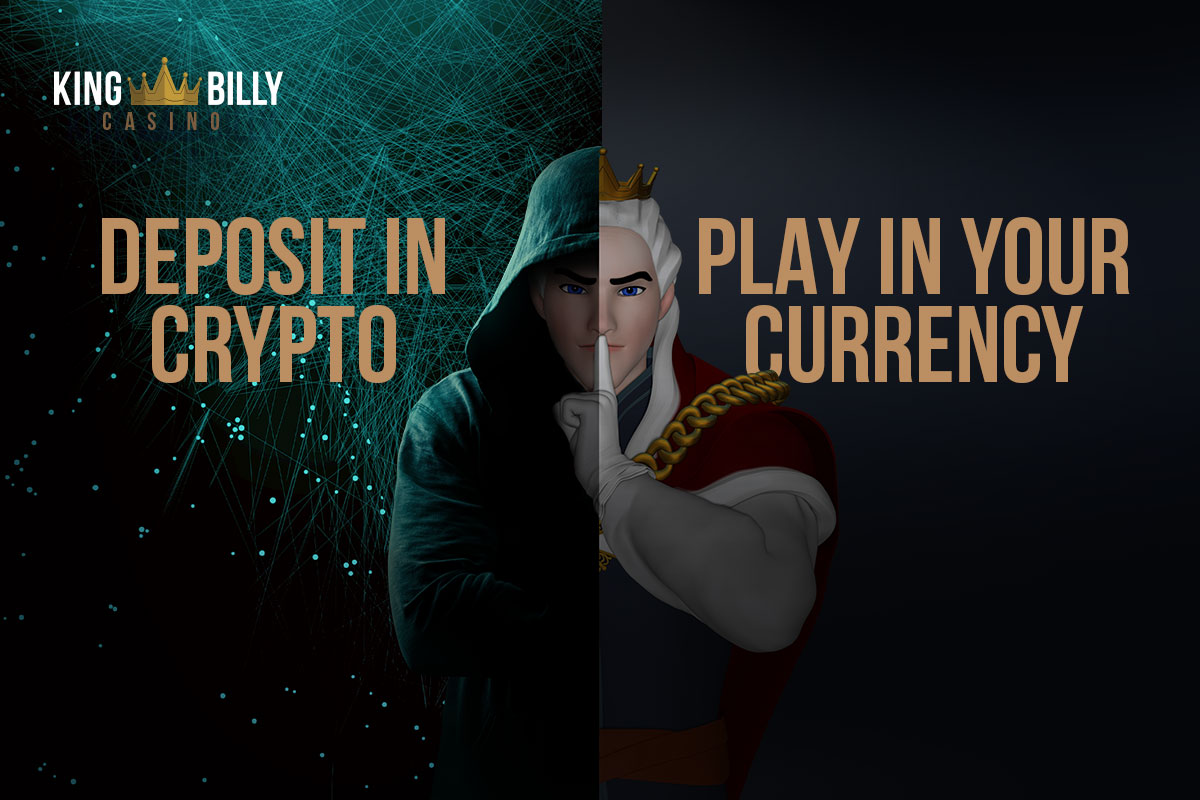 Reading Time:
2
minutes
See how the casino players can deposit in crypto and play in fiat. 
Since the dawn of e-gaming robust payment systems have been crucial for the success of any online casino, as they are a key factor in creating a positive and satisfying gaming experience. Moreover, the availability of different payment options allows players to choose the method that works best for them, whether it be classical fiat money or cryptocurrency.
But is it possible for an operator to give its players the best of both worlds, fiat and crypto at once? Yes, it is, with the King Billy feature "deposit in crypto, play in fiat". The concept is simple. A casino player deposits in crypto (choosing among 4 cryptocurrencies King Billy supports). Then, the system automatically shows them their balance in the currency of their choice (among the 14 currencies King Billy supports, used by more than 3 billion people worldwide). When the players withdraw, their transaction takes place back in crypto. 
What are the advantages of this system? Ruslan Legenzov, King Billy Casino Head of Affiliates (or "Lord of Affiliates" as the internal etiquette demands) has the answers: "Good things come in threes, and there are certainly 3 very good things about our "deposit in crypto, play in fiat" feature.
First of all, depositing in crypto means less hassle and paperwork for the player and elimination of the dreaded "transaction not coming through" issue. This has been a problem and actually a torment for many of our players in remote areas of the world. As a global casino, we are happy to act in ways that give peace of mind to our players.
Secondly, this system offers a greater player experience to the King Billy Citizens and Nobles, as they can now take advantage of our numerous promotions and offers in fiat. For example, players who deposit in crypto can now participate in our extremely popular fiat-only "Slot of the Month" offer, that's been a staple of our casino since our launch. 
Finally, with "deposit in crypto, play in fiat" our players, especially the not so cryptocurrency-savvy have a much clearer understanding of their wins or losses. I am sure that a player, let's say from Vietnam, prefers to see, in real time, how much his slot win is worth in the Vietnamese Dong than running in parallel a crypto converter tool to do the math!"
Well said and well done your Majesty. 
For those interested in the "deposit in crypto, play in fiat" feature, King Billy Casino accepts the following currencies: Euro (€), US Dollar ($), Canadian Dollar (C$), Australian Dollar (A$), New Zealand Dollar (NZ$), Norwegian Krone (kr), Indian Rupee (₹), South African Rand (R), Vietnamese dong (₫), Indonesian rupiah (Rp), Malaysian ringgit (RM), Thai baht (฿) and the Philippine peso (₱). King Billy also accepts the following cryptocurrencies: Bitcoin (BTC), Ethereum (ETH), Litecoin (LTC) and Tether (USDT).
King Billy Casino is a new-generation online casino, launched on St. Patrick's Day in 2017. It is available in 4 languages (English, German, French and Finnish) and it has an impressive record in awards with 25 wins, shortlists and other distinctions, and an amazing variety of features and games. King Billy has prioritized the creation of a superb user experience, focusing on the myth of King Billy and his Kingdom and treats all players with the specialness they deserve.