2022 Football World Cup and sports betting: the ANJ presents the results of the competition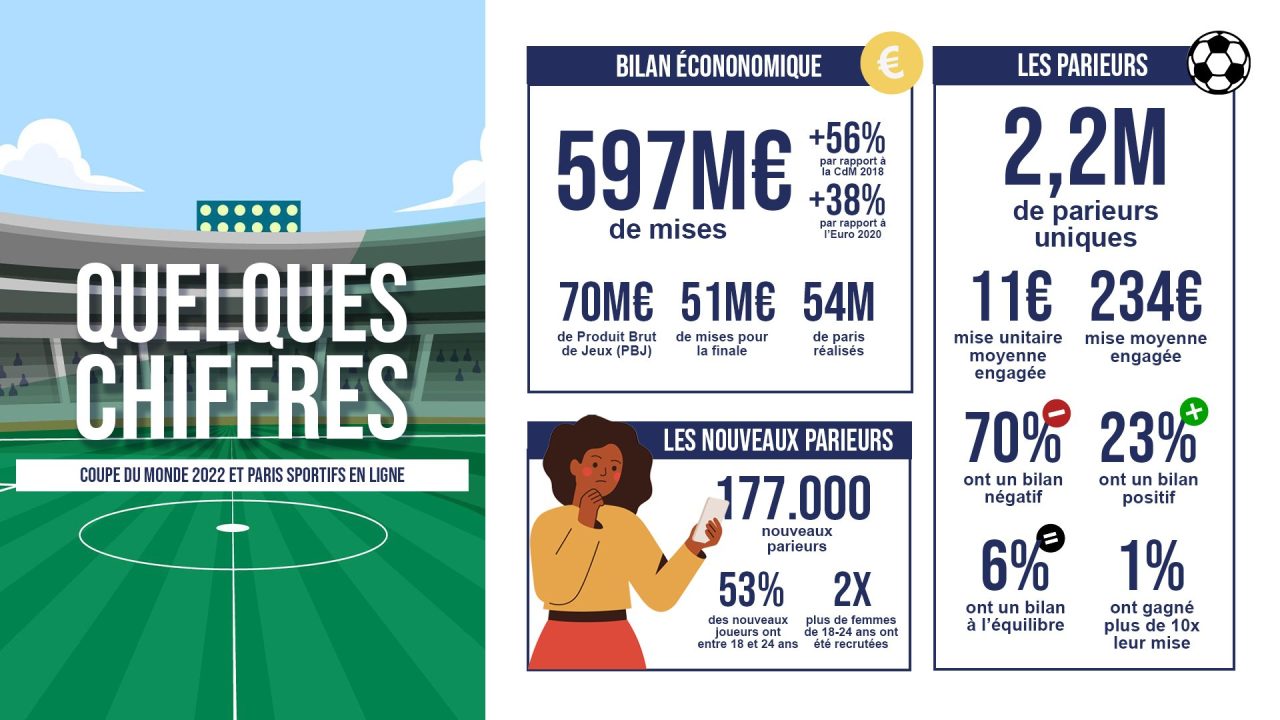 Reading Time:
6
minutes
As expected, the Football World Cup was a highlight in the 2022 sports betting calendar, with online stakes breaking records. This economic result confirms the real craze for sports betting, which is, for many gamblers, an inseparable practice from football. As far as advertising is concerned, the content has become more normalized, and the commitments made by the operators to reduce advertising pressure have generally been respected. Nevertheless, the massive recourse to programme sponsorship and influence are points of vigilance for the regulator and answers will have to be provided in the near future.
Economic results: a major World Cup, but in the context of a global slowdown in the growth of the online sports betting market in 2022
The Football World Cup has recorded several records for online sports betting:
– €597 million in stakes and €70 million in GGPs (Gross Gaming Revenue), a record performance for a competition of this scale. Stakes were 56% higher than for the 2018 World Cup and 37% higher than for the Euro, which was held in 2021 but featured fewer matches. The results recorded in FDJ sales outlets will be communicated in mid-February. Nevertheless, it can be estimated that the total amount of bets recorded online and in sales outlets could exceed €900 million.
– With €51 million in stakes placed, the France / Argentina final is the match that holds the record for bets, dethroning the 2018 France / Croatia final (€38million).
However, this result should be seen in a more global context of slowing down the growth of online sports betting in 2022. In fact, in 2022, the online sports betting segment saw a 2.5% growth in GGR, compared to 44% in 2021 and 7% in 2020, marked by Covid. Stakes on the 2022 World Cup represent 7.2% of total stakes placed in 2022, compared with 10% in 2018. Two explanations for this drop in the weight of stakes associated with the World Cup can be put forward: on the one hand, the number of players who opened an account during the World Cup was greater in 2018 than in 2022. Their weight in the total number of player accounts opened has therefore decreased. On the other hand, it seems that players who were already active before the World Cup have spread their bets more throughout the year and are diversifying them to other football competitions and sports, such as basketball.
Profile of players and betting practices: more women and 18-24 year olds among new bettors
– 177,000 new gamblers created an account during the competition. This is less than in 2018 (232,000 accounts opened);
– A more feminine pool of players: twice as many women aged 18-24 were recruited than during a normal period of activity, i.e. outside a major sporting and popular event;
– 54 million bets were placed, more than double the number in 2018;
– While players bet more than in 2018, the amount of unit bets was €11, which is slightly lower than the amount of unit bets seen in 2018;
– The average stake placed during the entire competition remained stable compared to that observed during the 2018 World Cup, at €234;
– 2.6 million player accounts placed a bet during the competition (players have an average of 1.2 accounts). This represents 2.2 million unique players;
– 70% of these accounts were negative, 23% were positive and 6% were balanced; only 1% won more than 10 times their stake.
– The 18-24 year olds represent 53% of new players, which is higher than in a normal period of activity.
It is still too early to assess the effects of competition on loss of control and addiction. An ANJ/OFDT (Observatoire Français des Drogues et des Tendances Addictives) study project will make it possible to observe this phenomenon over the medium and long term on new and regular players.
Preventive campaigns
For the first time, several prevention campaigns were conducted by public institutions before and during a major sporting event. These three campaigns, launched by Santé publique France, the Seine-Saint-Denis General Council and the ANJ, raised awareness among the general public of the risks of problem gambling and excessive gambling, using different approaches. The ANJ campaign "T'as vu, t'as perdu" (You saw, you lost) was aimed at sports bettors by mobilising their media and their codes.
46% of French people said they had seen prevention campaigns during the World Cup and more than 7 out of 10 gamblers. 82% of them consider that these campaigns are useful and 47% think that there are not enough of them.
Assessment of the regulatory mechanism put in place for operators' commercial communications: an action plan that has made it possible to change the tone and to contain advertising pressure
After noticing an unprecedented advertising pressure in favour of sports betting during the Euro football tournament in 2021, the ANJ launched an ambitious action plan to "de-intensify" the advertising pressure on all communication media (television, radio, billboards and digital) and to reinforce the protection of minors and at-risk audiences, particularly on digital levers.
This two-part plan included guidelines for advertising content and financial incentives on the one hand, and recommendations for reducing advertising pressure across all media channels and moderating bonus offers on the other, in order to better protect vulnerable audiences.
In order to demonstrate their willingness to apply the recommendations of the ANJ, all the actors of the ecosystem – advertising agencies, audiovisual professionals and gambling operators – signed in November 2022 four commitment charters to moderate advertising pressure and promote responsible commercial communications in television, radio, billboards and digital. The World Cup was the first major event to test the effectiveness of the commitments made.
As regards the content of the advertisements, a change in tone was observed. There is less emphasis on external signs of wealth or false beliefs about the possibility of changing social status through sports betting and less blatant targeting of young people from working class neighbourhoods. According to a study carried out by Toluna – Harris Interactive for the ANJ, sports betting advertisements are considered as "slightly less disturbing and aggressive" than during Euro 2021;
The commitments made in TV, radio and billboards were generally respected and made it possible to contain the pressure on traditional media;
The pressure on the digital world seems to be slightly less important than during the Euro, but this point needs to be confirmed on the basis of the figures expected in February;
The transparency of financial incentives (welcome and loyalty bonuses) has improved. In addition, the €100 limit on the welcome bonus recommended by the ANJ was generally applied by sports betting operators.
Lastly, the ANJ carried out an audit of the four main sports betting operators in order to ensure compliance with the commitments they have made. The checks are in progress.
A need to go further
There are still points of vigilance insofar as the ANJ has noted that some operators are using circumvention strategies with massive recourse to sponsorship of sports programmes and influence, which are particularly invasive and popular with young people. During the World Cup, around 100 influencers were mobilised to promote sports betting, mainly on Instagram, YouTube and Twitter. 80% of the influencers' audience is under 34 years old and 50% under 25 years old.
The working group on sponsorship initiated by the ANJ in July 2022 will deliver its conclusions and proposals in March; they will focus in particular on jersey partnerships, competition naming, but also programme sponsorship on radio, television or streaming sites.
The ANJ is also actively participating in the various initiatives of the public authorities aiming to better regulate the use of influence.
Finally, although advertising pressure was contained during the World Cup, it remains at a high level, particularly on television, billboards and social networks. The study carried out by Toluna – Harris Interactive indicates that 49% of people who saw sports betting advertisements during the World Cup believe that "there are too many" (compared to 54% during the Euro). 88% of those who saw the ads said they saw them on TV and 54% on social networks, with the proportion rising quite logically to 79% among the under-35 years old.
The review by the ANJ Board in February 2023 of the promotional strategies of gambling operators aims to assess the regulation of advertising in 2022 and to provide new answers to the marketing ambitions of the operators, in particular concerning their important presence on social networks which are very popular with young people and excessive gamblers, the massive use of influence and sponsoring
For Isabelle Falque-Pierrotin, Chairwoman of the ANJ: "The regulatory mechanism set up by the ANJ in the run-up to the World Cup made it possible, with the tools at its disposal, to contain advertising pressure, and the operators generally played along. Nevertheless, this pressure remains strong and concerns the regulator, in a context where the latest OFDT studies show an increase in excessive gambling. The ANJ is therefore considering additional measures that it will propose to the public authorities in the coming months to strengthen the supervision of gambling advertising."
Gaming Americas Weekly Roundup – March 13-19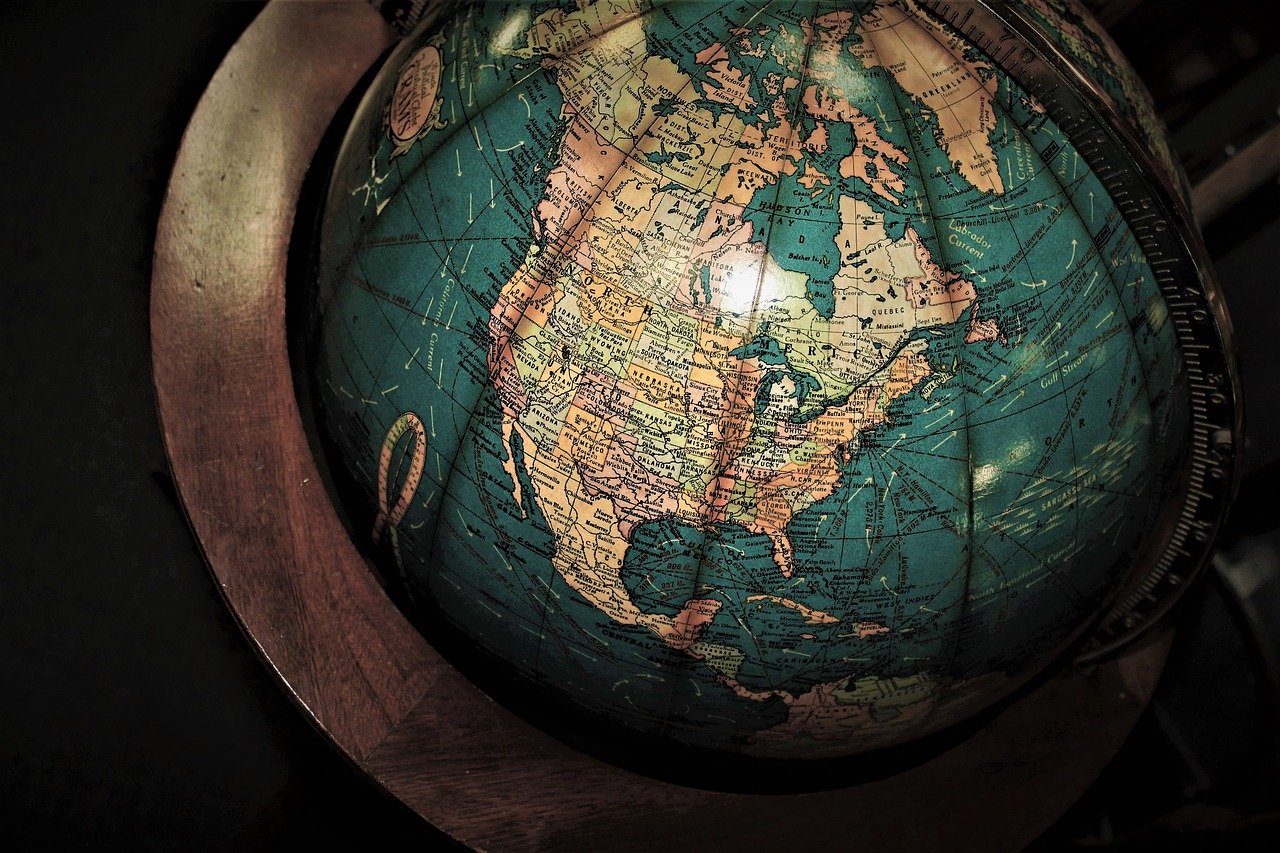 Reading Time:
2
minutes
Welcome to our weekly roundup of American gambling news again! Here, we are going through the weekly highlights of the American gambling industry which include the latest news and new partnerships. Read on and get updated.
Latest News
Affinity Interactive (AI) announced that its affiliates have entered into a definitive agreement to sell Rail City Casino (Rail City) to affiliates of Truckee Gaming LLC (Truckee Gaming). The financial terms of the transaction were not disclosed.
WynnBET, the online sports betting and casino app from the global leader in luxury hospitality, Wynn Resorts, announced that its online sports betting platform is live in the Commonwealth of Massachusetts. Players can download WynnBET on the Apple and Google Play Stores or register for an account at www.wynnbet.com/ma.
The Alcohol and Gaming Commission of Ontario (AGCO) announced that Tom Mungham, its current registrar and chief executive officer, has decided to retire from his current roles this fall. Tom will continue in these roles while the Board conducts its search for the agency's next Registrar and CEO and will remain to support a smooth transition until that individual begins.
Federated Indians of Graton Rancheria and the State of California have entered into a Tribal-State gaming compact as announced by Governor Newsom's office on March 9, 2023. This will replace the agreement signed in 2012. The new compact increases the number of authorised slot machines at Graton Resort & Casino from 3000 to 6000.
Tiidal Gaming Group announced that it and its wholly-owned subsidiary, Tiidal Gaming Holdings, have entered into a share sale and purchase agreement with Entain Holdings (UK) Limited, pursuant to which Tiidal Holdings will sell all of the shares of the Company's operating subsidiary, Tiidal Gaming NZ Limited (Sportsflare), to Entain.
Partnerships
Betplay has extended its partnership with Colombian football's governing body Dimayor for a further six years. For the past three years, as a sponsor of Dimayor, the operator has held the naming rights to the body's competitions, including the First Division (Betplay League), Second Division (Betplay Tournament), Colombia Cup (Betplay Cup), Super League and Women's League.
The United Soccer League (USL) and global sports marketing agency SPORTFIVE have reached a new, long-term, expansive partnership to help the league grow its business globally. Under the agreement, SPORTFIVE will continue to secure key international media distribution partnerships across television and digital platforms for USL's professional leagues, including the USL Championship and USL League One men's competitions and the USL's new professional women's competition, the USL Super League, which will launch in August 2024.
Playtech has announced a landmark strategic partnership with Hard Rock Digital (HRD). Under the partnership, HRD will license a range of the company's proven technology solutions and iGaming content to deliver the authentic experience customers have come to expect across Hard Rock's global ecosystem of entertainment, hospitality and bricks and mortar casinos.
Elray Resources announced it has signed up its first operator, Maxibet Technology N.V., and is in the process of finalising the operator's blockchain casino under the brand name Maxibet, licensed in Curaçao and to be operated globally.
Rush Street Gaming and Rivers Casino announced a partnership with MSC Cruises that grants Rush Reward Members at all Rivers Casino locations an annual cruise benefit that applies to most of the company's sailings worldwide.
Symplify integrates Open AI into its Engagement Ecosystem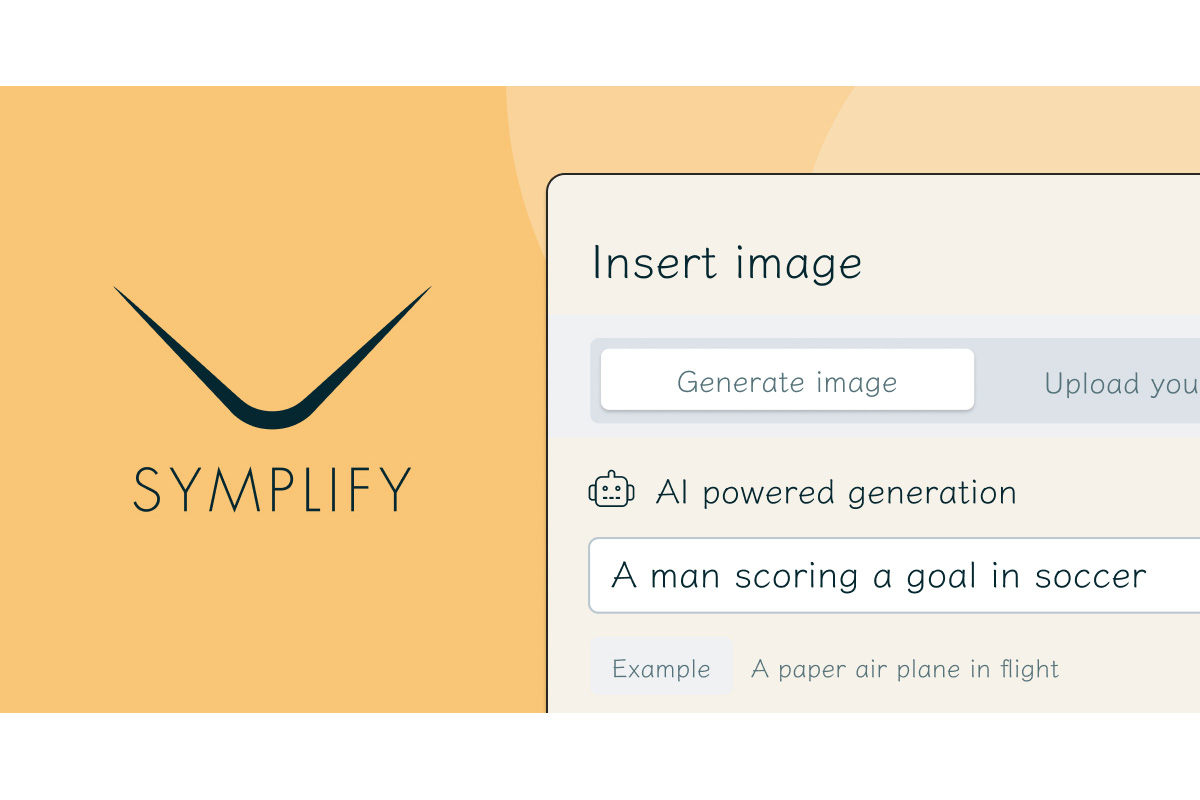 Reading Time:
< 1
minute
Symplify, the Stockholm-based market leader in CRM and AI cloud solutions, has integrated Open AI into its Engagement Ecosystem to optimise client content creation.
Seamlessly utilising Open AI within Symplify's platform will enable existing partners to create custom auto-generated content and imagery across all key marketing channels. The goal is to reduce content production times by up to 60% by providing a faster and more efficient solution for creating high-quality content.
A consistent issue facing clients is acting on the abundance of campaign and journey ideas, as the last stage of production can often be time-consuming. The Open AI integration allows users to easily generate text and images with a simple command within the Symplify Editor, while the copy can be refined and customised to suit specific needs. The resulting high-resolution images are entirely bespoke.
With the integration of Open AI, Symplify users can streamline their content production process, allowing them to focus on other critical aspects of their business.
Symplify's CEO Robert Kimber said: "Symplify's success is underpinned by our belief in futureproofing our partners' businesses and by integrating Open AI into our Engagement Ecosystem we're strengthening that commitment. By optimising the content development we're helping grow our customers' CRM strategies at scale, while offering multi communication channel coverage."
Team Top-G crowned champions of NESC 2023; become first ever Indian female CS:GO team to qualify for World Esports Championships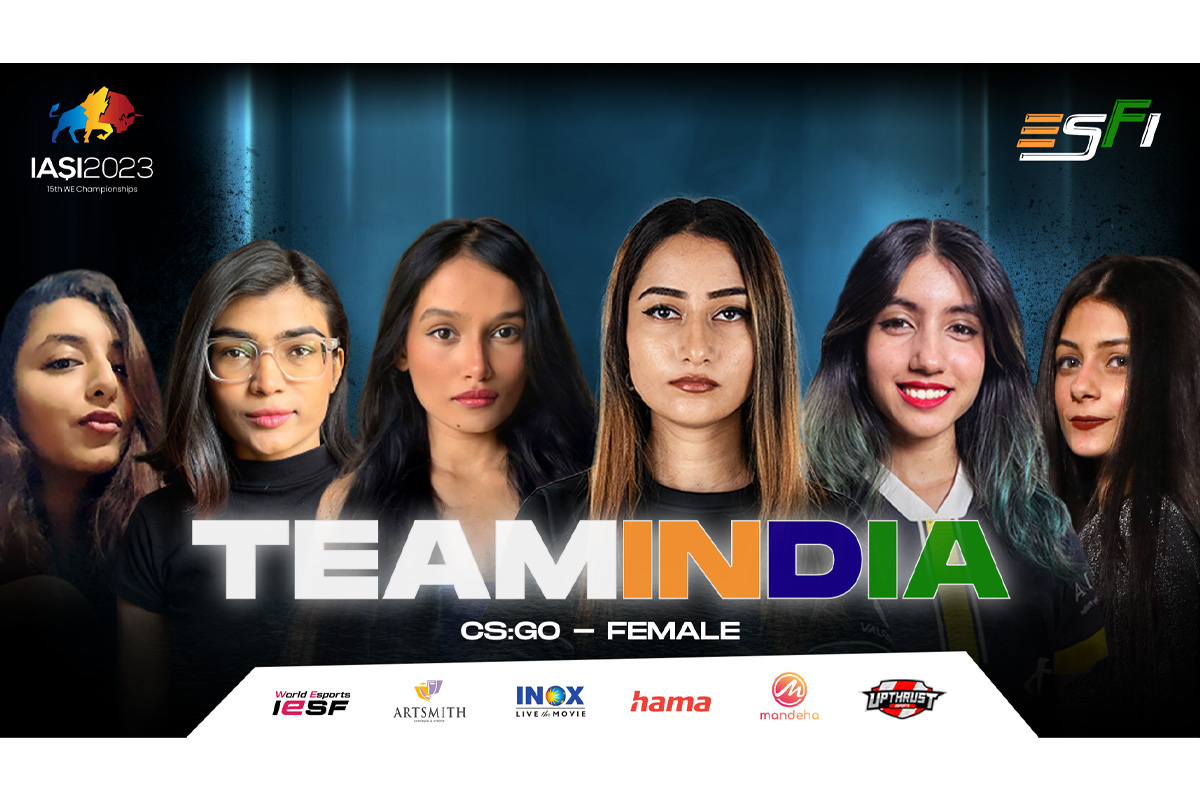 Reading Time:
2
minutes
Scripting history, team Top-G emerged as champions of the inaugural all-female CS:GO qualifiers with a stunning 2-1 victory against team Purr-ple at the ongoing National Esports Championships (NESC) 2023 organized by the Esports Federation of India (ESFI). Following this monumental result, Top-G has become the first Indian female CS:GO team to qualify for the global finals of the World Esports Championships (WEC).
With ace CS:GO athletes such as captain Swayambika Sachar (Sway), Shagufta Iqbal (xyaa), Nidhi Salekar (Stormyyy), Dilraj Kaur Matharu (COCO), Aastha Nangia (CrackShot) and Priyanka Choudhary (ALEXAA) as Substitute in their squad, Top-G proved their mettle against team Purr-ple in the closely-contested finals.
Expressing her feelings on the stellar victory, the team captain of Top-G, Swayambika 'Sway' Sachar said, "Winning the finals was an unreal feeling for all of us. We felt so many emotions before, after, and most importantly during the match and the adrenaline rush was on another level. Triumphing in this tournament and representing India on an international stage is a dream come true for all of us and we aim to prove on the world stage why we deserve this spot. We are grateful to ESFI for providing us with such an amazing opportunity and we truly appreciate the efforts put in by them to uplift women in Esports."
Top-G dominated the first map by 16 -10 before Purr-ple made a stunning comeback to win the second map 16-14. While both teams were going toe-to-toe in the enthralling finals, Top-G utilized their effective teamwork and proficient attacking tactics to edge out their opponents and take the last map by 19-15 in overtime.
 "It gives us immense joy to see a female team representing India at the World Esports Championships for the first time in history. The electrifying finals were a testament to the ability that our country's female athletes possess and why ESFI has constantly been taking significant efforts to provide them with opportunities to display their talent and high-quality gameplay. We would like to congratulate Top-G on their remarkable accomplishment and look forward to them winning at the regional & global finals in Romania," said Vinod Tiwari, President of the Esports Federation of India.
The ESFI will now be organizing friendlies against distinguished CS:GO teams from other countries for team Top-G before their participation at the WEC 2023 which is scheduled to take place in Iasi, Romania.
With a whopping prize pool of $500,000 (INR 4.12 crore) and at least 130 countries participating, the 15th WEC is set to be the largest edition of the tournament to date. The global finals of the prestigious tournament will take place from August 24 – September 4, 2023.
One of the country's top sports & Esports communication agencies, Artsmith-Concepts & Visions, will continue its support to the Esports Federation of India as their official communication partner.
The ongoing NESC is witnessing the participation of 275 athletes across four different titles – CS:GO, DOTA 2, Tekken7, and eFootball 2023 and its exciting action is being streamed live on ESFI's Youtube, Facebook, and Glance Gaming channels.