GR8 Tech Shared iGaming Market Experience at Prague Gaming & Tech Summit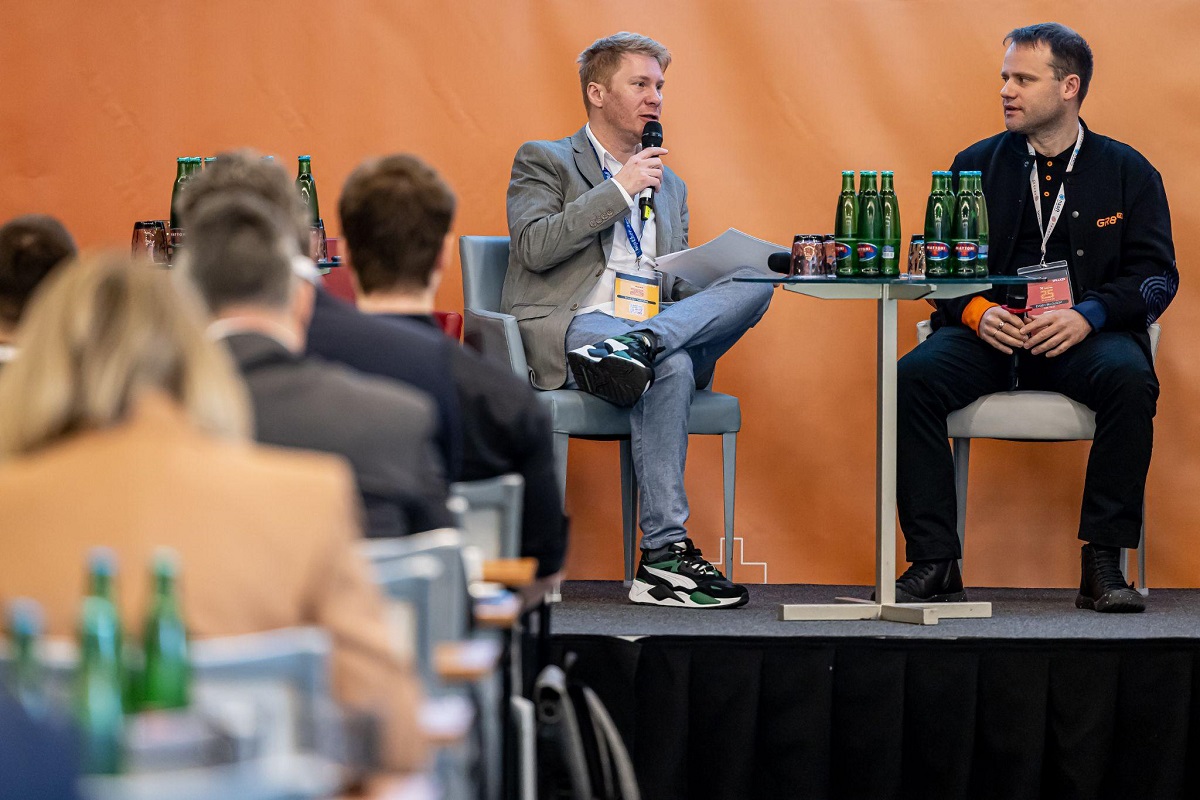 Reading Time:
2
minutes
At Prague Gaming & Tech Summit, GR8 Tech's team shared their expertise on the challenges and technologies that iGaming operators may encounter. In a one-on-one conversation with Zoltán Tűndik, Co-Founder at HIPTHER Agency, GR8 Tech CEO Evgen Belousov discussed the European iGaming industry and highlighted the unique features of GR8 Tech's business model. Belousov explained how their approach could boost partners' businesses and facilitate the launch of a new iGaming venture.
"Czechia has all the potential to become a hub for technological advancements and iGaming trends. In fact, the country already boasts a significant share of the European iGaming market, with a growing number of operators establishing their presence here. Additionally, the Czech eSports industry has been experiencing steady growth in recent years, presenting exciting opportunities. With our office in Prague, we have expanded our understanding of the iGaming industry in Europe with a new, fresh perspective," said Evgen Belousov, CEO at GR8 Tech.
Belousov elaborated on the iGaming industry in Europe, its current state, and emerging trends. He also covered the challenges iGaming companies face when they want to grow and expand to new markets.
"Some operators face challenges with their current platform, such as local software limitations that prevent global expansion, scaling issues, and product metrics constraints like bet placing per minute. At GR8 Tech, we understand these issues and have the expertise to address them effectively."
Evgen emphasized that GR8 Tech's business model priorities are centered around comprehending operators' difficulties in changing software and migrating players.
"Changing software for the operators is a nightmare. Only through extensive research, including surveys and analysis of our biggest client brand's experience with eight migrations in different geographies and software, have we developed a comprehensive plan that ensures a smooth transition for players, without any negative impact on the business."
As advice to companies aiming to develop software for iGaming and enter the market, Evgen recommends prioritising the needs of operators and addressing the pain points of the iGaming business within local regulations. He suggests close collaboration with operator representatives, conducting thorough market research, and analysing player behavior patterns to achieve great results.
The GR8 Tech team is excited to continue sharing their expertise in upcoming events, including the Prague Web Expo next month.
Hipther Reveals EiGE Awards 2023 Shortlists: Honoring iGaming Excellence in Europe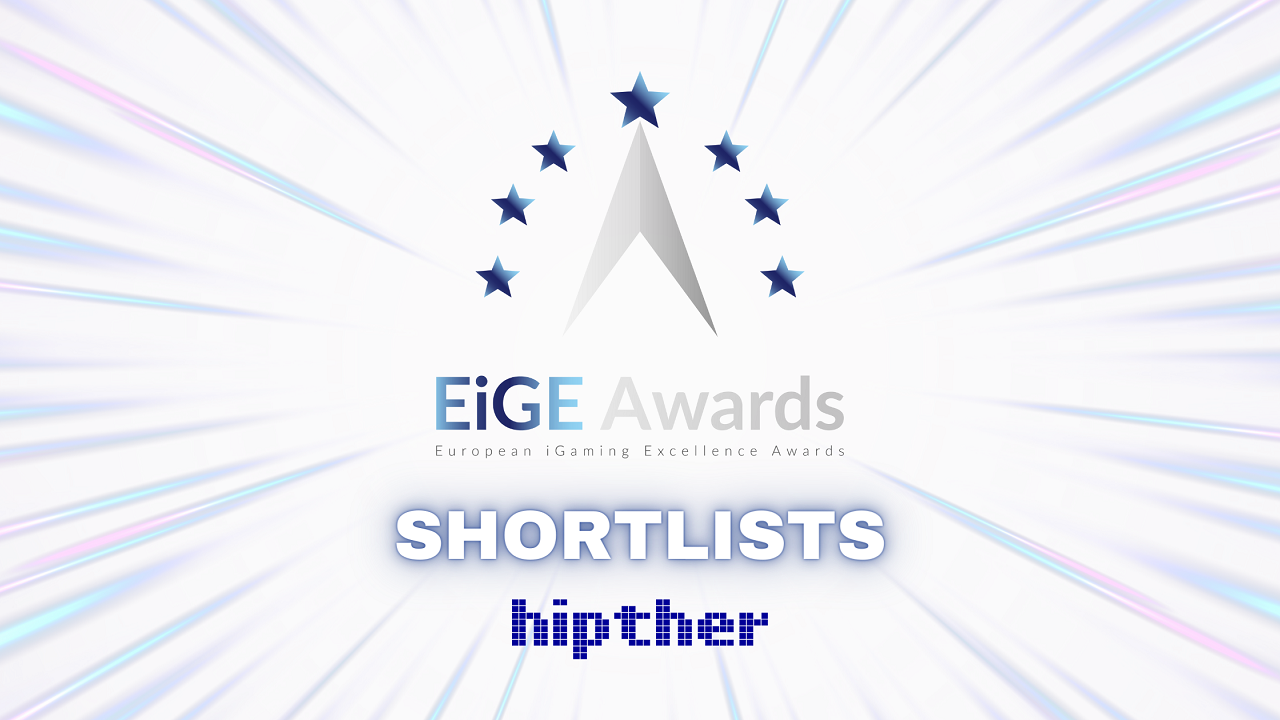 Reading Time:
2
minutes
Hipther Agency is proud to unveil the highly anticipated shortlists for the inaugural European iGaming Excellence Awards (EiGE Awards 2023)! The European iGaming Excellence Awards will be making their debut at the European Gaming Congress, held at the illustrious InterContinental Warsaw on 31 October,organized by Hipther.
The European iGaming Excellence Awards aim to recognize and celebrate the exceptional contributions and accomplishments of industry leaders, innovators, and influencers within the European iGaming landscape. EiGE Awards serve as a resplendent platform to applaud excellence, foster a sense of community, and inspire ongoing innovation within the European iGaming sector. As we prepare to celebrate the remarkable achievements of those shaping the future of the industry, the EiGE Awards proudly stands as the beacon where excellence meets recognition.
Here are the shortlisted nominees in each category for the EiGE Awards 2023:
EiGE Awards 2023 – Shortlists
BEST IGAMING OPERATOR IN 2023
BEST IGAMING SUPPLIER IN 2023
BEST TESTING LABORATORY IN 2023
GAMING LABORATORIES INTERNATIONAL (GLI)
BEST PAYMENT PROVIDER IN 2023
BEST IGAMING PRODUCT IN 2023
BEST CUSTOMER SERVICE IN 2023
BEST MARKETING CAMPAIGN IN 2023
BEST RESPONSIBLE GAMING PROGRAM IN 2023
BEST GAME DEVELOPER IN 2023
BEST EMERGING IGAMING COMPANY IN 2023
BEST MOBILE GAMING PROVIDER IN 2023
BEST LIVE DEALER PROVIDER IN 2023
BEST IGAMING AFFILIATE PROGRAM IN 2023
BEST ESPORTS BETTING PROVIDER IN 2023
INNOVATION IN IGAMING TECHNOLOGY IN 2023
Get Your Tickets for EiGE Awards & the European Gaming Congress – Group Pass Offer Now Available!
About Hipther:
Hipther Agency is the parent brand of European Gaming, PICANTE, WireUp Zone, Gaming Americas, eSports Connect, the HIPTHER news app, and the WireUp networking app found on the Play Store.
➔ To receive constant updates from the HIPTHER network and conference agenda updates, subscribe here: http://eepurl.com/hfyZxf
➔ For sponsorship/speaking inquiries, make sure to reach out to Zoltan Tuendik (Co-Founder and Head of Business at Hipther) at [email protected]  
➔ For media-related inquiries, please contact Maria E. Arnidou (Event marketing Coordinator at Hipther) at [email protected]
PIN-UP Global to be represented at SBC Summit Barcelona for the first time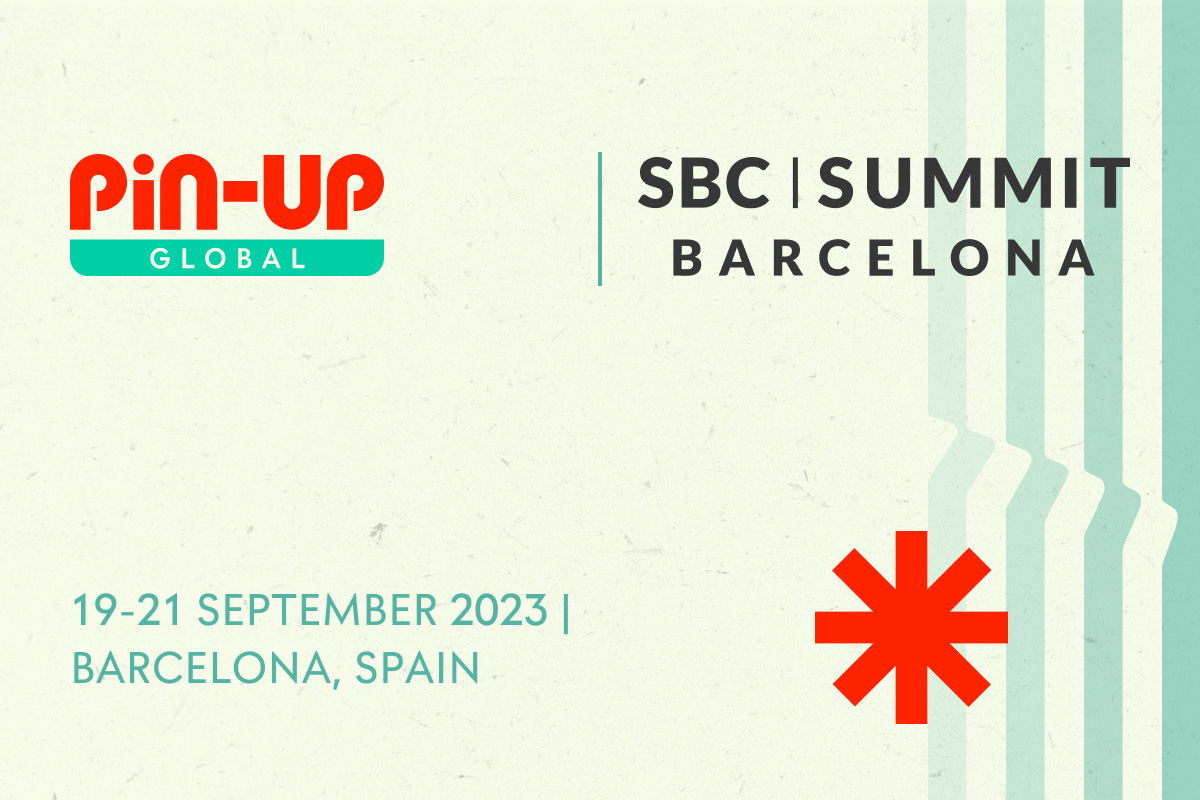 Reading Time:
2
minutes
International ecosystem PIN-UP Global has become a participant of one of the major events in the gambling industry – SBC Summit Barcelona, which will be held on September 20-21 in Barcelona.
The SBC Summit Barcelona conference and exhibition is the place where global leaders in sports betting and iGaming gather to discuss the future of the industry, share knowledge and build strong relationships. More than 350 world-class operators will be represented on the 38,000 m² exhibition area displaying their products. 15,000 delegates are expected to attend the event. One of them is a top industry representative – PIN-UP Global – a full-cycle ecosystem with in-house products and services for the gaming industry: software development, customer service, management, marketing, legal and financial support and much more.
PIN-UP Global will be represented at SBC Summit Barcelona with a corporate stand. The ecosystem team is open to mutually beneficial cooperation with representatives of companies that own various traffic volumes, game and payment providers, developers of innovative services. Those wishing to become a part of PIN-UP and develop in a professional team will be able to communicate with the HR-team of the Ecosystem, find out about vacancies and use the chat-bot for contact exchange.  PIN-UP Global invites all those interested to visit its booth at SBC Summit Barcelona and learn more about cooperation opportunities.
PIN-UP Global CEO, Marina Ilina: "SBC Summit Barcelona is a unique opportunity to strengthen our relationships with partners and meet new market players. We are looking forward to the event and are ready to share solutions that contribute to the long-term success of our brand."
The final part of the summit will be the SBC Awards ceremony, which for the tenth year running celebrates the best in sports betting and gambling and continues to recognize the achievements of operators and affiliates, as well as suppliers from all major areas including payments, marketing, platform and data providers.
Today PIN-UP Global is represented in six countries (Cyprus, Ukraine, Poland, Kazakhstan, Armenia, Peru), has more than 2000 employees, and operates in seven different areas – PIN-UP.TECH, PIN-UP.BUSINESS, PIN-UP.CRM, PIN-UP.TRAFFIC, PIN-UP.PLAY, PIN-UP.CARE, PIN-UP.TEAM.
SBC Summit Finds New Home in Lisbon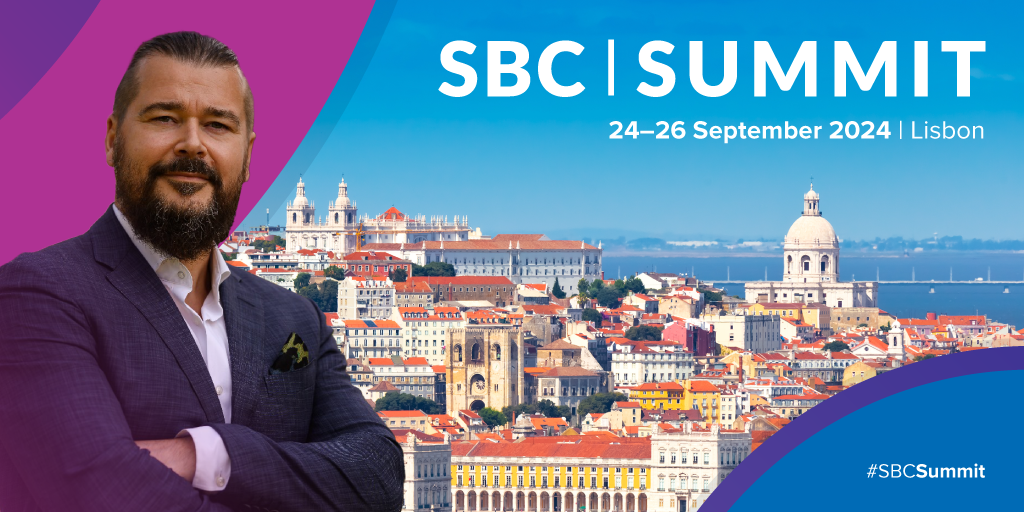 Reading Time:
3
minutes
SBC's flagship global event SBC Summit has a new home in Lisbon starting in 2024, in order to meet the demands of the industry's fastest-growing gathering.
Previously known as SBC Summit Barcelona, the upcoming event will be named SBC Summit 2024, as the branding has evolved to better reflect the worldwide nature of the event.
SBC Summit is a global gathering that transcends borders, extending a warm welcome to attendees from across the world and spanning various industry sectors.
Taking place over three days from 24-26 September 2024 at Feira Internacional de Lisboa (FIL), the event is poised to occupy more than 100,000 square metres of exhibition and conference space, which is more than twice the size of the 2023 venue measuring 38,000 square metres. This enhanced capacity enables SBC to welcome 600 exhibitors, nearly doubling the number hosted at the 2023 edition.
With the expanded venue capacity, the SBC Summit will now accommodate 25,000 attendees at FIL. This diverse audience will include operators, affiliates, sportsbook and casino suppliers, regulators, payment providers, marketing agencies, associations, legal advisors, start-ups, and more.
Rasmus Sojmark, CEO and Founder of SBC said: "The decision for a new home for our flagship event was driven by its remarkable growth, which had clearly outpaced the capacity of Fira Barcelona Montjuïc, as well as praise and support from clients and industry stakeholders. When we say it's the fastest ever-growing event in the industry, we mean it, and that's why finding the right venue and city was absolutely essential."
The event's expansion on the exhibition front does not come at the expense of its commitment to providing the ultimate delegate experience. The conference will host eight stages and 500 speakers including the largest stage in gaming with seats for thousands of delegates. The event will also offer the greatest hospitality in gaming with food trucks serving both local and international dishes and drinks around the clock. There will be plenty of networking and business opportunities across the many bars, coffee bars, ice cream lounges, a beer garden, a beach bar, fun and game zones, and much more.
Maria João Rocha de Matos, General Director of FIL said: "We are thrilled to welcome the SBC Summit to Lisbon in 2024. At FIL – Lisbon Exhibition & Convention Centre, we are dedicated to providing world-class facilities and support to ensure that this event is nothing short of spectacular. Our team is committed to working closely with SBC and its community to create an unforgettable experience in our beautiful city. We can't wait to showcase all that FIL and Lisbon have to offer and make the SBC Summit a resounding success for many years to come."
Lisbon, one of the oldest cities in Western Europe and a global historical gem, hosts more than six million tourists annually and is renowned for its warm and welcoming locals. The city offers a seamless transportation network, and while Portuguese serves as the official language, English is widely spoken in key areas. Lisbon's culinary scene stands out as a top reason to visit, and the venue itself is surrounded by a vibrant array of bars and restaurants, with more than 20 options within walking distance.
Considering the global nature of the event, Lisbon is also the perfect choice for its extensive flight connectivity. Humberto Delgado Airport, conveniently located just 4 km from FIL, provides direct links to 136 airports worldwide, including non-stop routes to major US and South American hubs.
"The city and FIL are home to the Web Summit that annually gathers over 70,000 attendees and transforms the city into a tech hub and was an immediate and obvious choice. We knew that FIL possessed all the essential elements for scaling our event while maintaining accessibility and upholding the high-quality standards we've set for ourselves. I'm excited about what lies ahead. This is a unique moment for SBC, and we're wholeheartedly embracing it," Sojmark added.