The Rise of Mobile Gaming in Europe: Opportunities and Challenges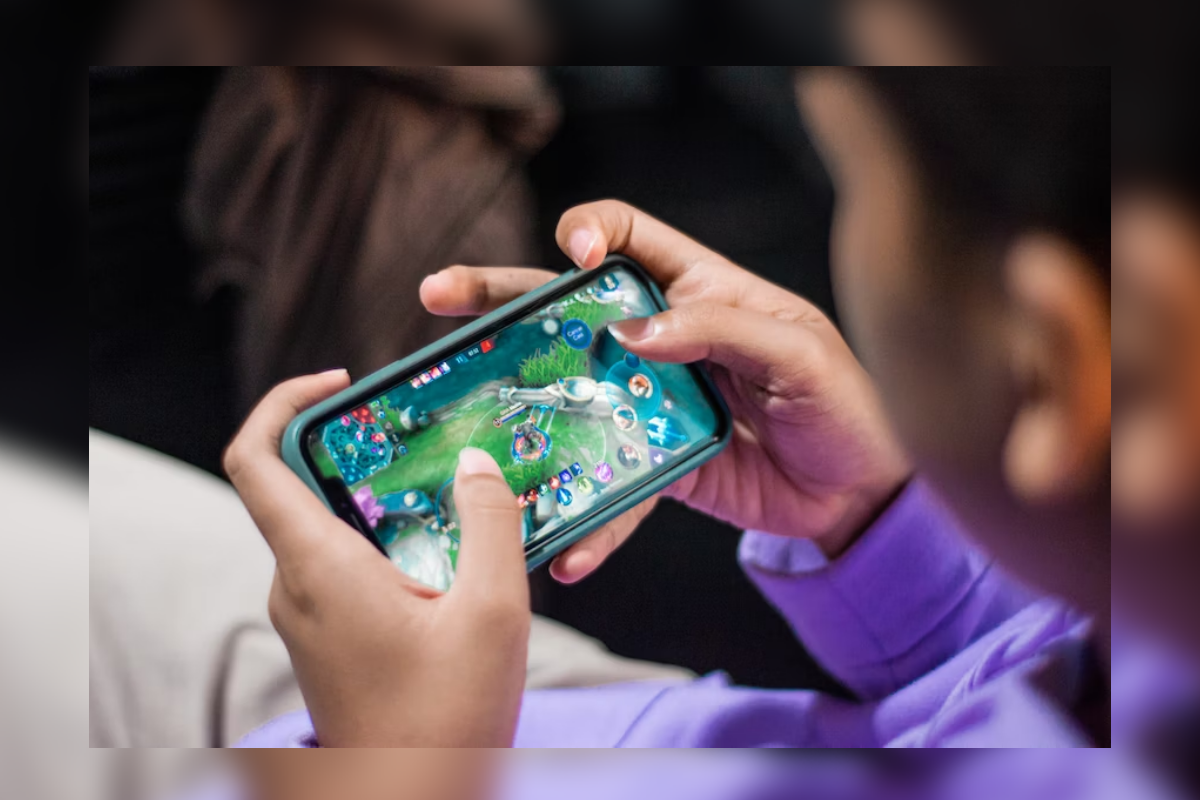 Reading Time:
4
minutes
Mobile gaming across the continent has become a major industry in modern times.
Scroll through the apps on the average person's phone and you will likely come across the same collections of social media apps, work apps and long-neglected things like Duolingo that once seemed like a good idea.
You will also seldom come across a phone that also has a handful of mobile games downloaded from a variety of developers, showing just how far mobile gaming in Europe has risen since the days of Snake on a Nokia 3310.
Mobile bookmakers are using this growth to their advantage, using games within their apps to create opportunities, yet there are still some challenges involved.
How did the rise come about?
The first boom in the mobile gaming industry came through the introduction of smartphones.
For the first time, independent creators could develop their own games, while traditional gaming companies had a new outlet other than PCs and consoles.
As technology improved, so did the quality – and quantity – of the games, with more enticed gamers soon following.
The second wave was a product of the Covid-19 pandemic. As more people had time to kill, the number of game downloads soared. Since then, the growth has continued steadily.
What are the opportunities?
Studies in 2023 have projected that there are 201 million mobile game users in Europe at the moment, and that number is expected to continue its upward trajectory to 218 million by 2025.
Clearly, that is a huge market and one that is yet to reach its peak. Thus, it is a market that many other industries, such as social media and betting companies, want to get involved in, using games to lure in more potential users and customers.
The next opportunity is the key one for any well run business; money.
The mobile gaming industry worldwide is expected to generate $103.5 billion in 2023, with the top phone gaming companies in Western Europe pocketing themselves upwards of $7 million per year.
It is no wonder, therefore, that other sectors, particularly those in the entertainment sphere, are looking to grab a slice of that pie.
As betting companies developed their mobile websites and apps, many began offering more than a traditional sportsbook, venturing into other areas of gambling such as casinos and slots, with some bookies, such as 888sport, becoming as much of a player in the casino world as they are in the betting world.
Nowadays, bookmakers are seen as out of touch or a bit boring if they do not offer gamble-free games on their apps.
Sky Bet, for example, has a whole dedicated gaming section on their mobile site, with everything from fishing and football games to Monopoly, as well as the popular Super 6 and ITV 7.
Sky Bet is certainly not unique, with Paddy Power, Betway and William Hill among those well-known for their daily, free-to-play games.
A betting company offering chances to win big prizes for free would have been an unheard of concept a generation ago, but the opportunity to drive traffic to their apps, earn advertising revenue and get more downloads is crucial in 2023, something which games can provide.
The gamification of betting apps has also presented a chance for betting companies to change how they are perceived.
As campaigns around gambling safety have become more mainstream, betting companies have been willing to do away with the image of the big bad bookie who will do anything to take your money.
The option to win cash prizes from free games is a way for bookmakers to be seen in a more positive light, even if their desire to take our money has not wavered!
What are the challenges?
Everybody is doing it – a phrase which both helps and hinders the companies willing to get involved in mobile gaming.
Bookmakers, and other companies, cannot afford to be seen as out of touch by not offering a wide range of games and other branches to their apps, or they will lose potential downloads to their competitors.
On the flipside, thanks to the saturated nature of industries such as the European betting market, even if they do offer said wide range of games, it will still be difficult to stand out from their competitors in the App Store and other download spaces.
Any good bookmaker will have made sure the prizes they dish out on their free games will not damage the company profits, though giving out prizes without income is not the ideal business model for a bookie.
It is all very well getting new punters hooked on free games, but if they are not then encouraged to click on to the sportsbook or casino, then the money spent on game development and prizes is not worth it.
Being able to get customers to move from the games to the gambling without making them feel forced is a difficult balance even for the top bookies.
Furthermore, while the mobile gaming industry is continuing to grow, there may become a point soon where that is no longer the case. Companies cannot rely on a pandemic every few years to give themselves a boost.
It is impossible to know when the good times will end and all gaming companies can do is try to stay ahead of the curve; constantly bringing out new games which they think will be hits with the public. Never an exact science, particularly for betting companies, knowing what will be the next big thing is a gamble in itself.
DFINITY Foundation Announces Strategic Partnership with The Game Co. LLC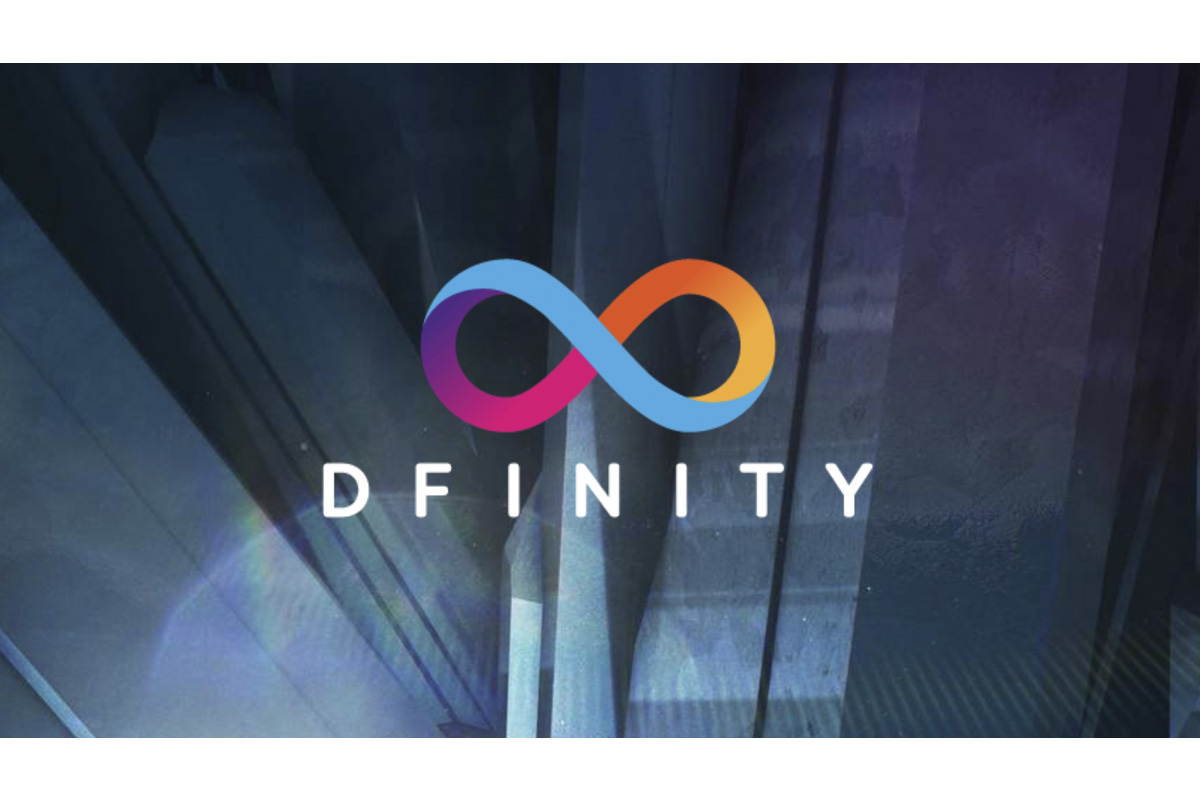 Reading Time:
2
minutes
The DFINITY Foundation, a not-for-profit research and development organisation and major contributor to the Internet Computer blockchain (ICP), announced a strategic partnership with The Game Co. LLC (TGC), the company dedicated to enabling gaming enthusiasts to enjoy and earn like never before.
The two organisations have partnered to seamlessly integrate TGC's revolutionary gaming platform to the ICP's decentralised ecosystem. This collaboration aims to provide gamers with a frictionless experience, leveraging ICP's secure and scalable infrastructure to enhance the accessibility and performance of TGC's innovative gaming solutions.
The partnership will facilitate the deployment of TGC's gaming platform directly on the ICP network. This integration will harness ICP's advanced blockchain technology to provide gamers with a decentralised gaming experience like never before. Players can enjoy their favourite triple-A game titles, connected to accounts including Steam or Epic, with enhanced security, transparency and reliability.
"By combining TGC's creative prowess with our AI cloud gaming platform, we're shaping a future where gaming experiences are not just streamed, but orchestrated directly from the web3 cloud, and adapt uniquely to every player. Through the interplay of advanced artificial intelligence and interactive gaming worlds, this new generation of gaming is poised to create dynamic environments that respond to players' actions, offering them a level of engagement previously unimaginable," Dominic Williams, Founder and Chief Scientist at the DFINITY Foundation, said.
By leveraging ICP's decentralised infrastructure, TGC's platform will become more accessible to a global audience. Gamers from various regions can expect reduced latency, quicker load times and seamless cross-platform compatibility, allowing for an inclusive and immersive gaming experience. In addition, with decentralised infrastructure and TGC's platform capabilities, eSports season and tournament play will eliminate the necessity for LAN-based events.
ICP's blockchain-based security features will bolster TGC's commitment to user data protection. Players can trust that their gaming experiences are safeguarded from external threats, ensuring peace of mind while gaming.
"This collaboration underscores our commitment to redefining the gaming landscape and the limitless potential of decentralized, intelligent, and boundary-pushing technologies. We're liberating a generation of gamers from the confines of geography, hardware limitations, and internet connections. The partnership will bring our creative vision to the Internet Computer Protocol is a significant step towards a future where gaming transcends the limitations of traditional platforms," Osman Masud, CEO of The Game Co, said.
TGC will bridge their existing smart contracts and token functionalities to the ICP ecosystem. The two teams will work together to develop governance protocols for tournament related data and the growth of the ecosystem. Additionally, TGC will leverage ICP's technology to implement advanced user authentication and ensure secure and transparent management of gaming sessions.
Game Development World Championship 2023 Summer Season Winners Announced!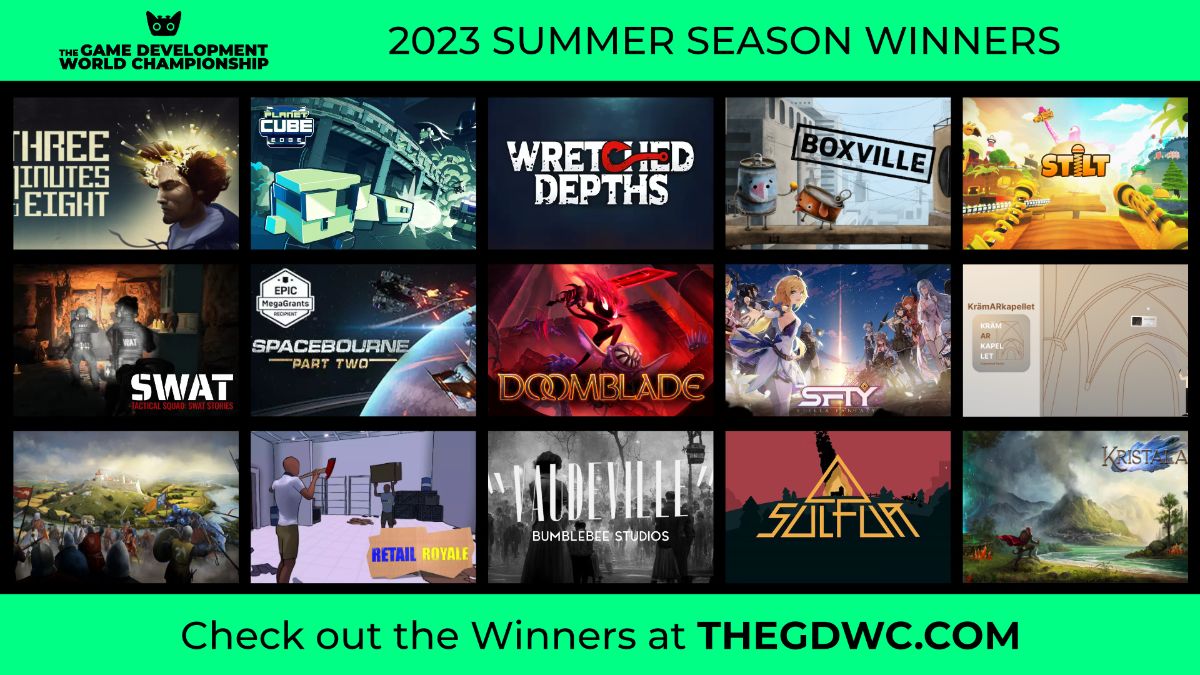 Reading Time:
< 1
minutes
The Game Development World Championship (GDWC) celebrated the 2023 Summer Season with an Awards Stream on Thursday, September 21st. At the event, GDWC announced winners in 11 categories for the Summer Season.
Watch the Award Stream recording on the GDWC youtube channel.
Indie Award Winner: Three Minutes To Eight by Chaosmonger Studio.
Studio Award Winner: Planet Cube: Edge by Sunna Entertainment
Hobby Award Winner: Wretched Depths by Wretched Devs
Mobile Award Winner: Boxville by Triomatica Games
Best Web3 Game Award Winner: Stella Fantasy by Ring Games
AR & VR Award Winner: Stilt by Rekt Games
Immersal SDK Award Winner: KramARkapellet by darteq
Made-with-Houdini Award Winner: Kristala by Astral Clocktower Studios
Procedural Award Winner: SULFUR by Perfect Random
Action Award Winners:
1st Place: Tactical Squad: SWAT Stories by Red Mountain Games
2nd Place: SpaceBourne2 by Dbk Games
3rd Place: DOOMBLADE by Muro Studios
Gcore Cloud Award Winners:
1st Place: Feudums by Kalamona Studios
2nd Place: Vaudeville by Bumblebee Studios
3rd Place: Retail Royale by DarxDev
All the Winning games of the Season can be found on the GDWC website, here: https://thegdwc.com/awards/
GDWC sends congratulations to all the winners and huge thanks to all developers who participated in the championship, and to all the sponsors and partners that made the GDWC 2023 Summer Season possible.
The GDWC 2023 Winter Season is currently open for submissions with the biggest prize pool in GDWC history, totalling over $660,000 in value. Prizes are spread across 12 award categories and range from swag & software licences to cash prizes, publishing deals and marketing & User Acquisition funding.
GDWC is free to participate and open to everyone from hobbyist & student developers to professional studios from all over the world. Games on all digital platforms – PC, Consoles, Mobile, VR & AR, Web & Browsers, are accepted. Developers can participate with a game they are currently working on, or with a game they have released, as long as it was released after August 1st 2022.
Opera GX, the Browser for Gamers, Surpasses 25 Million Monthly Active Users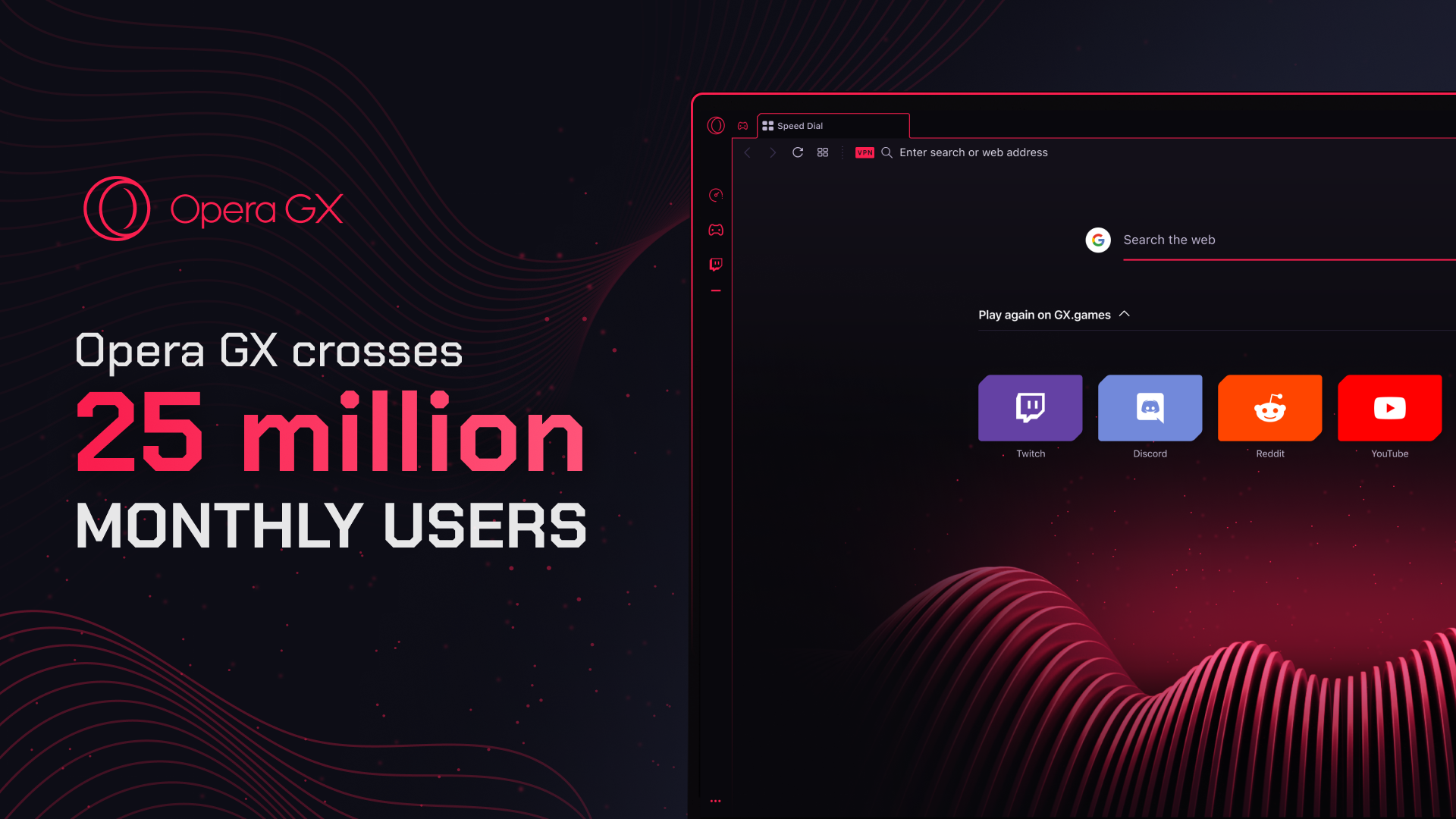 Reading Time:
< 1
minutes
Opera GX, the browser for gamers, today announced that its number of monthly active users (MAU) has surpassed 25 million across desktop and mobile devices. This milestone highlights Opera GX's increasing adoption within the gaming community and its integral position within gaming culture.
"We are thrilled to announce this remarkable achievement of 25 million monthly active users, as Opera GX continues to prove its commitment to enhancing the browsing experience for gamers worldwide. With a passion for innovation and dedication to the gaming community, we look forward to sharing what the future holds," said Krystian Kolondra, Executive Vice President of Browsers and Gaming at Opera.
Since 2019, Opera GX has been dedicated to delivering a distinct browsing experience for gamers. Its aim was to address the challenge posed by resource-intensive browsers during gaming sessions while simultaneously offering a unique aesthetic and enhanced customizability that aligns perfectly with gamers' preferences. Today, Opera GX is at the forefront of innovative browsers, providing dynamic features like Aria, a free, cutting-edge generative AI service, solidifying it as a staple in the gaming environment.
Seizing the moment, Opera GX has taken advantage of its strong technology and platform capabilities to provide gamers with useful and entertaining tools, uniting a global community of passionate gamers and giving users a new and exciting way to browse the internet.