"Resilient Ukrainian Gambling Industry: Global Trends and Local Challenges"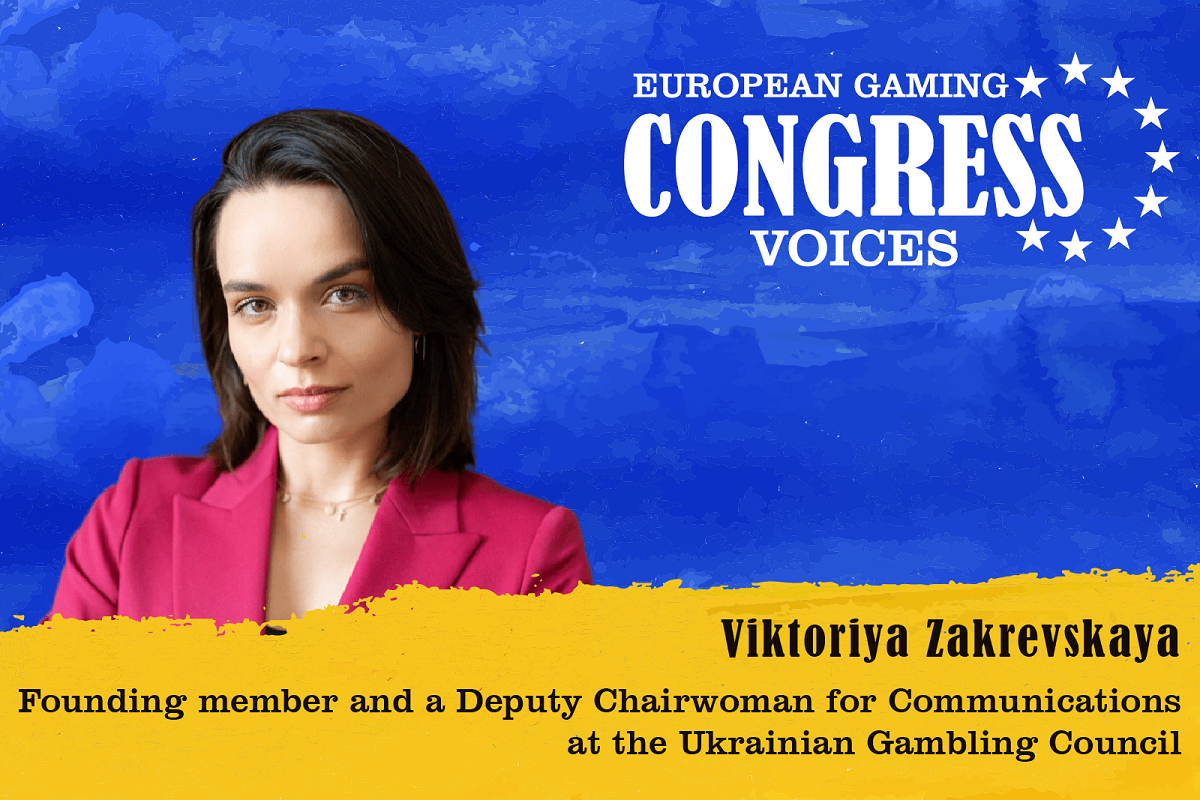 Reading Time:
3
minutes
Article By Viktoriya Zakrevskaya, Founding member and Deputy Chairwoman for Communications at the Ukrainian Gambling Council
Viktoriya will be taking the stage at the European Gaming Congress by Hipther, on 31 October at the InterContinental Warsaw, to discuss the emerging Ukrainian iGaming market at the Panel "The Greek Odyssey, La Dolce Vita, La Fiesta Española, The Ukrainian Spirit, and The Portuguese Fado".
Change is the only constant in the dynamic realm of the gambling and gaming industry. It is time to admit that the Ukrainian gambling industry has survived and is back on the international agenda despite the war. Here is my take from recent discussions with industry leaders, policymakers, and experts on the main tendencies in the gambling industry internationally and in Ukraine.
The Soaring Popularity of Sports Gambling
Sports gambling is on the rise, capturing the hearts and wallets of enthusiasts worldwide. Responsible gambling is not only an important topic but has become an absolute must for the industry. In this sense, further restrictions on advertising are a growing trend across all jurisdictions, and Ukraine is not lagging in this regard either. Last month, the Commission initiated a cooperation agreement between the main government institutions and industry leaders represented by the Ukrainian Gambling Council. The overarching goal of this is to ensure that the industry flourishes responsibly.
AI for Enhanced Customer Experience and Protection
Artificial Intelligence (AI) has emerged as a powerful tool within the gambling industry. It promises to elevate customer experiences and, significantly, bolster player protection. Apart from the customer experience, by implementing AI-driven systems capable of detecting problematic behavioral patterns, the industry can help mitigate the risks associated with compulsive gambling. The trend toward legalization is seen as a pivotal step in achieving this balance, and Ukrainian companies are not waiting to implement AI today.
Online Gambling and Emerging Cyber Threats
As gambling platforms increasingly migrate from land-based establishments to the virtual world, including the metaverse, new challenges arise. Among these is the growing menace of cybercrime, often stemming from identity theft. There is a growing need for robust cybersecurity measures to safeguard both operators and players in this evolving landscape. Solutions in this domain will be in high demand, and there are companies of Ukrainian origin that offer such solutions today.
Ukraine is among progressive countries that formed a global trend for legalization
The world is witnessing a global trend towards the legalization of gambling. Several countries, including Brazil, Latin American nations, additional US states, Canada, the Middle East, and Central Asia, are opting to regulate the industry. Their motives range from rationalizing the sector to minimizing societal risks and creating new sources of revenue. Ukraine's decision to embark on this path aligns with this international movement despite pushback from illegal operators and Russian aggression.
A shift from Ukraine to Central Asia?
The enthusiasm for gambling legalization in Ukraine seems to have shifted to neighboring Georgia and Central Asian countries. These nations are increasingly capitalizing on foreign investments pouring into their gambling sectors. However, experts suggest that once the conflict in Ukraine subsides, the country will regain its attractiveness to investors. To facilitate this transition, addressing issues like tax regulation and implementing a robust online monitoring system is crucial for Ukrainian policymakers. Moreover, resolving the issue of sanctions against operators like Parimatch Ukraine is paramount, and public hearings must play a pivotal role in this process as the global community of experts, professionals and investors do not understand this decision, while only the government can explain this decision, and admit the mistake, if there was such.
In conclusion, the gambling and gaming industry is experiencing a global renaissance, and Ukraine, with its reform efforts initiated in 2019, stands among the progressive nations in this transformation. To capitalize on this momentum, Ukraine must intensify its efforts, particularly in the realm of anti-corruption.
Navigating SEO with a Former Googler: In-depth Discussion with Kaspar Szymanski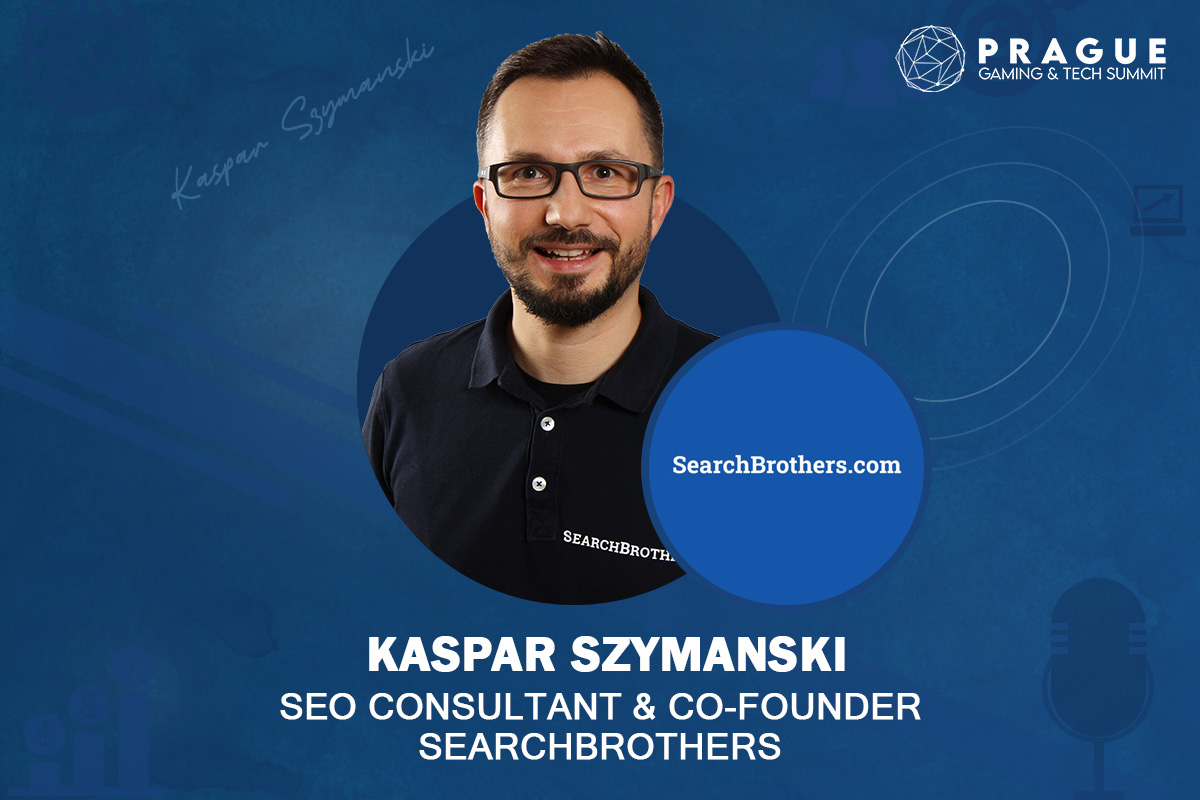 Reading Time:
5
minutes
Kaspar Szymanski is a renowned SEO expert, former senior member of the famed Google Search team and very few former Googlers with extensive policy driving, webspam hunting and webmaster outreach expertise. As Founder of the Search Brothers, Kaspar nowadays applies his skills to recover websites from Google penalties and to help clients to grow visibility of their websites in search engines results.
Kaspar will be speaking at the Prague Gaming & TECH Summit that will take place on 26-27 March 2024, at Vienna House Andel's Prague.
Hello Kaspar, thank you for taking the time for this interview. We are thrilled to find out more about you and learn from a renowned SEO expert and former Google Search team member! Would you please introduce yourself to our readers in your own words?
Hello and thank you for the opportunity to share from my experience. My name is Kaspar Szymanski. I'm a former Google Search team member and have worked on Google Search quality for several years. My scope of responsibility included investigating suspected Google Webmaster Guidelines violations, issuing penalties when necessary and lifting penalties in cases where the reconsideration request was deemed to be compelling. The insights and knowledge gained during my tenure working at Google Search are a huge advantage nowadays and one that our clients equally benefit from. Since leaving Google I've together with a fellow former Google Search engineer and an SEO industry giant, Fili Wiese built an SEO consulting agency under the brand SearchBrothers.com. Together we offer technical SEO consulting services to website operators in competitive industries. Next to the privilege of working with our clients, I equally enjoy speaking at select industry events such as the 2024 Prague Gaming & TECH Summit and sharing with the audience from my SEO experience.
Let's dive straight into SEO: Given the dynamic nature of search engine algorithms, how do you perceive the current state of SEO and its significance for businesses?
While SEO is a rather dynamic industry, which is owed equally to technical innovation as well as to policy development, at the same time it is incredibly consistent. An SEO strategy to prioritize user experience above everything else serves today equally well as it had 15 years ago. That's because Google is consistently prioritizing their users' satisfaction as part of a grand vision. Which isn't surprising, because Google's dominant position in search is fragile and can only be maintained by constantly delivering on their users' expectations.
Because organic traffic from Google and Bing can be a great lead source, SEO is tremendously significant for companies which operate in the online business. Search Engine Optimization is never at the center stage -that position must always remain reserved for the respective product or service- but it is not far behind for those businesses that seek to build or expand on their online sales.
As a former senior member of the Google Search team, you've had an insider's view of how search algorithms evolve. Can you share a behind-the-scenes perspective on how Google adapts to industry changes?
In my experience, innovation is often stimulated by Google because of its current market position. That is not to say that Google does not have to evolve and adapt at times. Google Search Essentials, previously known as Google Webmaster Guidelines are a good example in this regard. These guidelines have been adapted and amended countless times and will in most likelihood continue to evolve along the lines of human and SEO ingenuity.
Let's discuss the hot topic in everyones' conversations: AI. With almost everyone using it to a certain extent, does generative AI influence SEO practices, and how can businesses leverage this technology for better search visibility?
There are no actual AI products available for commercial use as of this moment. Currently available so-called "AI" services are not sentient. They neither understand compassion, nor sense of humor. Because of these and other reasons they fall short of actual AI. The rather advanced language models are what's on the offer for now. They tap into comparatively large, yet by far not exhaustive databases to reproduce what already exists in one form or another. Depending on the data source, the copyright of the content can represent a legal liability if it is republished. That is not to say that the so-called "AI" services available right now can not be leveraged in order to improve efficiency. In some areas, rudimentary source code generation or simple FAQ content generation, to name just two, these tools offer a most cost effective alternative to previously employed methods. In that sense, while the "AI" revolution isn't coming quite yet, SEOs can enjoy yet another tool to scale up their efforts in an otherwise very competitive game.
Moving on with another popular topic, how do you anticipate the imminent elimination of third-party cookies to impact SEO strategies, especially in terms of tracking user behavior and personalization?
For readers who still depend on third-party cookies for SEO it is time to update their SEO strategies. Personalization is fine, but applied to logged-in users, that way it does not impact SEO signals -as Googlebot will never log in-and for tracking behavior. One method can involve self-hosting an analytics solution to avoid being dependent on third-party cookies and directly store relevant tracking information upon site visits internally.
In a comprehensive marketing strategy, and considering the "cookieless" future, how do you advise businesses to balance their SEO efforts with other digital marketing channels?
Some companies have already moved on from using third-party cookies to improve usability for the end-users. Some may still need to align their SEO efforts with other departments to make sure that the "standard" HTTP responses of the website are not dependent on any cookies, as this is how Googlebot and users coming from Google are experiencing the website.
And how do recommend businesses measure the success of their SEO efforts, considering the evolving landscape and changing metrics?
Next to conversion which is the ultimate goal of any business and the most important KPI, the web platform performance is critically important. This is due to the fact that all other signals being roughly the same, Google notoriously shows preference to faster websites, because of the well funded assumption that users prefer faster rather than slower websites. First Contentful Paint and Cumulative Layout Shift can be excellent indicators with regard to the website's performance. Google Search Console also offers import KPIs and a potential avenue to growing sales, especially for websites with high impressions and low CTR simultaneously. In such cases the relevance for queries isn't rewarded with clicks because of the snippet representation, which can be prioritized as part of a well rounded SEO strategy.
You will be making a Keynote Presentation at the upcoming Prague Gaming & TECH Summit about "Surviving SEO Disasters". Can you share an overview of the topic and give us a "teaser" of your presentation?
I firmly believe that it is much more cost effective and safe to learn from mistakes someone else made. I'll be sharing from real life examples where SEO decisions had unintentionally undesirable and occasionally catastrophic consequences. And most importantly what the learnings from these missteps are. And not just how to avoid these but also how to insulate one's own websites against similar SEO risks. I look forward to this opportunity to share and also to the audience Q&A at the very end of my presentation.
Thank you for this amazing interview, Kaspar! We are looking forward to hearing your invaluable insights at the Prague Gaming & TECH Summit 2024!
Thank you and I look forward to speaking at the 2024 Prague Gaming & TECH Summit.
Find out all about Surviving SEO Disasters by Kaspar Szymanski, at the most impactful Gaming & Tech Conference in Central and Eastern Europe:
Secure your seats for the Prague Gaming & TECH Summit Now!
Early Bird Rates Available until 7 January!
A Strategic Shift in Gaming and Tech: Zoltan Tundik Announces Event Consolidation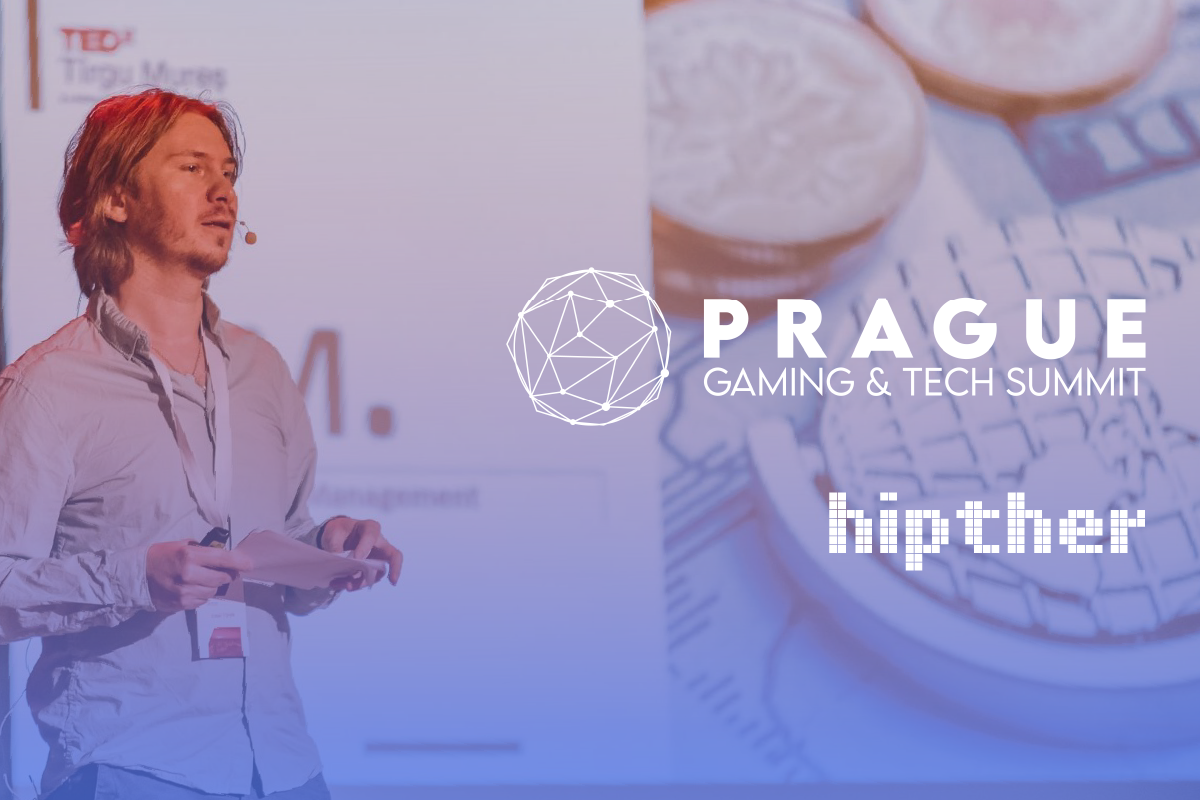 Reading Time:
3
minutes
HIPTHER Agency, a leader in organizing pivotal conferences in the gaming and tech industry, today announced a significant evolution in their event lineup. The company is consolidating its Central and Eastern European events into a single, more impactful summit – the Prague Gaming & TECH Summit.
This strategic decision is a response to the dynamic changes in the industry and is aimed at delivering enhanced value to participants.
Zoltan Tundik, Co-Founder and Head of Business at HIPTHER Agency, elaborated on this development in a message to the community:
"Dear Valued Members of the Gaming and Tech Community,
 As we embrace the ever-changing landscape of our industry, our dedication to offering outstanding experiences and value remains unwavering. We are immensely grateful for the support and enthusiasm you have shown towards our events, especially the CEEGC (later rebranded to GamingTECH CEE Summit). Your participation has been vital in our journey.
We are thrilled to announce that the Prague Gaming & TECH Summit will integrate all the key features of the CEEGC, further solidifying our commitment to the Central and Eastern European, Balkan, and D-A-CH regions. This strategic move is aimed at enhancing the quality, relevance, and overall value of our events.
The new summit will incorporate the strengths of both events, introducing innovative elements and broader opportunities for networking, learning, and growth.
We acknowledge the mixed emotions that change can bring. The CEEGC has been a cornerstone of our portfolio, and its essence will continue to be celebrated in the Prague Gaming & TECH Summit.
This consolidation represents our commitment to the gaming and tech industry's growth. We aim to create a platform that truly resonates with the needs of our community. Your support and active participation are crucial in this new chapter.
We invite you to join us in making the Prague Gaming & TECH Summit a symbol of innovation and excellence. Your insights and involvement will drive our industry forward.
Thank you for your continued trust and support. We look forward to welcoming you to this exciting new chapter.
Sincerely,
Zoltan Tundik
Co-Founder and Head of Business, HIPTHER Agency"
Set against the vibrant backdrop of one of Europe's most beautiful cities, the Prague Gaming & TECH Summit, scheduled for March 26-27, promises to be an unmissable event for industry professionals. This summit is not just a conference; it's a confluence of expertise and innovation in the gaming and tech world.
Over two dynamic days, the summit will feature an impressive lineup of over 100 distinguished speakers, drawing from a rich tapestry of industry leaders and visionaries. These experts will engage in insightful panel discussions, offering a deep dive into the latest trends and challenges in the gaming and tech sectors.
The event is expected to welcome around 250 participants, creating an unparalleled opportunity for networking. Attendees will include a diverse mix of industry stakeholders, from start-ups to established giants, providing a unique platform for collaboration and exchange.
Adding to the excitement, the summit will host a variety of networking gatherings. These events are thoughtfully designed to foster meaningful connections, opening doors to new collaborations and partnerships in a relaxed yet professional setting.
A highlight of the summit is the expansive networking/expo floor, which serves as a bustling hub of activity. Here, participants can experience the latest innovations first-hand, engage with exhibitors, and explore potential business opportunities in an interactive environment.
Among the high points of the summit will be the prestigious GamingTECH CEE Awards. This session recognizes and celebrates excellence in the gaming and tech industry, honoring those who have made significant contributions and set new standards of achievement.
In summary, the Prague Gaming & TECH Summit is not just an event but a milestone in the gaming and tech calendar. It's where ideas meet execution, where trends are born, and the future of the industry begins to take shape.
About Hipther:
Hipther Agency is the parent brand of European Gaming, PICANTE, WireUp Zone, Gaming Americas, eSports Connect, the HIPTHER news app, and the WireUp networking app found on the Play Store.
➔ To receive constant updates from the HIPTHER network and conference agenda updates, subscribe here: http://eepurl.com/hfyZxf
➔ For sponsorship/speaking inquiries, make sure to reach out to Zoltan Tuendik (Co-Founder and Head of Business at Hipther) at [email protected]
➔ For media-related inquiries, please contact Maria E. Arnidou (Event marketing Coordinator at Hipther) at [email protected]
Hipther Agency press contacts:
Zoltan Tuendik, Head of Business
[email protected] | +40 735 559 234
Maria E. Arnidou, Event Marketing Coordinator
[email protected] | +30 693 1511 965
Ukraine's Evolving Gambling Landscape: Insights from the Panel of European Gaming Congress in Warsaw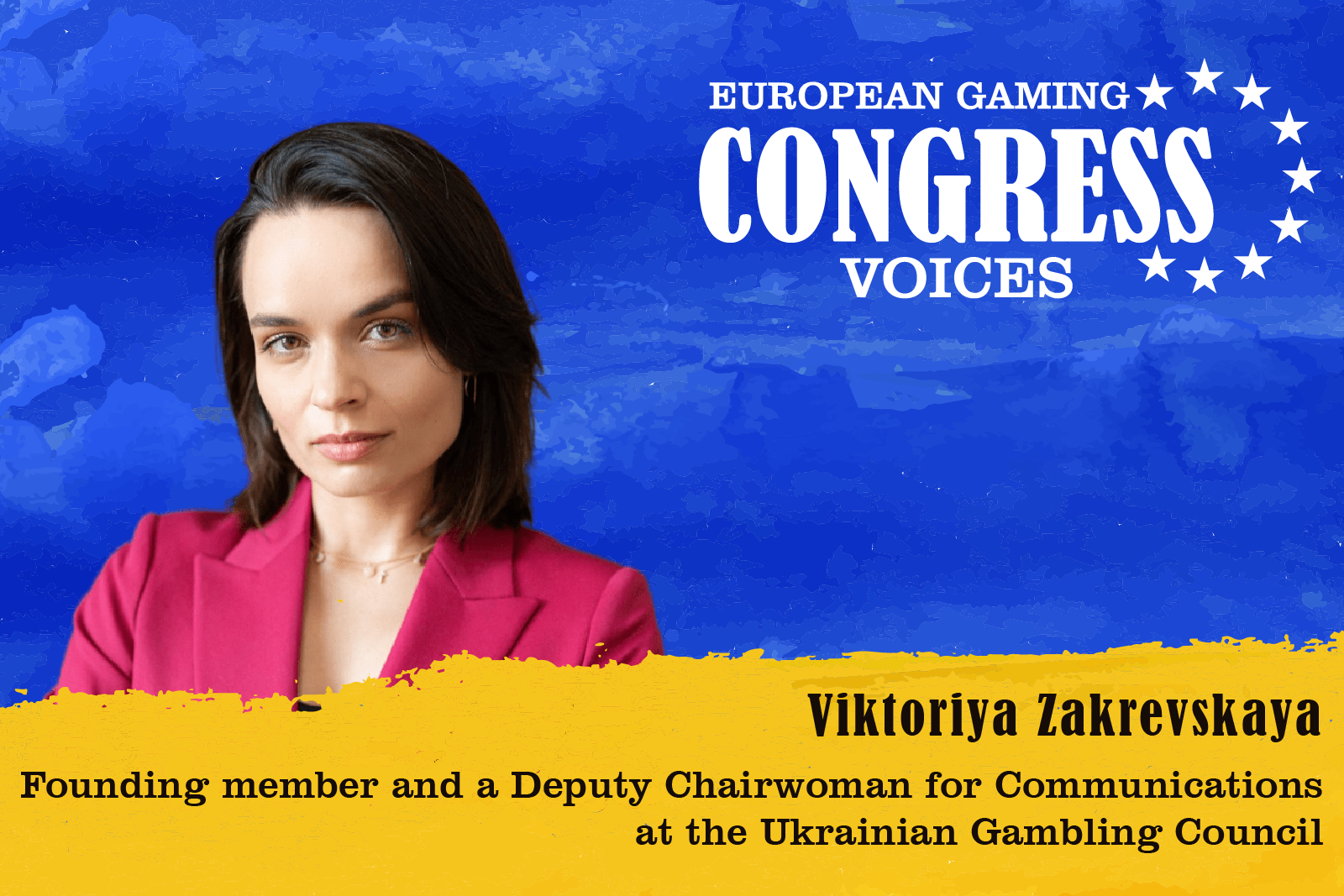 Reading Time:
2
minutes
The panel discussion last  week, at the European Gaming Congress made me feel inspired to contemplate on critical facets of Ukraine's burgeoning gambling industry, positioning the nation as an appealing prospect for Western European investors. Although unique challenges, including historical financial corruption and external pressures, exist, Ukraine's European identity makes it an attractive hub for investment. As the country grapples with ongoing conflict, it must simultaneously address customary market concerns such as safeguarding against Russian interference and protecting the personal data of its citizens.
A striking parallel emerged between Ukraine's gambling landscape and the realm of cryptocurrencies, where combating money laundering and terrorist financing poses significant challenges. The National Bank, equipped with the capacity to monitor financial flows, plays a pivotal role, in conjunction with law enforcement agencies. A comprehensive strategy to combat mis-selling and gray schemes is being executed by the National Bank of Ukraine, alongside the Commission and the Ministry of Finance, resulting in the revocation of licenses, particularly among operators with Russian ties. Comparable license revocations have occurred in several European nations that have issued cryptocurrency licenses.
However, amid the ongoing struggle against these challenges, errors have emerged, exemplified by the imposition of sanctions on prominent Ukrainian industry leaders like Parimatch and Pokermatch. These sanctions have not only significantly impacted the legal gambling sector but have also cast a shadow of caution over Western investors. Notably, the President's directive to the Cabinet of Ministers, prompted by a citizen petition with 25,000 signatures, seeks to investigate the circumstances leading to the inclusion of Parimatch in the sanctions list of the National Security and Defense Council.
In the wake of the Parimatch case, it's worth noting that the Cosmolot brand has also recently faced heightened scrutiny, with law enforcement agencies conducting searches and investigations, further emphasizing the need for a robust law enforcement process. Ukrainian Gambling Council, representing 80% of licensed gambling operators, committed to serving its members by actively working on player protection, advertising regulation, and acting as a valuable business ombudsman for the industry, contributing to a more secure and transparent gambling landscape in Ukraine.
As technical impediments are surmounted, the regulatory body demonstrates its efficiency. Critical issues, such as streamlining market access through license issuance, promoting responsible gambling, stricter advertisement rules,  and reinvigorating investments, are coming to the fore.
Once the security concerns are addressed, Ukraine is poised to unleash pent-up demand in its gambling sector. This situation will spur investors to contemplate their entry into the market, whether through direct investment, partnerships, or mergers and acquisitions, underlining the evolving landscape of opportunities in Ukraine's vibrant gambling industry.
Article by Viktoriya Zakrevskaya, Founding Member and Deputy Chairwoman for Communications, Ukrainian Gambling Council
Viktoriya was a speaker at the European Gaming Congress by Hipther, that took place on 31 October at the InterContinental Warsaw. She discussed the emerging Ukrainian iGaming market at the Panel "The Greek Odyssey, La Dolce Vita, La Fiesta Española, The Ukrainian Spirit, and The Portuguese Fado".