Boomerang Sportsbook contending Best Sportsbook Operator and Best Marketing Campaign of 2023 at SiGMA Europe Awards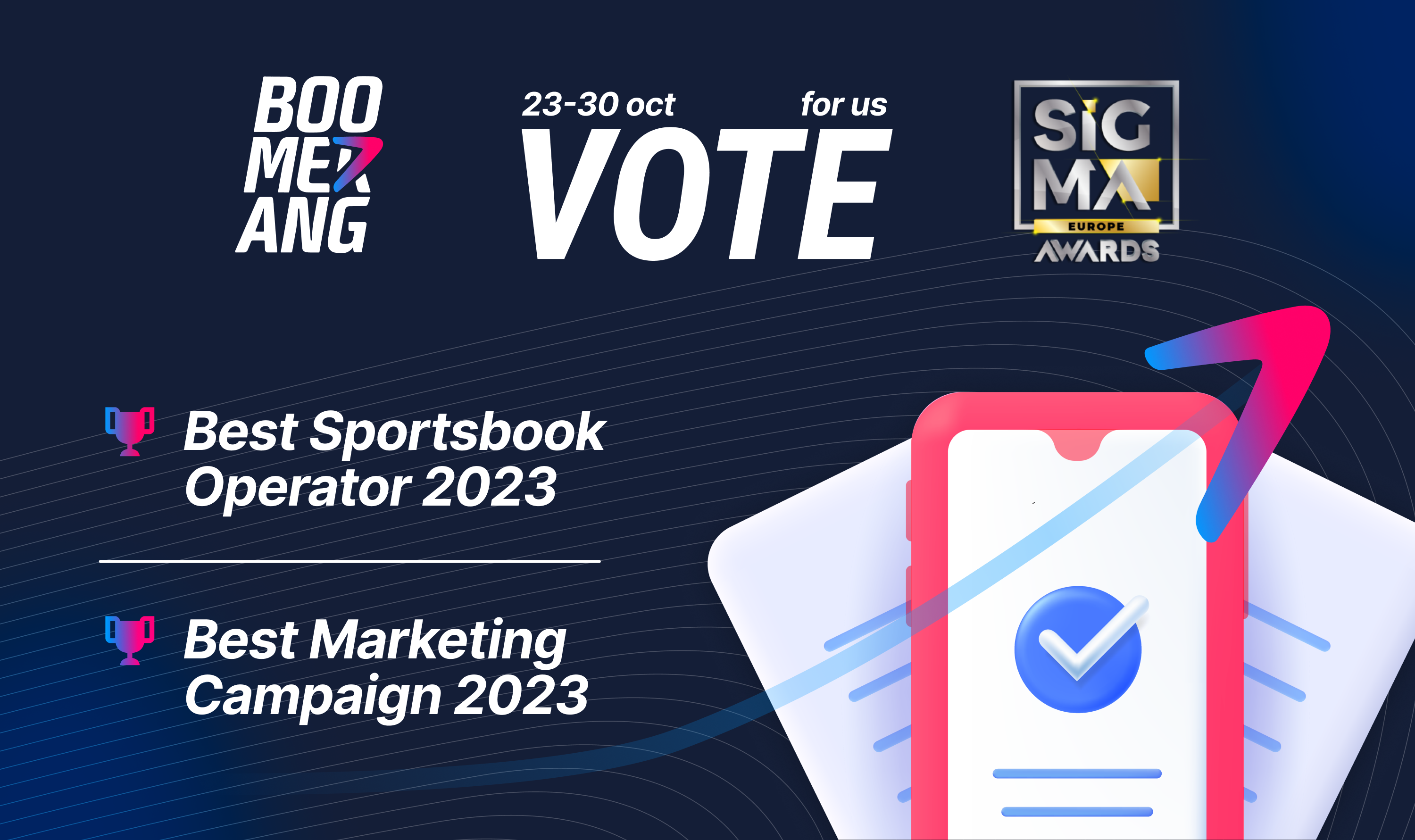 Reading Time:
2
minutes
Boomerang Sportsbook, the flagship brand of Boomerang Partners, marks a significant milestone as it has been shortlisted for two esteemed categories in the SiGMA Europe Awards: Best Sportsbook Operator and Best Marketing Campaign of 2023.
"We are incredibly honored to be shortlisted in two categories for such a prestigious award," CEO at Boomerang Partners says. "Being on this shortlist feels like success in itself, which means that the SiGMA Awards jury recognizes our efforts in the industry. We are highly motivated to meet and exceed these expectations and invite everyone to support us in the voting."
The winners will be determined through a combination of public voting and jury selection, open until October 30th. Votes can be cast on the official SiGMA website, and the winners will be announced during the SiGMA Malta event, scheduled for November 13-17.
This year's SiGMA Europe Awards are presented across multiple categories. To cast your vote for your favorites, including Boomerang Sportsbook, please visit SiGMA Europe Awards voting page. The prestigious award ceremony will be part of SiGMA Malta 2023, where Boomerang Sportsbook will also be featured as an exhibition partner. The event provides an opportunity for direct dialogue with representatives from Boomerang, making it an ideal occasion to explore or finalize partnerships with the company.
As a licensed entity operating across Europe, Latin America, and Oceania, Boomerang Sportsbook has established itself as a leading operator in the online sports betting and casino gaming sectors, offering an extensive range of tailored gaming experiences. With a focus on the LatAm market, the brand emphasizes local events, offering extensive betting lines and elevated odds in its operational regions,  along with personalized bonuses, quick fund withdrawals, and 24/7 multilingual support. Boomerang Sportsbook, known for high-tech features, such as AI-driven betting advice, and employing real-time data analytics to optimize both user experience and partner performance, make it a compelling choice for affiliates and end-users alike.
For a comprehensive overview of Boomerang Sportsbook's case studies and milestones, visit Booth 1052 at SiGMA Malta. The booth offers one-on-one consultations with senior representatives, making it an ideal venue for exploring affiliate programs and discussing potential strategic partnerships for mutual growth.
For more information, please visit Boomerang Sportsbook's website.
S8UL bags 'Esports Content Creator of the Year' award consecutively for the second year at the 'Esports Awards'23'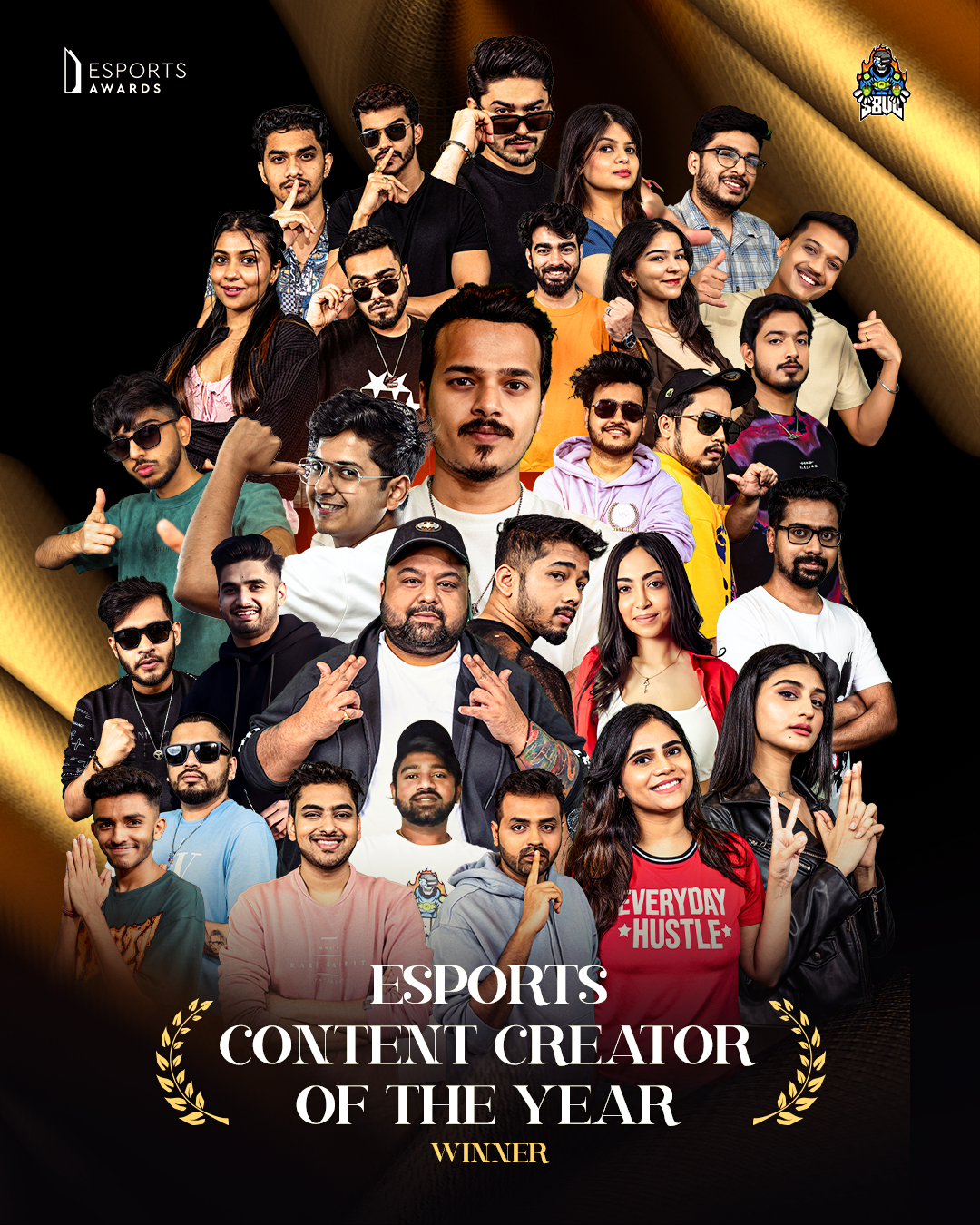 Reading Time:
3
minutes
In a remarkable feat for the second consecutive year, S8UL, India's leading Esports organization, has secured the prestigious 'Esports Content Creator of the Year' award at the Global Esports Awards 2023 on Friday night in Las Vegas. S8UL has established its position as a trailblazer not only in the Indian Esports community but on the international stage as well.
The brainchild of Esports industry veterans Naman Mathur (Mortal), Animesh Agarwal (8Bit Thug), and Lokesh Jain (Goldy), S8UL made history by outshining global contenders such as Christian 'IWDominate' Rivera, Timothy 'ITZTIMMY' An, The Score Esports, One True King, Judo Sloth, Last Free Nation, Loud, Tribo Gaules and other well-renowned names. This victory marks a significant milestone for S8UL and elevates the stature of Indian Esports worldwide.
Lokesh Jain aka Goldy, Co-Founder of S8UL and 8Bit Creatives shared his thoughts right after the coveted win, "Winning the 'Content Group of the Year' award last year was an incredible milestone for us, and to follow it up with another one this year is beyond words to express our gratitude. This achievement is a testament to our dedication, the hard work of our creators, and the endless support from our fans. S8UL has changed the way gaming and content is perceived in India. We are not just creating content but we are shaping the future of Indian Esports & gaming creators economy on a global scale."
Since its very inception, S8UL has been the frontrunner of gaming content in India. With a clear vision, they have brought together some of the best gaming content creators under one umbrella to create engaging and entertaining gaming content, which is enjoyed every day by millions of their loyal viewers.
The high calibre of their Esports talent which includes Mortal, Scout, Payal, Mamba, Snax, Rega, Krutika, Sidd, Kaashvi, and many more is evident from the various Esports titles they have been winning over the years including the inaugural 'Global Impact on Mobile Gaming' award at the MOBIES earlier this year.
"Winning in this difficult category twice, against some of the biggest names in the industry is a surreal feeling. These milestones let us know that we are on the right path with our vision and also give all of us something to celebrate at a time when the industry is undergoing significant transformations. This victory rounds off yet another historic year for the community. Thank you to the incredible team, our fans, and everyone who believed in us! We are ready for even greater things in 2024! Onwards & Upwards, as always." said Animesh Agarwal aka 8Bit Thug, Co-Founder of S8UL and 8Bit Creatives.
Besides S8UL, Naman 'Mortal' Mathur, the co-founder and widely regarded as the 'Face of Indian Gaming and Esports' has also been nominated for the 'Esports Personality of the Year' category at the awards. The award was claimed by Disguised Toast.
Mortal has consistently been representing Indian Esports at the global Esports Awards, having been nominated for the 'Esports Personality of the Year' last year. Prior to that, he had won second place for the Streamer of the Year for two consecutive years in 2020 and 2021.
"Being the only Indian organization to win not once but twice at the Esports Awards is a moment of pride not just for us but for the entire Indian Esports fraternity. This award recognizes the incredible work of our talented creators, team players, and the incredible support from our fans who have been religiously watching our content for the past few years. It gives us immense pride to witness S8UL's innovative and exceptional content redefining the gaming content landscape of the country and propelling its growth. We are motivated to continue defying expectations and revolutionizing the gaming landscape globally," said Naman Mathur aka Mortal, Co-Founder, S8UL who was there and collected the award on behalf of S8UL at the award night.
Dedicated to showcasing top-class performance and innovation, the Esports Awards recognises excellence in Esports and ensures that success and achievement of Indian Esports is celebrated globally. The 2023 edition of the awards was hosted in Las Vegas where prominent names from the Esports community all over the world were in attendance.
Going into what promises to be another exciting year for Indian Esports, S8UL will continue reshaping the landscape of gaming content and setting new benchmarks on the international stage.
SOFTSWISS Becomes iGaming Brand IDOL 2023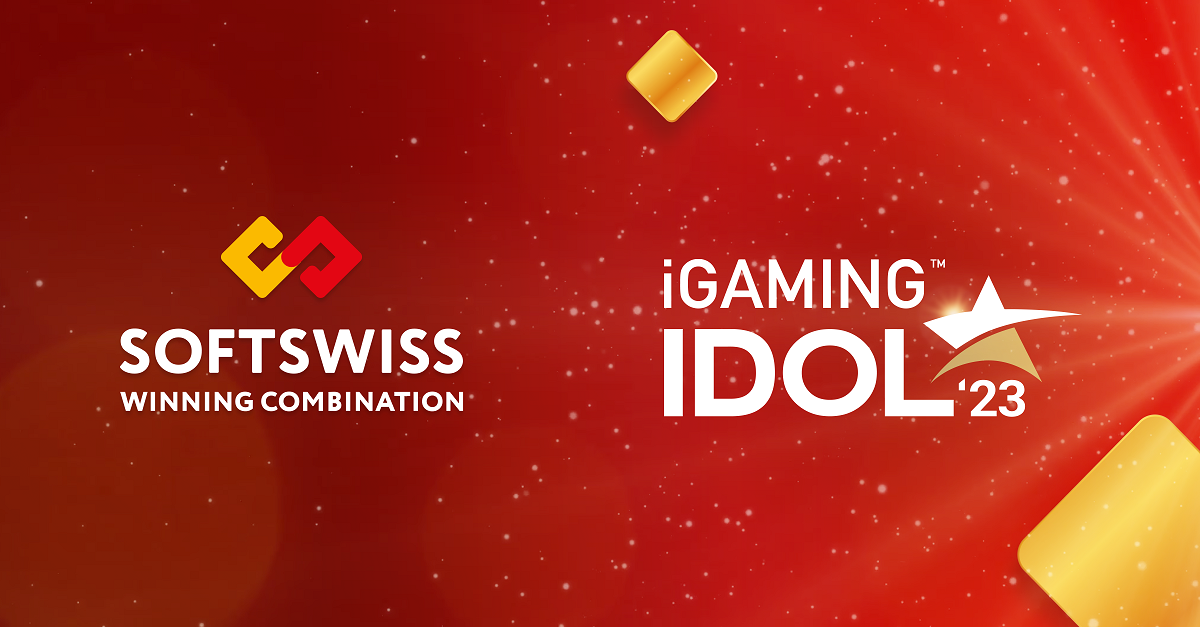 Reading Time:
2
minutes
SOFTSWISS, a tech company offering comprehensive, innovative products for the iGaming industry, celebrates its resounding success at the iGaming IDOL Awards 2023. 
The annual iGaming IDOL Awards brings together the industry's best and brightest talent in the heart of Malta. The event stands as a symbol of excellence and recognition in the ever-evolving realm of online gambling. SOFTSWISS was honoured with the Brand IDOL of the Year award, marking a significant milestone in the company's journey of expertise.

SOFTSWISS is bolstering its brand awareness and recognition through creative and eye-catching marketing activities. This effort extends across the vibrant island of Malta, the entire European region, as well as promising markets in LatAm and Asia. The success achieved by SOFTSWISS' acclaimed campaigns, including "Bringing the Heat," "Make Your Business a Classic," and "Grab Success," not only underscores the company's mastery in crafting marketing masterpieces but also expertly embodies the fundamental tenets of its brand philosophy. 
"We are truly honoured to stand among the industry's best and brightest at the esteemed iGaming IDOL. This accolade is a testament to the collective passion and dedication of our team. As we celebrate this prominent win, let it fuel our commitment to understanding customer needs, crafting top-tier products, fostering creativity, and pursuing exceptional ventures in the dynamic iGaming world," shares Valentina Bagniya, Chief Marketing Officer at SOFTSWISS, expressing her thrill with the triumph.
The Brand IDOL of the Year award, a significant recognition of SOFTSWISS' outstanding marketing prowess, adds to the 2023 lineup of the esteemed EGR Marketing and Innovation Awards and Best Marketing Campaign at EiGE Awards.
About SOFTSWISS 
SOFTSWISS is an international iGaming company supplying certified software solutions for managing gambling operations. The expert team, which counts 1,700 employees, is based in Malta, Poland, Georgia, Bulgaria, and Belarus. SOFTSWISS holds a number of gaming licences and provides one-stop-shop iGaming software solutions. The company has a vast product portfolio, including the Online Casino Platform, the Game Aggregator with thousands of casino games, the Affilka affiliate platform, the Sportsbook Platform and the Jackpot Aggregator. In 2013, SOFTSWISS was the first in the world to introduce a Bitcoin-optimised online casino solution.
2rbo Affiliates Shortlisted for Best Newcomer at iGB Affiliate Awards 2024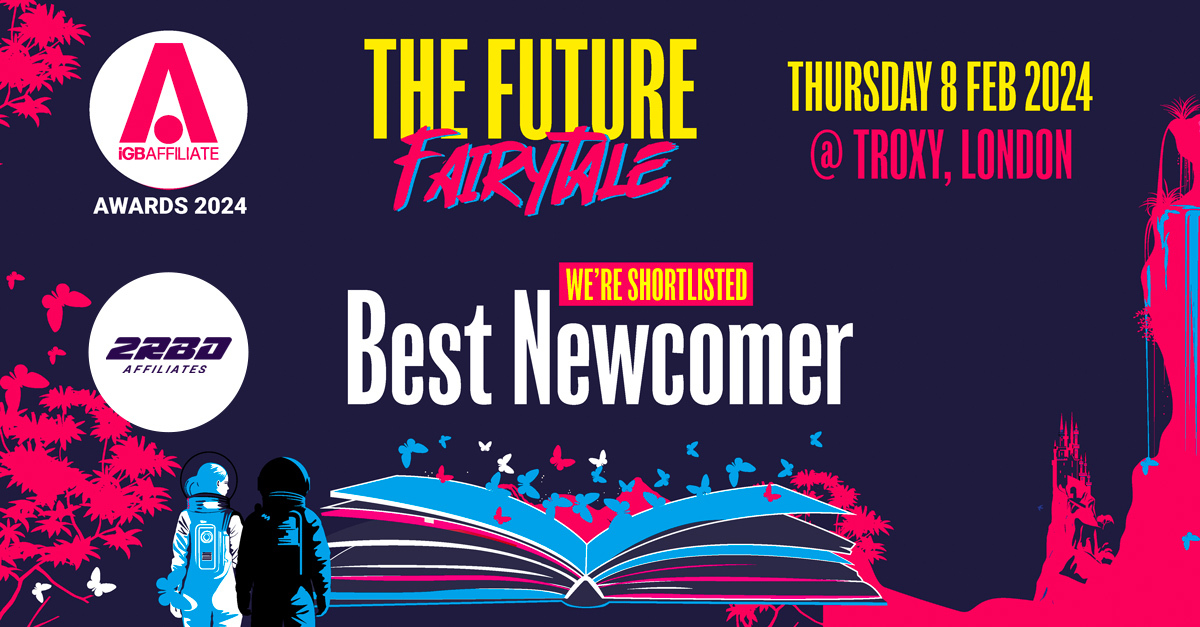 Reading Time:
< 1
minute
2rbo Affiliates, a standout casino and sportsbook affiliate program, is thrilled to announce that it has been shortlisted for the Best Newcomer category at the iGB Affiliate Awards 2024. This recognition is a testament to the hard work, dedication, and strong partnerships that the team at 2rbo Affiliates has built since its launch in 2023.
Jonjo Walsh, Affiliate Manager at 2rbo Affiliates, said, "Being shortlisted for the Best Newcomer category is an incredible achievement for our team. We've put in a lot of effort, built strong connections with our partners, and it's gratifying to see recognition for all our hard work. A big thank you to everyone involved, and to iGB Affiliate for shortlisting us."
2rbo Affiliates, launched in 2023, operates under four licenses (SGA, MGA, DE) and manages seven licensed brands. The company offers a range of pricing models, flexible commissions, and no negative carryover, providing a reliable return on affiliates' efforts. A stellar ReferOn platform ensures easy and efficient affiliate management.
The iGB Affiliate Awards 2024 are part of the iGB Affiliate London 2024 event, designed to celebrate individuals and teams in affiliate marketing and iGaming. The awards will take place following the second day of iGB Affiliate London on 8 February 2024.