Push Technology Expands Diffusion Cloud Offering with Enhanced Monitoring Capabilities and New REST Adapter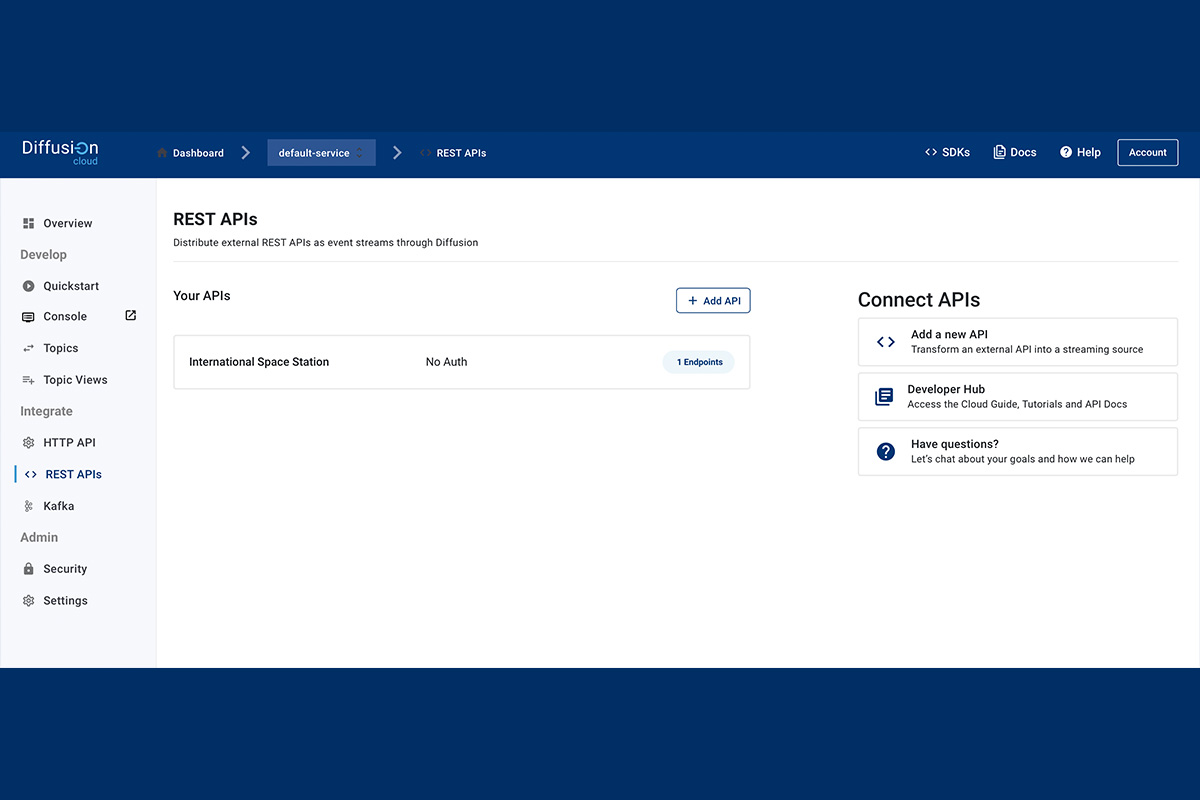 Reading Time:
2
minutes
Push Technology, the pioneer and leader in real-time data streaming and messaging solutions, today announced valuable enhancements to Diffusion Cloud – its Intelligent Event-Data Platform.  The additions include a new REST adapter and improved data monitoring capabilities.
New REST Adapter
Development teams can quickly and inexpensively provide real-time experiences to customers, by transforming existing APIs into streaming data feeds, without the need to re-architect backend systems. With Diffusion doing the heavy lifting of distributing real-time data, developers can reduce traffic load on backend systems – resulting in consistently fast performance and reduced infrastructure requirements. In addition, developers now have the ability to specify custom headers/query parameters – which are necessary for polling authenticated APIs.
Capabilities:
Leverage the power of Diffusion to distribute existing APIs as highly efficient, real-time streaming feeds.
An out-of-the-box adapter to pull data from external REST API endpoints and into Diffusion.
Configure integrations with external REST APIs through the Diffusion Cloud Dashboard, or programmatically via Diffusion's Management API.
Improved Monitoring
Diffusion Cloud is a mission-critical component of customers' infrastructure. Monitoring improvements now makes it easier for Ops teams to understand how their Diffusion Cloud services are being used, identify anomalous behavior, and pro-actively respond to any potential issues before they impact end users.
Capabilities:
Live graphing and visualization of key usage metrics for "at a glance" service status.
More granular reporting of usage history, allowing fine-grained trend analysis and diagnostics.
Highlighting of usage thresholds and high/low summaries to inform capacity planning.
In summary, the redesign enables users to manage existing APIs and add new sources in a matter of seconds. It provides customers with greater visibility of their service's live metrics and historic usage trends, with the dashboard overview now displaying live metrics for number of Connections and Topics. New graphs display Connection and Message usage over the past hour/day/week/month and summary data points are now shown (minimum/maximum connections, total number of messages and bytes).
Andréa Skov, Chief Marketing Officer for Push Technology, said: "Using the Cloud version of our Diffusion platform development teams can take an economical, fast, low-code approach to building next generation real-time, event-driven applications. We continually evolve our platform's powerful, intelligent data management capabilities. These enhancements are driven by the digital transformation requirements of the companies we serve across the globe."
Best 7 Australian Online Casinos – Top Casino sites 2022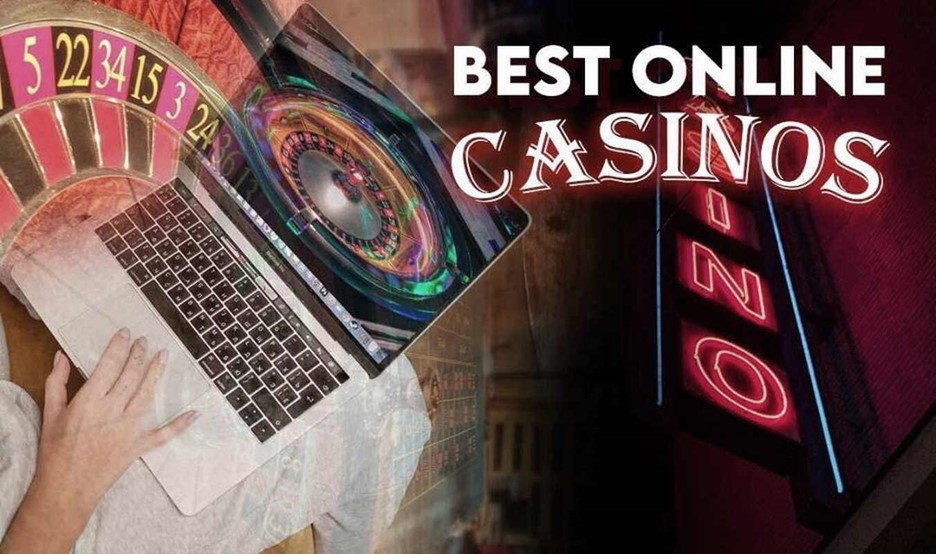 Reading Time:
3
minutes
In the digital age, land-based casinos could soon become a thing of the past. The number of people playing at online casinos is rising because it is more convenient than traditional methods. In addition, the casino world has progressively shifted online, making more people interested in playing casino games from home. With the thousands of online casinos currently in existence, it can be challenging to know which ones are worth your time. This article will introduce you to some of the internet's most famous Australian casinos that offer great bonuses and features. For detailed research, visit Spin-paradise and their page about online casinos Australia. These experts will show you what to look for in a gambling site.
Top 7 Australian Casinos
Now let's review some of the top 7 Australian-based online casinos.
1. Croco Casino
This online casino has been operating since 2021 and offers various games, such as slots, blackjack, roulette, and more. Players can also enjoy their VIP rewards program, which offers multiple bonuses and cashback. Also, the site is secured with SSL encryption, which guarantees that all payments are safe and secure.
2. YOJU Casino
YOJU casino is an excellent option for Australian players who want to enjoy the best online gambling experience. This casino offers exclusive bonuses, unique game selections, and fast withdrawals. The site also uses 128-bit SSL encryption technology to protect all transactions.
3. SlotoZen Casino
SlotoZen casino is one of the best Australian casinos. It offers over 2000 games from leading game developers, including video slots, table games, and live casino options. The site also ensures secure payment methods with its advanced encryption technology.
4. Casino Rocket
Casino Rocket is an excellent choice for Aussies who want to enjoy their favourite casino games. This online casino offers over 1000 slots, table games, and live dealer options from top software providers. The site also provides secure banking with its reliable encryption technology.
5. Casino Mate
Casino Mate is another famous Australian casino that offers secure banking, fast withdrawals, and exclusive bonuses. The site features over 1500 games from leading developers such as Microgaming and NetEnt. Also, the site provides a secure gaming environment with its encryption technology.
6. Zoome Casino
Zoome casino is an Australian-friendly online casino that offers a fantastic selection of slots, table games, and live dealer titles. The site also provides secure payment methods via its advanced encryption technology. Additionally, the casino offers exclusive bonuses and VIP rewards to its players.
7. King Billy Casino
King Billy casino is one of the best Australian casinos that offer exclusive bonuses and a great selection of games. The site features over 2000 slots, table games, and live dealer titles from leading developers. Additionally, the casino provides secure payment methods with its advanced encryption technology.
We hope this list has given you insight into some of the top online casinos for Australians in 2022.
How to choose the best Australian online casino? Top tips
With so many great choices, knowing which is best for you can take time and effort. To make sure you have the best experience possible, we recommend considering the following factors before making your selection:
Bonuses and Promotions – Look for casinos that offer generous welcome bonuses and ongoing promotions. It will help you get more value out of your deposits and maximise your chances of winning.
Game Selection – Check out the game selection to ensure a wide variety of titles from top developers. It provides you can play your favourite games and enjoy new ones.
Security – Ensure the casino has an SSL encryption system for secure payments and other security measures such as firewalls and anti-virus protection. It will guarantee that your data is safe and protected.
Payment Methods – Look for casinos that accept a wide range of payment methods, including bank transfers, credit/debit cards, and e-Wallets. It ensures you can easily make deposits and withdrawals with ease.
Customer Support – Check out the customer support services, such as live chat and email. It is essential in case you have any questions or problems while playing.
Mobile Compatibility – Ensure the casino is compatible with all mobile devices, including Android and iOS. It will ensure you can play your favourite games on the go.
Considering these factors, you'll be sure to find a safe and secure Australian online casino that offers great bonuses and an exciting game selection. Good luck!
Conclusion
We hope this article has given you a better understanding of the best online casinos for Australians in 2022. With so many great choices, each offering its bonuses and promotions, security measures, game selection, payment methods and customer service options, there is sure to be something perfect for everyone! So make sure to take your time and research before making your choice, and good luck with your gambling journey! Happy playing!
Best Pay n Play payment method: Trustly, Brite & Zimpler comparison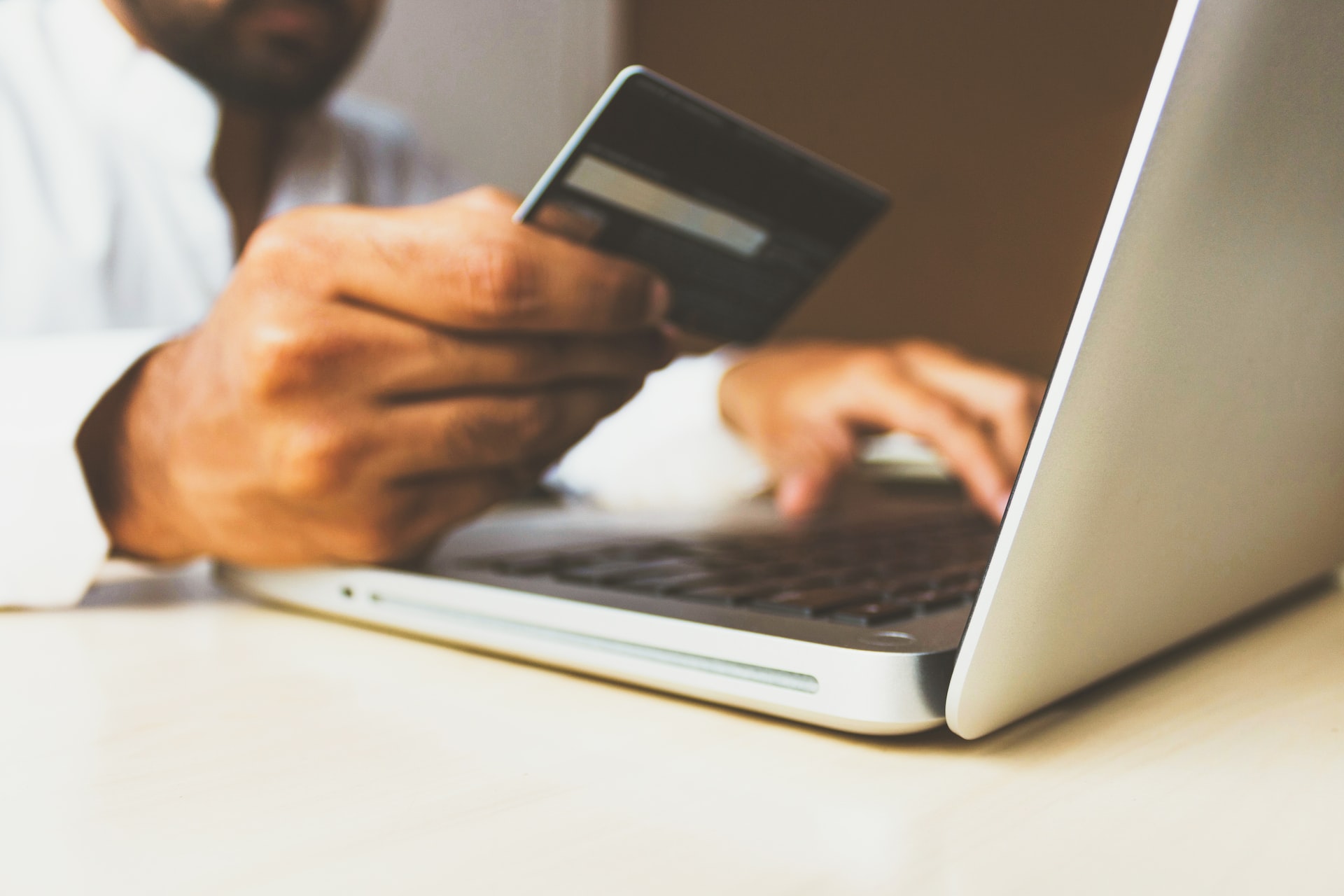 Reading Time:
2
minutes
Nowadays Trustly Pay N Play casinos are not the only option if you are looking for a registration-free casino. There are also other payment providers, such as Brite and Zimpler, who offer similar concept for online casinos.
Which Pay N Play casino should you choose then: one using Trustly, Brite, or Zimpler? In this article, we explain the differences between these three payment providers and tell, what is the best Pay N Play payment method.
Trustly
Trustly introduced Pay N Play in 2008, and for a while, it was the only payment provider offering this kind of concept. Even today, it's still the most common payment method in casinos without registration.
To use Trustly you only need online banking credentials. Using these you can both make payments at the casino and verify your identity. This allows you to start playing quicker than on traditional online casinos that require registration.
Deposits with Trustly are instant, and even withdrawals usually take just a few minutes. In addition to being fast, payments are also extremely secure. Trustly is a licensed payment institution that operates under the supervision of the Swedish Financial Supervisory Authority, and it uses the same kind of secure encryption as banks.
Brite
Brite is a fairly new payment provider compared to Trustly and the first Pay N Play casinos using this payment method were only introduced in 2020. A couple of years later Brite Pay N Play casinos are still somewhat rare. However, the range of options is gradually getting larger, as more and more new casinos are opting for this payment method.
Like Trustly, Brite also works with online banking credentials. Both the payment and identity verification processes work basically the same way as with Trustly. The payments are also equally fast and safe. Same as Trustly, Brite is also supervised by the Swedish Financial Supervisory Authority.
Zimpler
Some may remember Zimpler mobile payments, which this payment provider offered a few years back. However, in 2020 Zimpler abandoned mobile payments and started offering Pay N Play concept for online casinos.
In the few years that it has been on the market, Zimpler's Pay N Play concept has not become nearly as widespread as Trustly's similar concept. Still, the amount of Zimpler casinos is growing slowly but surely, and nowadays there are already many Pay N Play casinos offering Zimpler payments.
Zimpler does not really differ from Trustly or Brite in any major way. Payments are equally fast, and both the payment and identity verification processes are similar. And like Trustly and Brite, Zimpler is also supervised by the Swedish Financial Supervisory Authority, making it a safe and reliable payment method.
Conclusion – what is the best Pay N Play payment method?
There are no big differences between the three Pay N Play payment providers, Trustly, Brite, and Zimpler. All three offer fast, easy, and secure payments, which makes all of these payment methods great options for a player looking for a registration-free casino experience.
One thing makes Trustly a slightly more attractive option than Brite or Zimpler, though: it is still the most widely supported payment method on Pay N Play casinos. Meaning, players interested in Trustly Pay N Play will easily find a casino supporting this payment method and will have plenty of different casinos to choose from.
Microsoft Backs Blockchain-Focused Gaming Company WeMade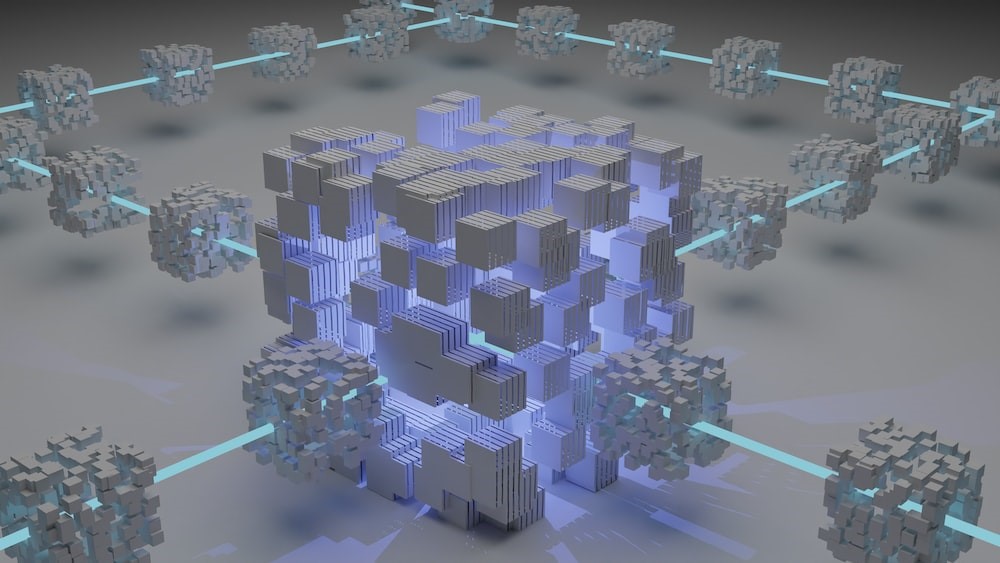 Reading Time:
3
minutes
Over the last few years, Microsoft has been venturing out and investing in new sectors of technology, such as investing in Space and Time, a decentralised data warehouse. Microsoft's investments in areas such as Web3 are a sign of the times, as many large-cap technology companies have adopted the idea since 2021.  Web3 is an idea that uses cryptocurrencies and blockchain technology to provide internet users with data security, privacy, and scalability.
Microsoft's Latest Venture
Most recently, we have seen Microsoft back WeMade, a South Korean video game developer that has made several aggressive bets on blockchain technology over the years. WeMade is best known for creating the Legend of Mir series, which has attracted more than 120 million users in Asia. The company's games, such as Legend of Mir 2, generate over $20 million per month in China alone, highlighting the dominating presence WeMade has in the Asian gaming market. WeMade is also a progressive video game company that has been exploring different ways to incorporate blockchain into its games.
WeMade's Work In Blockchain
The company's objective is to use blockchain technology to transform everyday games and to have its stablecoin used as one of the main currencies in the blockchain gaming market. Microsoft recognises the private company's potential, investing $14.8 million in the company through convertible bonds, as per regulatory filings. Shinhan Asset Management and Kiwoom Securities also backed the blockchain gaming-focused company, with Shinhan investing $21.2 million and Kiwoom investing $10.5 million. These three investments are just the beginning of WeMade's plans to build its global blockchain gaming ecosystem.
WeMade is at the forefront of blockchain gaming, which is why the company is receiving significant backing from some of the most respected companies in the gaming sector. Blockchain already has a considerable presence in the gambling industry and brings with it many advantages. Casinos that embrace blockchain allow individuals to play games solely using crypto by supporting the most popular digital currencies available. This means that players don't have to wait a long time to get payouts or register to play games like blackjack and slots in the crypto gaming space. These are the defining features of the best crypto casino online. The increasing presence of blockchain in gaming and online gambling makes one wonder if it will make its way into sports betting.
There are also blockchain-based games that let players have real ownership of in-game assets, such as CryptoKitties, a platform developed by Canadian studio Dapper Labs in Vancouver, British Columbia. In 2018, CryptoKitties received backing from Steph Curry after partnering with the Golden State Warriors star to release the first-ever celebrity-branded CryptoKitty. Each CryptoKitty represented Curry's interests and skills, such as his passion for cooking.
Where Else Are We Seeing The Idea Of Web3?
Microsoft may be investing in blockchain and Web3, but the technology company isn't the only one. While some critics have pointed out concerns over Web3's decentralisation, and Jack Dorsey and Elon Musk have both said the idea serves only as a marketing term, companies like Nike are still moving into this space.
During the week of November 14th, 2022, Nike announced that it is launching a Web3-enabled platform called '.Swoosh'. The platform will allow people to collect and trade digital items like virtual sneakers and the Nike .Swoosh platform is expected to launch in January 2023. It is meant to encourage customers to become co-creators in digital product royalties. The platform's digital collectibles can be used in Web3 games such as t-shirts and sneakers, and the company also stated that users will be able to unlock real-world benefits through Web3 technology, including conversations with pro athletes.
Microsoft has been investing in new industries for years, and WeMade has been making a global name for itself in blockchain gaming at the same time. It's not a surprise that the two companies have finally come together, with Microsoft investing a substantial amount of capital in the South Korean video gaming company. The future is blockchain gaming, and Microsoft will be glad the company got its foot in the door in the beginning.