Push Technology Expands Diffusion Cloud Offering with Enhanced Monitoring Capabilities and New REST Adapter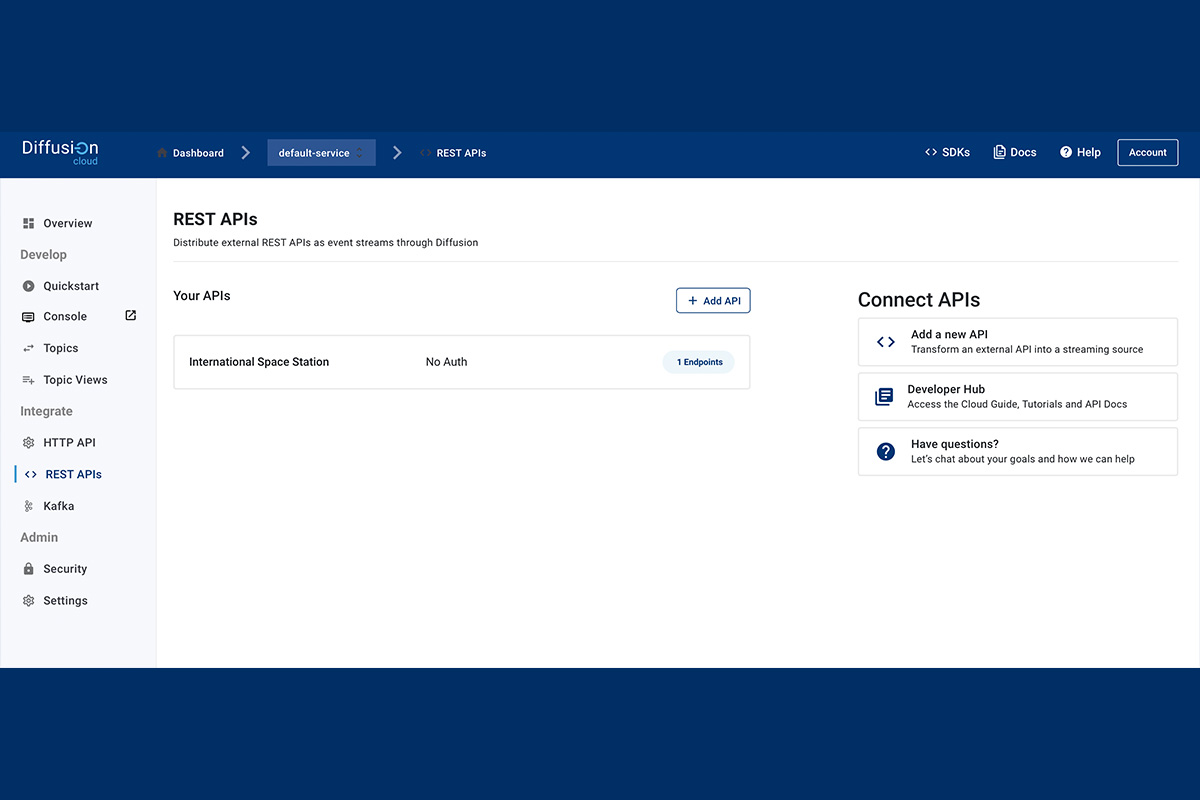 Reading Time:
2
minutes
Push Technology, the pioneer and leader in real-time data streaming and messaging solutions, today announced valuable enhancements to Diffusion Cloud – its Intelligent Event-Data Platform.  The additions include a new REST adapter and improved data monitoring capabilities.
New REST Adapter
Development teams can quickly and inexpensively provide real-time experiences to customers, by transforming existing APIs into streaming data feeds, without the need to re-architect backend systems. With Diffusion doing the heavy lifting of distributing real-time data, developers can reduce traffic load on backend systems – resulting in consistently fast performance and reduced infrastructure requirements. In addition, developers now have the ability to specify custom headers/query parameters – which are necessary for polling authenticated APIs.
Capabilities:
Leverage the power of Diffusion to distribute existing APIs as highly efficient, real-time streaming feeds.
An out-of-the-box adapter to pull data from external REST API endpoints and into Diffusion.
Configure integrations with external REST APIs through the Diffusion Cloud Dashboard, or programmatically via Diffusion's Management API.
Improved Monitoring
Diffusion Cloud is a mission-critical component of customers' infrastructure. Monitoring improvements now makes it easier for Ops teams to understand how their Diffusion Cloud services are being used, identify anomalous behavior, and pro-actively respond to any potential issues before they impact end users.
Capabilities:
Live graphing and visualization of key usage metrics for "at a glance" service status.
More granular reporting of usage history, allowing fine-grained trend analysis and diagnostics.
Highlighting of usage thresholds and high/low summaries to inform capacity planning.
In summary, the redesign enables users to manage existing APIs and add new sources in a matter of seconds. It provides customers with greater visibility of their service's live metrics and historic usage trends, with the dashboard overview now displaying live metrics for number of Connections and Topics. New graphs display Connection and Message usage over the past hour/day/week/month and summary data points are now shown (minimum/maximum connections, total number of messages and bytes).
Andréa Skov, Chief Marketing Officer for Push Technology, said: "Using the Cloud version of our Diffusion platform development teams can take an economical, fast, low-code approach to building next generation real-time, event-driven applications. We continually evolve our platform's powerful, intelligent data management capabilities. These enhancements are driven by the digital transformation requirements of the companies we serve across the globe."
Three Areas Which Could Be Emerging Bingo Markets of the Future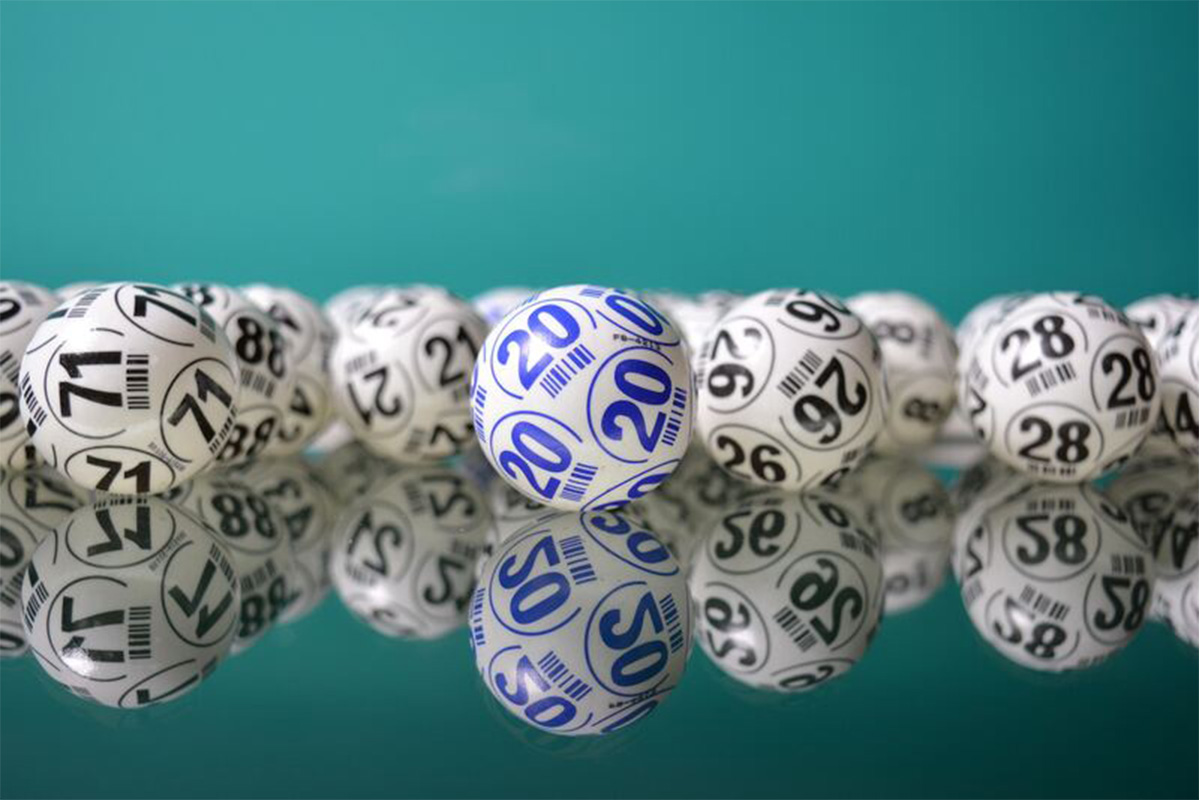 Reading Time:
2
minutes
Casinos are in many countries around the world. Spurred on by online offerings, it is an industry that is more popular than ever. Bingo, a similar concept, has a different perspective. It is growing in popularity online, and certain countries are filled with bustling halls and vibrant venues. Others have few physical spaces at all. Below, we look at areas which could be the emerging bingo markets of the future.
Eastern Europe
The United Kingdom has around 350 bingo clubs, with the US deeming them equally as popular. Yet in other countries and provinces, bingo halls are less prevalent, despite the games following online. Add to this that most countries have at least one variation of bingo, and it seems like halls should be a lucrative attraction.
The best tactic when entering these markets would be to combine online sites with physical establishments. Online sites offer convenience, while physical halls make going out to bingo an event. Bingo companies in the UK have been doing this for some time. While many countries have physical locations, they often lack the investment and attraction that the halls of the UK and the US do.
One particular area they could be developed in is Eastern Europe. Southern states such as Romania already have a thriving scene, though even here clubs are small affairs, void of the comfort, glitz and glamour you may find in ones elsewhere. Bingo Chez Gabi, found in the capital Bucharest, epitomises bingo in the country: Home-grown affairs, with a restaurant and pub attached.
Other countries like Hungary show promise due to their developing economies in capitals such as Budapest. However, there are strict regulations for physical establishments and even very few casinos. Any halls would have to be carefully placed and have local backing.
South America
Bingo is huge in South America, and you can find major operators across the biggest countries. Argentina has over 45 bingo halls with other large countries like Brazil having over 600. Even in countries such as Columbia, there's a bingo hall in most major shopping centres.
Where the true emerging markets are in the smaller states. This popularity is always bound to spill over, into growing economies like Chile, Peru and even smaller states like Ecuador. In Mexico, the game is also wildly popular so it makes sense that states situated between them, like Panama and Costa Rica, would be targets for companies already operating close by.
Japan
Japan itself has a large following for bingo, which is almost exclusively played online. This is because no bingo halls exist in the country, meaning the only way to play is through a mobile device.
Japan does have its fabled pachinko parlours, where tokens are won, and exchanged offsite for prizes. His could be a model that any prospective bingo companies making inroads into the country could use. However, they have to compete with the popularity of the much-loved parlours.
There are plenty of other countries and markets that will come and go. With so many different bingo variations, even without large halls, you should be able to find a game in most parts of the world.
Professional ways to Increase Winning Streaks on Crash Gambling Site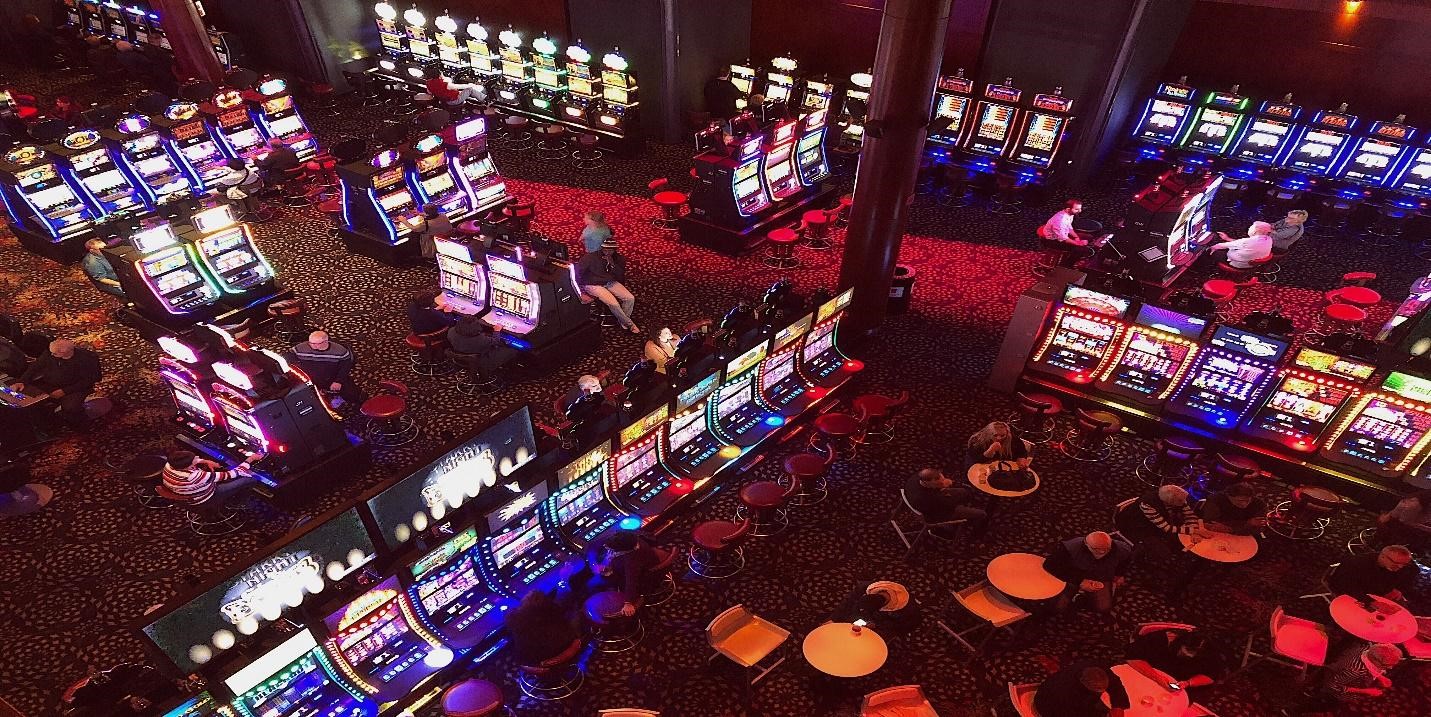 Reading Time:
4
minutes
No matter how experienced or new to the crypto casino world, everyone uses a crash gambling technique while trying their luck at their favorite games. A solid crash betting strategy is one method to raise your bankroll when going all-in on a crash gambling site. In crash gaming, a bet is made on a rising multiplier. The value of the multiplier rises until it unexpectedly falls at some time. Players maintain their earnings if they pull out their funds before the crash.
In several years, there has been a surge in the adoption of crash tactics. They include real-time internet gambling, where a stake is precisely placed to increase winning odds. No gaming strategy can guarantee achievement or financial reward. To boost your odds, you can use several ways mentioned on CCN to tailor your approach to using crash methods in gambling games.
The house edge in crash gambling is between 1% to 2%. It suggests that gamers have a high chance of winning when they play.
Crash Gambling Strategies
Most gamers know fate and chance can determine whether you lose or win during a gaming session. Other gamblers use other techniques to boost their odds of winning in a crypto gambling crash game. If you pay attention, you'll see that some gamers consistently have larger bankrolls and hold the top positions.
In addition, the tactics these players employ to gauge their success may all have an impact. They claim you can control your luck. Let's start by reviewing some crash gambling tactics you can use in your next gaming.
Martingale Strategy
This strategy is popular among gamers and used in high-stakes games. In general, the idea is easy. Gamers increase their stake after each defeat; players also reduce it back to their starting amount after a win. This logic suggests increasing your bet amount before lowering it to compensate for shortfalls. This method is easy to understand and use. Most experienced gamblers refrain from using this crash gambling method.
They contend that although more outstanding wagers provide smaller rewards, they immediately enhance your odds of winning. Players with a high bankroll should use this strategy. However, further losses will only significantly impact their equilibrium, getting the needed time to accumulate the needed triumphs.
Anti-Martingale Strategy
This strategy is the reverse of its forerunner. For those utilizing this, it's a strategy that also produces results. Many gamblers believe that a gaming session consists of back-to-back hot and cold streaks. To raise this, gamers would increase wagers when they win and decrease them following a loss. They would be able to make significant gains while things are going well.
Additionally, they can minimize their losses during cold snaps. As a result of the randomness of crash gambling games, predictions of results are difficult. The risks of utilizing this as a gambling strategy are similar to those connected to the Martingale methodology.
Fibonacci Strategy
This crash gambling method is the safest. You begin with 1 and add 2 two numbers before it to guess the next number in the series. If gamers are not observant, the Fibonacci approach might entirely wipe away your bankroll as it is not prone to losing streaks. Gamers must thus define and follow a set stop-loss.
D'Alembert Strategy
It's easy to use the D'Alembert wagering strategy. The Martingale system's fundamental idea is comparable to this one; however, there is a significant difference. The D'Alembert method uses a far more moderate bet progression than the aggressive doubling down of the Martingale crash betting system. This strategy's simplicity gives it a great foundation to build your crash gaming strategy for any game.
Labouchere Strategy
The laborer crash technique for gambling is a well-organized strategy when used appropriately. You could stand to gain if you win than lose. This is so if you follow the system's instructions and avoid a long losing run. Despite similarities, the Martingale method has a more severe development than this technique. The Labouchere technique further lessens the effect of streaks. However, you don't increase your bet after each loss.
Ways To Profit From Crash Gambling
Enhance Rewards
The last player to cash out before a bust wins a prize while playing a crash gambling game; the prize is often equivalent to the dealer's profit. You must set your mind on striving to obtain this to obtain it. If you concentrate on getting the reward, you will ultimately locate it. There are always possibilities to maximize prizes because the game instantly switches to the next one when no one receives the tip.
Auto-Cashout Option
Consider employing the auto-cashout option before putting your bets during your gaming session. A player's auto cashout option ranges from 1.5x to 5x, allowing them to place fewer bets with a higher chance of winning. You may set your auto-cash-out option, sit back, and enjoy the pleasure while the games handle all the work, similar to how auto spins operate on slot machines.
Bankroll Limits
You need to establish your bankroll and limitations during your gaming session. It will help you keep up a planned stretch cut-off strategy that can increase your winnings. Knowing how much you could lose or win anytime can help avoid significant losses.
You may implement well-planned gambling limit strategies and be sure of how much you are prepared to lose with an organized strategy employing scheduled interval limitations. It also stops you from trying to make up lost money by playing more rounds following a defeat. While it's crucial to celebrate big wins, you also need to be able to rebound from failures and stick to your strategy quickly.
Conclusion
Crash gambling at a crypto casino may be entertaining and even rewarding. You may develop a winning attitude by utilizing a smart crash gambling technique and keeping calm, maximizing your enjoyment and increasing your chances of success. It would be beneficial if you always remember that crash gambling is all about having fun, so control your emotions and avoid getting carried away throughout your gaming session. Good fortune!
Top Tips for Assessing iGaming Platform Quality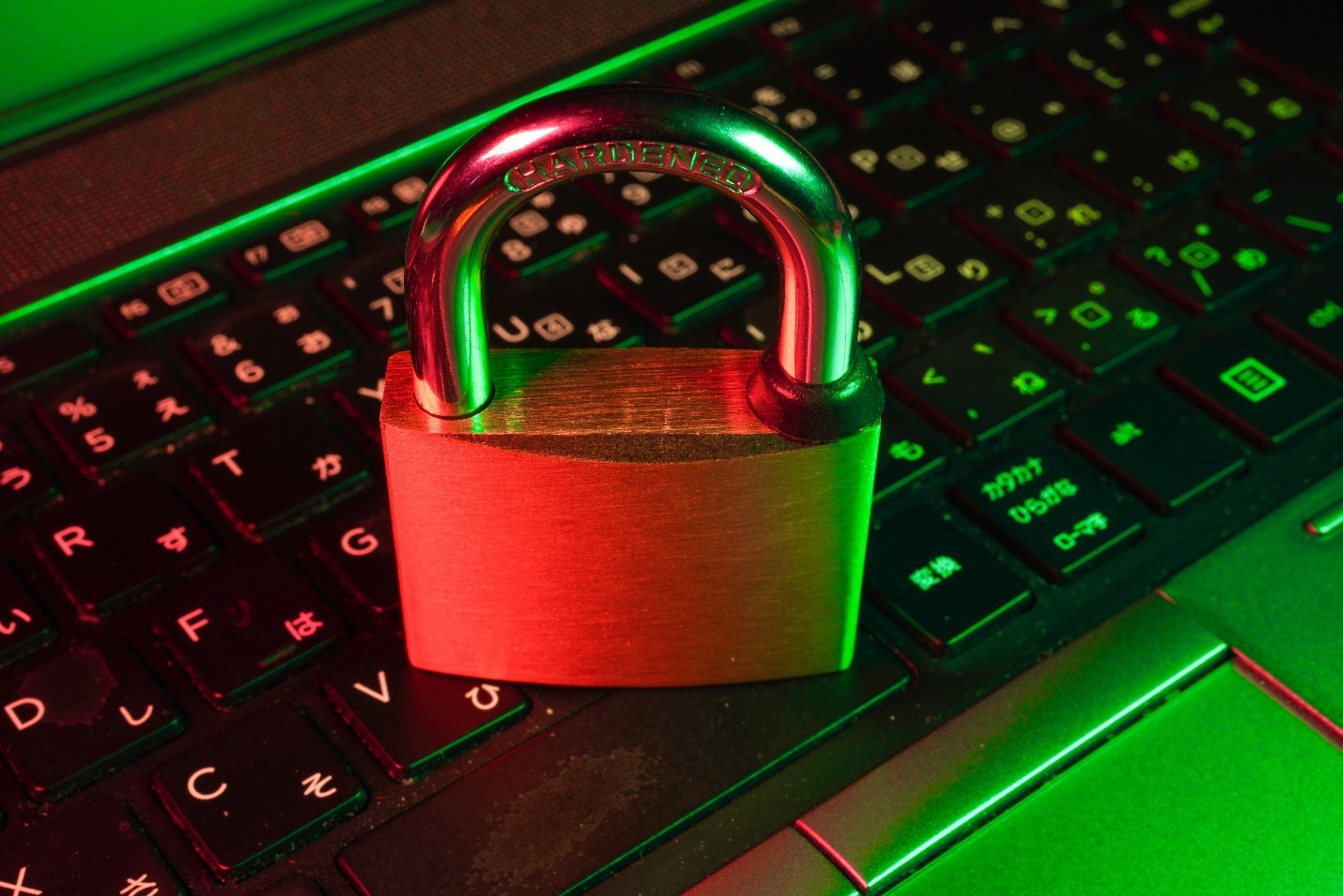 Reading Time:
3
minutes
The global iGaming market represents one of the most popular segments of the $300 billion-a-year video game industry. The broad appeal of digital iterations of classic table games, combined with their relative accessibility and offering of real money prizes, all come together to make them one of the biggest growth areas to watch over the next ten years.
This is especially the case when one factor in the impact of iGaming being let into the world's largest economy, the United States, following 2017's repeal of the PASPA federal legislation.
Altogether, this amounts to a minor boom for the industry. This ultimately stands to benefit the end-consumer, who gets to not only sample platforms from among a wide range of options but gets to benefit from the innovation born from this competition.
But it's not all straightforward, unfortunately. With an estimated 20,000+ online casinos operating today, it can be difficult to identify which are worth your custom. Moreover, while many of these platforms are less refined or complete than others, some are genuinely malicious or represent a security risk.
Suffice it to say, this latter category is to be avoided – but how exactly can we ensure we don't fall for one of these suspect gaming providers? Fortunately, there are a number of simple steps you can follow to make sure you're only spending your money at the very best and most trustworthy platforms.
Compliance with Gambling Orgs
Across the world, iGaming is subjective to stringent controls due to its mature content. To police, these requirements, and ensure compliance with industry norms, a number of gambling regulation organisations exist around the world.
Some of these are predominantly focused on brick-and-mortar venues in specific regions. Still, many offer online iGaming certificates that can be acquired by any platform that fits the relevant criteria. Because of this, checking that the platform you're using is regulated by one or more of these bodies is a great first step in assessing whether it's of high quality.
Among the most common to watch out for are the Malta Gaming Authority (MGA), the United Kingdom Gambling Commission (UKGC), Curaçao eGaming (CEG), and the Kahnawake Gaming Commission (KGC).
Comes Recommended
One of the simplest ways to ensure you're only accessing the best iGaming platforms out there is to follow up on recommendations from industry leaders. The majority of iGaming industry news platforms are committed to championing the platforms that meet the very highest standards. What's more, there are even websites whose sole purpose is to review, rank and recommend online casinos for their users.
For example, among the directories offered by casinoreviews.com, you'll find a survey of the casinos with the best payouts online. There's even an added benefit in seeking out providers through these recommendation platforms, as they typically host affiliate sign-up offers that can get you great deals on welcome bonuses or free spins, depending on the platform in question.
Secure Sockets Layer
Cybersecurity can be complex, but the fundamentals are surprisingly straightforward. One of the most common ways that people get their information intercepted and stolen online is by accessing websites that do not offer server packet encryption.
Simply put, this means that certain websites do not take steps to safeguard your private information when you access them. You may suppose such websites must be difficult to identify, but there is a simple trick that will keep you in good stead.
Simply take a look at the URL, or web address, of the site in question. If it begins with 'http://', you should exercise caution – particularly if you already have your suspicions about the site. If, on the other hand, the website begins with 'https://', it's more than likely safe to access.
This is what's known as SSL, or secure socket layer certification. It demonstrates that a site is encrypting all information being sent and received from its servers, including your confidential information. To get an SSL certificate a trusted third party must verify a website. It is for this reason that it is extremely uncommon for a malicious site to feature this security protocol.
Looks Professional
While this last tip won't get you very far on its own, factoring in whether a site looks modern, clean, and professional is a great way to pile on contributing testimony as to the quality of a iGaming site.
A website that looks like it hasn't been updated since 1997 is unlikely to be in compliance with modern web security. This can mean that even if it's not explicitly malicious in intent, its outdated design could result in it posing an undue security risk.