1,500th pusher bed triggers Bulldog donation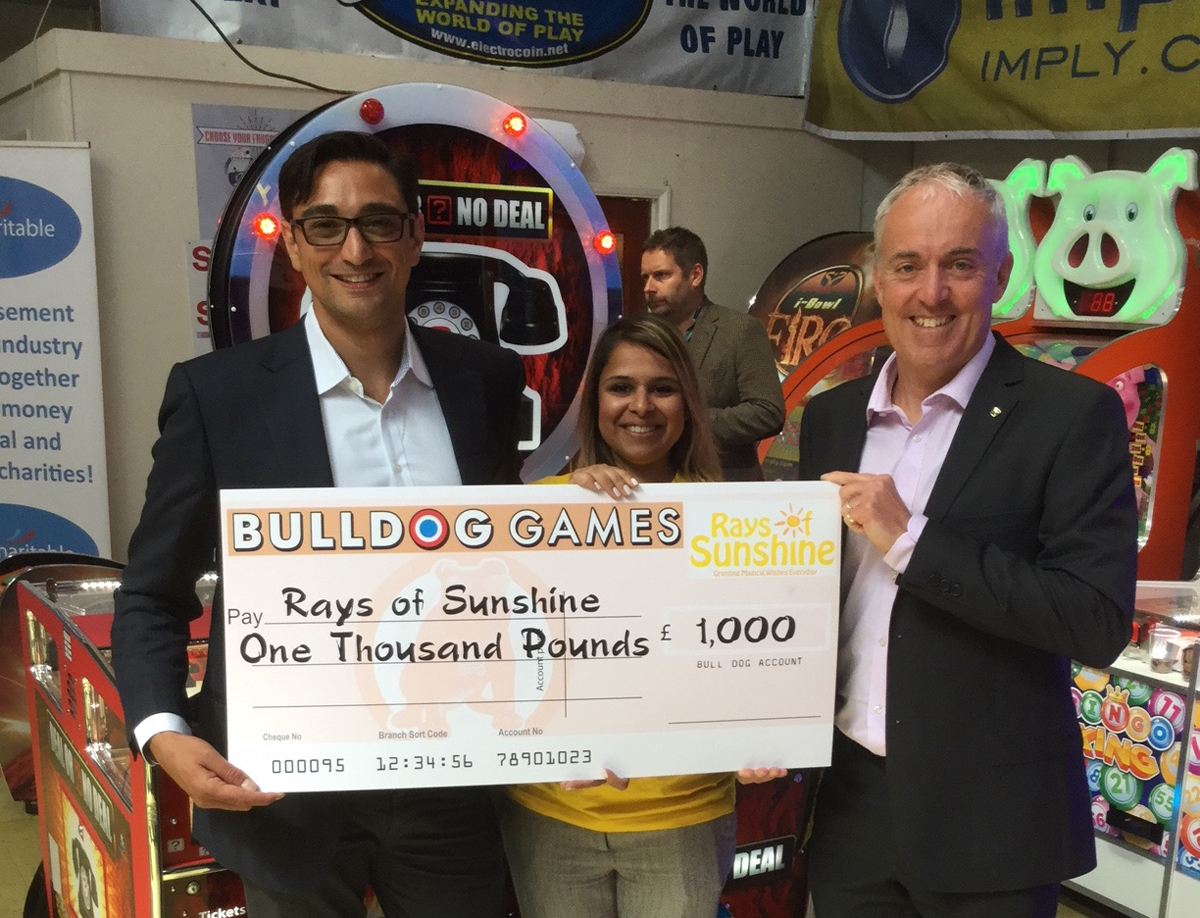 Reading Time:
1
minute
Bacta President Gabi Stergides and Shafiya Shah, Corporate Account Manager at the Rays of Sunshine charity, were on hand at the recent Park Avenue Open Day to accept a cheque for £1,000 on behalf of the Bulldog Games brand of pusher and redemption equipment. The charitable donation was triggered when Andrew Polloni, of Pastimes in Seaton, Devon, placed an order with RLMS Sales Key Account Manager, Chris Widdowson, for a six player Monopoly, in the process taking the number of Bulldog pusher beds sold so far this year beyond the landmark figure of 1,500.
Tony Glanville, Managing Director of exclusive distributor, RLMS Sales, explained: "We came into Park Avenue knowing that we were close to completing the orders that would take us over 1,500 poker beds since Bulldog was unveiled to the industry at January's EAG. The RLMS team has been active in the market helping customers to secure their Bulldog equipment in time for the summer season and I am delighted that Andrew placed the order which activated the donation. Rays of Sunshine is a fantastic charity and I'm delighted that the success of the Bulldog Games brand has helped raise a further £1,000."
Manufactured in the UK, the Bulldog Games brand is available on a range of terms and is backed by a comprehensive after sales and technical support service.
CEEGC2019 Speaker Profile (Poland Briefing): Ewa Lejman (Head of Polish Desk at WH Partners)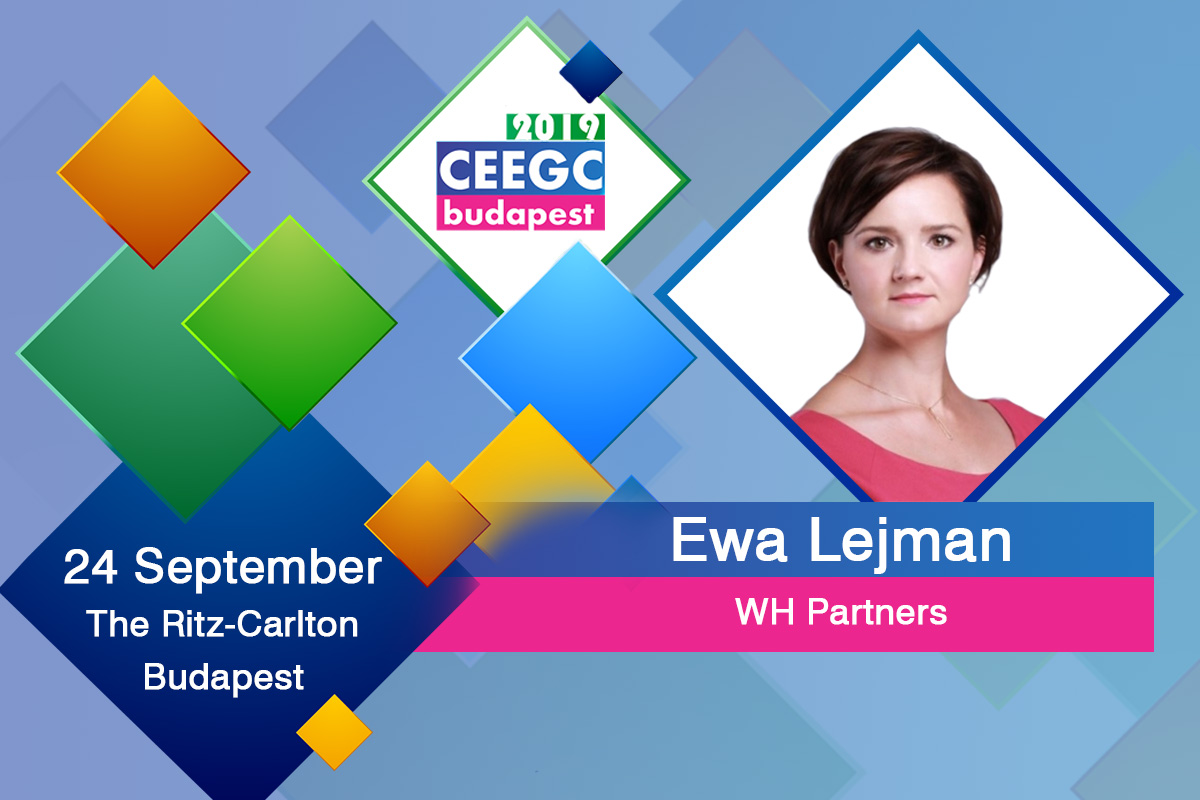 Reading Time:
2
minutes
Polish business lawyer with over 12 years of experience of assisting clients on matters related to gaming and gambling, contract law, M&A and IT service market law to share gambling industry insights of the Polish jurisdiction at CEEGC 2019 Budapest.
As announced earlier, the Polish gambling industry briefing will be part of the "Emerging CEE jurisdictions" compliance panel discussion at CEEGC2019 and will be joined by leading experts of the industry.
The briefing about the jurisdiction will be presented by Ewa Lejman, Head of Polish Desk at WH Partners, who will bring valuable insights she has on how the Polish gambling industry is performing after the new legislation came into force. The panel discussion is important for operators and service providers who can have a direct impact on the market or harvest from their investments.
The 4th edition of the yearly Central and Eastern European Gaming Conference will take place on the 24th of September at the Ritz-Carlton Budapest, and provides a unique opportunity of learning and networking with the gambling industry in the CEE and Balkans region via the CEEGC platform which is committed to bringing together industry shareholders and government officials from the region on a yearly base.
Register here or View the Agenda!
About Ewa Lejman
Ewa is heading the Polish Desk of WH Partners as part of the strategic partnership under the WH Partners brand with Izabella Żyglicka and Partners, a very well reputed full-service law firm in Poland and a member of Ally Law.
Ewa is a business lawyer with over 12 years of experience. She assists clients on matters related to gaming and gambling, contract law, M&A and IT service market law.
Ewa has gained extensive experience in the following fields:
Gaming and gambling – She handles Polish and foreign economic operators running their businesses on the market; the services provided are connected, in particular, with handling of the process of obtaining licences, establishment and registration of companies related with Polish entities, preparation of documents, such as policies, internal procedures, agreements, terms and conditions, as well as advisory services in cases regarding intellectual property, personal data protection and dealing with litigation;
IT and IP law – she handles day-to-day legal and tax services of Polish and foreign companies in this field, including start-ups;
International contracts law – she constantly advises and analyses contracts of foreign companies operating on the Polish market, particularly in terms of production, distribution of machines and sales of services involving the IoT;
Tax law – she effectively represents clients before tax authorities and administrative courts; she advises alternative investment funds (Alternative Investment Companies – ASI, Alternative Investment Management Companies – ZASI); she has authored publications in this field of law;
M&A – she performs multimillion M&A transactions.
Ewa Lejman is a laureate of the Rising Stars Lawyers – the Leaders of Tomorrow 2015 competition. She was ranked 4th in Poland.
http://whpartners.eu/our-team/ewa-lejman
Browse the official event website for more details: www.ceegc.eu
Evolution Gaming: Interim report January-June 2019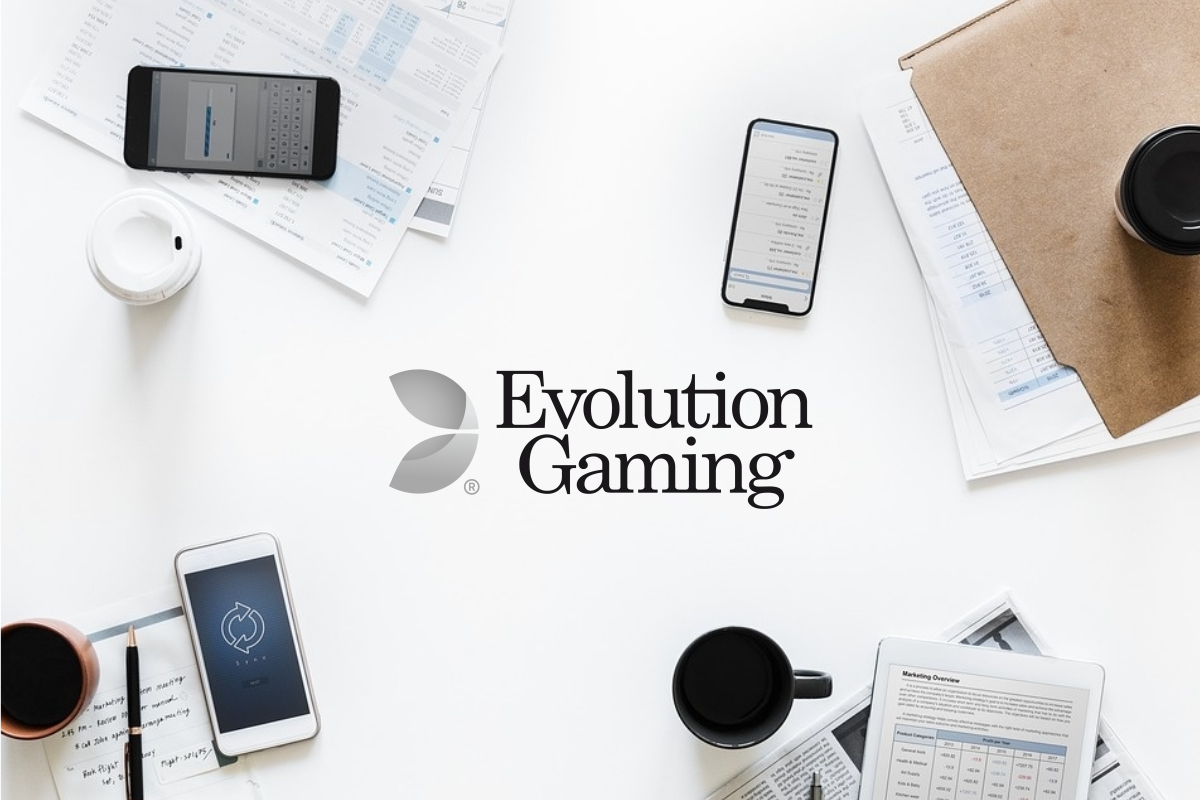 Reading Time:
3
minutes
Evolution released today its Interim Report for January-June 2019.
Second quarter of 2019 (Q2 2018)
Operating revenues increased by 45% to EUR 85.7 million (59.3)
EBITDA increased by 63% to EUR 42.7 million (26.2), corresponding to a margin of 49.8% (44.2)
Profit for the period amounted to EUR 34.5 million (20.1)
Earnings per share amounted to EUR 0.19 (0.11)
January-June 2019 (1H 2018)
Operating revenues increased by 49% to EUR 165.0 million (110.8)
Profit for the period amounted to EUR 63.1 million (36.7)
Earnings per share amounted to EUR 0.35 (0.20)
Comments from CEO Martin Carlesund:
"Evolution's strong development continues, and we can report continued high growth and further improved margin in the second quarter. 2019 is a year of product and innovation, and during the period, we have launched all this year's new games. The response has been instant, and we are overwhelmed by the positive reception among both players and operators. Our aim in the development has been to create games that attract new player types and to expand the Live vertical into new segments, and so far, we are very happy with the outcome. All games, from the new titles within the Game Show category to the dice games, find their audiences and we see a significant increase in the number of players. The new games are not as staff intensive as the traditional table games, which in combination with a generally high efficiency in all studios contribute to the margin development. The extended portfolio also contributes to the revenue growth, but it is important to note that most of our revenues continue to derive from our core games and that the new games are still in an early stage post-launch. However, all new titles contribute to a generally higher interest in Live Casino and we believe that the Live vertical will continue to grow its share of the total online casino market. When the Live vertical grows, we take market shares – as do our customers with access to the new games.
Revenues amounted to EUR 85.7 million, which is 45 percent higher than the corresponding quarter last year. EBITDA amounted to EUR 42.7 million with a margin of 49.8 percent, which is the highest margin recorded so far in a single quarter. In the first half of the year, the margin was 47.7 percent, and we expect to be able to sustain this level in the second half as well which is why we increase our expected margin range to 47-49 percent for the 2019 full year.
The positive market development continues. The Nordics are growing, however at a somewhat slower pace as the Swedish market now is normalising following the intense start to the year as a result of the new gaming legislation. The UK continues to stabilise and is growing compared to the corresponding quarter last year. Both Rest of Europe and Rest of World also exhibit favourable growth.
Going forward, we will continue to invest in the development of both additional game shows and other innovative product types, as well as table games to meet the overall demand for Live. We also continue to invest in our studios. During the quarter, we have transferred the first tables to the new Malta studio, while also expanding the studio in Georgia. In addition, we have initiated a doubling of the capacity in New Jersey. We will also strengthen our presence in the US further and have started the planning for the construction of a studio in Pennsylvania. All in all, investments for the 2019 full year in absolute numbers will be somewhat higher than in 2018. It is imperative for us to meet the demand for Live, to continue to enable innovation within the company and to constantly increase the gap to competition. Connected to this, it is important to remember that in a case where we must prioritise, we will always put growth before margins.
During the first half of the year, we have laid the foundation for Evolution's continued leadership in Live Casino. A proof of this was when we received the award as Live Casino Supplier of the Year for the tenth consecutive year at the EGR B2B Awards in June. The award goes straight to all our employees. I am immensely proud of everyone's achievements so far this year, and the innovation power they possess creates confidence for the future.
Since Evolution's inception, we have had a paranoid approach to our development, and given all achievements so far in 2019 I would like to conclude these comments by pointing out that we are never fully satisfied, we never sit back and each day, we fight to become a little bit better."
NetEnt games live in Pennsylvania, USA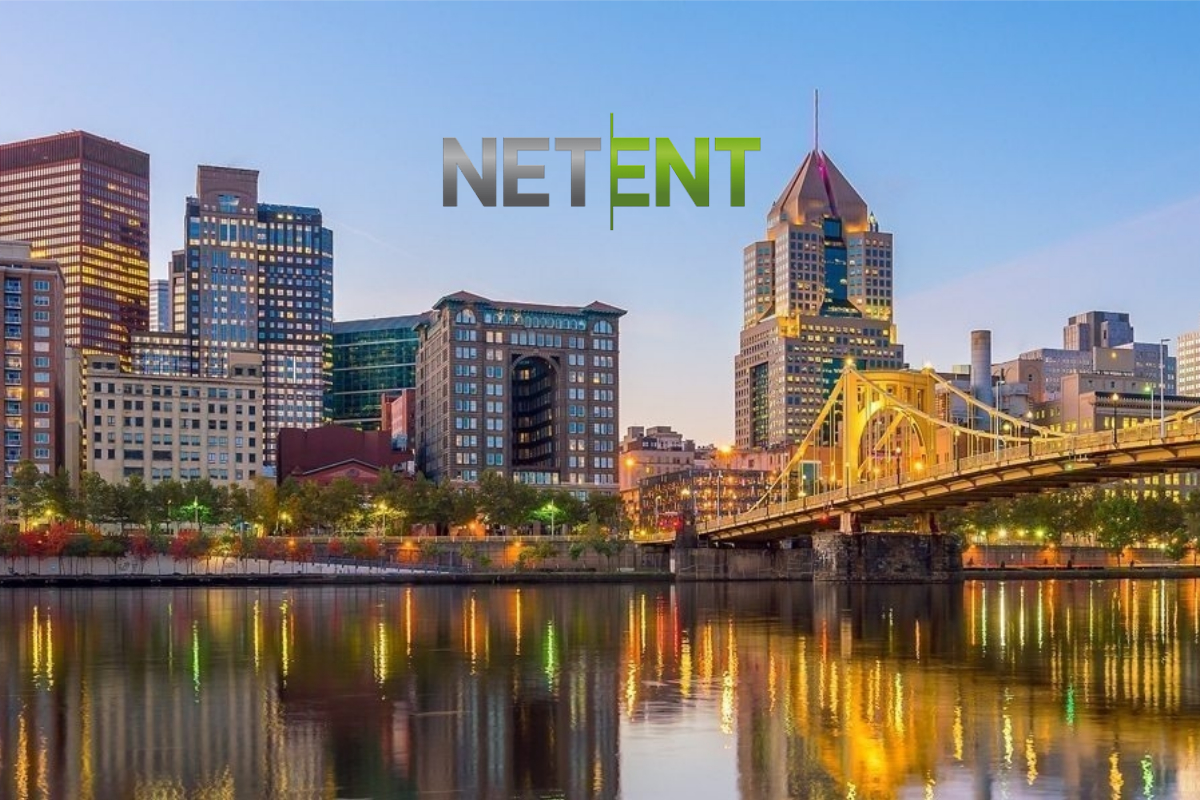 Reading Time:
1
minute
As expected, the new regulated online gambling market in Pennsylvania has opened. After successful integrations, NetEnt's games are now live in the US state.  
In March this year, NetEnt, through its subsidiary NetEnt Americas LLC, was granted an Interactive Gaming Manufacturer Conditional License by the Pennsylvania Gaming Control Board (PGCB).
Pennsylvania is the second large US state to regulate online casino and with almost 13 million people, it is the fifth largest state by population. The state has a long tradition of gambling on the land-based side. As previously communicated, NetEnt has signed customer agreements with several gambling operators in the state and has been preparing to launch its games as the market opens.
"I am very pleased that the market in Pennsylvania has now opened. We are one of the few online casino suppliers offering our games right from the start, and I am convinced that our award-winning online casino games will be much appreciated by players in Pennsylvania," says Erik Nyman, Managing Director NetEnt Americas LLC.
About NetEnt:
NetEnt Americas LLC is a US subsidiary of NetEnt AB (publ), a leading digital entertainment company, providing premium gaming solutions to the world's most successful online casino operators. Since its inception in 1996, NetEnt has been a true pioneer in driving the market with thrilling games powered by a cutting-edge platform. NetEnt is committed to helping customers stay ahead of the competition, is listed on NASDAQ Stockholm (NET–B) and employs 900 people in Malta, Stockholm, Kiev, Krakow, Gothenburg, Gibraltar and New Jersey. www.netent.com