AGS Acquires iGaming Aggregator and Content Provider Gameiom Technologies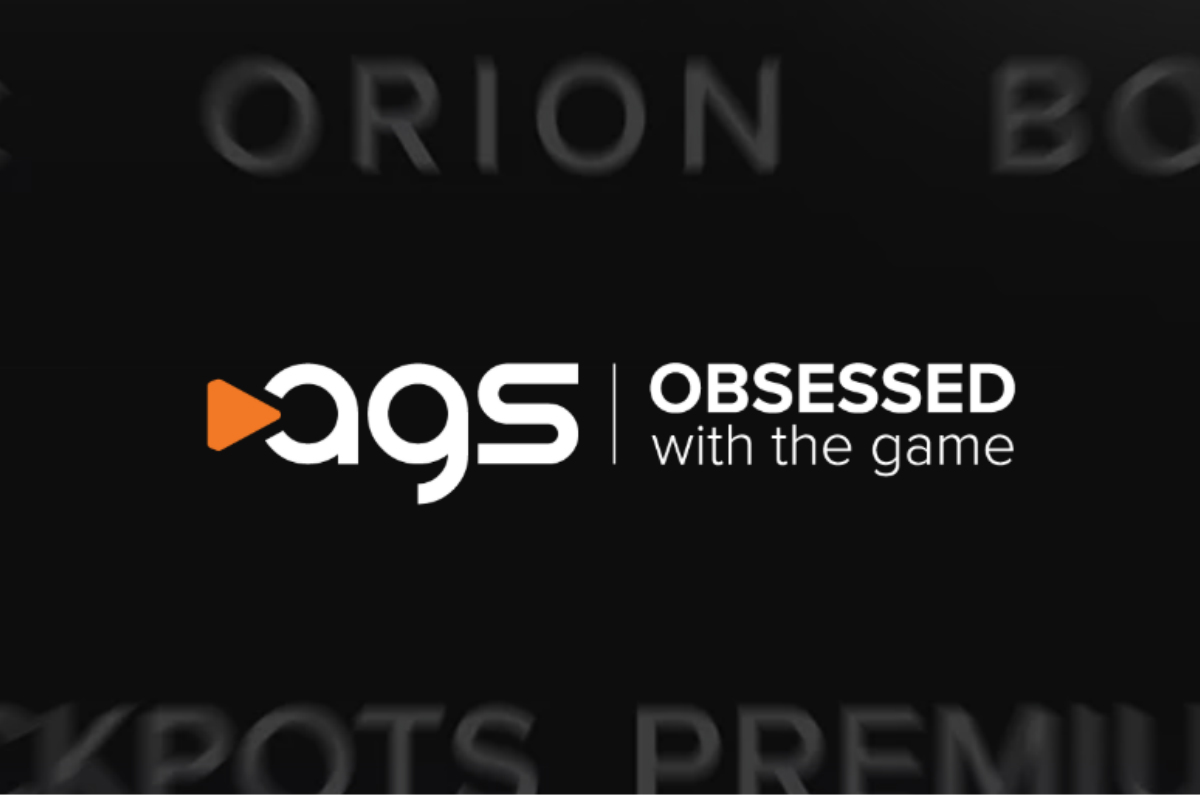 Reading Time:
4
minutes
LAS VEGAS, June 19, 2018  — AGS ("the Company") (NYSE: AGS) announced it has acquired Gameiom Technologies Limited ("Gameiom"), a UK and Gibraltar licensed iGaming aggregator and content provider for real-money gaming ("RMG") and sports-betting partners. This transaction bolsters AGS' diverse product portfolio with the ability to offer iGaming operators some of the highest-performing game content in the marketplace through Gameiom's remote game server ("RGS"). Under the terms of the transaction, AGS has acquired Gameiom for $5 millionin cash and will integrate Gameiom to serve as the launchpad for the Company's iGaming division, which will become part of its AGS Interactive business segment.
"In assessing RMG providers, AGS felt it was important to pursue a pure content aggregation and distribution platform as opposed to a direct-to-consumer iGaming operation," said David Lopez, President and CEO of AGS. "Gameiom fits that bill perfectly – their platform enables AGS to distribute our industry-leading game content into many markets, including the U.S, establishing a real-money gaming solution designed to generate revenue for AGS and our partners. Gameiom's RGS platform is flexible, scalable, robust, and open, capable of delivering hundreds of games and sports-betting integration to operators quickly and reliably. More importantly, Gameiom's values align with our playbook – they are passionate, team oriented, aspire to win, and a bit obsessed with gaming, just like us."
Matt Reback, Executive Vice President of AGS, added: "This acquisition significantly expands the channels for our industry-leading game content to Gameiom's key partners, which include BetVictor, Ladbrokes Coral, and William Hill, to name a few. Gameiom knows operators and game developers want to see their content go live as quickly as possible through a reliable integration on a robust platform, and that focus on speed and quality is why they have experienced rapid success over the past 18 months. Acquiring this team and their RMG technology further diversifies and enhances our interactive product suite."
With offices and licenses in the UK and Gibraltar, Gameiom currently distributes content from more than 15 game suppliers including Ainsworth, Gaming Realms, Reflex Gaming, and 1X2 Network, providing access to more than 100 live games and a library of more than 1,000 additional games. As part of the acquisition, AGS will retain and employ the Gameiom team – including key executives Stuart Carr, Tony Ellis, Gary Hardy, and John Carr – ensuring a smooth transition for customers as AGS expands and grows the current product in the marketplace. Keystone Law acted as a legal advisor to Gameiom during the completion of this acquisition with AGS.
About AGS:
AGS is a global company focused on creating a diverse mix of entertaining gaming experiences for every kind of player. Our roots are firmly planted in the Class II Native American gaming market, but our customer-centric culture and growth have helped us branch out to become a leading all-inclusive commercial gaming supplier. Powered by high-performing Class II and Class III slot products, an expansive table products portfolio, highly-rated social casino solutions for players and operators, and best-in-class service, we offer an unmatched value proposition for our casino partners. Learn more about us at www.playags.com.
About Gameiom:
GAMEIOM has two main objectives: firstly, to provide a reliable and robust aggregation platform that empowers innovative game developers to quickly secure a viable and exciting route to market from a single integration; and secondly, to provide content, including proprietary products, that excites and engages players from markets all over the globe. We are licensed by the UK Gambling Commission and the Gibraltar Regulatory Authority with a team spread across the world, including offices in England and Gibraltar. Learn more at www.gameiom.com.
Forward-Looking and Cautionary Language
This press release contains, and oral statements made from time to time by our representatives may contain, forward-looking statements based on management's current expectations and projections, which are intended to qualify for the safe harbor of Section 27A of the Securities Act of 1933, as amended, and Section 21E of the Securities Exchange Act of 1934, as amended. Forward-looking statements include statements identified by words such as "believe," "will," "may," "might," "likely," "expect," "anticipates," "intends," "plans," "seeks," "estimates," "believes," "continues," "projects" and similar references to future periods, or by the inclusion of forecasts or projections.  All forward-looking statements are based on current expectations and projections of future events.
These forward-looking statements reflect the current views, models, and assumptions of AGS, and are subject to various risks and uncertainties that cannot be predicted or qualified and could cause actual results in AGS's performance to differ materially from those expressed or implied by such forward looking statements. These risks and uncertainties include, but are not limited to, the ability of AGS to maintain strategic alliances, unit placements or installations, grow revenue, garner new market share, secure new licenses in new jurisdictions, successfully develop or place proprietary product, comply with regulations, have its games approved by relevant jurisdictions and other factors set forth under "Risk Factors" in the registration statement on Form S-1 and its annual report on Form 10-K filed with the Securities and Exchange Commission on May 7, 2018. All forward-looking statements made herein are expressly qualified in their entirety by these cautionary statements and there can be no assurance that the actual results, events or developments referenced herein will occur or be realized. Readers are cautioned that all forward-looking statements speak only to the facts and circumstances present as of the date of this press release. AGS expressly disclaims any obligation to update or revise any forward-looking statements, whether because of new information, future events or otherwise.
Source: AGS
British Bingo.com player bags £4m bounty on NetEnt's Mega Fortune Dreams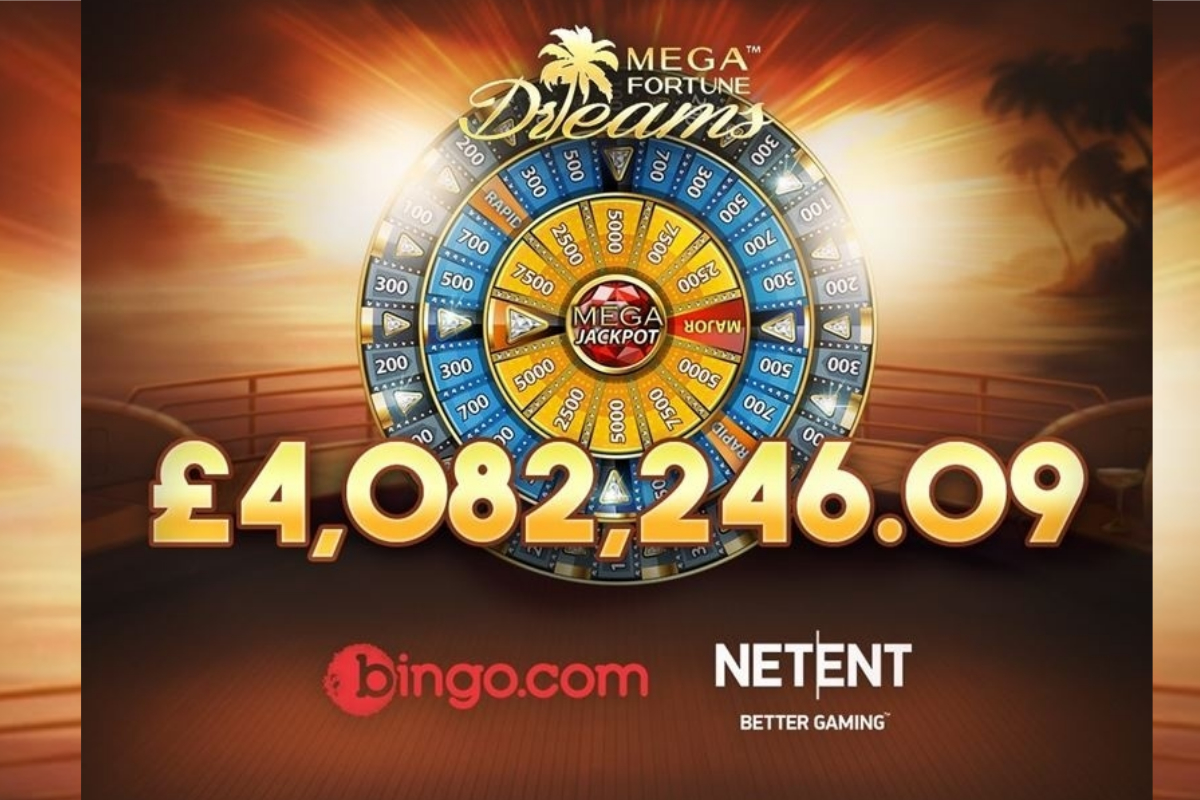 Reading Time:
2
minutes
A 49-year-old Brit has claimed a windfall of £4,082,246.09 – all from an 80p online casino bet.
The sensational spin was landed in October on NetEnt's Mega Fortune Dreams while the player was playing on online bingo and casino site Bingo.com.
"Mega Fortune Dreams has certainly lived up to its name again by creating another instant multi-millionaire and delivering a life-changing win," said Henrik Fagerlund, NetEnt Chief Product Officer.
The bingo.com customer, who won the £4m jackpot from an 80p spin at Bingo.com, is understandably thrilled. He said: "You hear about people winning these sorts of multi-million-pound jackpots, but you never really believe it as it never happens to anyone you know. And now it's happened to me! It's so unreal."
He went onto explain how he won the jackpot: "I got home in the early afternoon and went to bed but couldn't sleep so I decided to have a play on the computer. To be fair, I was actually dozing off when I pressed the button and the feature came up. I thought 'that's alright – I've won something' – but I didn't realise how much I had won. I sort of read something, so decided to get my glasses and that's when I realised how much it was!"
"It really has changed my life – but it's also changed other people's lives for the good too. I've given my friends and family the best part of a million pounds. I've already bought an Aston Martin DB11 and a Jaguar XJ for my dad – but I got good deals! We're going to Disneyland and I'm now retired!"
Bingo.com is part of Kindred Group, one of the largest online gambling companies in the world, offering a range of sports and betting products across multiple local and global brands. Play Mega Fortune Dreams here
NetEnt AB (publ) is a leading digital entertainment company, providing premium gaming solutions to the world's most successful online casino operators. Since its inception in 1996, NetEnt has been a true pioneer in driving the market with thrilling games powered by their cutting-edge platform. With innovation at its core, NetEnt is committed to helping customers stay ahead of the competition. NetEnt is listed on Nasdaq Stockholm (NET-B), employs 900 people and has offices in Stockholm, Malta, Kiev, Gothenburg, New Jersey, Krakow and Gibraltar. www.netent.com
KamaGames Looks To Grow Indian Audience With The Release Of Teen Patti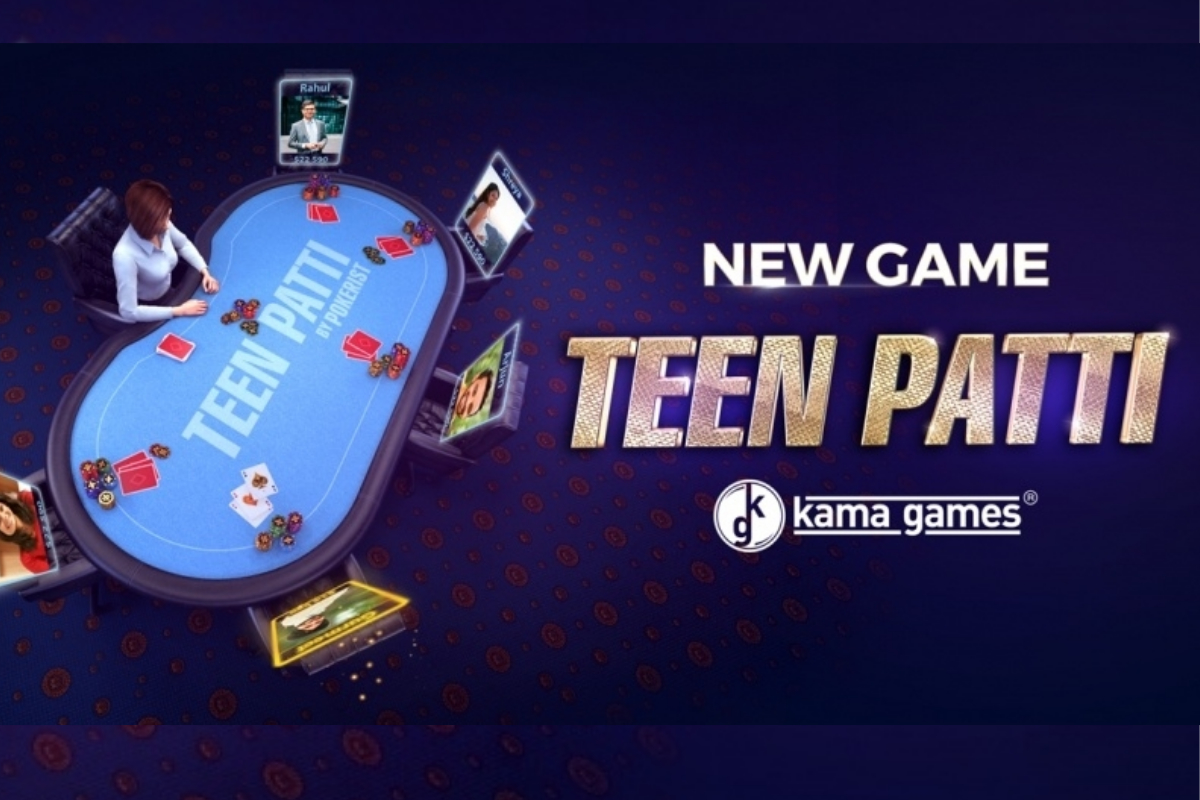 Reading Time:
2
minutes
KamaGames, the largest European social mobile poker operator, announced the release of a brand new social card game to drive player number growth in the emerging Indian casual gaming market.
Available globally across both iOS and Android platforms, Teen Patti is a social card game that originated in India and is hugely popular throughout the region.
The game is played with up to 4 players, with each being dealt three cards face down. As the game progresses, the "pot" grows in value and the winner is ultimately determined by the player who remains in the game until the completion of the hand or has the best cards.
The launch of KamaGames' new Teen Patti game comes at a time when the Indian market is experiencing booming growth and being currently listed as the fastest growing major economy in the world. This growth drives an opportunity for the development of more regional based games to stimulate local player growth and to further diversify the KamaGames gaming portfolio. At launch, Teen Patti will no-doubt draw the attention of the existing Indian player base as it is already a very established and popular game in the region.
Andrey Kuznetsov, KamaGames' CEO said "As a forward-thinking casual games developer, KamaGames have always strived to offer something new and exciting to our global and regional audiences, and the launch of Teen Patti is a perfect example of this. This latest addition to our gaming lineup reflects our ongoing plans to expand our portfolio to include not only social casino games but also certain social card games which are popular in specific regions. It's an opportunity for us to show how KamaGames is committed to embracing unique and diverse gaming variants from the emerging markets and popularizing them on our own world stage."
For more information about KamaGames and its portfolio of products visit www.KamaGames.com.
About KamaGames:
KamaGames is a multi-award winning social casino operator and the largest European social mobile poker operator, with over 530,000 daily active users.  Established in 2010 and employing over 250 staff, KamaGames has its corporate headquarters in Dublin, Ireland as well as offices in London and Dubai.
The award-winning operator's flagship title, Pokerist, has been the #1 grossing app in 101 countries on the App Store and one of the top 5 grossing apps in 45 countries on Google Play.
In 2017, KamaGames' gross revenue increased by 63.4% year on year to $57.5 million compared to $35.2 million in 2016. The number of daily active users grew by 36% with the average revenue per paying user growing by 30% in the same period. Q1 2018 has already seen revenues increase by 47.9% compared to Q1 2017.
As a leading operator in the social casino industry, KamaGames are constantly monitoring new trends and technologies and as a result, have recently launched the KamaGames Token. Based on blockchain technology and the Ethereum platform, KamaGames Tokens are designed to give players the best possible return on their in-game currency purchases as well as guaranteed bonus chips every day.
Scientific Games makes $100,000 donation to Hurricane Michael Relief efforts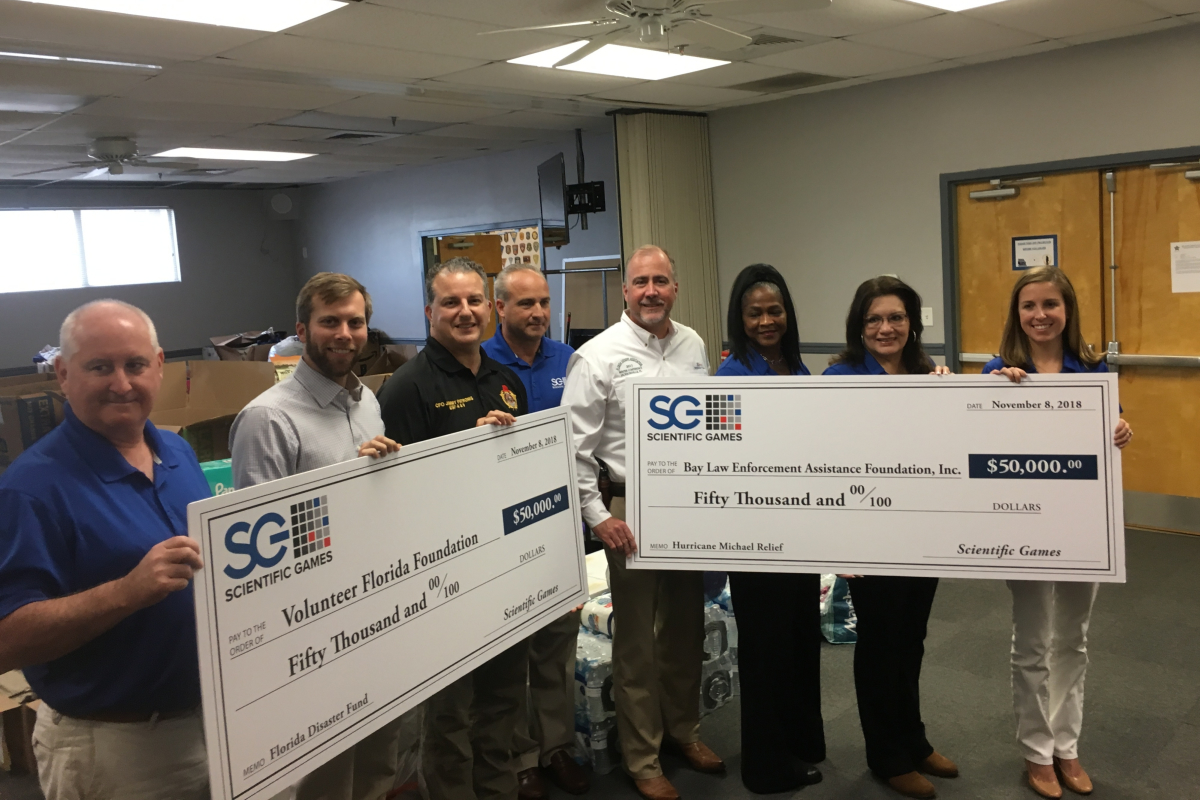 Reading Time:
2
minutes
Scientific Games Corporation announced at an event in Panama City, Florida that the Company is donating $100,000 to disaster relief efforts following Hurricane Michael in the Florida Panhandle. Half of the donation will support the Bay Law Enforcement Assistance Foundation and the other half will support the Florida Disaster Fund. Scientific Games is a global leader in the gaming and lottery industries, and is a major business partner with the Florida Lottery since the Lottery's inception in 1988.
Florida Chief Financial Officer Jimmy Patronis said, "As a Bay County resident myself, it brings tears to my eyes to see folks giving back in the aftermath of Hurricane Michael. The storm was strong, but our people are stronger and we will rebuild. I appreciate the donations of Scientific Games and the many other private sector partners who have stepped up to help families hurting in the Panhandle."
Bay County Sheriff Tommy Ford said, "I am overwhelmed by the generosity of Scientific Games toward our community. Their donation will help many of my deputies who have lost everything in Hurricane Michael. It has been heart-breaking to see the serious losses in our community following the storm, but the silver lining in it all is seeing incredible private sector partners like Scientific Games step forward and provide relief in our time of need."
Representative Jay Trumbull said, "This is a wonderful contribution to support the hard working men and women of the Bay County Sheriff's Office. We have lost much in Hurricane Michael but we have also gained some tremendous support from our friends and for that I am grateful."
Scientific Games Chief Group Executive of Lottery Jim Kennedy said, "We have a very strong connection to Florida. Millions of Floridians have played our Florida Lottery games over the last 30 years, and we have a very dedicated base of Scientific Games employees here in the state. So it is important to us to follow Governor Rick Scott and Governor-Elect Ron DeSantis' lead and help those in need following Hurricane Michael. We want to do everything we can to help Florida come back stronger than ever before following the disaster."