Hard Rock Hotel & Casino Atlantic City Offers Guests Beauty And Serenity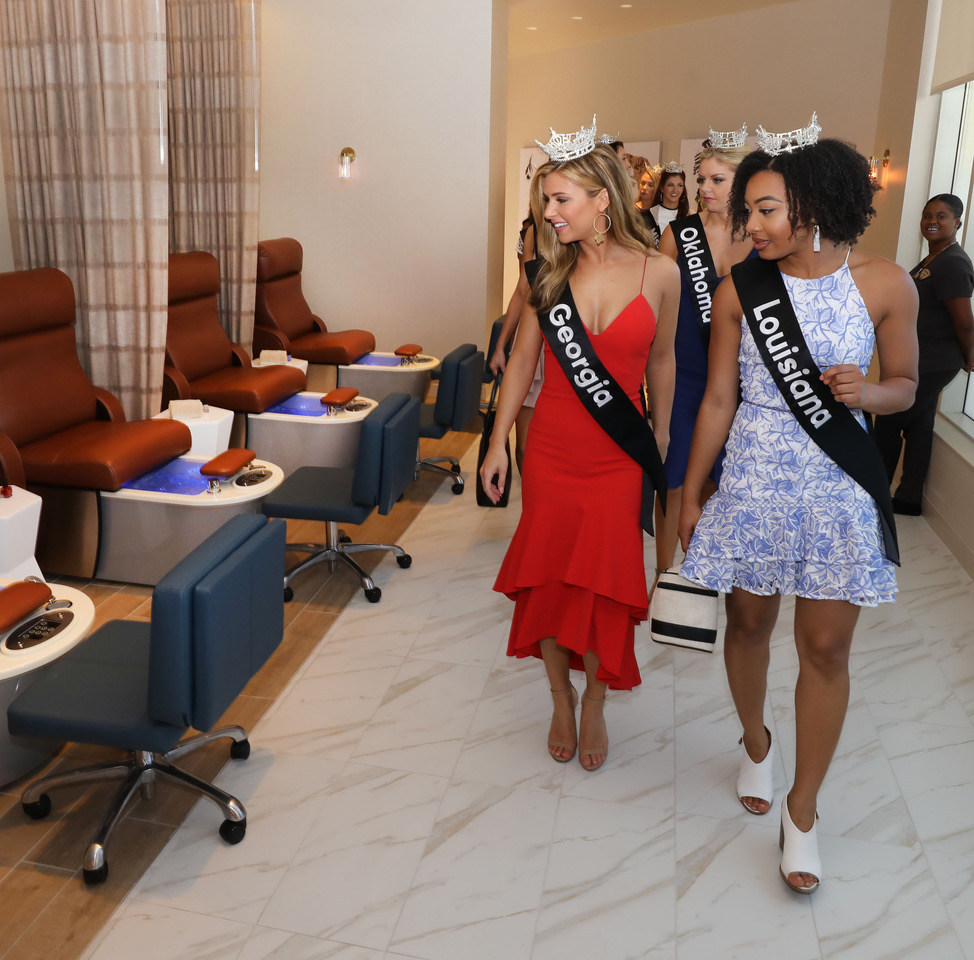 Reading Time:
4
minutes
Hard Rock Hotel & Casino Atlantic City Offers Guests Beauty And Serenity With Grand Opening Of Rock Spa® & Salon 
Newly-Opened Property Launches Rock Spa & Salon with Exclusive Reception Featuring 51 Miss America Candidates
ATLANTIC CITY, N.J., Aug. 31, 2018 – Hard Rock Hotel & Casino Atlantic City, the brand-new property providing guests with unparalleled entertainment on the famed Atlantic City Boardwalk, now offers guests a blissful escape with a rock star vibe at its newly opened signature Rock Spa® & Salon. Travelers can retune in the ultimate escape from reality with a complete sensory experience by taking advantage of Rock Spa's® rejuvenating and authentic body treatments.
The official Grand Opening of the new Rock Spa® & Salon, Body Rock Fitness Center and Juice Bar took place on Thursday, August 30 and featured an exclusive evening reception with the 51 Miss America candidates, who kicked-off their competition festivities in Atlantic City the same day. The Rock Spa's grand opening celebration included a special ribbon-cutting ceremony and guided tours of the spa, salon and the new fitness center facility.
The spa features 31 newly designed treatment rooms, which include 20 dedicated massage rooms, four facial rooms, two couples suites, three body treatment rooms and two Rhythm & Motion rooms, a full-service salon, including manicures, pedicures, make-up, barber and hair services. Guests can choose from a variety of spa and salon services and packages ideal for a single service or full-day escape. Separate ladies and gentlemen's areas include spacious locker rooms, and lounges with steam and sauna leading to a coed Vitality pool area featuring a large heated hydrotherapy tub, ambient temperature tub and specialty shower with three different experiences (Cool Mist, Caribbean Rain and Atlantic Ocean).  Rock Spa® & Salon offers a variety of full body treatments and massages, including deep tissue, romantic couples experiences, athletic and therapeutic restoration needs. Whether it's a girlfriends' getaway, bridal party, or just a desire to spa like a Rock Star, the private VIP spa suite is perfect for small groups.  Guests can refuel at the spa juice bar, serving fresh juice, smoothies, and healthy choices, and remain active during stays at Body Rock® Fitness Center, featuring state-of-the-art Technogym cardio and circuit training equipment.  Fitness happens on the guest's schedule with Fitness On Demand, providing instant access to more than 200 premium fitness classes.
More Zeppelin than Zen, the Rock Spa® & Salon features the brand's signature Rhythm & Motionmenu of spa services offering the world's first fully immersive music-centric treatments that utilize amplified vibrations, pressures and patterns. This groundbreaking experience takes guests on a rhythmic massage journey – bass vibrations ripple through the massage table as treble beats come from above, sending pulses through the body and leaving guests feeling energized and invigorated.
For more information on Hard Rock Hotel & Casino Atlantic City or to book a stay, please visit hardrockhotelatlanticcity.com
About Hard Rock Hotel & Casino Atlantic City
Set on 17 acres, with the legendary Atlantic City boardwalk as its backdrop, Hard Rock Hotel & Casino Atlantic City will be Atlantic City's go-to entertainment destination, boasting 2,200 slots, 120 table games, more than 20 first-class restaurants and lounges, and world-class entertainment, including Hard Rock Live at Etess Arena, the beachside Sound Waves and Howie Mandel's Comedy Club. The hotel also features the iconic Hard Rock Cafe, overlooking the Atlantic City Boardwalk, showcasing a brand new elevated menu and state-of-the-art stage, allowing for an amplified level of service and entertainment. Along with an endless array of upscale amenities, including world-class shopping and the brand's signature full-service Rock Spa and Salon, featuring 31 treatment rooms, the new, music-inspired property offers lavish guest rooms and suites, with stunning views of the city and Atlantic Ocean. From family vacations and business trips to weddings, Hard Rock Hotel & Casino Atlantic City offers an unparalleled experience. Each of the hotel's guest rooms and suites radiates a contemporary style, including Hard Rock's signature The Sound of Your Stay™ music amenity program, which allows guests to set the mood with complimentary vinyl records or jam out on a Fender guitar in the privacy of their own room.  Hotel guests can enjoy high speed, property-wide Wi-Fi, 24 Hour In-Room Dining, towel and chair service at Hard Rock Beach or at the indoor pool, and 24-Hour Access to Body Rock fitness. For more information and to book your stay, please visit hardrockhotelatlanticcity.com.
Hard Rock International
With venues in 74 countries, including 185 cafes, 25 hotels and 12 casinos, Hard Rock International (HRI) is one of the most globally recognized companies. Beginning with an Eric Clapton guitar, Hard Rock owns the world's greatest collection of music memorabilia, which is displayed at its locations around the globe. Hard Rock is also known for its collectible fashion and music-related merchandise, Hard Rock Live performance venues and an award-winning website. HRI owns the global trademark for all Hard Rock brands. The company owns, operates and franchises Cafes in iconic cities including London, New York, San Francisco, Sydney and Dubai. HRI also owns, licenses and/or manages hotel/casino properties worldwide. Destinations include the company's two most successful Hotel and Casino properties in Tampa and Hollywood, FL., both owned and operated by HRI parent company The Seminole Tribe of Florida, as well as other exciting locations including Atlantic City, Bali, Cancun, Daytona Beach, Ibiza, Las Vegas, and San Diego. Upcoming new Hard Rock Cafe locations include, Maldives, Manila, Malaga, Georgetown, Fortaleza, Casablanca and Chengdu. Upcoming new Hard Rock Cafe locations include, Maldives, Manila, Malaga, Georgetown, Fortaleza, Casablanca and Jinan in China. New Hard Rock Hotel, Casino or Hotel & Casino projects include Atlanta, Berlin, Budapest, Desaru Coast, Dublin, London, Los Cabos, Maldives, New York City, Ottawa, Dalian and Haikou in China. For more information on Hard Rock International visit www.hardrock.com.
For More Media Information:
Jill Trudeau/Kerry Anne Watson
The Zimmerman Agency
850.668.2222
[email protected]
AGA CEO Statement on the SBA's Interim Guidelines for the Paycheck Protection Program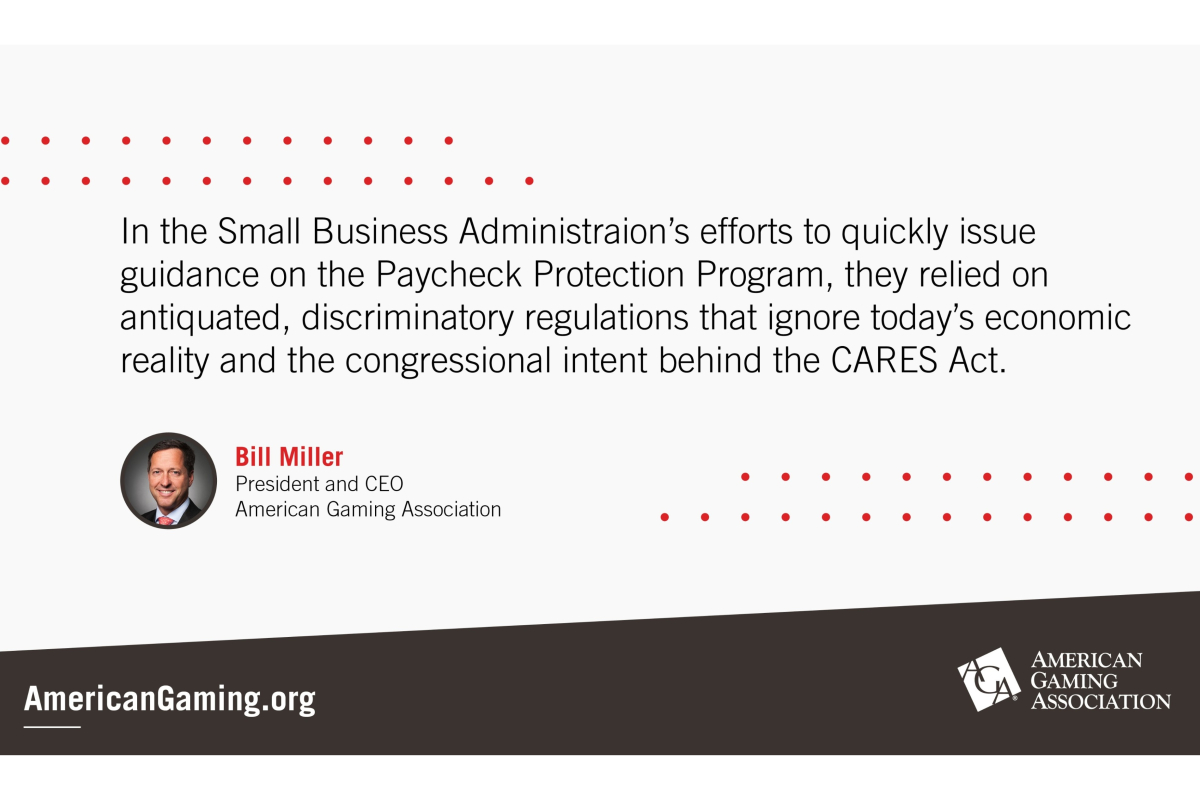 Reading Time:
2
minutes
American Gaming Association President and CEO Bill Miller released the following statement on the interim regulatory guidelines issued by the Small Business Administration for the Paycheck Protection Program:
"The American Gaming Association (AGA) is deeply concerned with the interim regulatory guidelines issued by the Small Business Administration (SBA), which preclude small gaming entities and their employees from receiving economic support under the newly-established Paycheck Protection Program (PPP).
"In SBA's efforts to quickly issue guidance on the PPP, they relied on antiquated, discriminatory regulations that ignore today's economic reality and the congressional intent behind the CARES Act, which states that any business concern shall be eligible to receive an SBA loan if they meet specific qualifications regarding their number of employees.
"Unless amended, these initial guidelines will irreparably harm one-third of the U.S. casino industry and the hundreds of thousands of Americans that rely on gaming businesses for their livelihood.
"This decision will affect hard-working Americans from Pennsylvania to Nevada, Ohio to Colorado, and everywhere in between who need and deserve the same level of support as anyone across the country during these unprecedented times. Moreover, as the AGA pointed out in a letter to SBA and the U.S. Department of Treasury, the inclusion of gaming businesses in the PPP is critical to help ensure employees can remain connected to their employers, stay off of unemployment, and quickly return to their jobs when this pandemic subsides.
"The AGA urges SBA Administrator Carranza to immediately correct this oversight and extend this needed relief to all of America's small businesses and their employees, including those in the communities across 43 states that rely on our industry's contributions."
Background
Casino gaming is vital to local small businesses, supporting 350,000 small business jobs and delivering $52 billion annually in small business revenue, including construction, manufacturing, retail, and wholesale firms.
Nearly all (987 of 989) commercial and tribal casino properties have shuttered their doors because of the COVID-19 pandemic. More than half of the 1.8 million jobs gaming supports are at non-gaming businesses, such as restaurants and local shops, which are all dramatically affected by a local casino's closure.
In many states, gaming pays among the highest tax rates of any industry with $10.7 billion in gaming taxes and tribal revenue share payments that support fundamental and critical programs from infrastructure to education.
More information on COVID-19's impact on U.S. casino industry workers and local communities is available here.
Source: americangaming.org
Caesars Merger with Eldorado Moving Forward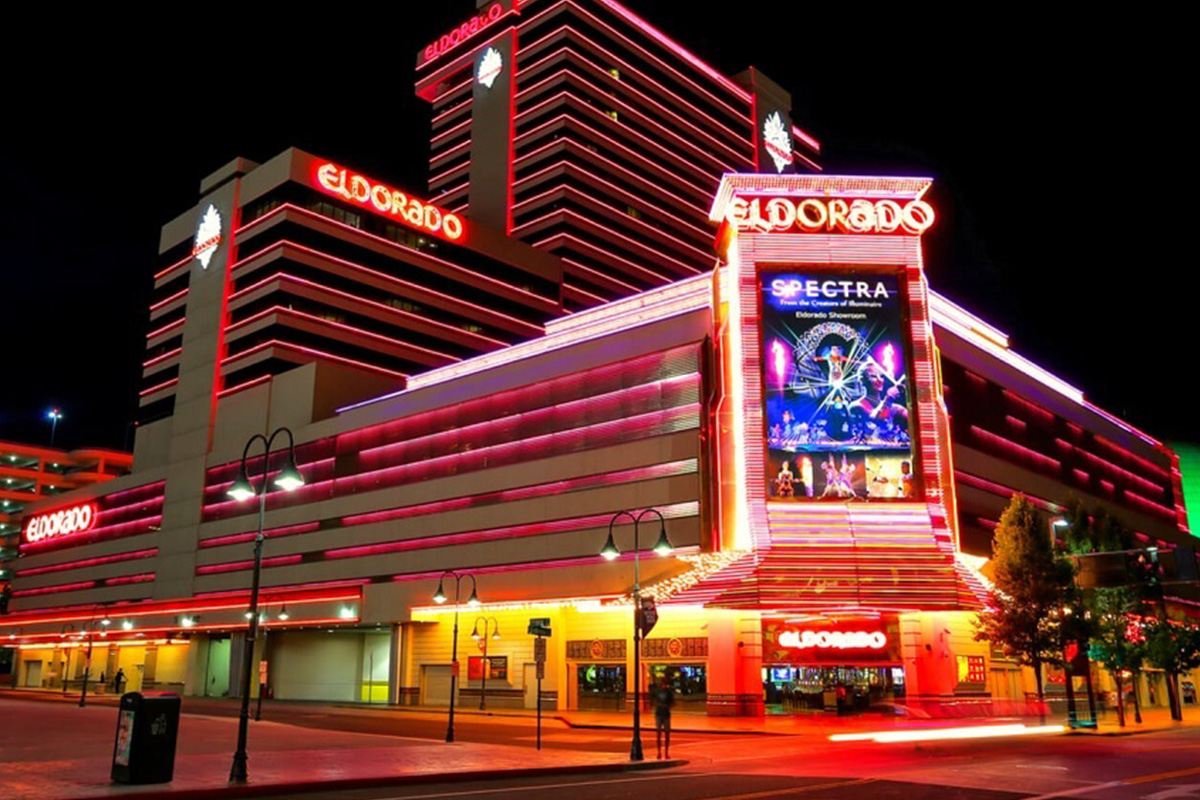 Reading Time:
< 1
minute
The Coronavirus outbreak has delayed the $17.3 billion deal between Caesars Entertainment and Eldorado Resorts, but the deal is moving forward. The anticipated closing of the $17.3 billion deal has been pushed from April to June.
The regulators in Indiana, New Jersey and Nevada still need to sign off on the deal but have postponed hearings. The merger also needs the approval of the Federal Trade Commission.
"The board is still investigating. The merger is going like any other merger. It's just going through the process, which includes a normal investigation," Nevada Gaming Commission Chair Tony Alamo said.
Eldorado and Caesars had anticipated closing in mid-April, but multiple sources said it now looks more like June. There has been widespread speculation that the Coronavirus pandemic will change the ways regulators view the debt associated with this deal. A highly placed source says both companies have the liquidity to last for well over a year.
Miami Residents and Businesses Oppose Measure by City Attorney Allowing Gambling in Edgewater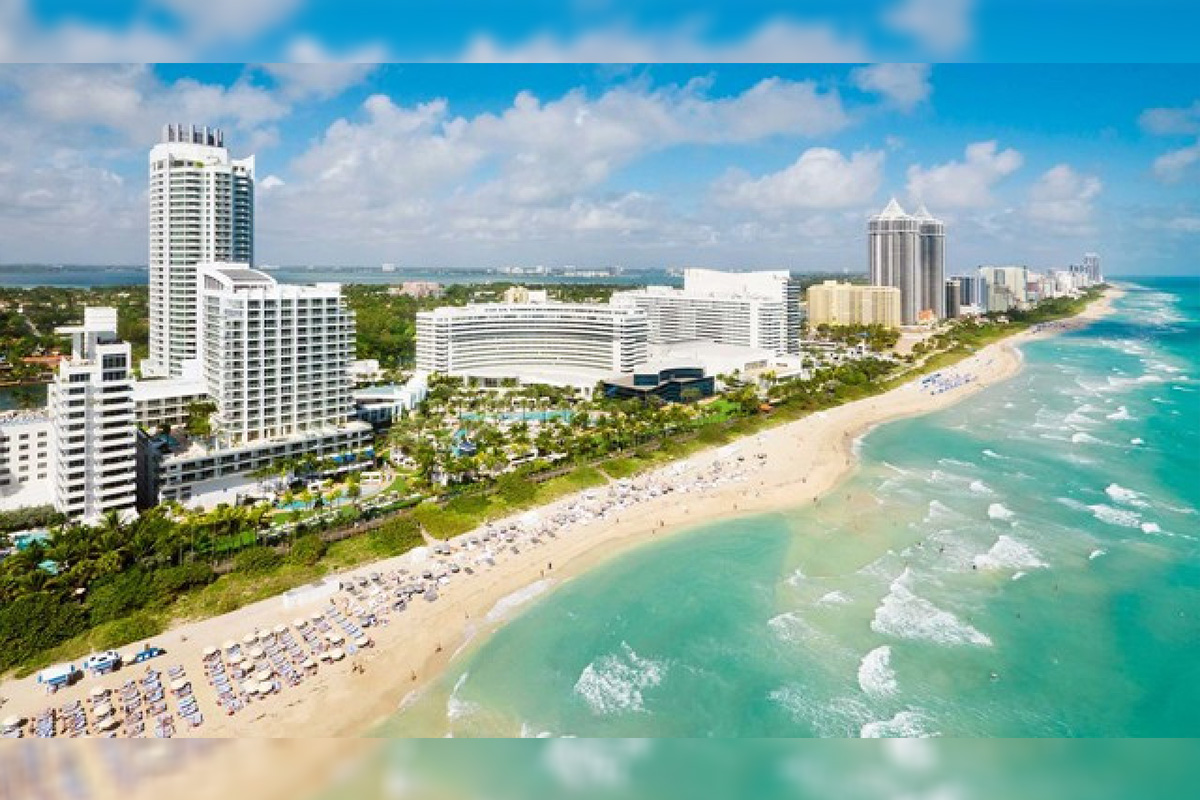 Reading Time:
2
minutes
Miami residents and businesses– including some founded by Norman Braman–have filed legal action against the back door deal between City officials and a local development group paving the way for casino gambling in Miami.
"The latest filing is a motion to intervene in the federal case in which a bogus lawsuit was 'settled' through a sweetheart deal and as an end around the zoning code. The City and West Flagler were on the same side leaving Miami citizens on the outside whose interests were otherwise trampled on by City officials," Norman Braman, who has opposed gambling and championed voter participation in Miami for over 30 years, said.
The motion filed by Braman and other Miami residents property owners seeking to make certain that the federal court does not enforce any "settlement" while the residents' state court lawsuit proceeds to invalidate the underlying interpretation of City code on which the federal "settlement" explicitly relies.
"We regret to be forced to file this motion to protect the right of all Miami residents to have a say as to whether Miami should allow gambling. But we have an obligation to preserve our rights. West Flagler's claimed right to have a jai alai fronton in Edgewater is a 2012 letter issued in secret and obtained without any notice or process. If the City of Miami is going to allow gambling–and I've long said it should not–then notice must be given to Miami's residents so that they can have a meaningful say and hold elected officials responsible," Norman Braman said.
"It's unfortunate that the City Attorney and West Flagler entered into this settlement approving a gambling facility in the midst of the ongoing health crisis. But the pandemic will not prevent Miami's citizens from protecting their quality of life or from ensuring the City's long-term prosperity. We will take those actions necessary to protect our rights, and we hope the City Attorney and West Flagler refrain from further action towards advancing a gambling facility while the public is focused on more important issues," Braman added.