Gaming Innovation Group Signs Sportsbook Contract With Hard Rock International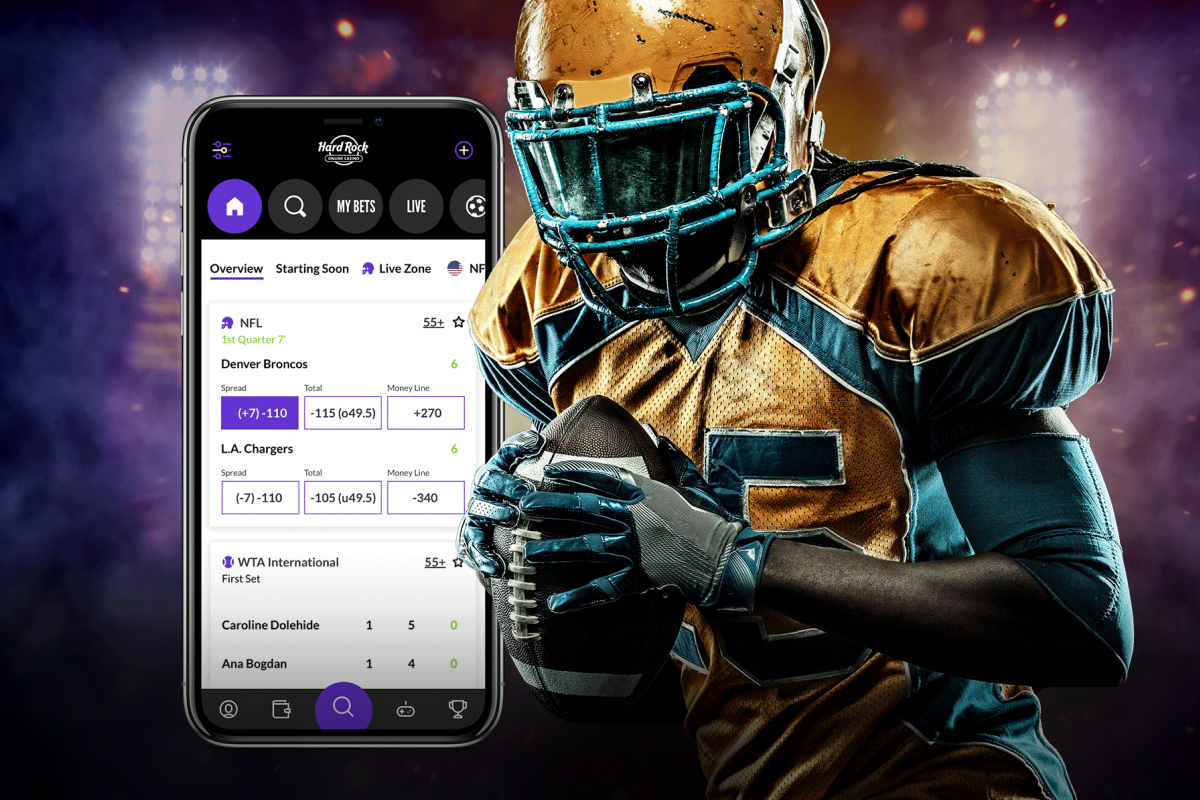 Reading Time:
4
minutes
Gaming Innovation Group Inc. (GiG) has signed a contract with Hard Rock International (Hard Rock) for the provision of its omni-channel Sportsbook solution in the newly opened US market of New Jersey. Launch date is estimated for Q1 2019. This agreement follows a Letter of Intent signed between GiG and Hard Rock on 12 October 2018.
This is a milestone agreement for GiG who, after nearly two years of development of its recently launched sports betting platform, has won a highly sought-after tender in competition with world-leading Sportsbook providers.
Hard Rock has chosen the full suite of GiG's sports betting services including GiG Sports Connect, GiG Trader and GiG Goal. The offering is supplied as a full omni-channel solution with Over the Counter (OTC) wagering and Self Service Betting Terminals (SSBT) available in the Hard Rock Hotel & Casino Atlantic City as well as online via desktop and mobile. There is potential to expand the partnership further in the future in other US states.
The supreme court in the US recently revoked the federal ban on US sports betting opening up for state-by-state regulation. More than 20 states with a total addressable market of around half of the US population are expected to open up by the end of 2023. The total middle market range is estimated at $6bn split 50/50 offline and online, where online will be dominated by mobile (source H2GC).
The recent update of the National Football League's policy on commercial gaming lifted the restriction on Hard Rock's future sportsbook operation in Atlantic City. Operators of casinos and sport books can now be naming rights partners of NFL venues, subject to certain conditions. Hard Rock International became Miami Dolphins stadium naming partner in 2016 with an 18 year agreement.
Hard Rock is an existing partner of GiG. To date this year GiG has provided Hard Rock with its flexible, robust and scalable technical platform service and its best-in-class front end website service GiG Magic, supporting Hard Rock to go live with its casino offering in New Jersey, US on 3 July 2018.
Kresimir Spajic, SVP Online Gaming at Hard Rock International, says: "The forthcoming launch of the Hard Rock Sportsbook in New Jersey will mark another step towards becoming a significant player in the national and international Sports Betting and Online Gaming industry. In the past few months GiG has proven to be an innovative, capable, flexible and trustworthy partner. Such qualities together with vanguard Sportsbook technology and services enabled GiG to win our New Jersey Sportsbook RFP. We are positive that the extension of our partnership with GiG together with "skin" partnerships with leading international operators will enable Hard Rock Hotel & Casino Atlantic City to reach its ultimate goal of becoming New Jersey's Sports Betting and Online Gaming market leader."
Robin Reed, CEO of GiG, says: "I am proud and delighted to have signed this agreement with our partner Hard Rock, our first inroad to sports betting in the exciting US market. It also headlines our continually strengthening partnership with Hard Rock across our iGaming ecosystem. It was a highly competitive pitch against the best Sportsbooks in the world, all vying to open up the US market. Hard Rock choosing GiG to power its Sportsbook, is a clear statement as to the quality of our cutting-edge sports betting services at this very early stage of their roll-out. Hard Rock is a strong brand with scale, wide reach and with the same high ambitions as us. We look forward, with excitement, to continuing to support Hard Rock's expansion and geographical growth.
GiG is expecting the Sportsbook agreement to start contributing to revenues in Q1 2019 and to increase from Q2 2019 onwards.
About Gaming Innovation Group (GiG):
Gaming Innovation Group Inc. is a technology company providing products and services throughout the entire value chain in the iGaming industry. Founded in 2012, Gaming Innovation Group's vision is 'To open up iGaming and make it fair and fun for all'. Through the ecosystem of products and services, GiG is connecting operators, suppliers and users, to create the best iGaming experiences in the world. Gaming Innovation Group operates out of Malta and is listed on the Oslo Stock Exchange under the ticker symbol GIG.
For more information about GiG and our services also see: www.gig.com
About Hard Rock International:
With venues in 74 countries, including 185 cafes, 27 hotels and 12 casinos, Hard Rock International (HRI) is one of the most globally recognized companies. Beginning with an Eric Clapton guitar, Hard Rock owns the world's most valuable collection of music memorabilia, which is displayed at its locations around the globe. Hard Rock is also known for its collectible fashion and music-related merchandise, Hard Rock Live performance venues and an award-winning website. HRI owns the global trademark for all Hard Rock brands. The company owns, operates and franchises Cafes in iconic cities including London, New York, San Francisco, Sydney and Dubai. HRI also owns, licenses and/or manages hotel/casino properties worldwide. Destinations include the company's two most successful Hotel and Casino properties in Tampa and Hollywood, FL., both owned and operated by HRI parent company The Seminole Tribe of Florida, as well as other exciting locations including Atlantic City, Bali, Cancun, Daytona Beach, Ibiza, Orlando, Shenzhen and San Diego. Upcoming new Hard Rock Cafe locations include, Maldives, Manila, Malaga, Georgetown, Fortaleza, Rosario and Chengdu. New Hard Rock Hotel, Casino or Hotel & Casino projects include Berlin, Budapest, Dublin, London, Los Cabos, Maldives, New York City, Ottawa, Sacramento, Dalian and Haikou in China. In 2018, Hard Rock International was recognized as a Forbes Magazine Top Employer for Women.
Source: Gaming Innovation Group
Nominations stage open for CEEG Awards Budapest 2020 (28 September – The Ritz-Carlton Budapest)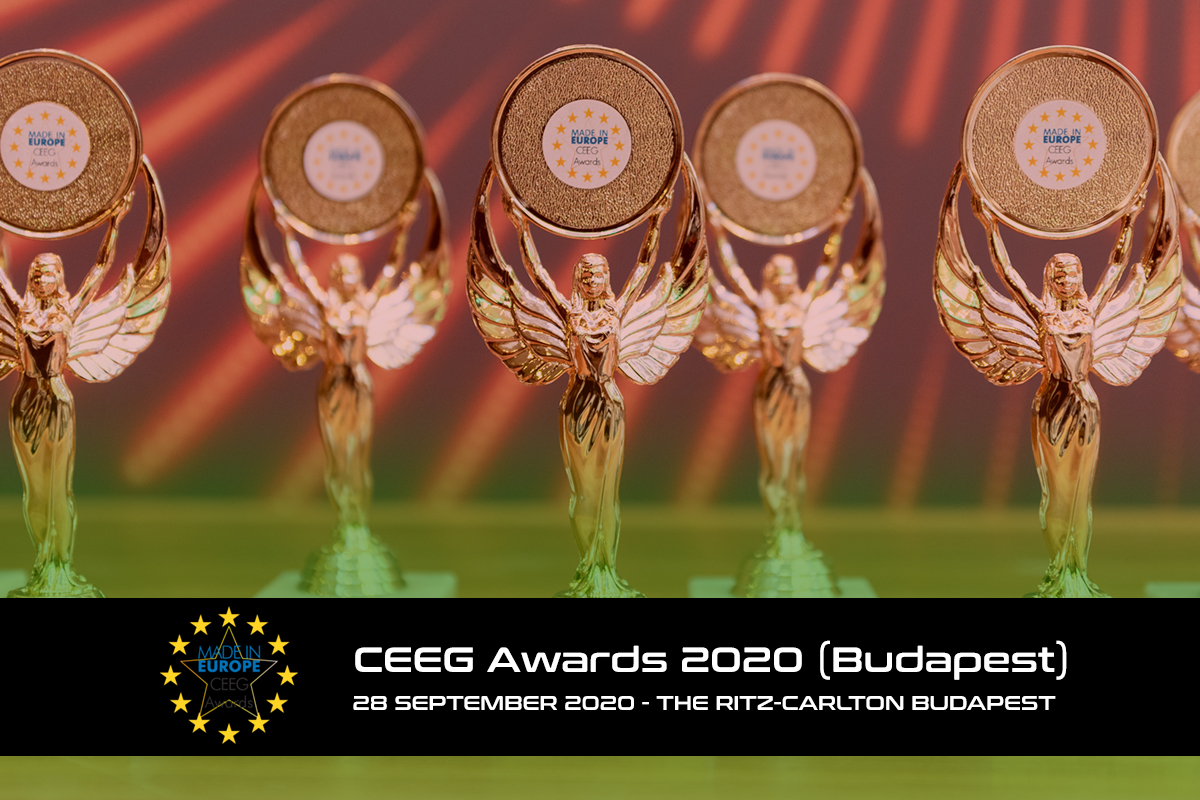 Reading Time:
4
minutes
The nominations stage for the fifth CEEG Awards Budapest is now open.
We are excited to announce that the nominations period for the 5th edition of CEEG Awards, the most important and prestigious gaming industry awards in the CEE region is now open.
Companies interested can nominate their brands on the following link.
The awards ceremony is part of CEEGC Budapest, the most respected boutique-style gambling industry conference of the CEE, Balkans, and D-A-CH region, which will take place on the 28th of September 2020 at The Ritz-Carlton Budapest.
Based on the communications by the Hungarian authorities, all events, even with +500 attendees will be allowed starting August 15, clearing the way to host the event safely due to its setup.
So, make sure to book your seat in time in order to avoid disappointment. The conference will gather much of the industry from the above-mentioned regions due to the collaboration between the governments in regard to the border crossings.
In 2020, the categories of awards have been refreshed with many new exciting award categories being added to the list. You can view the full list of categories here:
Operators (Casino): Best Online Casino
Operators (Casino): Best Customer Support in Online Casino
Operators (Sports betting): Best Sports Betting Operator
Operators (Sports betting): Best Customer Support in Sports Betting
B2B Providers (Sports): Best eSports Service Provider
B2B Providers (Sports): Best Fantasy Sports / Virtual Sports Provider
B2B Providers (Sports): Rising Star in Fantasy Sports / Virtual Sports
B2B Providers (Sports): Rising Star in Sports Betting Technology
B2B Providers (Sports): Best Sports Betting Innovation
B2B Providers (Sports): Best Sports Betting Provider
B2B Providers (Sports): Best Mobile Betting Provider
B2B Providers (Casino): Best Online Casino Provider
B2B Providers (Casino): Best Online Casino Innovator
B2B Providers (Casino): Best Slots Provider
B2B Providers (Casino): Best Live Casino Provider
B2B Providers (Casino): Rising Star in Online Casino Technology
Connected Services – Payment Providers: Best Payment Service Provider
Connected Services – Testing Laboratories: Best Testing Laboratory
Connected Services – Best iGaming Service Provider (multiple connected services, including aggregators)
"When it comes to our Budapest conference, we already talking about a tradition, and having the opportunity to work with so many great companies spread across the European continent is a plus. The CEEG Awards was created to reward the hard work of the companies in the CEE region, thus we feel that by refreshing the categories, we are able to reach more companies and honor them for their commitment," stated Zoltán Tűndik, Head of Business at European Gaming Media and Events.
The CEEGC platform will continue its mission with which it has been launched in 2016 and is committed to bringing together industry shareholders and government officials from the CEE, Balkans, and D-A-CH region on a yearly base.
The agenda will include regulatory focused discussion mixed with trends of the gambling industry and the region, while the selection of speakers will once again include local/experienced speakers. In 2020, the conference will also feature round table discussions dedicated to countries/regions with leading experts.
The Early Bird rates are valid until June 30 and based on the resuming of international travel we are already planning to create hybrid tickets with which you can access the content of the conference or attend virtual meetings from the comfort of your home.
– For further inquiries about CEEGC Budapest and CEEG Awards, speaking/attending/sponsoring options, make sure to send an e-mail to Andrada Bota (B2B Sales Executive at Hipther Agency) or subscribe to the weekly newsletter on the following link.
Visit www.ceegc.eu  for more details!
– For media-related inquiries, please contact Alexandru Marginean (Marketing Specialist at Hipther Agency).
You can view the full official image gallery from the 2019 edition on the following link:
https://www.flickr.com/photos/[email protected]/albums/72157711142443497
The audio recordings of the panel discussions are available for European Gaming PREMIUM Members.
Here are a few of the testimonials that have left by the attending delegates of the 2019 edition of CEEGC Budapest:
"We had an excellent time at the CEEGC networking and participating in the payment discussion panel. Not only was it a great chance to catch up with some of the CEE region's major players, but also to stay on top of such a dynamic region's evolving trends and developments." – Simon Dorsen, Director of Gaming, OKTO
"CEEGC in Budapest 2019 was my first of hopefully many European Gaming Media events. Combining a balanced and interesting range of topics presented by quality speakers and an excellent networking environment, the organizers did a great job of demonstrating that they know what they are doing to make a great conference." – Jessica Maier, LLM, Partner at MELCHERS law firm
"CEEGC 2019 was a very well organized event that included multiple great panels with some of the industry experts discussing the trends across different markets and gaming verticals. Moreover, this event offered excellent networking opportunities with a wide range of representatives from the industry, including operators, providers, suppliers, and regulatory experts. I will definitely attend next year because events like this one add a lot of value to the work I do at Trustly and allow me to stay up to date with the industry changes but also create new collaborations and partnerships." – Vasilije Lekovic, Director of Gaming Accounts at Trustly
"Thank you very much for inviting me to speak at CEEGC 2019 in Budapest. I speak at a lot of conferences over the years and this was very well done and one of the best. It was well organized, substantive, great venue and excellent networking." – Bill Pascrell, III, Partner at Princeton Public Affairs Group, Inc.
"CEEGC is an event every serious gaming and betting industry expert from the region has to add to her/his calendar. With the agenda full of valuable content and many key professionals from the market gathered in one place, it is a conference you cannot miss." – Jakub Myszkorowski (Chief Commercial Officer at STATSCORE)
"For us at Inplaynet, it is important to get the latest information and take the pulse of the whole betting market from other companies. At the conference which European Gaming organizes, we always have the possibility to get a meeting at the meeting. The family atmosphere you create gives us the possibility to find and create relationships, while also having the opportunity to directly contact, give information and get information for and from the whole market." – Deniz Yildirim, Co-Founder, and Shareholder at Inplaynet
"The event is a great opportunity to get deep insights into the regulations and the markets in the area." – Domenico Mazzola, Commercial Director at Altenar
"I am very glad that I had the opportunity to be a delegate at CEEGC 2019, already looking forward to 2020 🙂" – Natalia Černáková, Compliance Officer at SYNOT Games
One King to rule them all! King Billy wins Best Casino in the AskGamblers Awards!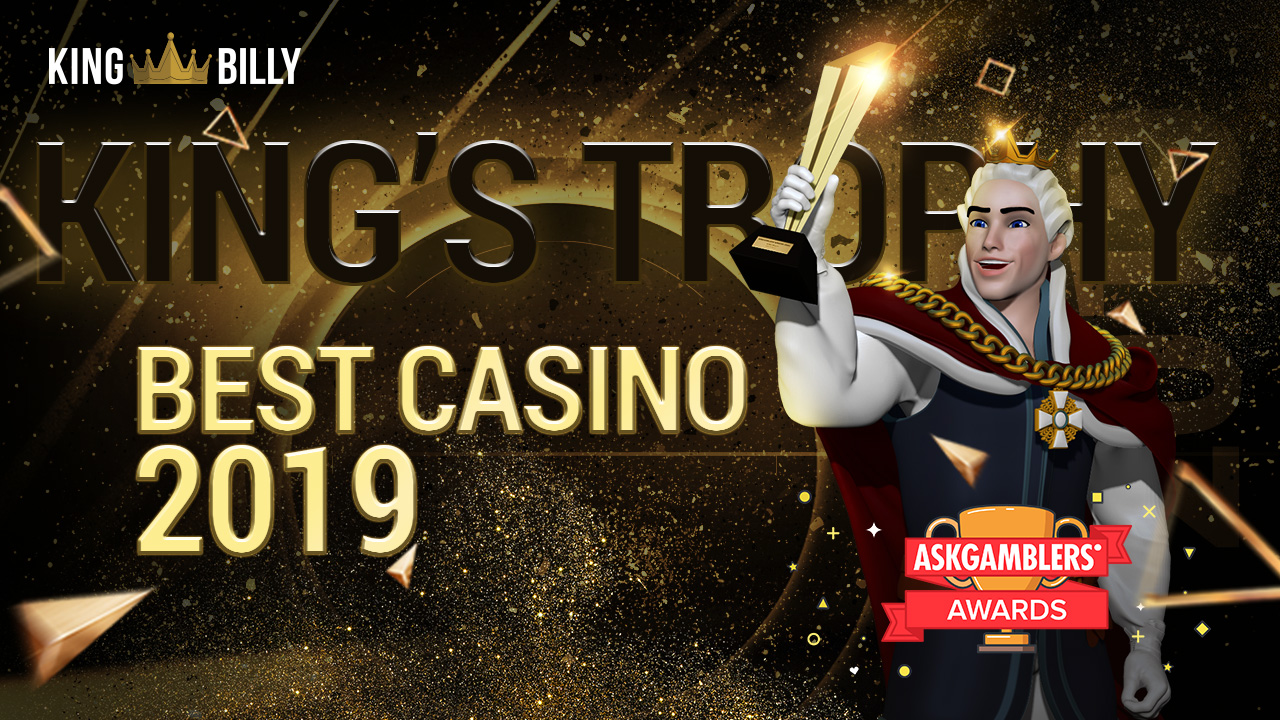 Reading Time:
2
minutes
Where is the capital of the King Billy Kingdom? The good people at King Billy Casino keep their lips sealed about it – but we know that at least for the night of January 17, their capital was Belgrade, Serbia. Because, it was there, in a spectacular gala in the Hyatt Regency hotel (also broadcast live to the rest of the world) that King Billy landed the big one.
AskGamblers Awards. Best. Casino. 2019.
It is one thing to be winning industry's big awards when you have decades of experience under your belt and your name has been a synonym for gambling from the early 20th (not 21st) century. But it is a very different thing to be doing it when you were founded only as recently, as St. Patrick's Day, 2017.
So, in less than 3 years, King Billy Casino has proven its mettle in the AskGamblers Awards by winning Best New Casino in 2017, Best Casino 3rd place in 2018 and now, Best Casino in 2019. We reached out to Volodymyr Harkusha and Ruslan Legenzov, King Billy Casino CEO and King Billy Casino Head of Affiliates for statements.
"It is difficult to express it in words!" an excited Volodymyr says holding the prestigious trophy. "You just cannot put into words, the hard work, the team spirit, the sheer talent and the persistence of our people which brought us this amazing award. Through the good times and the bad times, our staff is there, always passionate, positive, active and effective. I am blessed and proud to be working with them!"
Ruslan Legenzov adds: "The saga of the King continues! Recognition that not only comes from the judging committee, but also from the players themselves is a double proof of what King Billy Casino is offering. We thank everyone and we continue. The best is still yet to come!"
The AskGamblers Awards are one of the most respected institutions in the iGaming world. Their distinctive feature is that they are the only awards where the winners are decided by a joint experts & players' voting process.
The AskGamblers Awards are organized by AskGamblers, an award-winning portal itself, which provides accurate information about online casinos worldwide, as well as the opportunity for players to resolve their issues with casinos transparently.
King Billy Casino is a new generation online casino, available in 6 languages (English, German, Russian, Finnish, Norwegian and Japanese) with an impressive record in awards and an amazing variety of games and features. King Billy has prioritized the creation of a superb user experience focusing on the myth of King Billy and his Kingdom and treats all players with the specialness they deserve.
Work, win, party, repeat! Two prizes for one month for EGT Interactive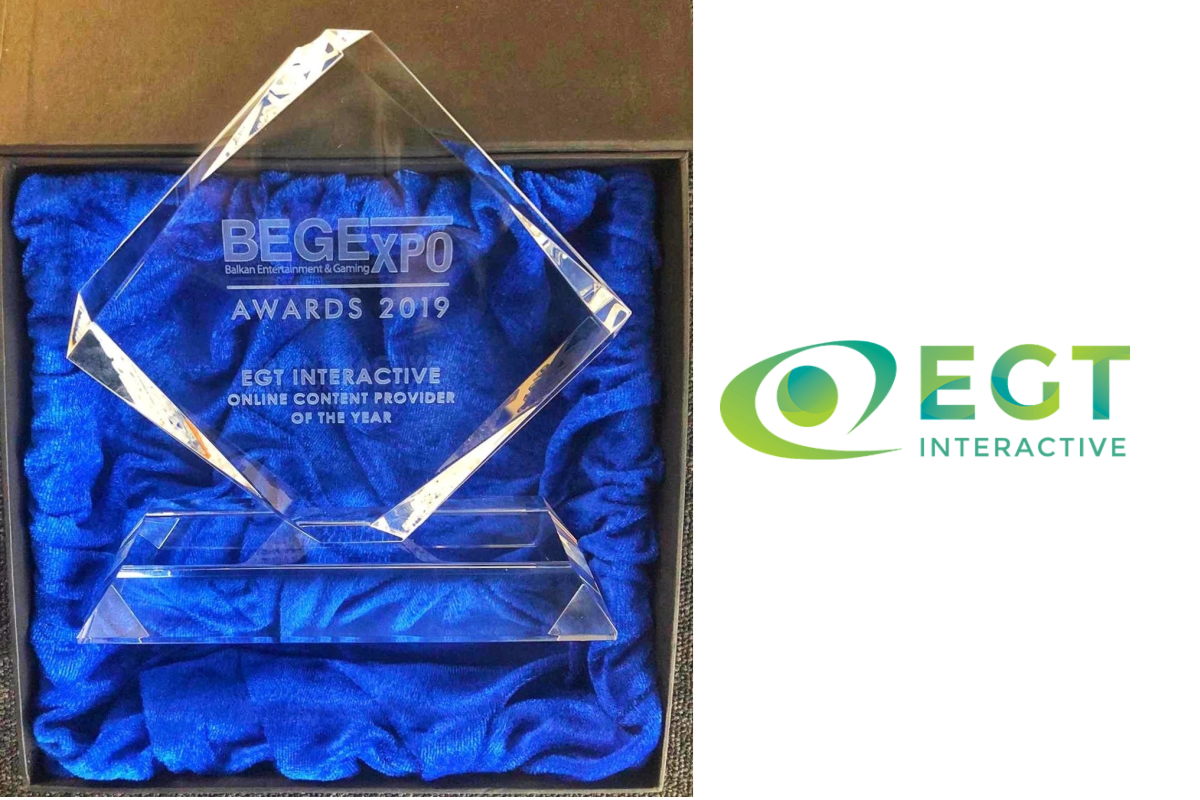 Reading Time:
< 1
minute
EGT Interactive is extremely happy to share the emotions experienced a couple of days ago.
What an Expo, what an emotion! EGT Interactive had an extremely successful days at BEGE Expo this year. So many visitors got the chance to get familiar with the latest releases of the top-notch video slots and complete solutions for iGaming. The cherry on the cake was the 1st prize for "Online Content Provider of the year"! More over, that such recognition comes wright after another one – 1st prize at SEG awards for "Rising Star in Online Casino Technilogy" in Milan just a week before this one.
"We are more than happy to see the results of the hard work of all the teams here at EGT Interactive. These prizes are high acknowledgment that we are on the right path, which is the real, huge prize for the efforts of all teams at EGT Interactive. Thank you BEGExpo! Thank you SEG! Thank you EGT Interactive team. You are fantastic!" Said Irina Rusimova, Business Development Manager at the company.