Wazdan is shortlisted in 3 major categories for the Baltic and Scandinavian Gaming Awards 2019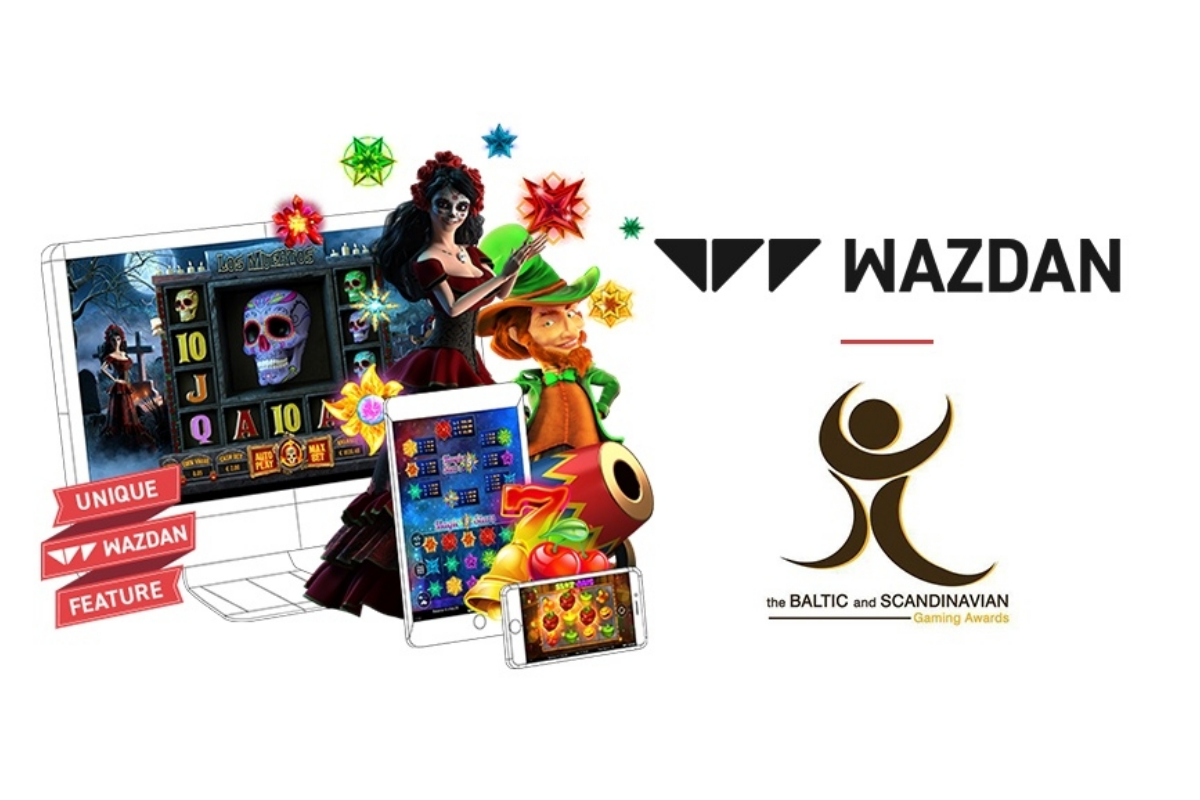 Reading Time:
3
minutes
Wazdan proudly announces that they have been shortlisted in three different categories for the upcoming Baltic and Scandinavian Gaming Awards (BSG Awards) 2019, which recognises the best in the gaming sector across 21 different categories.
After a 3 month nomination period and 31 days of an online voting battle, the shortlist for the BSG Awards have been determined, with Wazdan being confirmed in shortlists of three major categories, including Best online casino innovator in the Baltics 2019, Best online casino provider in the Nordics 2019 and Best online casino innovator in the Nordics 2019.
The BSG Awards 2019 will be held on the 9th of May in Vilnius, Lithuania during the second edition of MARE BALTICUM Gaming Summit, to recognise and reward the hard work of gaming software suppliers, operators and service providers who are active in the Baltic and Scandinavian region.
In the past year, the Wazdan flame has been growing ever brighter as the company has secured a number of awards. Notable wins include the prestigious 'Online Casino Innovator Award 2018' at the Central and Eastern Europe Gaming Conference (CEEGC) held in Budapest, the 'Hot Product Award' at G2E Asia, as well as 'Start-up of the Year' at Malta's iGaming Excellence Awards 2018. The company was also shortlisted for 'Best Gaming Innovation' at the SBC Awards 2018, 'Innovation in RNG casino software' at EGR B2B Awards 2018, and 'Games Vendor' at Malta Gaming Awards 2018.
Andrzej Hyla, Wazdan's Head of Sales, says: "It is our ongoing commitment to pushing the boundaries, developing tech-rich games and always seeking to do more to engage our players and partners, that has allowed us to be recognised with other industry leaders also shortlisted in the BSG Awards 2019. We are extremely proud of our team and all of the accomplishments Wazdan has been able to celebrate in the past decade since we started, and especially the past year, which has seen us drive forward, earn recognition that our team deserves and secure a number of tier 1 partnerships. We look forward to applauding the success of our peers on May 9th and are already beyond proud of the hard work and dedication we see from our team every day."
For more than a decade, Wazdan has been offering unique, tech-leading slots, table games and video poker games. To date, they boast an extensive portfolio of more than 110 HTML5 games. Favourite Wazdan game titles include Great Book of Magic Deluxe, Magic Stars 3, Magic Target Deluxe, Valhalla, Los Muertos™, and 9 Lions, as well as exciting new games, including Juicy Reels, Space Gem™, Magic Stars 5, and a host more to come.
Already off to a rapid start this year, the team at Wazdan see no signs of slowing down. Be sure to follow all the latest news at www.wazdan.com
ABOUT WAZDAN:
Wazdan is a popular game producer, developing innovative casino games that deliver an original, fun and truly omni-channel player experience. Offering an extensive game library of over 110 HLML5 slots, table games and video poker games, Wazdan is gaining popularity in the iGaming market thanks to the great quality of their games, interesting themes and engaging gameplay. Wazdan's game portfolio consists of such popular titles as Magic Stars 3, Great Book of Magic Deluxe, Magic Target Deluxe, Valhalla and Wild Guns as well as amazing new and upcoming slot games, including Los Muertos™, Juicy Reels and Larry the Leprechaun amongst others. Wazdan releases new, exciting titles on a regular basis and equips them with Unique Wazdan Features: innovative Volatility Levels™, exciting Unique Gamble Feature and mobile-friendly Energy Saving and Double Screen Modes, Ultra Lite Mode, Ultra Fast Mode, as well the brand new Big Screen Mode. Wazdan holds a number of European trademarks including a trademark for their world's-first Volatility Level™. Their extensive portfolio of clients includes some of the top gaming operations in the industry. The company is headquartered in Malta and holds licenses issued by the UKGC, the MGA and complies with Curacao regulations. Furthermore, their games use the RNG certified by the NMi, which ensures reliable, fair and secure gameplay.
BtoBet announced as Digital Sponsor at CEEGC 2019 Budapest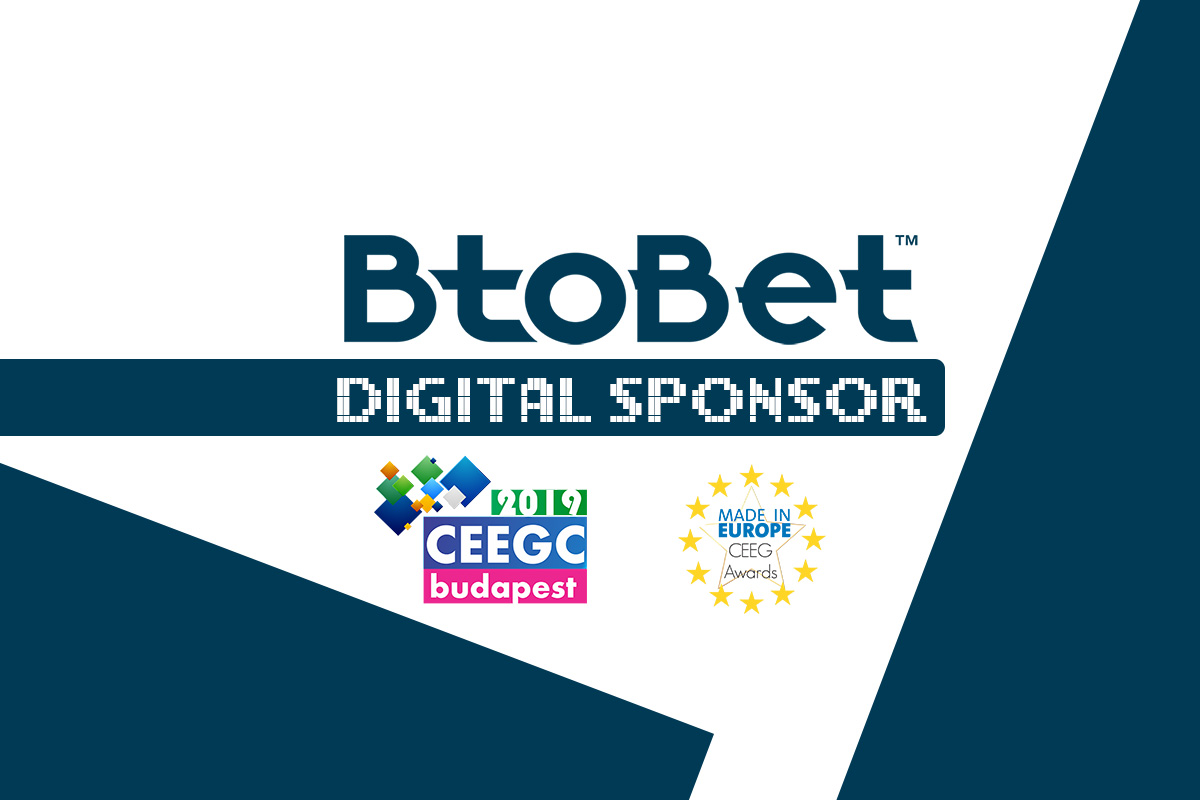 Reading Time:
2
minutes
Leading iGaming technology provider BtoBet shows further support for CEEGC Budapest.
The 4th edition of the yearly Central and Eastern European Gaming Conference takes this on the 24th of September at the Ritz-Carlton Budapest, and we are happy to announce the continuing support of BtoBet as Digital Sponsor of the event.
"We are blessed to have such amazing support from BtoBet for the past 3 years and we would like to express our gratitude towards the team for making things happen in the gaming industry. BtoBet has come a long way and is among the top providers today. Make sure to attend CEEGC Budapest to meet their team at the conference!" stated Zoltán Tűndik, Co-Founder, Co-Owner and Head of Business at European Gaming Media and Events.
Along with the announcement, we would like to also create a reminder that the Super Early Bird Rate will expire in a few days (30 June) and those interested in attending the event, should act fast to get the discount. Register here!
About BtoBet:
BtoBet is a multinational company and is part of a group with 20 years of experience in software development in IT, telecommunication, e-commerce, and banking, strongly committed to technology and widely investing in technology research and development. The experience gained at the forefront in these advanced environments, compared with the more recent gambling industry, allows BtoBet to be visionary with a deep understanding of the requirements of the market, catching changing trends and anticipating bookmakers' and operators' needs. BtoBet is a true partner in technology, offering a standalone platform and services for the iGaming and Sports Betting industry. It counts on a very talented, continuously trained development team and day to day management support to clients. BtoBet allows licensees to be unique in the market, by giving them the opportunity to completely personalize their offers for Sports betting and iGaming business, online mobile, and retail.
Make sure you take advantage of this unique opportunity of learning and networking with the gambling industry in the CEE and Balkans region via the CEEGC platform which is committed to bringing together industry shareholders and government officials from the region on a yearly base.
Register here or View the Agenda!
Browse the official event website here: www.ceegc.eu
The Growing Use of Blockchain by Start-ups and SMEs with Alexandra Karpova (Co-Founder & CEO at Millennium Communications) at TCE2019 Prague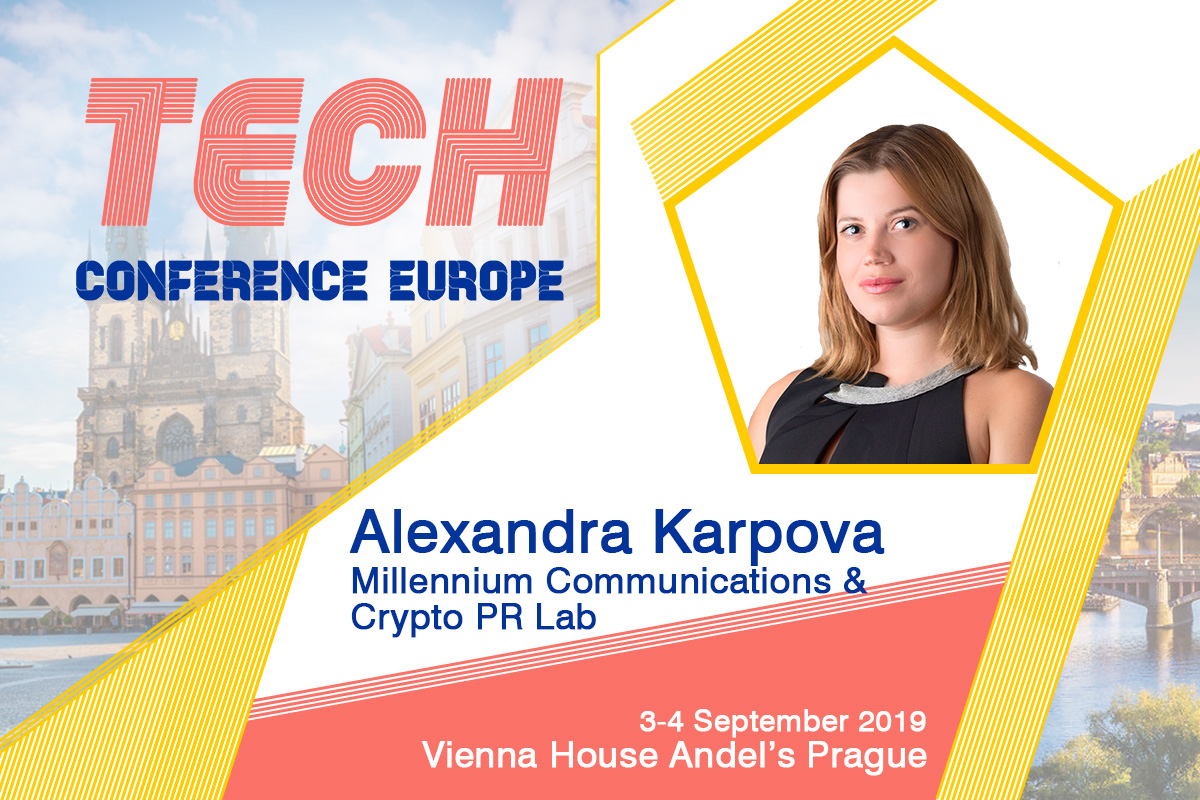 Reading Time:
3
minutes
The inception of new technologies has always been cataloged as a disruptor. There has never been such a technology that can carry the ability to disrupt ordinary business practices around the globe. Blockchain technology applications have only recently come to light, but are becoming more relevant and its potential only continues to grow. The wide use of Blockchain has been recorded also in the startup-up and SMEs companies and the booms are yet to come.
There are many ways in which businesses can already use blockchain and they depend on the industry in which they operate. In the real estate industry, there are marketplaces for renting or selling properties on blockchain-based P2P marketplaces. The same goes for the insurance industry, where blockchain-based applications already manage claims. The hype goes on and we can see the use of blockchain-based security applications in the IoT industry.
We must also mention logistics, where companies can tap into blockchain-based platforms that monitor and track freight movement. The list goes on and we are seeing these implementations on a daily base.
Small businesses can get ahead, innovate and build an edge with blockchain transformation by using blockchain-based services as well as creating their own apps on top of blockchain – decentralized apps, or DApps. Finally, businesses can already use smart contracts to regulate and govern relationships and agreements with other entities.
Most importantly, we can see that the biggest way in which blockchain technology is going to revolutionize SMEs is its ability to develop smart contracts.  All thanks to smart contracts, remote and autonomous consensus between two parties can be done through a single click on a self-reliant infrastructure that can help SMEs grow beyond their wildest imagination.
As a decentralized system, there is no need to pay intermediaries and both the enterprise and the consumer save a lot of money. Plus, the fact that blockchains are immutable makes it a lot more secure than traditional systems.
The organizers of PICANTE Tech Conference Europe are putting together a panel discussion that will focus on this revolutionary new trend can positively impact your Start-up/SME and what implications it will have for the future.
The panel discussion will be joined by Alexandra Karpova (Sasha), Co-Founder & CEO at Millennium Communications, who will bring the latest information about the widespread use of Blockchain.
About Alexandra Karpova
Alexandra is the CEO of Crypto PR Lab, the top blockchain and cryptocurrency public relations firm. She has eight years of experience in leadership roles in blockchain, finance, real estate, luxury concierge management, and marketing in New York. She managed a real-estate rental agency as well as founded Millennium Communications. She worked for top brands Morgan Stanley, CITI, Douglas Elliman Real Estate and luxury concierge LVH Global. Alexandra brings her knowledge of business and an extensive network of high-net-worth individuals eager to invest in new projects to Millenium Communications. She holds a bachelor's degree in finance and economics from Baruch College, NY.
PICANTE Tech Conference Europe is designed to bring both people and knowledge together and provides the excellent ecosystem of networking and learning opportunities without interruptions with emphasis on comfort and communication. After learning from genuine world-class experts and wayseers, meeting achievers shaping the B2B ecosystem, all attendees will get the chance to grab a drink and relax while networking at the evening social gathering.
REGISTER HERE or BROWSE THE AGENDA/PROGRAM!
Seats are limited (Super Early Bird Rate – valid through 30th of June)
About PICANTE Media and Events
PICANTE.today is a news publishing website which digests/hand picks the latest news about technology, entertainment, lifestyle, finance and politics and serves them to their readers and subscribers daily.
As a responsible learning source, the team at PICANTE Media and Events are committed to 3 main principles:
Trusted and Reliable Reporting & Publishing
The articles and press releases on their website are all published from verified sources.
NO Psychological and Emotional Manipulation
The editorial team and marketing team do not aim to produce emotional manipulation and always stay away from news, press release and articles that produce fear, anxiety, racism or show any sort of cruelty towards animals and humankind.
NO Fake News
PICANTE.today ensures readers will never find any "directed" lies on the news portal as the team has taken an anti-fake news standing point from their inception.
For more details, visit www.picante.today
Bulgarian gambling industry becoming more and more interesting for international companies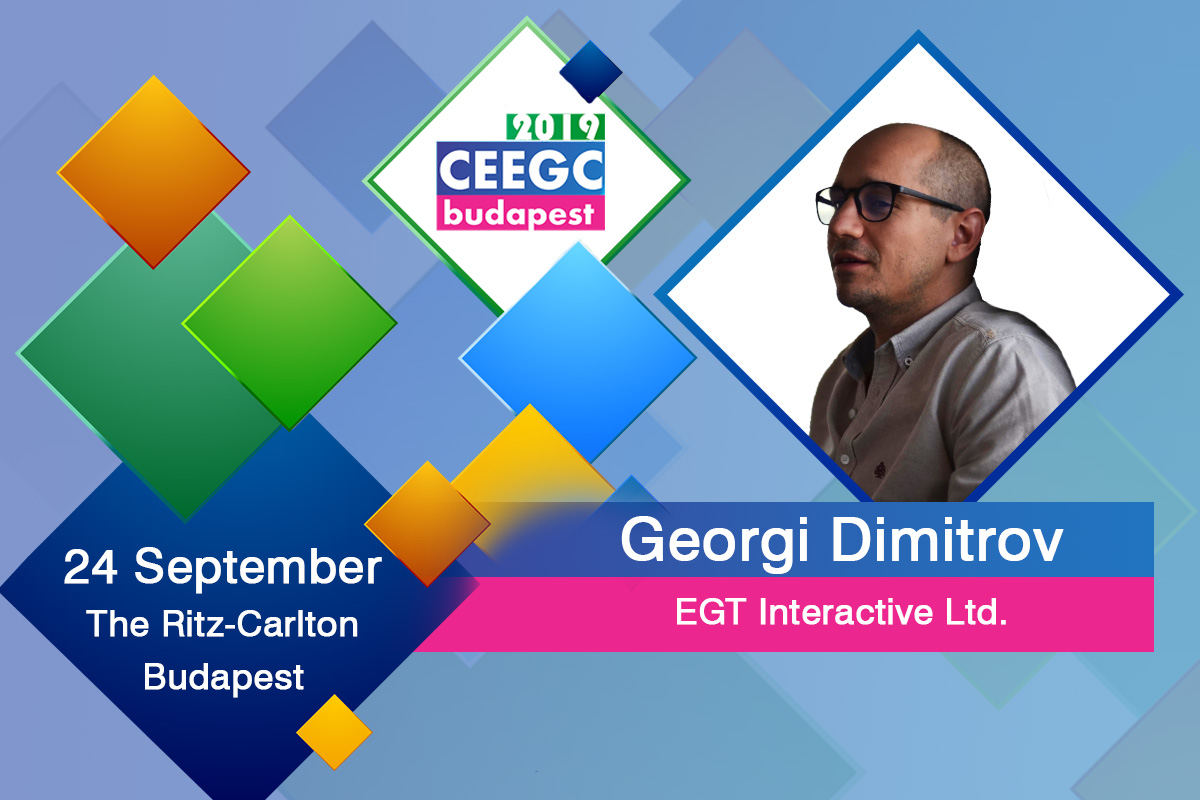 Reading Time:
3
minutes
EGT Interactive Legal Counsel / Compliance Manager to share industry insight about the Bulgarian market at CEEGC 2019 Budapest.
Recent headlines in the gambling industry media outlets have reported that the Bulgarian Ministry of Finance has appointed Alexander Georgiev as the new Head of Bulgaria's State Gambling Commission, however, there has been quite a few movements in the region that need mentioning.
The former head, Maria Filipova, is appointed as the deputy chairman of the Financial Supervision Commission (FSC) and is now in charge of the Investment Activity Supervision Division.
The naming of the new and now former Head of Bulgaria's State Gambling Commission comes after the dismissal of Ohnemir Mitev, who was accused by media publications in regards to the commissions' inaction against the aggressive advertising of gambling on national televisions.
Besides the shifts in the state-wide industry management, there have been quite a few large names mentioned that have entered the market or established strategic offices.
Kambi Group plc is now powering the international sports betting expansion of Bulgaria's National Lottery JSC after the two companies strengthened their partnership by signing an extended sportsbook agreement.
The new deal which is already in effect enables Kambi to continue to provide its Sportsbook and managed services to the National Lottery JSC's 7777.bg brand in Bulgaria and in addition, support the operator's planned entry into Moldova this summer.
Scientific Games has also successfully launched the first in a series of online slot games with National Lottery Bulgaria and within 24 hours following the initial launch of nine player-favorite digital games, the games generated over a half million Euros in sales.
Scientific Games' partnership with National Lottery Bulgaria builds on the Company's presence in regulated European gaming markets, where it is reaching new players with a portfolio of immersive online games. The launch in Bulgaria included globally renowned favorites like 88 Fortunes®, Giant's Gold®, and Rainbow Riches™. Scientific Games plans to launch more titles with National Lottery Bulgaria in 2019 to entertain a broader audience and drive player engagement.
Microgaming, one of the industry's leading software providers, is also now live with National Lottery AD to provide its award-winning poker platform in Bulgaria.
The major poker deal, signed through Prima Networks Limited, marks the first time that Microgaming's poker network has been made available in the Bulgarian market. The move is in line with Microgaming's strategic goal of continuing to expand its presence in key regulated markets.
All these movements are recorded on the supplier side, however, when we examine the operators' side, it is a totally different story. However, this doesn't mean that the industry isn't booming at the moment in Bulgaria.
The Bulgarian Trade Association of Manufacturers and Operators in the Gaming Industry's (BTAMOI) has reported in at the end of 2018 that the country's online gaming revenues showed a growth in the last financial year. The industry paid €57 million in taxes to the government, which corresponds to a 17 percent rise year on year. BTAMOI said in a press release: "For the period 2017/2018 the gaming industry in Bulgaria has shown very good results at a national level, based on the country's upward economic performance."
The online gambling segment in Bulgaria represents about 10 percent of the country's total gambling market. The segment posted revenue of €89 million in the nine months to September 30, a spike of 30 percent compared to the figure same time last year.
At the 4th edition of the yearly Central and Eastern European Gaming Conference, which takes place on the 24th of September at the Ritz-Carlton Budapest, Georgi Dimitrov, Legal Counsel / Compliance Manager at EGT Interactive will join the "Regulated Central and Eastern European jurisdictions" compliance panel discussion and share the latest insights on the subject and how Bulgaria can be a good opportunity for operators to expand in regulated markets.
About Georgi Dimitrov
Georgi Dimitrov is a legal counsel at EGT Interactive Ltd., with a focus on legal, regulatory and technical compliance matters related to the iGaming industry. He specializes in international gambling regulation and provides guidance on licensing and certification frameworks, policy drafting, and compliance processes. His line of work involves communication with local stakeholders in the business such as testing labs, regulators and operators. He has background in company structuring, M&A, business and corporate development and extensive expertise in competition law. As a lawyer, he has advised the Bulgarian operations of large-scale corporate clients and public authorities.
Make sure you take advantage of this unique opportunity of learning and networking with the gambling industry in the CEE and Balkans region via the CEEGC platform which is committed to bringing together industry shareholders and government officials from the region on a yearly base.
Register here or View the Agenda!
Browse the official event website here: www.ceegc.eu