Esports Entertainment Group Partners With Dignitas, The Esports Organization Of Harris Blitzer Sports and Entertainment, To Provide P2P Esports Betting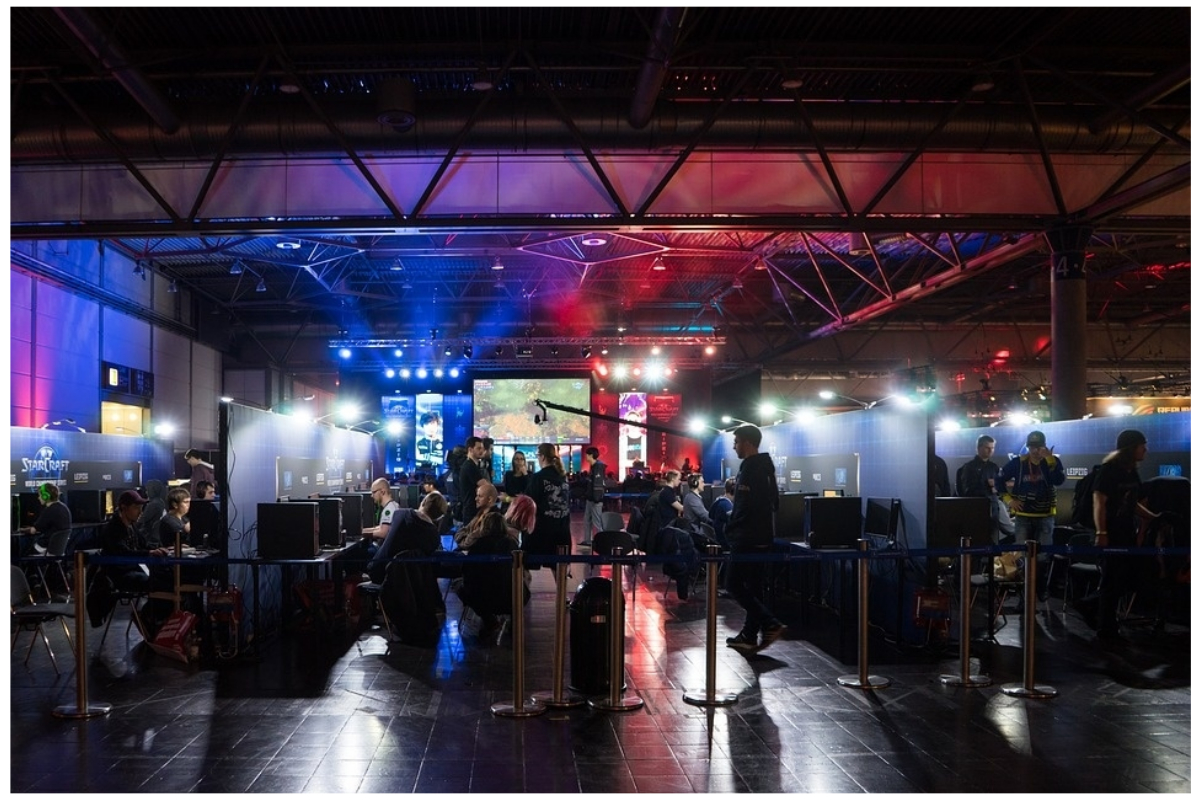 Reading Time:
2
minutes
Esports Entertainment Group, Inc., a licensed online gambling company with a specific focus on esports wagering and 18+ gaming, is pleased to announce a multi-year partnership with Harris Blitzer Sports & Entertainment to provide safe and transparent P2P esports betting to Dignitas fans via VIE.gg. Dignitas is an international esports team with one of the most iconic and recognizable brands in the professional gaming industry that fields teams in seven of esports' largest and most popular games.
Dignitas is the esports organization of HBSE, a globally renowned sports and entertainment company whose portfolio includes the Philadelphia 76ers, New Jersey Devils, Crystal Palace F.C. and the Prudential Center, one of the world's top-ranked venues located in Newark, N.J.  HBSE is owned by an investor group led by Managing Partners Josh Harris, the Co-Founder and Senior Managing Director of Apollo Global Management, LLC., as well as, David Blitzer, the Global Head of Blackstone's Tactical Opportunities group.
FIRST NORTH AMERICAN TIER-1 ESPORTS PARTNERSHIP FOR VIE.GG SETS NEW BENCHMARK
As a world champion and one of the original names in esports with a successful history since 2003, Dignitas represents the first North American Tier-1 esports organization to partner with the Company's VIE.gg esports betting platform. Dignitas is working with VIE.gg for the following reasons:
1.  The VIE.gg P2P model is much more attractive to Dignitas because an esports fan (a Dignitas fan) always wins, as opposed to a "house" model where odds are heavily stacked against fans.
2.  VIE.gg is the first and most transparent esports bet exchange as a result of Esports Entertainment Group being a fully reporting SEC issuer in the United States.
3.  Player safety features built into VIE.gg create a fun but responsible esports betting experience for fans. For example, players must choose their maximum bet amounts when they initially sign up with VIE.gg. Any subsequent increase to those levels requires a 30 day cooling off period to make sure players do not get carried away.
4.  The recent addition of pool betting is a further extension of the P2P model, which allows groups of opposing fans to wager against each other when their teams go head to head.
5.  Given the fact some esports fans bet on esports, Dignitas fans may as well bet on a safe platform that also supports the organization.
Dignitas CEO Michael Prindiville stated, "Esports Entertainment Group and Vie.gg offer a premier destination for our fans to engage with the games they love in ways that play upon a competitive spirit that is decidedly Dignitas in nature. The future of Dignitas is bound to our fans and the way they engage, interact, share and are moved by our content, products, players, streamers and more. The partnership with Esports Entertainment Group and Vie.gg is extremely natural; we are connected in our shared dedication to developing and amplifying the gaming space in this period of rapid and inspiring growth, and as it blends naturally with entertainment, music, lifestyle, and more."
Grant Johnson, CEO of Esports Entertainment Group stated, "I am very proud of this new partnership with HBSE and their Dignitas esports brand, which is founded in our shared common beliefs of player safety above all else.  I look forward to sharing our incredible product with Dignitas' highly engaged fan base over the next three years and beyond. For Esports Entertainment Group, a partnership of this calibre is a significant milestone for our shareholders and tremendous validation of both our P2P esports wagering model and future plans within the esports world."
IndiGG Web 3 Championship kicksoff with a prize pool of 200k USD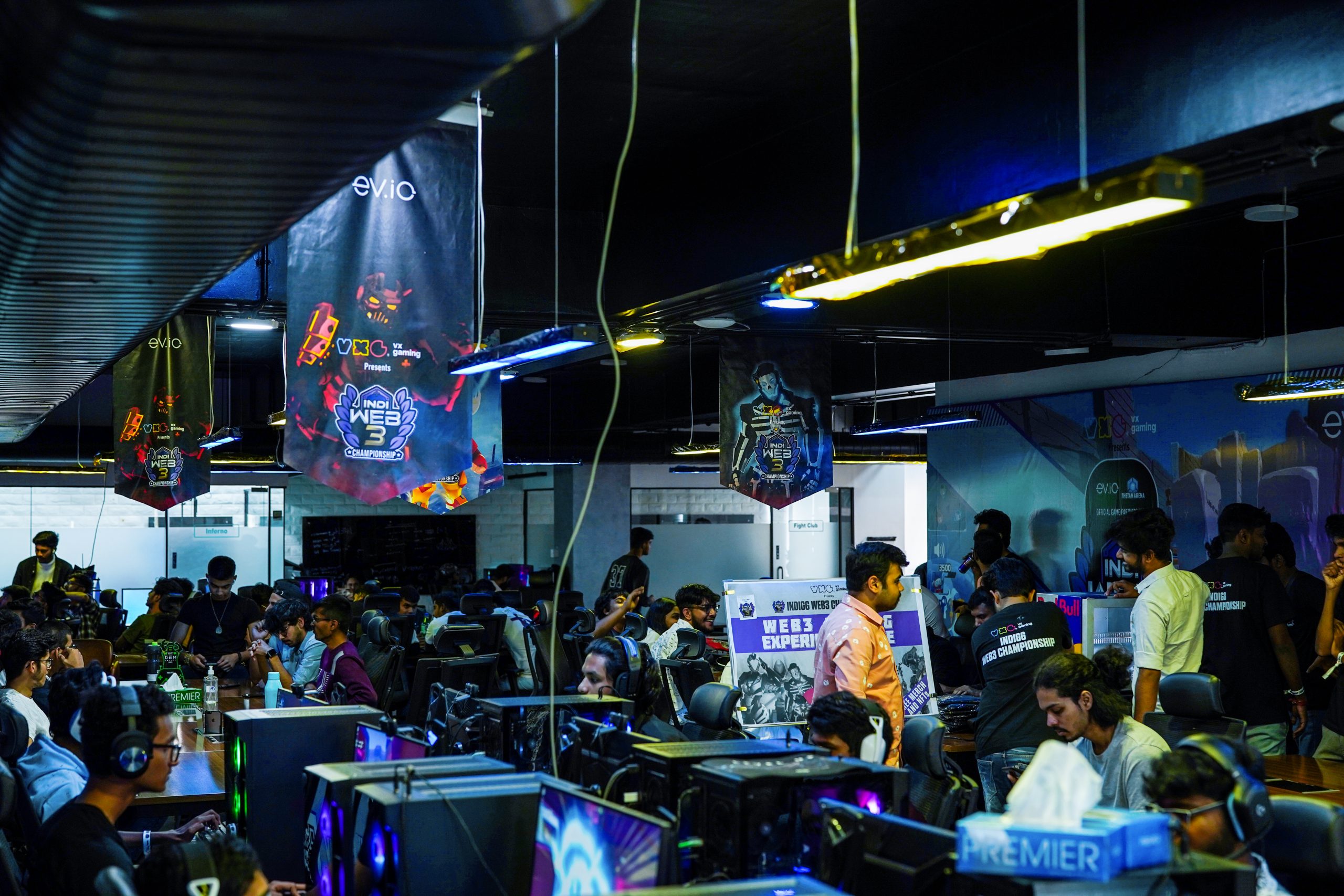 Reading Time:
2
minutes
IndiGG, a leading Web3 Gaming DAO today announced the 'IndiGG Web3 Championship' and launched the world's first eSports athlete reputation program alongside. The championship commenced in Bengaluru and will cover cities including Kolkata, Pune, Chennai, NCR, Dhaka, with the finals to be held at Hyderabad in November 2023. The total prize pool will be of USD 200k across all legs.
The championship was hosted and managed by the community itself with the IndiGG clan chiefs managing the entire execution end to end. Games 'EV.io' and 'Thetan Arena' were the games chosen by the community for the championship with 'Venture X Gaming' as the title sponsor for the event.
The first leg of the championship saw intra-college tournaments in 64 colleges for each of the games. The top 64 teams for each game then engaged in a journey to top 8, followed by quarterfinals, semifinals and the grand finals. The championship was capped off with an exhibition match amongst the top gaming influencers in the country.
All the main matches were broadcasted live on Youtube. With over 10,000+ gamers watching the best of the teams slugging it out in person, the championship garnered over 1 million plus views. The championship was capped off with an exhibition match amongst the top gaming influencers in the country.Apart from the tournament, IndiGG also commenced the reputation program which will help build a public record of an athlete's performance. The data will help the evaluation of an athlete's reliability and sportsmanship in the esports space. The records will also establish credibility and trustworthiness around esports athletes that can be leveraged by teams, coaches and sponsors while onboarding an athlete.
During the championship, the members had an opportunity to build their on-chain reputation as they were awarded badges. The badges are  digital tokens that recognize and reward an individual's involvement and contribution towards an online community. The participating gamers were rewarded with 'Proof-of-Participation' badges, similarly, the winners received 'Proof-of-Victory' badges and the first time viewers were able to mint a 'Proof-of-Watch' badge during the livestream of the event.
Penta Esports announces second edition of "Penta Challenge" featuring New State Mobile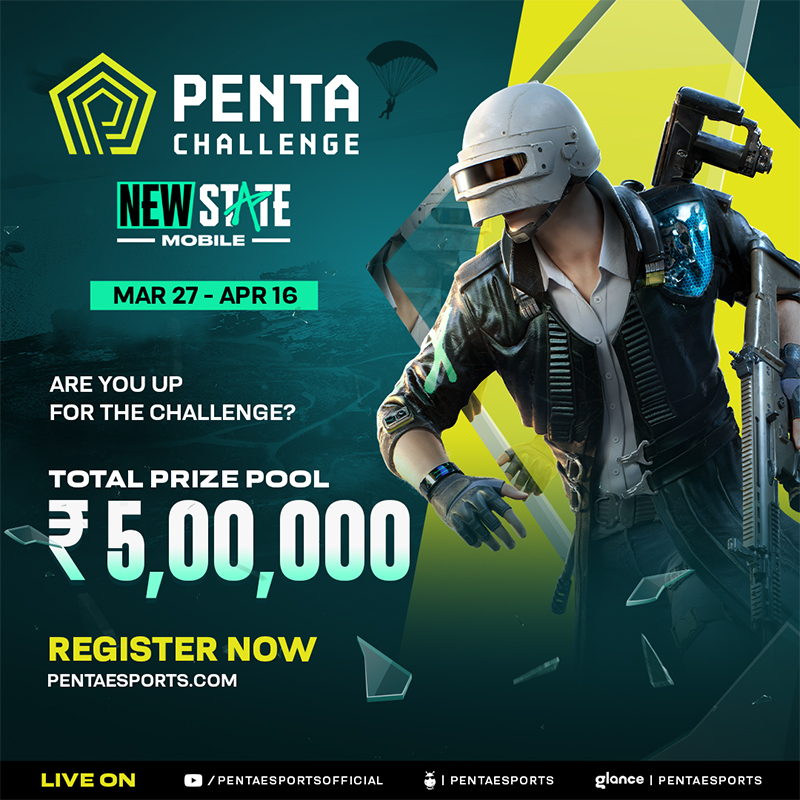 Reading Time:
< 1
minute
Gaming and esports company, Penta Esports has announced the second edition of its IP, Penta Challenge, featuring New State Mobile. Taking place from 27th March to 16th April, the tournament has a prize pool of INR 5,00,000 and will have 2 open qualifiers from 27th March to 2nd April and 7th to 9th April, followed by a grand finale where 8 qualified teams, 4 from each qualifier, will play alongside 8 invited teams from 14th to 16th April.
The registrations for the tournament started on 18th March and will go on till 24th March on Penta Esports' platform. Qualifier matches will be broadcast semi finals onward, while all matches from the Finale will be broadcast. The matches will be broadcast live on Penta Esports channels on YouTube, Glance and Loco.
Said Penta Esports Head of Esports, Kiran Noojibail, "We're very excited to bring about the second edition of the Penta Challenge with New State Mobile. With this, we want to provide players an opportunity to prove their mettle in the qualifiers and challenge professional teams for the title."
The first edition of Penta Challenge took place in October, 2021 and featured Valorant.
Penta Esports is the esports brand of Newgen Gaming which recently received a strategic investment of $1 million from nCore Games.
British Esports Announces Further Investment in Sunderland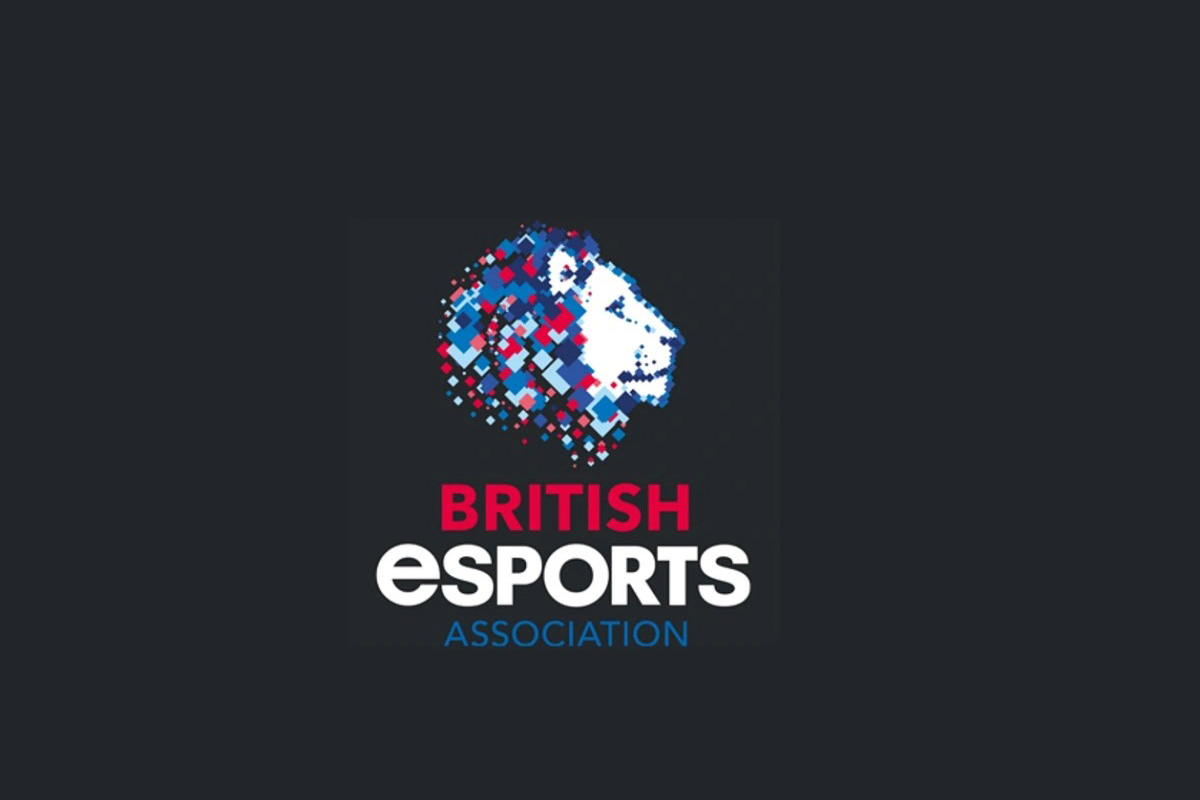 Reading Time:
2
minutes
British Esports has announced its plans to increase investment in the state-of-the-art National Esports Performance Campus (NEPC), the UK's most advanced esports and education performance and training centre.
To complement the globally-recognised esports facilities, capable of attracting and developing the UK's very best esports and creative talent, British Esports has announced it has now acquired a multi-purpose entertainment venue, as well as brand new esports and gaming accommodation.
Combined with the multi-functional sporting, creative and educational facility, the National Esports Performance Campus, now a multi-site venue, represents a multi-million-pound investment in the city of Sunderland and takes the total footprint to over 30,000 sq.ft.
Located within easy reach of the NEPC, the hub and the Grade II listed townhouses are situated in a conservation area, first established in the 17th century. Split over four floors and currently undergoing extensive renovation and internal refurbishment to restore them to separate residential dwellings, the esports and gaming houses are scheduled to open in late Spring 2023.
Providing accommodation for up to 25 people, the fully self-contained properties will feature separate living and leisure areas, plus a cutting edge digital performance and gaming room, kitted out with the very latest in gaming and creative technology.
Designed to stimulate team and player performance as well as a healthy, balanced lifestyle, the fully managed accommodation alongside the National Esports Performance Campus will seek to deliver greater success on the international esports stage.
The National Esports Performance Campus, scheduled to open in late 2023, is an 11,000 sq.ft esports training and educational complex, split across two floors, featuring state-of-the art creative, educational, coaching and training facilities, with provision for over 150 students.
The venue will feature the very latest in digital and computing technology, a 100 seater esports arena, dedicated esports stage, classrooms, performance and training rooms, broadcast and content production facilities, sim racing and much more.
As a founding member of the Global Esports Federation, British Esports will be the first amongst its 120 members to have its own dedicated esports campus, ensuring that the UK is continuing to lead the development of esports education, infrastructure and opportunity.
"We are proud to be making a significant investment in Sunderland and the North East with a new multi-site venue capable of attracting and developing the digital forward society of tomorrow. We are excited to be developing infrastructure for the UK esports ecosystem, but, as part of the UK's national levelling up campaign, we are equally thrilled that the people of the North East will have an incredible facility on their doorstep," said Andy Payne OBE, Chair, British Esports.
"Sunderland is a hugely ambitious city, and one that fully embraces the transformative power of digital to bring communities together, so it is fitting that a sport that is built on digital and technology is investing so significantly here. British Esports' investment in Riverside Sunderland with its Performance Campus and in Sunniside with the gaming accommodation, fits perfectly with our regeneration programme, which is transforming both of these parts of the city centre, and we're delighted to be working closely with them to support them with their plans," said Councillor Graeme Miller, leader of Sunderland City Council.