Third of Swedish players search for 'unlicensed casinos', research finds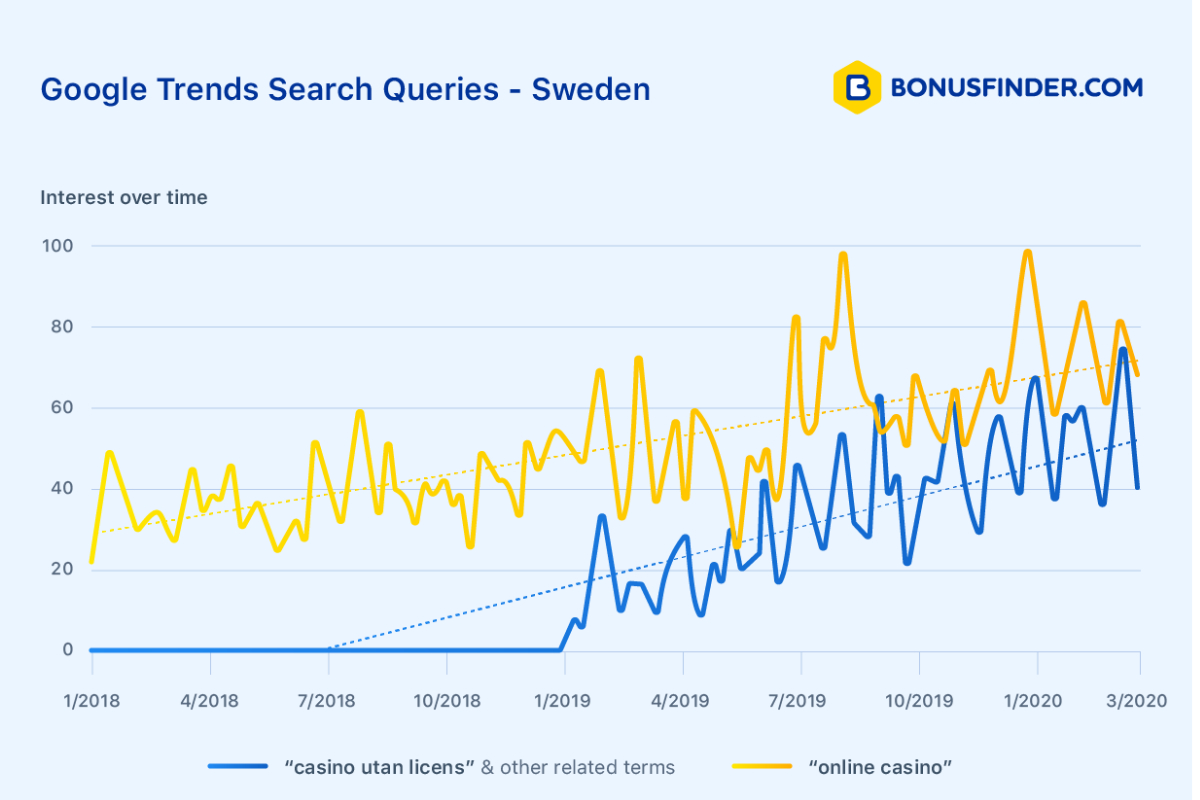 Reading Time:
2
minutes
Bonusfinder.com data finds 'channelisation' strategy failing and growing numbers of players looking for black market sites
– Warning to German regulators to reconsider recent restrictive proposals
 Almost a third of Swedish players are searching online for 'unlicensed casinos', with growing numbers turning to black-market brands due to the market's restrictive gaming regulations, according to data produced by customer-first affiliate brand Bonusfinder.com.
Research carried out by BonusFinder.com monitoring the Swedish market since it regulated in January 2019 has uncovered a spike in Swedish players searching for a basket of black-market keywords.
Up to 30% of players have searched for terms such as 'unlicensed casino' (casino utan licens). This reinforces the theory that aggressive restrictions on licensed operators drives players to search for, and convert to, unlicensed black-market brands.
According to recent official data from the Swedish regulator (SGA), 91% of gambling is carried out by licensed operators in a market worth more than €1.2 billion.
Data from H2 Gambling Capital estimates Sweden's 'channelisation' strategy towards licensed sites to be 85%, however Bonusfinder.com research shows the proportion of Swedish players using legal casinos to be closer to 70% with almost a third being diverted to unlicensed brands.
The findings are a stark warning to other newly regulating markets including Germany that is considering even tougher regulations on online casino products.
German lawmakers recently approved regulations to legalise online poker and casino from 1 July 2021 with punitive measures including slots subject to a €1 per spin stake limit, no auto play and no jackpots, while casino games must be offered separately to table games.
One large operator in Germany, on condition of anonymity said that future licensed brands there could see casino revenues fall by up to 70% with many players flocking to black market sites if regulators passed restrictive proposals.
"With the 16 Federal States in Germany approving the new gambling regulation everyone was anticipating a regulated and safe gambling environment for online and land-based players in Germany.
"The strict policies in the new Interstate Treaty on Gambling, however, will force players and operators into illegal channels and, if this goes ahead, the market with the biggest potential in Europe will have lost its opportunity. For many operators, revenues will drop by 60 to 70%, and on top of that, taxes and fees will make this licence unattractive."
Fintan Costello, Managing Director, Bonusfinder.com, said: "Instead of misguidedly declaring phase one of Swedish legislation a "success", regulators should be focusing on the rising proportion of players searching for 'unlicensed' brands.
"Equally concerning is that newly regulating markets such as Germany appear to be ignoring their mistakes. There is no regulated market on earth that is proposing such damaging rules, and we would urge them to take heed of Sweden's rapid plunge toward encouraging unlicensed activity.
"This should serve as a real warning for German lawmakers who have plenty of time to alter their proposals to benefit and protect players and to ensure their newly regulated framework is commercially successful.
"At Bonusfinder.com we aim to give players more choice, presenting them with all the options before they commit to gambling on specific sites. Our aim is to help people "play with more" in a safe environment. Our core principles are built on a common sense approach to regulation that involve honest and open conversations between regulators, operators, affiliates and players. This is exactly the approach German regulators should be taking."
Booming Games' Art and Dev Team Begins Work on Ronaldinho Games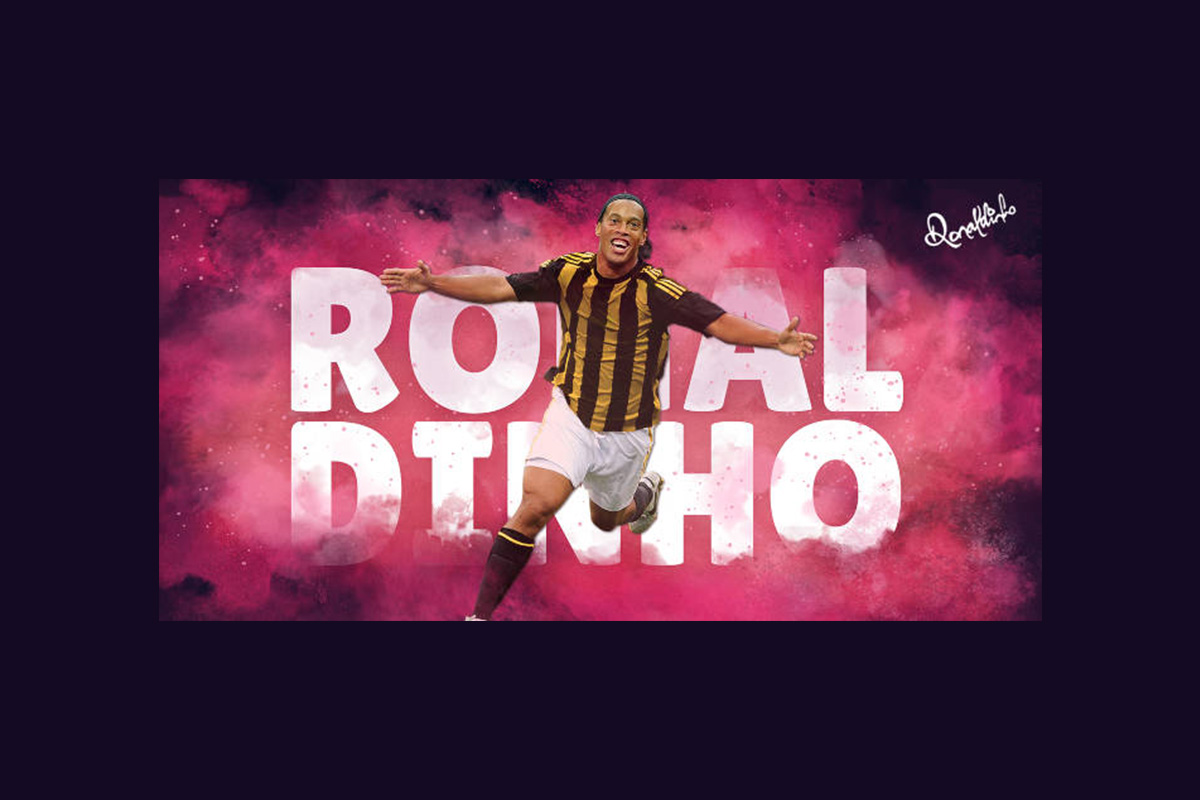 Reading Time:
< 1
minute
Booming Games has announced a "landmark partnership" for the company, with 2002 World Cup winner, Ronaldinho. As part of this deal, gaming content from Booming Games will feature Ronaldinho, with the company set to launch a series of games, with the initial offering set for early next year.
"After announcing Booming Games's collaboration with football icon Ronaldinho Gaúcho, our dedicated team is now diligently crafting premium slot content that encapsulates the essence of Ronaldinho's illustrious career," the Company said.
"As we embark on this transformative journey, our Art and Development Team works tirelessly to ensure a seamless fusion of Ronaldinho's legacy with cutting-edge gaming innovation. We're committed to delivering an unparalleled gaming experience that resonates with global audiences.
"Our marketing strategy is strategically amplifying the impact of this collaboration. We aim to leverage Ronaldinho's worldwide influence through targeted campaigns across diverse channels to build anticipation and excitement leading up to the official game launch.
"This strategic convergence of sports and gaming positions Booming Games at the forefront of a cultural shift. Stay tuned for updates as we usher in a new era of gaming excellence with Ronaldinho Gaúcho."
ANJ Publishes a Study to Evaluate the Illegal Online Gambling in France and Gain a Better Understanding of Consumer Practices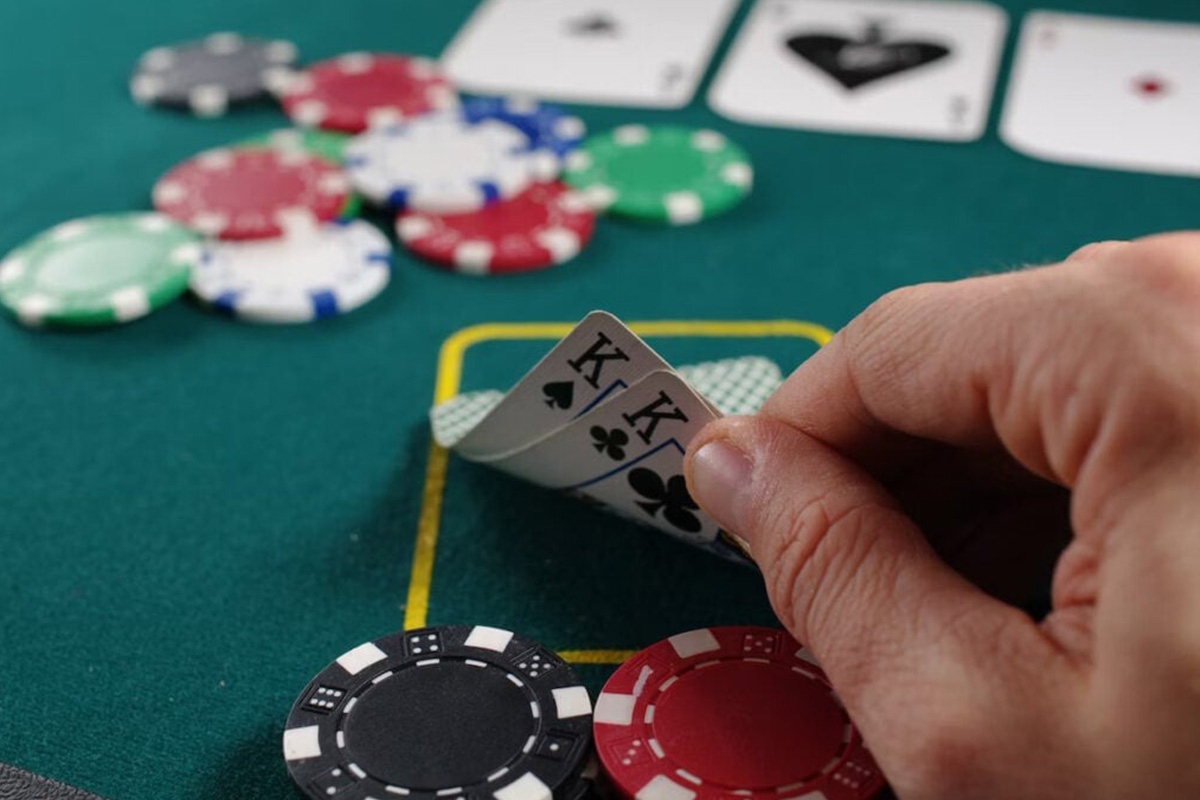 Reading Time:
3
minutes
In order to combat illegal online gambling more effectively, the ANJ (Autorité Nationale des Jeux) has commissioned Pricewaterhouse Coopers (PwC) to carry out a study into what is available in France and consumer habits.
The study estimates that the gross gaming revenue (GGR) generated by illegal gambling is between €748 million and €1.5 billion, or between 5% and 11% of the overall gambling market. The scale and risks associated with illegal gambling justify even more vigorous action to combat it, in addition to that already being taken by the ANJ.
More specifically, the purpose of the study was:
To measure, over the period from January to March 2023, via a quantitative analysis, the illegal online gambling available in France (illegal websites and mobile applications);
To gain a better understanding of the consumption associated with this illegal offer, through a qualitative study carried out on a web panel of more than 11,000 people.
The illegal offer considered in the study is that which presents the following three characteristics:
A gambling offer made to the public combining financial sacrifice, hope of winning and a share of chance ;
A gambling offer accessible on French territory, via an internet connection giving a French IP (without using a VPN or a proxy);
An absence of authorisation granted to the operator of the website or mobile application to offer its online gambling games.
In France, only the 18 operators licensed by the ANJ and FDJ legally offer online gambling.
Illegal gambling dominated by online casino games and slot machines and fuelled by the most vulnerable players
The gross gaming revenue (GGR) generated by illegal online gambling in France is estimated at between €748m and €1.5bn, or between 5% and 11% of the overall gambling market. As a reminder, the overall legal gambling market in France represented nearly €13bn in 2022, including €2.96bn for online gambling (sports and horse betting and poker).
Online casino games (such as roulette, dice games, craps, blackjack and baccarat) and slot machines are estimated to account for 50% of illegal online gambling Internet traffic.
The study, carried out between January and March 2023, identified 510 illegal websites generating traffic on French soil. Of these, 21 alone were estimated to generate 60% of illegal gambling traffic.
50% of the illegal gambling websites whose operators have been identified are owned by companies registered in Curaçao.
79% of the PBJ generated by the illegal online gambling market comes from high-risk gamblers.
Typical profile of illegal gamblers
Around 3 million people are estimated to have played illegal games at least once a month in 2023.
1 out of 2 illegal gamblers say they are unaware of the illegal nature of the offer they are playing on.
Illegal gamblers prefer online casino games other than slot machines (54%).
Illegal gamblers' main reasons for playing on these unauthorised gambling sites are: the absence of wagering limits or identity checks, the expectation of higher winnings and the greater range of games on offer.
Illegal gamblers say that they first became aware of these sites through: online searches on search engines (19%), online advertising (18%) and social networks (18%).
35% of illegal gamers would use a VPN to play on these sites.
The need to diversify actions against illegal supply
Since March 2022, the ANJ has had the power to administratively block and delist illegal websites. Administrative blocking orders are now faster and less costly. Since then, the ANJ has issued 300 administrative blocking orders covering 1230 blocked URLs. In a year and a half, thanks to the introduction of this procedure, the ANJ has managed to block almost as many Urls as in 12 years of judicial blocking proceedings.
Although the law does not currently provide the ANJ with any other specific means of combating illegal offers, the ANJ intends to take a number of actions in the near future:
Making targeted reports to the judicial authorities so that criminal proceedings can be brought against those registered in Curaçao or Cyprus who operate these sites, which currently operate with complete impunity and which the ANJ itself is unable to punish;
Take action to warn publishers of illegal games software and companies that provide hosting solutions for illegal sites;
Take action against payment service providers that enable financial flows between illegal operators and players;
Deepen the exchange of information and best practices with its European counterparts within the framework of the GREF (Gambling Regulators' European Forum);
Increase public awareness of the dangers of illegal supply.
Reminder of the risks associated with illegal gambling
Playing on an illegal site entails a number of risks for the player:
Winnings are rarely paid out: no legal action is taken against the illegal operator;
Minors are not protected: most of the time, there is no check on whether the player has reached the age of majority;
There are no legal measures to protect players: self-limitation of bets, deposits and playing time, voluntary prohibition and self-exclusion from gambling, identification and support in the event of excessive or pathological gambling;
Risks of identity theft and theft of bank details;
Risks of fuelling money laundering and terrorist financing.
Aspire Global Facing Pair of Legal Battles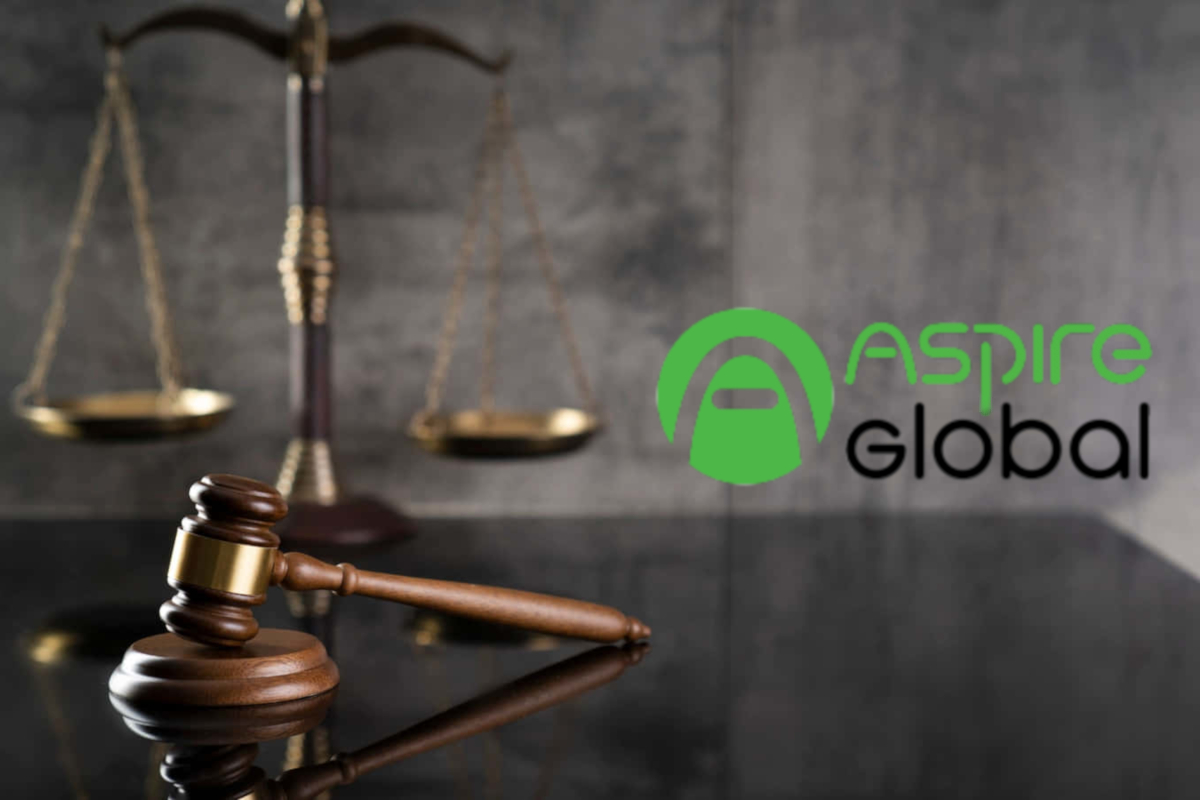 Reading Time:
2
minutes
Prominent online gaming software and platform provider Aspire Global has been named as the defendant in a pair of court cases that could potentially result in it being ordered to pay compensation totaling up to €101 million ($109 million).
In the first complaint, Aspire Global is being sued in the United Kingdom by the founders of sports betting software, solutions and services provider BtoBet, Alessandro Fried and Igor Lestar, for €36 million ($39 million). This pair inked a deal in 2020 to sell their company to the Malta-based defendant in exchange for an upfront payment of some €20 million ($21.6 million) as well as an earn-out consideration tied to future earnings before tax.
However, Fried and Lestar through their Sousa Enterprises Limited and Eltsar Limited entities are alleging Aspire Global, which was last year acquired by NeoGames as part of a deal worth some €402.3 million ($423.5 million), violated the terms of this share purchase agreement by spending too little and not charging enough so as to deliberately decrease revenues and the subsequent earn-out sum.
The complex case with its many intricacies is not expected to go to trial before 2025 but could well result in Aspire Global being ordered to pay more than the €36 million headline figure. The financial implications are even more concerning as the defendant's NeoGames parent is currently in the process of being acquired by Aristocrat in an arrangement valued at north of €1 billion.
In the United States and Aspire Global has also been separately named as the offender in an action brought by Ebet Incorporated, which is the operator of the Karamba, Griffon Casino, Hopa, Generation VIP, Scratch2Cash, Gogawi, Dansk 777 and Bet Target iGaming brands. This Nevada action is seeking some €65 million ($70 million) embracing compensatory damages, punitive fines and other financial penalties to be proven at trial and moreover names AG Communications and other affiliated entities as defendants.
Ebet Incorporated acquired specific business-to-consumer (B2C) assets and associated websites from Aspire Global in 2021 and simultaneously entered into a 'white-label' operator agreement embracing collaborative efforts on the future running of the purchased assets. The plaintiff is claiming the defendants breached these deals by manipulating their books to falsify and overstate active player data and exaggerate the health of the acquired properties.
As if this wasn't bad enough, Aspire Global is furthermore being accused by Ebet Incorporated of violating the terms of the agreements by materially failing to maintain necessary operations in Germany, falsifying records and violating industry regulations. The allegations could potentially shape the future trajectories of these companies as they also run to reputational harm, fraud, breach of contract and other unnamed violations due to be proven during the course of the trial.