Investor Procedures On Swap, Consolidation And Staking Options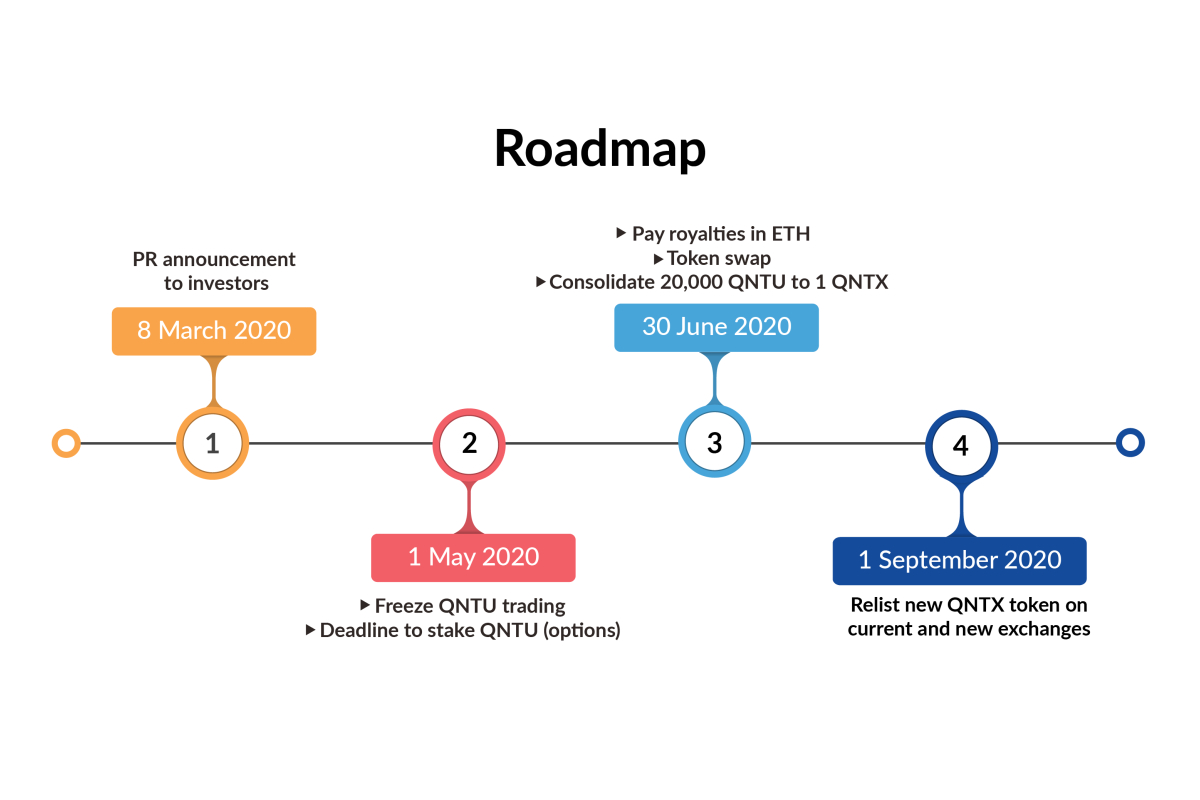 Reading Time:
2
minutes
 As announced on March 8th, 2020, Quanta is now ready to release the set of procedures to investors.
Swap into QNTX and Choose Staking Option
If you hold QNTU tokens and wish to either swap and/or stake them, do not sell your QNTU tokens thru your Crypto Exchange by May 1st, 2020. Use these steps to swap into new QNTX tokens prior to May 1st, 2020 at the ratio of 20,000 QNTU for 1 QNTX but note that these tokens cannot be redeemed until September 2020 or thereafter. Staking bonus and maturity will be 100% for 2Y, 50% for 1Y, 25% for 6M, 15% for 3M and 10% for 1M. Know Your Customer (KYC) will be performed before new QNTX tokens will be released for trading on or after September 1st, 2020.
Steps
Choose language by clicking country flag for ENG/JP
Register for new account or login as existing account holders
Complete registration details
Login with your email address and password
Transfer your QNTU tokens to your new wallet address no later than May 1st, 2020
Choose to only swap or to swap & stake for different maturity to receive token bonus
Receive new QNTX tokens after KYC and token issuance
Trade QNTX on or after listing date of September 1st, 2020
If you're encountering problems or have any queries, you may contact Quanta token support group at [email protected]
No Swap or Staking
If you do not wish to swap and/or stake, please sell your QNTU tokens thru your Crypto Exchange no later than final trading date of May 1st, 2020. If you sell your QNTU tokens, you will not receive any QNTX tokens and no staking benefits.
Royalties
Wallet addresses are being compiled for eligible token holders who will receive their ETH royalty payments in June 2020.
About Quanta:
Quanta is a pioneer in the development of blockchain solutions for gaming. In 2017, the company launched the first licensed blockchain lottery, fully utilising blockchain together with its NMI-certified random number generator, Randao, which is entirely built and operated on blockchain. Quanta's utility token, QNTU trades on six renowned cryptocurrency exchanges including HitBTC and Bit-Z.
DAOGroup launches industry's fastest blockchain platform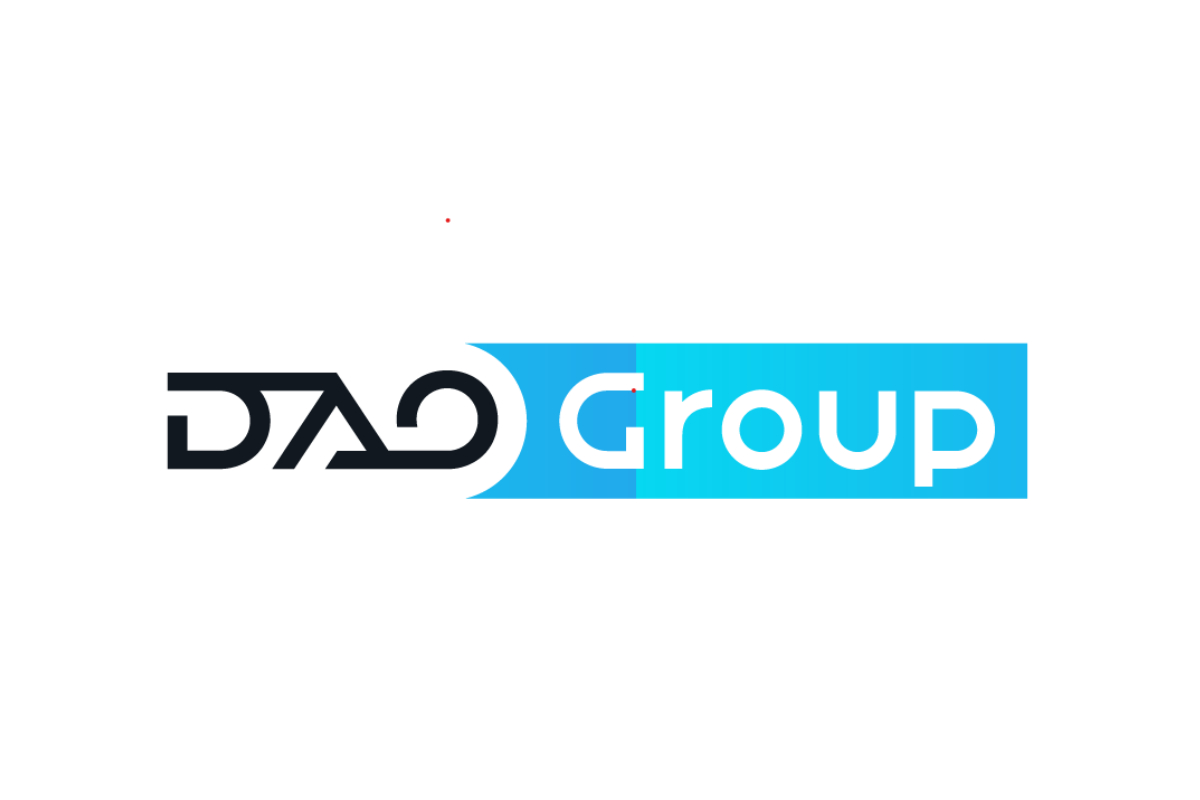 Reading Time:
< 1
minute
White label offering to provide no-deposit casino mechanics with real-time pay outs
DAOGroup, the iGaming cryptocurrency and blockchain solutions provider, has unveiled the industry's fastest blockchain-based platform.
Boasting a transaction speed measuring as little as a second, DAO's latest launch has been designed to revolutionise the industry's mainstream acceptance of blockchain-based gaming.
Available as a white label solution, DAO's use of blockchain enables operators to offer no-deposit gaming and real time pay outs in the industry's first workable format.
Harnessing super-fast finality to determine a provably fair outcome almost instantaneously, DAO's platform eliminates the need for players to deposit money ahead of playing – with winnings and losses extracted from the player's digital wallet directly via the use of smart contracts.
In comparison, alternative blockchains such as Ethereum take more than 15 minutes to reach any level of probabilistic finality making real iGaming practically impossible.
With a surge in demand for crypto gaming in recent months, DAOGroup CCO Glen Bullen sees the platform's launch as a kick-start towards player deposits becoming an outdated concept.
He added: "We're dedicated to transforming the iGaming industry's understanding and use of cryptocurrency and blockchain technology, with the launch of our platform coming at a pivotal time when that conversation is returning to the mainstream. 
"Crypto-based gaming has proved bullish in the last few months and we're here to start bringing its benefits into the mainstream for operators. 
"As well as offering an entire ecosystem for the development and migration of blockchain-based games, we're able to offer the industry's fastest and most reliable platform with no-deposit mechanics and real-time pay outs."
The company also unveiled DAOWallet in early 2020, delivering an advanced cryptocurrency-fiat gateway that enables operators to offer third-party cryptocurrency transactions without the need for additional AML and compliance procedures.
Ludena Protocol Partners with Theta Network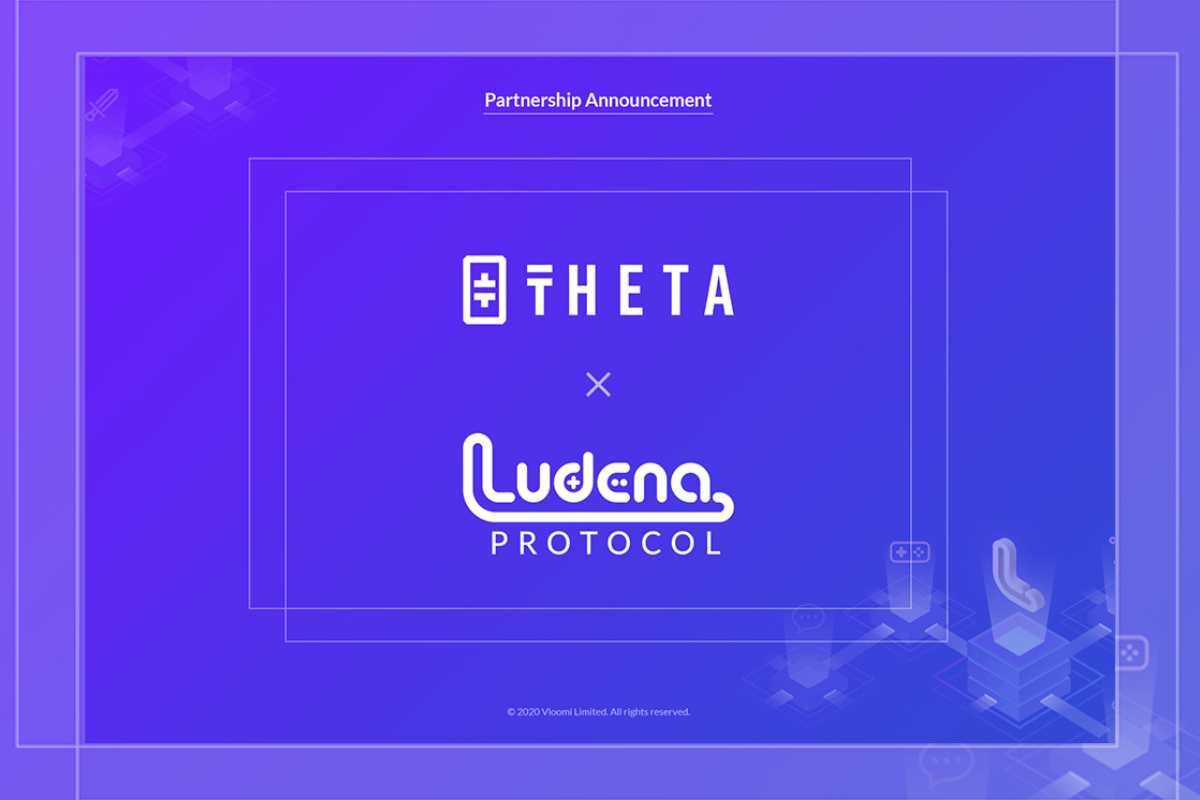 Reading Time:
2
minutes
South Korean gaming social platform Ludena Protocol has entered into a strategic partnership with Theta Network, the blockchain-based content delivery platform that enables high-bandwidth content delivery using decentralised technology.
As part of the deal, the Ludena Protocol Dapp, GameTalkTalk will integrate the Theta protocol into its gaming-centric social platform that rewards users for gaming-related activities. Theta Network will bring its high-quality esports, gaming and blockchain content to the 3 million+ GameTalkTalk users. Users will earn rewards with the TFUEL token for watching and sharing their bandwidth and videos with other network users and engaging with the content. This partnership will mark the first launch of Theta Live Mobile Embed for Android apps in Korea.
"GameTalkTalk is an ideal partner to launch our Theta Live Mobile Embed product powered by the Theta Network, allowing viewers to relay esports and game streams to their peers and earn Theta token rewards, TFUEL, just for watching and sharing their bandwidth resources. In just a couple of months after announcing Theta Live Embed, it is now live on more than dozens of partner sites globally and we are excited to branch out to Korea for the first time and to onboard local content," Mitch Liu, CEO of Theta Labs, said.
Theta Labs will also be supporting Ludena Protocol's global expansion plan through marketing cooperation, while offering GameTalkTalk users an influx of gaming content and added platform rewards. Also, Theta Labs has agreed to provide an exclusive GameTalkTalk channel on Theta TV, which will feature Ludena Protocol's in-house content, which will be broadcasted to the Theta community, which boasts 5 million+ users.
"We hope that the cooperation between Theta Labs, which showcases an excellent model of disruptive blockchain-based service, and the Ludena Protocol Foundation, which seeks to create an innovative global gaming ecosystem through a gaming social platform, will lead to achievements that are long remembered in the blockchain gaming market," Joshua Kim, CEO of Ludena Protocol, said.
Digix partners with Axie Infinity to bring real gold in-game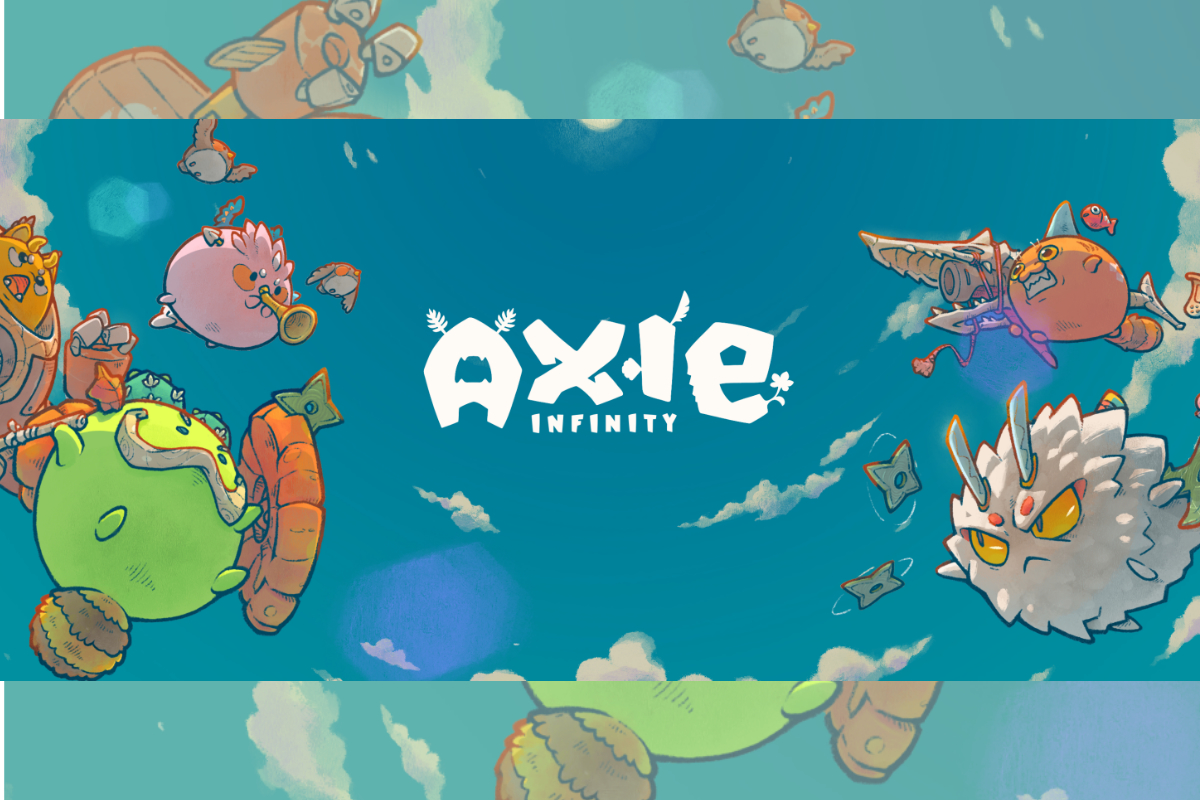 Reading Time:
2
minutes
First of its kind partnership will enable players to receive in-game gold through Axie-DGX tokens that will be redeemable for physical, investment grade gold
Digix, creator of the world's first asset-backed digital gold token, has today announced a partnership with Axie Infinity, a game built on Ethereum that enables players to collect, raise and battle fantasy creatures. This partnership will enable Axie Infinity players to receive in-game tokens that are backed and redeemable for physical, investment-grade gold.
In an industry first, real gold rewards will be offered as an in-game currency via Axie-DGX tokens which can be exchanged for Digix's native token, DGX— where 1 DGX is equivalent to 100,000 Axie-DGX. Axie Infinity is a digital pet community that lets players battle, collect, trade and raise Axis, where players can power-up these fantasy creatures through minigames, quests, contests, and special in-game events. Powered by Ethereum, the Axie Infinity marketplace is transparent, liquid, and secure, enabling players to have complete ownership of their Axies and the ability to trade and sell them in a secure manner.
Shaun Djie, COO and Co-Founder of Digix said: "This collaboration with Axie Infinity is not only a major milestone for Digix—but for the growth of digital gold, highlighting its benefits across a range of industries including gaming. By providing an in-game currency that is backed by gold, a time-tested, safe haven asset—we are remaining true to our vision of democratising access to gold and further showcasing the innovative use cases for digital gold."
Starting from 20 July 2020 10 AM EST to 2 August 2020 10 AM EST, Axie Infinity players will have the chance to earn Axie-DGX tokens as they compete in this seasonal event. Axie-DGX tokens will be rewarded as a random in-game drop with a total prize pool of US $1500 Axie-DGX tokens.
Aleksander Leonard Larsen, COO and Co-Founder of Axie Infinity said: "This initiative elevates the play-to-earn narrative to new heights. For the first time, players can earn real gold by simply playing a game. User-focused experiments that benefit and reward users are key to furthering the adoption of blockchain technology."
As part of this campaign, Bullionix will also craft limited edition 3D collectibles in the form of Axie-themed non-fungible tokens (NFTs) that are backed by Digix's investment grade gold. Each Bullionix collectible has 0.25 DGX staked on-chain that belongs to the holder of the NFT. A 0.1 DGX minting fee is settled in the same transaction. These commemorative pieces are available to mint exclusively from 20th July until 9th August. Each NFT can then be interacted with in the Bullionix dapp, gifted or even resold on NFT marketplaces. Axie Infinity users are able to access their dashboard to transfer Axie-DGX into their personal wallet with the option to mint these limited edition collectibles.