Passion. Gangsters. Chicago. All inside Endorphina's new Windy City slot.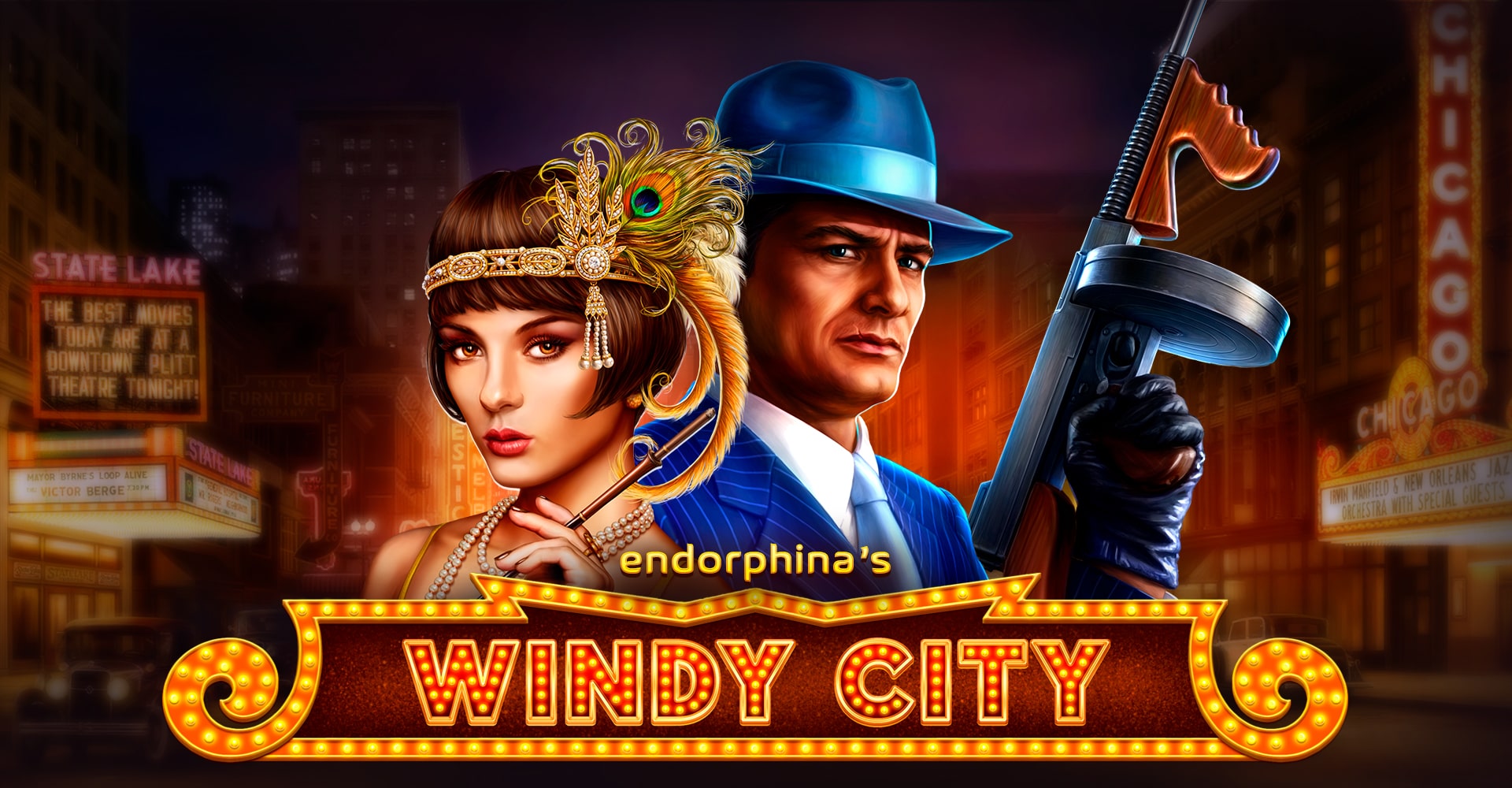 Reading Time:
2
minutes
Let the crispy winds of Chicago fill your lungs and take you to the times when bootleggers, mafia and jazz ruled the world. Today Endorphina presents its new astonishing slot Windy City which will tell you a story of a love triangle set in the 1930s – with the big mafia boss, his closest associate and a beautiful fiancée. Will the players be bold enough to make history on the reels of Windy City?
Players will absolutely love the atmosphere of the Chicago 30s: beautiful ladies, ruthless gangsters, expensive cars, guns, cigars, and banned whiskey. The funky music theme paired with the memorable graphics will make them ask themselves whether they are still in present times. If players ever wanted to walk in the shoes of a big mafia boss, the time has come! They will get to play the game, to feel this vibrant city and walk amongst the famous skyscrapers that kiss the sky.
The 1930s never go out of style, and that means the new slot is not just aesthetically pleasing, but also its mathematics are astonishingly reliable. Windy City is a 5-reel, 3-row and 10-payline slot with the bustling spirit of the Chicago city. The Mafia Boss is a wild symbol, that substitutes for all the symbols except for the Scatter. The boss' car is a scatter symbol, that in a combination of three or more, will trigger 10 free games that can also be retriggered. During the free spins, the scatter acts as a wild symbol and can substitute for other symbols.
The Head of Marketing at Endorphina, Maria Bashkevich, says: "During this difficult time, we feel the urge to bring even more joy and endorphins to the players, to keep them entertained and cheer them with traveling around the globe while staying safe at home. Windy City is a great slot to forget about everything and dive into a charismatic gangster world. It has bright graphics, catchy music, and new math. I hope this slot will be warmly welcomed."
Windy City – https://endorphina.com/games/windy-city is the first of Endorphina's April releases. This provider has been very productive this year proving that even winter can't stop them from releasing games, making February very fruitful in many ways, including their TOTAL HIT of the year – a classic fruit slot called 2020 HIT Slot. In March, the players followed the Troll in to his Haven to discover more treasures – https://endorphina.com/games/troll-haven.
While spring is blossoming outside, will the players be brave enough to witness how the love story ends? They will only know if they keep playing this ambitious Endorphina slot. Let the streetlights of the Windy City illuminate players' way to the big wins.
Europe's Video Games Industry Concerned by Court of Justice Judgement on Schrems V Facebook Data Case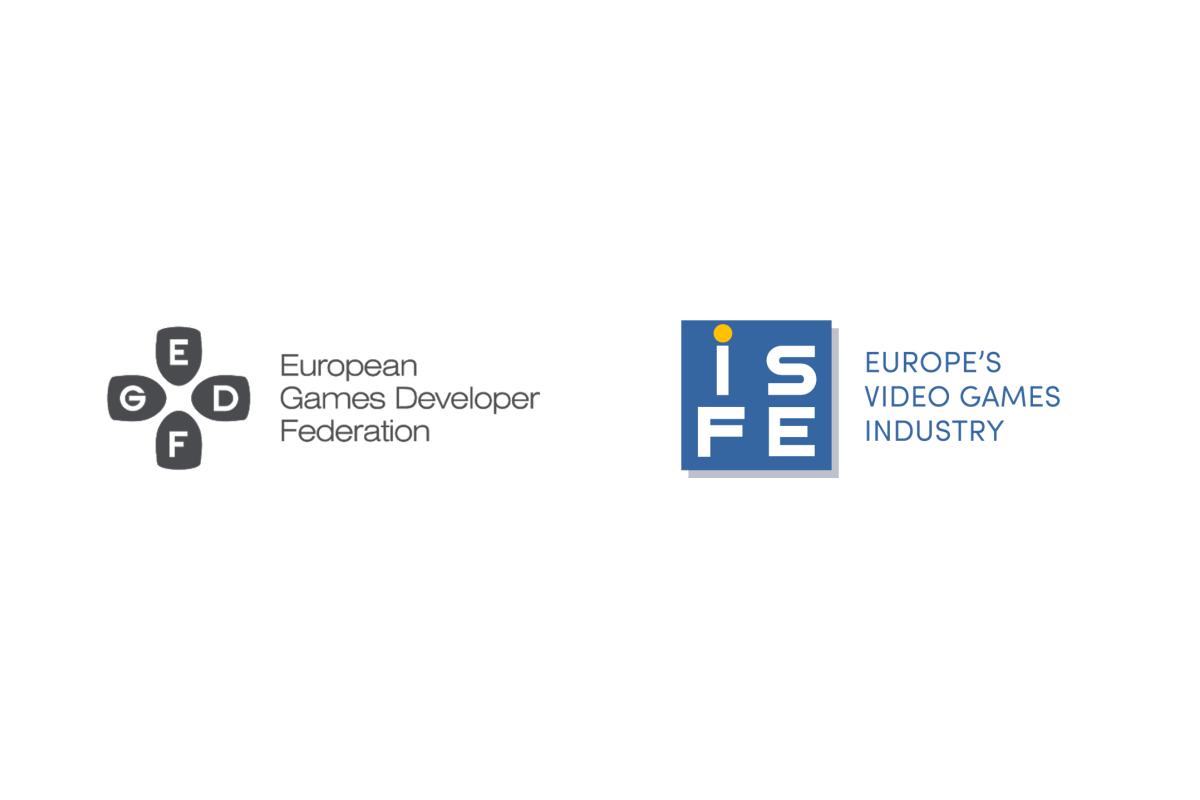 Reading Time:
2
minutes
Europe's video games industry is disappointed at today's important decision by the Court of Justice of the European Union (CJEU) in the long-running Schrems v. Facebook Ireland case (Case C-311/18) that jeopardises the ability of European companies to continue to transfer data between EU Member States and the US.  The CJEU has ruled that, whilst data transfer agreements used by Facebook and other companies to share European users' digital data with third countries are valid so long as the country "ensures an adequate level of data protection", the EU-US Data Protection Shield (otherwise known as the Privacy Shield), that provides companies on both sides of the atlantic with a clear and cost-effective mechanism to comply with data protection requirements, has been ruled invalid.
The Court of Justice ruled that "the limitations on the protection of personal data arising from the domestic law of the United States on the access and use by US public authorities (. . .) are not circumscribed in a way that satisfies requirements that are essentially equivalent to those required under EU law".
ISFE CEO Simon Little said: "A solution must be found. The transfer of data between the EU and the US is crucial to the full functioning and continued growth of Europe's €21bn-strong video games industry.  Our industry is fully committed to the security of player data and supports the European Commission's work to modernise European data protection rules and to improve the mechanisms for transferring data to third countries, but today's decision is a blow to the ability of European games companies to reach a global market."
EGDF COO Jari-Pekka Kaleva said: "The free flow of data between Europe and the US is crucial for game developer studios.  This ruling by the CJEU has the potential to create a significant regulatory market access barrier for European SMEs operating in global digital markets and it will adversely impact anyone working in Europe's digital economy. Government officials and policy makers in Washington and in Brussels need to act quickly to build a new, more reliable framework for data transfers securing high standards on privacy and enabling the much-needed digital growth on both sides of the Atlantic." 
Playtech launches Age of the Gods: God of Storms Community Live Slots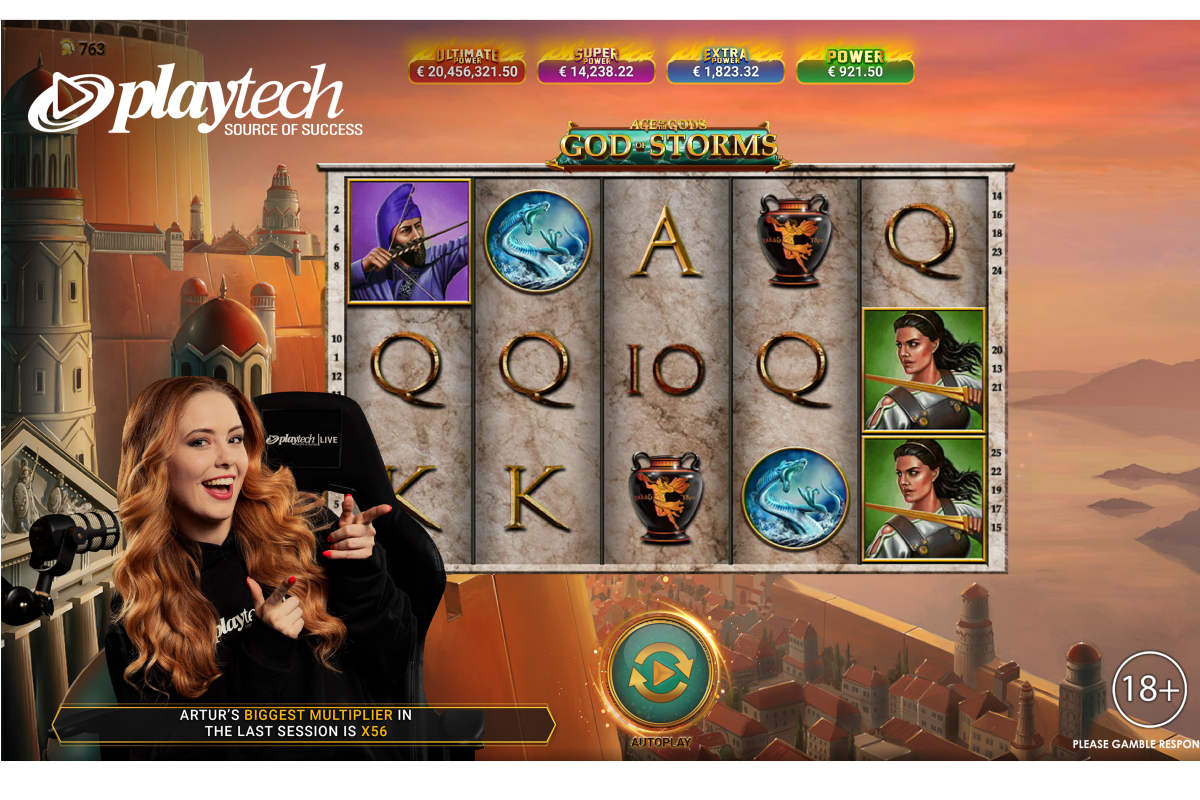 Reading Time:
2
minutes
Playtech, exclusively launched the second game in its Community Live Slots series – Age of the Gods™: God of Storms™ – across certain Flutter Entertainment brands at the start of this month.
Launching late last year with the highly popular Buffalo Blitz™, Community Live Slots is a cross-vertical concept that turns slot play into a collective experience – the first live game to feature "community spins", with all participating players playing a single game together. Based in a live studio, with a host leading the game and providing commentary, Community Live Slots is designed to create a game show feel, bringing slot play to life in a totally new way. With Live streamers as hosts, God of Storms recreates the streamer environment with sound and wind effects, plus industry-first integrated players chat functionality.
Players begin by choosing their overall limit, number of spins and bet per spin, with the game continuing automatically with spins every few seconds. Community Live Slots also supports Free Spins bonusing – the first game in the live arena to do so.
Launched in 2016, Age of the Gods™ has become one of the major success stories of the gaming industry, with the popularity of the slots series soon expanding across verticals, with Live Casino, Bingo and Poker variants. One of the earliest games in the series, God of Storms™ has proved something of an evergreen hit.
Edo Haitin, CEO at Playtech Live Casino, comments: "We've seen a fantastic response to Community Live Slots with Buffalo Blitz™, and are delighted to be bringing the ever-popular Age of the Gods™ brand to this new audience. Live Casino is essentially an entertainment-focused experience, and, in Community Live Slots, we are delivering an engaging and a truly collaborative new style of gameplay. Playable from just 1p a spin, God of Storms™ is consistently popular with newcomers to slots and seasoned players, and as such was a clear choice for attracting a wider audience to Community Live Slots.
"The success of live play streaming services demonstrates a player demand for an interactive feel – the experience you would enjoy when playing alongside others in a land-based casino. Community Live Slots recreates that feeling for players, as well as creating an exciting cross-sell opportunity for operators – particularly with a series such as Age of the Gods™, which is already a proven cross-vertical success."
Launched as a limited exclusive across certain Flutter Entertainment brands, Age of the Gods™: God of Storms™ Live is now available network-wide.
Record turnover at Happy Valley for Hong Kong racing's season finale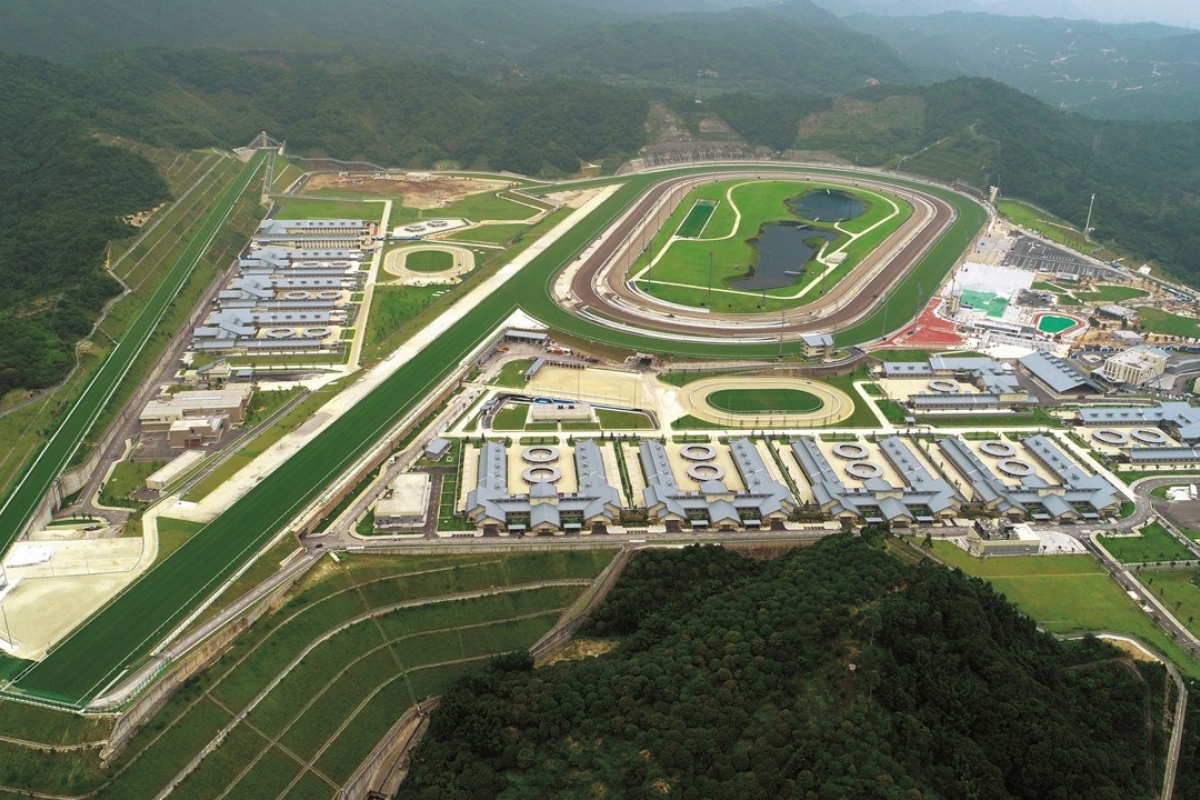 Reading Time:
3
minutes
Hong Kong's "season like no other" ended at Happy Valley on Wednesday 15th July with turnover of HK$1.6 billion (£160 million), a record for a fixture at the iconic city-side venue.
The Hong Kong Jockey Club navigated the uncertainty of the ongoing global COVID-19 pandemic decisively, implementing measures that protected public and employee health, and enabled the sport to continue; and also managed issues related to demonstrations in the city, which caused significant traffic disruptions to customers and staff, and which had a significant impact on attendance.
Mr. Winfried Engelbrecht-Bresges, Chief Executive Officer at the Hong Kong Jockey Club, commented: "While we recognise that the Coronavirus situation is an ongoing battle, and we must remain vigilant, I can say that it has been heartening to see the Hong Kong community pull together and play a crucial part in combatting its effects; the Hong Kong Jockey Club has been quick to reflect and enact those safeguarding measures and policies while continuing to race.
"We are pleased to have been able to complete a full season but of course our prime focus throughout, and a real challenge, was to act responsibly to protect the public health and safety of our staff, customers and the wider community, at every turn, while at the same time balancing that with the desire for our sport to continue."
Turnover and contributions
Hong Kong's total racing turnover in the 2019/20 season was HK$121.6 billion (£12.2 billion) which was down only 2.6 percent on the previous season and was still the third-highest ever despite COVID-19 placing severe pressure on domestic wagering in Hong Kong.
The turnover on Hong Kong racing by Hong Kong customers understandably declined by 8.3 percent due to the effects of the Club's 100 OCCBs (off-course betting branches) being closed or operating on reduced opening from early February, and fans unable to attend the racecourse for almost half the season.
Turnover dipped by almost 26 percent in early February but wagering rallied through the later part of the season and climaxed with Happy Valley's record turnover at the finale fixture. The impacts on OCBBs necessitated a change and resulted in the Club helping customers migrate online.
There were further positives as total commingling turnover increased to a record HK$23.58 billion (£2.36 billion), up 25.3 percent on last season; and Hong Kong racing fans continued to show a growing interest in the sport overseas, as evidenced in the 12.9 percent increase in the Club's simulcast turnover.
Mr. Engelbrecht-Bresges said: "Our overall season's racing turnover of more than HK$121 billion is pleasing in light of the significant challenges as it only reduced by 2.6 percent. Commingling continues to be a huge growth area for the Club."
Mr. Engelbrecht-Bresges noted the "strategic value of commingling," in which people from around the world participate and bet on Hong Kong racing, and observed that the figures show the global appeal and growing interest in Hong Kong racing around the world.
"We are pleased with how popular our simulcasts are with Hong Kong customers and we are keen to do more," he said.
"Furthermore, we are pleased with how much interest our customers have in our simulcast programmes from the leading race meetings around the world. We saw this even more in the second World Pool at Royal Ascot, which proved a huge success – with individual race turnover up by more than 49 percent on 2019 – and we look forward to expanding the World Pool concept next season, with Hong Kong as a vital hub for global wagering."
The Hong Kong Jockey Club runs racing with a core purpose being the betterment of society as a whole; the Club is the city's largest tax payer and this racing season alone has paid HK$12.113 billion (£1.21 billion) to the Hong Kong government, while a significant contribution, including special emergency COVID-19 funding support, has been paid in charitable contributions to a wide range of causes.
Mr. Engelbrecht-Bresges said: "There was a compelling public interest element to our desire to continue racing through COVID-19, from Chinese New Year to the end of the season, during which time our tax contribution from racing was more than HK$6.2 billion (£620 million). This has enabled us to not only keep donations at last year's level but also increase it due to our contributions via the COVID-19 Emergency Fund.
"We are incredibly proud that the Club could continue to make such a contribution and, the benefits of completing a full season will be felt by millions of people across Hong Kong over the coming months."
The CEO praised the resilience of the Hong Kong community and thanked racing fans, owners, Club members, horsemen, the media, and Club staff in particular, for their patience, dedication and efforts in ensuring the 2019/20 racing season was able to continue in safety.