NODWIN Gaming and Loco bring to bear the first on-ground esports tournament after two years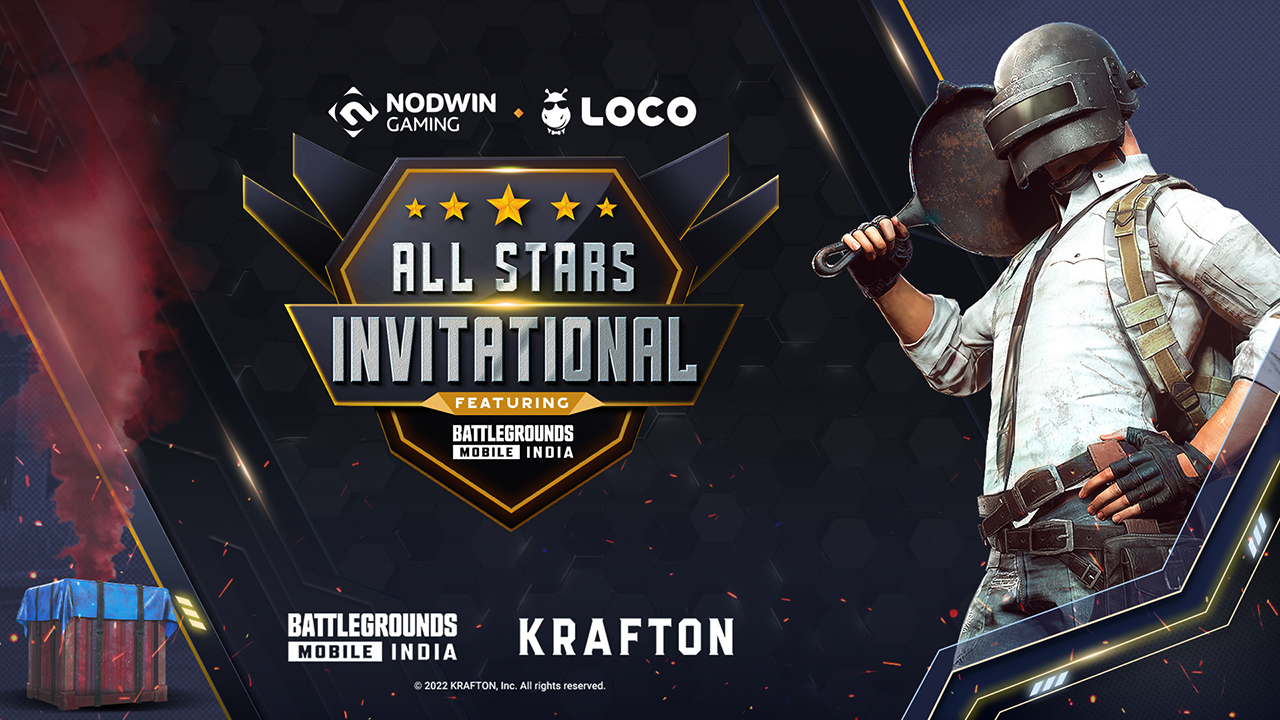 Reading Time:
2
minutes
The All Stars Invitational to bring together India's top Battlegrounds Mobile India and Asphalt teams; grand prize pool of INR 55 Lacs on offer
India's top live-game streaming and esports platform Loco and NODWIN Gaming, one of the world's leading gaming and esports companies have come together to launch the NODWIN Loco All Stars Invitational that will see the winner take home a mega prize pool of INR 55 Lacs. The tournament will have the Battlegrounds Mobile India teams compete on April 26, 27 & 28 and the Asphalt teams play on April 28, 2022, in Delhi NCR.
As an invitational, 16 BGMI teams and 4 Asphalt players have been invited who will play matches over the course of 3 days. The event will not be open for the audience to attend. Matches will be broadcast live exclusively on Loco in Hindi, English and Tamil.
"It makes me ecstatic to announce the first LAN tournament after a long wait of two years. With the easing of COVID19 restrictions globally, an in-person gathering of players gives us an opportunity to bring back the glory of LAN tournaments. Loco is a community-focused streaming platform that rose to prominence at a time when LAN events took a backseat and is one of the most dominant streaming platforms in India today. Together, we look forward to bringing the much-needed LAN experience to every esports lover in the country," said Akshat Rathee, MD & Co-Founder, NODWIN Gaming.
Commenting on the association, Anirudh Pandita and Ashwin Suresh, Founders of Loco said: "LAN tournaments have always been the soul of the gaming experience and we, at Loco, are pumped to provide the Indian gaming community with the first major LAN event post the lockdown. Loco is the largest game streaming platform in the country and we are thrilled to host the live telecast of this LAN event, which will be broadcast in different Indian languages including Hindi, English, and Tamil. We are excited to partner with our friends at NODWIN Gaming, who have been consistent innovators in the gaming content category. We believe this partnership will set the benchmark for LAN tournaments in the country and open up the avenue for reopening of these fan-favourite events."
Stay tuned to NODWIN Gaming and Loco socials for tournament details, updates and trailer launch.

BWF AND OFFICIAL BETTING PARTNER, M88 MANSION, IN JAPAN FOR THE FIRST TIME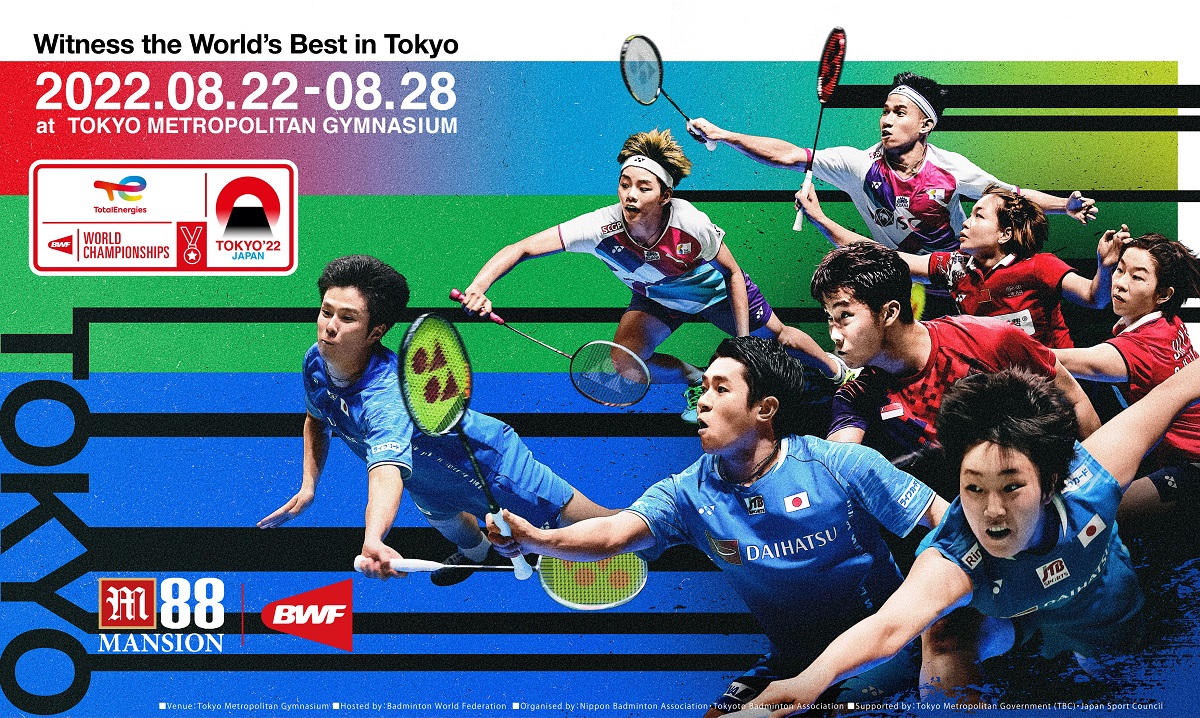 Reading Time:
2
minutes
BWF, together with major sponsor M88 Mansion, will be holding the TotalEnergies BWF World Championships 2022 in Japan on August 22-28.
This is the first time the east Asian country will host the competition, and the fifth Asian nation to do so. Matches will be played at the Tokyo Metropolitan Gymnasium.
Over 300 competitors from more than 40 countries will slug it out to emerge as the best in five events, with the host and last year's overall winner taking the lead.
Reigning champions for each category are: Loh Kean Yew of Singapore (men's singles), Yamaguchi Akane of Japan (women's singles), Hoki Takurō and Kobayashi Yūgo of Japan (men's doubles), Chen Qingchen and Jia Yifan of China (women's doubles), as well as Dechapol Puavaranukroh and Sapsiree Taerattanachai of Thailand (mixed doubles).
The draw was held on August 10 in Kuala Lumpur, Malaysia, producing interesting brackets.
Men's singles world number one Viktor Axelsen is set on a collision course with fellow Dane Rasmus Gemke in the quarter-finals, while Indonesians Jonatan Christie and Anthony Ginting are also both on the top half of the bracket and could possibly meet in the semis.
Over in women's singles, top seed Yamaguchi and 14th-ranked Takahashi Sayaka can tentatively clash on the third round, with An Se-young of South Korea and PV Sindhu of India as probable semi-final round opponents.
Hoki and Kobayashi journey back to the top have them starting in the bottom half of the bracket, with the more thrilling matchups found in the upper half of the draw. Chen and Jia also averted some early tough challenges in their section.
Finally, Puavaranukroh and Taerattanachai could feasibly contend against two Japanese pairs en route to the final.
The BWF World Championships follow the single elimination knockout format.
As part of the partnership between M88 Mansion and BWF, updates and highlights will be provided on the M88 Mansion-BWF website and social media accounts before, during, and after the event. A top BWF player will also be featured and interviewed.
First organized in 1977, the tourney has been held annually, except for Summer Olympic years, since 2005. It was last staged in 2021 in Huelva, Spain.
BETER is debuting at G2E Asia with its next-gen offering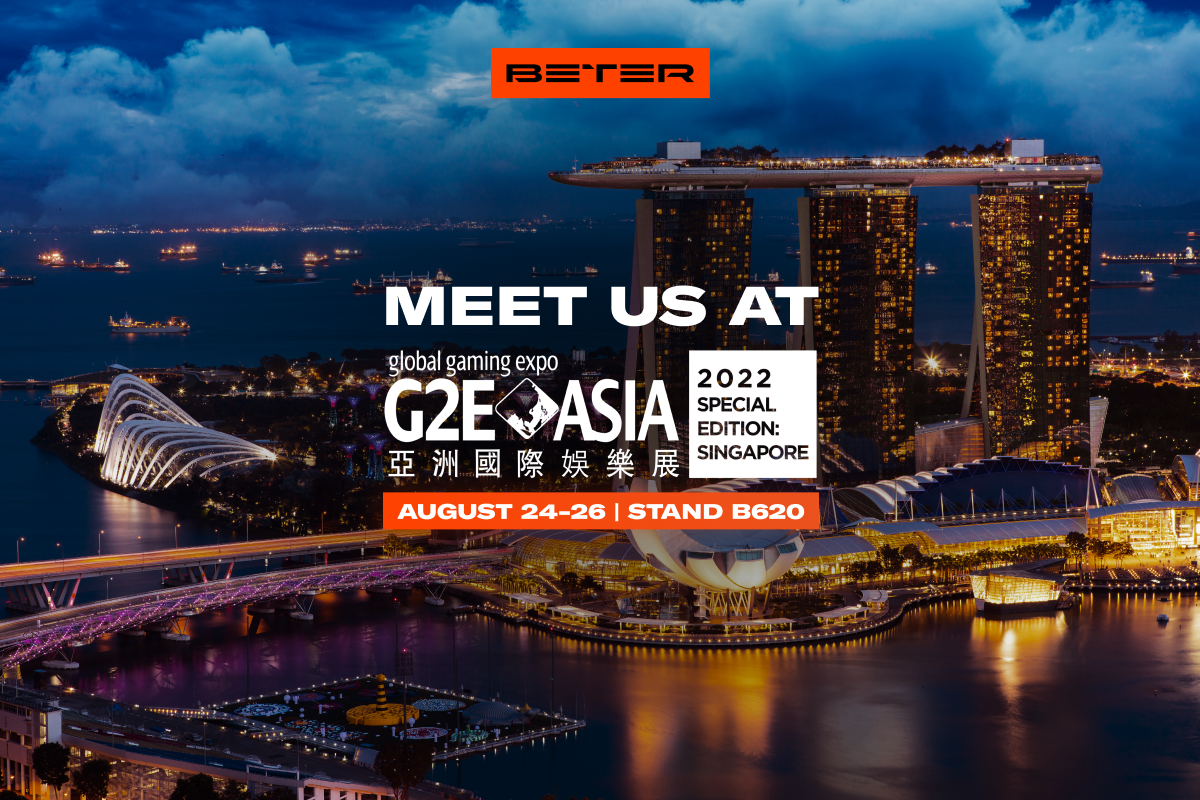 Reading Time:
< 1
minute
Leading provider of next-gen betting content and data BETER is making its debut at G2E Asia 2022 — a must-attend marketplace for the Asian gaming and entertainment industry.
The company will use this opportunity to exhibit its diverse and newly updated range of sports, esports, gaming, and live B2B products at stand B620 on August 24-26.
Among the novelties to be presented will be BETER's brand new iFrame solution with a promising interface and impressive esports offering, as well as the three latest live Asian games, which have recently strengthened the BETER Live collection.
Gal Ehrlich, CEO at BETER said:
"We are delighted to exhibit at G2E Asia 2022, a top-tier event for the gaming and entertainment industry in the region. BETER has an exciting comprehensive offering for operators that is sure to satisfy even the most demanding audience.
Gaming fans can look forward to thrilling live games with Asian themes and designs, as well as the major esports tournaments with the instant and the most accurate data."
Unlike the previous years, G2E Asia 2022 will take place in the fascinating Marina Bay in Singapore, the heart of the Asian gaming industry. The event, held on August 24-26, will bring together over 95% of all Asian operators and all major industry players to gain a deeper insight into the latest market trends and enjoy vast networking opportunities.
The BETER team has big ambitions and is constantly working on new features to boost operators' revenues and satisfy next-gen customers' demands, who seek fast-paced and electrifying entertainment.
Mobile Global Esports announces exclusive compression technology partnership for upcoming Indian esports social-gaming platform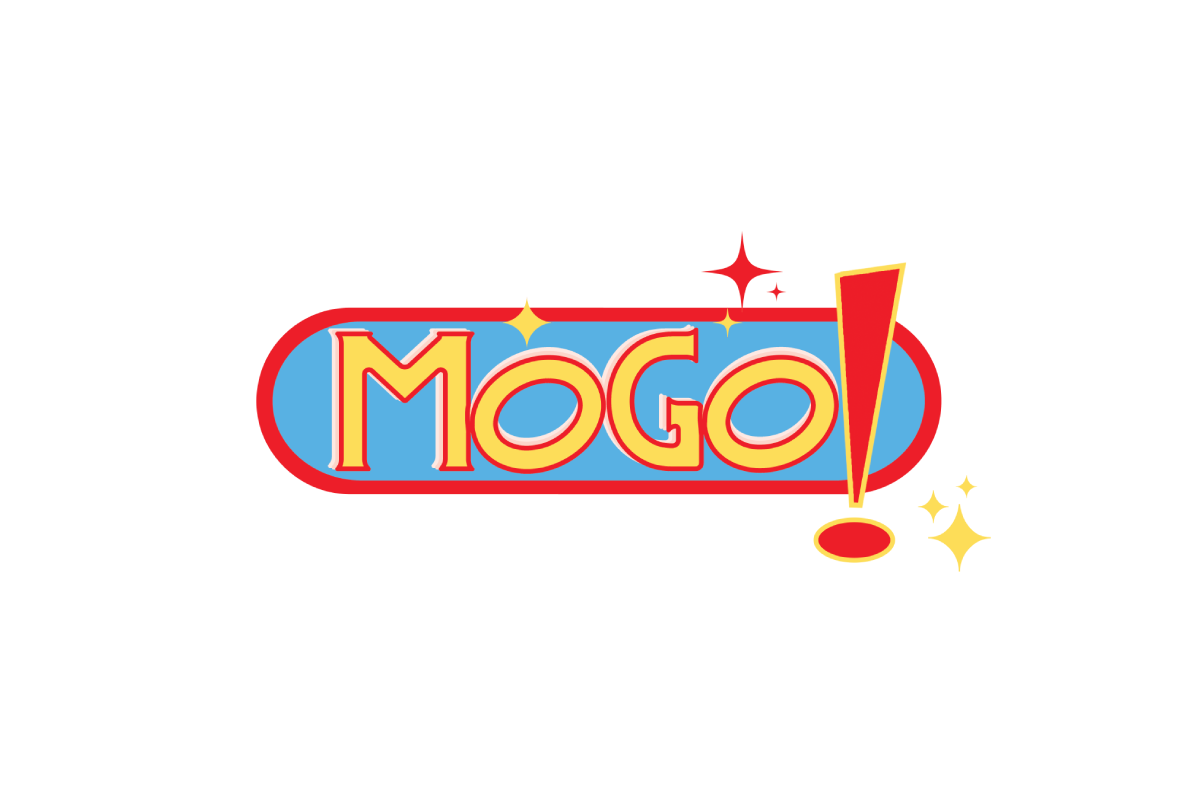 Reading Time:
2
minutes
Mobile Global Esports Inc. (NASDAQ:MGAM)  the mobile esports and social platform company that holds trademark and IP rights for collegiate esports tournaments and players in India, today detailed a joint product development partnership featuring EVE encoding, a proprietary compression technology that reduces video file size by as much as 65% compared to other commercially available products.
"Esports is growing at a phenomenal rate in India, so everything we can do to maximize the current mobile infrastructure for our upcoming tournament season matters," said Mobile Global Esports CEO David Pross. "We believe EVE compression removes major obstacles in the market and will position us to deliver a great user experience to esports viewers and to tournaments and gamers, with real potential to scale."
"MOGO is an incredible use case for EVE and all of our video capabilities," said Anthony Rennert, CTO of ZuCasa and creator of EVE. The fact that this partnership is for the Indian market, where we have great experience, is even better." EVEMETA and ZuCasa are software companies that focus on video delivery and engagement, respectively. Anthony previously led Howard Stern's digital team and has worked with or acted as a consultant to Cogent, Time Warner, China Telecom, Qwest, TATA as well as many others.
"With Bharti Airtel, Vodafone Idea and Reliance Jio acquiring significant swaths of 5G bandwidth in the recent auctions, India's top telcos are banking on esports to drive acceptance of their new 5G offerings," said Sunny Bhandarkar, Mobile Global Esports vice president, India. "While 5G will offer the faster speeds and low latency competitive gamers demand, its short transmission range and limited availability make our EVE compression across the board more valuable for both future 5G and current 4G esports competitors and viewers."
A 2022 FICCI EY Media and Entertainment Report estimates that active e-sports players in India had a 2X increase to 600,000 in 2021 over 2020, and that there are now over 100,000 e-sports teams, with viewership up from 600,000 hours in 2020 to just under 2 million hours in 2021.
The EVE Network Engine Optimizer (NEO) reduces the bandwidth needed to transmit high quality video by more than half, benefiting network operations, content distribution and content ownership. By effectively multiplying the capacity on existing infrastructure and lowering costs throughout the workflow, EVE increases throughput efficiency and quality of video to dramatically improve distribution performance.
EVE is codec agnostic and all decoding is based on international standards, with resultant files or streams playable in any browser or video player that supports standard codecs. There are no B frames, providing faster decoding, minimizing battery use and expediting rendering. EVE is easily integrated into streaming delivery using the EVE Console or using REST based APIs that can be inserted directly into existing workflows. Data sharing and storage is maximized via cloud, locally or hybrid with full redundancy, providing a cost-efficient storage model while reducing the expenses associated with self-hosted storage solutions. EVE also supports OAuth 2.0 authentication enabling data sharing without sharing passwords.