W2, Crucial Compliance and nChain unite to deliver blockchain-powered compliance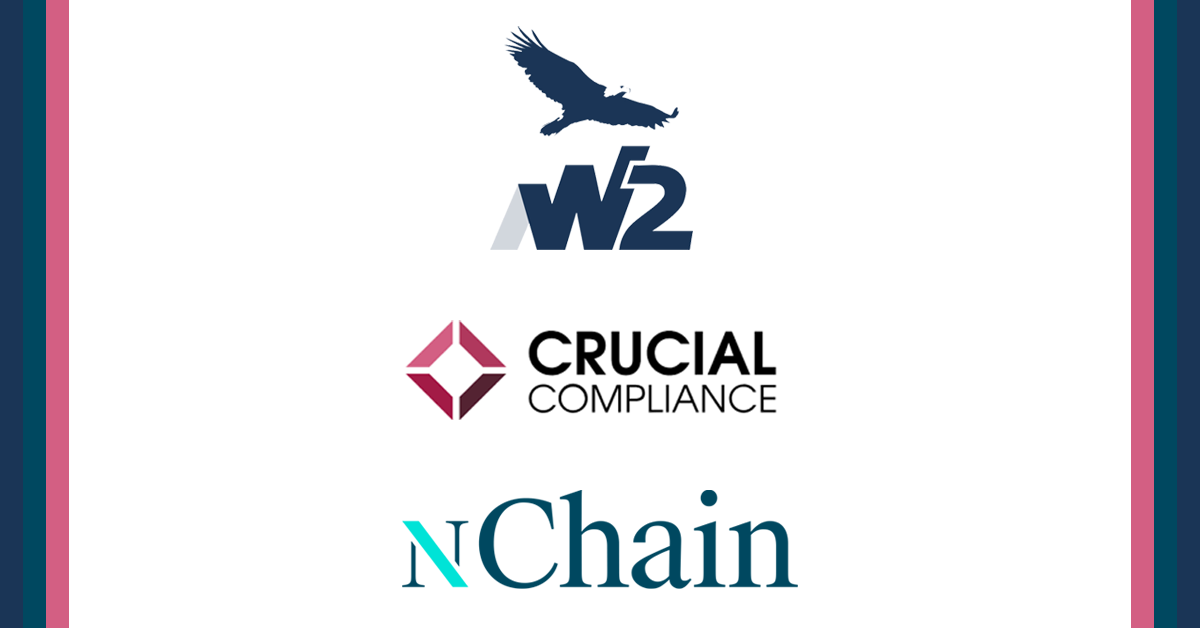 Reading Time:
2
minutes
Player protection specialist joins forces with blockchain specialist to launch next-gen player protection tools to help operators avoid non-compliance and regulatory fines
W2, the provider of leading regulatory compliance services to the gambling industry and player protection specialists Crucial Compliance have joined forces with leading blockchain technology company nChain in a breakthrough partnership that brings blockchain-powered compliance solutions to operators in global markets.
The collaboration enhances the suite of compliance solutions offered by W2 and strategic partner Crucial Compliance, helping operators better overcome today's regulatory challenges while future-proofing their compliance tools and processes for the challenges of tomorrow.
Distributed Ledge Technology is already playing a big role in transforming the industry. The collaboration between W2, Crucial Compliance and nChain brings this transformation to the area of regulation and compliance for the first time.
The solutions being offered by W2 and Crucial Compliance are now supported by the unmatched blockchain technology of nChain, forming a complete compliance and player protection toolkit that mitigates the risk of operators being hit with fines and the reputational damage this causes.
Blockchain is critical to this enhanced level of protection – traceable, auditable, trustless compliance tools are the future of iGaming and operators can access them now via W2 and Crucial Compliance.
Warren Russell, CEO of W2, said: "Protecting players should be easy. Combining W2's tools and expertise with Crucial Compliance and nChain, we've created a complete solution that puts players first and makes maintaining compliance simple for operators."
Paul Foster, CEO at Crucial Compliance, said: "Distributed Ledger Technology is the future of regulatory compliance and player protection, and this collaboration between W2, Crucial and nChain allows our operator partners to leverage its huge potential today while futureproofing for tomorrow."
Nick Hill, Sales Director at nChain, added: "We are passionate about the ways in which blockchain can enhance vital processes for businesses in a wide range of sectors but especially when it comes to gambling operators and regulatory compliance and player protection."
"This breakthrough partnership between nChain, W2 and Crucial Compliance makes these cutting-edge technologies available now, allowing gambling operators to enhance compliance and further mitigate the risk of fines and reputational damage."
Find out more about W2, Crucial Compliance, and nChain by visiting the Consumer Protection Zone at ICE London on 7-9 February.
Find out more about the benefits of W2, Crucial Compliance, and nChain by visiting the Consumer Protection Zone at ICE VOX LONDON on 7-9 February.
Wemade Presented a Paradigm Shift to Blockchain Gaming at GDC 2023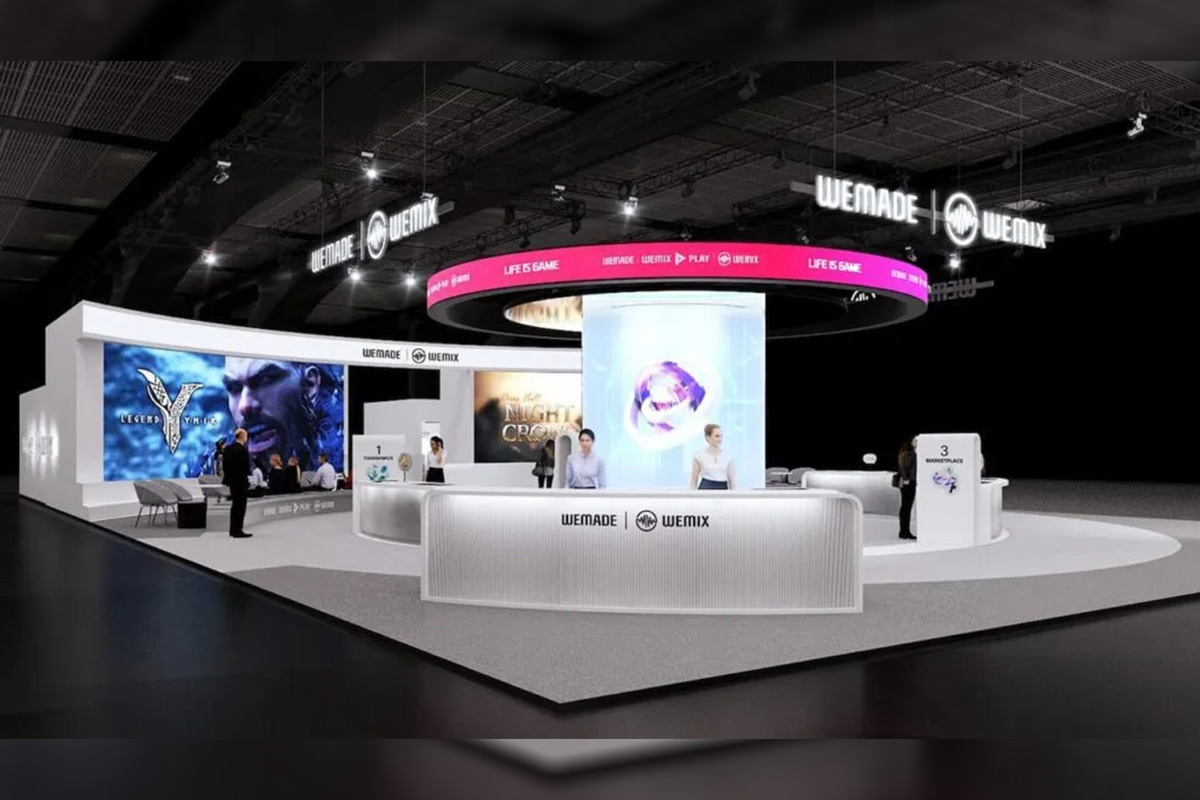 Reading Time:
2
minutes
Wemade, a leading global gaming and blockchain giant founded in South Korea, wrapped up its participation as a Diamond Sponsor at GDC 2023 successfully delivering its ground-breaking vision for the future – a true paradigm shift to blockchain games.
WEMIX PLAY, the company's global number-one blockchain game platform, lies at the centre of its vision. The Wemade booth was brimming with game companies and blockchain developers from around the globe interested in having a hands-on experience of the WEMIX PLAY offering and getting involved in the expansion of the ecosystem set to change the face of the blockchain gaming industry forever.
During his keynote speech on March 21, CEO Henry Chang introduced the concept of the mega ecosystem that will be created through the WEMIX PLAY inter-game economy and inter-game play where blockchain games, services and real-life economy are to be connected. Henry Chang spoke about the great potential of tokenomics and demonstrated to the audience the ways in which the inter-game economy and playing will continue to bloom in the next few years.
Several core members of the WEMIX team gave insightful lectures on the many benefits and possibilities lying within the blockchain gaming space.
EVP Wonil Suh gave an overview of his experience in servicing many Web3 games, shedding light on the development of Tokenomics from its inception to now, including its generational characteristics, and shared his know-how on the seamless onboarding on the WEMIX PLAY platform, built to support game development and more.
Head of Business Creative Center Robin Seo spoke about the process of transforming games into blockchain games through the four key elements of WEMIX PLAY – Tokenomics, Marketplace, GameFi and Community. Attendees had an opportunity to discover how this transformation can revolutionise gamers' experience by understanding the entire process that conventional games go through when transforming into blockchain games and what makes WEMIX PLAY unique and competitive in this arena.
Global creator and influencer Myrtle Sarrosa – the first one to issue FanToken through WEMIX PLAY – shared her experiences and takeaways from building an interactive blockchain economy with her fans and expanding the boundaries of community engagement and activities.
Finally, developers interested in WEMIX PLAY and blockchain games participated in a panel discussion, where Wonil Suh, Wook Kim and Robin Seo were available for a Q&A session. The attendees had the opportunity to engage with the WEMIX team by asking questions to learn more about the WEMIX PLAY onboarding process and understand the potential of launching their own blockchain game through the platform.
VAIOT, KuCoin Labs jointly launch crypto-regulation think tank supported by industry experts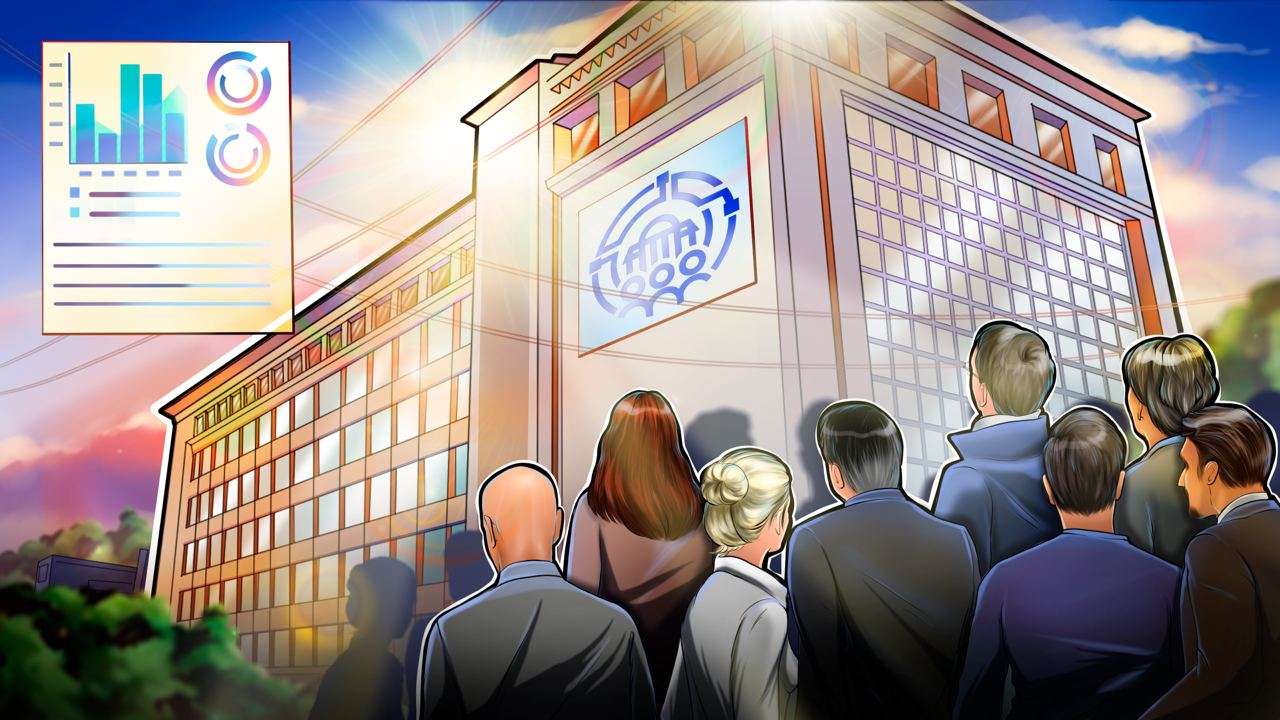 Reading Time:
3
minutes
VAIOT, the developer of AI-powered digital services for businesses and consumers, launches the Digital Assets Regulation Institute (DARI), fostering forward-thinking regulation informed by the know-how and perspective of companies operating in the crypto space. VAIOT's $VAI token remains one of the earliest digital assets to be issued within a regulated framework. The company is also among the few to have returned every penny to its investors after it was hacked for $2 million in January.
With the collapse of FTX—the former symbol of legitimacy in digital assets—many blockchain enthusiasts fear investors will step away from the industry. But 58% of institutional crypto investors plan to raise their allocations over the next three years, according to a recent Coinbase report, pointing to a long-term view of the asset class even though prices remain low. There will, however, undoubtedly be a shift toward regulated digital assets with long-term potential. As governments bolster their nascent regulatory infrastructures—ranging from MiCA, the EU's new crypto-assets regulatory framework, to various U.S. initiatives—it's crucial they consult with industry practitioners on how to make them effective and ensure the protection of retail investors.
Regulated since September 2020 under strict Maltese legal scrutiny and with oversight exercised by Grant Thornton, a leading accounting and advisory firm, VAIOT positions DARI at the forefront of shaping regulation. The think tank will gather relevant stakeholders, ranging from regulated companies and projects seeking regulation to consulting firms, financial and security auditors, accounting companies, law firms, and VCs, to conduct extensive research and produce reports that will inform government policy across the globe.
VAIOT's DARI is co-founded by KuCoin Labs, which brings significant experience in research and incubation of Web3 projects based on a strict selection criteria and vetting process. KuCoin Labs is known for gathering both internal and external leading market experts from different project development segments. DARI is also supported by a group of experts, including members of Grant Thornton Malta's tax, regulatory, and compliance practice.
At DARI, an interdisciplinary body of experts representing the point of view, know-how, and experience of industry participants will create ready-to-implement gold standards and best practices for crypto regulation. Specific working groups will develop reports and conduct focus groups from the perspective of retail investors to ensure policymakers take into account the perspective of every token holder when crafting regulation. DARI will offer up a unified body of knowledge easily accessible and implementable for any company in the industry to utilize. Projects seeking to be regulated will be able to participate in consultation and incubation with DARI's institutional partners, and the institutional partners will act as consultants for the think tank.
DARI invites companies, experts, and institutions in the crypto industry to join the initiative. Requests and inquiries should be sent to [email protected] .ai.
"No one cares about regulation during a bull run when money is being tossed around and investors are making massive gains," says Pawel Andruszkiewicz, COO of VAIOT and President of DARI. "It's when everything crashed and burned a few months ago that people came to understand the value of companies, like VAIOT, that comply with stringent regulations. It's our goal at DARI to ensure effective regulation is at the forefront of the way we think about this industry going forward."
"We've been hearing about governments working on regulation for digital assets for years now," says Wayne Pisani, Partner and Head of Tax, Regulatory and Compliance at Grant Thornton. "But part of the problem is it's being developed behind the scenes. Effective regulation requires bottom-up initiative, where companies and entities working within regulatory frameworks can share their opinions and expertise with regulators in a public manner. That's what DARI is aiming to bring to the industry."
"It is particularly crucial to join as strong an industry force as possible to ensure an optimal development condition for future crypto builders and users," states Lou YU, Head of KuCoin Labs, and vice-president to DARI. "We hope to create regulatory synergies among countries and markets, shouldering the fundamental ideologies of crypto but also making them relevant and tangible to all participants. DARI will put efforts into the submission of an official proposal to the European Commission, and is enthusiastic about engaging in regulatory hearings with the relevant European institutions."
Symplify and nChain Announce Groundbreaking Partnership in Responsible Gaming and Blockchain Technology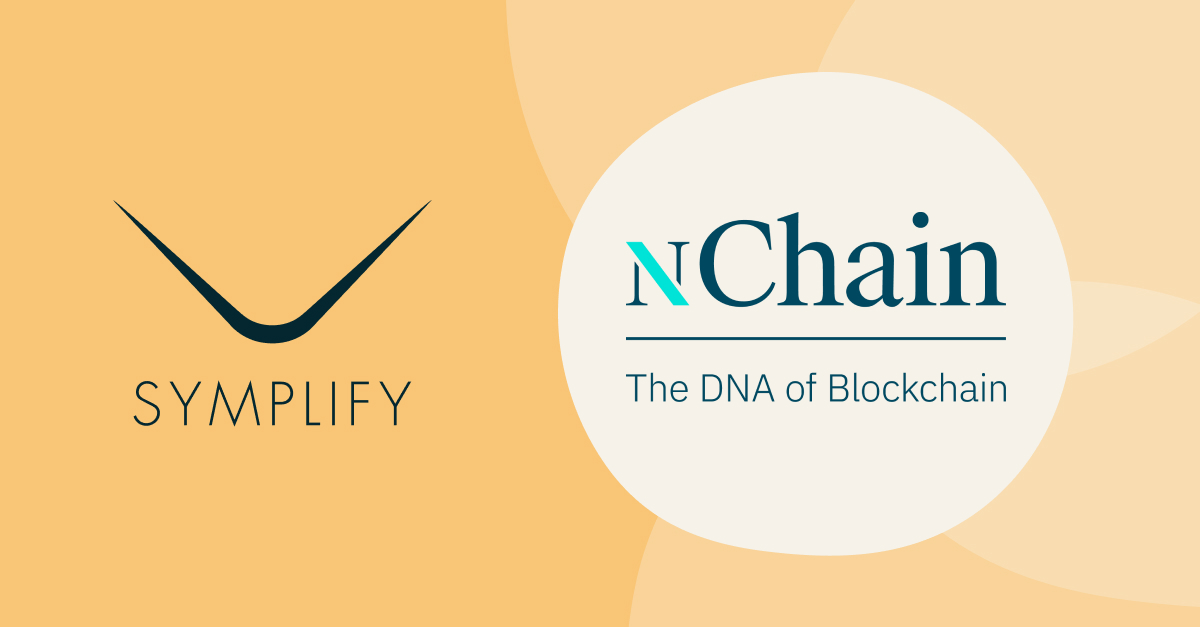 Reading Time:
2
minutes
Symplify and nChain are thrilled to announce a strategic partnership aimed at revolutionising the world of responsible gaming using blockchain technology. The two companies will collaborate to develop cutting-edge solutions that will bring an enhanced layer of efficiency, security, and transparency to the industry.
Symplify is a market leader within the iGaming industry and a provider of customer experience, CRM engagement and onsite personalisation solutions. nChain will reinforce Symplify's product offering as a leading innovator in Web3 and enterprise blockchain technology. Together, they will combine their unique strengths and capabilities to deliver innovative products that will transform the way businesses will operate in the iGaming space.
Both companies are committed to driving social impact through responsible gaming practices, and they are leveraging the power of blockchain technology to create a safer and more secure environment for online gaming.
"This partnership represents a significant milestone for Symplify and nChain," says Robert Kimber, CEO of Symplify. "We believe that the collaboration between our two organisations will accelerate the development of groundbreaking responsible gaming solutions that will drive the adoption of this technology across diverse industries, and markets. By combining our expertise in responsible gaming solutions with nChain's cutting-edge blockchain technology, we can ensure that players can enjoy online gaming with confidence, and peace of mind."
nChain Group CEO, Christen Ager-Hansen, echoes these sentiments, stating, "We are thrilled to partner with Symplify, as their experience and success in the gaming industry will complement our blockchain expertise, and together, we can create a new standard for online gaming. Our partnership in responsible gaming is only the beginning of our collaboration. We are already looking into other possibilities that will unlock new opportunities for businesses to realise the full potential of blockchain technology."
Symplify, powered by nChain, is providing a security layer that is only possible with immutable data and transparency of all transactions. The partnership will focus on developing solutions that solve some of the biggest challenges facing online gaming while accelerating blockchain adoption. These solutions will include improved data privacy, secure digital identity, smart contracts, and traceability, which will help prevent fraud and money laundering.
Additionally, smart contracts can be used to enforce responsible gaming practices, such as self-exclusion and time limits. This will empower players to stay in control of their gaming activity and mitigate the risk of developing problem gaming.
The alliance between Symplify and nChain is a major milestone for the gaming industry, and it will benefit both players and operators alike. As blockchain technology continues to evolve, we can expect to see even more groundbreaking solutions emerge to enhance the safety and security of online gaming.