Inside The Pocket launches WonderWins brand in India, as the exclusive Daily Fantasy partner of ESPNcricinfo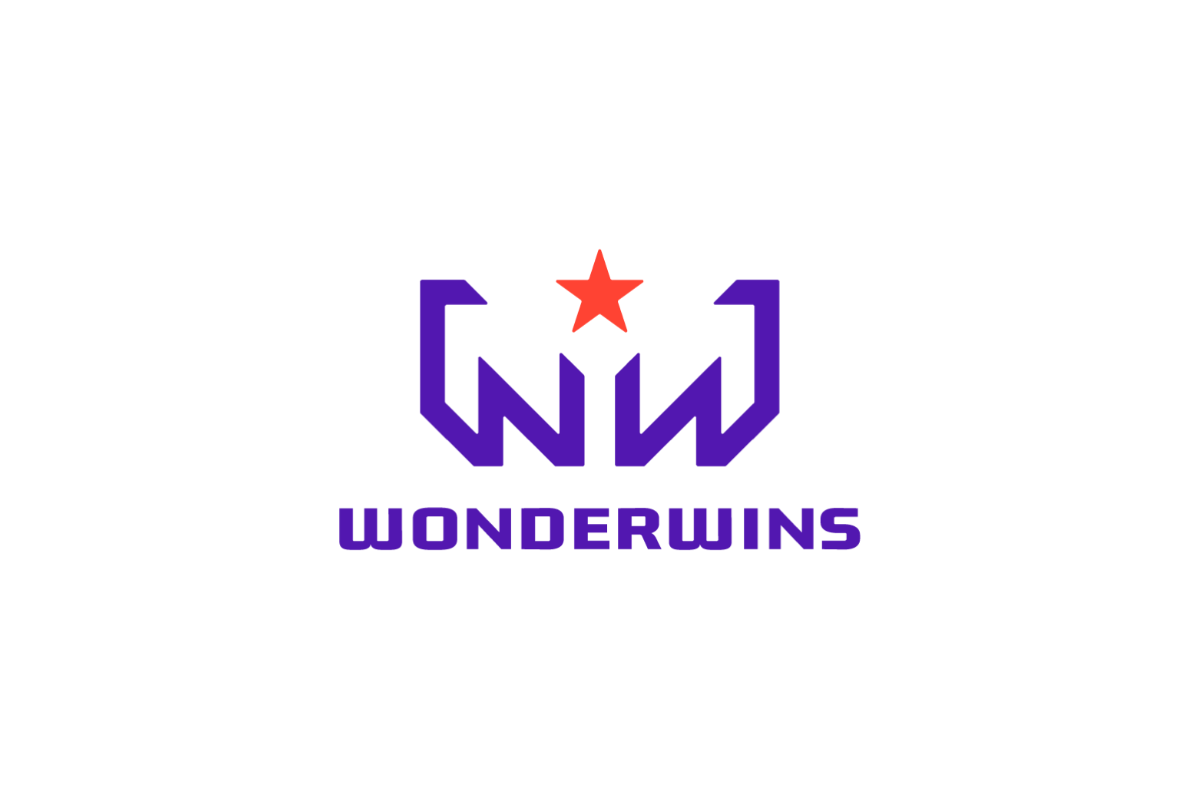 Reading Time:
3
minutes
Inside The Pocket (ITP), the leading free-to-play (F2P) aggregation platform, has teamed up with the premier digital cricket platform ESPNcricinfo for an exclusive Free Daily Fantasy offering for users via its new WonderWins brand.
WonderWins is primed to debut ahead of this season's IPL 2022, which begins on 26 March. This milestone collaboration between the two brands offers cricket fans a compelling and unique opportunity to engage with fantasy gaming as well as accessing match coverage, news, information, and analysis, and being part of the large community of cricket fans in India and the subcontinent to have this complete and well-rounded experience.
ESPNcricinfo is ESPN's dedicated cricket site and app and the world's largest source of cricketing information, match coverage, news and analysis. It is the go-to digital destination for international news, live scores, statistics and analysis for cricket fans worldwide and a pioneer in the digital sports media with a 29-year-old rich legacy.
By becoming the exclusive Daily Fantasy provider for ESPNcricinfo in India and the subcontinent, WonderWins brand will be able to connect with over 85 million discerning cricket fans on the ESPNcricinfo platform and further drive conversations with over 15 million highly engaged fans across its social media channels. WonderWins brand is live on android, iOS, and as a web-based platform.
Through this breakthrough agreement, WonderWins will be able to engage with fans through exciting fantasy gameplay, intelligent statistics, data analysis and customized content, offering fantasy gamers a robust experience and allowing them to understand the finer nuances of game-play to further drive significant marketing and enterprise value as WonderWins' DFS and hyper-casual games evolve in the months and years to come.
ESPNcricinfo has already begun cascading bespoke content and communication, allowing players to discover the WonderWins platform and understanding of the product via intuitive light-touch education, and gameplay. In that sense, WonderWins can claim to have an unparalleled product portfolio that offers unrivaled opportunities to drive content and create lasting fan engagement levels.
Hussain Naqi, Founder of both WonderWins and Inside The Pocket, said: "We're understandably delighted to have become ESPNcricinfo's exclusive Daily Fantasy partner in India and subcontinent. It's a genuine honor to have been chosen to roll out fantasy games for such a trusted and revered international partner, whose very name brings instant authenticity and credibility with the end user. The WonderWins app is ready to play!
"ESPN have been a brilliant and agile collaborator, organically wrapping WonderWins around their fantasy programming – from new article links to bespoke video programming and other product levers as we look forward to the much-anticipated IPL 2022 season ahead. It's an exciting time and I'm thrilled to be over in India myself to witness the roll-out first hand.
"Our underlying platform is uniquely well-positioned to leverage this opportunity because we can diversify content, leverage consumer data and partition it for partners as the market's shifting sands coalesce. Our multiple data partnerships deliver us unique consumer insights that will allow us to hyper-segment our audience communication over time, including for other sporting events like the World Cup 2022 football."
Ramesh Kumar, VP & Head of ESPN Digital Media India, stated: "This is an exciting announcement, as now with this collaboration with WonderWins, ESPNcricinfo fans in India and the subcontinent region will be able to play and enjoy free fantasy on our platform, building a deeper engagement on ESPNcricinfo not just with the game-play but also with the enormous content that we will power to help users play intelligently. The timing is perfect with the exciting new season coming up and we are delighted to offer our new age cricket fans the right mix of information and entertainment for them to follow their favorite sport and teams. Consequently, we are now able to wrap an array of complementary programming and editorial content in the fantasy space around WonderWins, significantly boosting fan engagement around the game, as the new IPL season comes into sharp focus.
"It's been fantastic to work with such like-minded, fan-first partners. The ESPNcricinfo and WonderWins Team have collaborated closely at every stage of the development and deployment process, making the integration as rapid and seamless as possible."
With the broader F2P framework, Inside The Pocket intends to target both mature and emerging markets over the long-term, as the company bids to expand its progressive footprint into untapped territories. There, its proven international scope and flair for localization, promises to drive diversified fan engagement around targeted free-to-play sports games. Inside The Pocket's open-aggregation approach offers the broadest and best-curated collection of games available from developers around the world, utilizing a single platform integration as a gateway to virtually unlimited content.
As the leading free-to-play aggregation platform for the gaming industry, Inside The Pocket is dedicated to being a top-of-the-funnel customer acquisition tool driving engagement through a range of content and games whose formats responsibly acquire and retain customers at low cost but also remain fully compliant as regulation continues to coalesce across regions from the U.S. to Asia, Africa and LATAM. Its agnostic platform offers a strategic solution which works territory-by-territory, educating uninitiated audiences with fully-integrated games.
Spintec and APE to renew their exclusive distribution agreement for Southeast Asia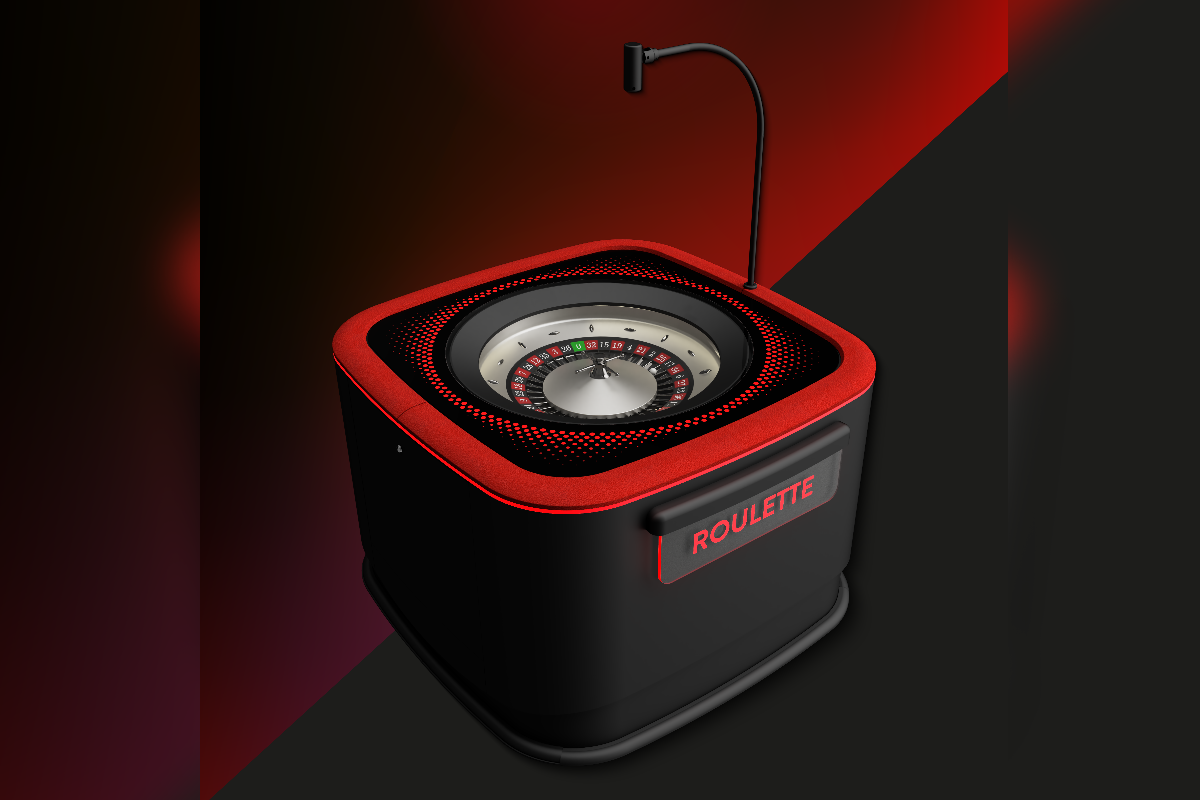 Reading Time:
2
minutes
The cooperation between Spintec Gaming Technology and Asia Pioneer Entertainment Limited (APE), which has started more than 10 years ago, has proven beneficial for both parties and has yielded important business success in the region. APE as the largest electronic table game distributor in Asia has now become the exclusive distributor for Spintec products beside Macau also in Singapore, Philippines, and Malaysia, while also remaining their trusted partner in Vietnam and Cambodia.
The 3-year exclusive distribution agreement covering the large part of Southeast Asia is providing both partners with a valuable gambit to tackle the demands of the fast-growing market in the post-pandemic era. As the market is opening and growing, both partners will be taking advantage of their strong market positions and superior products to enhance their presence in the region even further.
Their previous cooperation has brought exceptional results in all the markets of the region, but especially in Macau. With its sheer size and tight regulation, but especially with the introduction of the EGM 2.0 standard, the Macau market is becoming one of the most demanding gaming markets in the world. Spintec products are of extremely high quality and have been hugely popular in Macau, not least because of the excellent services provided by APE. Spintec products are also fully compliant with all the regulations in Macau, including the EGM 2.0, so the partners are confident that their presence in this highly demanding market will continue to flourish.
Maria Garcia, Sales Director at APE for Macau & Southeast Asia, says of the cooperation: "It is truly an honor to be working with a producer of electronic table games of such high quality and a partner that is fully committed to growing in this important region." Mitja Dornik, Regional Sales Manager at Spintec, agrees: "Our performance in Southeast Asia is growing day by day and we are thrilled to see that APE is helping us extremely on this path."
Herman Ng Man Ho, CEO at Asia Pioneer Entertainment Limited, emphasises the importance of the high product quality in their partnership: "As the largest electronic table game distributor in Asia, it is our company policy to work with the best producers in every segment and Spintec is definitely a part of the ETG elite." Spintec's CEO Goran Miskulin is also extremely proud with their cooperation with APE: "Asia Pacific is one of the most important regions for us and we are thrilled to be cooperating with a partner that recognises our advantages and is able to translate them into a strong market presence." Goran Sovilj, Spintec's Global Sales Director, recognises the challenges of the Southeast Asian markets: "These markets are very lucrative, but only if the commitment to quality and service diligence is paramount. We realize that we need a strong and reliable partner to deliver in this region and with APE we have found just that."
Made-in-India Battle Royale Indus Gameplay Trailer Revealed via London Takeover, Pre-Registrations Live Now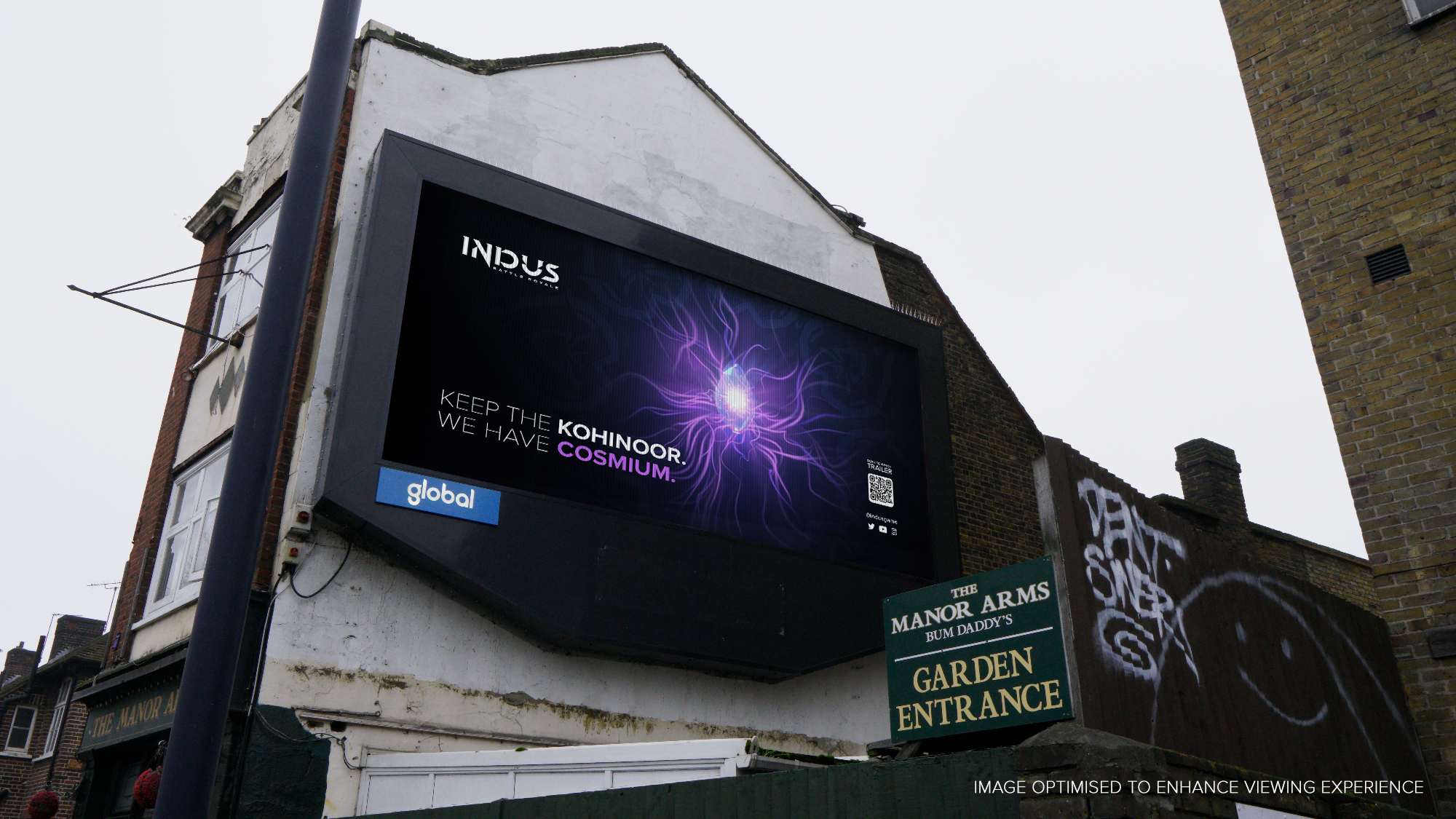 Reading Time:
2
minutes
Leading Indian game developer SuperGaming has revealed the first gameplay trailer for its upcoming Indo-Futuristic battle royale Indus to celebrate India's Republic Day of January 26, 2023.
To launch the gameplay trailer, the company released a series of high-impact takeovers across the biggest locations in London. This is in line with SuperGaming's vision of putting India on the global gaming map much like its previous Indus trailer launch at New York's Times Square to mark India's Independence Day of August 15, 2022.
"As we've been making Indus and seeing its gameplay evolve over the year, we wanted to share it with the rest of the world," says SuperGaming co-founder and CEO Roby John. "This gameplay trailer is for the Indus community the world over that may not have been able to play it with us and to show off the true scale of battle royale that we want you to have when the game is out."
The trailer entices players to discover, loot, and win on Virlok — the game's island map, all while showcasing Indus' weapons, Paragons (the game's character skins), and traversal. It also highlights multiple locations and firefights with an intent of showing the scope and size of the battle royale experience SuperGaming aims to provide.
You can check out the trailer right here:

Indus Pre-Registration Details
Pre-registrations for Indus are now live on the Google Play Store for Android with pre-registrations on the App Store for iOS and iPadOS to follow soon. Pre-registering early will get you exclusive surprises that will make your experience of Indus truly your own.
You can pre-register now for Indus via the Google Play Store.
In the run up to Indus' release date, SuperGaming will have multiple community playtests through the year. The last community playtest was held at Comic Con Bengaluru which was met with a tremendous response from the community, on an average being overbooked by 50 percent for each playtest slot. Players will be able to share their thoughts on various aspects of the game and impact the direction of how SuperGaming crafts its most ambitious title yet.
The first Indus Community Playtest for 2023 will be revealed soon.
For more on Indus, check out the developer blog as YouTube, Discord, Twitter, and
Instagram for the latest behind-the-scenes updates.
SCCG Management Unveils SCCG ASIA – A Regional Campaign Led by Kent Jenkins from SCCG's New Office in Bangkok, Thailand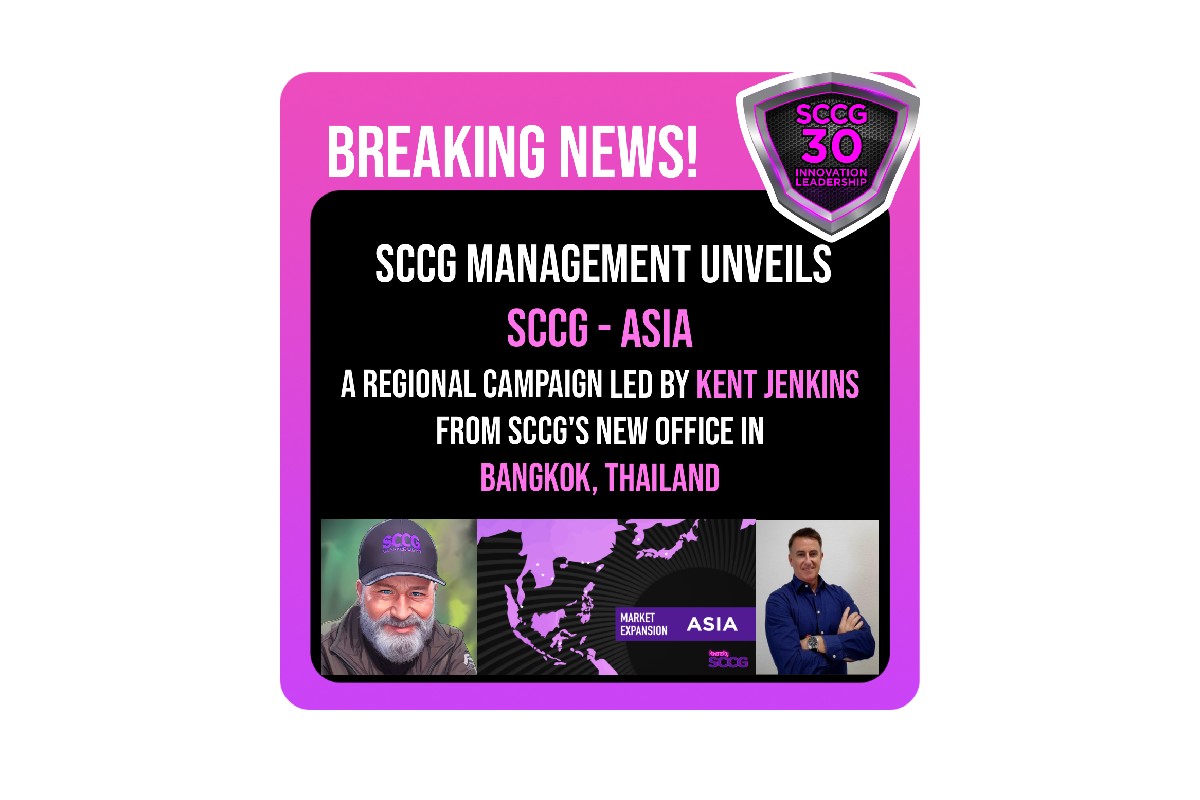 Reading Time:
2
minutes
SCCG Management, a leading management advisory firm specializing in the gaming industry, is proud to announce the launch of its new regional campaign, SCCG – ASIA. The campaign aims to provide management advisory services to Casino, iGaming, Sports Betting, and Esports companies in Asia, as well as provide solutions and resources for existing SCCG client partners looking to enter Asia's gambling market.
SCCG – ASIA will be led by Kent Jenkins, who has been appointed as the Director of the campaign. With decades of experience in international management throughout Asia, Kent brings to SCCG Management a very high level of knowledge and expertise and is well-positioned to lead the campaign from the new SCCG office located in Bangkok, Thailand.
"We are excited to announce the launch of SCCG – ASIA and to have Kent Jenkins at the helm," said Stephen Crystal, Founder and CEO of SCCG Management. "We believe that the Asian market for the gambling industry is poised for significant growth and we are confident that this regional campaign will help our client partners navigate this dynamic market and achieve success."
Kent Jenkins said, "I am thrilled to join SCCG and take on the role of leading the regional campaign for SCCG – ASIA. I am eager to work with Stephen and his talented team of industry leaders boasting over 30 years of experience in the gambling industry. I'm excited to utilize my resources and experience to drive growth and success for SCCG in the region."
SCCG – ASIA will provide a full range of management advisory services, including strategic planning, market analysis, business development and operational support. With a team of experienced leaders from the gaming industry, SCCG – ASIA will empower companies to reach new heights in the Asian market.
The Asian market presents a significant growth potential for companies in the gambling industry as it offers a large customer base due to the continent's high population, as well as a growing middle class with disposable income. Additionally, the online and mobile gambling market is rapidly growing in Asia, providing opportunities for companies to reach customers through digital channels. Furthermore, some Asian governments are actively encouraging foreign gambling companies by offering tax breaks and other incentives, and some countries are looking to legalize gambling which could open up new opportunities. Overall, the Asian market presents a significant growth potential for companies in the gambling industry.