Exclusive Interview with Miklos Handa (Founder of the email marketing solutions, "MailMike.net"), speaker at Vienna International Gaming Expo 2018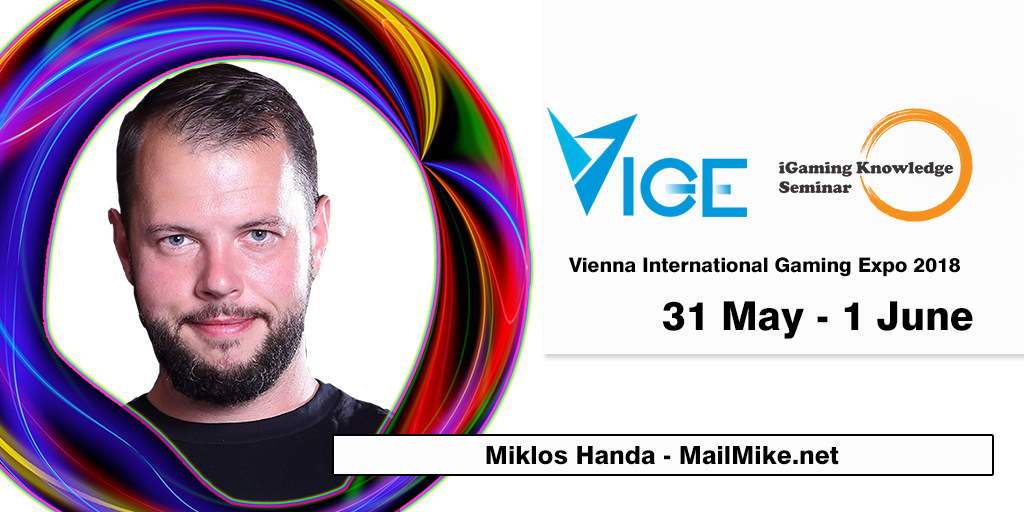 Reading Time:
5
minutes
Today we speak with Miklos Handa, Founder of the email marketing solution, "MailMike.net" and speaker at Vienna International Gaming Expo 2018.
Coming from a land-based casino background with several years of experience from London's Napoleons and Grosvenor Casinos as well as with global B2B igaming providers, he is a former gaming professional turned email marketing guru who created a tool with the help of Sebastiaan de Vos (former Head of Deliverability at Emarsys) that finally gets gaming content to inbox. With a deep understanding of the marketing needs and challenges of the gaming industry, he currently serves numerous affiliates, casino operators and B2B solution providers.
Today, Miklos is a recognized expert in his field, helping the gaming industry to legitimately boost their marketing efforts.
Thank you for being available and accepting this interview. First of all will you please introduce yourself and the company you represent?
Miklos: My Name is Miklos Handa and I am the co-founder of MailMike.net, the igaming industry's email marketing partner.
MailMike is a service to assist the large volume E-mail senders to overcome their day-to-day problems. The concept of MailMike was born from the need to respond to the challenges of the fast-growing and rapidly changing email marketing industry. Will you please speak more about email marketing and in more details what is MailMike?
MailMike started out as a spam detection platform. We created a tool that was able to tell senders if their campaign was going to land in the spam box before they send it to their database. Due to the high demand, last year we introduced consultancy services to optimize email deliverability and by now we have grown into offering a 360° solution from technical set up on any platform, to campaign optimization or even fully managed sending.
We can read on your website that apart from the MailMike toolset, you offer personal consultation and various operative services. What are the services you offer your clients and which are the most demanded ones?
Miklos: Yes, as I have mentioned before we have gradually expanded our service offer to cover the full spectrum of email marketing so our customers can get the highest possible conversion rates. The most complex part of this is the technical setup on the sending platform. The majority of our clients subscribed to an email marketing platform before and expected to get an out of the box solution that is ready to send with amazing results. Unfortunately, this is not the case. To get past the spam filters you have to adjust the deep technical settings that most senders (or their CRM managers) don't even know about and the sending platforms offer little to no help with this unless you are in one of their top tier packages with a dedicated account manager and specifically ask for the implementation of certain settings on their back-end. We aim to bridge this gap by auditing and fixing or configuring the setup ourselves from the start. As a result, our customers can send campaigns with outstanding conversion rates and keep maintaining a great sender reputation. We can even fully manage their email marketing with setting up, designing campaigns, testing and deployment.
How can MailMike overcome the challenges of renewing technology nowadays? What do you consider the most successful experience in the history of MailMike?
Miklos: Currently the biggest challenge facing the industry is the introduction of GDPR. All businesses need to be very careful about how they handle (and not to abuse) customer data. We can help our clients become fully compliant as this is also an integral part of our business.
As for our biggest success to this day, I am still very proud of our core B2B2B spam detection service which is used by some of the top sending platforms themselves daily, including one which is able to successfully send over 70billion emails annually thanks to our advanced technology.
Will you please tell more about the people who are behind the curtains, who created and have maintained these innovative, very successful and revolutionary services?
Miklos: The MailMike software was developed by Sebastiaan de Vos, who was formerly the head of deliverability at Emarsys. With his experience, close relationship to mailbox providers, black and white list provider, and all the significant email industry players, he had the knowledge how to maximize the performance of email marketing campaigns in a fully compliant manner. I am fortunate enough to have the opportunity to bring this deep insight and technology to the market and offer it to the igaming industry.
In 2017 you took part at ViGE in Vienna. What was this experience like, what benefits did it bring to your company, was it a useful experience?
Miklos: Yes, it was our our very first gaming expo with MailMike. As we serve various other industries such as ecommerce, event organizers, media sites etc., the ViGE helped us to get a feedback from the gaming sector and to better understand their needs and concerns. This allowed us to tailor our service to be better suited for this market segment.
Have you recently participated at other conferences and if yes, which were those?
Miklos: We have attended many expos and conferences from different industries all over the year, but the most recent one was another gaming event called the Prague Gaming Summit, which was a great show to network and build some new relationships.
The next ViGE conference in Vienna will be at the end of May, beginning of June (31st May-1st June). You will be a speaker at this event. What are your expectations and will you please tell us in a nutshell what are you going to speak about?
Miklos: I am very excited about the ViGE this year and I imagine it will be pretty busy. I will be speaking about customer acquisition, improving conversion and retention rates, but I cannot tell you more, you'll just have to come 😉
If you want to meet Miklos in person or networking with the biggest names of the Sports betting, Casino, VR/AR, Marketing, eSports, DFS, Virtual Sports and Crypto industry, make sure you attend the Vienna International Gaming Expo.
Miklos will also be live next week on iGamingRadio.com with Konrad. Make sure you save the date, 24 April and tune in at 13:00 CET.
With this occasion, I would also like to thank you for following my interview series and for sharing these information with your colleagues and partners. If you would like to be featured in an upcoming interview, please send me an e-mail to reka.szalo@europeangaming.eu and I will happily get back to you!
Portuguese Gambling Market Update, presented by Eduardo Morales-Hermo at European Gaming Congress (EGC) 2018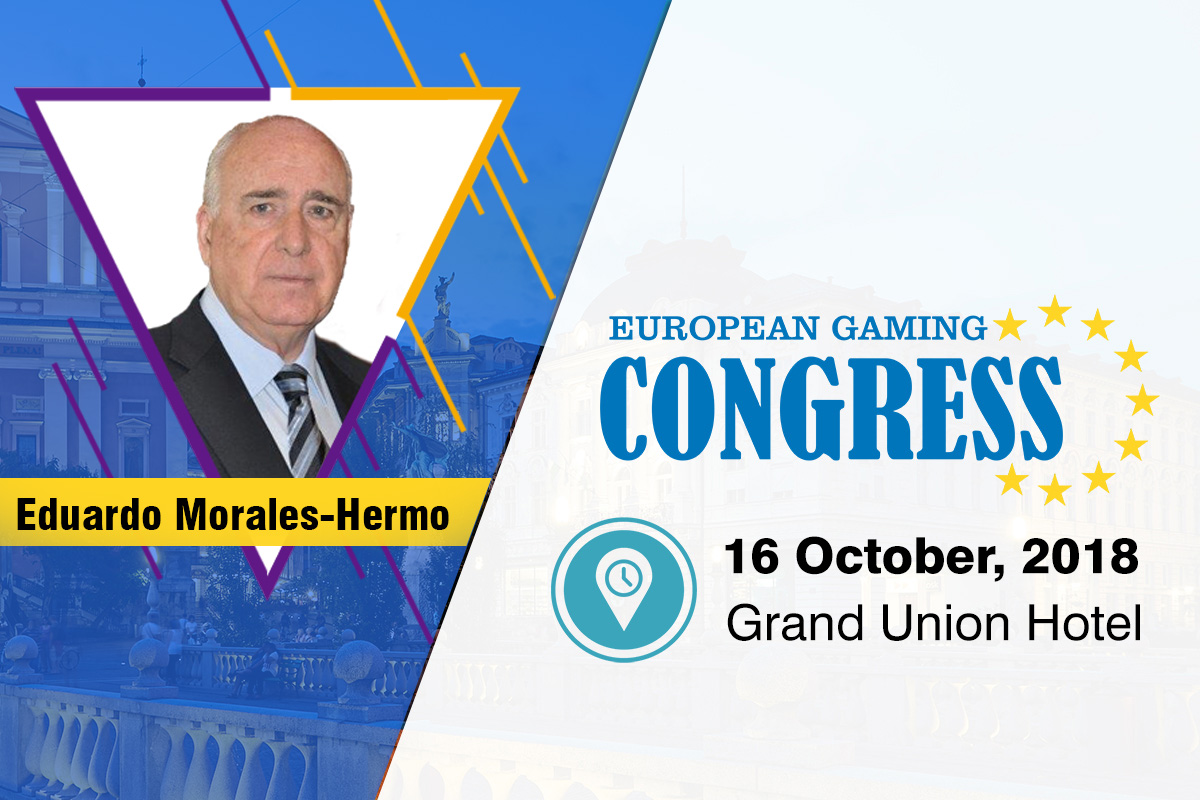 Reading Time:
3
minutes
Ljubljana – 11 July 2018 – Portugal is famous for many things, it is the birthplace of Cristiano Ronaldo, has great wine and a rich history. Being a medium-small size market with an estimate population of 10 million people, the gambling industry has always been a quality driver of Gross Gaming Revenue (GGR).
Also read:
The GGR in Portugal is around 110 million Euros and the markets has interesting areas that is important to be discussed, as to what not to do in a regulatory framework regarding taxation.
Online gaming and betting generated €122.5 million in 2017 from 800,000 registered players on sites in Portugal. The information was revealed in February this year by the Gaming Regulation and Inspection Service.
The "Online gaming activity in Portugal" report for the last quarter of 2017 also showed that 17,600 players had self-excluded themselves from gambling, 4,600 more than in the third quarter of the year.
At the end of last year, 61.3 percent of gamblers were aged between 35 and 44, followed by 25 to 34-year-olds (39.3 percent) and 18 to 24-year-olds (27.8 percent).
More than half of the gamblers live in or around Porto (22 percent), Lisbon (19.5 percent) and Braga (9.7 percent).
The tax regime imposed by Portugal's three-year-old gambling law seems to be a hindrance for new gambling companies. As per the law, remote gambling operators need to get a license from the country's gambling regulator Serviço de Regulação e Inspeção de Jogos (SRIJ).
During the inaugural edition of European Gaming Congress, gaming expert Eduardo Morales-Hermo, will share the latest insights he has about the market and experiences he encountered while working with the Portuguese and Spanish market regulations.
About Eduardo
A businessman with 45 years of experience, having worked as executive in corporation management, product development and, for the last ten years, as advisor and consultant in the gaming industry, both in-person and via interactive channels.
He graduated in MANAGEMENT STUDIES; Marketing and organization behavior; Quantitative Methods and Operations Management; Economics and Finance, by Emmanuel College (University of Cambridge); MBA/JD JOIN PROGRAM DEGREE (LMBA) by the University of Maryland, USA; New Technologies applied to Gaming and Entertainment; by the UNLV University of Nevada, Las Vegas, USA.
Eduardo has more than 15-year experience in online gaming, strategy planning, product and business development, implementation and restructuration of gaming corporations; regulations making for in-person and online gaming via interactive channels.
He was CEO, General Director and stockholder of gaming corporations in several European countries, and currently he works as advisor and consultant at Intelligent Gaming Company, and has participated in more than 30 projects.
Make sure you register your seat in time to benefit of the great lineup of speakers that will share their knowledge for operators and industry connected companies about France, Spain, Italy, Malta, Portugal, Slovenia, Austria, Croatia, Serbia, Montenegro, Greece, Bosnia and Herzegovina, Liechtenstein, Monaco, Netherlands and Belgium.
The inaugural edition of European Gaming Congress which will be held on the 16th of October at the Grand Union Hotel in Ljubljana will also focus on shedding light upon the industry and its main topics.
The European Gaming Congress (EGC) is expected to bring together industry expert from all over Europe and create a platform which will enable both networking and learning at the highest quality.
You can view the full agenda on the following link.
Full detail about the event can be found on the official website of the event: https://europeangamingcongress.com/
Make sure you grab your seat as the seats are limited to 100 registrants!
IMGL MasterClass™ – US Market – Gold Rush or Opposite for European Operations – panel discussion at CEEGC2018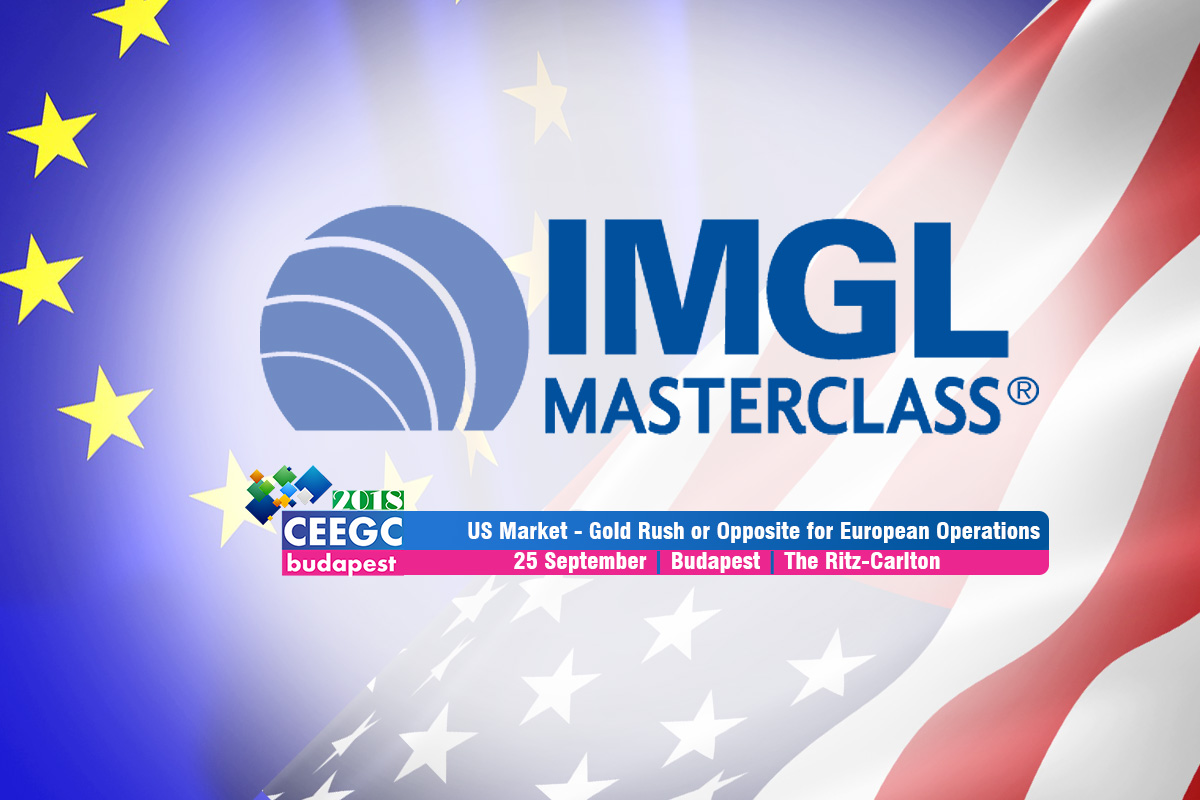 Reading Time:
3
minutes
Budapest – 9 July 2018 – There is, without any doubt, a large dumping of news and articles that focus on the US gambling market and the possibilities it might offer.
All these news have been circling around the industry and even mainstream media starting from May, when sports betting has been given the go-ahead by the US Supreme Court.
With the legalization of sports betting, many European companies are feeling a "gold rush" and hope to take advantage of one the biggest markets on the planet.
We are seeing and reading daily news about a large number of partnerships between European and US companies. Large European operators that already had a presence in the US market are already lining up for their comeback and relaunching old collaboration. Other operators and software providers are juggling events and focusing on how to enter and market their brand on US soil.
The opportunity for some is bigger than any other previous market opening and the figures are shown daily about the potential market size which are certainly impressive.
However, is this going to be a success story for European operations that have not really even been compliant with the currently in force regulations in European countries? There is no denying the fact that some of the operations haven't even taken steps to learn more about how to be compliant in regulated European markets and are now looking to fulfill the "American Dream".
The third edition of Central and Eastern European Gaming Conference will feature a special IMGL MasterClass™ which will focus on delivering vital information about the.
The panel discussion is titled "US Market – Gold Rush or Opposite for European Operations" and will feature industry experts from Europe and USA.
You can browse the full agenda and already confirmed speaker list on the following link.
Make sure you grab your seat in time and attend the most prestigious boutique style gaming event which gather C-level executives yearly in one of Europe's most visited city.
Quotes about CEEGC Budapest from attending delegates
Rafal Nowak – iGaming Sales Director at Mobiyo
"A week after the Budapest Gaming CEE conferences, I'm still discussing the topics brought up there with fellow delegates. Thank you Zoltan Tundik for organizing an informative an well shaped event on this, often underestimated iGaming territory and good luck with the next one!"
Roy Pedersen – CEO & Chief Editor at All In Translations
"For All-in Translations' 10 Year Anniversary Tour we decided to attend more smaller conferences. Zoltan and Betty are much of the reason for this. They have a unique way of giving a personal touch to the events they organise while at the same time keeping them highly relevant. CEEGC Budapest was another great example where we felt truly welcome, and at the same time it was great for business."
About the IMGL MasterClass™
The IMGL Masterclass is a conference format offered by the IMGL at international gaming events, including trade shows and conferences organized by others. IMGL provides the content and the expertise of our esteemed members and invited panelists – who share their knowledge with participants of the conference, network with each other, and enter into discussions on how to shape the future of gaming law on an international scale.
The IMGL Masterclass panelists include gaming experts — regulators, attorneys, industry executives, and educators — providing guidance regarding evolving issues in the gaming industry that are of interest to legislators, regulators, and others in the industry. Effectively, the IMGL Masterclass provides a platform beyond the yearly IMGL conferences for bringing together leading experts in the industry, legal advisers, and regulators in our global network.
IMGL Masterclasses stand for high-level discussions and interchange among experts. They strive to present only the best quality speakers and moderators — and the most up-to-date and relevant content in the IMGL Masterclass panels.
More details about IMGL can be found on the following website: https://www.imgl.org/
Plan your autumn calendar with European Gaming Events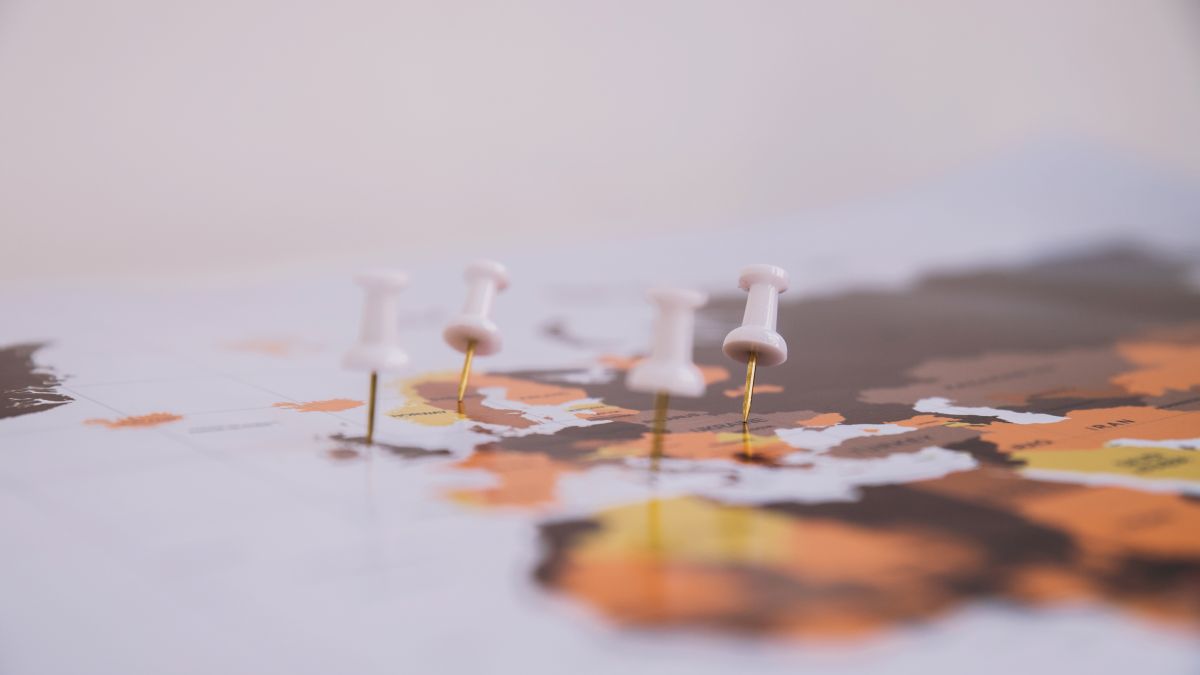 Reading Time:
3
minutes
Make sure that two of the most prestigious gaming conferences are in your calendar for the September – October period! 
Key facts: 23 European Market Updates, +60 Speakers, +200 C-Level Delegates, 20 Awards Categories, 2 IMGL MasterClassess, Innovation Talks featuring use of AI and Blockchain, Responsible Gambling, AML
Who should attend: gaming operators, regulators and government authorities, software and solution providers, payment solution providers, game developers, law firm and legal consultants
This autumn we are bringing an unparalleled series of networking, business and learning opportunities which are extending through 2 unique events in Europe.
Whenever if you are looking to win an award out of the 20 categories at the CEEG Awards Budapest or interested to learn more about the business possibilities of expansion and doing business in 23 European countries, not to mention diving into the potential opportunities the US market has to offer, you must attend our events in Budapest and Ljubljana.
Not to mention the fact that we will be hosting you at some of the most luxurious conference halls and hotels in Europe.
Check out the overview of the location for this year CEEGC Budapest, which will take place at the Ritz-Carlton on the 25th of September.
"Brimming in culture, history and breathtaking architecture, Budapest embodies the European ideal. Set within its city center, this luxury hotel offers a palatial retreat moments from iconic landmarks and the River Danube; a place where guests can indulge in modern luxuries amid a space that blends traditional elegance with bold, contemporary design."
If this doesn't impress you, then you also need to read the overview of the venue where the inaugural edition of European Gaming Congress (EGC) will be held. The first edition of the yearly European gaming event is taking place on the 16th of October at Grand Union Hotel Ljubljana this year and you will surprised to see the list of VIPs that have stayed at the venue.
"The Grand Hotel Union held its grand opening in 1905. It was the first modern hotel in Ljubljana and at the time the highest building, built in Art Nouveau style. It was designed by architect Josip Vancaš and built by Viljem Treo. In over a century of its existence, the Grand hotel Union was an important co-creator of the political and social life in the capital and in the wider Ljubljana region. In its rich history the hotel witnessed many important events and hosted many famous people – actor and director Orson Welles in 1979, the American president Bill Clinton and his wife in 1999, the spiritual leader of Tibet Dalai Lama in 2002 and the British Queen Elizabeth and her husband in 2008."
If these two venue location don't impress you, then you will surely be impressed by the content of panel discussion which will be presented by over 60 speakers for +200 delegates.
Please find below the key links for your gateway to a unique autumn conference session.


Key links for CEEGC Budapest (25 September – The Ritz-Carlton):
---
Key links for European Gaming Congress (16 October – Ljubljana):