Exclusive Interview with Matthew Stafford, CEO at BlockChain Innovations Corp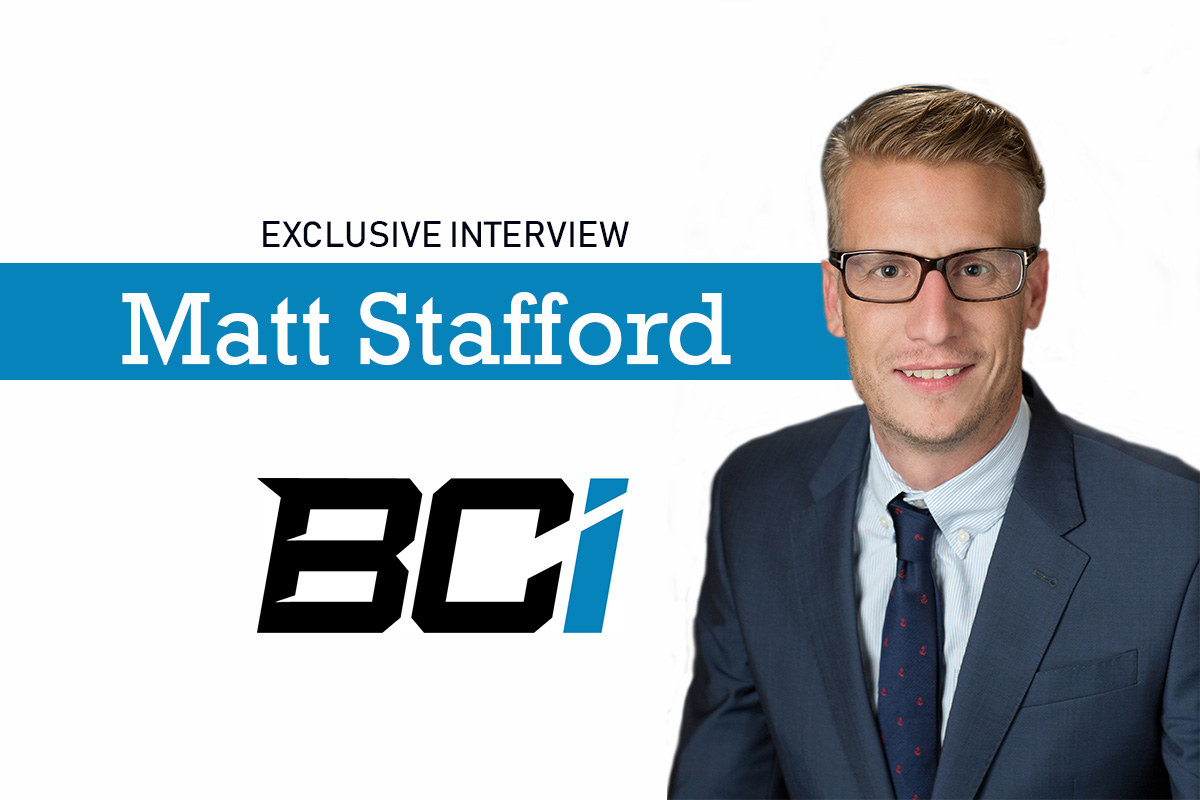 Reading Time:
4
minutes
It is my great pleasure to bring to you my latest interview. This week we once again focus on the role of blockchain in the gambling industry as it still is a trending topic. And what better way to get a glimpse into the vertical, then asking the experts of the industry. Matthew Stafford has been appointed as CEO of BlockChain Innovations Corp. this April and he has since than given speech at many industry events. It is high time we got the chance to pick his brain in our unique style. See below our interview with Matthew.
Let's start with a few words about yourself. Our readers love to hear top-class professionals describing themselves.
Matthew: Thank you for a very kind introduction. I've spent 10 years in regulated gaming and public markets as an attorney, most recently with Scientific Games and NYX Gaming Group where I helped take that company public in Toronto in 2014 through its acquisition of Openbet Technologies Limited; the world's largest sportsbook platform provider in 2016. I've had the opportunity to work with hundreds of gaming clients both brick-and-mortar and in the digital space, as well as payment providers, data and compliance vendors and the multitude of gaming software platforms around the world.
You took over as CEO of Blockchain Innovations Corp (BCI) about four months back. What are your early reflections on the job?
Matthew: It's a very exciting and busy time. We are bringing a disruptive technology to two markets – both the commercial gaming industry for operators and the public market in Toronto for investors.
There is a lot of interest in both sectors around the technology and what it can do. In the capital markets, it's about building blockchain companies as a value-added segment that gives depth to cryptocurrencies beyond price speculation and mining. For the gaming industry, it's about building a modern gaming and payment platform that is compatible with conventional technologies so that our operator clients can offer blockchain wagering now and be poised for the future.
You studied law and started your career as a legal intern. How does your legal background help in your functioning as the CEO of BCI, especially as cryptocurrencies and other blockchain financial solutions are still viewed with suspicion by the regulators in several countries. 
Matthew: I was fortunate enough to work in gaming – at leading slot manufacturer Aruze Gaming America, Inc. – before graduating law school. As the Assistant General Counsel there, I obtained over 150 gaming licenses for the company worldwide and won approval for hundreds of devices. I also oversaw regulatory compliance at NYX and that foundation provided me with the ability to navigate complex regulatory issues, just like the treatment of crypto and blockchain with regulators. A working partnership and understanding of the regulatory schemes behind those agencies is crucial in terms of finding a viable solution for the industry in any circumstance.
What is important to note regarding uncertainties around crypto and blockchain is that, although perhaps skeptical, regulators are addressing the issue. There is positive movement towards adoption; the regulation/licensing frameworks that are being considered are being conducted by many jurisdictions and the outcome is to find that balance of providing the industry with competitive technology while meeting the regulatory objectives within a particular jurisdiction.
Can you tell us more about BCI's soon to launch cryptocurrency wallet, Pebwallet, and its PebbleShare tipbot?
Matthew: Pebwallet.com is our fully-functional cryptocurrency wallet for users to manage and exchange multiple cryptocurrencies for smart-contract coins. They can also buy, sell, and exchange wagers via our PebbleShare tipbot. The wallet communicates to any existing operator's PAM via an API and, in addition to standard transaction accounting and reporting, operators may permit wagering between players using pay-as you-go cryptocurrency where no money is on deposit as well as players with fiat currency on deposit, in their existing operator account.
Once activated, users with popular cryptocurrencies such as Bitcoin and Ethereum may then exchange those coins for PebbleCoin and begin placing smart-contract wagers. PebbleCoin, the gaming-by-design crypto-currency BCI's technology utilizes, is one of the first cryptocurrencies to use smart contracts and trade them as freely as coins.
BCI claims that its blockchain social betting solution has something unique and innovative that the competitors, especially Bitcoin and Ethereum, do not have: basically, BCI's solution does not have a lag in provable transaction confirmation. Could you explain about its practical real-time implications?
Matthew: BCI has provably instant confirmation of transactions, or bets integrated within its technology and our cryptocurrency PebbleCoin. The confirmation time for Bitcoin is 1 hour and Ethereum is 180 seconds. The implication of that 180 seconds to 1 hour is that live wagering environments are not possible with Bitcoin or Ethereum since there is an ability for one side to "roll-back" the transaction on the blockchain. If this were the case, users could cancel bets when the line prices move against their position – that's not feasible in a betting market.
These are good times to be a betting solution provider in the USA, as the US supreme court has repealed PSPA, which would inevitably lead to the legalization of sports betting in many US states. How do you see the prospects for BCI?
Matthew: We see a lot of opportunity for operators to be "born on the blockchain", that is to have a blockchain wagering offering for their players as their sole platform or a complementary offering to their player base. With the 6-3 United States Supreme Court decision striking down a 1992 law prohibiting such sports betting outside of Nevada, and the American Gaming Association estimating there is over $250 billion wagered annually in the US, it is a promising time for the sector.
Those figures mean that the demand for suppliers in the US will exceed the capabilities of conventional platform providers. We anticipate operators that want to be live when authorized by their state will look to blockchain as a modern technology that is able to offer a full solution for their sports wagering operations. Along those lines, because of the near-zero cost to operate our system, Tribes and state sports lotteries stand to gain the most from a blockchain solution since those savings go directly back to the taxpayer or tribal entities managing gaming operations for the tribe.
About BlockChain Innovations Corp.
Blockchain Innovations is headquartered in Las Vegas. The company designs and develops market ready blockchain technology for public and private real-money wagering and peer-to-peer gaming companies across the globe.
The company's blockchain technology consists of a fully functional crypto-currency wallet, a tipbot – PebbleGo for easily sending and receiving smart contracts, and its smart contracts platform – the ideal wagering eco-system for instant confirmation, where contracts are tradeable, divisible, transferable and new wagering not available in traditional retail or online markets.
The company's technology is built around PebbleCoin, a gambling-by-design cryptocurrency that has been mined since 2015. Pebblecoin's unique features make it the only crypto-currency that can facilitate real-time wagering.
For more details visit www.blockchaininnovations.info