Mohegan Sun plans to acquire Everett casino
Reading Time:
1
minute
Mohegan Sun has expressed interest to acquire the Encore Boston Harbor casino in Everett, Massachusetts.
A Mohegan Sun representative said: "If that determination finds Wynn Resorts unsuitable to hold a gaming licence in Massachusetts, Mohegan Sun is prepared to participate in a process that would assign that licence to another operator—and enter into negotiations with the appropriate parties to acquire the facility under construction in Everett."
"Mohegan Sun has always believed it is the best choice as gaming operator and licence holder for a Region A resort casino, and will be committed to opening the Everett facility in a timely manner should it get the opportunity," the company added.
The company has already conducted preliminary discussions with the community around the casino and said that if Wynn's licence is stripped, it would honour existing agreements that Wynn has negotiated with surrounding communities.
Despite the interest, Everett Mayor Carlo DeMaria rejected the idea of Mohegan Sun taking over the casino, and said that its agreement with Wynn Resorts gives it the chance to approve or reject the sale to a new company.
"Mohegan Sun is not welcome to operate a casino in the City of Everett. We made a deal with Wynn Resorts to operate a 5-star international destination resort and I will never accept anything less—certainly not a gaming parlour that would be used to protect their interests in Connecticut at the expense of our community and residents," he said.
Maryland casino revenues increase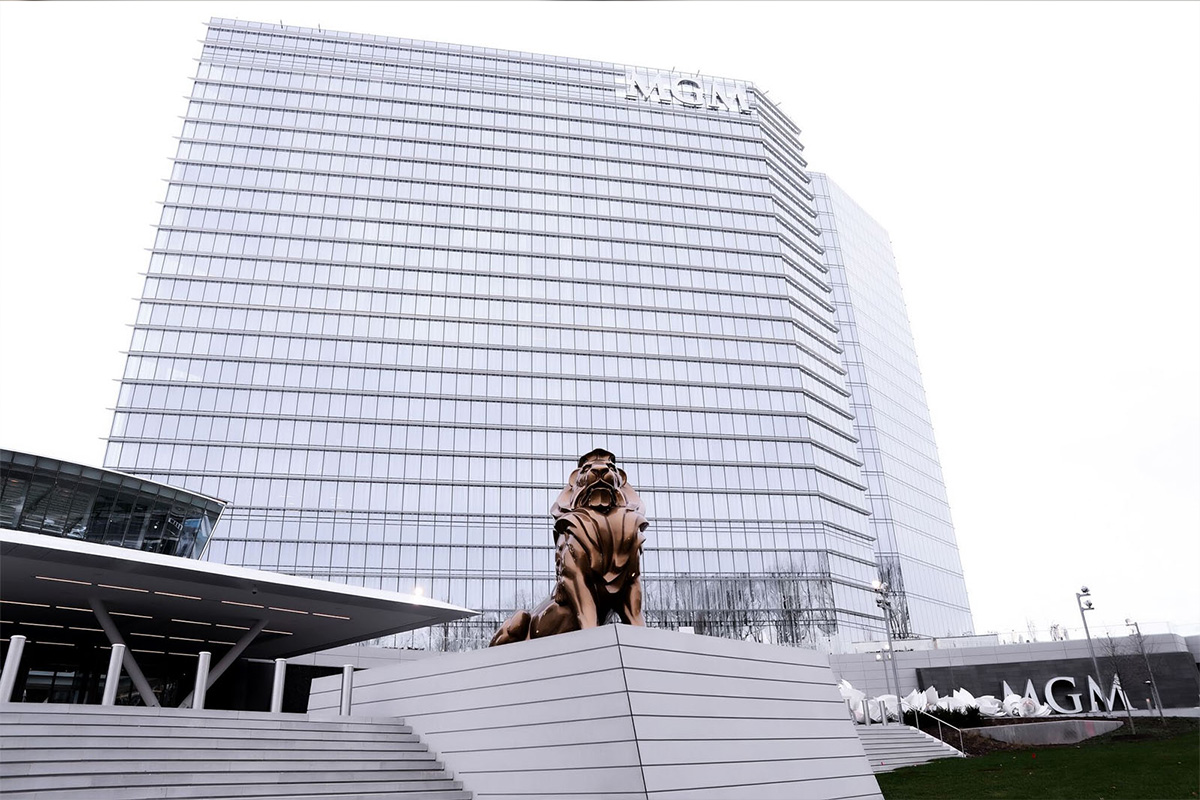 Reading Time:
1
minute
Maryland's gaming sector has posted a record month in November in terms of revenue generation. The six casinos in the state has recorded a gaming revenue of $158 million, 7.3 per cent higher than the amount in the same period last year. The revenues have fallen to $140.1 million in November.
The casino-wise details of revenue break-up are listed below:
MGM National Harbour, which opened in December 2016, accounted for 41 per cent of all gaming revenue last month, at $57.3 million, up 13.2 per cent from a year ago.
Live! Casino & Hotel at Arundel Mills had $48.7 million in November gaming revenue, up 12 per cent from November 2017.
Baltimore's Horse Shoe Casino stumbled in November, with $19.5 million in gaming revenue, down more than 14 per cent from a year ago.
Gaming revenue was mixed for the state's three smaller casinos.
Hollywood Casino Perryville had $5.4 million in November gaming revenue, down 5.9 per cent from a year ago. Rocky Gap Casino Resort had $4 million in gaming revenue, down 2.7 per cent. But Ocean Downs Casino's $5.2 million in November gaming revenue was up 34.3 per cent from a year earlier.
Pennsylvania Gambling Expansion Nears $400 Million for the State in First Year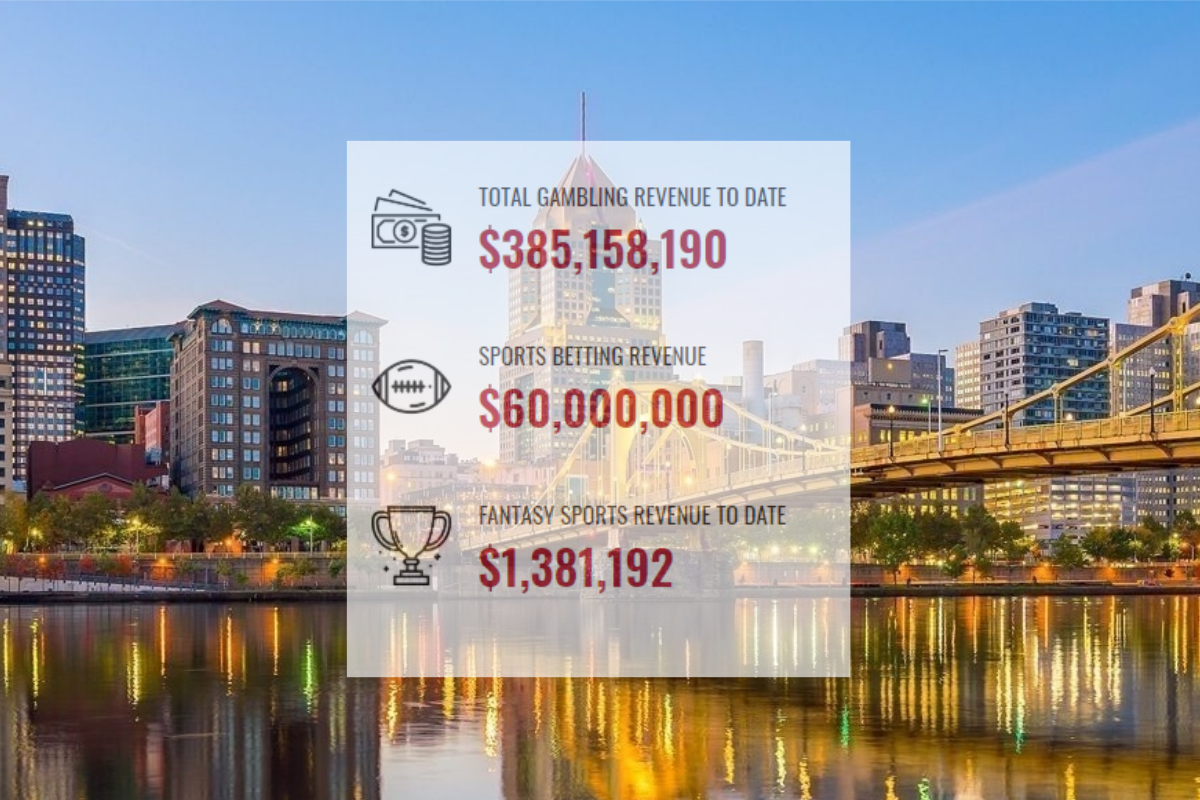 Reading Time:
2
minutes
Upfront licensing fees a short-term boon for state coffers, but revenue from gamblers will still have to wait, says PlayPennsylvania.com
Gambling has injected more than $385 million into Pennsylvania coffers in the first year since a law was passed to expand gambling in the state, surpassing state budget estimates. Upfront licensing fees for casinos, online casinos, and sportsbooks, as well as mini-casino auction profits and tax revenue from lottery expansion and daily fantasy sports, have combined to net Pennsylvania more than $1 million a day since late 2017, according to a recent analysis by PlayPennsylvania.com.
"The most notable aspect of the significant revenue that has been generated is that this is almost completely from fees, rather than tax revenue gained from gamblers," said Jessica Welman, analyst for PlayPennsylvania.com. "Clearly there is enough interest in Pennsylvania's enormous market so far to generate the fees."
The revenue estimates were tabulated by PlayPennsylvania.com using a combination of official statistics and estimates based on iLottery, keno, and virtual sports sales numbers. A detailed accounting of the revenue generated so far can be found at playpennsylvania.com/revenue.
Using return-to-player rates of the games, PlayPennsylvania estimates that the state has collected more than $23 million in revenue from online lotto games ($19.6 million), keno ($3.6 million), and virtual sports ($87,000) through October.
Other sources of revenue so far from the law include:
Mini-casino auction profits,

$128 million

Interactive gaming petitions,

$94 million

Casino licensing,

$78 million

Sports betting petitions,

$60 million

Daily Fantasy Sports tax revenue,

$1.4 million
By comparison to the gambling expansion, the state collected $799.8 million in taxes from statewide slot revenues in fiscal 2017-18. Pennsylvania estimated in February that the state will generate more than $34 billion in general fund revenues for its 2018-19 fiscal year.
"If the point of the expansion was to fill short-term gaps in the state's budget, then the expansion would have to be considered a success so far," Welman said. "We believe that the gambling expansion will eventually prove to be a winner for the state's budget, but the long-term picture is less certain. More casinos and sportsbooks must open before we get a clear picture of whether Pennsylvania's relatively steep tax rates and license fees will produce the desired outcome."
With the November opening of the sportsbook at Hollywood Casino at Penn National, the rollout of sports betting is just beginning in Pennsylvania. More openings are expected in December and January, too.
In addition, Pennsylvania should begin adding revenue from online gambling in early 2019, and further down the line, mini-casinos should enter the fray.
"The addition of retail sports betting should help buoy a slowing Pennsylvania casino industry," said Dustin Gouker, lead sports betting analyst for PlayPennsylvania.com. "If New Jersey is any indication, though, the more significant revenue generator will be online sports betting. A successful rollout there should generate millions of dollars in tax revenue for the state."
About The PlayUSA Network:
The PlayUSA Network and its state-focused branches (including PlayNJ.com, PlayNY.com, PlayPennsylvania.com, and PlayCA.com) is a leading source for news, analysis, and research related to the market for regulated online gaming in the U.S.
Source: PlayPennsylvania.com
Barona Resort and Casino's TGI Thursdays Barona Lottery Returns for the Holidays from December 6 through January 31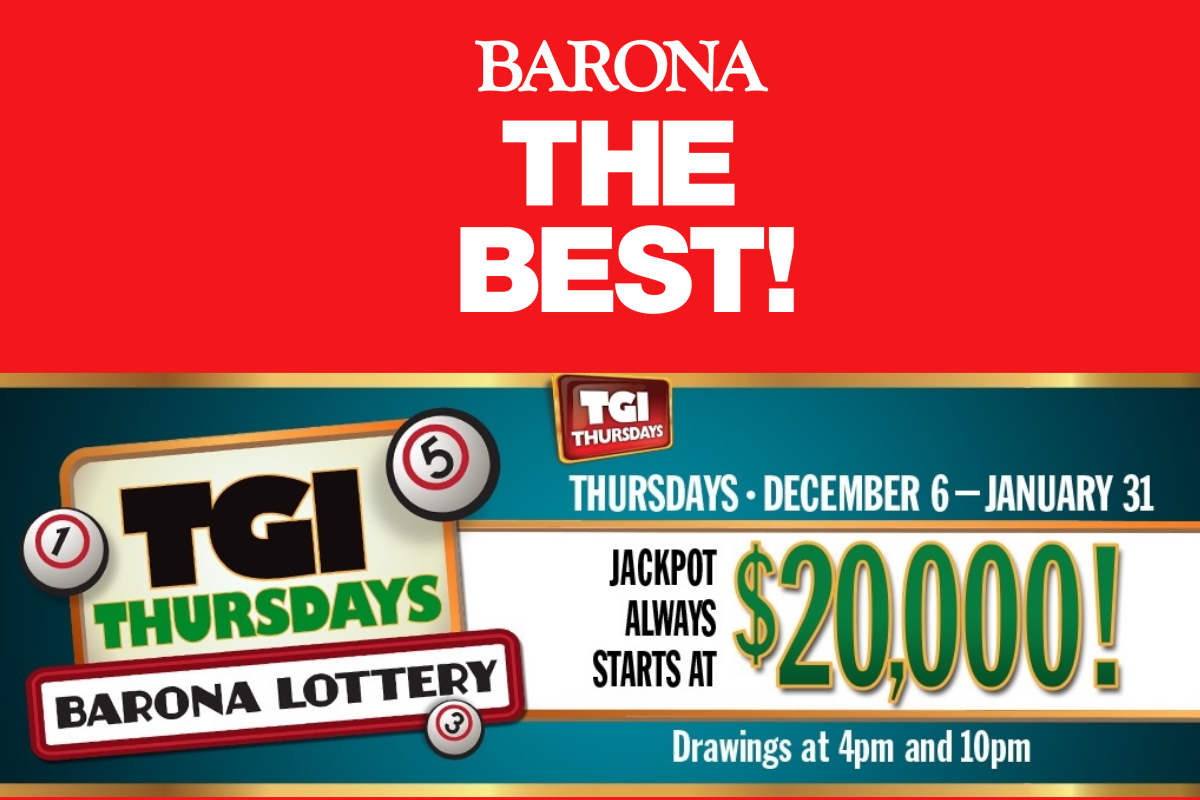 Reading Time:
2
minutes
Weekends start on Thursday at Barona Resort & Casino! San Diego's best casino is getting into the spirit of the holiday season and is bringing back the famous TGI Thursdays Barona Lottery. The first TGI Thursdays Barona Lottery drawing will start on Thursday, December 6 at 4 pm and then again 10 pm at the Money Machine stage. The drawings repeat every Thursday through January 31, 2019. The jackpot starts at $20,000 at 4pm and if nobody wins it will increase by $10,000 at the 10pm drawing.
"Our players love the Barona Lottery and it is always fun to bring it back for the holidays," said Rick Salinas, general manager of Barona Resort & Casino.
To play, Club Barona members can earn a lottery ticket a day after earning 500 points or an equivalent table game play and then visit a promotional kiosk to select five lucky numbers or opt for "quick pick" numbers and choose to play the 4 pm or 10 pm drawing.
The Barona Lottery jackpot starts at $20,000 and if a winning number isn't drawn, the jackpot will carry over to the next drawing and will grow by $10,000. Every time a lucky player wins, the jackpot will reset to $20,000. Five numbers will be drawn and the more matching numbers a player has, the more they win! Barona players will also be randomly selected to win instant cash prizes ranging from $5 to $50 throughout the promotional period.
Giving members yet another chance to win, a second chance drawing will take place at midnight on Thursday, January 31. Five winners will be drawn to split the jackpot; members do not need to be present to win. The second chance drawing will represent the most current jackpot. Club Barona members will earn a virtual entry for every lottery ticket printed from Friday, November 30, 2018, through Thursday, January 31, 2019.
About Barona Resort & Casino:
Named Best Casino and "Loosest Slots" for eight consecutive years in the San Diego's Best Union-Tribune Readers Poll, Barona Resort & Casino is the ultimate gaming entertainment destination featuring 2,500 slot and video poker machines and 120 table games. The AAA Four Diamond rated property features 400 spacious guest rooms and suites with beautiful views of Barona Valley, award-winning dining, Spa Barona, a full-service events center and the 18-hole championship Barona Creek Golf Club, ranked in the Golfweek Magazine Top 10 for the past 16 years. For Barona Resort & Casino reservations and information, visit www.barona.com
Source: Barona Resort & Casino