G2 Esports Starts Partnership with Red Bull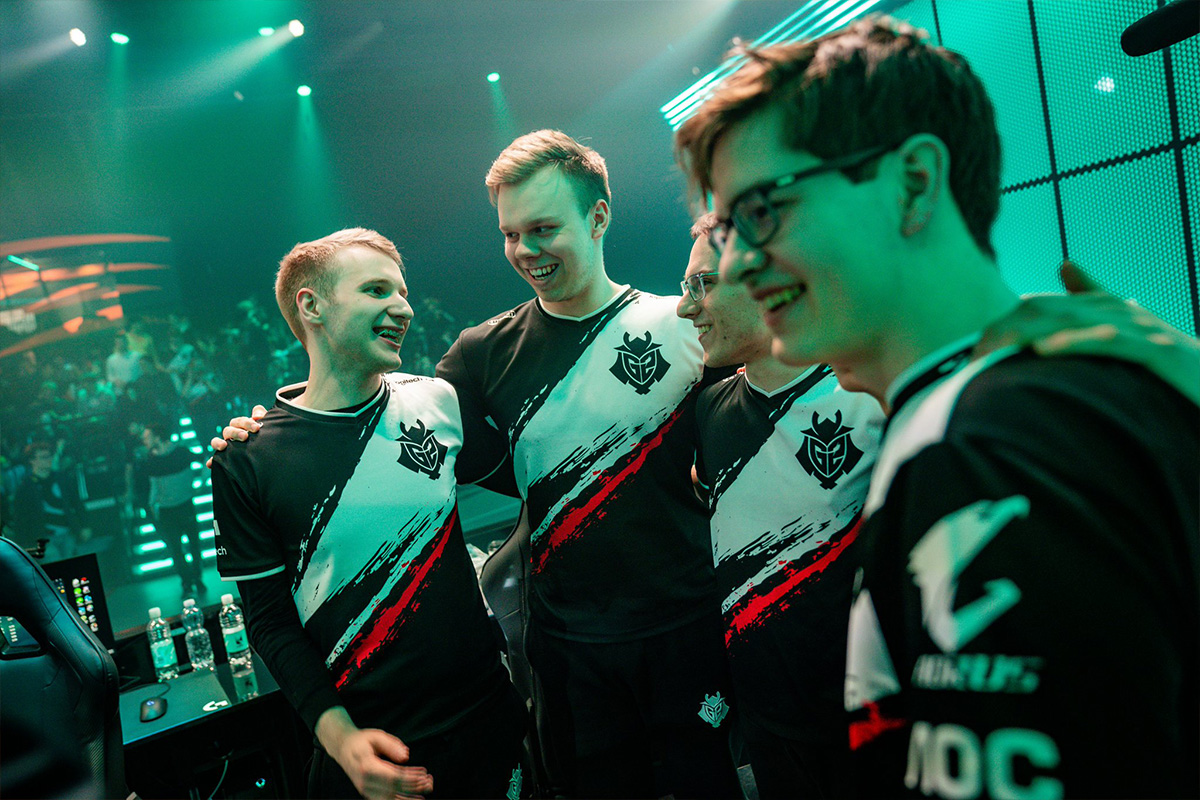 Reading Time:
< 1
minute
G2 Esports' has launched its partnership with Red Bull across five esports tournaments around the world. As part of the partnership, five teams under the G2 brand will wear special G2-Red Bull crossover jerseys.
"Red Bull and G2 have a shared vision of bringing more entertainment and adventure to the esports industry through interactive content and event activations, so a partnership was an obvious and important move for us," said G2 Esports CEO Carlos "ocelote" Rodriguez. "This holistic partnership is a big step for G2 and the content that we have coming down the pipeline is going to set this collaboration apart from all others in the space."
From 9/6-8/8, five of G2's competitive teams will wear Red Bull branded jerseys and publically debut the partnership throughout the weekend in both tournaments and event activations across the League of Legends, CS:GO, Rainbow Six Siege, Rocket League, and PUBG teams. Red Bull and G2 will collaborate across all teams, players, and content creators to enhance individual player and team performance, produce high-end entertainment formats and create dynamic event activations.
On-site activations will occur at the 2019 LEC Summer Finals in Athens, Greece and the CS:GO StarLadder Berlin Major to showcase the new G2 and Red Bull jersey. Fan 1v1s and meet&greets will also be hosted as part of the activations.
WePlay! Clutch Island is a new Regional Major Ranking tournament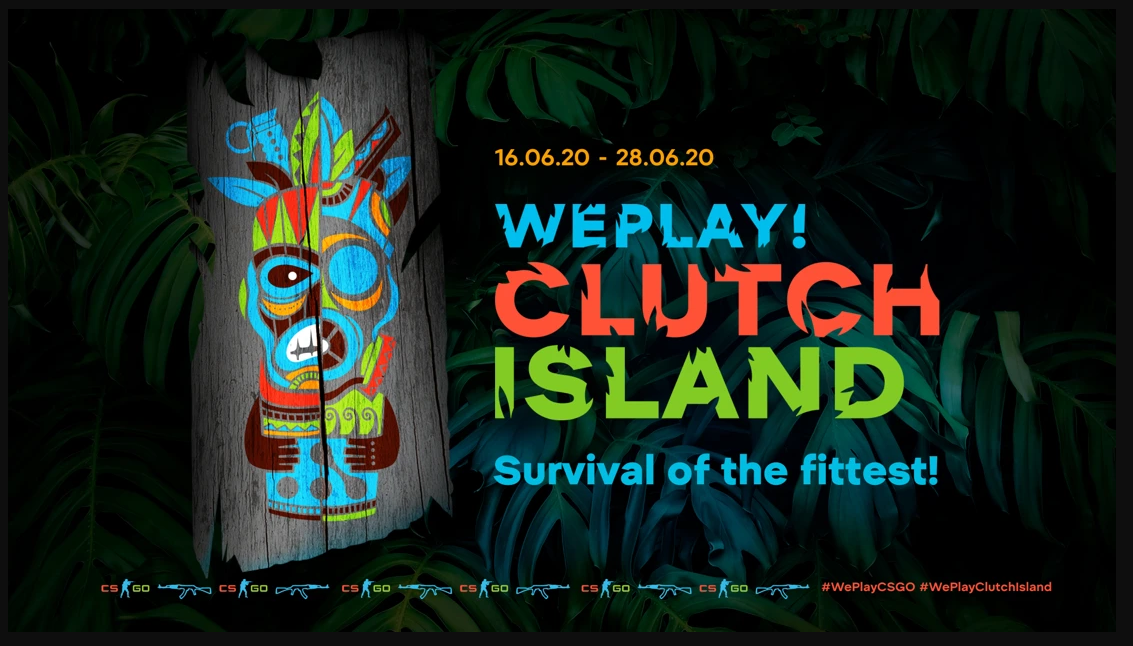 Reading Time:
2
minutes
WePlay! Esports is hosting a CS:GO event.
WePlay! Esports is thrilled to announce a new Counter-Strike: Global Offensive tournament called WePlay! Clutch Island.

The event will take place on June 16 – 28, 2020. The event sports a $50,000 prize pool and a quota of points needed to go to ESL One: Rio 2020. The new event sports uninhabited island of dangers laying under the scorching sun with hot sand and palm trees. Can the best CIS teams survive in such extreme conditions?

Open Qualifiers

Three slots in Closed Qualifiers will be determined through the Open Qualifiers that will be taking place over these three days:
06.08.2020

06.09.2020

06.10.2020
Any team from the CIS-region will be able to participate in the open qualifiers. Each qualifier takes off at 16:00 CEST, registration will be open until 15:00 for each corresponding qualifier. Each qualifier will be played in a single elimination bracket. All matches up to the finals will be BO1. The finals are BO3.
Registration to qualifiers will be open soon.
Closed Qualifiers
The winners of Open Qualifiers will be joined by five invited teams to play in Closed Qualifiers. The participants will be divided into two GSL-style groups. The best teams from each group advance to the main event. The winners of divider-matches play in the Final Group (GSL-style).
Three best teams from the Final Group advance to the main event. All the rest teams are eliminated.
A tiebreaker match will be held between the teams that hold the third place in each group to determine the 10-place finisher.
Main event
The main event consists of the Group Stage and Playoff. In the Group Stage, the Closed Qualifier winners and invited teams are divided into two GSL-style groups. The four winners advance to the Playoffs, which will be played in a double-elimination bracket format.
Additional tiebreaker matches will be held between the teams that don't make it to the Playoffs. The third place finisher from group A will face a third place finisher from group B. Same thing will happen between the fourth place finishers from both groups.
All tournament matches including the Grand Finals are best of 3 series.
Prize pool allocation
The prize pool of $50,00 and 14,375‬ RMR-points will be divided as follows:
1st place – $15,000 & 2 000 RMR-points

2nd place – $10,000 & 1 875 RMR-points

3rd place – $6,000 & 1 750 RMR-points

4th place – $5,000 & 1 625 RMR-points

5th place – $4,500 & 1 500 RMR-points

6th place – $3,500 & 1 375 RMR-points

7th place – $3,000 & 1 250 RMR-points

8th place – $3,000 & 1 125 RMR-points

9th place – 1 000 RMR-points

10th place – 875 RMR-points
The list of teams, invited to the main event and Closed Qualifiers, will be announced soon.
Espo Announces Pre-Registration for its Esports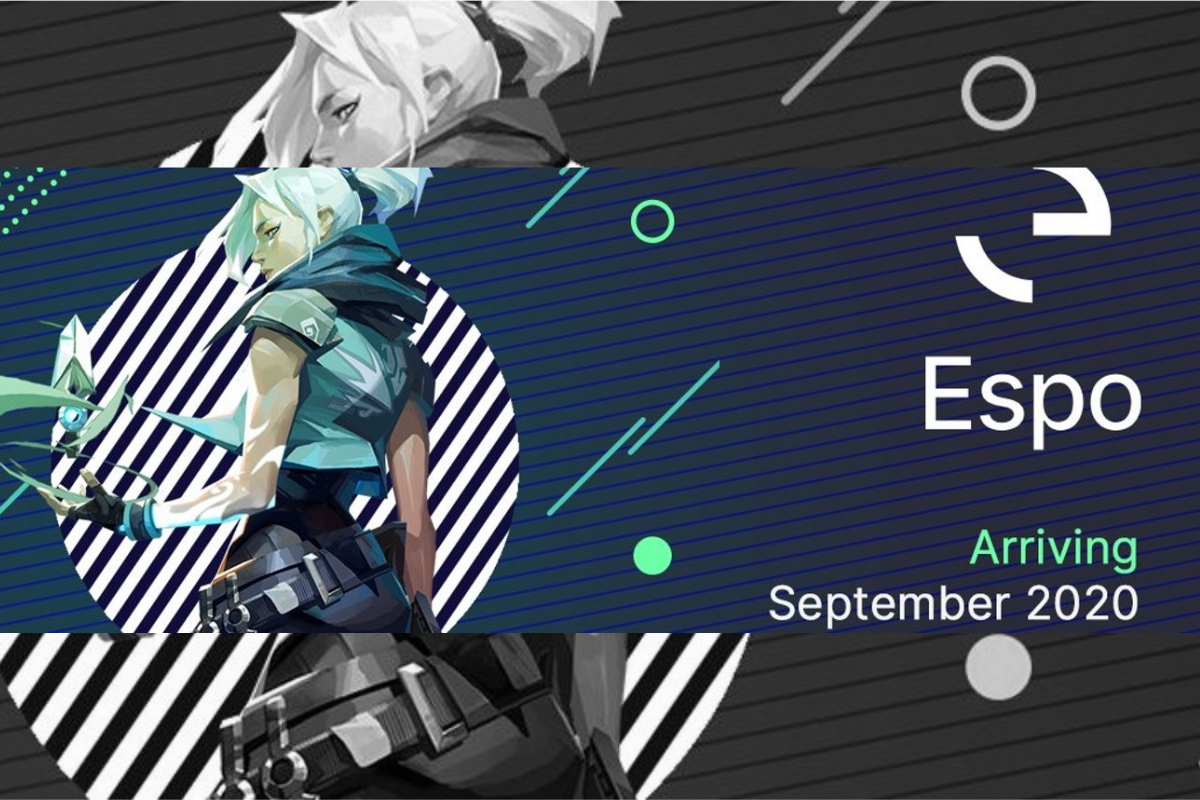 Reading Time:
2
minutes
Espo has designed a revolutionary platform for the esports sector that rewards collaboration between esports fans, teams and sponsors
Espo, the platform where esports fans can stake* world-class teams and players, has announced pre-registration at www.espo.io.  Espo has created an answer to limitations and problems faced by fans, teams and players in the esports community.  By developing a digital staking platform, Espo is addressing the burning desire of fans to get closer to the action and the aspiration for teams to expand and generate revenue from their fanbase.
Officially launching in September 2020, the Espo platform will also offer new ways for companies and brands to sponsor esports teams and players through staking.  This will allow sponsors the opportunity, unlike any other, to benefit not only from the customary advantages of sponsoring esports teams and players, but also the ability to engage with esports fans and promote products and services via the Espo platform.
Despite year-on-year growth in global spectator figures, esports fans are experiencing limited interaction with famous teams and players.  Fan engagement predominantly occurs via social media and video streaming platforms, which is often highly saturated amongst the mass of other fans accessing these platforms and attempting to interact with players simultaneously.  The Espo platform changes that with an entirely new way to bring fans closer to their idols, feel invested in the action through staking, share in future prize money winnings and gain access to exclusive Perks offered by Espo.
Henry James, Founder and CEO of Espo said: "Popular platforms in the esports sector like Twitch and YouTube are focused on enabling content creation and distribution but are not going to extra lengths to enhance the experience of esports fans and their engagement with teams and players.
"Our solution will enable fans to play a fundamental role in supporting their favorite teams and players in a collaborative and meaningful way that is intended to have lasting and rewarding benefits for all parties.  To make this possible, we have already received letters of intent from leading esports teams and organizations that have expressed interest to work with Espo and feature on the platform.  We're still working through on finalizing these initial agreements and we look forward to sharing announcements with the community in the coming weeks."
In addition to supporting the collaboration between established world-class teams, fans and sponsors, Espo recognizes the need to support rising teams and players that also find it extremely challenging to be spotted and maximize their potential.  The Espo platform will help radicalize the ability of these rising stars by levelling the playing field and availing more options for new esports talent to be discovered and compete at the highest level.
Alonso and Barrichello team up for Le Mans Virtual assault with Torque Esports' simulator company Allinsports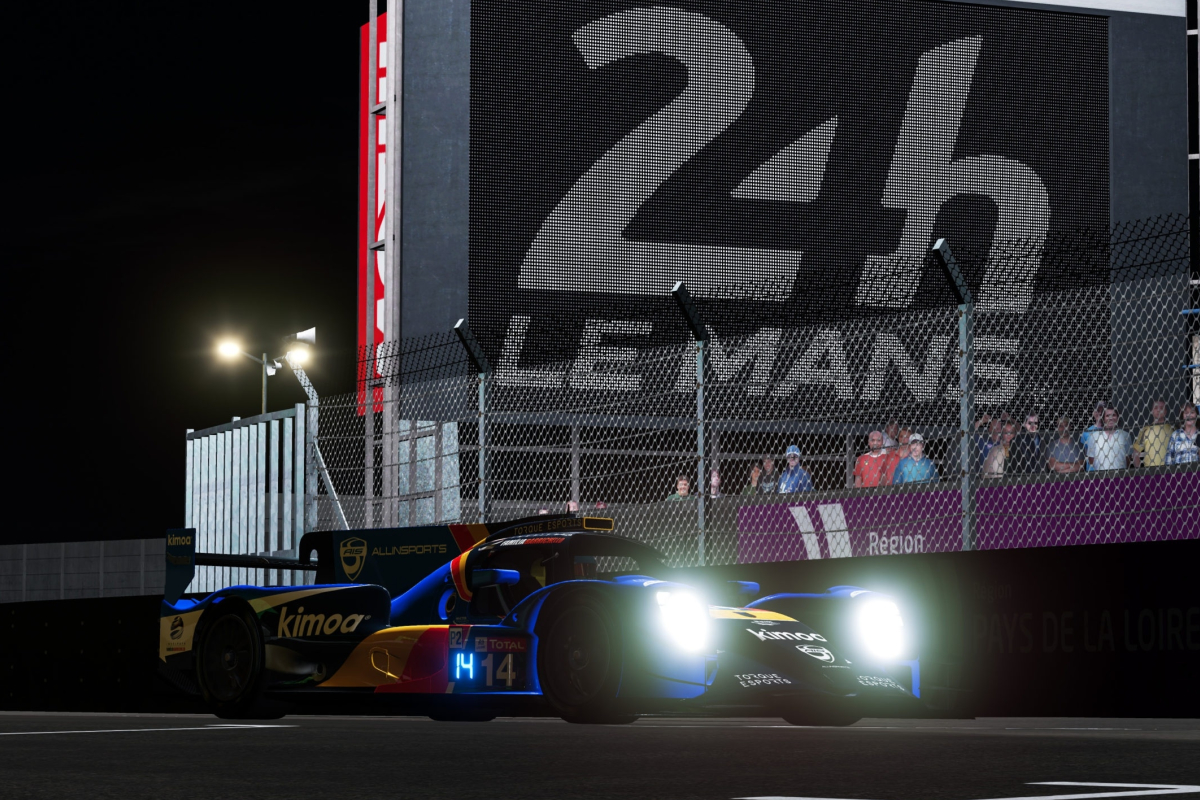 Reading Time:
3
minutes
The Spanish/Brazilian combination have an incredible 633 Formula 1 race starts and 43 wins between them
Sim racing stars Olli Pahkala and Jarl Teien to join F1 stars
Torque Esports' sim manufacturer Allinsports throw support behind Le Mans entry
Formula 1 legends Fernando Alonso and Rubens Barrichello are teaming up for an assault on the 24 Hours of Le Mans Virtual – launching the FA/RB Allinsports team for the virtual version of the fabled French endurance racing event.
The duo are two of only five men with more than 300 Formula 1 race starts to their credit, with Barrichello holding the record at 322 with Alonso not far behind on 311.
Scheduled for June 13/14 – the 24 Hours of Le Mans Virtual will fill the date that was originally scheduled for the 88th running of the legendary French endurance race, which Alonso has previously won twice.
The Alonso/Barrichello team is backed by Torque Esports (TSX-V: GAME) (OTCQB: MLLLF) and its market-leading simulator manufacturer Allinsports, which build and supply Formula 1-level simulators to both racing legends.
Headed by ex-Ferrari, McLaren and Red Bull development and electronics expert Anton Stipinovich, Allinsports not only design and build full-size, full-motion simulators from its base in Maranello, Italy, but also market the eRacer simulator that is used by leading motorsport stars including Alonso, Barrichello, Sebastian Vettel, Kimi Raikkonen, Charles Leclerc, Emerson Fittipaldi, Tony Kanaan, Helio Castroneves, Gil de Ferran, David Brabham, Conor Daly and Nicholas Latifi
The Torque Esports team has a long history at Le Mans with President and CEO Darren Cox creating the Nissan PlayStation GT Academy program which turned gamers into real-world race drivers and spearheaded the successful Le Mans debut for the likes of Jann Mardenborough and Lucas Ordonez.
Joining the Formula 1 stars for the event will be top Nordic sim racing racers Olli Pahkala (Finland) and Jarl Teien (Norway).
"I've been very fortunate to have two victories at the 24 Hours of Le Mans in the past two years, but the level of competition for the virtual race could be even tougher," Alonso said.
"I'm thrilled to team up with Rubens and delighted to add Olli and Jarl to our team. Allinsports played a big role in getting both Rubens and I involved in sim racing, and we're very excited to be working together with Anton and his team as well as the guys from Torque Esports who are putting this together."
Allinsports' Stipinovich previously worked closely with both Barrichello and Alonso during their Ferrari Formula 1 stints. The South African-born electronics expert worked with Barrichello during the dominant Ferrari Schumacher/Barrichello era and worked with the Ferrari Driver Academy during Alonso's stint.
"Anton and I had a lot of success together back in the day and he has been a huge help in getting me involved in esports racing," Barrichello said.
"I did Le Mans back in 2017 and loved the experience, and now I'm really looking forward to going back and doing it virtually with this great team. We have a lot of work to do to prepare for the race, but it is going to be a brilliant challenge."
Both Alonso and Barrichello have showcased their virtual talents in the Torque Esports' The Race All-Star Series powered by ROKiT Phones in the Legends Trophy division.
Alonso starred last week at Indianapolis, taking two victories, including a win in the reverse grid event. Barrichello has also been to victory lane in the series, taking a victory at NOLA Motorsport Park earlier this year.
The FA/RB Allinsports team has also enlisted the support of former Le Mans LMP2 winning squad Greaves Motorsport to support the virtual Le Mans assault. Jacob Greaves and his team will handle the preparations and in-race strategy for the team.
The Greaves Motorsport squad is no stranger to tackling the 24 Hours of Le Mans with gamers. Torque Esports' Cox previously worked with the UK-based squad for the GT Academy graduates.
"We have a massive task ahead, but we're doing everything we can to make sure we give this the best shot we can," Cox said.
"Even though the weather, safety cars, and everything may be virtual, we're treating this like the real thing, and Jacob and his team have that race-winning experience that we're adding to our 'virtual' pit wall. We had great real-world success with Jacob and his team with gamers in the past – now we're taking two real-world motorsport legends into the virtual world. It is a perfect flip from what we've done previously."
The Formula 1 stars' sim racing teammates have equally as impressive resumes. Pahkala finished third three times in the iRacing World Championship Grand Prix Series in 2014, 2015 & 2016, and second in the Road Pro Series in 2013. He finished fourth in the Formula 1 Esports Pro Series Team Championship in 2018 and was third in the Formula E Visa Vegas eRace in 2017.
Teien is a two-time LFSCart champion and has driven for G2 Esports in the eNASCAR Coca-Cola iRacing Series.
The 24 Hours of Le Mans Virtual will kick off at 15:00 (CEST) on Saturday, June 13, with racers greeting the chequered flag at the same time on Sunday.
Source: Torque Esports