Ever more people 60 years and older are gaming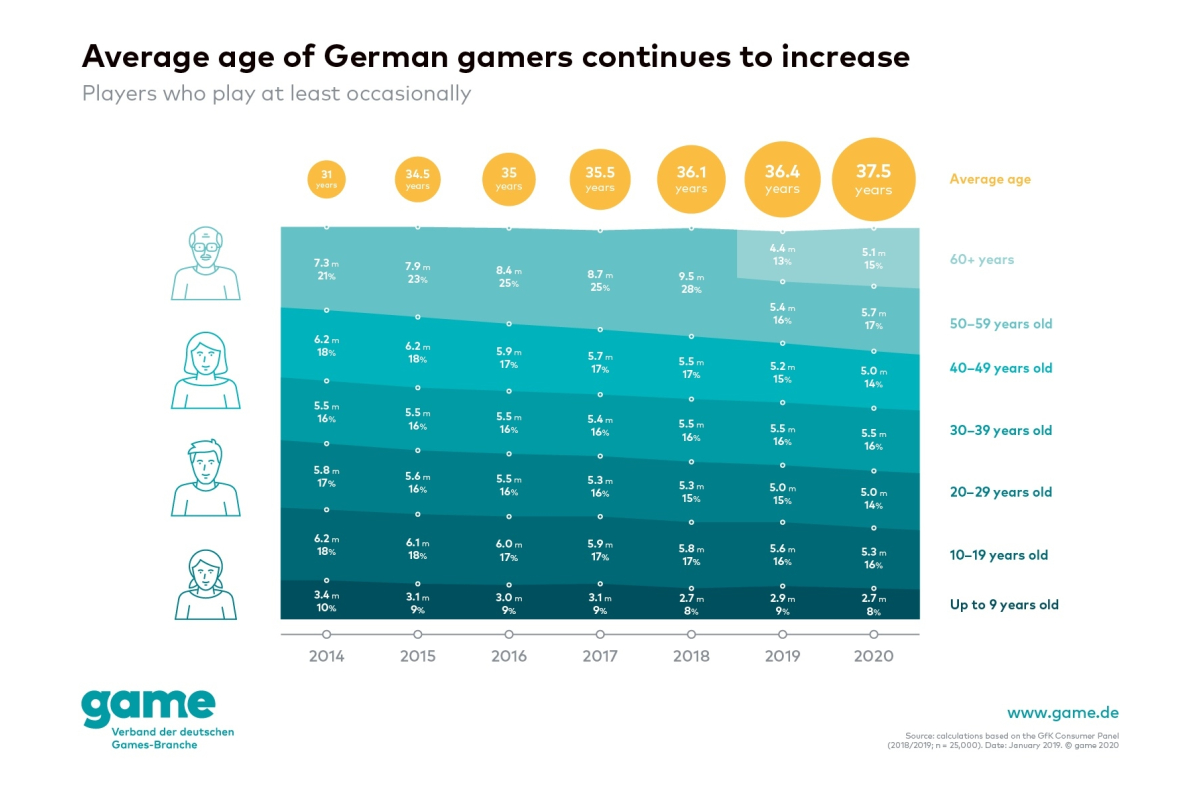 Reading Time:
2
minutes
More than 34 million Germans play computer and video games
Over 5 million seniors are gamers
Average age of gamers increases to 37.5 years
Ever more seniors are discovering an affinity for games. Over 5 million people 60 years or older in Germany currently play computer and video games – an increase of around 700,000 players compared to the figure of about 4.4 million in 2019. A total of more than 34 million people play computer and video games in Germany. These are the numbers released today by game – the German Games Industry Association, based on data collected by the market research company GfK. As in all other age groups, players over 60 are equally divided between women and men. Seniors most often reach for their smartphone or tablet to play; around 50 per cent of players in this age group make use of these devices for gaming.
'For many people 60 years and older, a virtual round of skat, a construction simulation or a crossword puzzle is just as much a part of everyday life as reading the newspaper or watching the news,' says game Managing Director Felix Falk. 'Games often open the door to the digital world for older people. They don't merely entertain; they make possible digital participation. The ongoing corona crisis brings into even sharper focus just how important access to the digital world is for older people too.'
The average age of gamers in Germany continues to increase
Currently, around 34 million people play computer and video games in Germany. Half of these players are women (about 48 per cent). The average age of gamers in Germany has increased compared to last year, from 36.4 years in 2019 to 37.5 years currently. This is in part a result of the continual increase in the numbers of gamers in the 50–59 and 60-plus age groups in Germany. In part, it is due to the fact that many long-time players have remained true to the medium and are now in these age categories.
About the market data
Please note: for the first time, the current market data includes analyses for the 60-plus age group. This data is visualised in the corresponding market data graphic.
The market data is based on statistics compiled by the GfK Consumer Panel and App Annie. The methods used by GfK to collect data on Germany's digital games market are unique in terms of both their quality and their global use. They include an ongoing survey of 25,000 consumers who are representative of the German population as a whole regarding their digital game purchasing and usage habits, as well as a retail panel. The data collection methods provide a unique insight into the German market for computer and video games.
game – the German Games Industry Association:
We are the association of the German games industry. Our members include developers, publishers and many other games industry actors such as esports event organisers, educational establishments and service providers. As a joint organiser of gamescom, we are responsible for the world's biggest event for computer and video games. We are an expert partner for media and for political and social institutions, and answer questions relating to market development, games culture and media literacy. Our mission is to make Germany the best games location.
EGT Interactive enters in the Slovakian iGaming market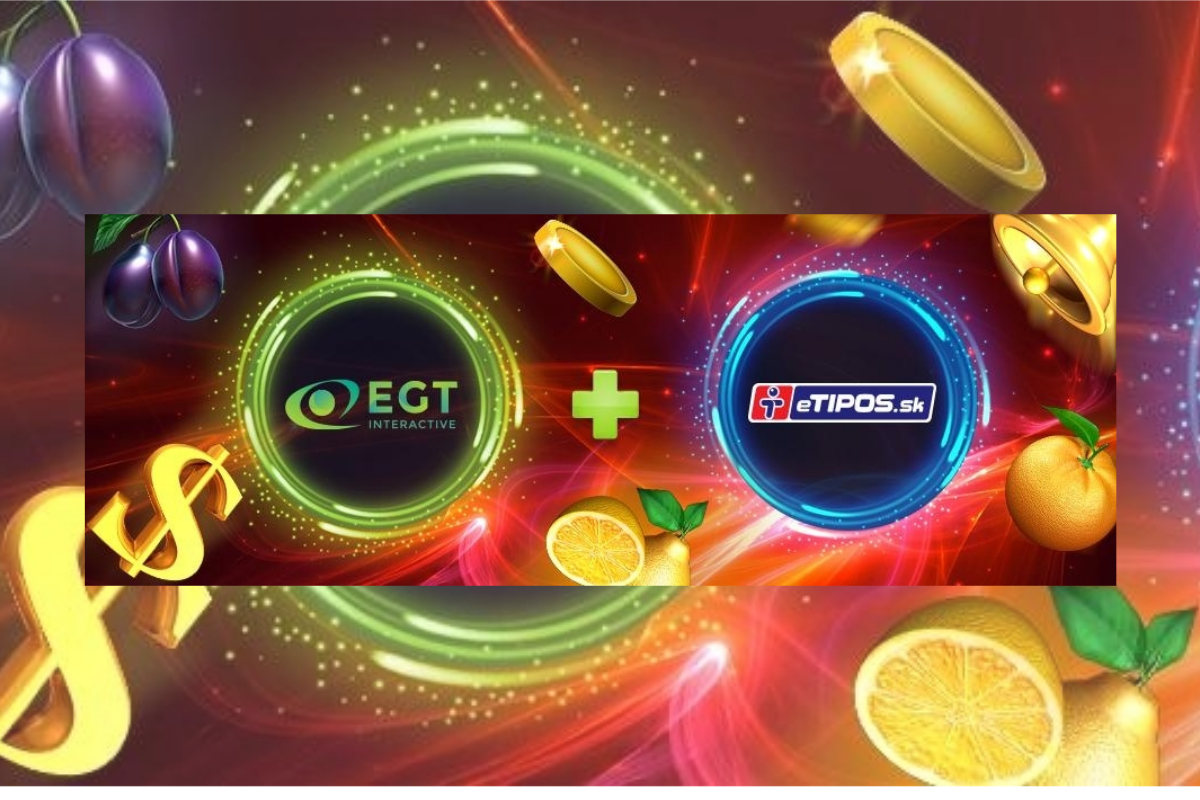 Reading Time:
< 1
minute
EGT's portfolio of games available for the players in Slovakia for the first time through the country's national lottery operator, TIPOS
Under the deal, EGT Interactive will provide some of the hottest EGT slots to the national operator. This deal ensures the continuous and successful expansion of EGT's portfolio in the regulated European online markets, giving the Slovakian players the possibility to interact with some of the top titles like 40 Super Hot, Burning Hot, Zodiac Wheel, Amazons' Battle, Rise of Ra and many more of EGT's vast portfolio of casino games from the safety of their homes.
Todor Zahariev – CEO of EGT Interactive, commented: "We are extremely excited to partner with such major operator as TIPOS. The interest in the games, since the very first day of their launch, outcomed our expectations and has proven that Slovakia is yet another strategic market for EGT Interactive. With the rise of the popularity of EGT's portfolio, we are also looking forward to enlarging our operator network in the territory by providing the best user experience and high-quality content to the local players."
adesso modernises LOTTO Thüringen's internet presence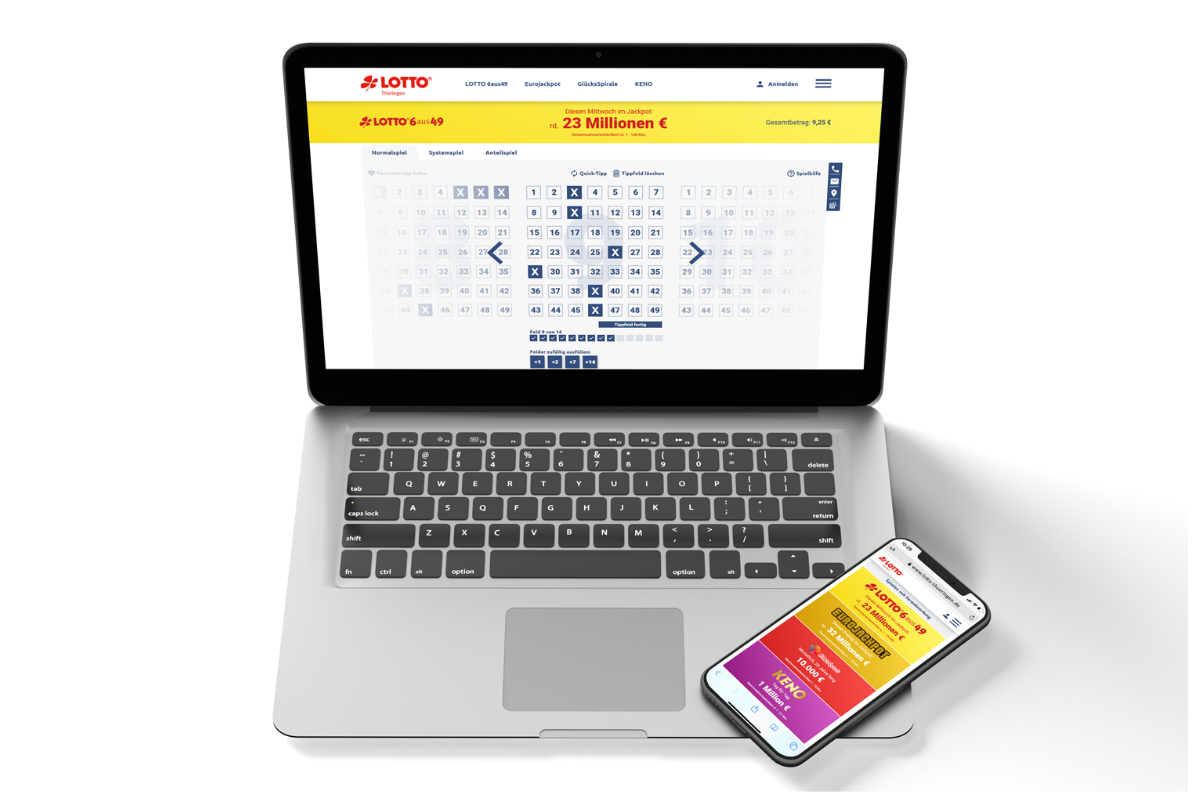 Reading Time:
2
minutes
LOTTO Thüringen presents its new web portal www.lotto-thueringen.de
Portal relaunch with holistic support from adesso
Secure, future-proof investment in state-of-the-art web technology
Today LOTTO Thüringen launched its new modern internet presence. The website for Thüringen's state lottery was again designed and implemented by IT service provider adesso. Following the development of its online presence in 2012, the relaunch is the second major portal design contract the company has awarded to the lottery solutions experts at adesso.
LOTTO Thüringen's fresh new website reflects shifts in the industry – changes in players' behaviour, expanded target groups and new technologies – which led to a need for modernisation. Behind the new web interface, which lottery players can visit at www.lotto-thueringen.de, lies IT service-provider adesso's 20 years of lottery and technology expertise. In a one-and-a-half year development project, the company redesigned the portal from the ground up using the latest technology. From the creative concept, developed in a series of customer workshops, to technical execution and implementation, quality assurance and the operational go-live – adesso offered holistic support throughout the portal project and will have ongoing responsibility for maintenance. The IT service-provider was able to integrate the portal into LOTTO Thüringen's existing central lottery system, which was essential for a coherent system environment.
www.lotto-thueringen.de: Portal architecture with potential for further development
Up-to-the-minute technical features, developed using the Spring Web MVC framework, will allow the website architecture to evolve, so that it can adapt and expand to meet new requirements at a manageable cost. The new site's user-friendly, responsive design allows the offering to be used optimally from all mobile devices. Marc Lorek, Head of the Lottery Line of Business at adesso, describes the task faced by his development team: "This relaunch project for LOTTO Thüringen allowed us to use the full range of our specialist knowledge. The result is a modern, user-friendly website with a clear customer focus. Our expertise with the latest technology has also allowed us to ensure that the solution is a secure, future-proof investment."
Knowledge of industry-specific business processes pays dividends
Jochen Staschewski, Managing Director of LOTTO Thüringen, approved the operational go-live of the new website today. He is pleased about its fresh new look: "From today our lottery players will have a completely new experience of our gaming services. From online ticket submission to information about wins, our customers will enjoy a pleasant experience with an accessible website that also offers a high level of security for all processes. It's all thanks to our cooperation with the experts from adesso, whose detailed understanding of lottery processes, built up through years of experience, allows them to offer us full IT support."
As a partner to the state lottery operators, adesso is a member of the European Lotteries and the World Lottery Association.
Germany Submits New Gambling Regulations to European Union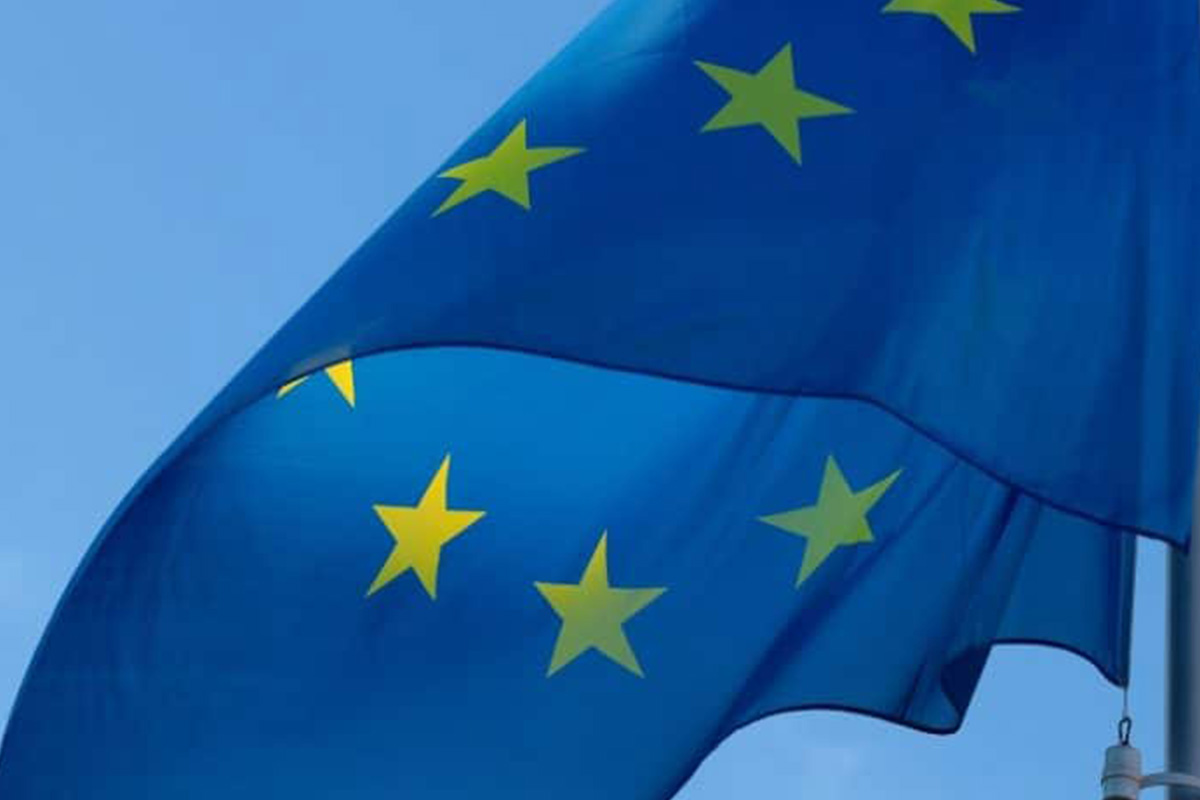 Reading Time:
< 1
minute
Germany has submitted the revised framework of its fourth edition of the "State Treaty on Gambling" to the European Union.
Despite numerous revisions, the framework has yet to be ratified by the nation's 16 federal Länder (states).
The make-up of the treaty continues to be debated by regional MPs at the Bundestag federal council, in which 13 states must ratify the treaty by 31 March 2021 for Germany's new gambling framework to be passed into law.
Should the mandate be ratified, Germany will establish its federal legislative framework for operating gambling services until 31 December 2028, when Länder will be allowed to revise or opt-out of the treaty.