Booming Games is now live on the E-Play24 brands in Italy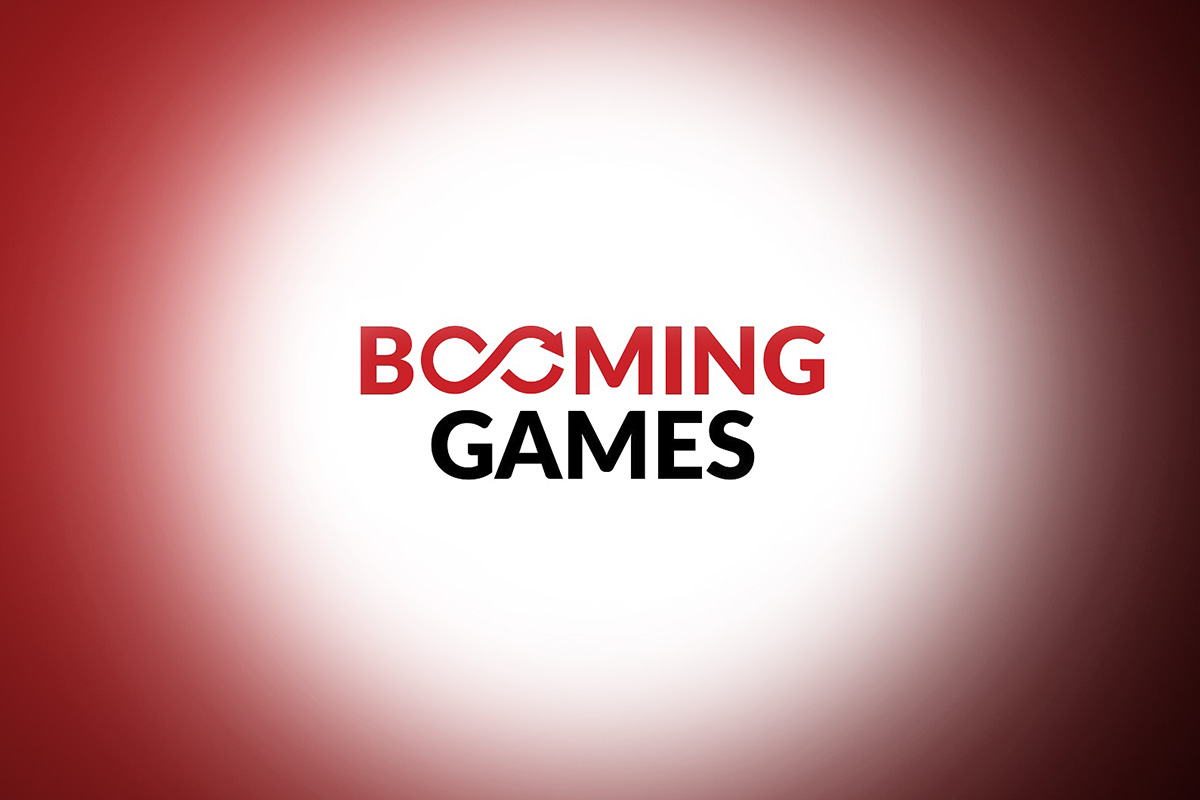 Reading Time:
< 1
minute
Booming Games is now live with E-Play24, one of the most popular online gaming operators with the largest number of commercial brands in Italy. Thanks to this new partnership, the Vegas section of E-Play24 platform will benefit from Booming complete gaming content portfolio with more than 60 HTML5 slot games including popular titles like Booming Seven Deluxe, VIP Filthy Riches, Gold Vein and latest release Show Master. Booming Games release up to two new games per month that will be available to all brands. Soon to be released are Burning Classics, Howling Wolves and Tiki Wins.
"The launch of Booming Games, the sixteenth casino brand available in our game platform, gives us the opportunity to keep our players surprised and happy by offering an ever-growing array of games like their new exiting portfolio", stated Antonio Tressanti CEO of E-Play24.
"We are excited to launch our games across the E-Play24 brands to further strengthen our presence in the Italian market" said Frederik Niehusen, Chief Commercial Officer at Booming Games. "E-Play24 is the next strong addition to our Italian client portfolio and we are looking forward to working with them", he added.
Booming Games have just recently announced a successful start to 2020 after being recognised as Rising Star of the Year at the International Gaming Awards and launching their slot portfolio with Microgame, Leo Vegas and many more.
Zitro's Video Slots Charm Players at Casino Di Venezia in Italy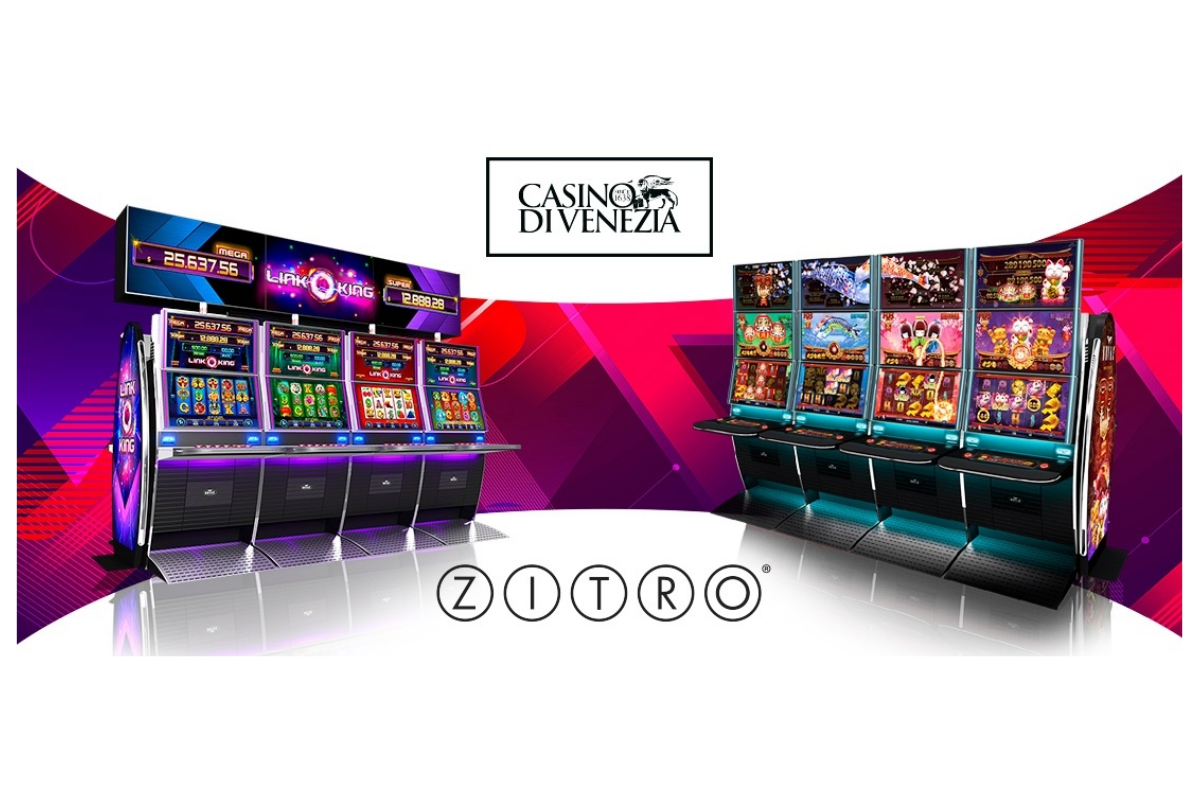 Reading Time:
< 1
minute
Zitro announces a successful installation of its video slot games in Casino di Venezia of Italy. Players from one of the most renown casinos in Europe can now enjoy the thrill and fun of some of the most popular games of today.
Dott. Alessandro Cattarossi, Director of Casino Di Venezia said: "Our mission is to cater our customers with extraordinary experiences, and by adding games like 'Link King' and '88 Link Lucky Charms' from Zitro to our game offerings, we are not only providing world-class entertainment to our distinguished clientele, but we are investing in performing products."
Nadège Teyssedre, Commercial Director of Zitro for EMEA added: "We could not be more proud of being included in one of the top venues in Europe, and we are convinced that our games will add to Casino di Venezia's overall success. I'd like to thank Casino di Venezia for their trust and we look forward to extending our cooperation converting it into a long-term friendship."
'Link King', the multigame progressive link on the ultra-slim 'Fusion' cabinet that has caused a global hype in the gaming industry, and '88 Link Lucky Charms', a multigame progressive bank that combines for the first time Zitro's Link Bonus with a multiway game mechanic on the fascinating 'Allure' cabinet, are now available to play at Casino di Venezia in the elegant Italian city of Venice.
If you are looking to find recommendations for all existing Slot Machines in Italy and more, make sure to visit spikeslot.com
Europe's Video Games Industry Concerned by Court of Justice Judgement on Schrems V Facebook Data Case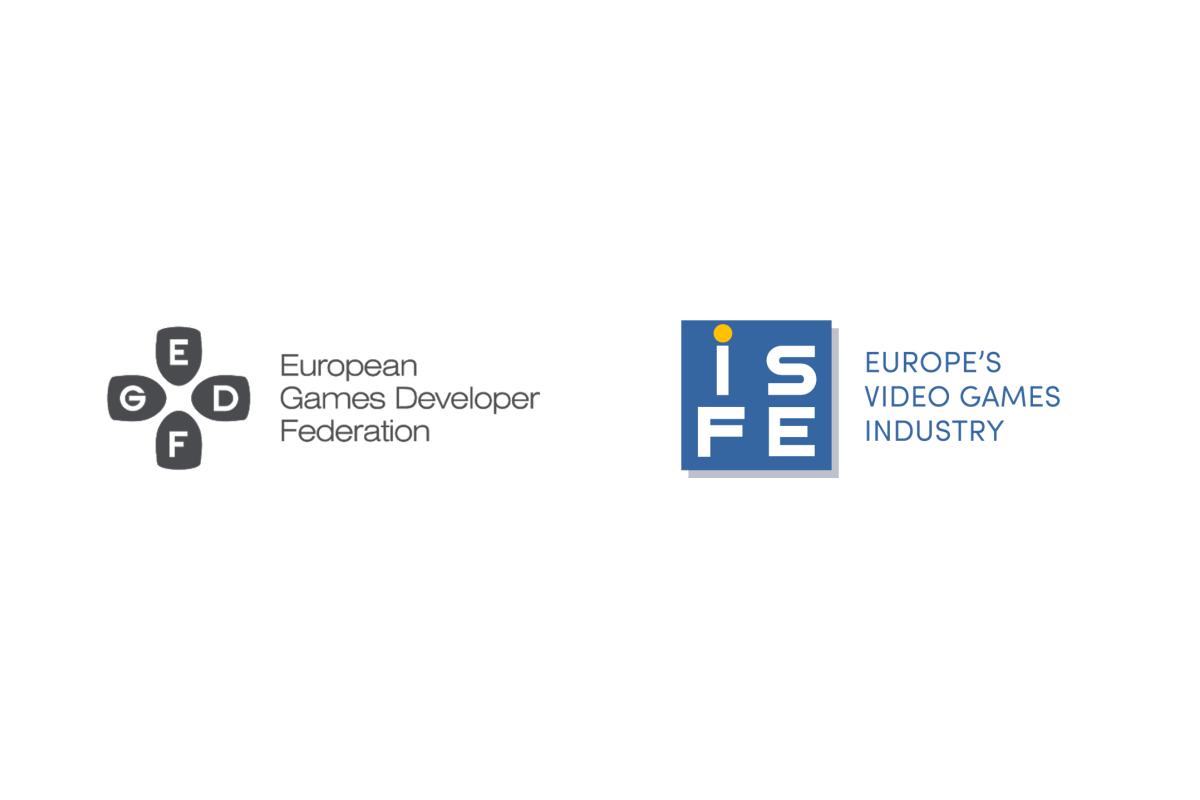 Reading Time:
2
minutes
Europe's video games industry is disappointed at today's important decision by the Court of Justice of the European Union (CJEU) in the long-running Schrems v. Facebook Ireland case (Case C-311/18) that jeopardises the ability of European companies to continue to transfer data between EU Member States and the US.  The CJEU has ruled that, whilst data transfer agreements used by Facebook and other companies to share European users' digital data with third countries are valid so long as the country "ensures an adequate level of data protection", the EU-US Data Protection Shield (otherwise known as the Privacy Shield), that provides companies on both sides of the atlantic with a clear and cost-effective mechanism to comply with data protection requirements, has been ruled invalid.
The Court of Justice ruled that "the limitations on the protection of personal data arising from the domestic law of the United States on the access and use by US public authorities (. . .) are not circumscribed in a way that satisfies requirements that are essentially equivalent to those required under EU law".
ISFE CEO Simon Little said: "A solution must be found. The transfer of data between the EU and the US is crucial to the full functioning and continued growth of Europe's €21bn-strong video games industry.  Our industry is fully committed to the security of player data and supports the European Commission's work to modernise European data protection rules and to improve the mechanisms for transferring data to third countries, but today's decision is a blow to the ability of European games companies to reach a global market."
EGDF COO Jari-Pekka Kaleva said: "The free flow of data between Europe and the US is crucial for game developer studios.  This ruling by the CJEU has the potential to create a significant regulatory market access barrier for European SMEs operating in global digital markets and it will adversely impact anyone working in Europe's digital economy. Government officials and policy makers in Washington and in Brussels need to act quickly to build a new, more reliable framework for data transfers securing high standards on privacy and enabling the much-needed digital growth on both sides of the Atlantic." 
Smartphones remain the most popular gaming platform among Germans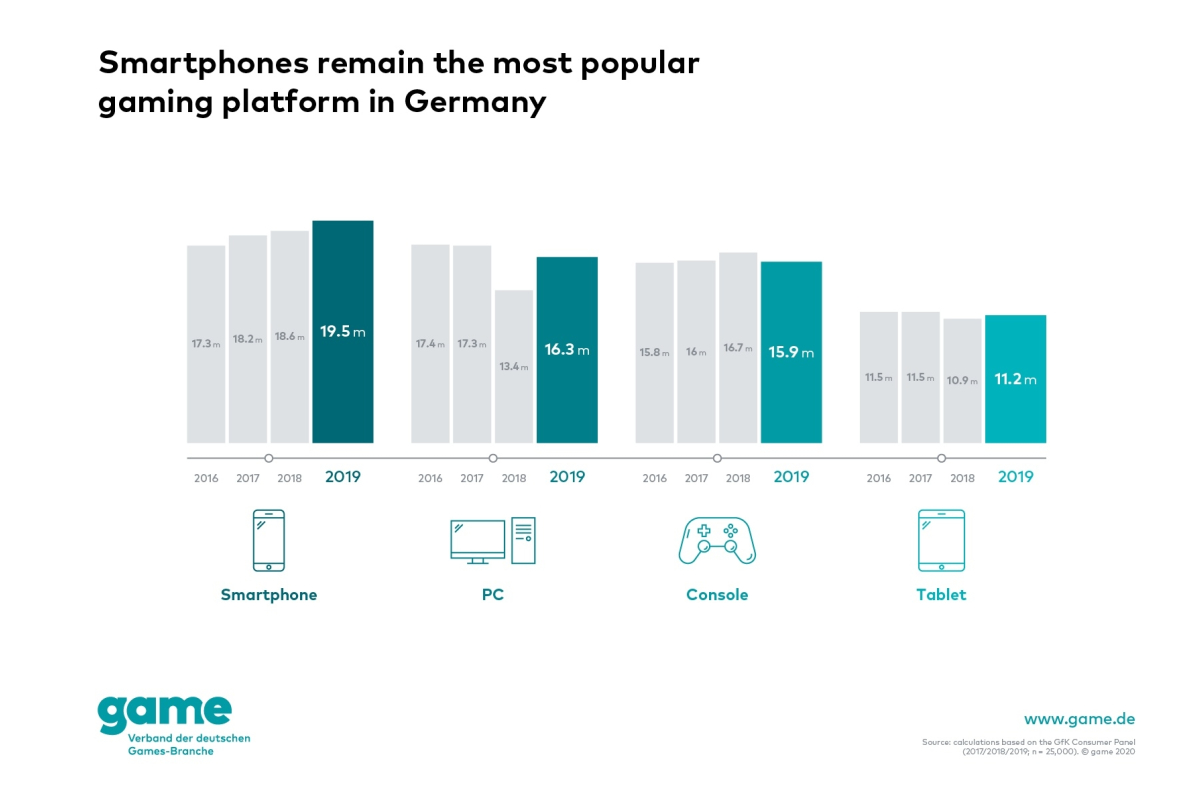 Reading Time:
3
minutes
• 19.5 million Germans play games on smartphones
• PCs back in second place
• German games industry tops the 6-billion-euro mark
Smartphones remain the most popular gaming platform among Germans. Puzzles, brain-teasers or building games: 19.5 million people in Germany use smartphones to play games. That's 900,000 more gamers than in 2018. These are the figures released today by game – the German Games Industry Association, based on data collected by the market research company GfK. This means smartphones are now Germany's most popular gaming platform by an even wider margin; they hit the top spot for the first time in 2018. The number of PC users increased as well: in 2019, around 16.3 million people played on computers, which is an increase of 2.9 million gamers compared to 2018. Reasons for this growth include the release of hotly anticipated games such as city-building strategy game 'Anno 1800' or the western epic 'Red Dead Redemption 2', as well as the launch of new subscription services such as the Xbox Game Pass for PC or Ubisoft's Uplay+.
By contrast, fewer people used consoles such as the Nintendo Switch, the Sony PlayStation, or the Microsoft Xbox to dive into the digital world in 2019. Approximately 15.9 million people played console games in 2019 – around 800,000 fewer gamers than in the previous year. However, the planned launches of the follow-up consoles to Sony's PlayStation 4 and Microsoft's Xbox One at the end of the year are expected to breathe new life into the console sector. As game announced in March, one third of Germans are greatly looking forward to the release of the coming generation of consoles. Tablets, on the other hand, gained approximately 300,000 additional users in 2019, amounting to a total of 11.3 million gamers. Overall, more than 34 million Germans play computer and video games. The average age is 37.5 years.
Felix Falk, Managing Director of game, says: 'At home or on the go, alone or with friends: Germans play games all the time and everywhere. At times like these, in particular, we can see why so many people in Germany love games: they're fun, they bring people together, and they allow us to escape for a little while, even when we're sitting at home.'
German games market grows by 6 per cent
As already reported by game, the German games market grew by 6 per cent in 2019, to around 6.2 billion euros. Sales of games hardware, including consoles, gaming PCs and accessories, dropped by 2 per cent from the previous year, to 2.4 billion euros. In contrast, the market for games software showed a gain of 11 per cent: in 2019, a total of about 3.9 billion euros was spent on computer and video games and the charges for the respective online services.
About the market data
The current data take into account further dedicated games hardware like gaming PCs and the corresponding accessories, resulting in a larger market size than previously reported. This is true also of the adjusted data for 2018, which accordingly differs from that reported last year.
The market data is based on statistics compiled by the GfK Consumer Panel and App Annie. The methods used by GfK to collect data on Germany's digital games market are unique in terms of both their quality and their global use. They include an ongoing survey of 25,000 consumers who are representative of the German population as a whole regarding their digital game purchasing and usage habits, as well as a retail panel. The data collection methods provide a unique insight into the German market for computer and video games.
game – the German Games Industry Association:
We are the association of the German games industry. Our members include developers, publishers and many other games industry actors such as esports event organisers, educational establishments and service providers. As a joint organiser of gamescom, we are responsible for the world's biggest event for computer and video games. We are an expert partner for media and for political and social institutions, and answer questions relating to market development, games culture and media literacy. Our mission is to make Germany the best games location.