Swintt celebrates launching games with Rootz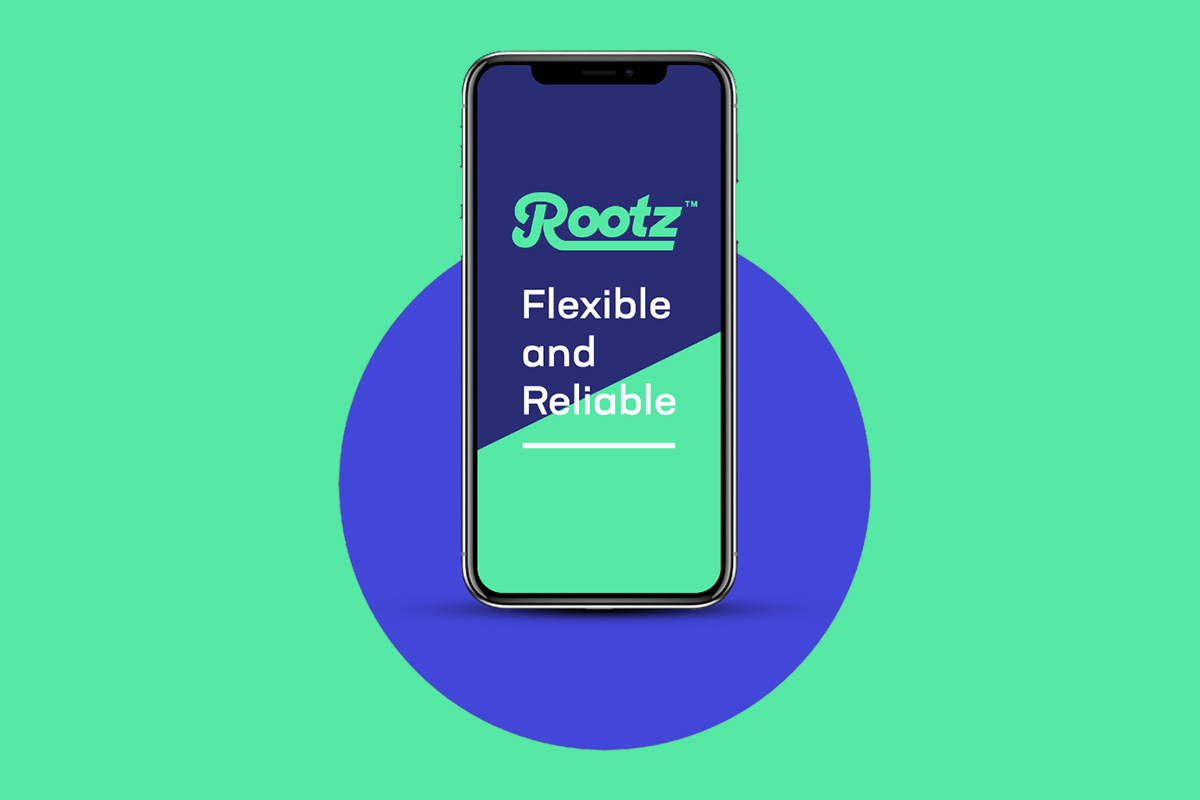 Reading Time:
< 1
minute
Swintt, the rapidly rising game provider with a focus on localised content for key markets, is celebrating the launch of their games with Malta-based operator Rootz.
The launch of Swintt's series of land-based content popular across European markets including Germany includes the top games Master of Books, Seventy Seven and Fresh Fruit. Other land-based games scheduled for release include Heart of Earth, Perseus and Fruit Fever.
The agreement also covers Swintt's proprietary portfolio of games to be launched soon, with top titles Immortal Monkey King, Panda Warrior and Royal Golden Dragon among the most popular.
Rootz Limited is known for delivering its flagship brand Wildz, an online casino that delivers a wide range of games built upon a robust platform optimised for a quality player experience through the Levelz and Spin Back functionalities.
Rootz also launched Caxino in June 2020, their second online casino brand using the powerful Rootz platform and utilizing the same retention and bonusing mechanics to reward loyal players.
Commenting on the agreement, David Flynn, CEO for Swintt said "I'm very happy to see the hard work of the Swintt team, reflected in this partnership. The team at Rootz are an entrepreneurial and high paced team with a focus on local markets. This matches our philosophy at Swintt and I'm looking forward to our launch in the near future."
Lasse Rantala, CEO at Rootz when asked about the deal stated, "We are extremely excited to be an early partner in the Swintt journey to make the most of their approach to delivering high-quality, localised content. With both Swintt and Rootz being young companies with many shared values, we can grow together through close collaboration and form a formidable partnership. The range of games will perfectly suit our players at Wildz.com and Caxino.com."
LiveScore Announces Expanded Rights for its 2020-21 Free-To-Air Football Service After Achieving Half a Million Viewers Since June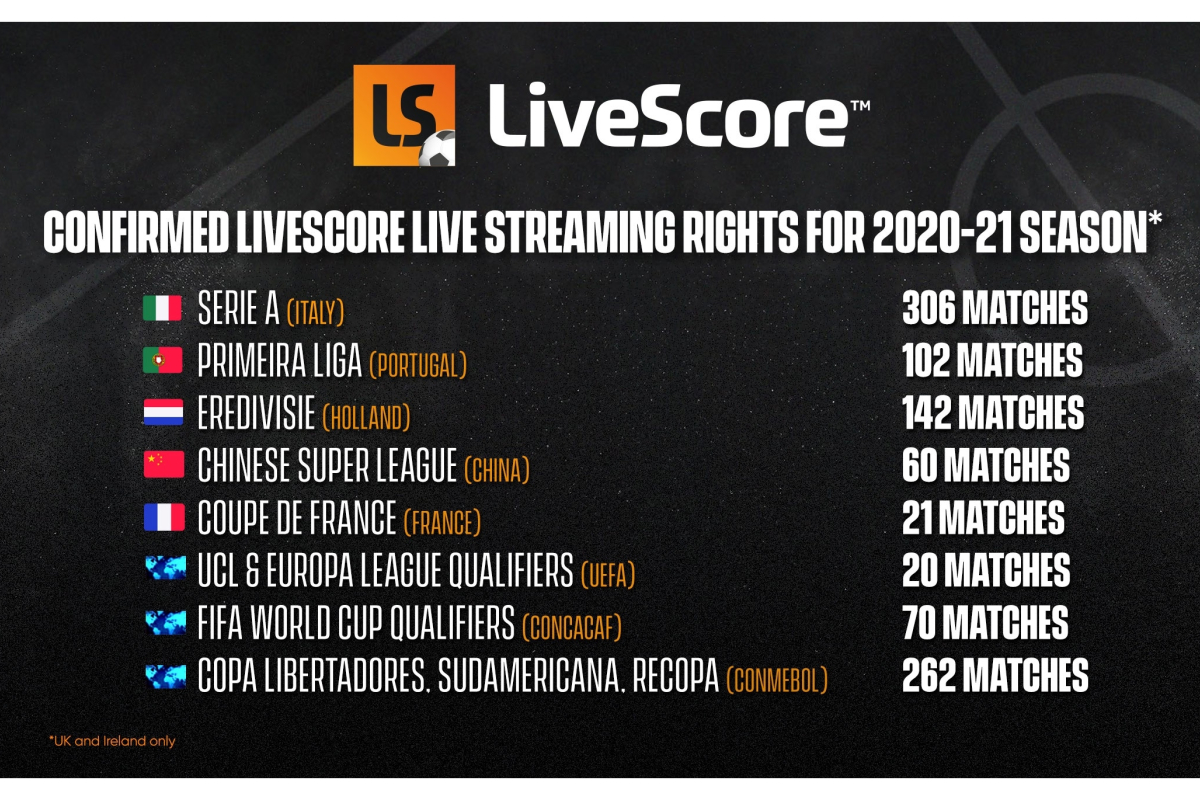 Reading Time:
2
minutes
Confirmed leagues available for live streaming to include Serie A, Primeira Liga, Eredivisie and the Chinese Super League alongside a host of global competitions
LiveScore, one of the world's leading real-time sports updates and streaming service providers, has announced an expanded set of league and competition free-to-air live streaming rights for the 2020-21 football season, bringing its 2 million users in the UK and Ireland closer to the action than ever before.
Fresh from its coverage of the recent season climax which saw Juventus emerge as champions, LiveScore will live stream a staggering 306 matches from Italy's 2020-21 Serie A campaign – 80% of the total fixtures being played – with each one available for free within the UK and Ireland and fully-integrated via the LiveScore iOS and Android apps. Premier Sports will continue to broadcast every game from Italy's popular top flight as part of their existing offering.
In addition to the Serie A deal, which was negotiated by Saran Media Group and agreed with Premier Sports, LiveScore will once again stream matches from Portugal's Primeira Liga, while for the first time the service will feature matches from the Eredivisie in Holland as well as the Chinese Super League.
Football fans will also be able to follow a host of cup competitions across Europe as well as Central and South America. Alongside the Coupe de France, a number of UEFA Champions League and Europa League qualifiers will be made available to stream on the OTT service. Finally, the United States and Mexico will also be amongst the nations featuring in CONCACAF FIFA World Cup 2022 regional qualifiers, while lovers of South American football can feast on the drama of the Copa Libertadores and Sudamericana.
Confirmed LiveScore Live Streaming Rights for 2020-21:
Serie A (Italy) 306 matches
Primeira Liga (Portugal) 102 matches
Eredivisie (Holland) 142 matches
Chinese Super League (China) 60 matches
Coupe de France (France) 21 matches
UCL & Europa League Qualifiers (UEFA) 20 matches
FIFA World Cup Qualifiers (CONCACAF) 70 matches
Copa Libertadores, Sudamericana, Recopa (CONMEBOL) 262 matches
LiveScore's free-to-air live streaming service launched for the UK and Ireland audience in June, putting the brand at the forefront of the return of live sport during the COVID-19 pandemic. The service attracted more than half a million unique viewers in its first two months, with a peak audience of 125,000 being reached during AC Milan's 4-2 comeback victory over Juventus on Tuesday 7th July.
Ric Leask, Marketing Director at LiveScore, said;
"After a fantastic start for our new LiveScore free-to-air live streaming service, we're excited that our offering is set to get bigger and better for the new 2020-21 season. As well as returning to the hugely popular leagues in Italy and Portugal, by unveiling a number of new competitions we are continuing to innovate and offer our UK and Ireland audience the most immersive sports coverage possible."
"This is an important next step for LiveScore as we continue to expand our digital content offering. In addition to the live streaming options for our UK and Ireland audience, global LiveScore users can expect to enjoy a range of on-demand content from across the football world including through our partnership with LaLiga Santander. We're excited to kick-off the 2020-21 season!"
The new OTT service complements LiveScore's existing unparalleled coverage, content and statistics for hundreds of sporting leagues and competitions around the world, which has a global audience of 56 million monthly active users, including 2 million in the UK and Ireland alone.
AGTech Announces Interim Results For The Six Months Ended June 30, 2020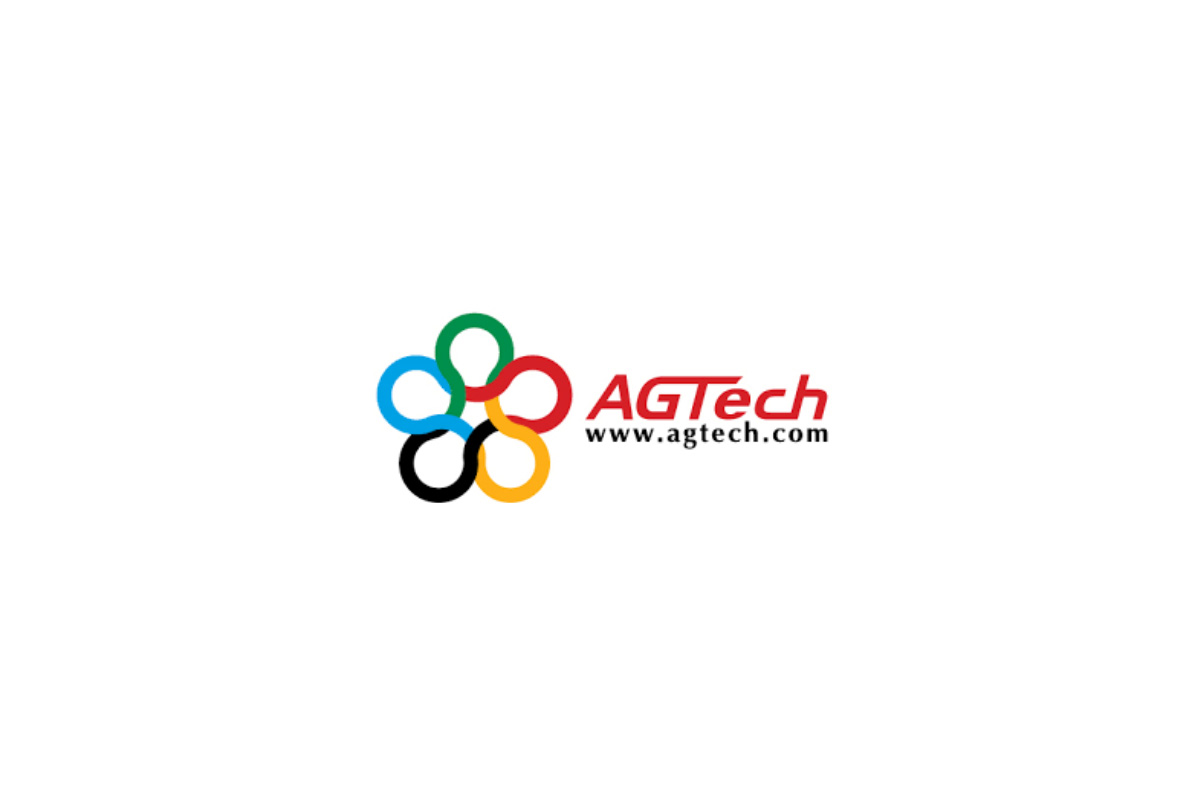 Reading Time:
3
minutes
AGTech Holdings Limited, a leading integrated lottery, games and entertainment technology company in China, announced the interim results for the six months ended June 30, 2020.
According to MOF figures, during the Six-Month Period, lottery market recorded sales of approximately RMB123.9 billion, a decrease of approximately 41.7% compared to the corresponding period in 2019. Other than the closure of national lottery market during Chinese Lunar New Year, the drop in sales was mainly due to the impact of Novel Coronavirus ("COVID-19") outbreak while the business hours of lottery sales outlets were significantly reduced. Lottery sales activities have since resumed in March 2020, and the Group will continue to closely monitor the latest development and recovery post pandemic.
AGTech's Hardware division primarily supplies the Sports Lottery and the Welfare Lottery and has hardware deployed in multiple provinces, cities, municipalities and autonomous regions across China. During the Six-Month Period under review, the Group won five lottery hardware tenders to supply lottery terminals to the SLACs in Anhui province, Shanxi province, Jilin province, Hubei province and Guizhou province of the PRC. The Group will continue to pursue tenders to supply to the lottery and other hardware market and bid for new contracts after resumption of tenders post COVID-19 delays.
Transition to new retail models presents a great opportunity for the further development of the Group's hardware business. Many of the hardware supplies required under such new retail concept share similar technology and components that underlie the lottery hardware products supplied by the Group throughout the years. We believe our hardware division continues to be well positioned to take advantage of such opportunities in the foreseeable future.
The Group continues to operate the lottery channel on mobile Taobao and mobile Alipay to serve as a one-stop platform on lottery related information for existing and potential customers. With the recent addition of sporting content and sports intelligence services to our lottery channel, we expect to roll out further engagement features and tools to improve user experience and engagement.
From a lottery products point of view, we have identified instant scratch lottery games to be an important product initiative for the coming year, as we will be dedicating resources to open up this market within the lottery sector.
FINANCIAL HIGHLIGHTS
Revenue of the Group for the Six-Month Period amounted to approximately HK$43.9 million, representing a decrease of approximately 8.0% over the corresponding period in 2019. Revenue contributions were mainly derived from lottery hardware, lottery games and systems, provision of lottery distribution and ancillary services, games and entertainment business in the PRC.
The decrease in revenue for the Six-Month Period was primarily caused by the decrease in sales of lottery hardware of approximately HK$6.6 million and decrease of approximately HK$1.0 million in revenue from games and entertainment division, partially offset by an increase of approximately HK$4.6 million from the lottery games and systems.
The decrease in revenue from hardware business was due to slower tendering processes and hardware deliveries in several provinces as compared to the corresponding period in 2019 as a result of the COVID-19 pandemic.The increase in revenue from the lottery games and systems was caused by the increase in sales volume from the virtual sports lottery games in the second quarter of 2020 after the reopening of PRC lottery market.
Operating loss for the Six-Month Period was approximately HK$105.6 million, representing a decrease of approximately 12.1% over the corresponding period in 2019.
About AGTech Holdings Limited
AGTech was incorporated in Bermuda and its shares are listed on the GEM (Stock Code: 08279). AGTech is an integrated technology and services company engaged in the lottery and mobile games and entertainment market with a focus on China and selected international markets. A member of the Alibaba Group with around 340 employees, AGTech is the exclusive lottery platform of Alibaba Group and Ant Group.
AGTech's businesses are broadly divided into two categories:
Lottery (including hardware, games and systems, provision of distribution and ancillary services); and
Games and Entertainment.
AGTech is a Gold Contributor of the World Lottery Association (WLA), an associate member of the Asia Pacific Lottery Association (APLA), and an official partner of the International Mind Sports Association (IMSA).
Source: AGTech Holdings Limited
How to choose the best online casino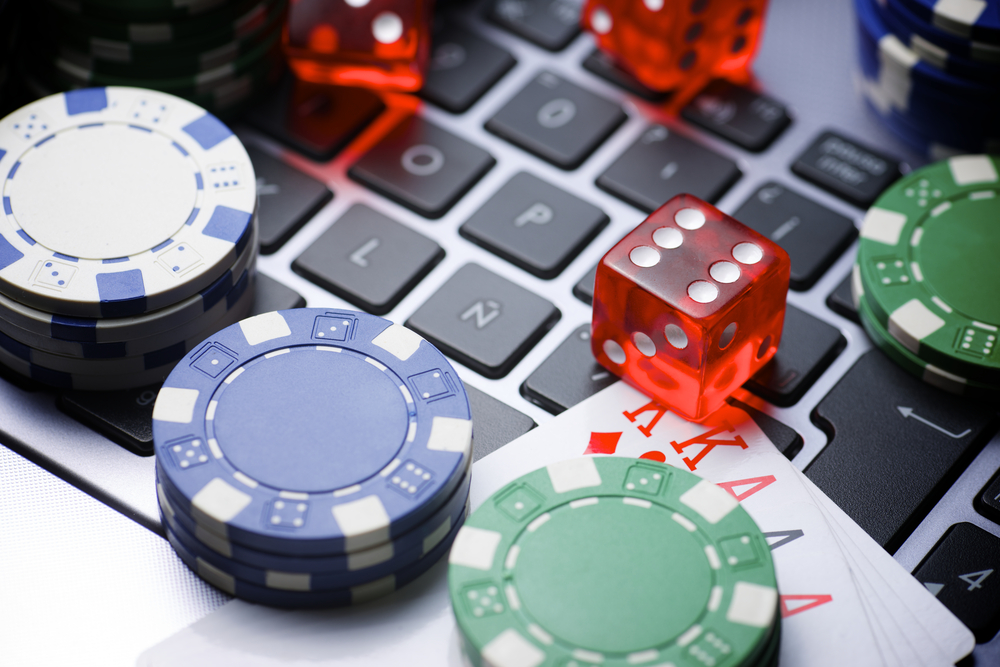 Reading Time:
2
minutes
Online casinos became possible and accessible through the invention of the internet. If you are one of those who like the unique level of excitement and fun of gaming online, then online casinos have lots to offer you. Playing is as easy as playing at traditional land-based casinos. The goal of every gambler is to make the most in a game and end up winning and making a profit. If you have not yet started playing at an online casino and you are wondering how to start, then it's easier than you think. There are countless online casinos available trying to find their way in the internet marketplace, so it is often tough deciding which one to choose. To start with, gamblescope.com list some of the best online casinos with detailed information on each one. By visiting our website, it will be easy for you to choose the right one for your preference from our vast list of reliable and legal options.
Key Considerations Before Making a Cash Deposit
Playing casino games online is one of the most popular ways to earn extra money. To make the experience more enjoyable, you need to choose a casino with care. Here at the Gamblescope website, there is a wide variety of online casinos available to suit every need and preference. You only need to read the reviews to gauge a venue's reputation and reliability.
In our review section, you will find full detail of each casino, including their rating as well as the type and number of games it has available. We have collected all the information you need to choose the one and start playing your favourite casino games. Below are some key points you should consider before you make a cash deposit:
Before registering with an online casino, make sure the casino offers the type of games you like to play.
Make sure the casino offers a deposit method you can use. All our listed casinos have different deposit methods and payouts. Using a reliable method will ensure you will receive your winnings quickly.
Check the bonuses and promotions they are offering for new and existing players. Here you can compare each casino and choose as per personal preference.
Learn about the different strategies of each game available on our site. You should know the rules of the game and play with the one which offers the best advantage for the players.
Make sure you familiarise yourself with the terms and conditions of the casino you intend to use; it's tedious but necessary.
Where Do I Start?
As a beginner, it may be difficult for you to distinguish between legitimate and rogue online casino. Gamblescope reviews will help you to overcome this obstacle and choose the best one for yourself. Our experts wrote our casino reviews to help you confidently play games without any concern that you are playing at an untrustworthy online establishment. Our casino experts have many years of experience and can analyze efficiently and accurately to bring you the best recommendations. Areas such as bonuses and promotions, games available, licenses, payment methods, and website functionality are well covered.
So if you are looking for a trustworthy online casino, gamblescope.com is a fast one-stop solution to access some of the best and most reputable casinos online.