IAGR President Paul Newson Concludes Term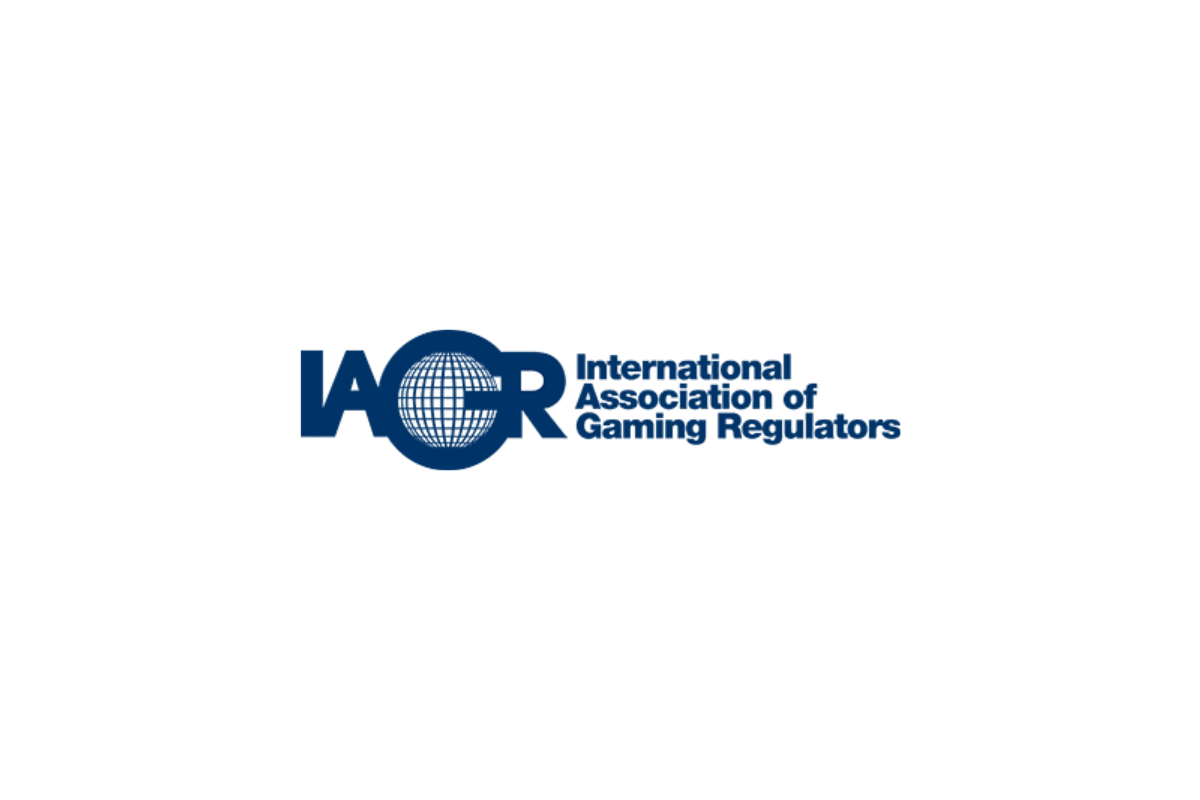 Reading Time:
2
minutes
The International Association of Gaming Regulators' (IAGR) much anticipated annual conference, Disrupting the Regulator: Sparking innovation in regulatory practice, was postponed earlier this year, due to the major disruption and associated public health related restrictions arising from the Covid-19 pandemic.
IAGR's regulatory innovation focused conference has been rescheduled to 12 – 17 September 2021 and will be hosted by the Massachusetts Gaming Commission in Boston.
Reflecting on the his term as IAGR President, Mr Paul Newson, outgoing IAGR President said: 'We were unable to bring the gambling regulatory community together at the IAGR annual conference, where we had hoped to collectively explore how to build appetite and excite the adoption of regulatory technology. These conversations are vitally important to introduce new capability and ways of working, and I am sure when they are able to occur at the IAGR 2021 conference in Boston they will support efficient and effective gambling regulation globally which underpins sustainable industry.
'2020 has been punctuated with challenge and uncertainty for everyone. While IAGR's bold ambition for what could be achieved to advance our strategic direction was dampened, we have continued to build our association's profile and reach. We have also been exploring potential new strategic initiatives that will advance IAGR's mission and enhance our contribution to gambling regulation globally.
'While IAGR's trustees continue to explore possible avenues, there is rich opportunity for IAGR to take a more active role in regulatory policy and practice advocacy, leveraging partnerships, advocating for greater regulatory harmony and mutual recognition, adopting a leadership role in standards setting and fostering increased international information and intelligence exchange and collaboration.
'I am grateful for the privilege to have led IAGR for the previous year and I am excited about the enormous potential it has to grow its leadership role and help shape gambling regulatory policy and practice globally. The talented leadership and Board of Trustees are exceptionally well placed to build IAGR's influence and drive its future success.
While I am transitioning to a new role to lead Senet's Regulatory Advisory Practice, I look forward to staying connected and contributing to the international regulatory dialogue.
Incoming President, Mabutho Zwane, Chief Executive at the Eastern Cape Gambling and Betting Board, said, 'I am honoured and excited by the opportunity to assume the role of IAGR president, especially at this particularly important time where there is a significant opportunity to leverage technology to bring global regulators together and to drive regulatory practice.
Paul has provided immeasurable skill and knowledge to his work as IAGR President, setting IAGR on a pathway to become the preeminent voice on gambling regulation internationally.
I am sure the IAGR members and the Board of Trustees will join me in thanking Paul for his leadership through what has been an exceptionally challenging time, and to wish him all the best in his new role at Senet.'
How a Crypto User Beat Crazy 1/3447 Odds to Win a Lambo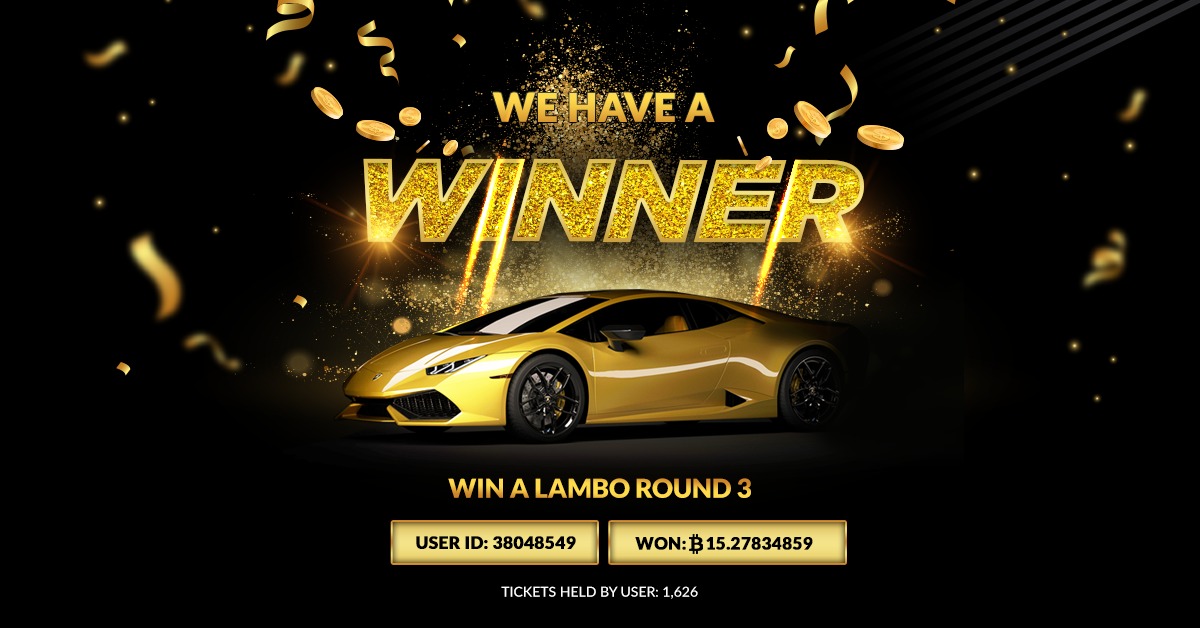 Reading Time:
2
minutes
The biggest giveaway in crypto just concluded its third edition today. After two successful rounds, the third round showed why the popularity of FreeBitco.in's provably fair algorithm is justified.
In Round 2, User 13562178 was the lucky winner, holding 200,000+ tickets in the draw.
However, in Round 3, User 38048549 clinched the top prize holding only 1,626 tickets out of a total 5.5 million tickets distributed. That's some luck!
This is down to FreeBitco.in's truly random, proprietary lucky draw algorithm, where anyone can win even if they hold just one ticket.
The Lambo Goes To…
The Win a Lambo Golden Ticket Contest Round 3 at FreeBitco.in concluded on 25th October. The draw was held on 26th October, and User 38048549 emerged the lucky winner.
With 1,626 tickets, the user had a winning chance that of as low as 0.00029%!
The winner has two options to choose from: a Lamborghini Huracan LP 580-2 or 15.27 BTC ($200,000 in BTC deposited directly into their FreeBitco.in account).
What would you choose? Well, you can find out for yourself…
Win a Lambo Round 4 Has Begun!
If you're new to the Golden Ticket Lamborghini Giveaway, here's a small guide to help you get started:
In May 2019, FreeBitco.in, the world's oldest-existing bitcoin faucet, organized the biggest giveaway in crypto – the Win a Lambo Golden Ticket Contest.
Here are the steps to participate in the contest:
1. Create an account on FreeBitco.in.
2. Collect Free BTC or deposit BTC into FreeBitco.in wallet.
3. Play the HI-LO dice game, or bet on events.
4. For every 0.005 BTC wagered in total on both the dice game or the event betting page, the user gets 1 Golden Ticket.
5. Golden Tickets can also be bought for 25,000 satoshi each.
6. Collect as many Golden Tickets as possible to increase the chances of winning a Lamborghini.
7. After the contest ends, a provably fair lottery drawing will be conducted to pick the lucky winner.
No sooner did Round 3 end that Round 4 began, and it's already off to a cracking start!
Within hours, almost 100,000 tickets have already been distributed. The contest ends in the last week of April, so you have time to start stocking up on Golden Tickets.
Want to get your hands on Crypto's Biggest Prize? Play now!
The Game Awards Expands Streaming and Broadcast Footprint in India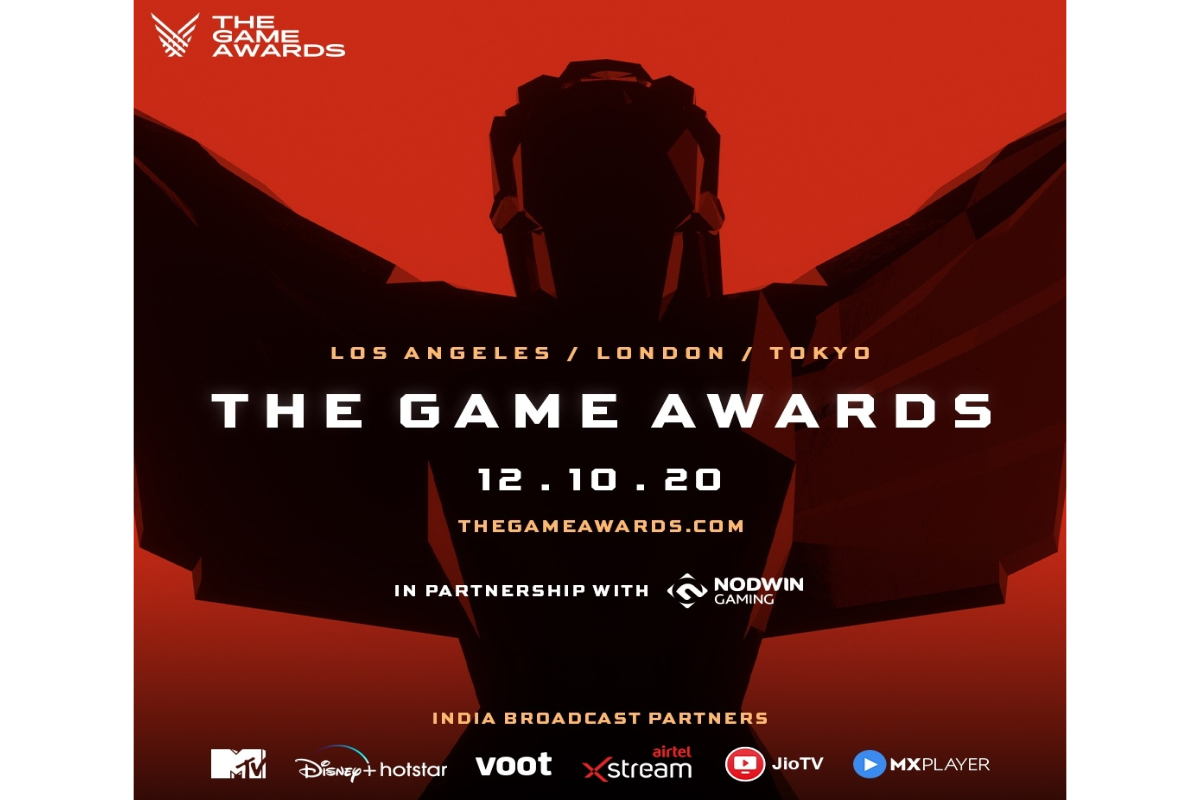 Reading Time:
2
minutes
Today, The Game Awards, the world's biggest celebration of video game culture, announced a significant expansion of its live distribution plans in India for its the 2020 gala broadcast, airing live on Thursday, December 10.
The Game Awards will air live on television on MTV India, in addition to streaming live and free across OTT platforms including Disney+/Hotstar, Viacom's VOOT, Reliance's JioTV, Airtel and MX Player. These distribution points are in addition to continued free availability of the show on platforms such as Facebook, Twitch, Twitter and YouTube, where an exclusive Hindi co-stream of the show will air in partnership with NODWIN Gaming.
These new livestream partners in India join a slate of more than 45 global digital networks that will stream The Game Awards live and free around the world. Additional distribution partners will be announced in the coming weeks.
"We're thrilled to grow our distribution in India with an incredible group of partners that share our view that gaming is a universal language that challenges, inspires, entertains and ultimately unites cultures," said Geoff Keighley, creator, The Game Awards.
The Game Awards partnered with NODWIN Gaming to manage the distribution deals in India. Speaking about the partnership, Akshat Rathee, co-founder and Managing Director of NODWIN Gaming said, "The Game Awards have always been the epitome of our industry. A true celebration of our art form. This COVID year, we all know that gaming has done well and NODWIN is proud to bring The Game Awards back to India. With the strong backing of MTV on linear TV and Airtel Xstream, Hotstar, Jio, Voot and MXPlayer, we can positively say that this will be the first time that The Game Awards will reach more than 100 million Indians on their most preferred TV channels and OTT platforms. We look forward to celebrating our love for gaming with everyone across the country"
GGPoker Breaks Online Poker GUINNESS WORLD RECORDS™ Title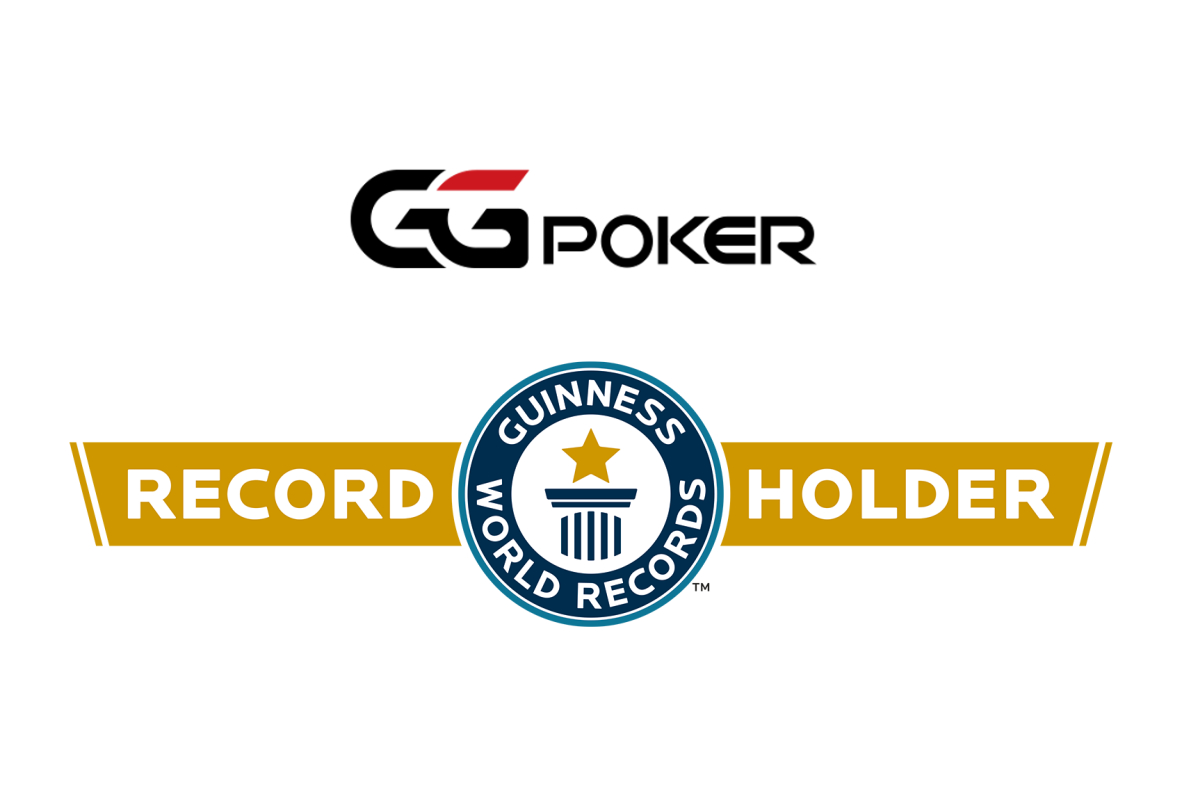 Reading Time:
2
minutes
The World Series of Poker Online $5,000 Main Event hosted at GGPoker generates largest prize pool for an online poker tournament
GGPoker announces it has broken the GUINNESS WORLD RECORDS title for the largest prize pool for an online poker tournament with a $27,559,500 prize pool in World Series of Poker Online Event 77: $5,000 Main Event at GGPoker on September 6, 2020.
Take a look at the moment Michael Empric, Official Adjudicator for Guinness World Records informed GGPoker ambassador Daniel Negreanu that the record was verified and in the books: https://gg.gl/world_record
The $5,000 Main Event was the marquee tournament of the 54-gold bracelet event World Series of Poker (WSOP) Online 2020 Series at GGPoker. Bulgaria's Stoyan Madanzhiev defeated the 5,802-player field to earn the $3,904,685 top payout and his first World Series of Poker bracelet. Madanzhiev's prize was the largest individual prize ever awarded in an online poker tournament.
The record $27,559,500 prize pool was shared among the top 728 finishers in the tournament. Each prize winner earned a minimum $11,834 payout.
"This Guinness World Records title was on our radar from the very beginning," said Steve Preiss, Head of Poker Operations at GGPoker. "Players and fans of poker expect nothing less than record-breaking prizes when it comes to the World Series of Poker, and GGPoker delivered."
The Main Event lasted 150 hours, 9 minutes and 13 seconds from the start of the first starting flight to the end of the last hand. Surviving players from all Day 1 starting flights combined for Day 2 of the tournament on August 30, during which the field shrunk from 1,171 players to just 38. A week later, the final 38 players battled it out over a long Day 3 until Madanzhiev won the final hand of the tournament and claimed the winner's share of the record-breaking prize pool.
"Breaking a Guinness World Records title shows what happens when you combine GGPoker's amazing platform with the World Series of Poker brand," said Ty Stewart, WSOP Director. "This will be a tough record to beat."
New GGPoker players are eligible to claim the poker room's Welcome Bonus, earn even more rewards with the Honeymoon for Newcomers promotion and automatically join GGPoker's Fish Buffet loyalty program, with regular cash prizes on offer.